Both Zenfolio and SmugMug are giants in the world of photography hosting websites, and each has its fair share of loyal supporters. I have used each website for more than a year – first Zenfolio, then SmugMug – and the differences between the two became clear over time. In this review, I want to share my experiences and help other photographers choose which site is better for their needs.
Zenfolio and SmugMug certainly are not the only hosting websites for photographers. Squarespace, for example, is well-regarded by many photographers – as are Photoshelter, 500px, and many more. Two of the undisputed giants, though, are Zenfolio and SmugMug, and these also are the only two hosting sites that I have tested to a significant degree.
Note, also, that this comparison is from the perspective of a landscape photographer – that is, I don't tailor my website around client access, because I don't have any clients. If you are an event or wedding photographer, you certainly will have different priorities, although everything I say below should still hold true.
1) Branding
Let's get one issue out of the way: "Smug Mug" is a bad name. During the brief period of time that my web address was spencercoxphoto.smugmug.com, nearly every person who noticed the name told me to change it. Zenfolio is significantly better, but I still prefer that my URL doesn't advertise another company's brand.
Luckily, with both sites, it is possible to remove the branding (almost) entirely from your website. I changed the name of my site to spencercoxphoto.com, a marked improvement – though one that costs me $14 each year, since I host the domain name through a different website. (Update, September 2017: I have since reverted to spencercoxphoto.smugmug.com, but only because I am now using spencercoxphoto.com for a second, separate website — not because I suddenly decided that I love having SmugMug in my domain name!)
However, although you can eliminate the brand from your URL, both SmugMug and Zenfolio add their logo by default at your website's header and footer – even for the most expensive purchasing plans. With Zenfolio (for all except for the cheapest yearly plan), it is possible to remove this logo without much hassle.
SmugMug is more frustrating. No matter which options you check in the menu, it is impossible to remove the "Powered by SmugMug" tagline at the bottom of your site. Although you can remove this logo using CSS tricks, SmugMug doesn't like it when you do so. Plus, as I mention later in this article, SmugMug's shopping cart checkout page will display the logo no matter what you do.
This is a clear win for Zenfolio.
2) Available Labs
Smugmug offers ordering from the following labs:
Bay Photo (worldwide)
Loxley Colour (Europe)
WHCC (worldwide)
EZ Prints (worldwide)
Zenfolio offers ordering from the following labs:
Mpix Lab (US and Canada)
IYP Photo Products (non-prints, worldwide)
PhotoBox (worldwide except US and Canada)
Fotoflōt (acrylic prints, worldwide)
PictureItPostage (postage stamps, US only)
Ivoke (non-prints, US and Canada)
Miller's (US only)
NuShot (Australia and New Zealand)
One Vision Imaging (Europe)
Personally, my favorite lab on this list is SmugMug's Bay Photo. However, I also enjoy EZ Prints and Mpix Lab. Although Zenfolio has more total labs listed, I'd call this one a tie – you only need one good printing house, and both sites have more than enough options.
3) Fees
Both Zenfolio and SmugMug take a portion of your profit, but Zenfolio's fees are slightly less than those of SmugMug. SmugMug's fees are 15%, regardless of product or account level. Zenfolio's fees fluctuate, but most users will pay a 10-12% fee for each sale (though some products, like digital downloads and self-fulfilled prints, have lower fees).
This difference is not large enough to matter for many users, but it can be significant if you sell quite a few prints.
4) Native Blog Implementation
A crucial difference between SmugMug and Zenfolio is the option to create a custom blog. Both Zenfolio and SmugMug allow you to create individual pages or articles, but SmugMug does not offer a specific workspace for blogging. In contrast, Zenfolio has the built-in capability to format your posts as part of a blog – including automatic, behind-the-scenes organization and RSS capabilities.
However, it still is possible to use a blog in conjunction with SmugMug. If you don't need some of the advanced blogging options from Zenfolio (especially the sort-by-date organization system), you can write separate articles and simply link to them under a menu header labeled "Blog." This isn't as elegant as Zenfolio's capabilities, but it still allows you to write articles to share with your audience.
On the other hand, both Zenfolio and SmugMug allow integration with external blogging sites, such as WordPress. Zenfolio doesn't allow much more than linking to your WordPress site (and displaying Zenfolio galleries on your blog), but SmugMug has more options for integration. The catch is that you need to use external apps to do so, or otherwise pay an extra fee.
So, Zenfolio clearly has the better implementation of a blog, but SmugMug's capabilities are not unworkable. If you already have a dedicated WordPress blog, you will find little difference between Zenfolio and SmugMug. However, if you are starting a blog from scratch, Zenfolio's capabilities are significantly more robust than SmugMug's.
Below is the editing page for Zenfolio's blog: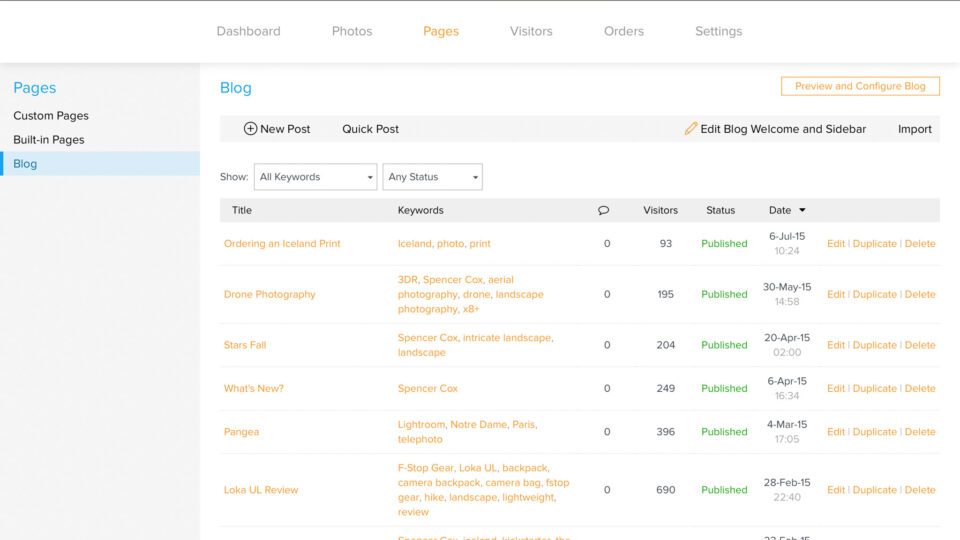 And here is the finished page, including RSS and organization options: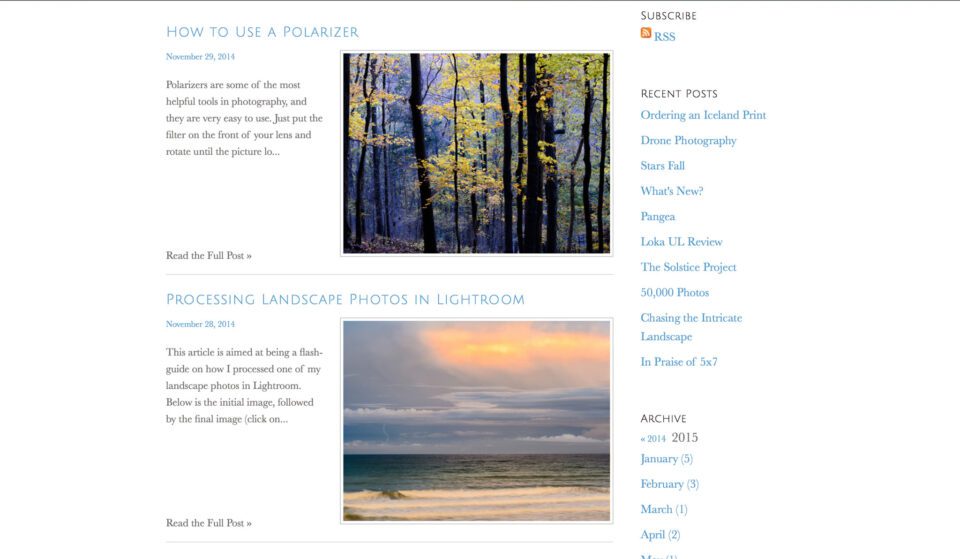 5) Customer Service
I have had wonderful customer service from both Zenfolio and SmugMug. Either way, you can't go wrong – I have contacted each of them several times, and I have always gotten a response within an hour or so (even in the middle of the night). Some people will have horror stories about any company's customer service, of course, but everyone I have contacted from both Zenfolio and SmugMug has been quick and knowledgeable.
6) High-PPI (Pixels Per Inch) Monitors
One of the reasons I switched from Zenfolio to SmugMug is because of how my photos appear on high-PPI monitors – when using Zenfolio, they look blurry on high-pixel screens.
For me, the inherent purpose of a photography website is to display high-quality photos, no matter the viewing platform. And, although photos from Zenfolio look fine on most (1080p or lower) monitors, they can be quite soft on high-PPI screens. Realistically, it is hard to sell a two-foot wide print to someone who thinks my photos are blurry on their laptop's one-foot wide screen.
Photos hosted on SmugMug, in contrast, look wonderful on high-PPI monitors. Plus, SmugMug lets you sharpen your files with a built-in algorithm, so your photos generally look better on standard monitors as well. In short, SmugMug's photos look good on every monitor I have tried; Zenfolio's do not.
Below is a screenshot from Zenfolio, followed by a screenshot of the same image on SmugMug. This is how the photos appear on a Retina Macbook Pro (note: to see any difference, you must click on the photos to view them full-screen).
Zenfolio image: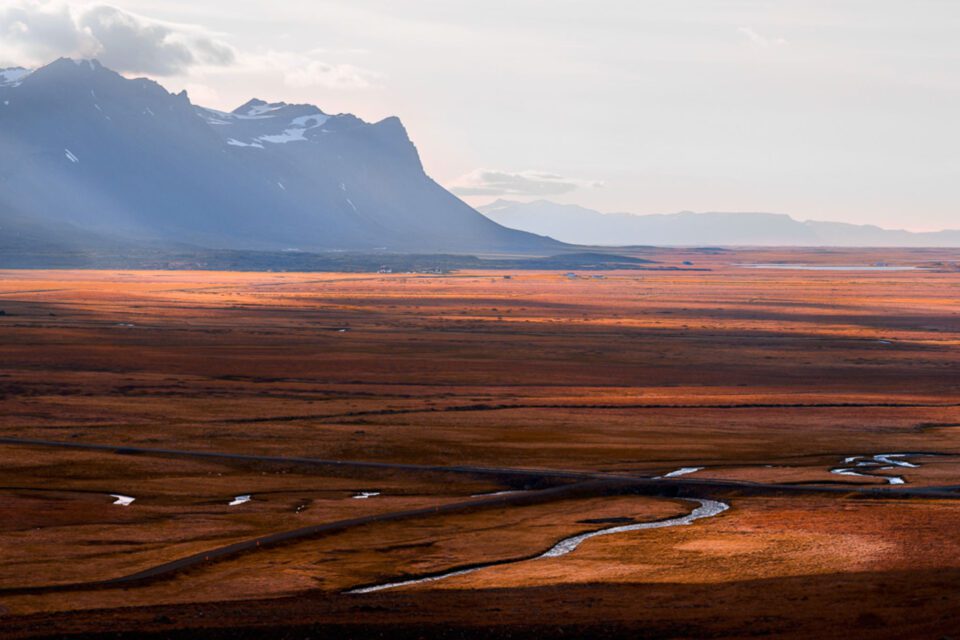 And then the sharper SmugMug image: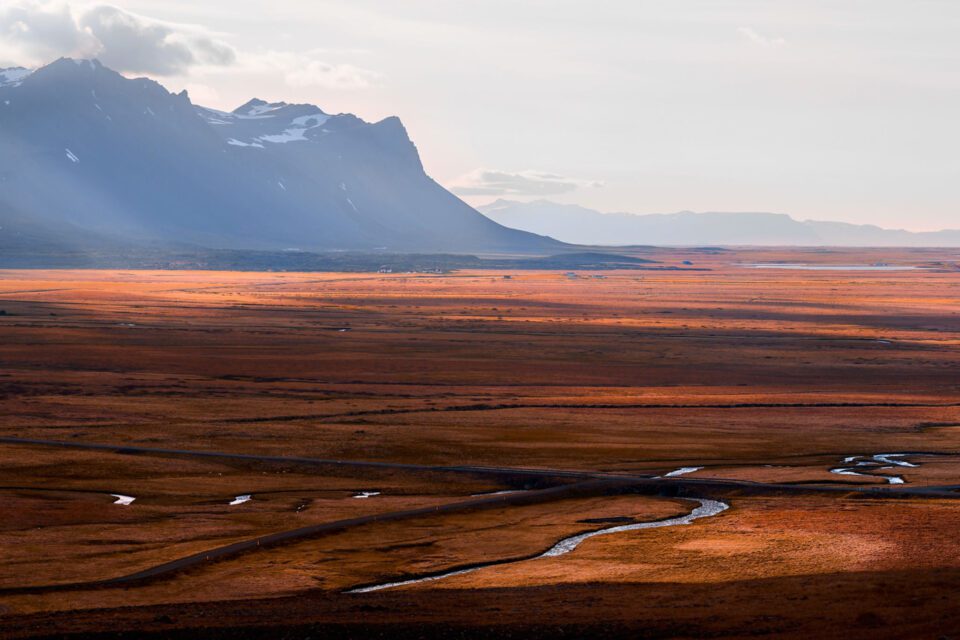 Again, to see the true sharpness, you need to click on the screenshots above. The differences aren't huge, but they definitely favor SmugMug.
7) Design Customization
SmugMug handily beats Zenfolio in another crucial category, at least for my uses: customization.
Zenfolio's design is centered around the use of templates. You can check boxes to add or subtract content to a given page – for instance, you can check the "add bio" box for your home page – but that's the extent of your options. And, once you have a bio on your home page, you cannot position it freely. Essentially, you are stuck with a pre-defined look.
Granted, Zenfolio's templates are quite good – you may find that you don't need anything else, in which case SmugMug doesn't offer any tangible benefits. The common consensus appears to be that Zenfolio is easier to use, too, although I found both to be intuitive after a couple weeks of practice. However, Zenfolio's templates simply didn't work for the specific site design I had in mind.
I find SmugMug to be far superior in this regard. Rather than checking boxes, SmugMug has content blocks that you can drag onto any page of your site. You can position these content blocks in almost any configuration you want, and there is no limit to how many you add.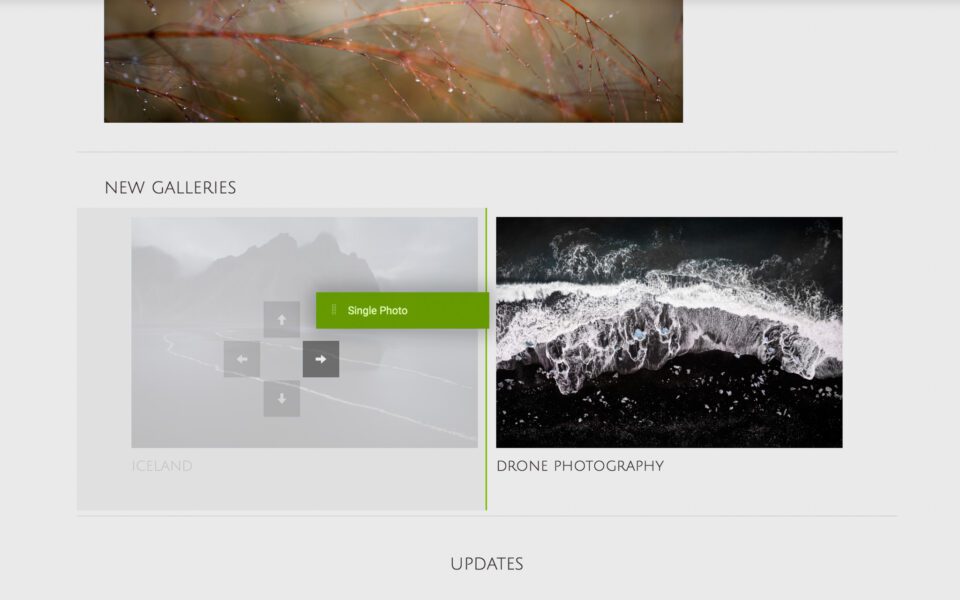 Unless you are happy with Zenfolio's templates and checkbox options, you will find SmugMug's customization to be significantly better. Which brings me to…
8) HTML and CSS
This one is a no-brainer. SmugMug's implementation of custom HTML and CSS is vastly better than Zenfolio's. With SmugMug, you can add custom HTML or CSS to any page of your site, and you can change the appearance of nearly anything that bothers you.
Do you want your thumbnails to display below your photos in their galleries? Easy – add a custom CSS block. Do you want to change the font of your articles? Also easy – add an HTML block. With CSS and HTML, SmugMug offers nearly-unlimited customization, leaving Zenfolio in the dust.
The best part is that SmugMug is such a popular site that you don't need much outside knowledge to edit your site's HTML or CSS – enough people use SmugMug that you can find scripts online for nearly anything you want to change. I am far from an expert in this area, yet I have used both HTML and CSS extensively to customize my site.
Zenfolio does not offer custom CSS at all, and the only HTML customization available is on blog posts or articles (essentially limiting your HTML edits to font color/size and links). So, if there is something you don't like about Zenfolio's look, you just have to accept it. SmugMug is clearly better in this regard, as shown below: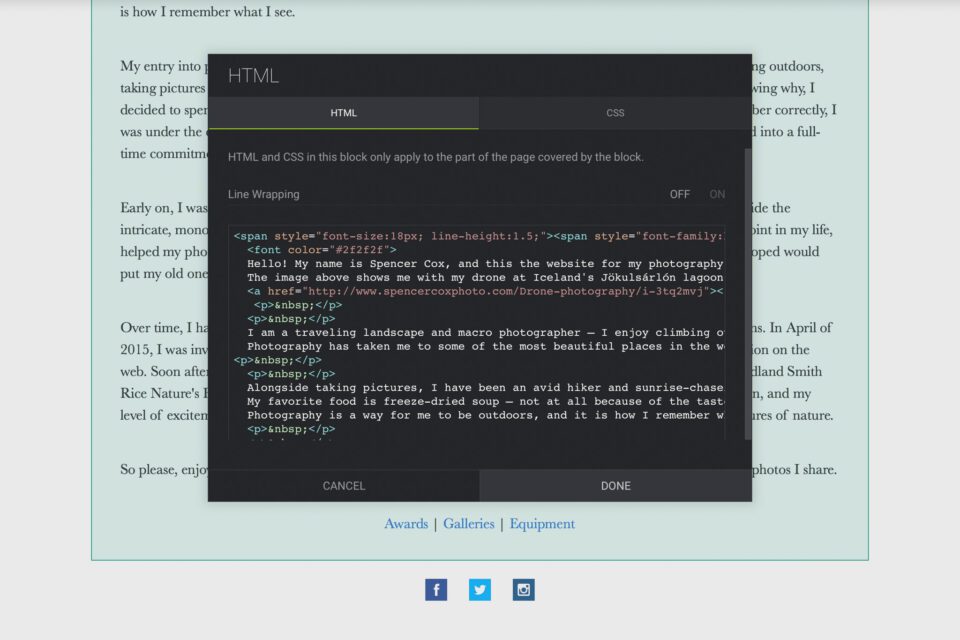 9) Purchasing Page
Perhaps the most frustrating part about SmugMug is its poorly-implemented checkout page (the page after you have added items to your cart). I spent several hours perfecting the theme and color of my website, and yet the purchasing page defaults to SmugMug's standard dark-gray and green theme. Worse, the SmugMug logo is displayed in all-too-obvious lettering at the top of the page, as shown below.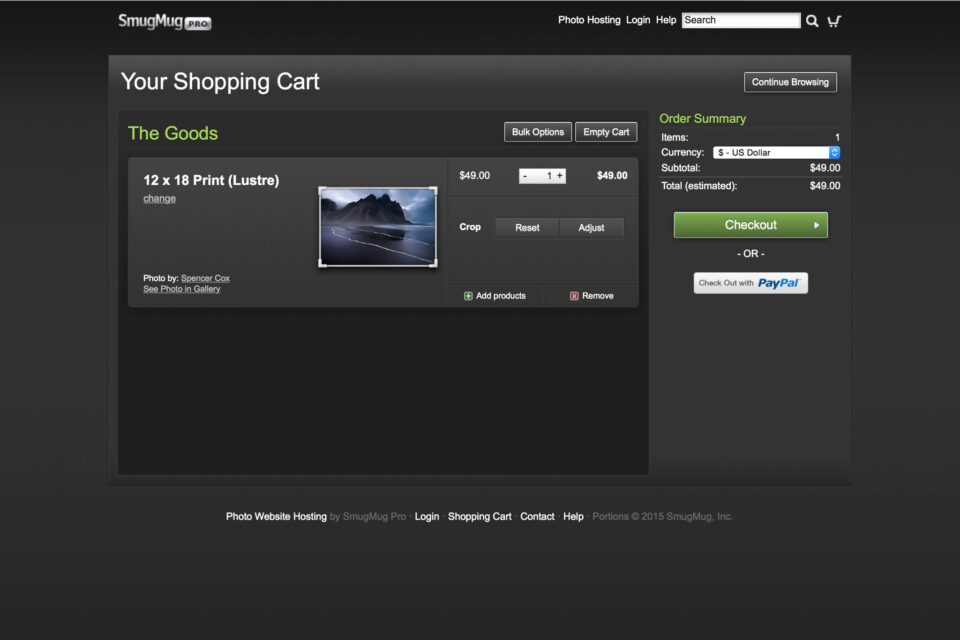 SmugMug's shopping cart itself (directly before the checkout page) actually is quite nice. It incorporates your theme, and it looks well-organized even if you have dozens of printing options available – see below for a screenshot. It's just the checkout page that looks bad.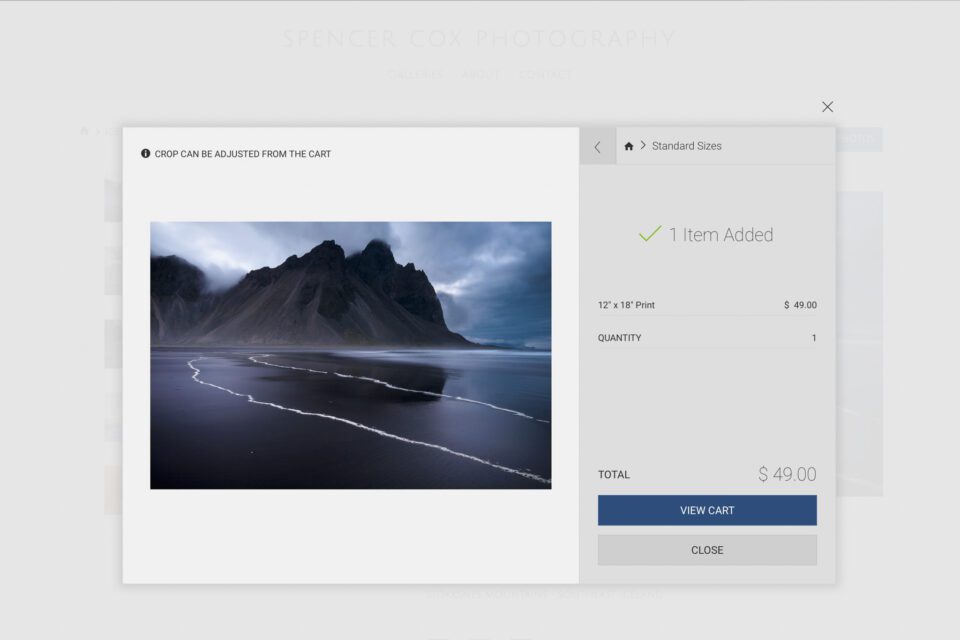 Zenfolio's checkout page, on the other hand, maintains the theme and colors from the rest of your site. And, most importantly, it doesn't have the obnoxious branding of SmugMug's purchasing page. This certainly is a win for Zenfolio.
10) Self-Fulfillment of Orders
One of the key advantages to Zenfolio is that it allows self-fulfillment of orders directly through the shopping cart.
Whereas SmugMug restricts visitors to buy from the labs available natively, Zenfolio gives you the option of adding custom products for sale within the cart. This option is perfect for those who wish to sell obscure products – for example, flame-polished acrylic prints from a local lab – or simply want more control over the purchasing process.
A year ago, this was the major reason why I chose Zenfolio over SmugMug – I wanted to sell unusual products and give myself more flexibility. If this sounds like you, I recommend taking a careful look at Zenfolio.
However, SmugMug's lack of self-fulfillment options is not the end of the world for photographers who want to sell unique products. Although it is not as elegant as a shopping cart, you can always tell your customers to use the contact form to request a specific style of print – in fact, I offered this option to my customers even when I used Zenfolio.
As I got more orders over time, I ultimately migrated to Zenfolio's built-in options. This was due to time constraints more than anything – self-fulfilling is a lot of work for an arguably minimal reward – but it meant that the SmugMug shopping cart would fit my needs just as well as Zenfolio's.
If you are the type of photographer who sells a few expensive prints each year, self-fulfillment is one of Zenfolio's crucial advantages. However, if you hope to sell several photos each week, self-fulfilling orders probably is more trouble than it's worth.
11) Mobile Site
More people access the Internet from a phone than from a desktop, so a high-quality photography site must also look good for mobile users. And, from my experience, the Zenfolio mobile site is quite awful. (Update, early 2016: Zenfolio recently upgraded their mobile website with major improvements. It still does not allow much customization, but it is clearly better than the old appearance. The rest of the review reflects this update.)
Neither Zenfolio nor SmugMug lets you edit the mobile site directly, so you have to rely on how each looks by default. SmugMug attempts to mimic your desktop site as much as possible, whereas Zenfolio has a default format for all mobile websites. I tend to prefer Smugmug's mobile site, but you may disagree. Look at the comparison below, and keep in mind that it's essentially impossible to edit the appearance of either of these: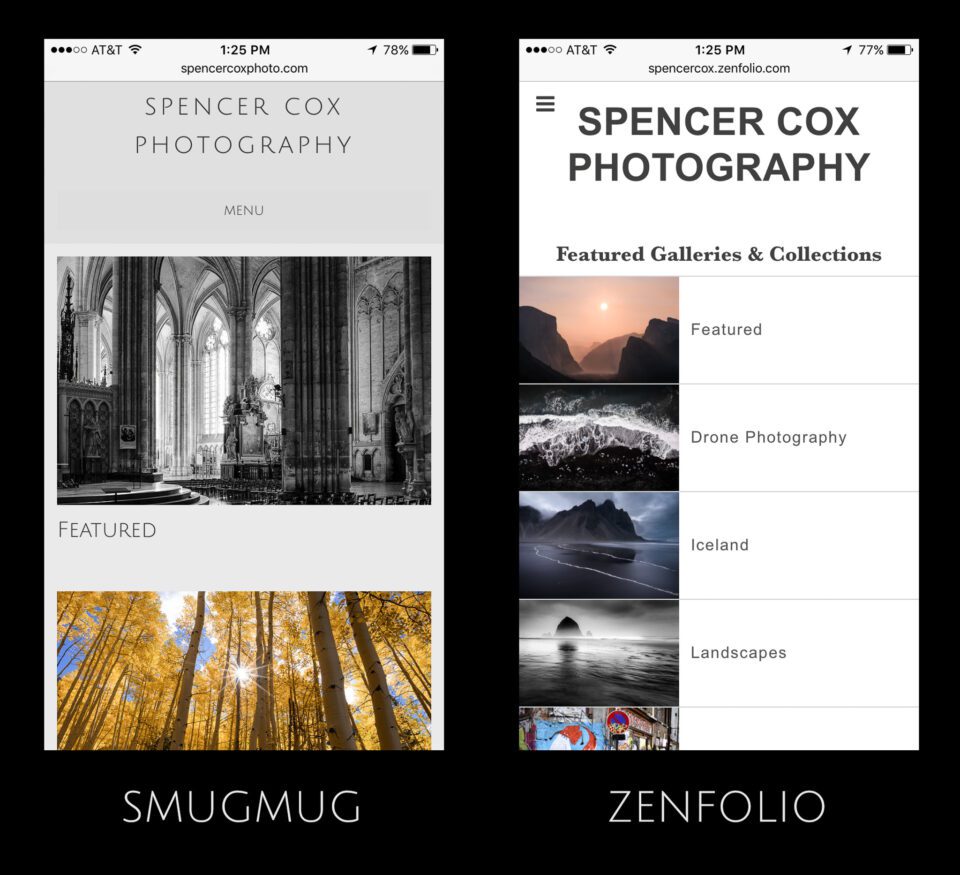 Which one do you like more? For me, SmugMug's mobile display looks closer to my desktop site – but, at the same time, Zenfolio isn't too far behind.
12) Price
SmugMug caused a stir back in 2012 by doubling the price of their top-tier plan to cost $300/year. Zenfolio soon followed suit, raising the price of their most expensive plan to $360/year.
SmugMug has four levels:
Basic: $40/year or $5 if billed monthly
Power: $60/year or $8 if billed monthly
Portfolio: $150/year or $20 if billed monthly
Business: $300/year or $30 if billed monthly
Zenfolio has three levels:
Starter: $60/year or $7 if billed monthly
Pro: $240/year or $28 if billed monthly
Advanced: $360/year or $42 if billed monthly
The feature differences between these levels are beyond the scope of this article, but you can see what each plan offers at the links below:
In short, neither Zenfolio nor SmugMug is necessarily the better value, depending upon what you need to do with your website. However, for my personal work, SmugMug is significantly less expensive – I migrated from Zenfolio's $240/year plan to SmugMug's $150/year plan. Your mileage may vary.
13) Smaller differences
Alongside the key issues I mentioned above, there are some smaller differences between Zenfolio and SmugMug as well.
To start, the maximum size of uploadable photos and videos is slightly different between the two sites. Zenfolio allows photos up to 64MB, whereas SmugMug cuts out at 50MB. In terms of video, though, SmugMug has a slight edge — both allow twenty-minute videos, but SmugMug allows 3GB files rather than Zenfolio's 2GB.
The system of photo protection is also slightly different between the two sites. If you enable right-click protection, for example, SmugMug will display a message whenever someone tries to right-click your photo. (You can customize the message.) Zenfolio, on the other hand, does nothing — it doesn't let you right-click the photo, but it also doesn't allow you to create a custom message. Similarly, the watermarking options on each site are a bit different. SmugMug has a more advanced built-in watermarking system than Zenfolio, but both allow you to upload a custom watermark as a .PNG file.
Note, too, that if you opt for the cheapest Zenfolio plan ($60/year), you cannot use a custom logo in the site's header. SmugMug's $60/year plan, however, allows you to add a custom logo without a problem — not a major issue for most users, but certainly worth mentioning.
Also, Zenfolio's implementation of the contact form is somewhat better than SmugMug's. Although it isn't fully-customizable, Zenfolio lets you include more personal information (i.e., your phone number, your business address, a short message) than does SmugMug. Plus, Zenfolio's contact form has its own separate URL, unlike SmugMug's. This makes it possible to link to the contact form in the middle of an article, rather than making your viewers click an embedded link at the top.
Lastly, some people claim to see a difference in SEO results between Zenfolio and SmugMug. Personally, it seems to me that any benefits of one company seem to flip-flop as time passes. Historically, SmugMug was known as the leader in SEO — with an update a couple years ago, though, they apparently lost ground. I know very little about SEO, so I can't be a huge help here. I will say, I saw no noticeable impact on my site's search rankings, positive or negative, when I switched to SmugMug.
14) Summary
Main Advantages of SmugMug
Looks sharper on high-PPI monitors
More customization options, including HTML and CSS implementation
Generally better mobile site
Main Advantages of Zenfolio
Native Blog implementation
Self-Fulfillment option built into the cart
Less-intrusive branding, especially in the checkout page
Although there are other differences between Zenfolio and Smugmug, the result is the same – both Zenfolio and Smugmug are capable of producing excellent websites and galleries. I moved to SmugMug because of its customization and sharpening capabilities, but I just as easily could have moved to Zenfolio for its blog options and self-fulfilled prints.
Update, 2016: I recently finished a full-length SmugMug Review. If you are still on the fence about SmugMug versus Zenfolio, you should check it out.
15) Try Them Yourself
The best way to find which site works for you is to experiment with them both. Take advantage of the free, two-week trial periods, and chances are good that one will stand out more than the other. (If your decision is difficult, both sites allow you to extend your trial an additional two weeks for free.)
Also, both Zenfolio and SmugMug have discount programs for new users. If you purchase a plan through either of the links below, you will receive a discount (15% for both SmugMug and Zenfolio) – and so will I, for giving you the link. Either way, you also can use the links below to check out the two-week free trials.
Zenfolio purchase page (The free trial option is near the bottom. You can use the code ZENSMART to get a 15% discount whenever you actually check out.)
Feel free to share your experiences with Zenfolio, SmugMug, or another hosting company in the comments below.