One of the frequently asked questions by our readers when we post information on Zeiss lenses (which are often optically stellar), is why Zeiss does not make autofocus lenses for DSLR cameras from Nikon and Canon. As you may already known, Zeiss is currently making autofocus lenses only for two specific mounts – Sony E (for NEX / Alpha series mirrorless cameras) and Fuji X. This line of autofocus lenses labeled as "Touit" is limited to a few lenses at the moment, with full autofocus capability and compatibility with both Sony and Fuji mirrorless cameras. So one might naturally ask why Zeiss has finally started making autofocus lenses and wonder if it has plans to start developing autofocus lenses for Nikon and Canon mounts. Although I have known the reason behind this for a while now, I decided to ask the question again from the Zeiss team at the Photo Plus show in NY last year. Specifically, I wanted to find out if Zeiss is planning to change their strategy in the future in regards to DSLR lenses.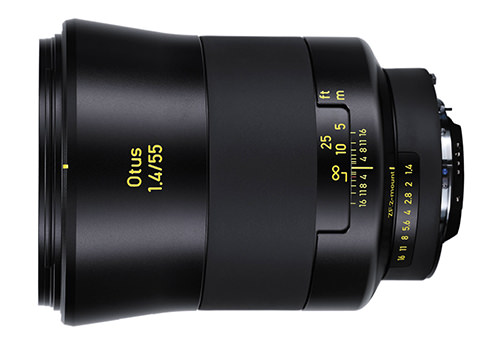 With the release of the Zeiss Otus 55mm f/1.4, which is just a stellar performer (one of the highest performing lenses I have measured using Imatest), the biggest issue for many of us is lack of autofocus. Modern DSLRs, even with large full-frame pentaprisms make it hard to focus with manual focus lenses. Some people have recommended to install third party focusing screens, but even those can make it difficult to focus with large aperture standard to telephoto lenses. When dealing with extremely shallow depth of field, focusing with an 85mm f/1.4 lens is a real challenge. Because of that, I rarely recommend manual focus portrait lenses to our beginner-level readers. Experienced photographers might not have issues with such lenses, but most people would find it rather difficult to get consistently good results, especially on important commercial jobs. A budget-friendly lens like the Samyang 85mm f/1.4 might sound appealing, but it is only a good option if you are able to focus with it. Personally, I would rather use a more expensive Nikon 85mm f/1.8G and have working and reliable autofocus instead.
So why is Zeiss not making autofocus lenses for DSLR cameras from Nikon and Canon? If you ask folks from Zeiss, they will tell you that it is a licensing issue. Specifically, the standard public response that Zeiss issues is the following: "Due to international licences, it is not possible at the moment for companies outside Japan to offer AF lenses with EF or F mounts" – the same thing that the Zeiss team told me at the Photo Plus expo. But that's only part of the real reason. Zeiss is a very reputable company and they would never state the exact reasons on why designing AF lenses for Canon EF or Nikon F is an extremely difficult task. The main reason is lack of openness, support and collaboration from Nikon and Canon. You see, neither company has interest in working with third party lens makers, when they have a large array of lenses of their own. Why help promote a third party lens manufacturers and potentially lose sales?
You might immediate ask "what about Sigma?". True, Sigma does make autofocus lenses for both Nikon and Canon, but if you read the above quote from Zeiss, the key words are "international" and "outside Japan". Sigma is a Japanese company and they make all lenses in Japan. That's why they do not technically violate the licensing limitations. But it does not mean that they get full cooperation from the big two. Sigma's strategy for designing autofocus lenses has been the good old method of reverse engineering. Unfortunately, Sigma's engineers spend quite a bit of time trying to make autofocus work properly and reliably on Nikon F and Canon EF cameras. While they certainly do succeed with making autofocus work, the reliability part is certainly an issue.
After reviewing the Sigma 35mm f/1.4 Art lens, I highly praised it for its optical performance. Indeed, the lens is a stellar performer and a real value when compared to anything else on the market. However, after I posted the review, many of our readers have been contacting me about their bad experience with autofocus reliability. Some have left negative comments on the comments page, pointing out their frustrations with the autofocus system. While I personally did not witness the troubles that people have reported about and had no AF chip failure issues, I can see that it is a pretty widespread issue. And the worst part is, Sigma has no way to design lenses that will be future-proof. If Nikon or Canon decide to alter their lens firmware on new cameras, existing Sigma lenses might potentially lose AF capabilities on their lenses. Remember what happened when Nikon released the D5300? The camera had different AF tweaks that killed image stabilization and Live View autofocus capabilities, forcing Sigma to issue firmware updates. Gladly, this particular issue was not a problem, but what if Nikon or Canon make a firmware tweak that disables AF completely if it detects a third party lens? That would be a nasty situation for Sigma and they might not be able to deal with it.
It is pretty clear that Nikon in particular does not like third party lens manufacturers, especially Sigma. The company sued Sigma back in 2011 for violating its Vibration Reduction patent and was recently awarded 1.5 billion Japanese Yen (around 14.5 million dollars) by the Tokyo District Court, which was a pretty big blow for Sigma. So Sigma engineers have to be real careful when they reverse engineer their lenses for both mounts, because they could be violating some of the patents. Sadly, it is a really tricky situation for Sigma to deal with.
Now you can imagine the trouble Zeiss would go through if they decided to make autofocus lenses for DSLR cameras. Based on the above, you can assume that we won't be seeing DSLR Zeiss autofocus lenses in the near future, unless Nikon and Canon change their game (which they most likely won't). In contrast, both Sony and Fuji were glad to work with Zeiss on autofocus lenses, and they did it with full collaboration, because they wanted to have more lens choices for their new mounts…
One of our readers, David Kilpatrick, pointed out on our Facebook page another reason for lack of Zeiss AF DSLR lenses, which is the accuracy problems of phase detection AF systems. Due to the fact that phase-detection systems use a secondary mirror for focusing and are limited to f/2.8 aperture at the widest, there are potential issues with focus alignment as well, which introduces a slew of issues. Not only would Zeiss have to offer service to calibrate autofocus on lenses, but there are also other problems with phase-detection such as focus shift, which is often a problem with most lenses. Mirrorless Sony and Fuji cameras use contrast detection autofocus and can focus at a set aperture, which results in far more accurate focus.