Here in California, we do not have the autumn hues to rival New Hampshire or Colorado. Nevertheless, the Sierra Nevada mountain range attracts a good number of photographers and seekers of fall colors every autumn. Yosemite Valley, situated on the western slopes of the Sierras has its own display, thanks to the Black Oaks, Maple, Cottonwoods and Dogwoods, which flourish here. Apart from these, there is the famous Elm tree in Cook's meadow, which in peak color offers a memorable light show at sunrise and I believe it to be the most photographed Elm in the world.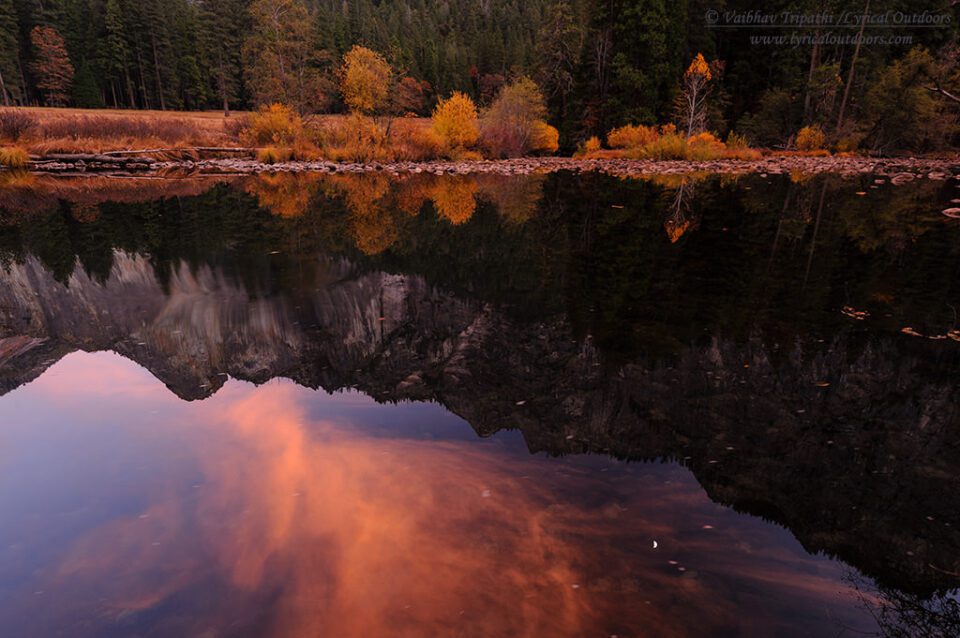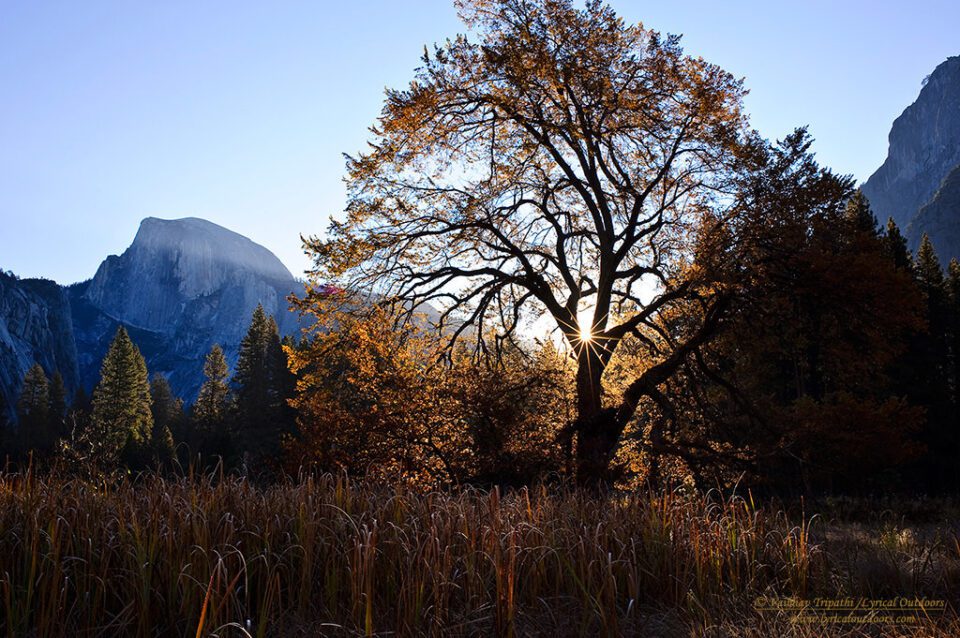 During my recent visit to Yosemite, I found the Elm has withered. So I decided to walk 0.5 miles upstream along the Merced River from Sentinel Bridge and photograph the cottonwoods beneath Half Dome with their reflections (one of my favorite spots). The scene came to life as soon as the Sun crested a cliff and backlit the cottonwoods, which were close to their peak color.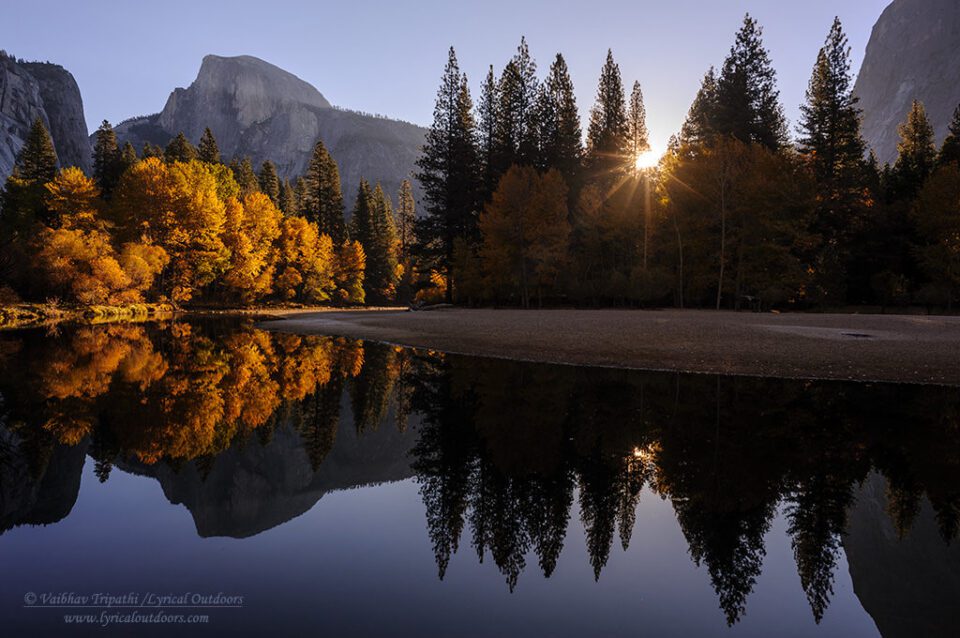 After making the above image, I walked couple of steps to the left and opted for a vertical composition to include some leaves on the river bank. Using a small aperture allowed me to keep sharp focus across the frame.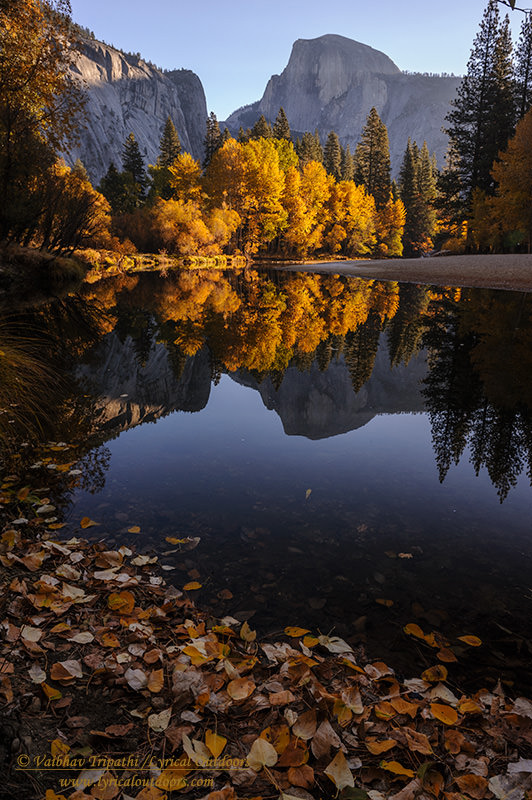 The above four tree species usually do not turn together and as a result, fall color in Yosemite can linger for a couple of weeks. In some years, an early winter storm juxtaposes the whites (snow) with gold (clash of seasons) and can lead to unique photo opportunities. On the downside, early storms can damage lot of leaves and bring an abrupt end to the fall season. I have seen cottonwoods shedding their leaves without turning at couple of occasions. Typically, Yosemite Valley has sunny, pleasant days with cold nights during the autumn season. Often, early morning frost and mist can be spotted in meadows and forests, both of which make an excellent subject to photograph.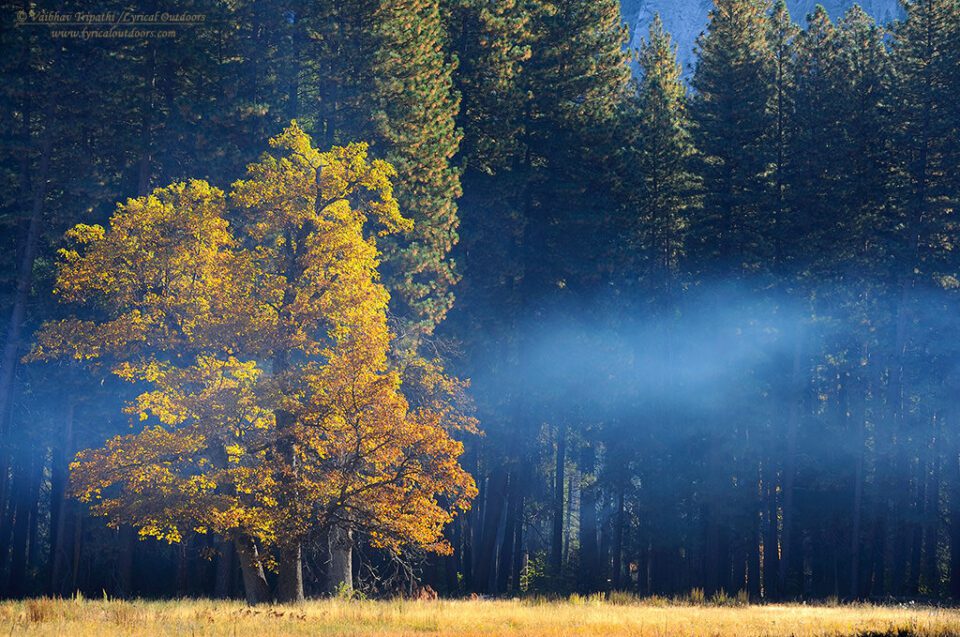 Visitors who have only experienced Yosemite in the spring season are in for a real surprise. There are no roaring waterfalls (Yosemite falls dries almost completely), the Merced River has the lowest water level and the crowds have thinned considerably. The quiet waters of Merced River give rise to beautiful reflections and a hike around the river in autumn can fill your memory card really fast.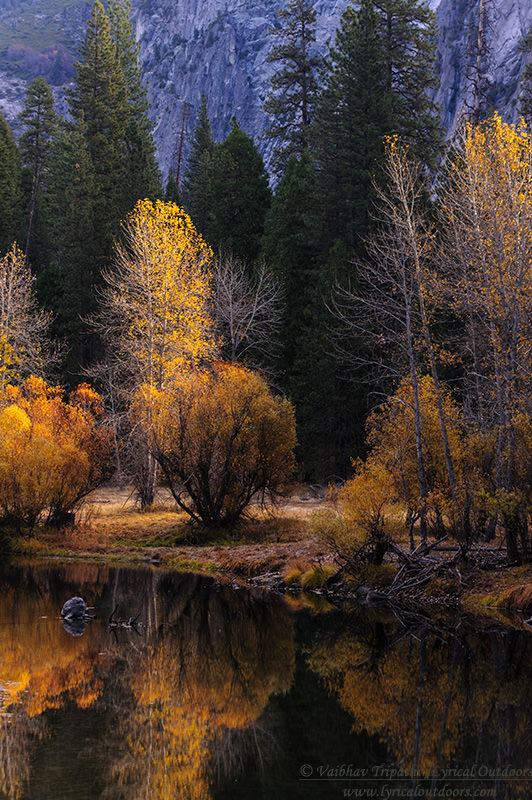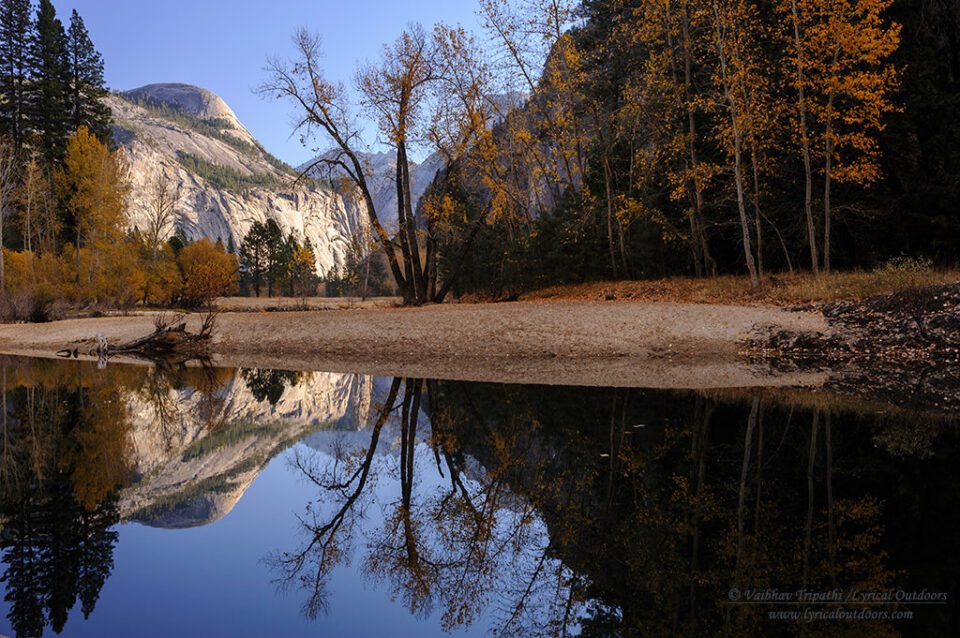 Hiking for about 45 minutes from Yosemite Lodge, I found a really picturesque scene along the Merced river. After a few failed compositions, I opted for a 3 image stitched panorama, which worked really well in the end.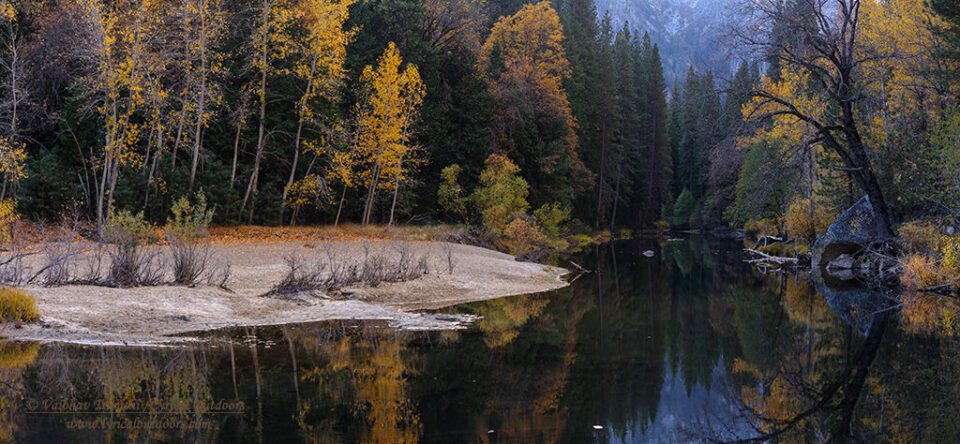 Many granite cliffs do not receive either the morning or evening sunlight in Yosemite and in autumn their blue hues act as perfect contrasts to the yellow, backlit leaves of oaks and cottonwoods. Cook's meadow, El Capitan meadow, Sentinel bridge area and Swinging bridge area are good places to look for such warm-cool juxtapositions that help create unique images.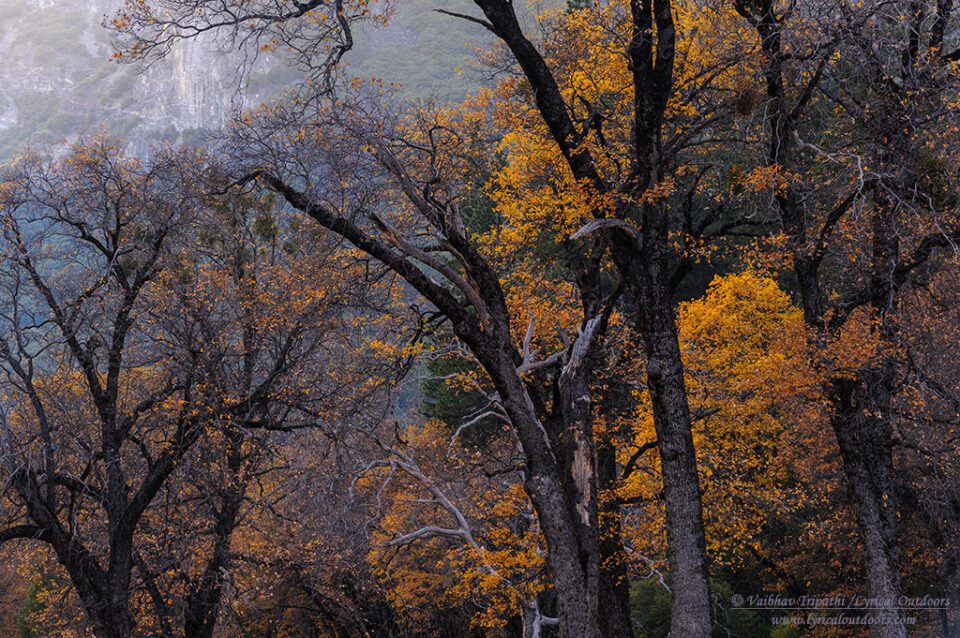 In my recent trip to Yosemite, I really wanted to photograph back lit glowing trees against the blue hues of the cliffs in shade and after half a day of search, I eventually got what I wanted. These cottonwoods lined perfectly along the still Merced River while the sheer cliff served as the desired backdrop.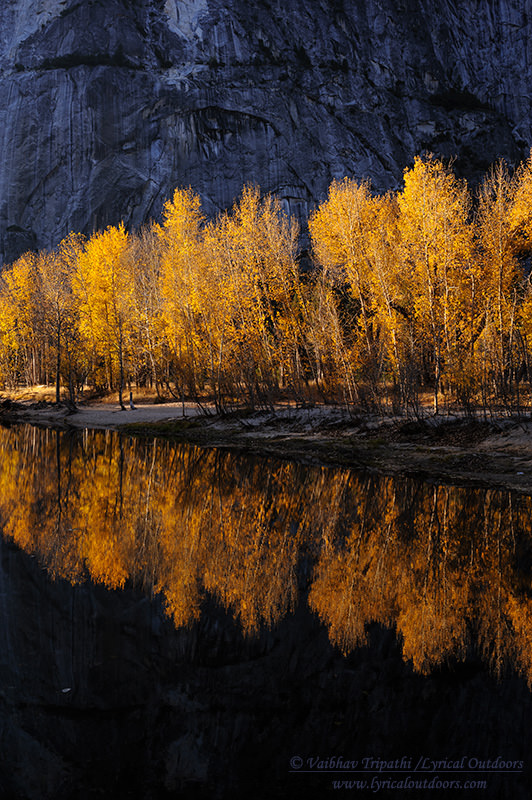 Soft, even lighting can be easily found in autumn in Yosemite Valley, thanks to the sheer granite cliffs and low angles sun. In such situations, I look for colors and textures to come alive and can potentially shoot almost all day without worrying about harsh light. Bridalveil creek, beneath Bridalveil Falls and the intersection of highway 120 and 140 are two such places among numerous others.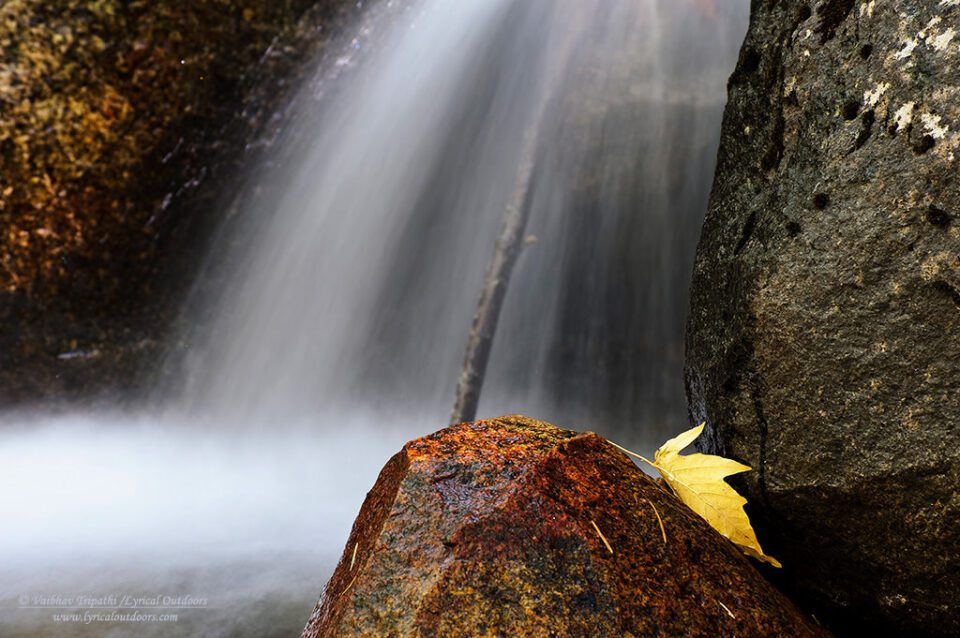 Clear sky makes autumn a good season for night sky watching as well as for photographing Yosemite Valley in moonlight. Car lights and jet trails are always a nuisance in the Valley if one is shooting in the night. I tend to make shorter exposures (< 5 min) and usually use a lens hood to get around these issues. Many short exposures can be later stacked in Photoshop to create longer star trails if desirable.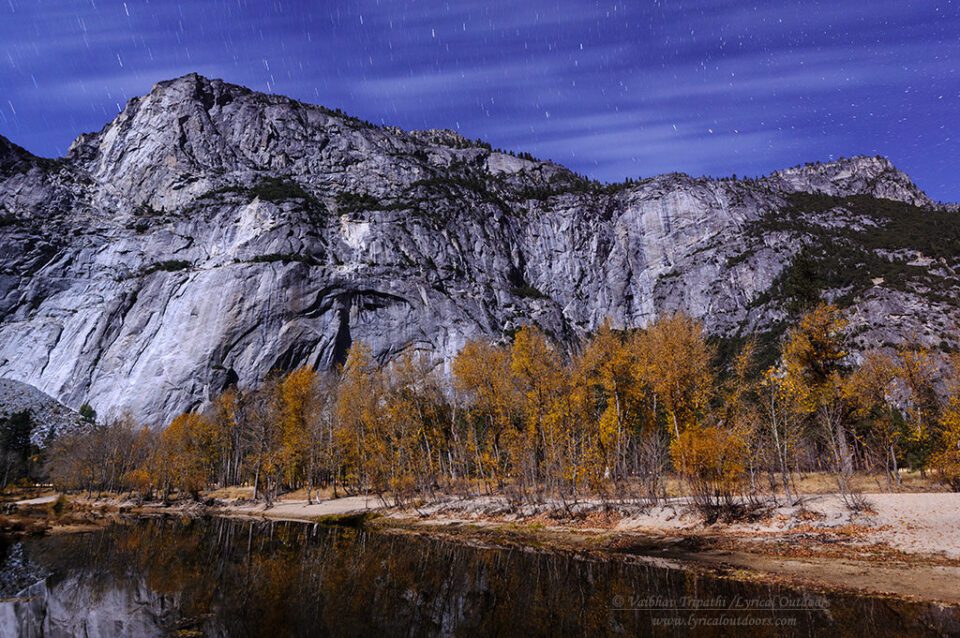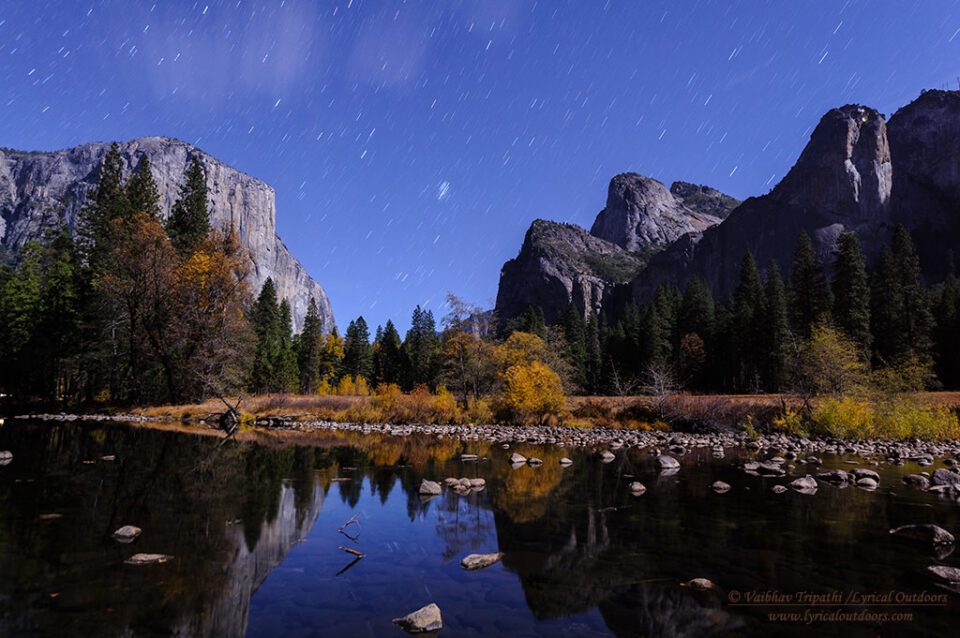 Yosemite Valley in autumn is really picturesque and is a real treat for someone looking for unique images in addition to the Yosemite classics. The play of light and land in this distinctive valley has always left me mesmerized and compels me to visit it repeatedly in every season. Next in my list is to catch Yosemite Valley in an early winter storm with peak fall color as well as photograph those red Dogwoods, which somehow have always eluded me. Maybe next fall, I will get lucky.