I am getting a little nervous writing articles, seems like it puts a target on your forehead for criticism, some just, some un-warranted. So let me start this article by telling you what I am intending to convey in this article and that is the following: I took a 12 day wildlife trip (self-organized) to Alaska to photograph moose, I have done many self-organized wildlife trips before to other places. When I do these trips, what do I bring and why do I bring it? This is what I bring and what I do, and it works well for me, take from it what might be useful to you and leave behind whatever you find non-informative. After many small trips to shoot wildlife, we have developed a bit of a standard packing and gear list we bring. It changes slightly depending on the trip, but generally we bring three bags, two are camera gear, one is clothes :)
I called it part one, because I thought a second useful part would be covering the cost and places we went and what we learnt from each of those places. If this interests you, read on, if not, I will catch you next article.
Let's Get Started
Missing from the photos is the RRS carbon fiber tripod we bring and the Gimbal head, these both end up going in our clothes bag, but the two photos show our general travel arrangement or what we generally pack for a trip.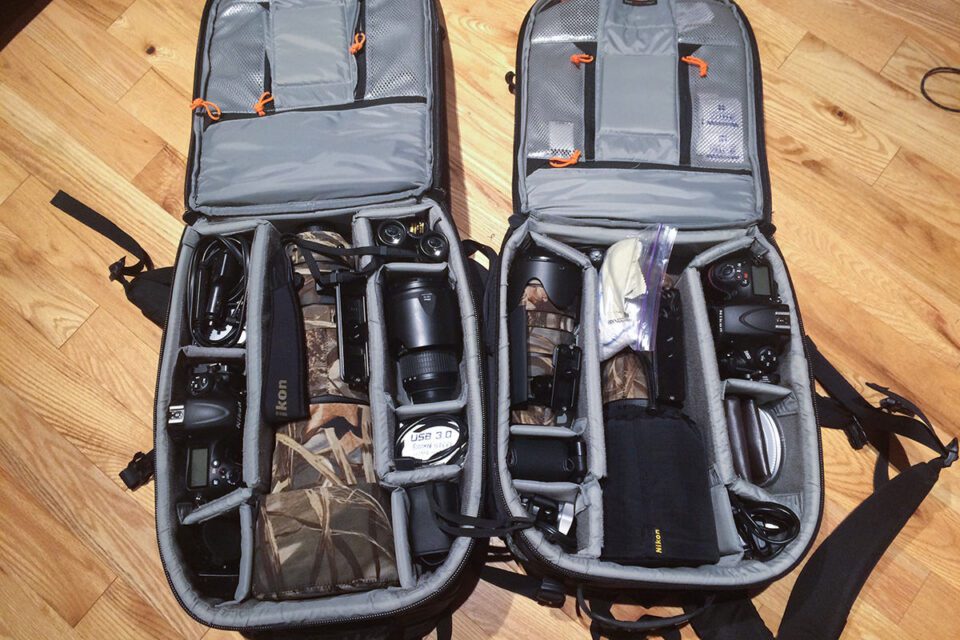 And here is a photo of the stuff from the bags spread out on the floor: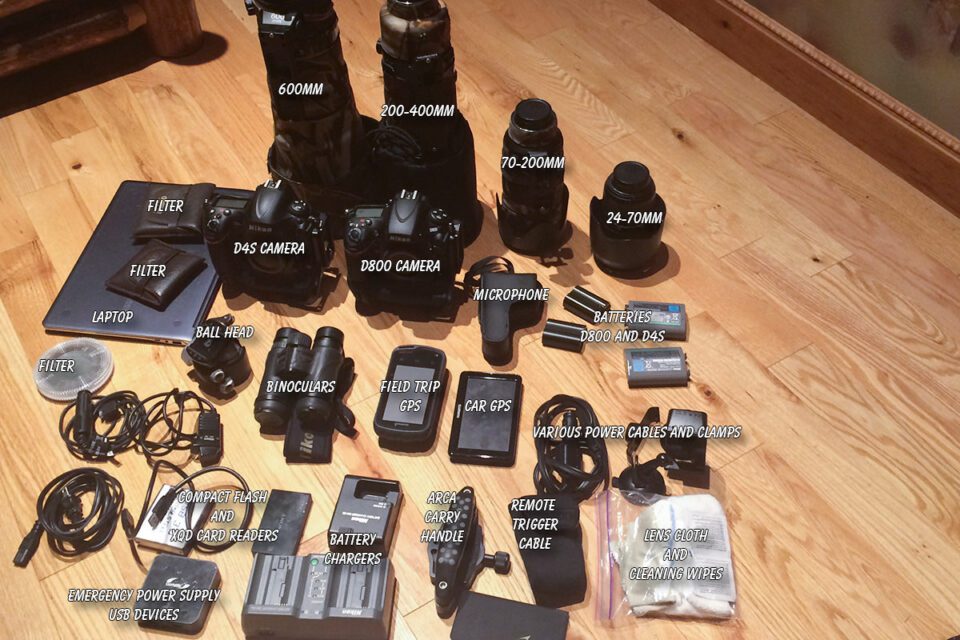 That Darn Plane Thing
Airlines just suck, they really do, they try every trick in the book to charge you to bring stuff on the plane and the amount you can bring is really limited. Our carry on, is our two camera bags, one allowed per person, so technically one belongs to my wife and the second belongs to me. I carry both on board and off, they are heavy and cumbersome and suck too, but what do I want to leave at home, the truth is nothing. This stuff is tiresome to carry and run around with, until you need it for some shoot, and then you are so glad you brought it. We bring the 600mm (just in case) and we have used it plenty for wildlife photography, but finding a bag that can carry it and also qualify for the carry on size limits is tough. This particular bag is no longer being sold So to make travel fairly painless, we have two carry on bags (camera gear), one checked bag (20% camera gear) with clothes and personal stuff. We used to carry more , but have found that if we limit our clothes to one bag, that's all the clothes we really use in one week to 12 days anyways :) Try to limit what you bring with you to absolutely basics and find ways that allow you to bring this stuff on a plane without costing you additional money.
So Why Travel To Get Wildlife Photography?
Not all of us live near a beautiful wildlife sanctuary and need to travel if we want to increase our chances of getting great wildlife shots.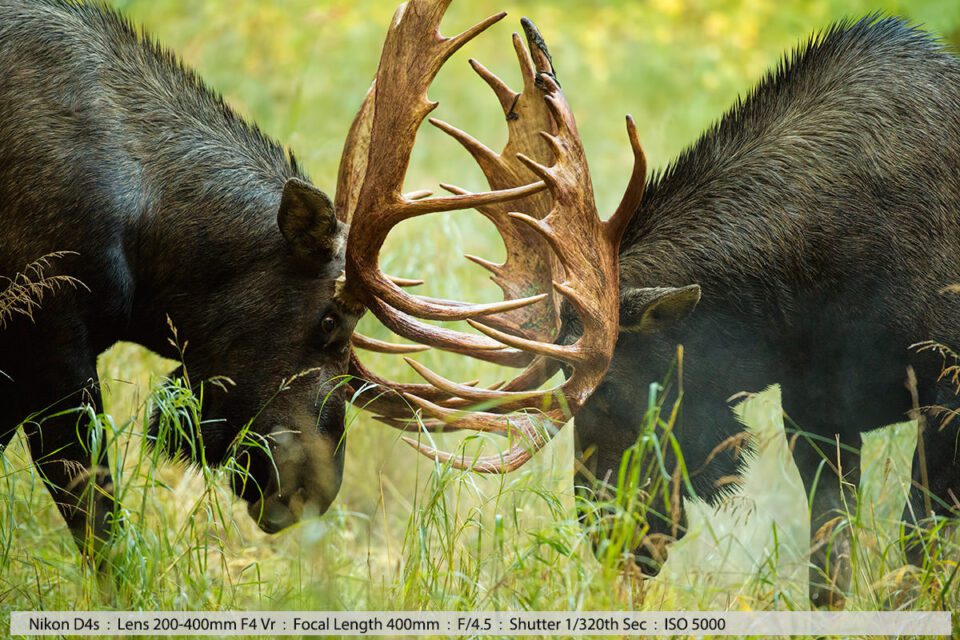 I have been trying for many years to photograph a moose fight (sparring session) here in New Hampshire with no luck for over tens years. I go to Alaska and I got to photograph 3 fights over a 12 day period, all I can say is Wow!!. Now I am not going to say that is going to happen to everyone if they travel, but the difference between NH moose photography and Alaskan moose photography is the level at which the wildlife tolerate your presence. We could never spend several hours with a moose in NH, but in Alaska we did that several times and because of it, we increased our photo opportunities. Travelling to certain places will allow you to get photos you might not get easily any other way.
ITEM: Nikkor 200-400mm f/4 Lens
This lens has been our prime wildlife lens for many years and many photo trips. What we love about it, is that the 200-400mm focal length seems to be a great range that suits many different wildlife situations. Sometimes the 400mm is not long enough for certain situations which is why we could recommend a 1.4TC or 600mm equivalent lens to be part of the kit.
The 200 to 400 mm has got excellent quality glass, it is light enough to carry all day and its versatility in different situations really make it a remarkable wildlife lens. Lets just say, that where we photographed it was not always necessary to have that reach, a lot of what we saw we could have photographed with a 70-200mm lens, but I am vary of short focal lengths, they can make wildlife look distorted (that wide angle look, thing), we find that while the 200-400mm can be a high risk, high reward lens in tight situations like amongst trees, if you get the shot, it can be more intense and perspectively pleasing, it can make the moose, for example look as large as it really should look. This is a hard concept for me to explain, except I have seen enough of my photos at different focal lengths to understand I can get more powerful shots at longer lengths.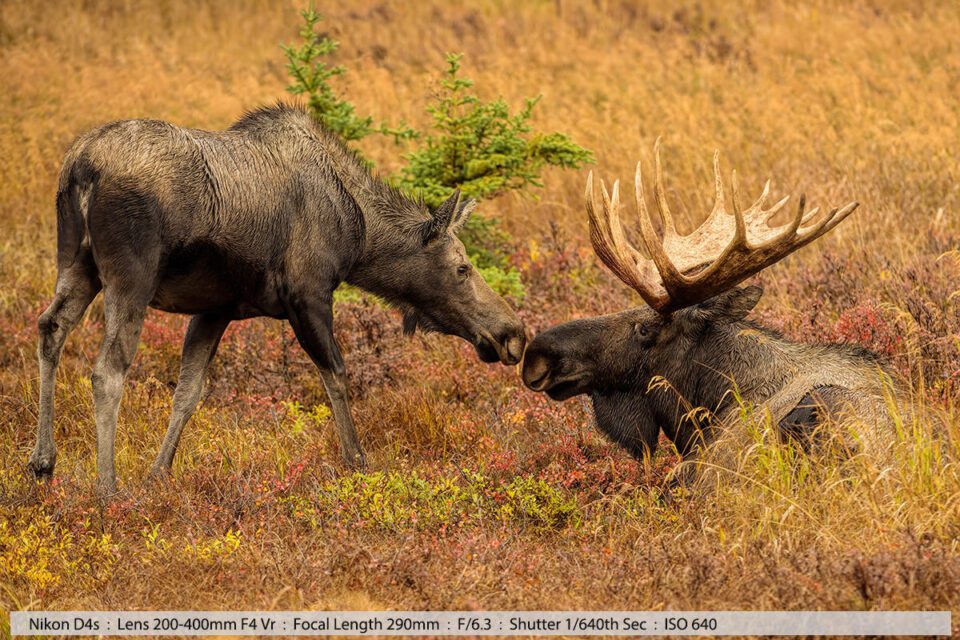 Now this photo above shows the versatility of a zoom lens, you can adjust the focal length on the spot to suit your framing needs. For most people this shot probably would have needed 600mm focal length, it would have kept you at a safer more respectable distance. I used the trees and other landscape features to creep my way closer without being too intrusive to their normal behavior. The 600mm focal length would have been a tougher focal length to get multiple eyes sharp, this is where the 200-400 shined for me. For me a wildlife trip would always have a lens similar to the 200-400mm in the camera bag, its the most useful lens in my wildlife camera bag (for me).
ITEM: Nikon D4s Camera
So I started by listing my most favorite wildlife lens, which I will now follow up with my favorite camera. Nikon has come a long way with offering alternative cameras since I bought my (D4 / D4s) and there are cheaper alternatives that offer exceptional results similar to the D4s. Why do I love this damn camera so much? The simplest and most honest answer, it gets me my shots in many unfavorable situations, it handles the worst of conditions in the best of ways. It produces pretty good photos even when I think the conditions are not photographable, it increases my chances of success. OK I get it, its expensive and I agree 100%. but boy, its has speed, great low noise, endless buffer, the batteries nearly last a week for me in the field, its a dream to use with quality lenses, it just is a dream wildlife camera for me.
The three most important attributes of this camera for me are:
The quality of the images, the quality of the pixels are amazing
11 frames per second with endless buffer
The low noise High ISO ability
The D4s camera is not for everybody, I think its the price that makes that statement true, because if the D4s was $500-$1000 I would want to recommend it to every wildlife photographer. The first photo in the article is a sample of this cameras ability, its 7 am in the morning, the sun has only just risen, we are in a forest that makes it darker, the weather is cold, so cold, every time the moose breathe they produce a cloud of fog around them, low light with reasonable fast moving subjects because they are fighting. In previous years, with previous cameras, a digital photo of this quality in these conditions would not have been possible.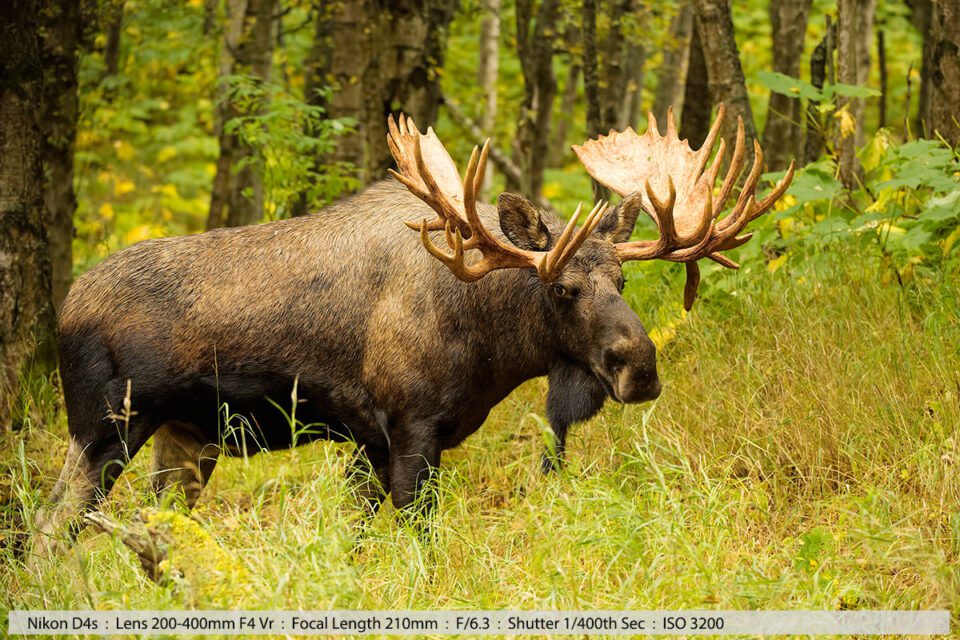 The above photo shows the combination of the D4s and 200-400mm combination at work. The environment is dark, it is overcast (best for moose) and we are in a forest, amongst the trees and overhead coverage that makes the environment even darker. This is a non typical bull moose, 40 points is just a spectacular moose to photograph, he is a beauty in the terms of moose and I only found him one day I was there, which means I had one chance to get these photos. That is why I am willing to spend the money on this camera, sometimes you only get one chance to get your shots.
ITEM: Nikon D800 Camera
The Nikon D800 is my backup camera in case something goes wrong with my prime camera (D4s), and yes I have had issues with a prime camera before, that I just wouldn't go on a wildlife trip without some form of secondary camera. I don't want to open a can of worms again and have a ton of outrageous comments, but the D800 is not the best wildlife camera choice in my opinion, or at least that is my experience with this camera and I have met many wildlife photographers who agree. Now that I said it I am sure there are going to be people whom don't agree with me and voice their opinions, but of all the Nikon cameras I have owned, the D800 has been the least effective for me and wildlife photography. It still serves a purpose and I love it for landscape photography, and video. We took a lot of video this trip (my wife was in charge of the D800 and taking wildlife videos), while I was photographing. We also got some great scenery photos and it handled the Aurora at night extremely well. The larger file sizes can make processing images a slow and tedious process.
Now we didn't set out to photograph the Aurora, otherwise we would have brought a wide angle lens, we were on a wildlife excursion, but the Aurora happened and the D800 and the 24-70mm was our only option. I didn't even quite know what settings I should put the camera on to photograph at night, but my wife and I figured it out and the D800 took great photos at night, it was awesome and it captured the memories for us of an event that was both surprising (it was the only day with clear sky) and extremely beautiful.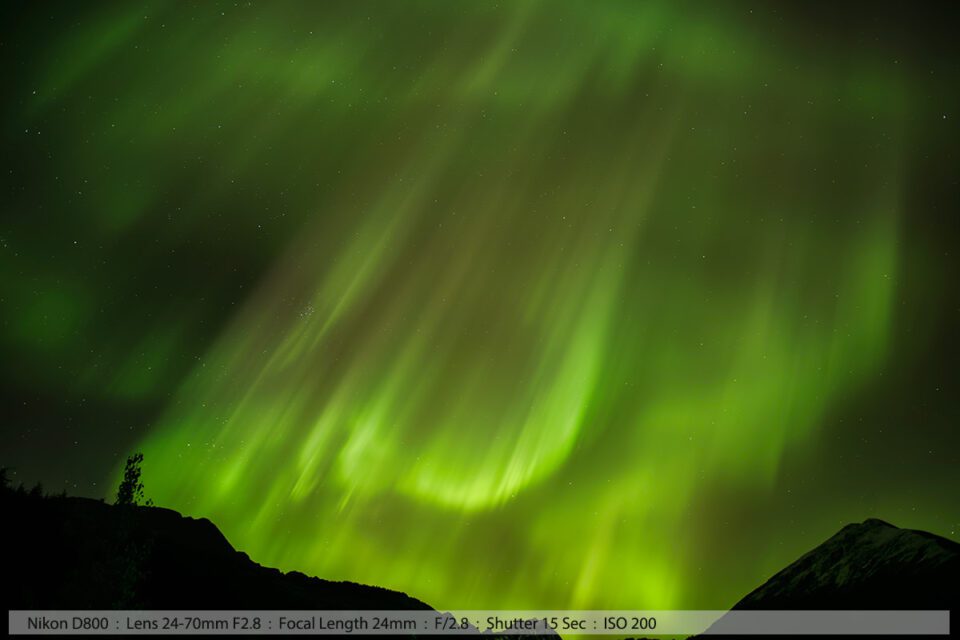 The D800 is in my camera bag, because it is my backup / scenery camera.
ITEM: Nikkor 600mm f/4 VR FL Prime Lens
This lens is a pain in the butt to carry in luggage and its big and cumbersome, it can also be cumbersome and difficult to carry on a field trip. Having said that, there are times when 600mm focal length is needed, you don't need to have an expensive prime, just combine a 1.4 tele-converter with some other lens you love to get you close enough eg: 400mm. One of the things that is nice about 600mm focal length is it keeps you at a safe distance from wildlife, the second is I love the photos that focal length produces, it can really make a moose and its antlers look impressive. We originally chose to bring this lens to Alaska because we hoped to photograph some bald eagles and thought we would need that focal length for bird photography. As it turns out we didn't find any eagles to photograph during our trip, and we only ended up using this lens once. That was to photograph a HUGE bull moose approaching in Denali NP. In Denali 600mm focal length can definitely increase your chances of getting a shot because of the limits the park places on you, as in how they allow you to photograph only from the road. We choose to bring the 600mm, because there are times we have regretted not having the 600mm reach. Because we own a 600mm, we choose not to use the 1.4tc with our 200-400mm, we choose to accept the extra challenges of carrying this lens around because of the end quality it produces when we do decide to use it. This is a personal choice we make.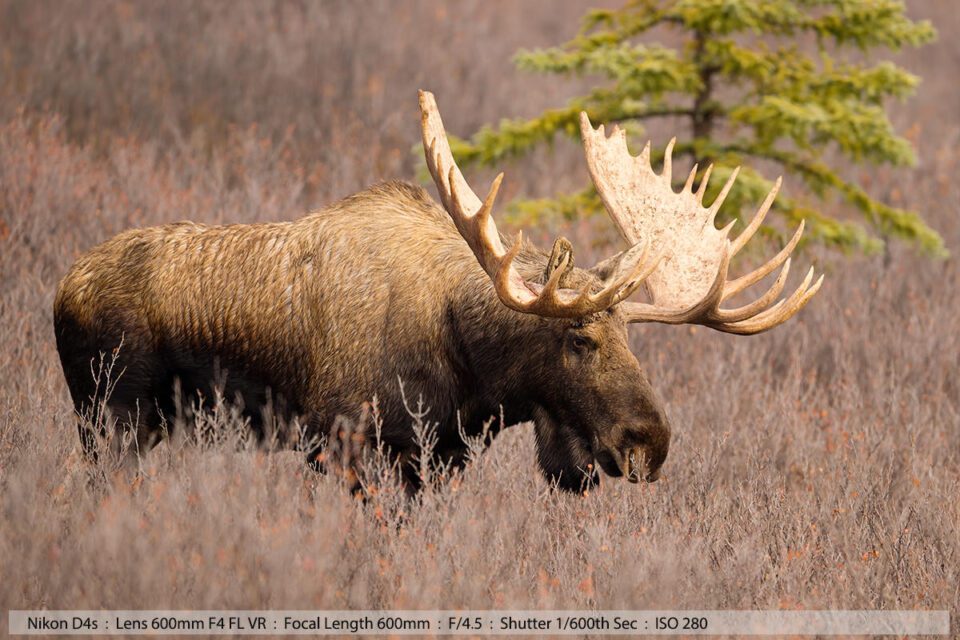 Now I am glad we brought the lens, even if the only time we used it was for this moose sequence. It turns out Denali can be a tough place to get moose photos, so being able to bring the moose closer was great on the one opportunity we got.
ITEM: Nikkor 70-200mm f/2.8 lens
This lens might be too short for some wildlife opportunities, but it is a great lens. We bring it because it is a valuable part of our kit, there are many times we will use it trying to frame wildlife with scenic as a backdrop, like moose in front of mountains etc. Also when you have the ability to get close enough to suit the framing you are looking for, this lens is exceptional and fast, it has served us well for wildlife running towards us a high speed. Its also a lens we will use often for general photography and landscape photography. Sometimes I don't like the results with wildlife, it can occasionally make wildlife look less impressive and smaller than it actually is, almost that wide lens look certain angles of wildlife can have. So I am cautious when using it, sometimes I will choose the 200-400 over it. Anyways the 70-200 mm focal length is such a useful length it deserves a spot in every camera bag.
Here is a photo of a moose fight that was in an extremely tight spot, ie: there were so many trees around where the moose were fighting, that a longer focal length was not possible without introducing trees or grass or objects into the frame between me and the moose. Now there was a danger of getting that wide angle look but I overcame that by being fairly close. This photo would not have been possible without the 70-200mm in this situation.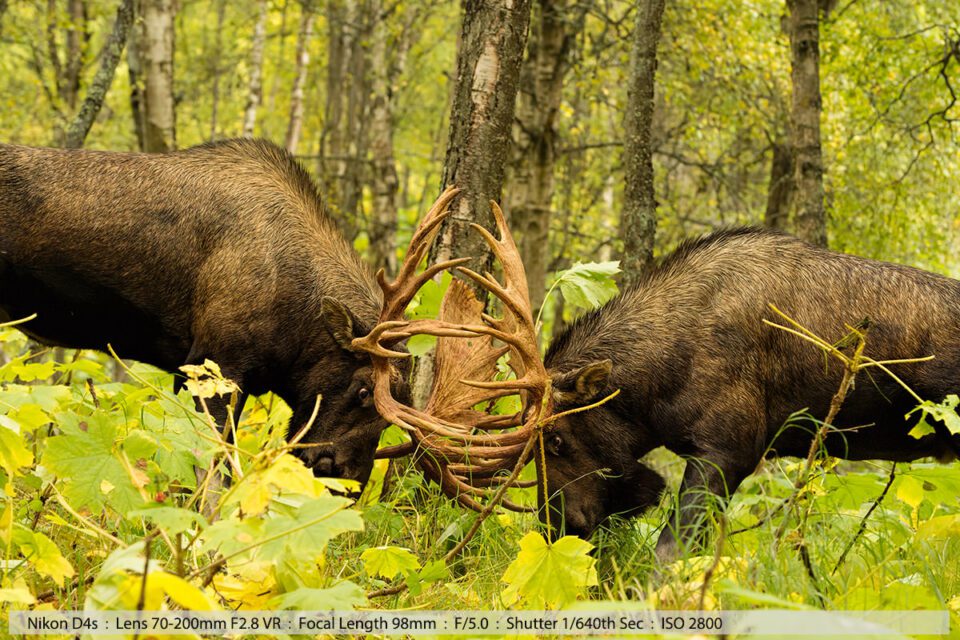 Obviously this is not normal use for a 70-200mm, but its the lens that was required for this situation. I was close to get this fight, it was an intense fight in a tight spot. If we dis-regard how close I was for this action shot, the 70-200mm would be great for composing multiple animals in a reasonably confined space.
ITEM: Nikkor 24-70mm f/2.8 Lens
Well, not much to say here, this type of lens is our general purpose lens and used for wider shots like scenic or landscape photos. I never get close enough (yet) to use this lens for tight wildlife photos :) This type of lens is just one of those lenses needed in every trip, we ended up using it for mountain scenes, landscape photos and the Aurora. We should have had the wide angle for the Aurora, but we didn't bring it, so this lens had to do that job for us.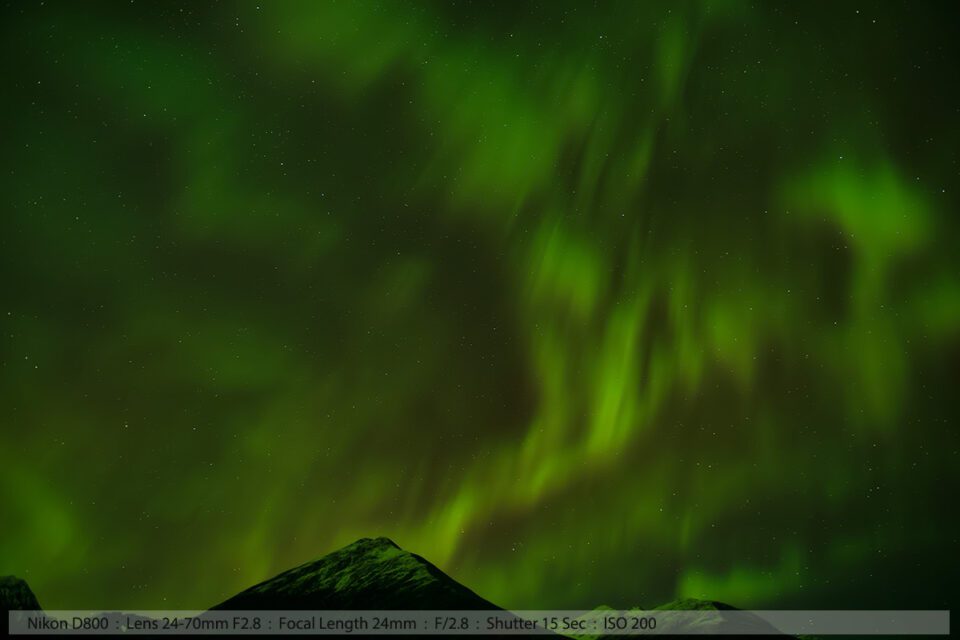 Like I said earlier, the Aurora was not in our plans, but it happened, hence why it is necessary to carry a range of lenses to allow you to photograph a range of opportunities presented to you on your trips.
ITEM: Raincoat for Camera and Lens and Also Personal Wet Weather Gear
Don't be scared to go out in the rain, it rained for the first four days of our twelve day trip to Alaska, if we hadn't brought wet weather gear for the camera those days would have been lost. Not only that, rain enhances colors, adds detail to wildlife, can make photos prettier, just get used to and be ready to shoot in any conditions.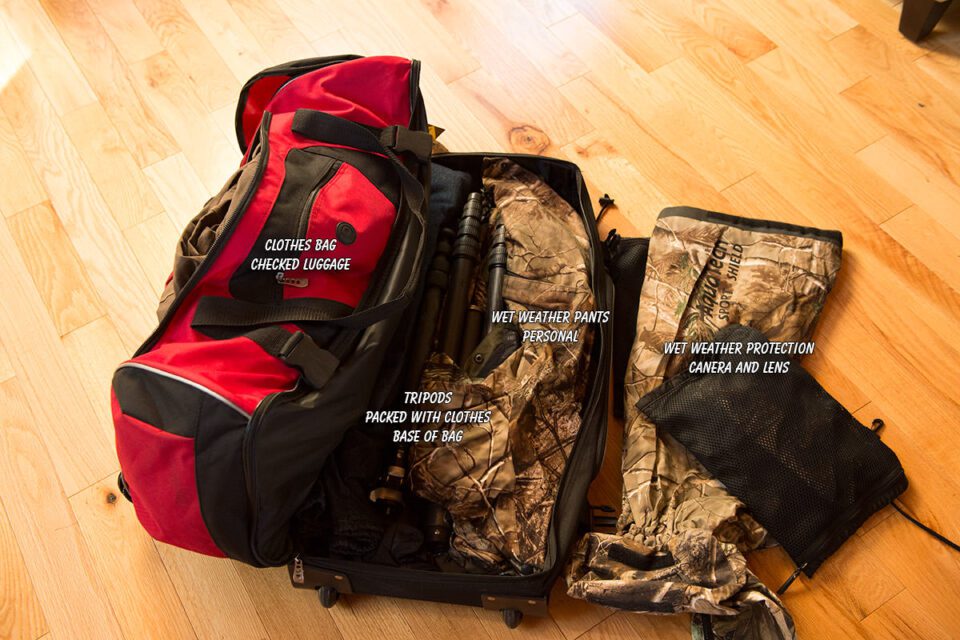 As important as the wet weather gear is for the camera (ours is by AquaTech), you also need quality hiking boots and at the very least waterproof pants. The hiking boots are worn throughout the trip, so as not to take up baggage space. We pack rain pants and jackets in the clothes bag, we have found some lightweight raincoats that pack very small. The rain pants and a pair or two of normal pants make for great packing protection of the tripods.
Wet pants are essential in three types of situation:
Rainy weather
Walking through wet grass or wet fields
Snow or snow covered grass
Wet weather pants will protect your boots and keep them mostly dry and keep your socks dry. The pants can become hot if its a not breathable type of material, so choose breathable wet pants or good quality ones.
Last but not least, a lot of wildlife will be more active when it rains. All of our fighting or moose action photos happened in either wet weather, snowy conditions or wet grass. You might like horrible shriveled feet, and if you do, don't bring wet pants and good boots.
ITEM: Laptop and Card Readers
We bring a laptop on our trip for several reasons. Its too small to review photos on the back of the camera, so at the end of each shooting day when we get back to the hotel, we sit down and rate each photo on the laptop. We give each keeper photo a five star rating and any photo we love or think is a print we will give an extra rating of 3 on a numeric rating scale. We then know the outstanding photos or possible print photos are the 5star plus 3 rating, all sharp and quality photos are given a 5 star rating. We will then delete all non rated photos from the memory card to free up space. The laptop also has Photoshop on it and we will load and start prepping keeper photos for posts to Facebook or emailing and the laptop is also used to kill time on the plane. We will review memory cards on the plane and find the best 5 star photos. The laptop also serves as our internet access while in hotel rooms for email or research moments, like looking up stuff we didn't think of before leaving on our trip.
ITEM: Batteries and Battery Charger and Charger Cables
I wish Nikon would refine their battery system, every camera has a different battery style and size and requires a multitude of chargers to charge them. Some of these chargers like the D4s are large to carry with the limited space in a camera bag for carry on bags. Anyway, don't make the mistake of not bringing the charger, we did that once and it was the only time we ran out of batteries, requiring us to travel 70 miles to the nearest photo store and have it overnighted to us at high financial cost. We normally have three or four spare batteries for each camera we carry and bring them fully charged with us at the beginning of the trip.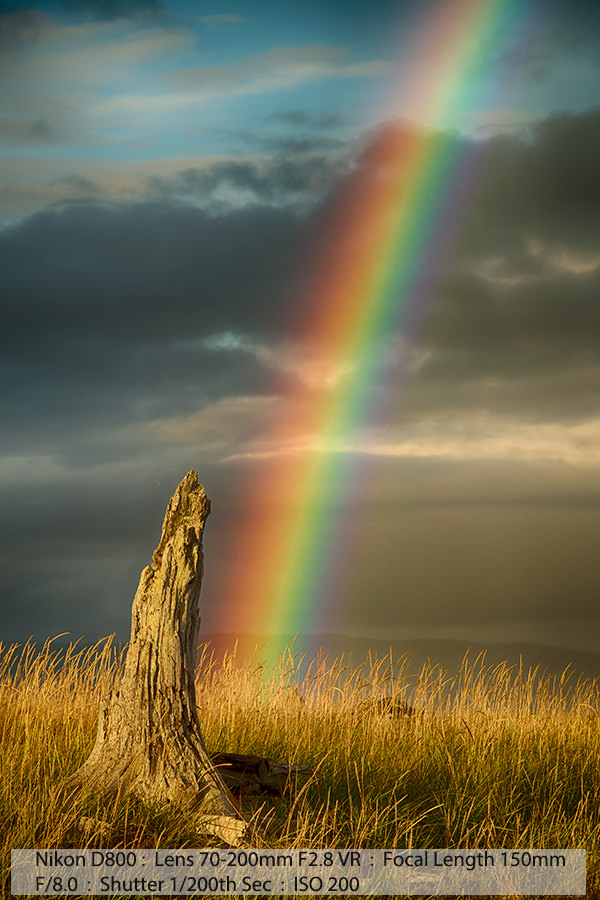 ITEM: Filters and Remote Cable Trigger
Well, even though we were on a wildlife trip, moments of natural beauty can happen like this rainbow over Homer Alaska. Because we had brought the tripod and ball head and polarizing filter, we were able to capture the rainbow at its most intense level. The filter and cable trigger hardly take any space in the camera bag and its a no brainer for us to bring them. We carry three filters with us, the polarizer, night day filter (adjustable neutral density) and color enhancer filter. The remote trigger was also used for the Aurora photography.
ITEM: Carbon fiber tripod and ball head
We always carry a tripod and ball head with us on our travels, sometimes we carry two tripods. A larger tripod to handle larger lenses we can attach the Gimbal to, a smaller tripod that is suitable for hiking back country and attaching to our backpack. We never used to invest in a carbon fiber tripod, but after getting frustrated with carrying heavy tripods on back country treks, we realized the weight savings of a carbon fiber tripod makes us a lot more likely to bring it on a long hike. Scenic and long exposures or trying to do panoramic shots are great reasons to bring a tripod. We have ARCA connectors on all of our lenses and ball heads, it makes for an easy universal quick connect system. We also have ARCA L plates on our cameras for use with tripods. The tripods and Gimbal pack with our clothes bag, we lay them between layers of Jeans or Shirts and they go in checked baggage.
ITEM: Camera Microphone
We are trying to do more video stuff, so we carry this microphone to better get the sounds of the animals in their environment when recording video with audio.
ITEM: Car GPS and Hiking GPS
The car GPS is an invaluable travel tool, it makes driving from spot A to spot B so easy and these days the Garmin GPS are very cheap for a good quality GPS. If you hire a car, they can and will charge you at crazy rates to add a GPS to your hire car, you will pay for the GPS on your first trip versus getting one from the hire car company. Don't forget to bring the window clamps and charging cable. The GPS take the worry out of finding your shooting locations, can also be used to mark good spots you find or restaurants you might want to eat at or hotels if you haven't planned them in advance.
The hiking GPS has become an essential wildlife photographic tool for us. It gives us the freedom to hike anywhere, without worrying how to find our way back to the car, and the freedom to go into the woods and track or follow an animal without worrying about finding our way back. We mark the location of our car at the beginning of each hike, we also us the "current track" tool to mark the exact route we hike, if we make many turns while in the woods, we can just look at the GPS and follow the track right back to our car. Most GPS also come with tools like weather and compass or details of your hike like distance, elevation and time travelled. My wife once got lost in the desert of MOAB and ever since that day, we have never hiked without a personal GPS. It is also great for marking hot wildlife spots and you can bring the GPS home and look on Google earth where you have hiked and the spots you were in. We bring extra batteries in our back pack should something go wrong, or if we are out too long and batteries running low.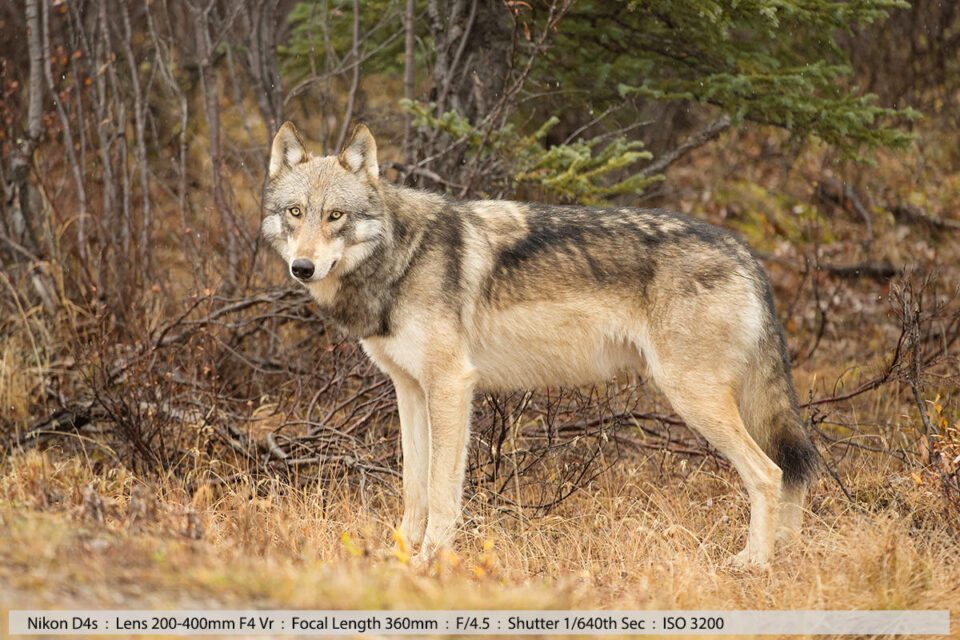 ITEM: Binoculars
We carry 10x binoculars on our trips, we have found them very helpful in locating certain wildlife or when out hiking. They are more useful than you think when scouting and they come in fairly small sizes and are easy to pack in with the camera bag.
ITEM: Gomadic USB Power supply or Similar
This is an external power supply in USB format, so it becomes an emergency power source for our IPhone or GPS or any USB driven device, it hold its charge for months and will charge the IPhone several times on one charge or give you several days worth of power for your personal GPS.
ITEM: Arca Carry Handle
I have Arca connectors on all my lenses and use Arca ball heads and L plates. This small compact Arca handle by Kirk, makes it easy to clamp on your lens foot and carry your lens and camera on long day hikes. Its not un-common for us to be out all day tracking or trying to find wildlife, this handle just makes it that much easier to carry the camera with a lens connected.
ITEM: Lens Cloth, Lens Pen and Wipes
Occasionally when in the field, crap like rain or dirt or spots will get on your lens. We carry Zeiss one use wipes and lens cloths to clean the lenses in the field. I am always reluctant to touch the glass of my lenses and keep it to a minimum, but sometimes stuff happens in the moment and having these with you could save the day.
ITEM: Business Cards
Look, even if you are not a pro, you should design and print yourself some business cards. You never know when you are going to bump into a National geographic representative whom loves your work and wants to hire you on the spot. If you haven't got them, get yourself some business cards and remember to carry them.
The End
This isn't an all inclusive list, but its most of what we take on our trips. I hope there is some useful tips in this article for our upcoming travel photographers. Going to different places than your home turf can open up all sorts of opportunities or life experiences you never thought of. Travel doesn't have to be expensive, so don't eliminate it from your thoughts, it can be as cheap or expensive as you want to make it within reason.
Look in twelve days of Alaska, we saw amazing moose, wolves, birds, whales, scenic, Aurora and more – it's as much about the experience as it is about the photography.
As always get out there and get into it.