Do You Have What it Takes?
Wildlife photography can be so rewarding and so frustrating at the same time. It can be a challenge of patience and persistence and all those wonderful photos you see from wildlife photographers around the world took time and effort to get. What a photographer usually shows you on their website or portfolio is the best of their work, a hundred or so photos, sometimes more. What you don't see is the amount of time it took them to get those photos or what they had to go through or just how many attempts were involved before they got what they were happy with.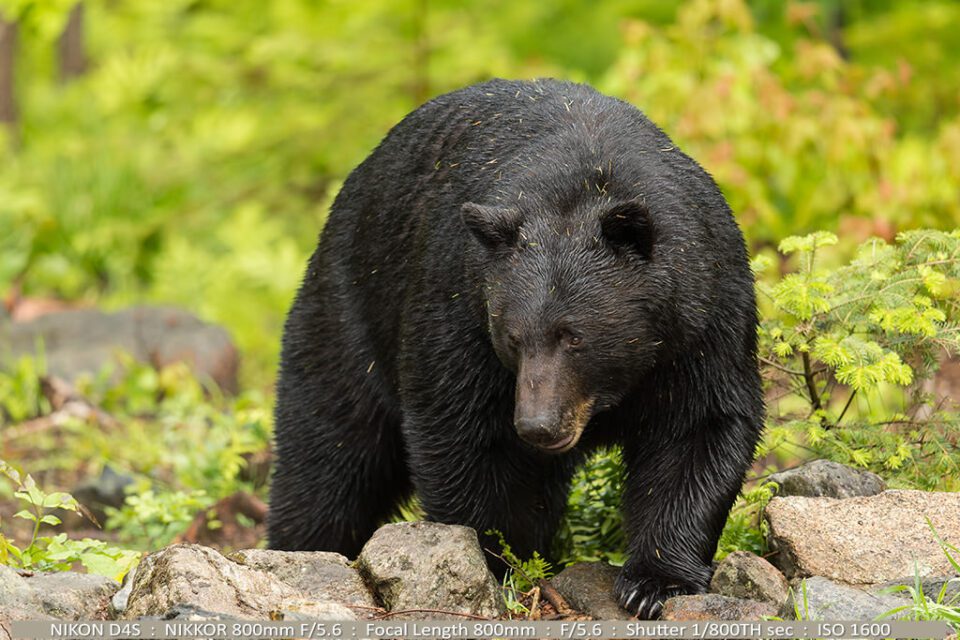 The featured photo of this section is of a huge wet 500lb black bear taken in New Hampshire, where I live. Let's talk about that photo for a bit as it relates to this topic of "do you have what it takes". I have lived in northern NH for eight years and it is a place known to have many black bears, yet they are the ghost of the woods, the animal that hardly ever shows itself to you and a male that got to be this big is very aware and cautious. So I have been trying and trying for years to get really good black bear stuff, success in Yellowstone but not at home. It was a little frustrating to say the least, but I kept plugging away, got some keepers but nothing spectacular. Then back in 2014, things fell in place and all of a sudden I got a couple of beauties, photos that make my heart pound faster and take my breath away, the kind of photos that drive me through this crazy passion of getting great wildlife photos. This black bear (photo above and below) is as big as they get for a black bear and a rare opportunity here in New Hampshire, so all my years of hoping and trying finally paid off.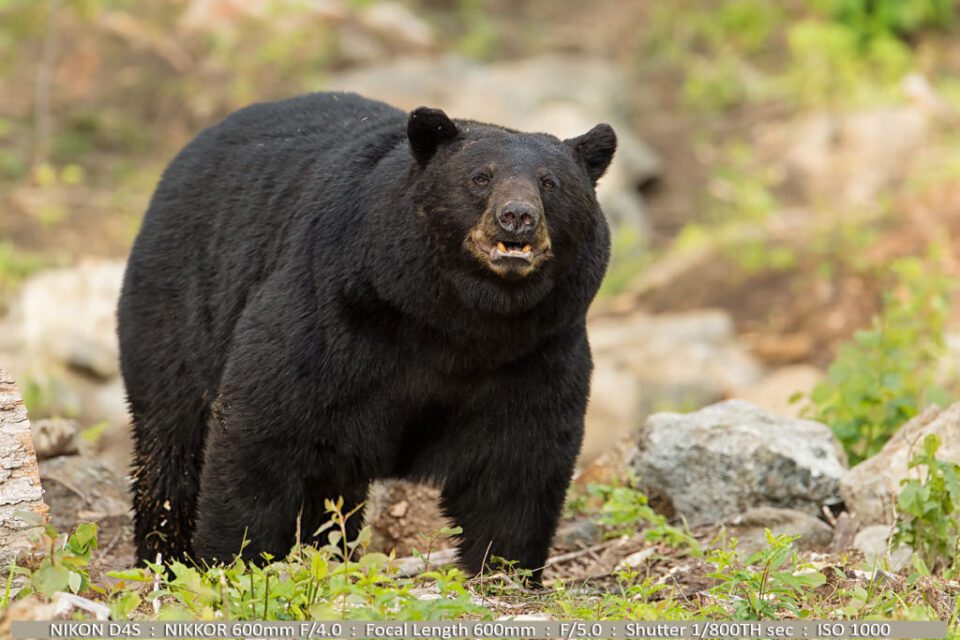 The two top photos are the same bear; just slight angle changes and lens selection make a huge difference in how he is portrayed. The front angle shows his true size, while the first photo is more about that power in his walk. At any rate, for me to experience such a huge bear up close and personal is an opportunity I cannot afford to mess up on, I may never see a bear like this again. I sat for many, many, many hours, just waiting and hoping and then this guy walks in, more bear than I ever expected but so happy to see him.
When I say "do you have what it takes", I mean the following (also my tips for this section):
Wildlife photography can be a slog at times; it can be un-rewarding in that you may not get recognition because wildlife photography is so competitive.
Maybe not all wildlife photographers will admit it, because they just show all their best photos and some are shy about sharing the effort or missed opportunities it took to get those photos. But let me tell you, some photos just take a long time to come your way and you have to be willing to try and try and try again.
Its 20min before it is too dark too shoot, you see some elk in beautiful cottonwood trees, you start to approach and there is a running creek in front of you. If you go back and around, it will be too late. Are you willing to just go for broke and walk across that creek, shoes and all?
Are you willing to sit behind a blind for hours in the hope that the animal you are stalking will walk by, and if it doesn't do it all again.
I would say, don't do it for money, you may not make any. Do it for the love of wildlife and then if money comes your way, awesome!
A lot of wildlife is more active in the mornings and evenings, getting up and to your location before/at sunrise is a must.
Sometimes you have to learn to be a hunter and how they stalk and get close to their animals. A hunter with a camera and not a gun.
Sometimes the photos you see as awe-inspiring and magical, others don't. Don't let it get to you; you are doing this for you and not for them.
You have to be ready at all times; you may only have seconds to get that magical photo.
In the Katmai Grizzly bear photo further down the article, we spent 5 days in nonstop rain/drizzle, got cold in July. The magic of what we saw and captured overrides all that, in retrospect having the rain was lucky because otherwise, we would have been dealing with harsh sunlight and big insects. It was a mixture (perfect blend) of pleasure and pain!
You probably can gather from the above bullet points that I am rather intense when it comes to trying to get the shot. I think passion and intensity are requirements that help you and increase your photographic success.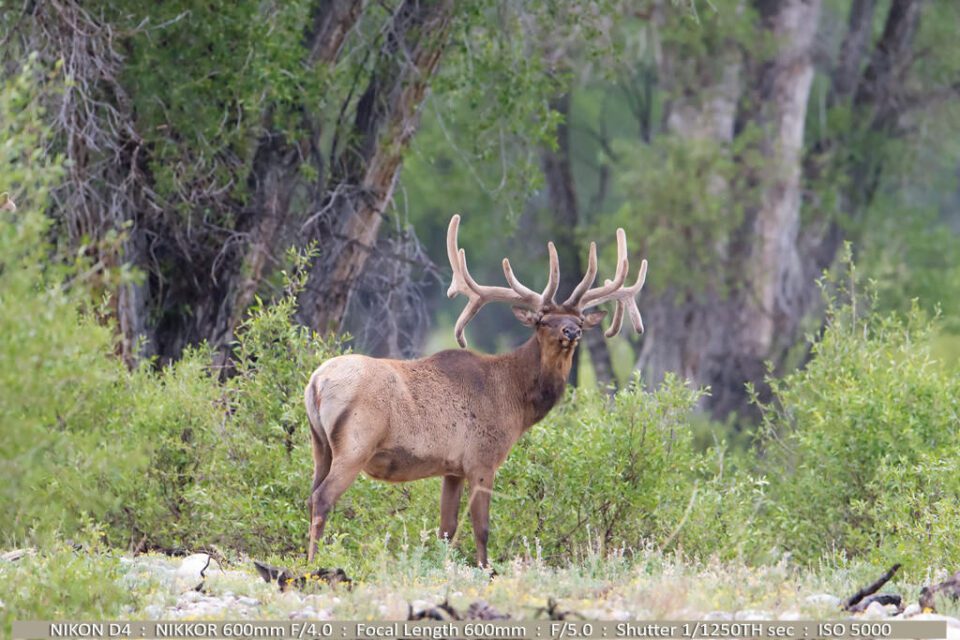 This photo above is the one where I did cross the creek in my shoes, I photographed several smaller bulls in the cottonwoods, when I spotted this grand monarch elk (the leader of the bachelor group), who was definitely the boss. Unfortunately, this was shot at 5000 ISO, so the image has a little more noise than I would normally want. My ISO limit for the D4/D4s is around 2500-3200 in extreme conditions. For me, the magic is seeing and capturing such a grand champion, my only regret, not seeing them earlier and having the possibility of more time and better light to photograph them in.
The Pro in All Us Amateurs
There are varying definitions for the term "Professional Photographer", but I think the most accurate one is the one that says a pro is someone who earns 100% of his / her income from photography. Becoming a true professional is not so easy and for wildlife photography that statement is especially true, it's a very competitive field out there. Mike Read wrote about this in his "wildlife photography as a career" article as well. Would I like to be the next Moose Peterson or Thomas Mangelsen? Sure, I would and maybe one day if I am lucky it could happen, but that's not why I do wildlife photography. I do wildlife photography because nature and wildlife inspires me, I marvel at the range of creatures out there and their behavior and interactions. I would be happy if one of my photographs influenced just one person and changed their view on bears being human killing machines and we must shoot them all. I take and share wildlife photographs so others may get to see the beauty of nature that is out there and hopefully that they may also like the photographs I take.
You need to have a reason to be a wildlife photographer, a passion that drives you to get better and better. You don't have to be a pro to take great wildlife photos. In fact, there are many great photographers out there who are not pros. You are going to take crappy photos, don't sweat it, learn from your mistakes and keep improving, it takes time. So if we stick with the notion a professional wildlife photographer is someone who earns 100% of their income from photography, then I say to you, worry about the money later and experience wildlife first. The money may eventually come your way and maybe one day you will call yourself a pro, but if you don't start with that outlook you will always have many wonderful wildlife experiences to take with you to the grave or share with your family and friends.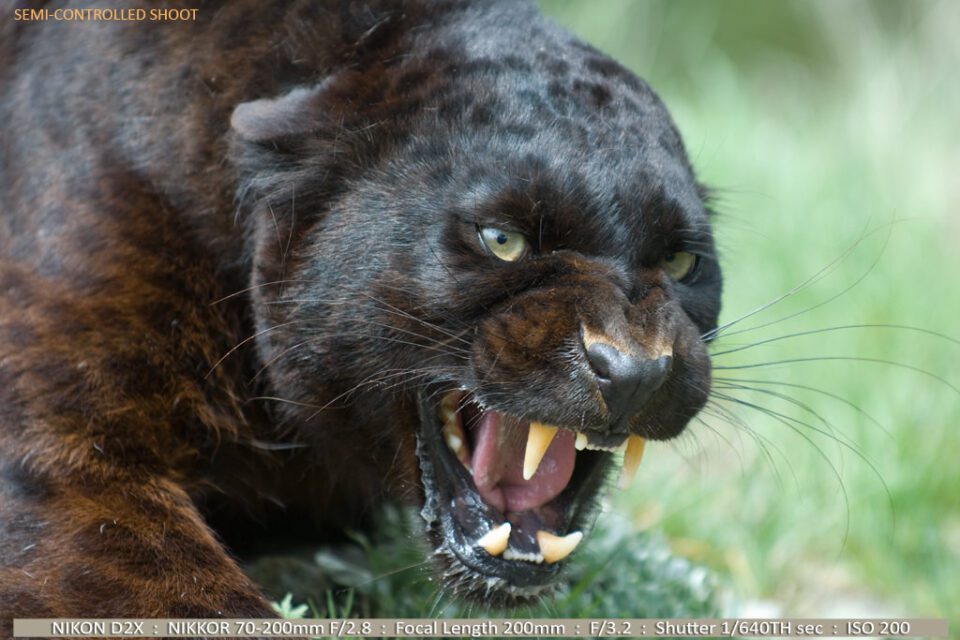 I am not a pro by definition, I have a day job as part of my family business and it will probably stay that way for a while. As an amateur, I don't want you to get disheartened or discouraged when you see some photos out there that are mind-boggling. I bet you didn't know that most of those trophy deer photos jumping fences in perfect light and composition were staged specifically to be on the front of hunting magazines. Sometimes you are going to see amazing photos like a snow leopard running down a mountainside taken with a 400mm or less lens and wonder how do I get a photo like this. The answer is complex and maybe you never will because finding a truly wild snow leopard is very hard as they are on the brink of extinction and considered an endangered species. In the example of the snow leopard, I was talking about, the photographer was actually in a helicopter following a trained animal down the mountain. There are photos out there taken with everything perfect that had help from professional animal handlers and then there are photographs out there taken by wildlife enthusiasts and pro's alike that are truly wild. At the end of the day, I am highlighting it, because when first setting out on the path of getting great wildlife photos you sometimes try to copy or imitate and image you have seen or that you really liked. Now that you understand a little about some of the competition you are up against, it may help you evaluate your own photographs more realistically. I believe to succeed, you have to be happy with your own evaluation of your photographs and their quality. Your competition is yourself and your quest for ever-improving images, get out there and get into it and maybe one day, the pro in you arrives.
Tips:
If you do it for love, passion and personal achievement, money hardly matters
Being a pro does not necessarily define success, you define who and what you are, your photos will speak for you.
Timing and Persistence
Sometimes photos happen in bursts, you try for several years but don't really get the kind of photos you want of a particular subject, then one year many great shots happen of that subject. You have to put yourself in the position to maximize your ability to get the shot, sometimes it's just the right time and things happen for you and at other times it's through outright persistence and you make it happen.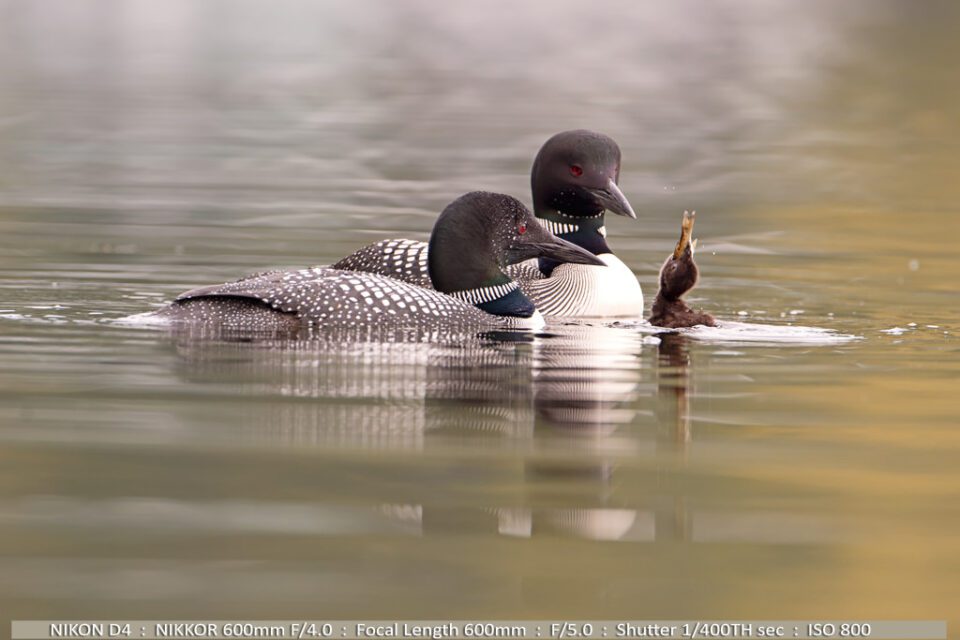 The shot above is not my signature shot from following those loons for two months, but it's extremely cute. The two parents proudly looking on, while the 2-day old baby swallows a fish almost the same size as its body. Timing and persistence pay off, the persistence here is being out on the pond in my canoe every day for two months and following the loons religiously. The timing is knowing there will be a lot of feeding going on with the baby so young as they try to fatten it up and the opportunity to get such photos increases. You will get quite a few opportunities for feeding and interaction shots when you shadow them during this critical feeding phase, but if you want natural behavior you have to keep your distance and respect the wildlife you are photographing.
Tips:
Get out there again and again and again.
If you don't get that magical photo this year, try again next year.
If the photo you got is not good enough, pick it to pieces and try understand why you messed up.
Understand when the subject is most active and put yourself there, ready to capture the moments.
Use the photos you mess up on or just miss as inspiration to do better next time.
Every Second Counts
This D800 image below is a perfect sample of how every second counts. The male bear was trying to court this female and following her like a bad smell, she was being a typical female bear and playing hard to get: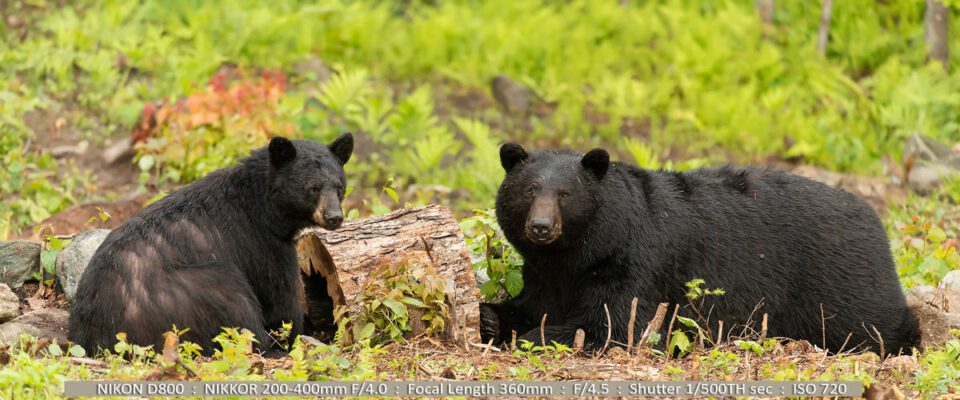 He laid down in frustration near her and they managed to put their eyes in the same plane for just a few seconds. All up I had the bears for a total of 9 frames in this position before the moment was gone. I got lucky because I had been shooting the male walking and was at 4.5 F-stop, I didn't have time to think or adjust my F-stop as this moment happened but somehow managed to get two sets of eyes sharp at F/4.5. Interaction shots in wildlife always tell more story and have usually had more power than a single subject photo, they are also much harder to get. When I say every second counts, I mean be ready, don't let your mind wander off somewhere while activity is going on in front of you. If you lose your focus, you may miss the opportunity, because in those nine frames above only three frames had both eyes open and sharp. Three frames to get the shot, a shot you may never see or get the opportunity to get again, every second truly counts when you are trying to get the photos of your dreams. On a side note, I got this D800 at full frame, so I am going to use the resolution of the D800 to turn this into a panoramic type crop.
Tips:
Every second and moment does count.
You have to be ready and predicting possibilities.
If you want interaction, then you have to be trying to shoot it from the beginning. IE: it's no good if I had my 600mm prime lens attached, it would have been too close and they would not have fit in the frame. I set out to try and get interaction and chose the 200-400mm so I could adjust focal length to suit a moment if it happened.
I used auto ISO feature here, which eliminated one set of variables (camera settings) that I might need to set or fumble with, this helped me concentrate on getting the shot.
Follow the subjects through the viewfinder, track them, have the trigger finger ready, predict the moment and fire off those shots. If you saw it 1st and fired it may be too late. There was a moment the two bears (male and female) mouthed each other, a display of courtship. It happened during a fairly innocent approach by the male bear, a total of 11 frames at the D4s (11fps speed), so I had just a little over a second to capture it. Timing is critical.
There is No Tomorrow
This subject will be short and to the point. Have you ever been out driving with someone (e.g. spouse/friend) and as you drove you caught something in the corner of your eye and thought to yourself "we should take a photo of that" but then kept driving and said, "we'll come back and get that later". Well, later hardly ever happens and there is no tomorrow when it comes to photography, tomorrow is another day with different opportunities than what you saw today. This scenario still happens every now and then to my wife and I, and we know that when we pass on the opportunity it is gone. It not so bad that you let the moments pass, but my suggestion would be to actually stop every now and then, take the time to capture the moment, it may last a lifetime. Just be aware that what you see today and what happens tomorrow are two different things, you make the choice.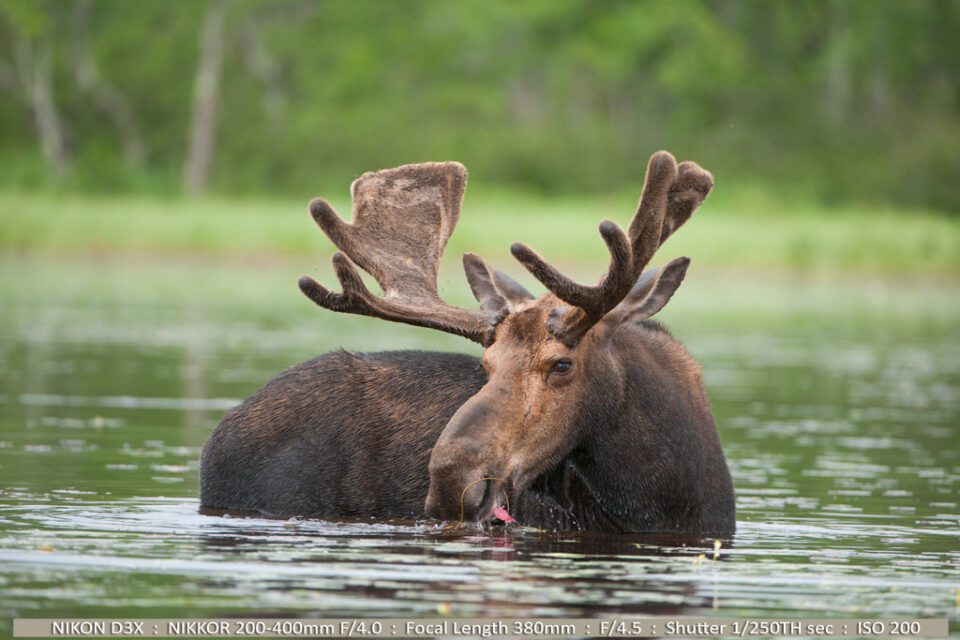 Let me illustrate the "there is no tomorrow point" with the above photo. At the time we took this moose photo we were living in Portsmouth NH and it was a five-hour drive to Millinocket Maine where we were photographing the moose. On this particular day when we took to the water in our canoe, we found eleven moose feeding in the same spot of the pond. We were so happy, we had so many to choose from and two of them were big boys with beautiful racks. Anyway, to cut the long story short, after we finished photographing that day, we decided we would come back for the next five weekends to try and meet up with at least one or two of them, right! (remember eleven on the pond). We did come back every weekend for the next five weeks (5-hour drive) and not a single moose out of the eleven were back in that pond.
Tips:
Don't assume the animal or subject will be there tomorrow or we'll get it tomorrow because who knows what tomorrow will bring.
If something caught your eye and inspired you 'today', then it probably was worth taking the time to photograph.
Photography is not a chore, you don't have to get every shot, just don't regret it later if you pass by a chance.