There is a lesson here for all, especially when purchasing expensive gear. Expensive is a relative term with a value that varies per individual and can't be generalized, the stuff being said here applies to all values of items. It comes down to how much value the item has to you and whether you are willing to risk that value versus the warranty programs being offered. Obviously the bigger the expense, the higher the risk.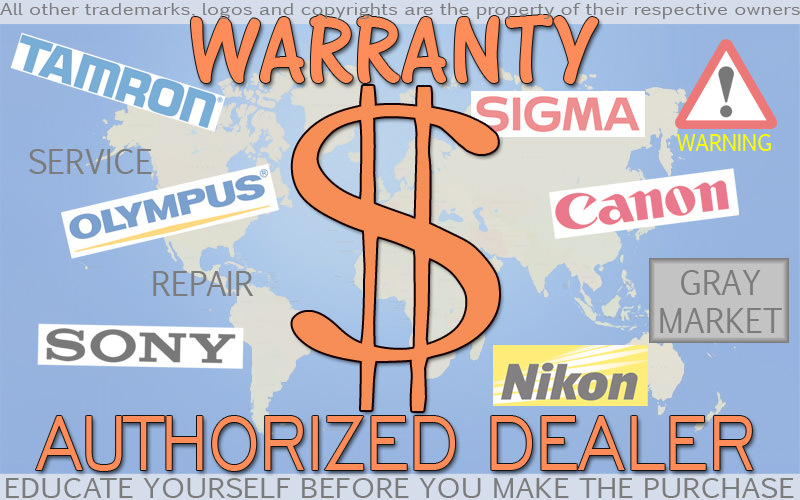 I usually always buy my all of my camera gear right here in the US of A, because that is where I live and I like to go buy the expensive stuff in person at a Hunts Photo and Video store to make sure it arrives safely.
Well, 4 years and 9 months ago I broke that personal rule to buy a Nikkor 600mm F4 VR lens from Canada. The reason I did so was because the lens had been unavailable in the USA for over six months and I was tired of waiting. So one week when we were on vacation we drove up to Montreal Canada and purchased the 600mm there. We made sure it was an 'Authorized Nikon' dealer before purchasing and once all the paperwork was finalized we happily drove back to the US of A with our new lens. Note: after tariffs and Canadian taxes it wasn't any cheaper than buying from the USA.
Lets move forward 4 years and 9 months to today and the VR on my prized 600mm decided to play up. Nikon Canada has a 5 year warranty on lenses from authorized Canadian dealers so we are in good hands right?
Well the answer is not so simple.
I know we have a global community, so what I want to recommend to everybody is buy local, not just local but from 'Authorized Local Dealer' for anything expensive in the camera department. At the very least check cross border warranty coverage before making overseas purchases.
Here's my experience in bullet points:
Bought the lens from Canada – live in the USA ($10,000 lens).
Bought from an authorized seller (Canadian).
Kept all my receipts and store information.
Have my warranty card.
Have problem with VR and the lens definitely needs servicing.
Contact Nikon USA to repair
Nikon USA doesn't honor Canadian Warranty, no sure reciprocal system of warranty
Maybe can get special treatment, but really up to Nikon USA repair center
OK – no problem, Canada not too far away, send to Canada for repair.
Run into problems at staples (UPS Shipping Center) – spend an hour there with them trying to figure out shipping options
After all that, they run into a snag and can only insure for $5,000, remember the lens cost $10,000 to replace
What to do now, turns out only a company label or UPS store can insure higher (up to $50,000)
Call a UPS store, turns out they have different insurance rates – $200 just for insurance, let alone boxing and shipping.
To be sure your insurance will have maximum chance of being paid it really needs to be packed by the UPS store.
OH, and there may be customs tariffs involved because of shipping overseas (international)
So my hair turns gray and I decide to ship from local UPS Staples at their $106 price, versus $350 plus from UPS store.
Now the waiting game begins, wait for arrival at Nikon Toronto repair center and wait for news of repair status, then safe return of lens. Some items like shipping would still apply if I had made the purchase local, but I have definitely made my life infinitely harder by purchasing such an expensive item across country borders. I will worry every day until that lens returns safely or I will be crying if something happens and there is not enough insurance to cover the item. Had I bought it at my favorite store like usual, I would just have driven it there and avoided all these little roadblocks.
EDIT (below updated/added) 4/17/2014
Lens arrives in Toronto service center – UPS sends delivery confirmation (my $5000 insurance risk OK – phew)
24hrs since Nikon received my lens – no contact from Nikon to confirm from they the received it
I call them, they say I have not included any paperwork which is why they didn't contact me
36hrs since delivery – I contact them again (international call rates) – They find my paperwork after I tell them its in the steel Nikon camera box the lens is in.
LoL – they have had it for over 36hrs and not even opened the case to find the paperwork (on a 10 grand lens)
54hrs since Nikon received my lens – No official email or phone contact from Nikon to confirm delivery or receipt of the lens yet :(
The lesson for everybody here in a nutshell is, unless you don't care about warranty and repairs to your gear, you should buy from your country's authorized dealer.
For Example:
In Australia, buy from an Australian authorized dealer
In USA, buy from a USA Authorized dealer
In Canada, buy from a Canadian authorized dealer etc…
Buying from another country is easy to do, but getting stuff repaired under warranty or even without warranty across borders can be another matter.
Quite simply, you want warranty or repairs to your equipment without fear of problems, buy within your countries border and make sure they are authorized before you buy, make sure you keep your receipts. There are some cross border warranty that will be honored, some are worldwide, but not always and the time periods of the warranty coverage can vary dramatically. For example my lens has a 5 year warranty in Canada but to get it repaired in the USA the warranty period is much less than 5 years. Nikon is very strict about cross border warranties.
On a special note, what I did was not a gray market purchase, that is a whole different matter. Big camera companies usually have subsidiaries in different regions of the world to import, price and repair the manufacturers product. Gray market is defined as a product not imported by the subsidiary. In USA the official subsidiary would be Nikon USA Inc. and Canada it would be Nikon Canada Inc. etc. Because each subsidiary is responsible for warranties, they set and make the rules.
So a gray market Nikon camera item in the USA would for example be a camera that was imported by someone other than Nikon USA. The chances of any warranty being honored by the manufacturer on gray market items are slim to none or only that offered by the original seller who imported it. I used Nikon here in this example, but it could be Canon, Sony, Sigma or any other camera / lens manufacturer. It probably gets even worse when purchasing from places like eBay.
In closing, be careful and thoughtful before you buy your expensive gear. I did not buy my lens from Canada to save money, it was because of availability, but if you are buying from another country you better understand how it will affect future repairs and warranties. Good Luck.
EDIT: 15th April 2014 – Some of the comments I have received below present very helpful content that expand further on ones understanding of shipping limitations, Nikon Warranty and worldwide issues and might be worth reading, almost as an extension to the article. (Rob)