Every once in a while, I get asked why some lenses are so much more expensive compared to others. Interestingly, this question comes from both beginners and advanced photographers, but in different contexts. Beginners want to know why pro-level lenses are a lot more expensive than consumer lenses, while knowledgeable photographers wonder about what makes niche/exotic lenses from companies like Zeiss and Leica so much more expensive than modern professional lenses. These are all interesting and valid questions, so I thought writing a couple of articles to attempt to answer these questions would be useful for our readers. In this article, I want to answer the first beginner question on what makes professional lenses expensive.
1. Lens Categories
To understand the differences between lenses, I believe it is important to first categorize them into different groups. This is obviously a subjective categorization, something I personally came up with to group lenses in our lens database:
The main differentiating factor between the above categories is not necessarily price. Features, quality, autofocus motor, size, optical features, and price are what cumulatively separates one lens from another. Some lenses are sold at a cheap price just because of their age, but it does not mean that they move to a different category. For example, an older iteration of a Nikon 70-200mm f/2.8 lens can be bought for under $1000 in mint condition, which is half the price of what a modern 70-200mm f/2.8 lens goes for. Despite its lower price, the former is still a professional lens.
Manufacturers typically combine enthusiast and professional lenses into one category, which simplifies things. But in such cases, how would one differentiate between lenses like 70-200mm f/4 and 70-200mm f/2.8, if both are considered professional? Instead of breaking up the "professional" category into other sub-categories, I thought it would be easier to just introduce a separate one for "enthusiast" level lenses. For the below explanation though, I will combine enthusiast and professional lenses into one category as well, for simplicity's sake.
2. Cost of Consumer vs Professional Lenses
But we are not here to talk about different lens categories in detail – I want to explain the price differences between these groups. Why does the Nikon 35mm f/1.4G cost over 8 times more than the Nikon 35mm f/1.8G DX? For many beginners, it is hard to understand why there is such a huge difference. Does it mean that the lens is 8 times better? Here is a long summary of why professional lenses cost so much more:
2.1. Production Costs and Quality of Components
One of the main reasons for the high cost of professional lenses, is the production costs and high-quality standards set by manufacturers. Consumer-grade lenses are manufactured in batches in a mostly automated fashion with very little human involvement. While each individual glass/fluorite lens element goes through a very high-quality manufacturing process, it is acceptable to use lower-grade acrylic elements or glass with naturally-formed bubbles in consumer lenses.
In comparison, glass elements used in professional lenses go through rigorous testing and inspection, with only the highest-grade optics making their way into pro-grade lenses. Glass elements used in high-end professional lenses are sometimes hand-pressed, shaped, and handled by experienced engineers, who run both visual and computerized inspections to detect any potential problems.
There are also big differences in the physical assembly of lenses and other components used within lenses. Consumer-grade lenses are mostly assembled by machines and are composed of cheaper/lower-end, plastic and aluminum parts. Professional lenses, on the other hand, are often hand-assembled and only the best components (mostly brass/metal) end up inside lenses. Hence, the production costs of professional lenses are always much higher in comparison. In addition, professional lenses require a lot more R&D to design top performers in the industry, which also adds to the cost.
2.2. Quality Thresholds
On top of the above-mentioned production costs and component differences, professional lenses have much different Quality Assurance (QA) thresholds. For example, if a consumer lens variance is between numbers 1 and 10, professional lenses would have a much tighter variance, something like 1 to 3. These threshold differences are set throughout the manufacturing process – from variances in optical glass to assembly, inspection, and final QA checks. Check out the following video that shows how Nikon produces lenses:
Pay attention to how complex and detailed the manufacturing process is. Unfortunately, there are no videos that show how consumer lenses are made. Probably because you would certainly be much less impressed…
2.3. Optical Design
Professional lenses are designed with complex optical formulas that require many optical elements to reduce various lens aberrations. For example, the above-mentioned Nikon 35mm f/1.4G has 10 elements in 7 groups, while the Nikon 35mm f/1.8G DX lens has 8 elements in 6 groups. While the difference is the physical number of elements is not that big, there is a huge difference in the size of each individual lens element, as evidenced by their lens construction diagrams: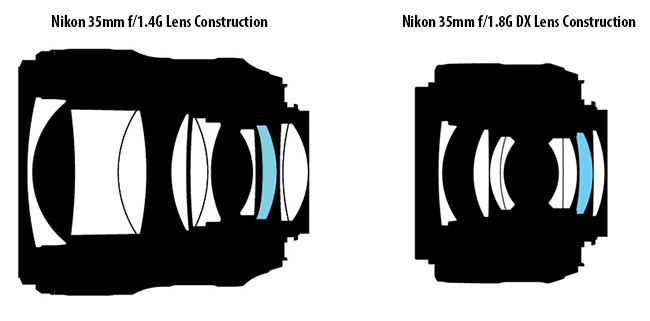 2.4. Lens Elements and Coating
In addition to the differences in optical design, there are also big differences in the type of lens elements used within lenses. Aspherical, Extra-low dispersion, and Fluorite lens elements cost a lot more to make than regular ones, so you will see many more of those types of elements used in professional lenses. In addition, professional lenses are often made with special coatings such as Nikon's Super Integrated Coating (SIC) and Nano Crystal Coat, which dramatically decrease internal reflections, improve sharpness, contrast, colors, and reduce ghosting and flare.
2.5. Image Quality (Sharpness and Contrast)
Thanks to complex optical designs, professional lenses are optimized to provide very high image quality, with sharp center to corner resolution. Special attention is given to reducing various optical problems and aberrations such as distortion, chromatic aberration, and vignetting.
2.6. Image Quality (Colors)
Professional lenses also yield superb colors, again, thanks to advanced optical designs and coatings.
2.7. Format
Note the size differences between the lens diagrams I showed earlier. Consumer lenses are often made for smaller, APS-C size sensor cameras. Because the smaller sensors only use the center area of the frame and chop off the corners, only the center portion of lenses is effectively used. To reduce the cost and size of consumer lenses, manufacturers made lenses with smaller image circles (the Nikon 35mm f/1.8G DX lens shown in the above diagram is such a lens), because the corners are wasted anyway.
2.8. Maximum / Constant Aperture
Most consumer lenses are slow, variable aperture lenses. They do not perform well in low-light situations, because they let in a lot less light than professional lenses. Their slow aperture easily confuses autofocus systems, causing focus errors in challenging light. In contrast, professional lenses are mostly faster, constant aperture lenses. The differences are often quite big. For example, the Nikon 18-200mm f/3.5-5.6G variable aperture superzoom lens at 200mm is an f/5.6 lens, while the Nikon 70-200mm f/2.8G stays at f/2.8 no matter what focal length you choose. That's a big, two-stop difference at 200mm!
2.9. Bokeh
Slow, variable aperture lenses are also quite bad at rendering beautiful out of focus highlights, known as "bokeh". In addition, slow aperture translates to a larger depth of field, which means that consumer lenses are limited in their subject isolation capabilities. In contrast, professional lenses are designed specifically to render backgrounds in a smooth, "creamy" way that is aesthetically pleasing to look at, and their large maximum aperture allows for much more effective subject isolation.
2.10. Autofocus Speed
Consumer-grade lenses often come with slow autofocus motors that are often inadequate for fast action, such as wildlife and sports photography. Professional lenses, on the other hand, typically come with very fast autofocus motors that snap subjects into focus immediately. In telephoto lenses, autofocus settings can be optimized for long-range shooting, which further reduces focus acquisition time.
2.11. Fixed Lens Size
Most consumer and some enthusiast lenses change in size (extend or collapse) when zooming in and / or focusing. Because of this, it is not only inconvenient to use filters with such lenses (with rotating front elements), but they are also prone to potentially malfunction or break in the future. Some optical elements can shift overtime, which can significantly affect sharpness, contrast, and overall image quality.
2.12. Construction
Consumer lenses are not designed to handle occasional bumps, drops and other type of abuse. Drop one and you might as well buy a new lens, as it might cost more to try to repair it. Plastic parts break easily or dislocate when hit with enough force. Professional lenses, on the other hand, are built to withstand a lot of abuse. Both the inner components and the outer barrel are typically made of metal, which adds a lot of weight (below) but also protects these lenses.
2.13. Weather Sealing
Another big difference is in weather sealing. Fixed-length professional lenses with tough construction are mostly sealed against dust and moisture, so they continue to perform in extreme temperatures, humidity, and even rain. Consumer lenses do not have the same level of protection and they are much more prone to accumulating dust, moisture, and fungus overtime.
2.14. Weight
While all that metal used on lenses can significantly increase their weight, it is not always a bad thing. Heavier lenses typically balance better on heavier pro-level DSLRs. However, if used on entry-level plastic DSLRs, it can make the setup too front-heavy and tough to handle. Heavy lenses can also potentially put too much stress on the lens mount if handled incorrectly.
I hope this clarifies why professional lenses are so much more expensive than consumer lenses. Part 2 addresses what makes Exotic lenses so special.