Even though quite a few of our readers are beginner photographers, we often talk about things that, while simple to us, are much more difficult to understand for those with less experience and knowledge. That is why we strive to share our experience as someone shared theirs with us when we were just starting. The most difficult part for us is not the writing itself, however – mind you, we aren't holding anything back. The most difficult part is becoming the beginner again so as to remember all the questions we had when we started. Make no mistake, we've had plenty of those. I, too, didn't know what aperture and shutter speed was. I, too, had a hard time getting to know my gear in such a way I would be able to get quality results from it. I remember the painful transition from being a photography theoretician, an arm-chair expert, to one who uses his technical knowledge without thinking about it for the sake of photography, not comparisons and pixel-peeping. Thank goodness that part of my life didn't last more than a few days. But before any of these questions came to my mind, I, too, had to make what seemed like the most difficult choice of all at the time. The first one, the one that gave way to all the other questions that followed and follow to this day. Where to start? Which camera to buy first?

Your first camera is not just a piece of equipment. It's your entry into photography world. The "buy-the-most-expensive" logic doesn't work here even if you have the means to do so. You have to get it right. Your first camera has to be "just enough". It will either be too difficult, too heavy, too mind-boggling with all the functions, or too dull and alien. It may turn you to another system, or from photography altogether. Or it will fit you like a glove and lead you down the path of learning everything, and then learning, again, of what's actually important. So, lets start from the start. In this "Which Nikon DSLR to Buy First?" article, I will introduce you to several Nikon DSLRs – you will not find the best camera here, as there isn't such a thing. But, hopefully, you will find the best camera for you as a beginner photographer, one you are going to learn with and love for years to come.
1) What is a DSLR?
DSLR (digital single lens reflex) cameras are cameras with removable lenses and mirrors used to direct light from the lens to an optical viewfinder. Typically, DSLRs are much bigger and heavier than any point-and-shoot camera, and are capable of delivering incomparably superior technical image quality under varying lighting conditions, especially in lower light. In their design, they remain virtually unchanged from old film cameras with removable lenses, which were called SLRs. The biggest difference is that film used in old cameras has been replaced with electronic sensors that capture light.
Here are the basic elements of a DSLR (image courtesy of Wikipedia):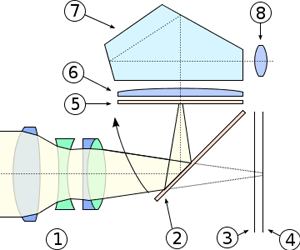 Lens
Reflex mirror
Shutter
Image sensor
Matte focusing screen
Condenser lens
Pentaprism
Eyepiece/Viewfinder
Here lies another important difference between these expensive, large cameras and their compact, take-anywhere siblings – sensor size. The bigger the sensor, the better technical image quality is potentially possible to achieve. Nikon DSLR cameras have two sensor sizes. One, the more common and popular, is APS-C sized sensor (crop-sized), which measures approximately 23.5 x 15.6 mm in dimensions. The more expensive cameras meant for advanced users with more demanding needs have larger sensors, called full-frame (FF in short) or FX. These sensors measure approximately 36 x 24 mm and are more or less equal in size to 35mm film used in old analogue cameras (hence the "full-frame" term). Compare that to compact camera sensor size, which can measure 7.44 x 5.58 mm or even less. Large sensors are much more expensive to manufacture. Because of that, cheapest current full-frame cameras cost around $2000, while cheapest APS-C cameras may cost three or four times less.
Read our "What is a DSLR?" and "Nikon DX vs FX" articles to find out more, or see how they compare to compact cameras.
2) Why Would Someone Buy a DSLR?
This question has become much more valid over the last three years or so. If not so long ago DSLR was an obvious step forward for any aspiring point-and-shoot user, today entry-level cameras are fiercely rivaled by mirrorless cameras. But the battle is not lost. So far, many aspects of a well-established DSLR system make it much more mature in terms of lens choice in new and used markets. The wide array of lenses mean a DSLR can be used for any kind of photographic task. Also, most DSLR systems (with the exception of Pentax) have room to "grow". In other words, they offer cameras with bigger sensors, but same lens mounts, and give the choice of upgrading to a more serious piece of gear in the future should such a need arise.
3) In Search of Your First Nikon
In this section, I will introduce you to several Nikon DSLR cameras. All of them are, to an extent, suitable for very serious work – they all employ fast autofocus systems and near state-of-the-art sensors, as well as plenty of other functions, such as HD video recording. The cameras listed below are entry-level DSLRs that are simple to use and learn, especially for someone with no prior DSLR experience. The question is not whether the camera is good – in general, all current DSLR cameras are good. The question is which one of these is better for you.
4) Final Words
With so many different cameras on offer, even those more experienced can often find themselves lost. Deciding which one to buy as the first one is even more difficult. I see a first DSLR much like I would see a first car – you don't want to get started behind the wheel of a Bentley. What you need is a car that's just right, just enough for you to learn and improve your skills. But afterwards, if you like the experience and even wonder whether you should take up photography to a professional level, Nikon has plenty of amazing tools for you. In this article, I did my best to introduce you to current beginner-friendly DSLR cameras Nikon has to offer. Hopefully, my words were of some use and will ease your decision or calm your mind in case such has already been made.
Have fun using your new gear!