When compared to Samarkand and Bukhara, Khiva has a tiny territory that is easy to walk through, especially if you stay anywhere within, or close to Itchan Kala – the main attraction of Khiva. Despite the small footprint, Khiva has a lot of photographic potential that is well worth exploring. There are so many different sites to see within Itchan Kala:
Kunya-Ark
Juma Mosque
Muhammad Amin Madrasah
Kalta Minor Minaret
Pahlavon Mahmud Mausoleum
Stone Palace
Islam Hoja Complex
Outer and Inner City Walls
Different Gates
Alla Kuki Khan Madrasah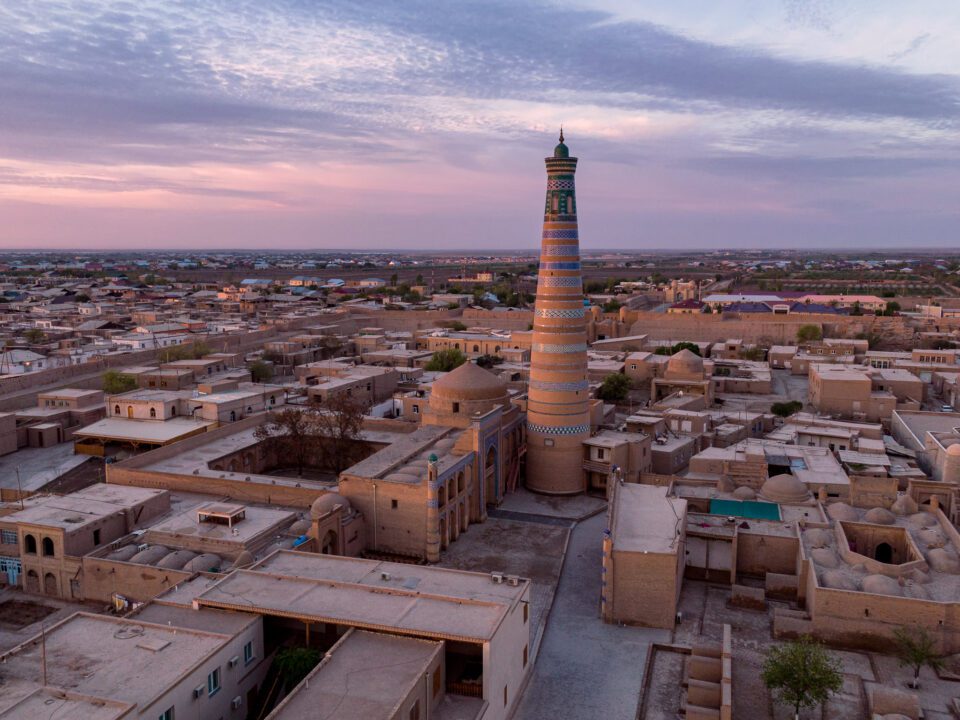 In addition to these, there are numerous markets, shops, restaurants and hotels that are remarkable in their own ways, and definitely worth seeing.
Khiva Performers
Without a doubt, some of the best music performers in Uzbekistan are located in the Xorazm region of Uzbekistan (where Khiva is). When visiting Itchan Kala, make sure to see these performers – they are so artistic and full of energy!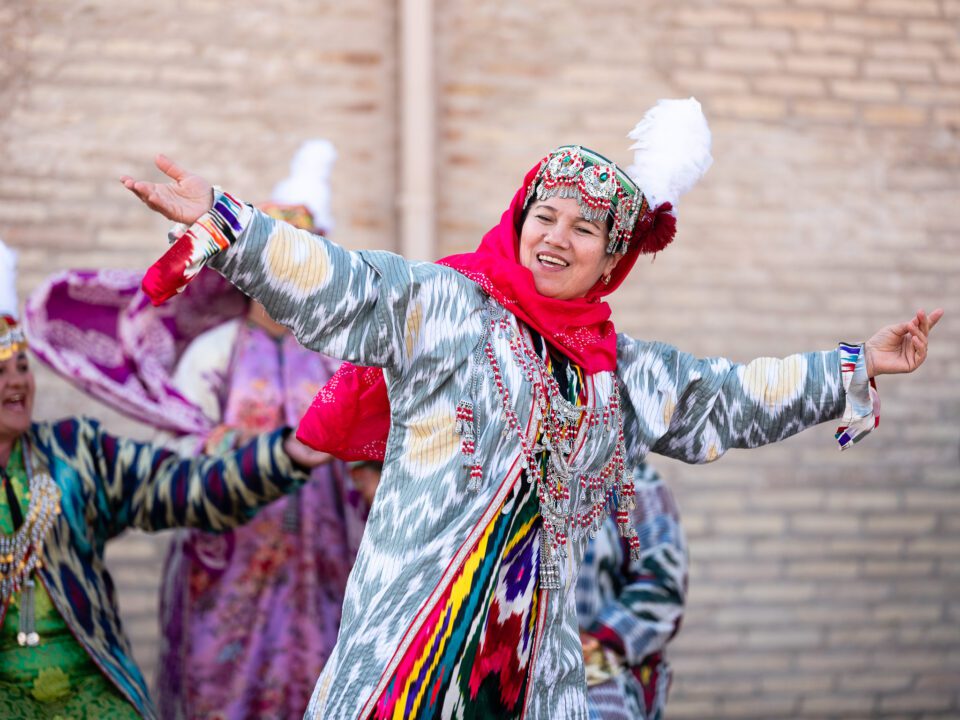 During my visit to Khiva, there was some sort of a music festival taking place, and performers were everywhere!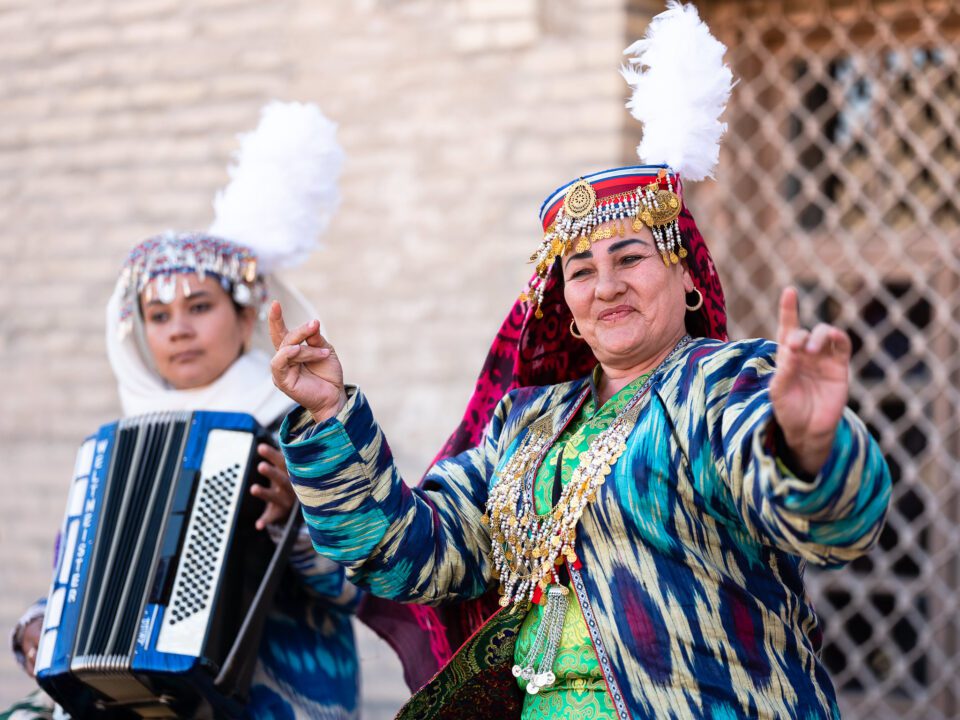 The traditional music, beautiful costumes, enchanting voices and various dance performances transformed the whole atmosphere of Khiva to one magical place. It felt like I went back in time a few hundred years. It was simply an unforgettable experience!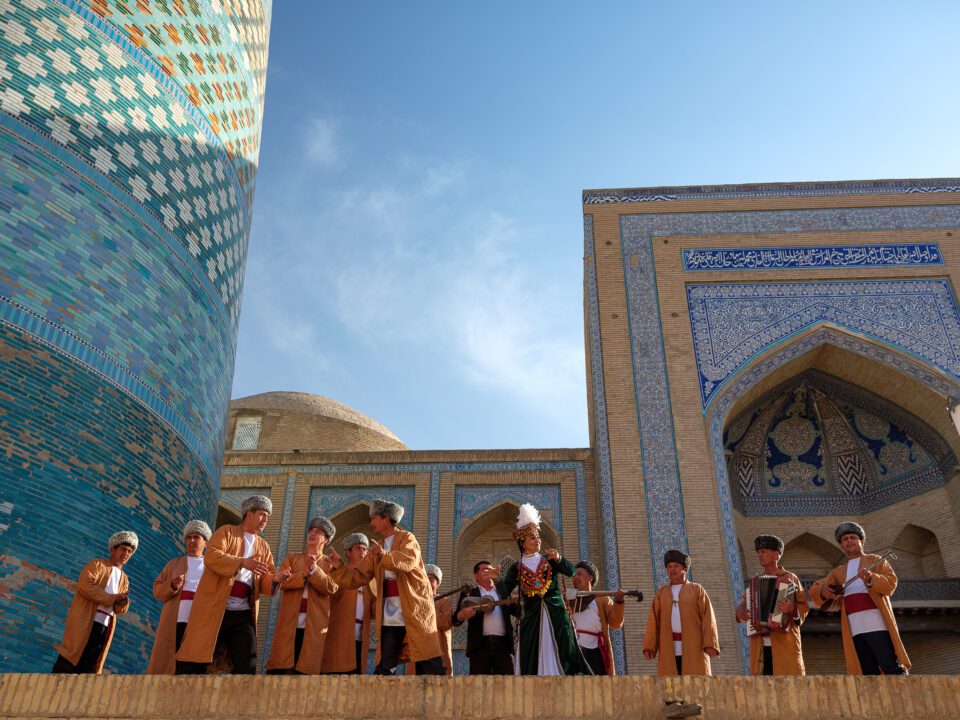 The beautiful yellow light reflecting off centuries-old walls of the castle provided amazing opportunities for portraits of these performers.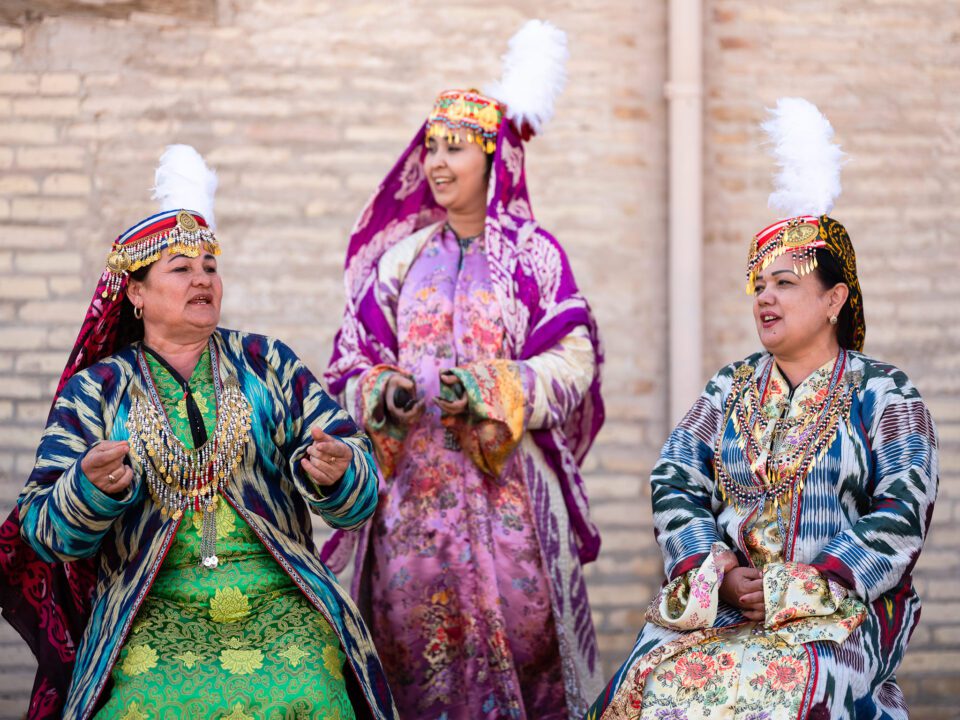 Thanks to a theatrical performance that was taking place nearby, I was also able to capture the portraits of actors and actresses, who looked remarkable in their traditional clothes. Here is a portrait of a royal guard, who I posed against a tiled blue wall: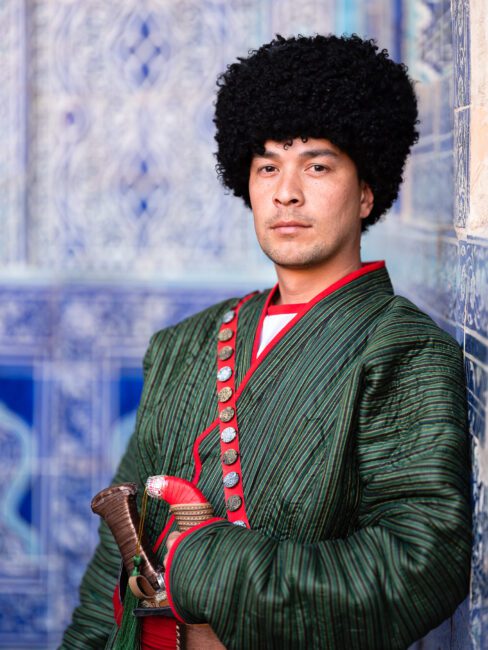 And here is a portrait of a dancer, dressed in stunning red silk clothes: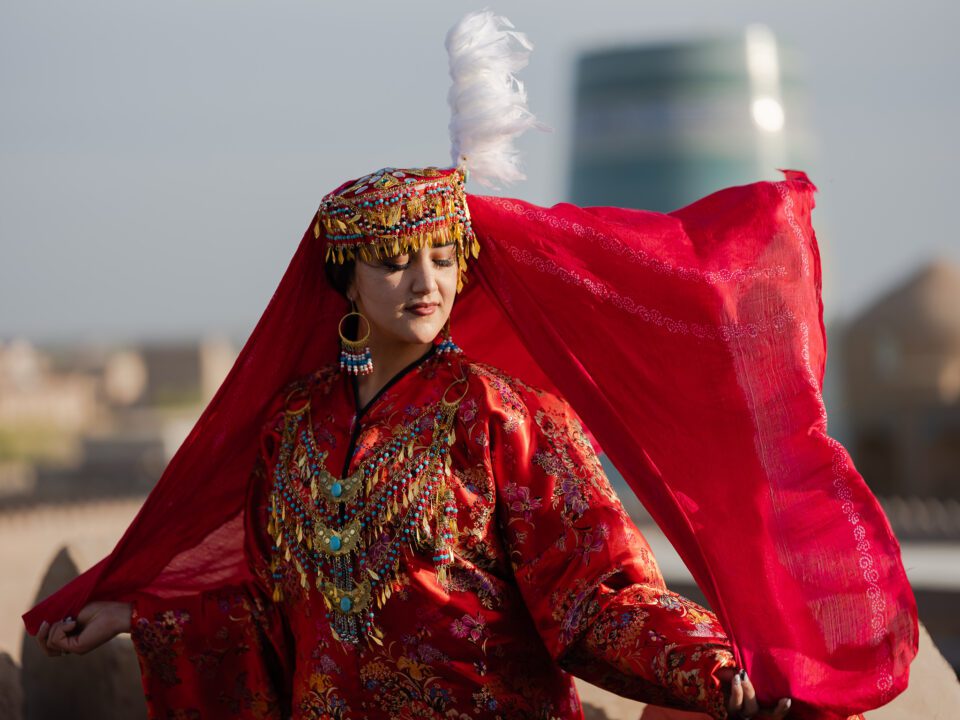 She was happy to pose for a few pictures I had in mind, including the one below: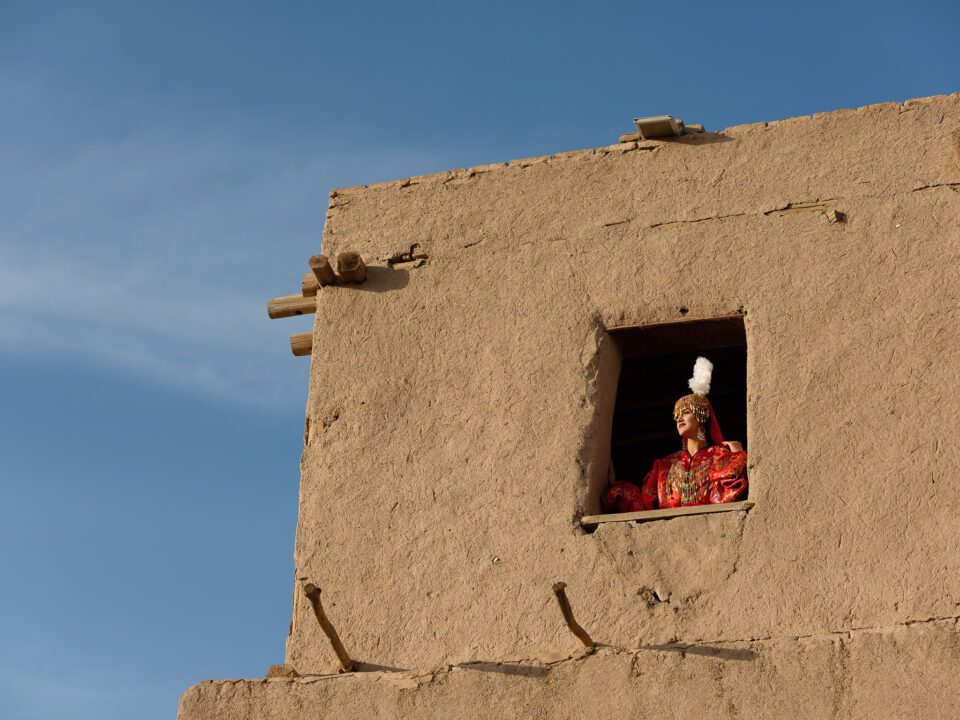 For the next shot, I asked her to look towards the sun in order to illuminate the face, and use her right hand to hold the dress, which made her look more elegant. The wall worked out well as negative space, while the spiky part of the castle walls beneath created an interesting foreground: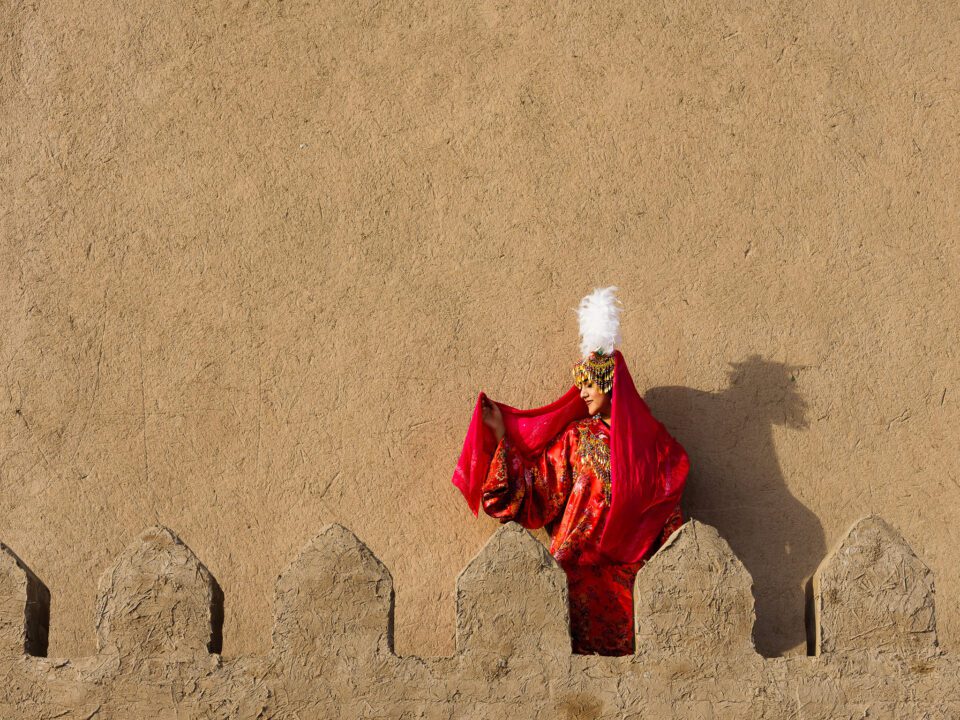 I noticed that the city walls had all these pretty lines and shapes that I could use as part of my composition. For the last set, I placed the dancer in the middle of my frame to create the following image: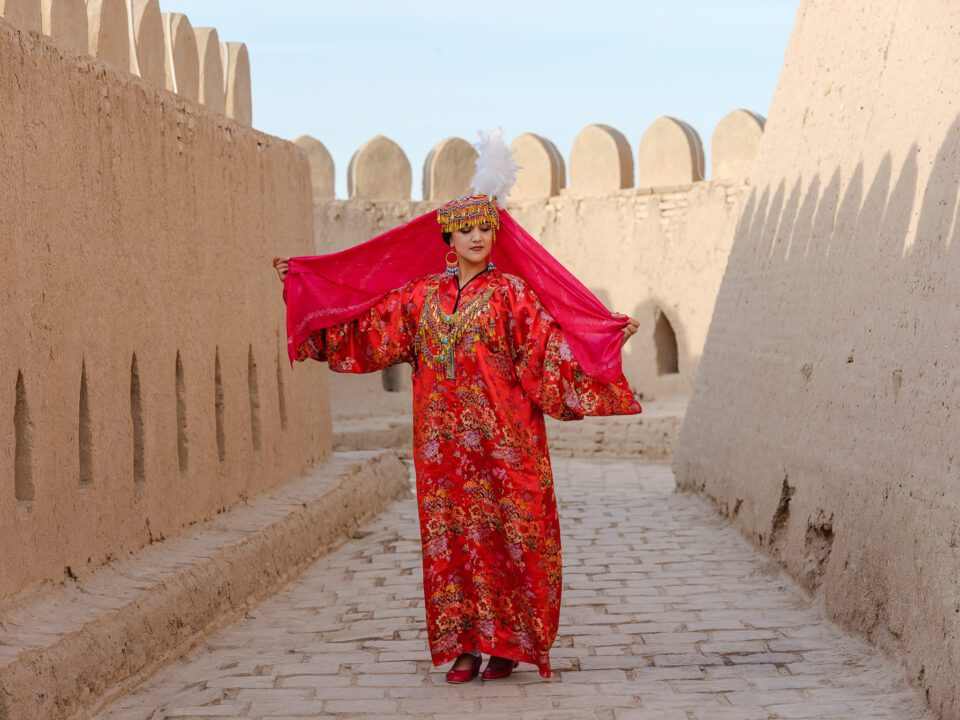 While photographing in this location, I also came across a young lady dressed in pretty clothes (who turned out to be a local guide) and asked her to pose for me: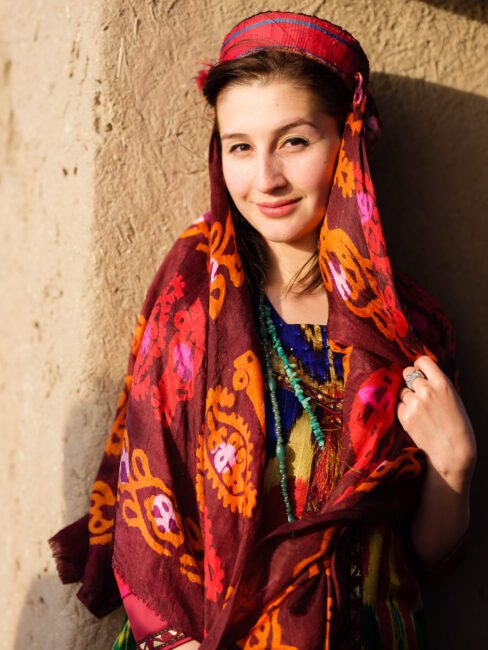 These guys were pretty psyched up about their portraits, so I happily printed out a few of their shots for them. My last portrait of the day was of another royal guard, who wore a nicely decorated blue cloak (called "to'n" in Uzbek language):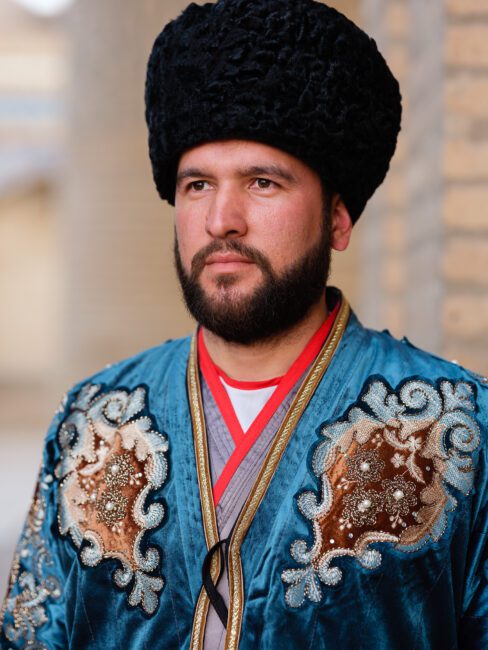 Buildings and Structures of Itchan Kala
After wrapping up the photo shoot and eating a very filling dinner, I decided to explore Itchan Kala at night. The moon happened to be in its crescent phase that day, so I started looking for a composition within the city walls to incorporate it in my shot. Here is the end result: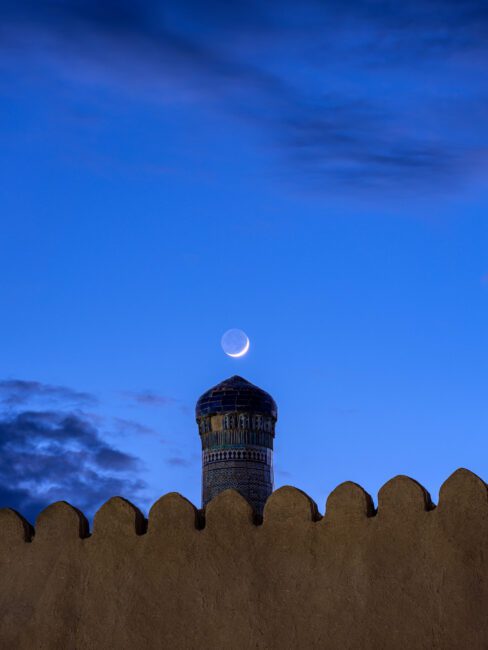 I used the Fujinon GF 100-200mm f/5.6 lens at 200mm in order to make the moon appear larger. Since the minaret and the walls were very close, I ended up taking two separate images – one focused on the minaret, and one focused on the moon. I then brought both images into Photoshop and stacked them. The blue hour worked out well for this shot, allowing me to bring out the whole moon.
The following morning showed potential clouds in the forecast, so I decided to wake up early and capture some images of the Islam Hoja Complex, and its beautiful minaret: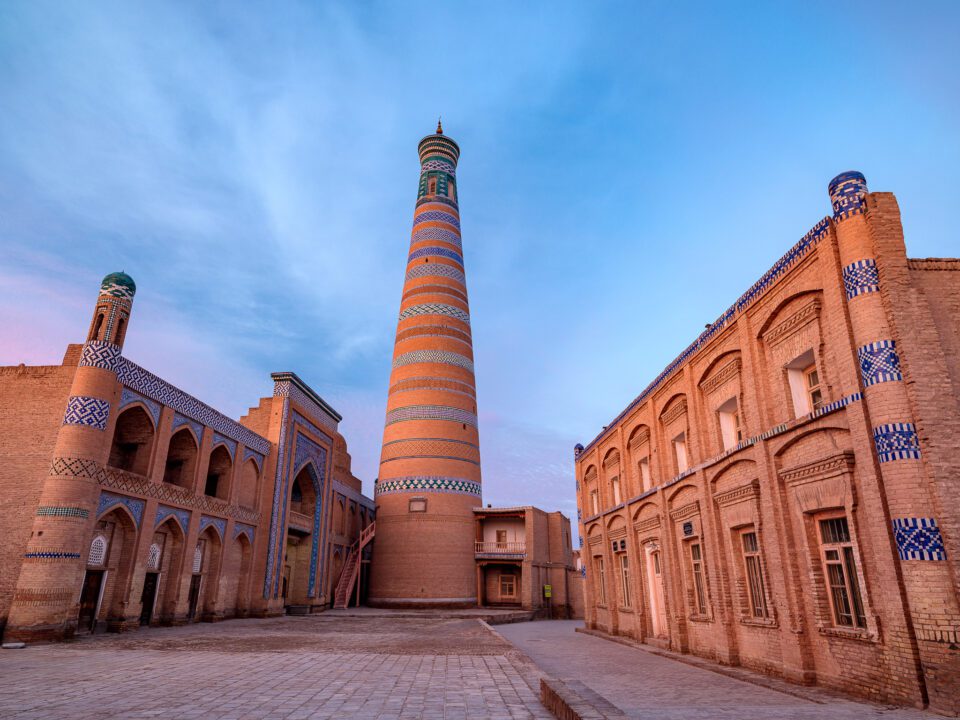 The minaret is open for public and you can climb all the way to the top. Although it is a great experience to climb it, I did not find any good photo opportunities looking down from it.
Speaking of minarets, the Kalta Minor minaret of Khiva is another exquisite work of architecture that you cannot miss: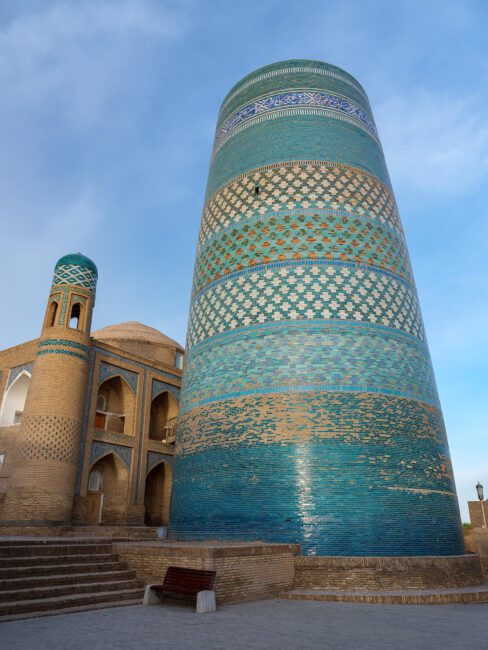 The clouds were quite beautiful that day, so I decided to take a walk and photograph other surrounding buildings and structures: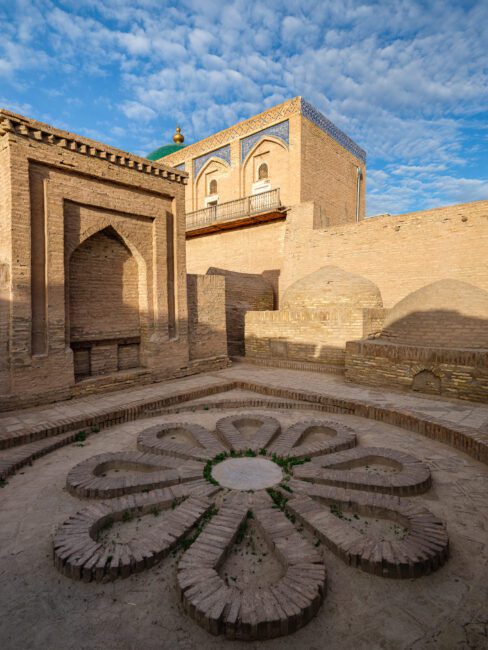 And the mid-afternoon light worked out well for photographing various doors, steps and brick walls: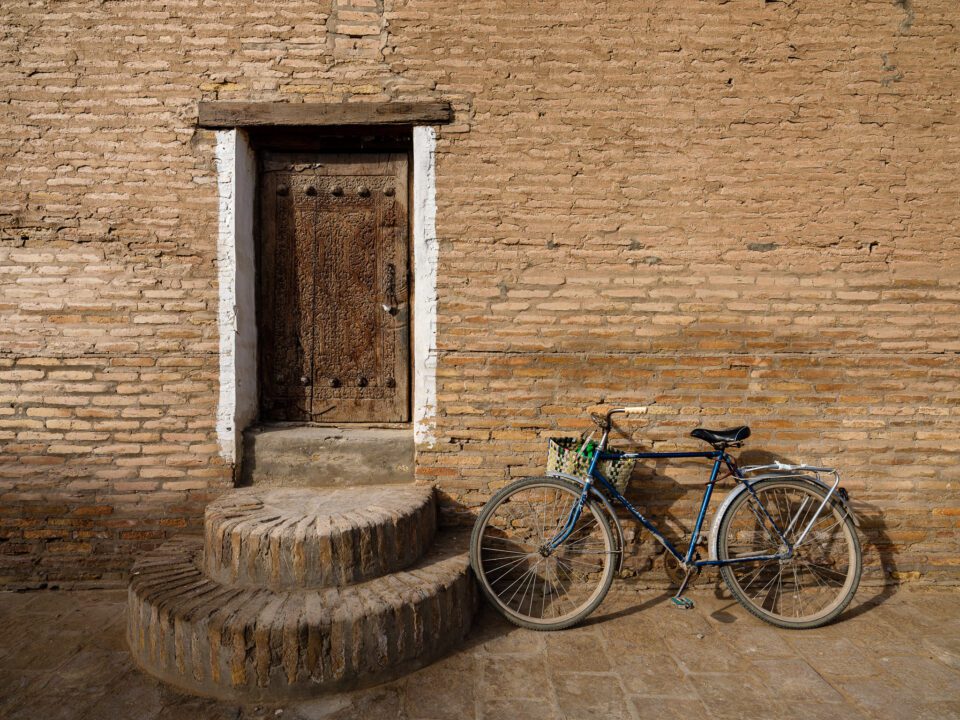 Woodworkers and Local Markets
As you walk through Khiva, you will be seeing plenty of local shops, markets and small bazaars. Although most people here are resellers, some shops are very authentic, offering excellent photographic opportunities to see the local artisans at work. As I was walking through one of the alleys, I came across a woodworking shop that made wooden stands for books: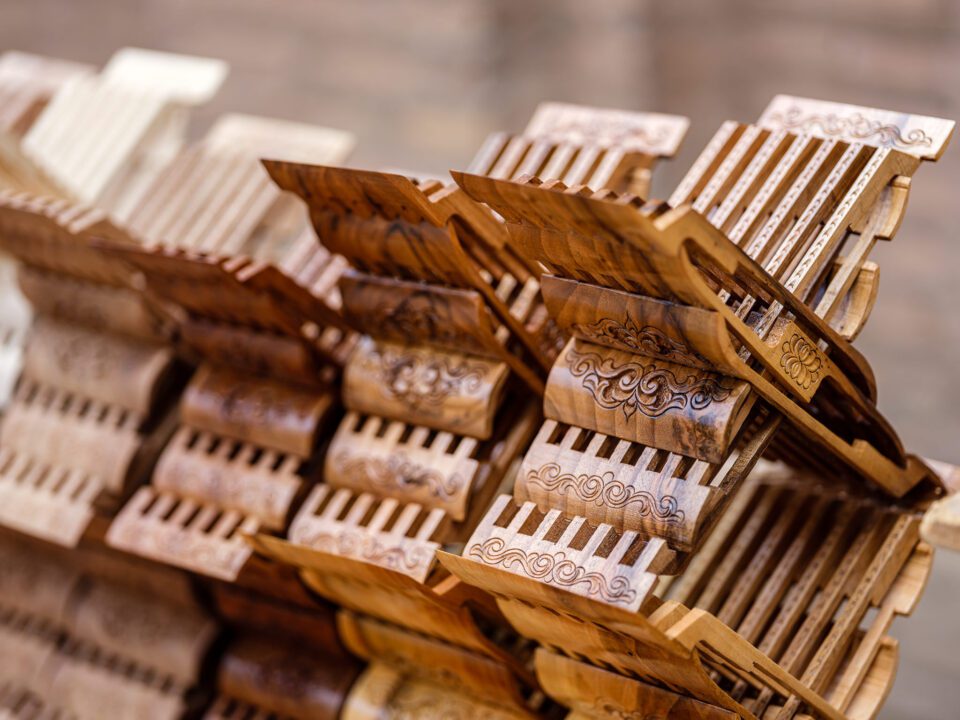 I saw a young apprentice doing some work, so I decided to snap a few shots of him: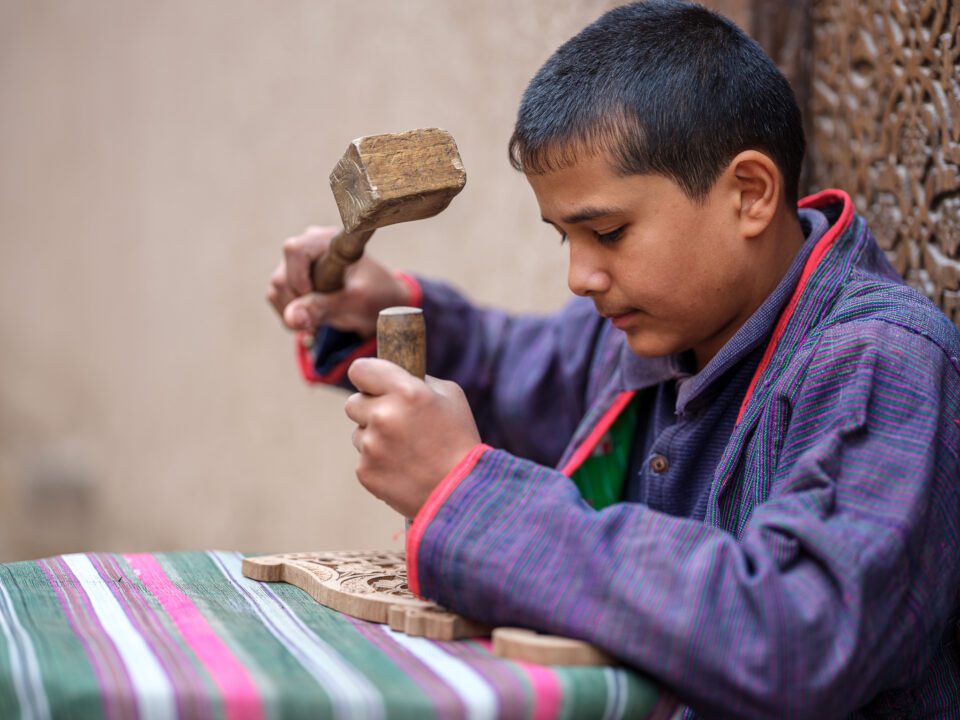 Higher up the alley, there was another woodworking shop, which had very impressive items on display. The master himself was doing some work here. I asked if I could take some shots of him working, and he happily agreed: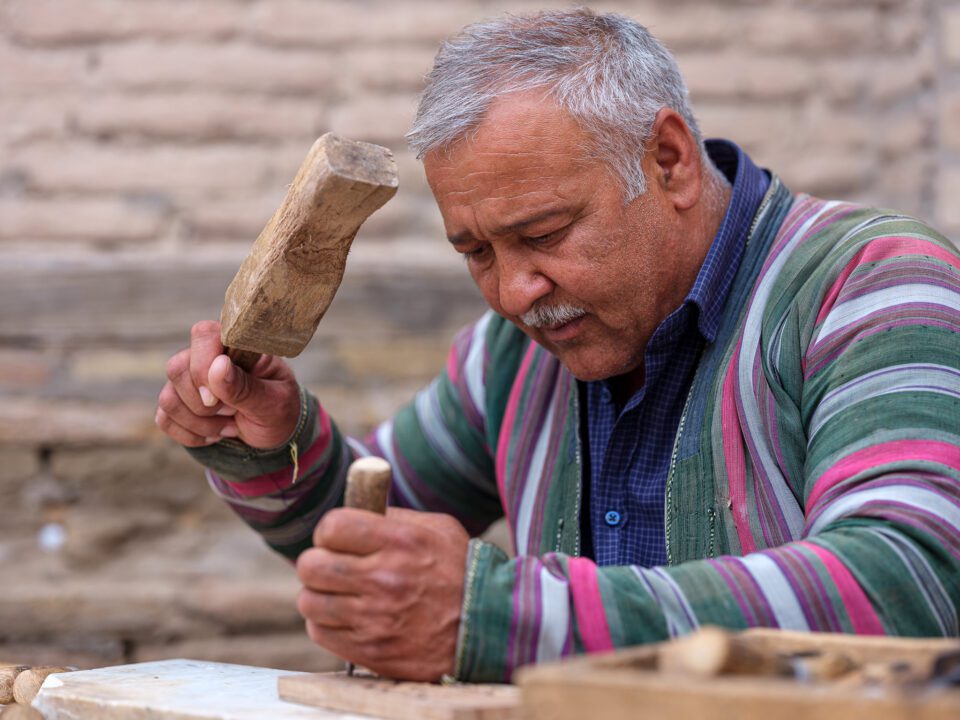 I was fascinated by all the tools he was using for woodworking, so I photographed them too: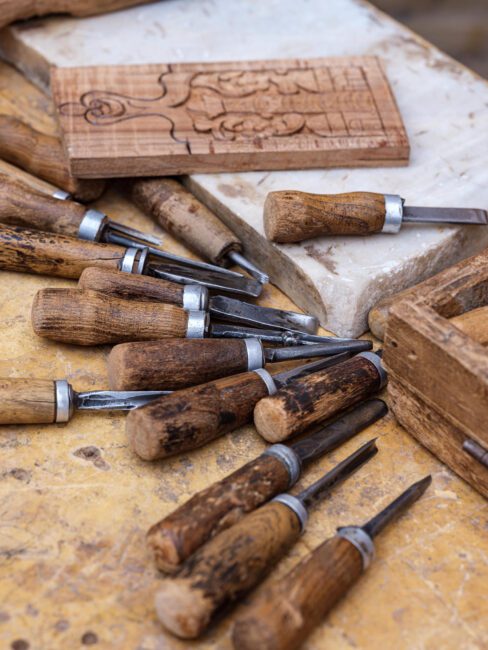 Lastly, I asked the man to show me the tools in the hands of the master: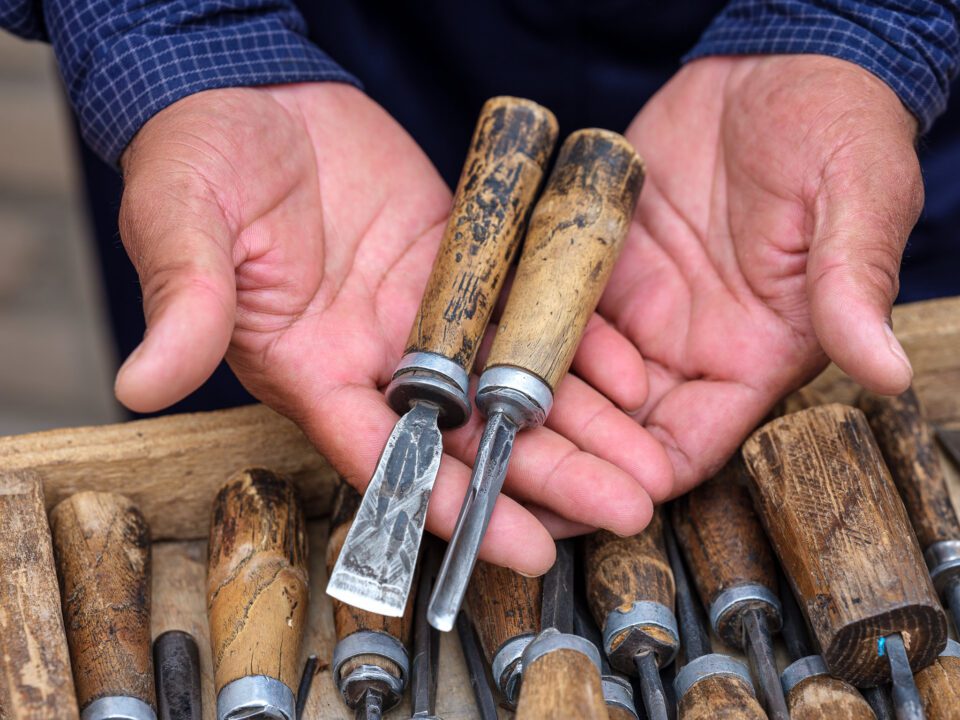 As you walk through all the shops and product stands, pay attention to the details – I was able to find quite a few opportunities to capture beautiful products, lines and textures: