Based on what I previously read about Fes, I knew that it was going to be a place where I should spend some time, to get a true taste of this old city. That's why my original plan was to stay in Fes for two nights. I'm glad that I chose to stay in Fes for two nights, as I don't see how one could possibly even get a glimpse of it in a single day. There was a lot to see, taste and explore, and I have to say that Fes turned out to be one of my favorite towns photographically in Morocco.
Fes
Fes, which is also known as "Fez", is the third largest city in Morocco (after Casablanca and Rabat), with a population of over one million residents. Founded in the 8th century, it is a very historic city with a rich culture. Its Medina was proclaimed as a UNESCO World Cultural Heritage site in 1981 for a good reason – there are so many mosques, madrasas, forts, souks, mausoleums and military monuments to see! In fact, Fes has so much to offer that it is considered to be the cultural and spiritual capital of Morocco! I'm not going to spend much time writing about Fes, since you can read all about it on the Internet, so let's just jump directly to its photographic value.
If you are into street photography, you will thoroughly enjoy Fes. First of all, the city itself is very unique and beautiful in its own way. It has an old city look written all over it, especially in Medina, so if you walk around, you will surely find good subjects to photograph. From arts and crafts to smelly tanneries, all you have to do is walk around, and there will always be something worth taking a picture of. After looking through all of my pictures, I ended up photographing in Fes the most for this reason – I just couldn't get enough of it. People were also more interesting to photograph here, as they seemed to blend more to their environments. I found people in Fes to be friendlier than in places like Marrakech, although you should still be careful when taking their pictures. Personally, I found it great just to stand in one spot and wait for people, bikes and cars to pass by: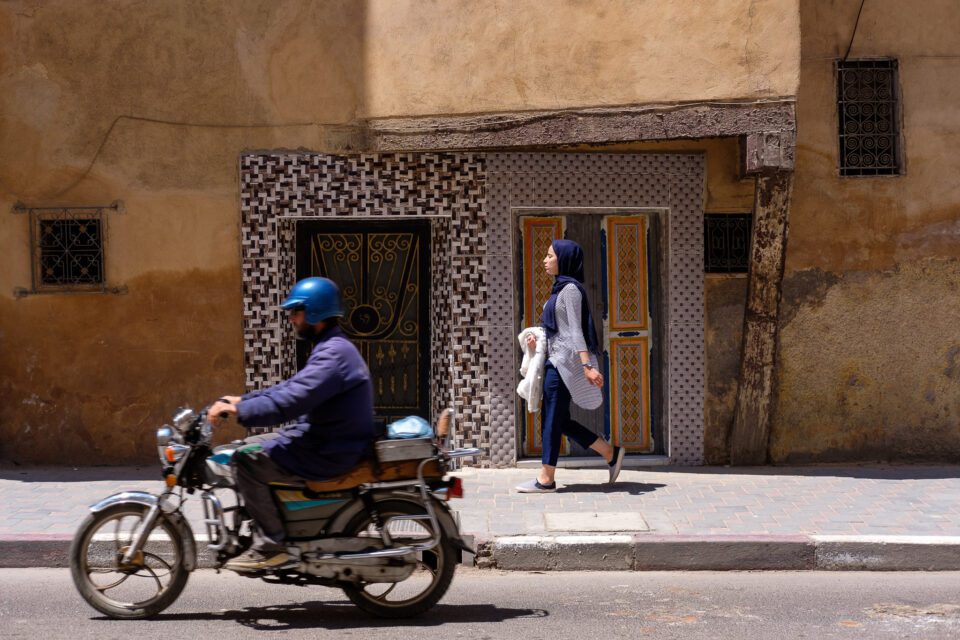 Heck, even city cleaners in their yellow/red uniforms riding donkeys was cool to observe and shoot!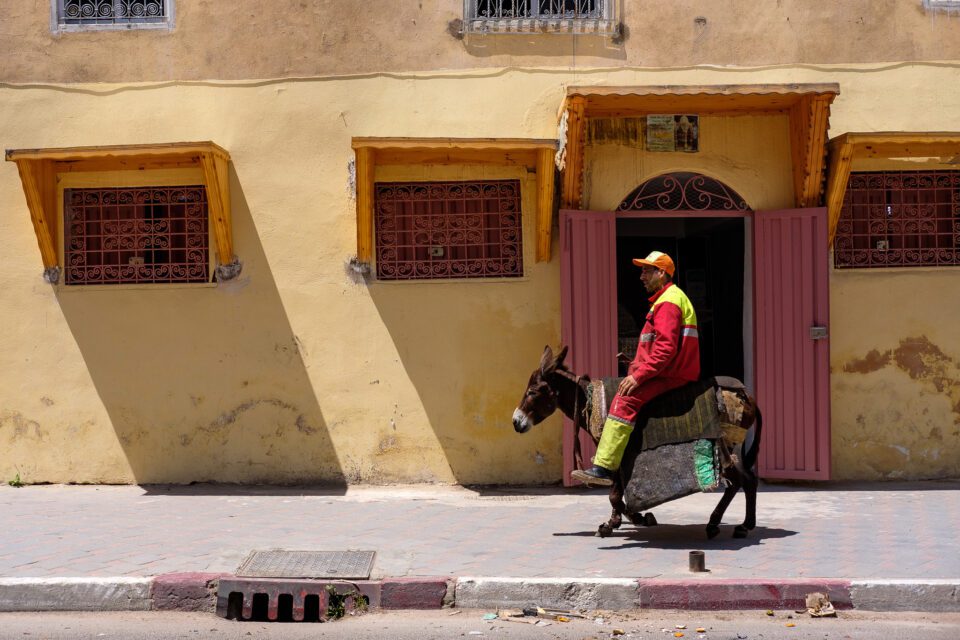 As you walk around in Medina, pay attention to everything – there is so much going on, all the time. Don't forget to look back from time to time, as you might be missing other opportunities. As I was walking on a somewhat narrow street in Fes Medina, a man was watering the street. As soon as he saw me, he stopped, as he did not want to end up spraying any water or dirt on me. As I passed him, he resumed his job, so I turned around and took the below photo: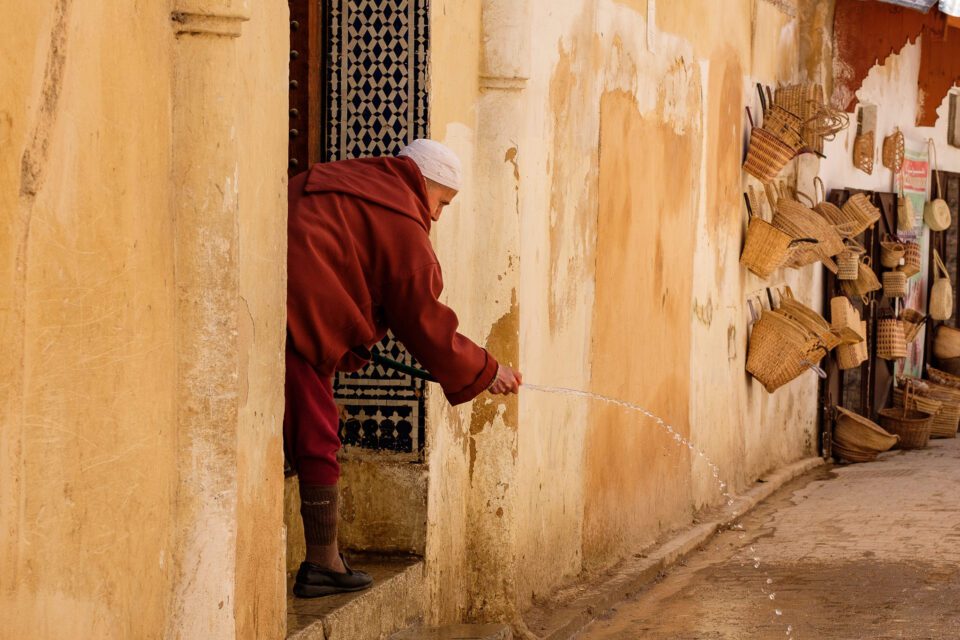 What about architecture? Well, you will find plenty of it all over Fes! Like I said earlier, there is so much to see and photograph here – from beautiful madrasas and mosques to beautifully decorated gates to Medina, all of which are decorated differently. You can get creative with these gates, framing subjects such as minarets as part of your composition: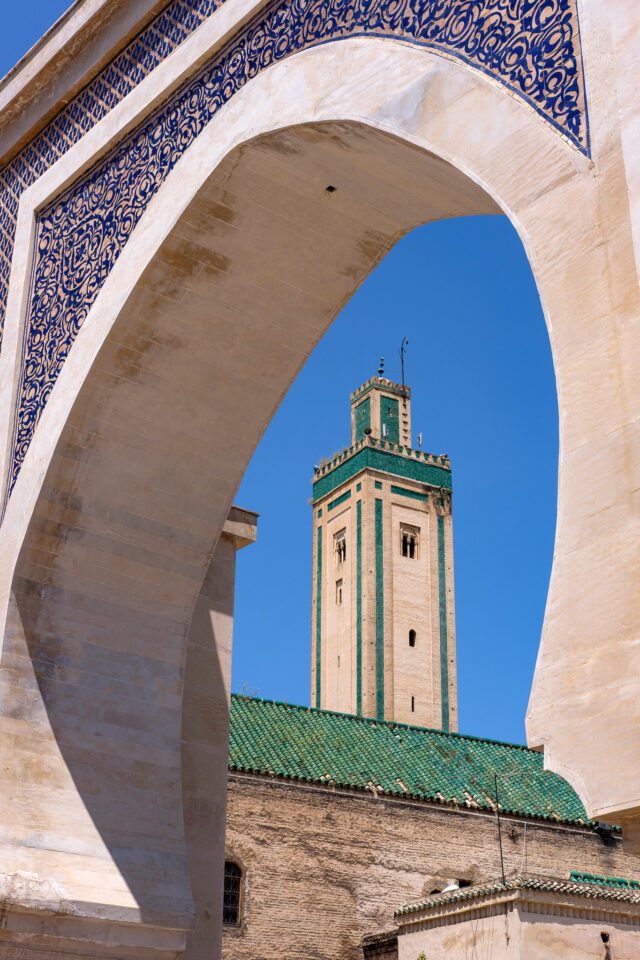 Other times, locals passing through the gates can also become excellent subjects, if you are willing to wait for the right opportunity. Some of the gates have smaller arches that you can also use for framing subjects: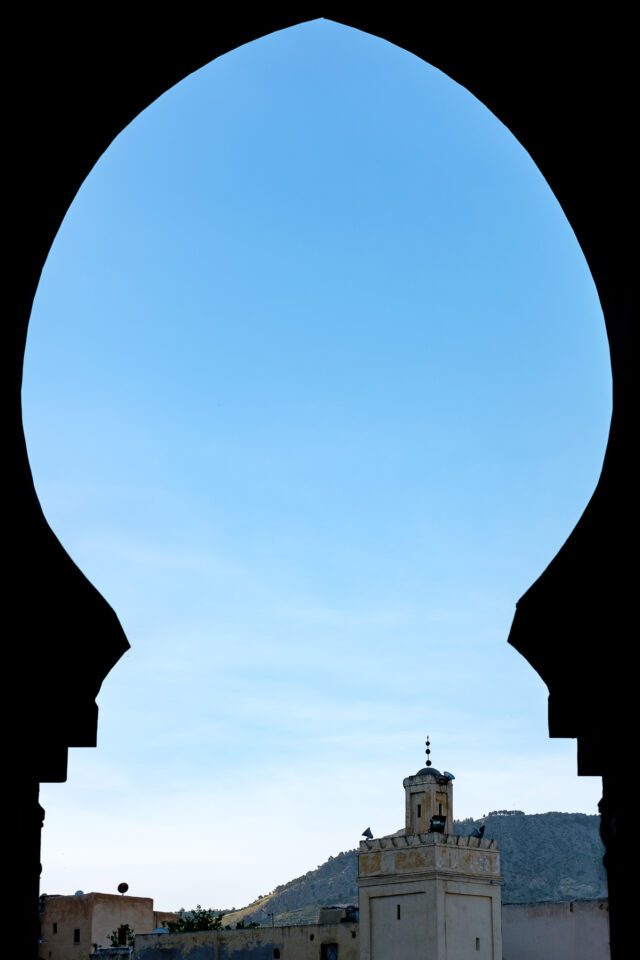 Here is a smaller gate to the right of the main gate, which was closed at the time: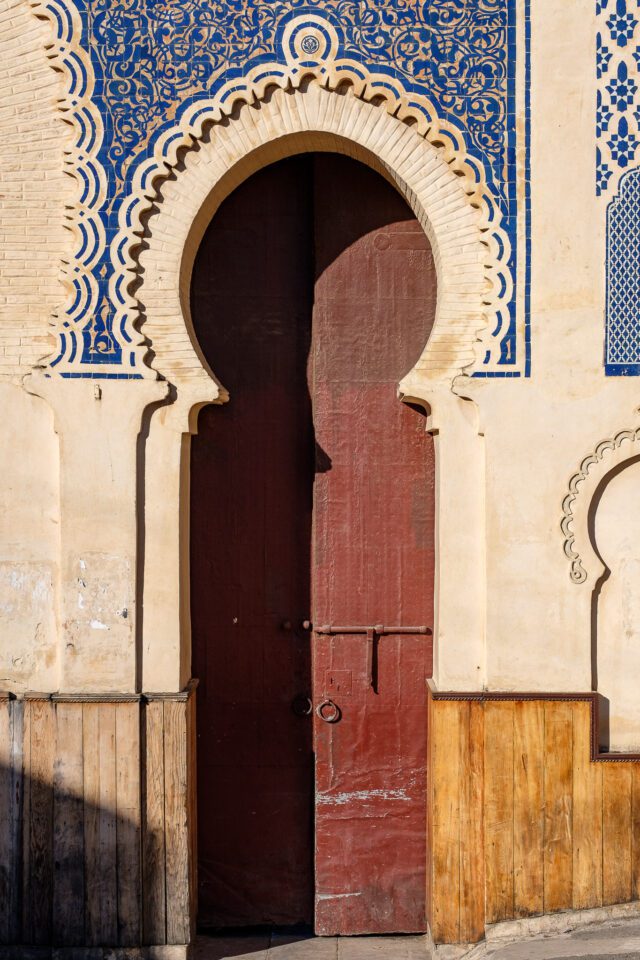 One of the most impressive buildings in Fes is the University of Al Quaraouiyine. Founded in 859 AM, it is known to be the oldest university in the world and as you can see from the pictures below, it is absolutely beautiful. Here is the courtyard of the university, with the center fountain area serving as a place of ablution before Muslims can perform their prayers: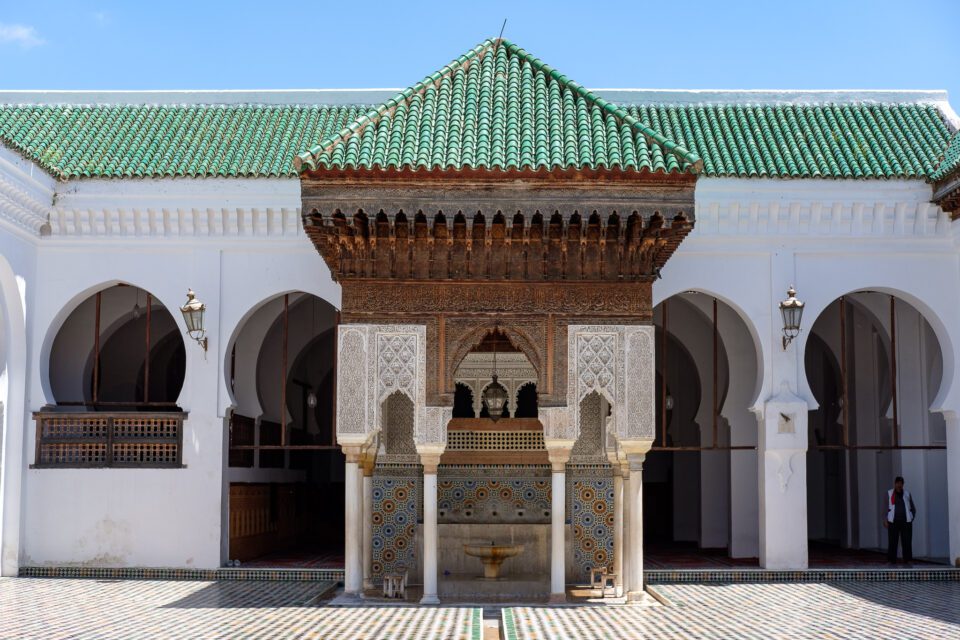 Keep in mind that the university is also a fully functional mosque, so unlike some madrasas that allow tourists to explore them, you cannot enter the premises of Al Quaraouiyine unless you are a muslim.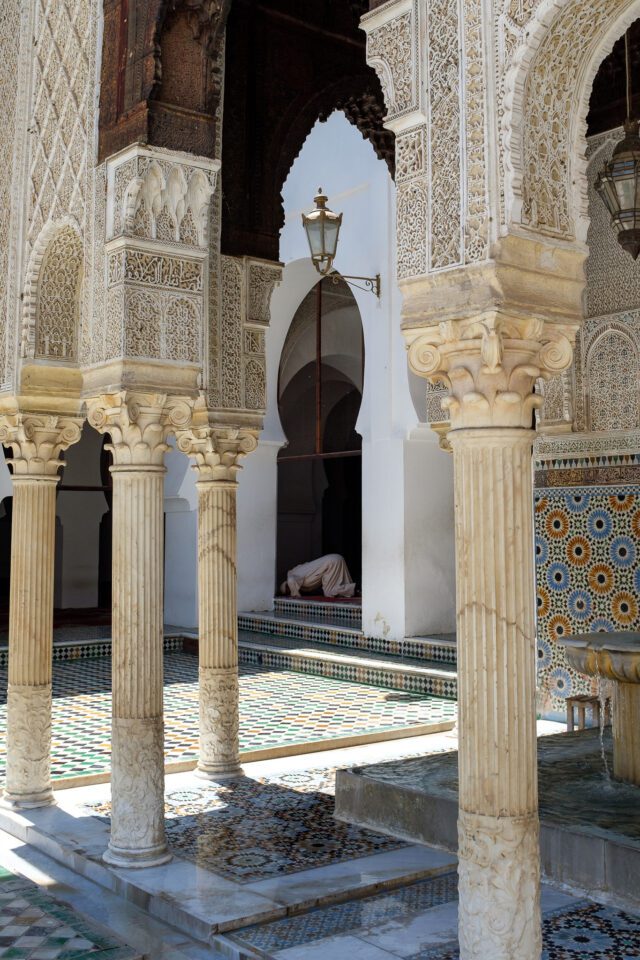 The building is covered with beautiful islamic textures and calligraphy: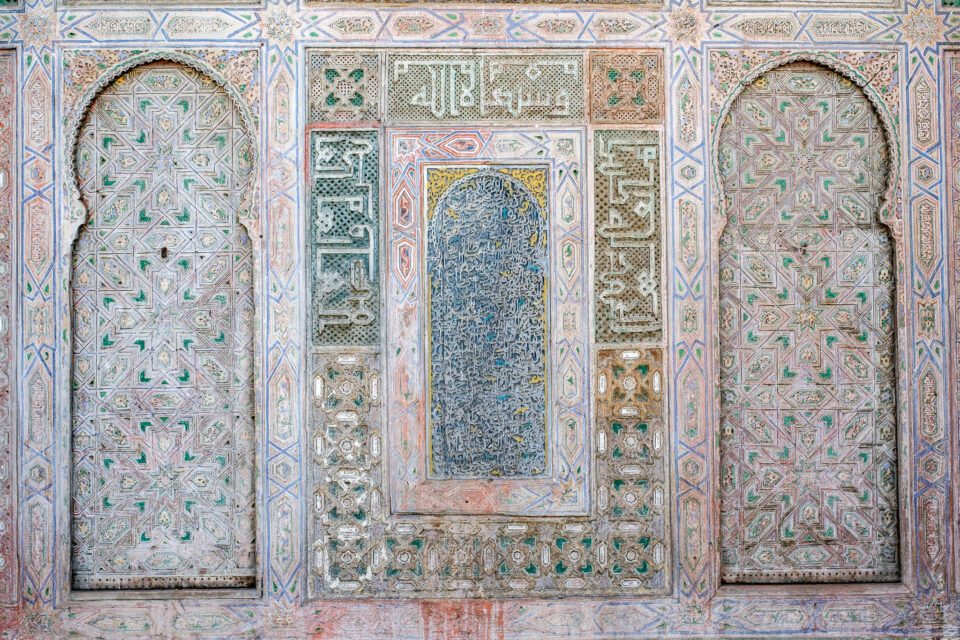 And the prayer halls are also very unique, with white, repeating arches and red carpets: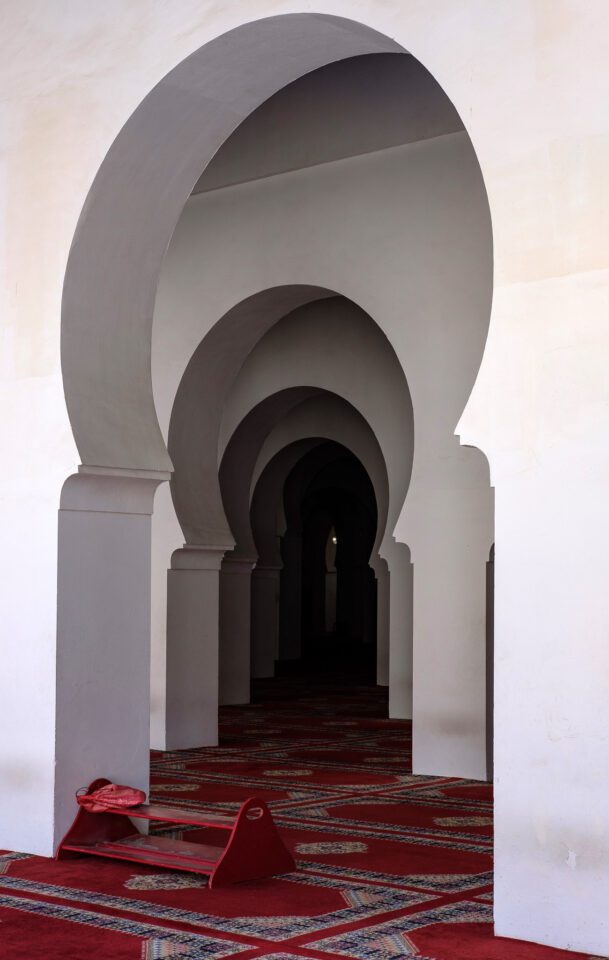 The university is located right next to the souk of coppersmiths, so you can check them out, see how they craft everyday household items by hand and photograph them: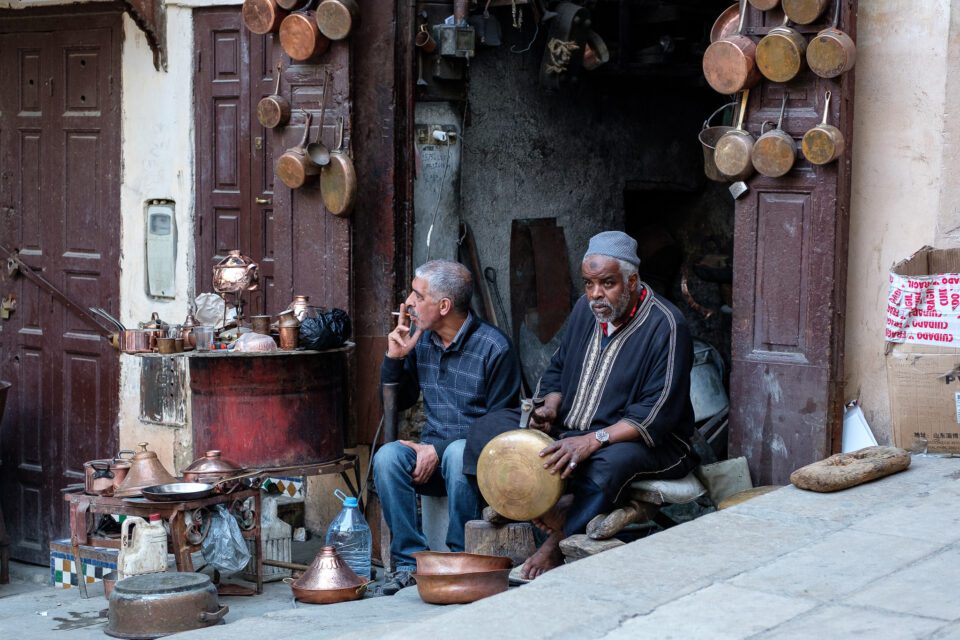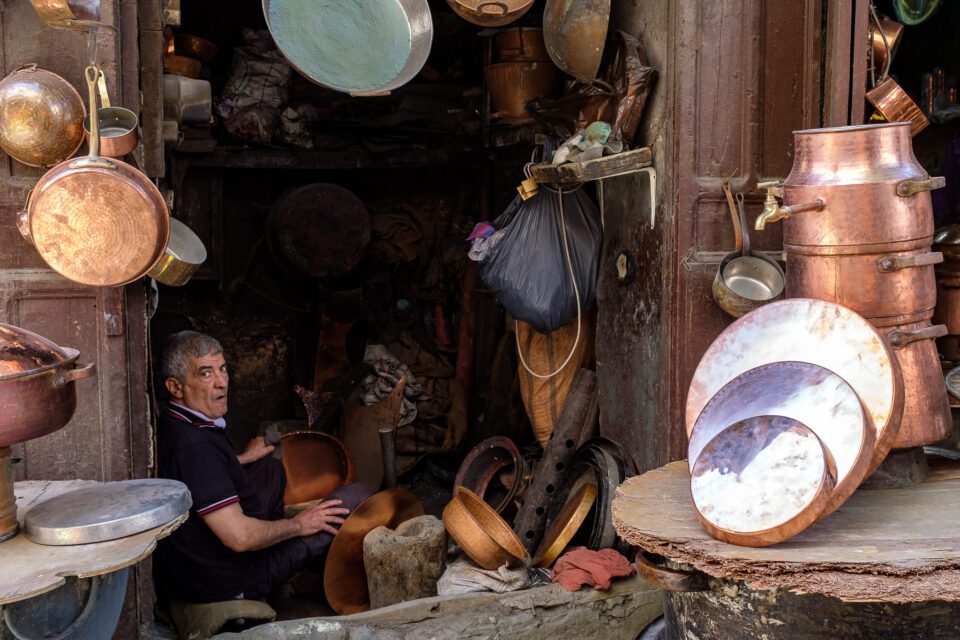 If you are looking for hand-made items, Fes is perhaps one of the best places to shop. Here, you can find all kinds of hand-crafted items, including hairpins and hair combs made out of animal bones and horns: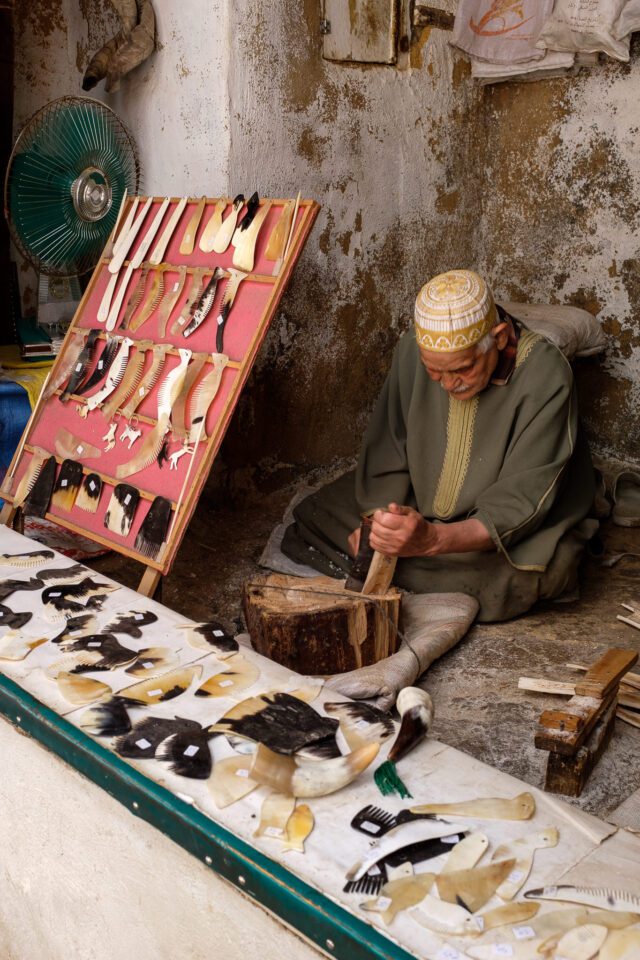 As you tour the souks, don't forget to pay attention to all the small details and beautifully decorated doors: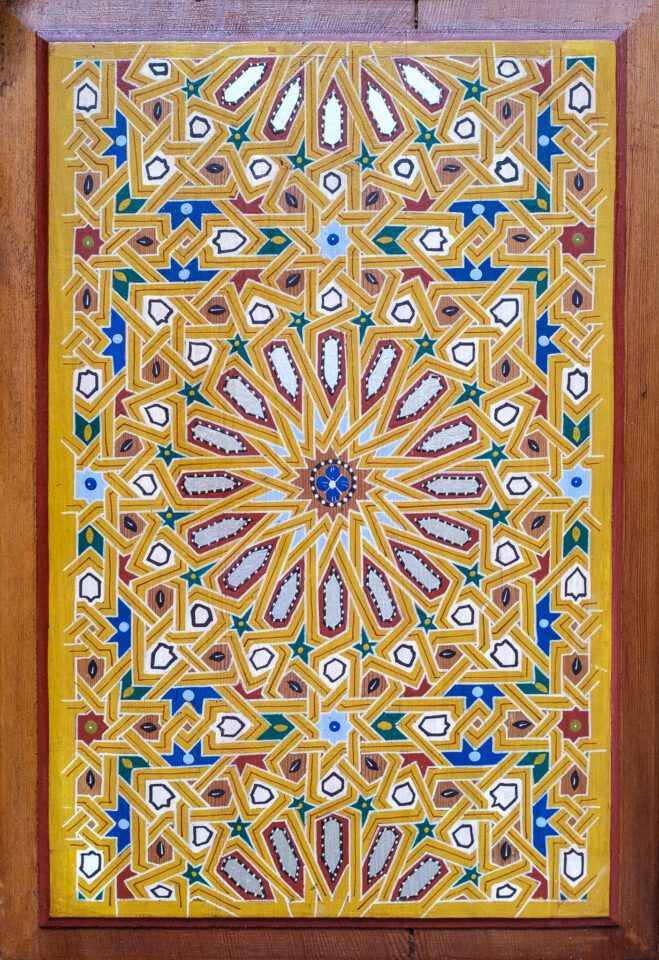 In addition to the university, you will find other mosques and mausoleums that are worth visiting. The Zaouia Moulay Idriss II was also beautiful in its own way from the inside: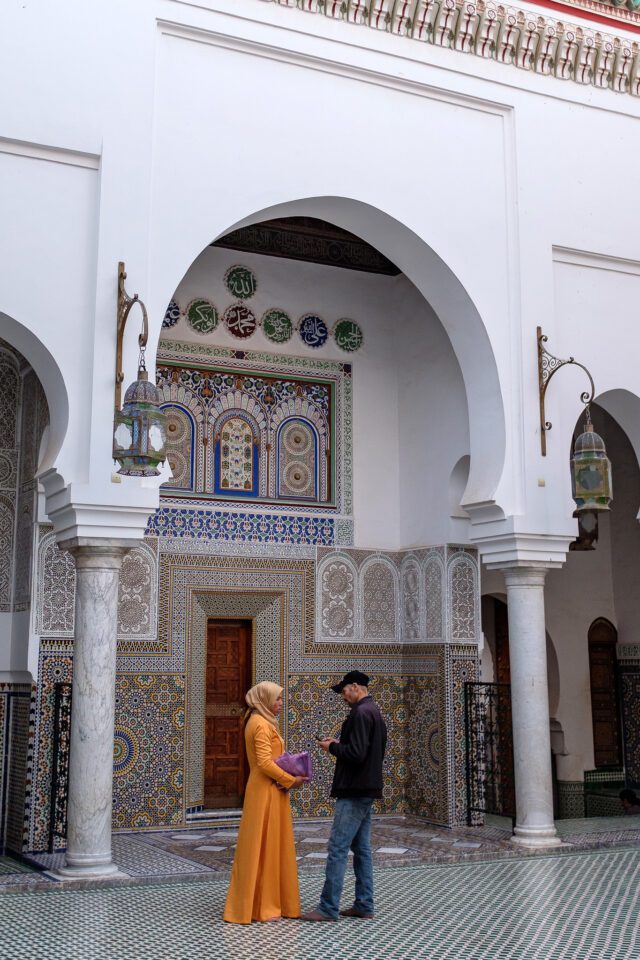 Fes is very well know for its tanneries, which you will hear a lot about. Unfortunately, getting to the main Chouara Tannery in Fes is not particularly easy, as you have to observe it from one of the terraces that faces it. Due to the fact that all the terraces are owned by local businessmen that sell leather goods, you will need to either pay them a small fee to go through their shops, or agree to buy something from their shops to get in. Some of them might offer free entrance to the tannery, in hopes that you might still buy something while going through.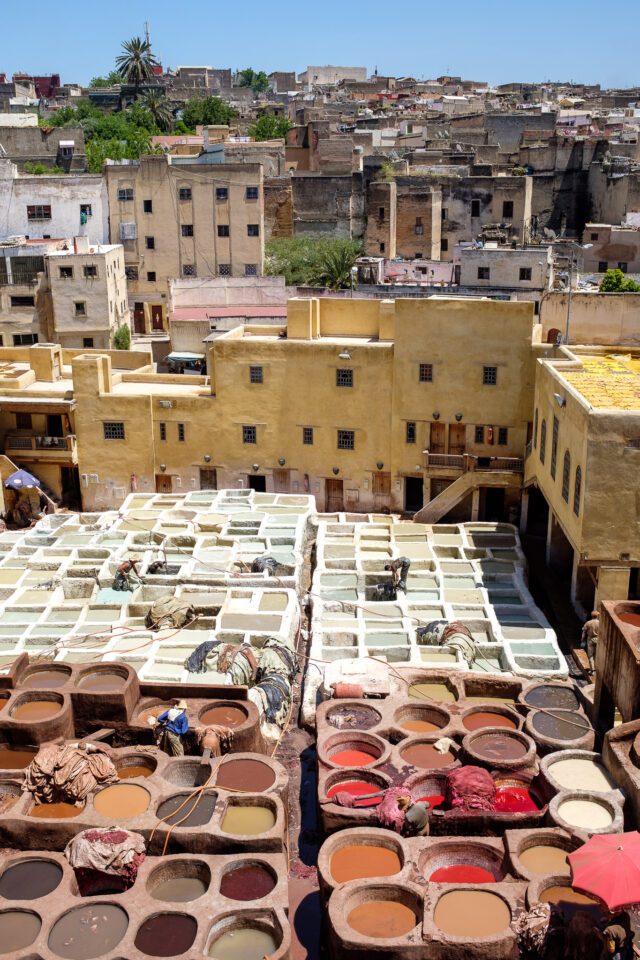 When you finally get there, be ready for some intense smells! It is hard to imagine what unprocessed animal skin coupled with chemicals and paint smells like until you visit the Chouara tannery. Although some shop owners give out fresh mint to visitors to be able to reduce the effect of the nasty smell, I didn't find much use to it.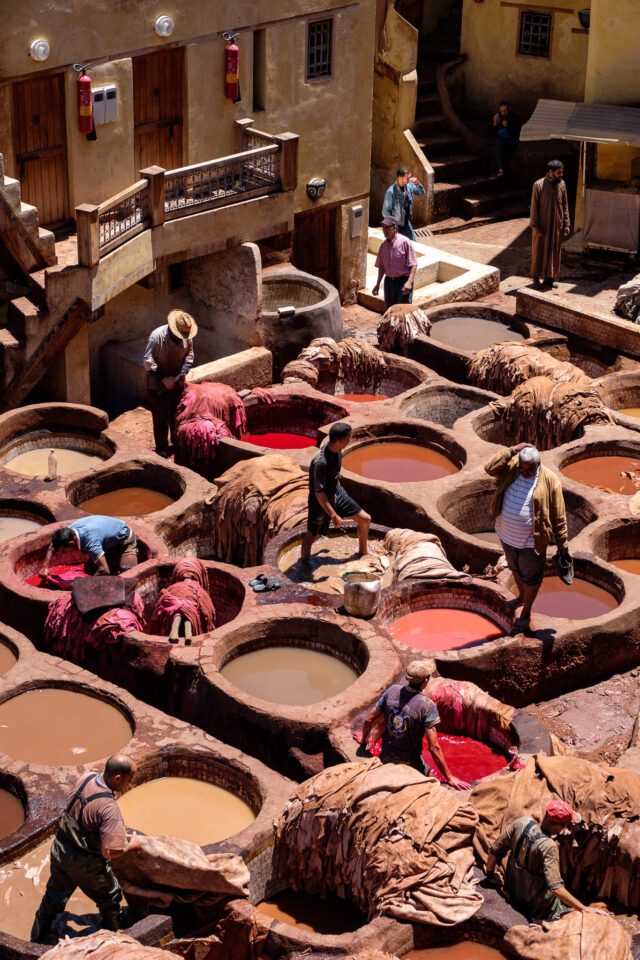 The tannery is very colorful and you can take pretty cool pictures of the workers from above doing their work: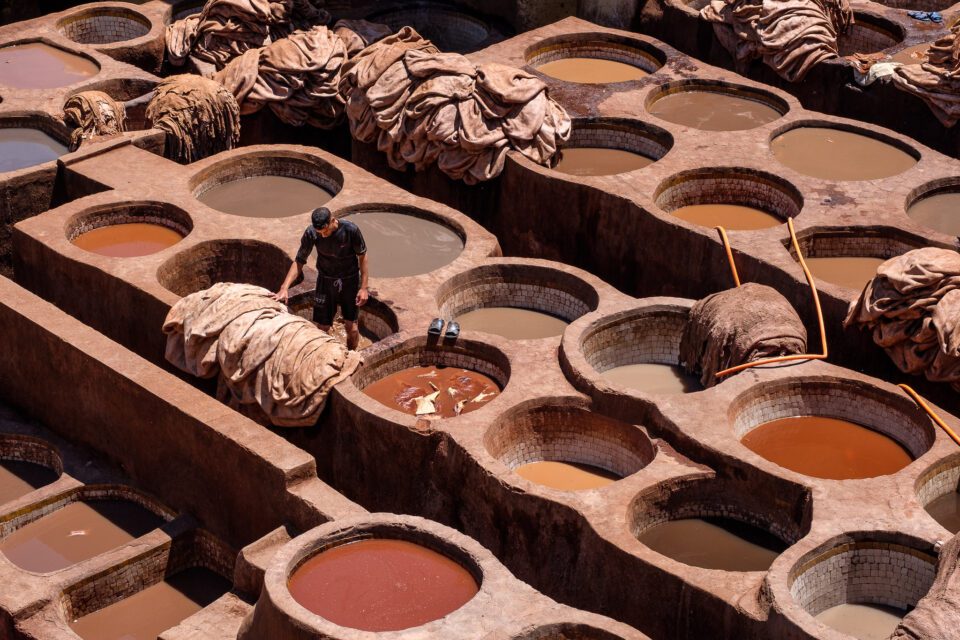 And if you have a telephoto lens, you can concentrate on other areas and capture some other angles: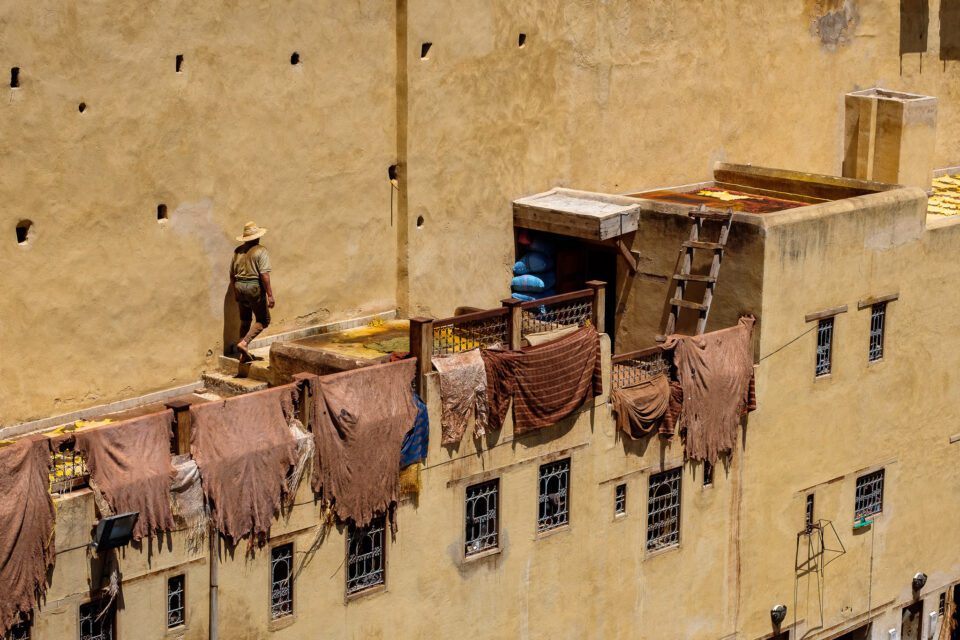 I took a few pictures of the action, but after about 10-15 minutes, it was hard to keep going. It was a hot day and it certainly made the smell worse to bear – it was time to move out and get back on the streets!
Street photography was very enjoyable in Fes. Thanks to all the arches, doors, steps and other beautiful architecture, all I had to do was find a good spot and wait for action.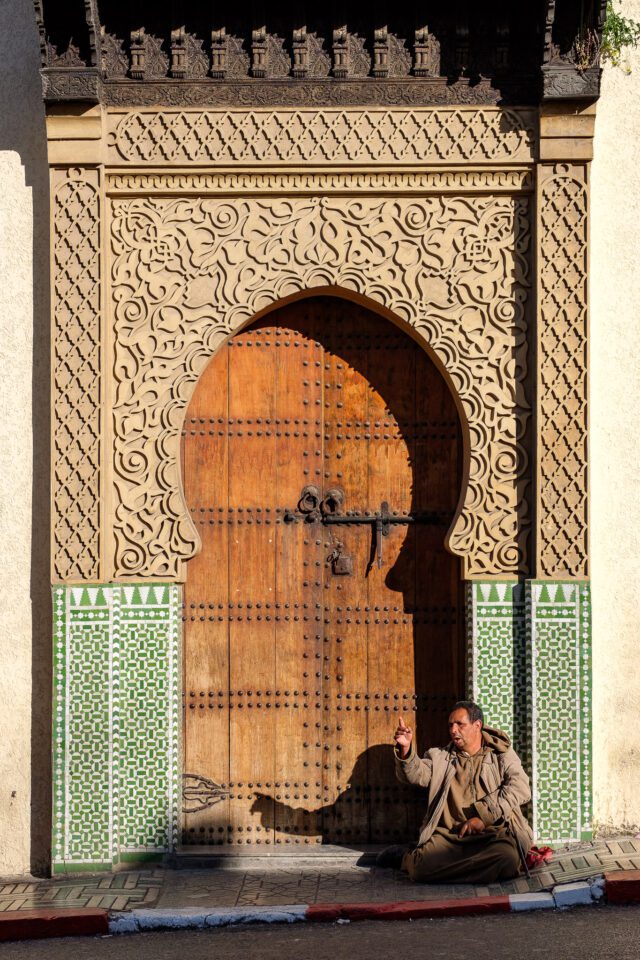 Whenever I got bored photographing people, I moved on to buildings and their details: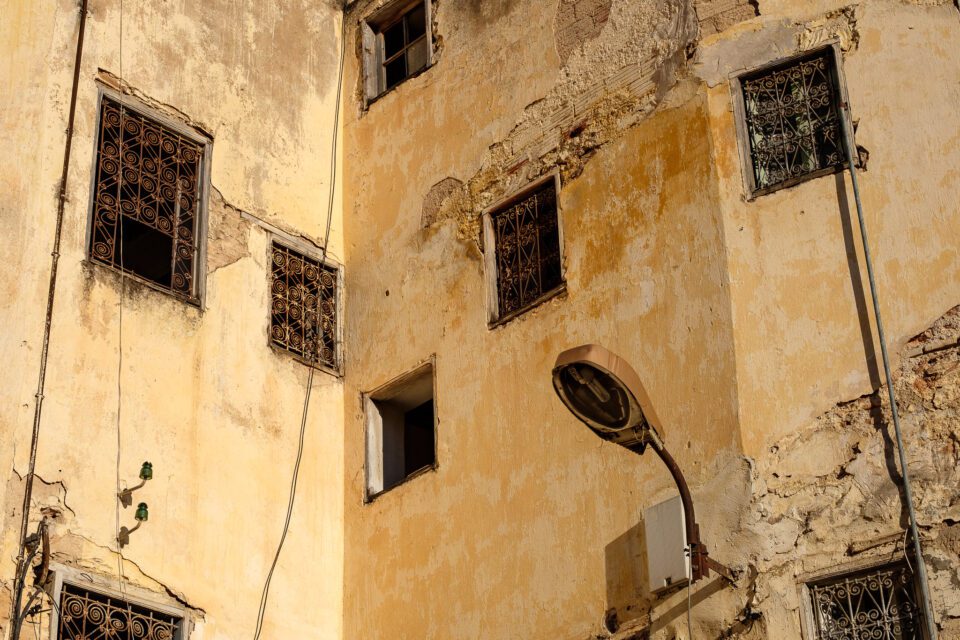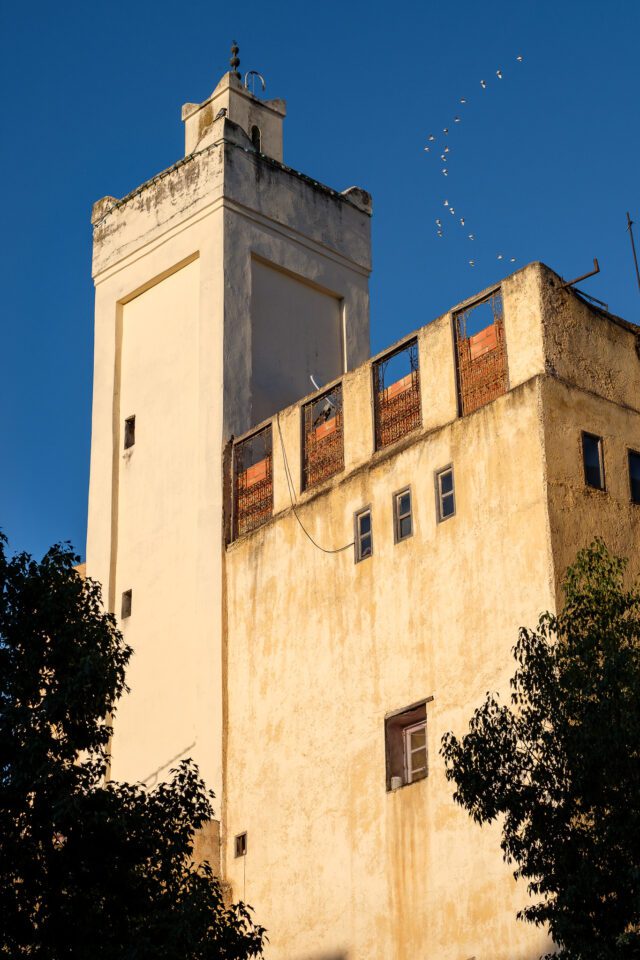 And when I got bored with both, I moved on to finding other subjects like motorcycles, cars, decorated donkeys and cats: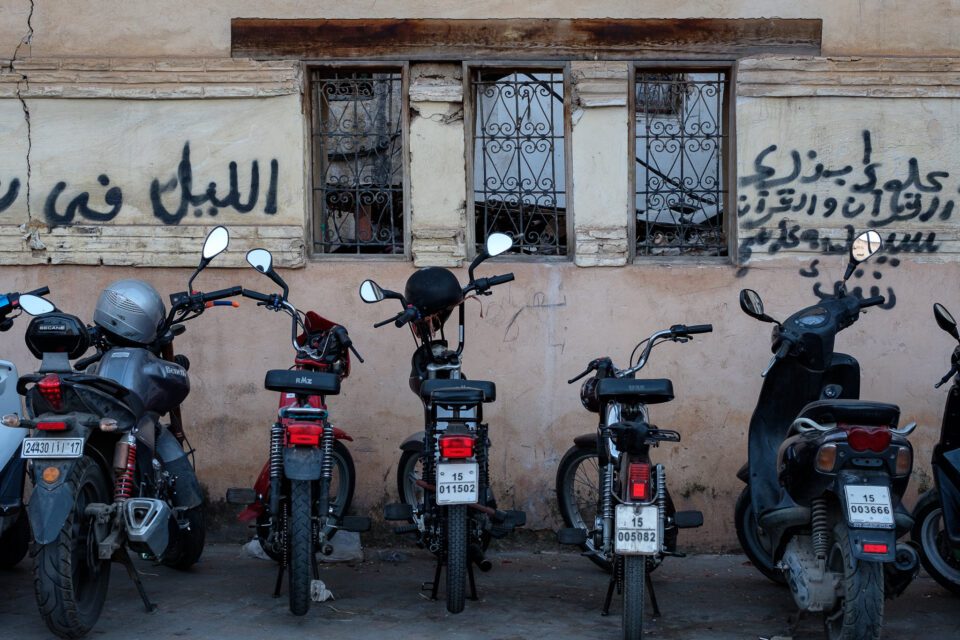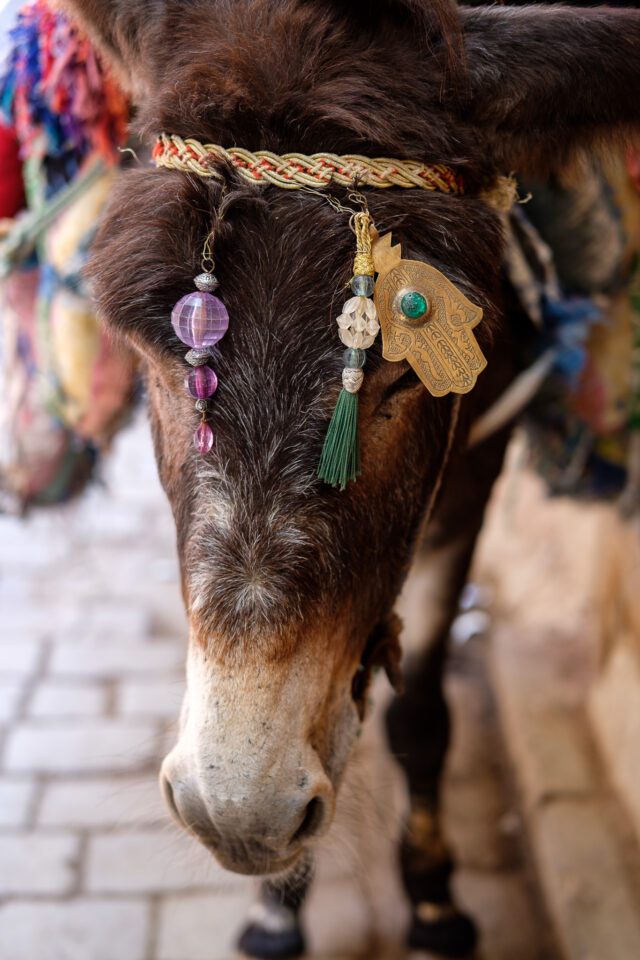 Speaking of cats, Fes is one place where you will find a lot of unattended cats and starving kittens. The kitten situation was particularly heart-breaking, as there are just too many starving kittens everywhere! These two were laying practically dead on the ground, looking very malnourished and sick: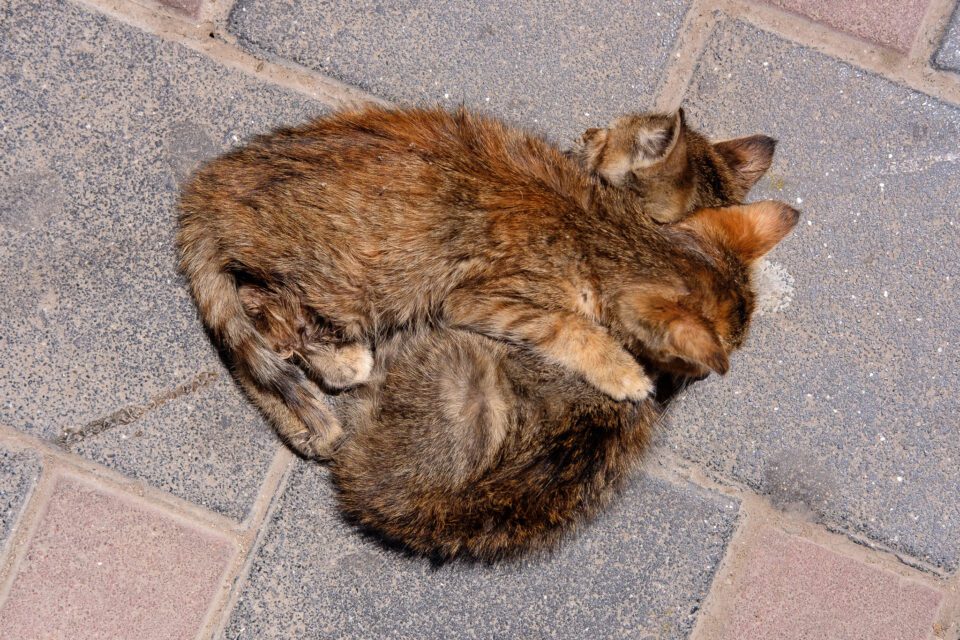 I wish the government of Morocco found a way to take care of the cat problem by spaying / neutering cats, so that their population stays under control, especially in larger cities like Fes…