After spending some time in Marrakech, the next destination was the historic Ait Benhaddou (near town of Ourzazate), which took about 4 hours to get to by car from Marrakech. The drive over the Atlas mountains was really beautiful, and if I had not stopped in a couple of spots to take pictures, I could have gotten there a bit quicker.
Ait Benhaddou
Ait Benhaddou is a historic fortified village, along the former caravan route between the Sahara desert and Marrakech. Although it rapidly gained popularity after becoming a UNESCO World Heritage Site in 1987, it was already known to host a few popular religious movies such as "The Message" and "Jesus of Nazareth" before that. Modern Hollywood productions such as "The Mummy", "Gladiator", "Alexander", "Kingdom of Heaven" and "Babel" contributed even more to Ait Benhaddou's popularity, drawing tourists from all over the world.
Having seen some pictures of this location before, I knew that I had to come and photograph it, so I added it to my schedule, staying there for a night. There were plenty of lodging options in the area, but I wanted to be as close to Ait Benhaddou as possible, so I chose to stay in a Riad-type "Guest House" called Maison d'hôtes Dar El Haja, right inside the village. Having never been to the area, I thought it would be cool to do that, but after arriving to the location, I had a rough time figuring out where to go and where to exactly park my car. Thankfully, the owner of the guest house spoke some English and he instructed me to park my car by a nearby mosque, then walk to the location – he told me that it would take me less than five minutes to get there, but also warned me that I had to cross a stream. Whoops! I knew that I had to keep my luggage to the minimum, so I left my big suitcase in the car and only took the most important necessities for an overnight stay.
As I walked towards the village, I came across a set of buildings on the side of a hill and the view finally opened up: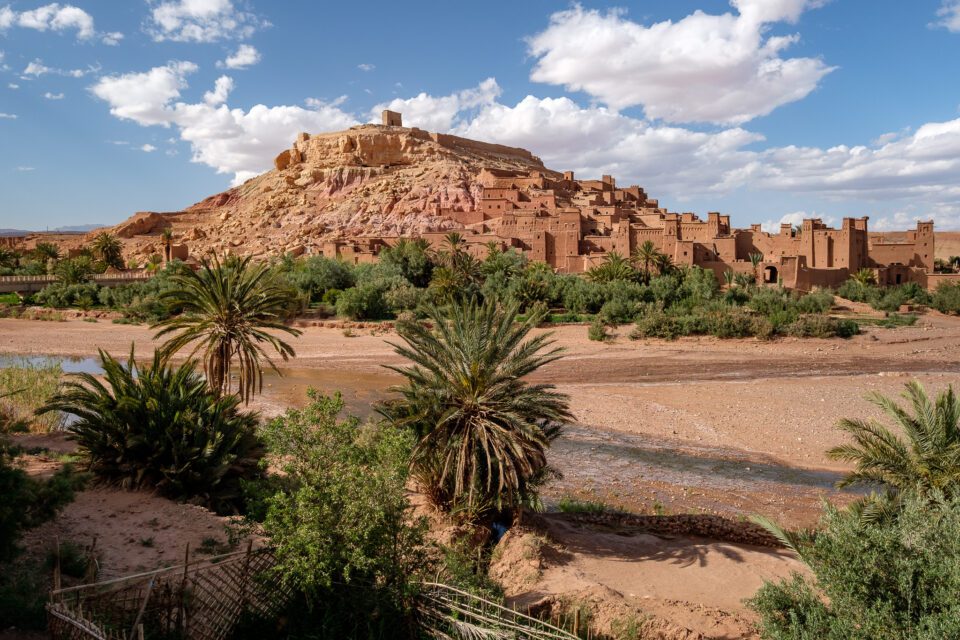 Without a doubt, it was a breathtaking view! I snapped a picture, but then also estimated the type and the amount of walking I would have to do to get to the guest house. As you can see, there are a couple of streams one needs to cross. Thankfully, there were large boulders with sand bags on top of them to make the journey relatively easy, but keep this in mind while making travel plans. If you are going to stay within Ait Benhaddou like I did, you will need to be OK with getting there. The good news is, there is a bridge on the left side of the village (visible in the picture above), but it is a longer walk. That's why most people just cross the stream directly. If you have large and heavy luggage, you will probably need to talk to the host and ask for some assistance (which they are surely ready to provide).
There were very nice clouds in the sky, so as I walked towards Ait Benhaddou, I took some pictures. The village itself is great and offers plenty of opportunities for those who are willing to find them: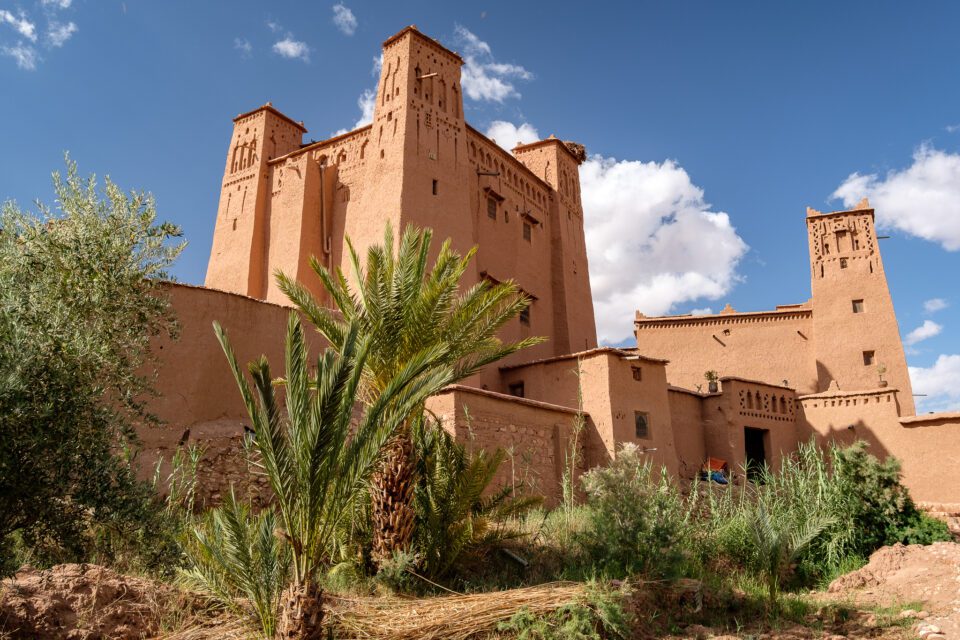 Staying at the Maison d'hôtes Dar El Haja was a wonderful experience. The rooms were clean, nice and comfy, while the property itself turned out to be a great location to take some pictures: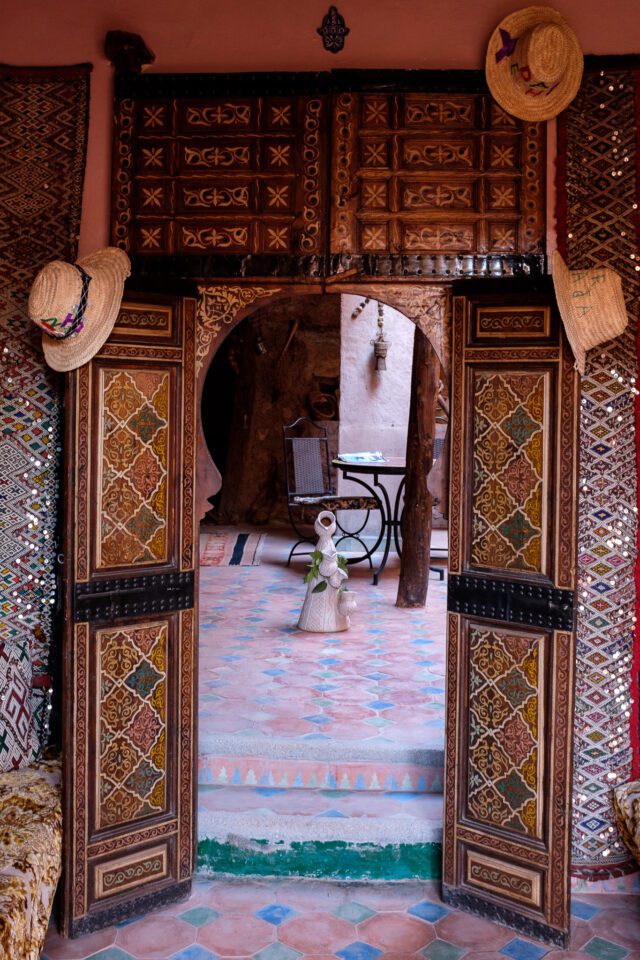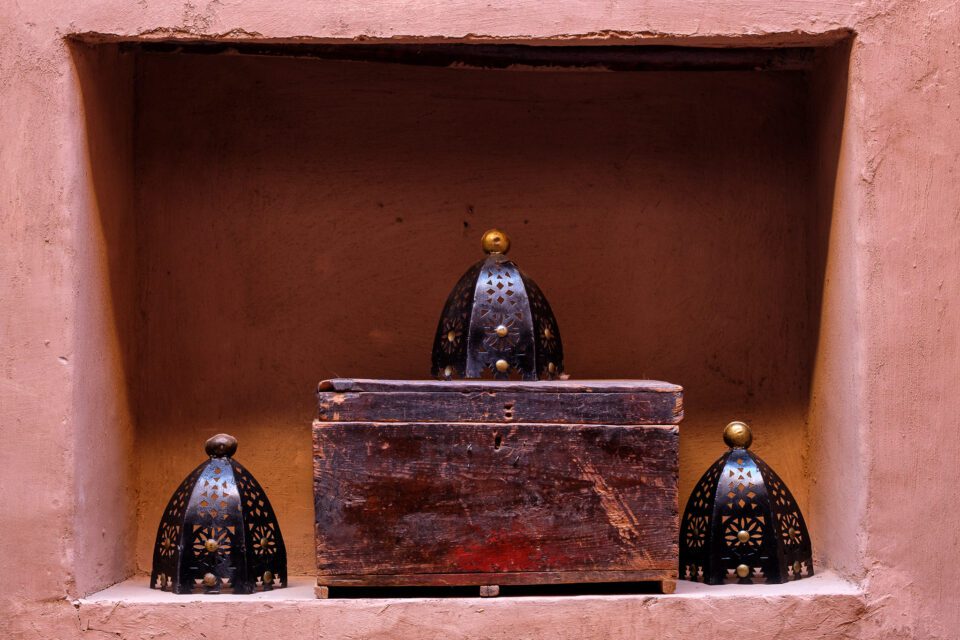 The whole building is decorated very nicely and having a balcony with some chairs was a nice bonus – I was able to sit and relax, which was important after spending a few days in crazy Marrakech. Everything felt so much more relaxed and peaceful – it was certainly a great getaway. However, keep in mind that the village itself does not have any electrical power, so there are no electrical outlets in rooms. If I were to do it again, I would probably stay on the other side of the river, purely for photography and convenience reasons. While enjoying my time at the guest house was nice after a long drive, I didn't come all the way to Morocco to relax! It was time to get out and take some pictures.
First, I decided to go back to the other side and scout some locations for sunrise / sunset photography of Ait Benhaddou. I wanted to find a good vantage point that I could capture Ait Benhaddou from, which is not blocked by trees or other structures. The overlook I saw the village from the first time had a bunch of tall trees and other vegetation in the foreground, so my goal was to find a taller property. Walking from hotel to hotel was a great experience and a nice change after Marrakech, especially in regards to the overall attitude of the locals…they were kind and very helpful. I asked the hotel staff and owners if I could go up to the rooftop and check it out, explaining to them that I wanted to take some pictures at sunset / sunrise. Everyone said that it was not a problem at all!
After going through a few properties, I decided to stick to one rooftop that offered the best view in my opinion compared to others, "Guest House La Fibule d'Or". It was a very nice view without anything in the foreground, and the staff was super friendly and eager to help. As the day was coming to a close, I moved to the rooftop and ordered some mint tea and snacks, while setting up my camera right on the fence. Here is the image that I ended up capturing that sunset: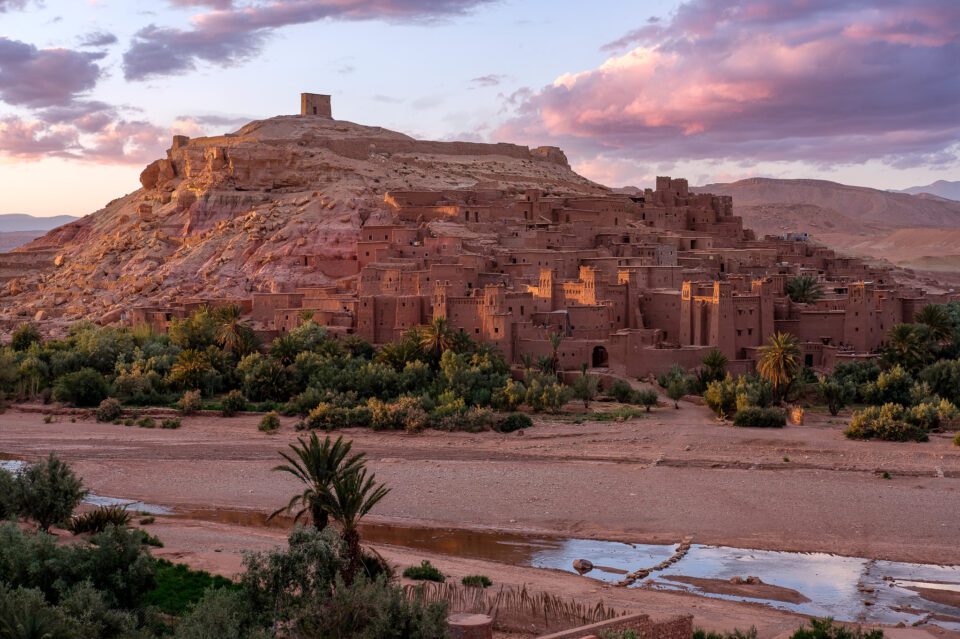 I had high hopes for a beautiful sunrise with some clouds as well, but after getting up at 5 AM in the morning the following day and going to the same vantage point, I realized that it was not going to happen: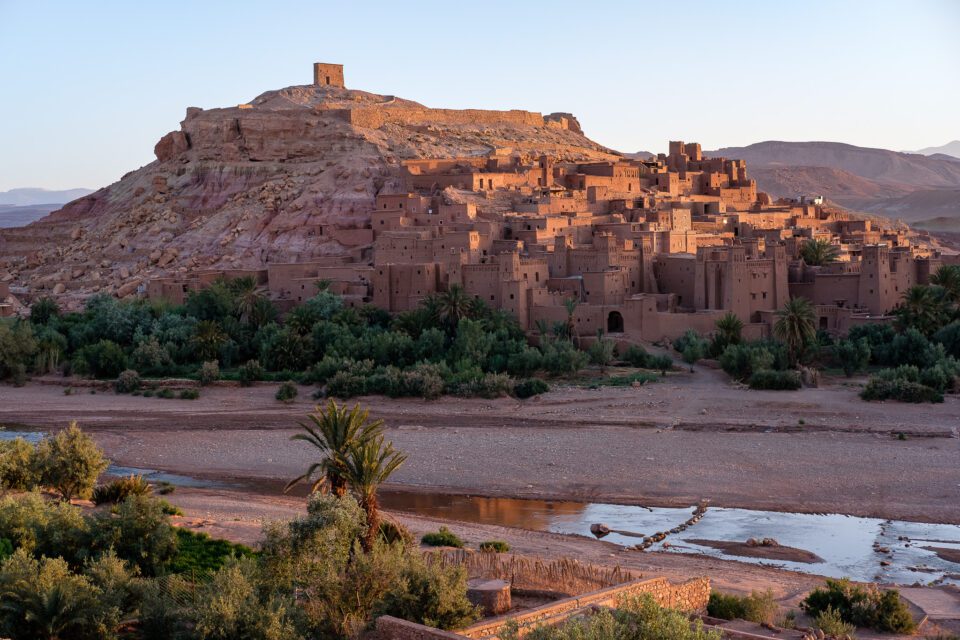 Sunrise also had its challenges – with mountains partially blocking the view from the east, I had to wait a bit to get some light on Ait Benhaddou in order to capture the above photograph. If there some some clouds in the sky and sunlight reflected back from them, it could have still made a beautiful picture, so if you are planning to go there, make sure to not miss both sunrise and sunset opportunities.
I had a few hours left before a solid breakfast at the guest house and a long all-day drive to Meknes, so I decided to walk around a bit and take some more pictures in the village.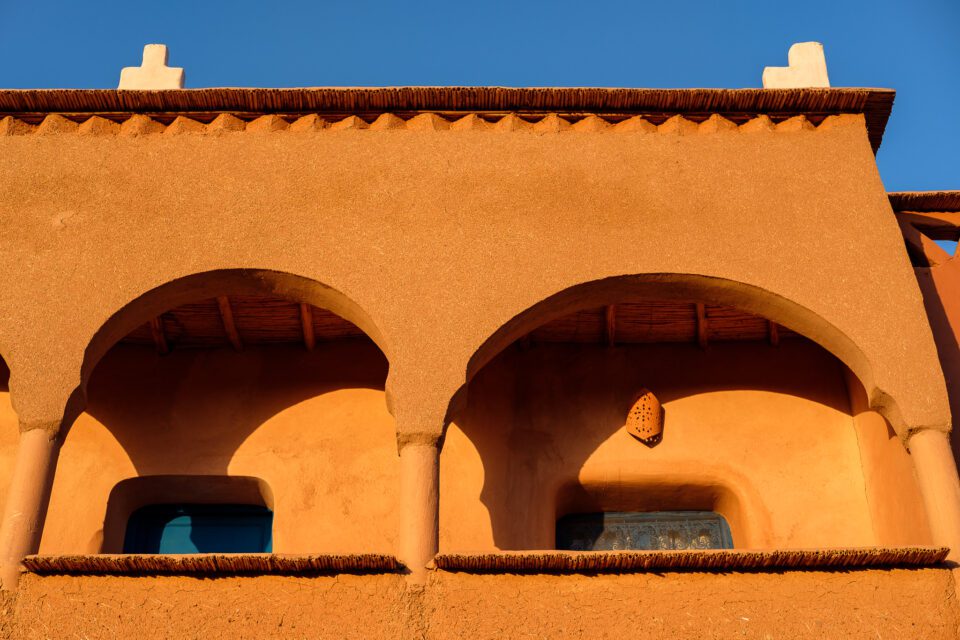 The beautiful clay on the face of the buildings that are full of textures, carvings and windows, can make for pretty intense shots, especially near sunrise/sunset times, reflecting some of the golden light. For the below photo, I had to desaturate the image quite a bit in Lightroom, as it looked almost too vivid: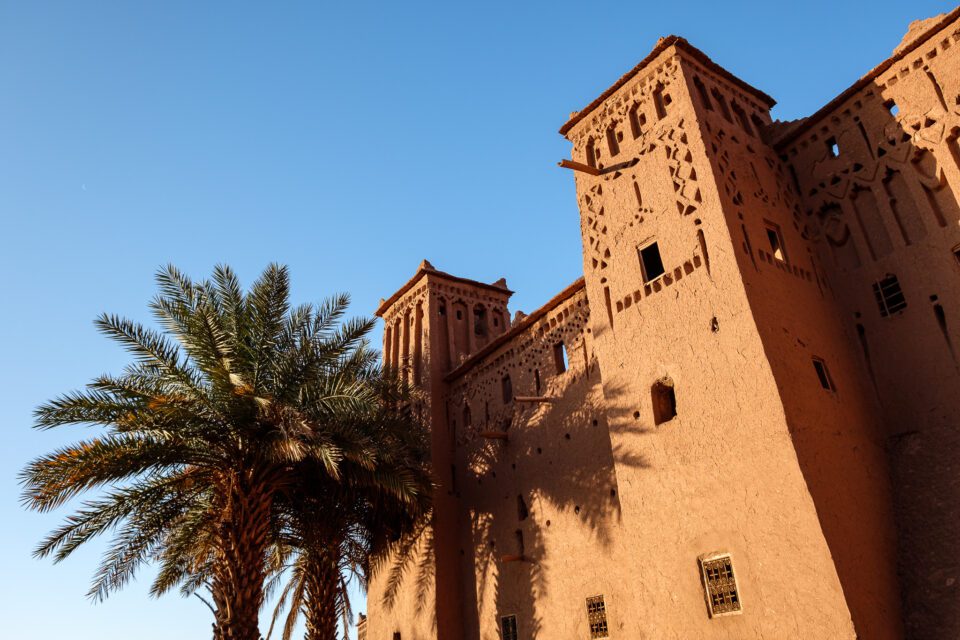 Within the walls of the fortified village, as well as on the other side of the river bank, you will also find plenty of options to photograph beautiful doors: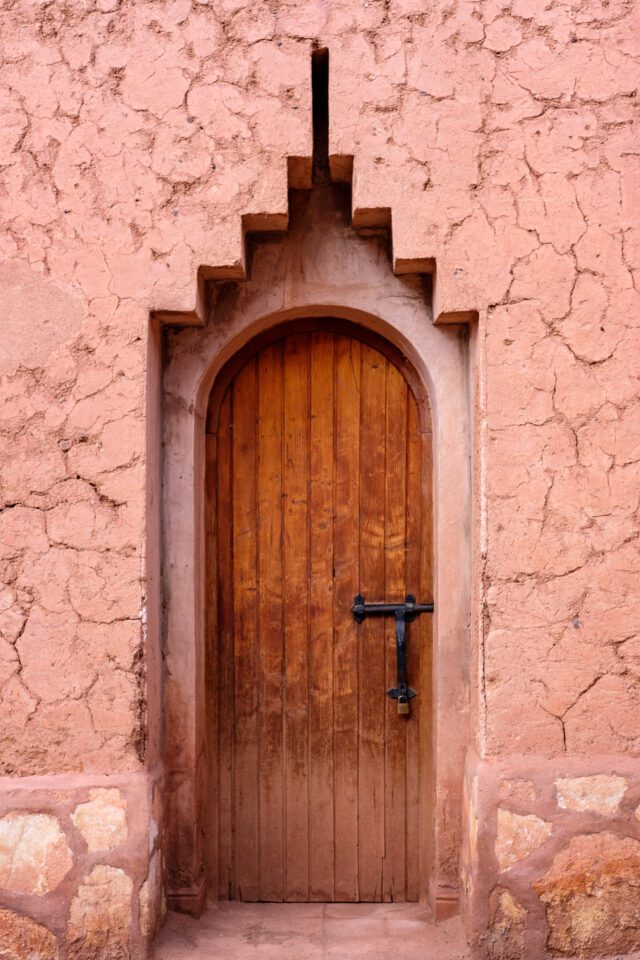 That was about it for Ait Benhaddou. Next, was a very long drive to Azrou through the southern route. My initial plan was to stop by in Errachidia or Midelt, but due to time constraints and a very tight schedule, I had to skip those towns and get closer to Fes / Meknes area.
Azrou and Meknes
For me, Azrou was a perfect place to get to after the desert, because it offered stunning mountain views, fresh air and even some wildlife, which I did not anticipate to see! I left Ait Benhaddou early, so by the time I got to Azrou, it was not too late and I got to see quite a bit of scenery before arriving to my hotel. As I drove on a mountain pass, I somehow ended up in a beautiful park full of tall trees and wild monkeys: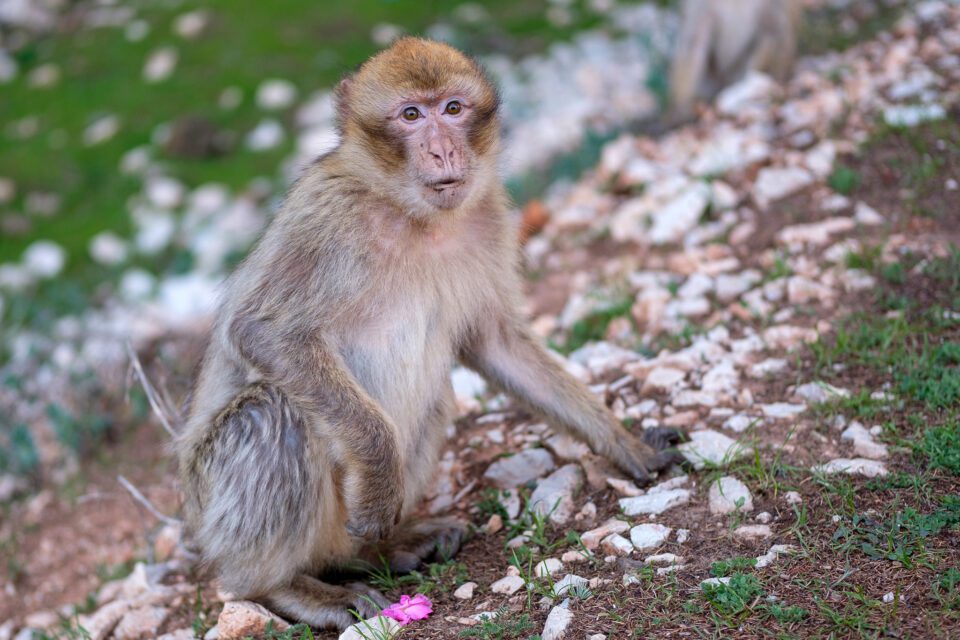 The monkeys were very friendly and not very camera-shy. It looks like they are often fed here by the tourists, which is why they hang out close to the roads.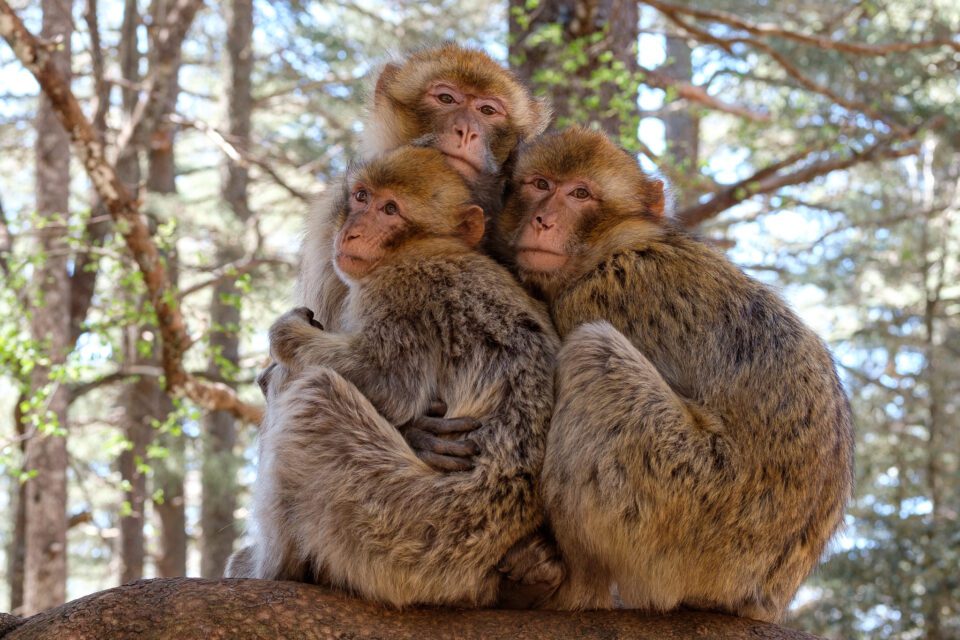 I stayed at a small town next to Azrou, which offered great mountain views: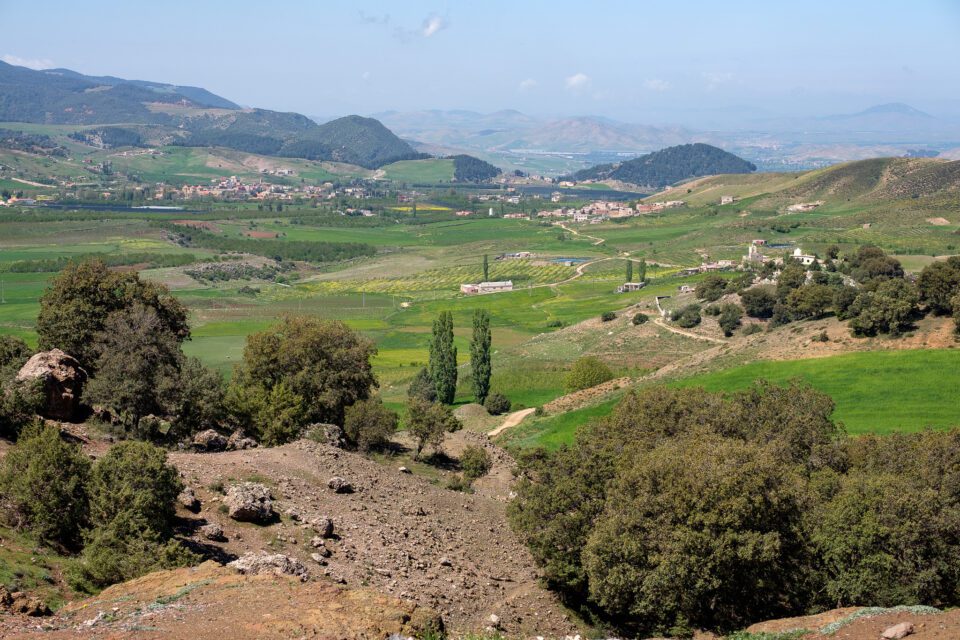 And if you are willing to find some good landscape shots, there are national parks around that have even more beautiful scenery options. Unfortunately, I didn't have a chance to explore this area, but if I were to come back again, I certainly would.
After staying at a very nice European-style hotel called Le Palais des Cerisiers (their restaurant is pricey, but excellent, and their duck steak was marvelous!), I drove towards Meknes to see the ruins of Volubilis, the ancient capital of the kingdom of Mauretania. Although it was a very hot day, touring Volubilis was still a wonderful experience and something I would certainly recommend. While it might not be as grand as Ephesus in Turkey or Jerash in Jordan (especially in terms of restoration efforts), there was quite a bit to explore, photograph and learn about.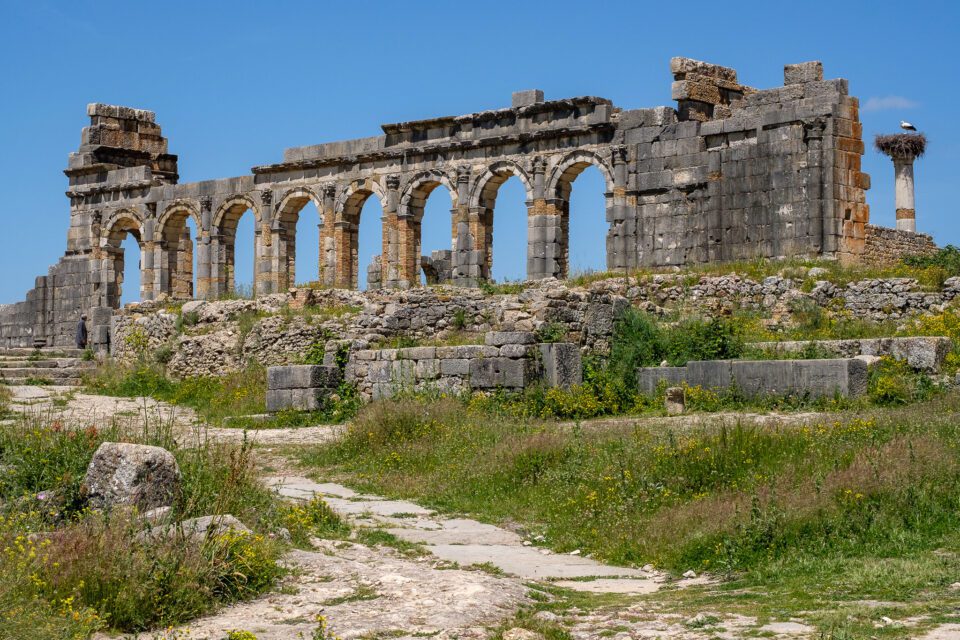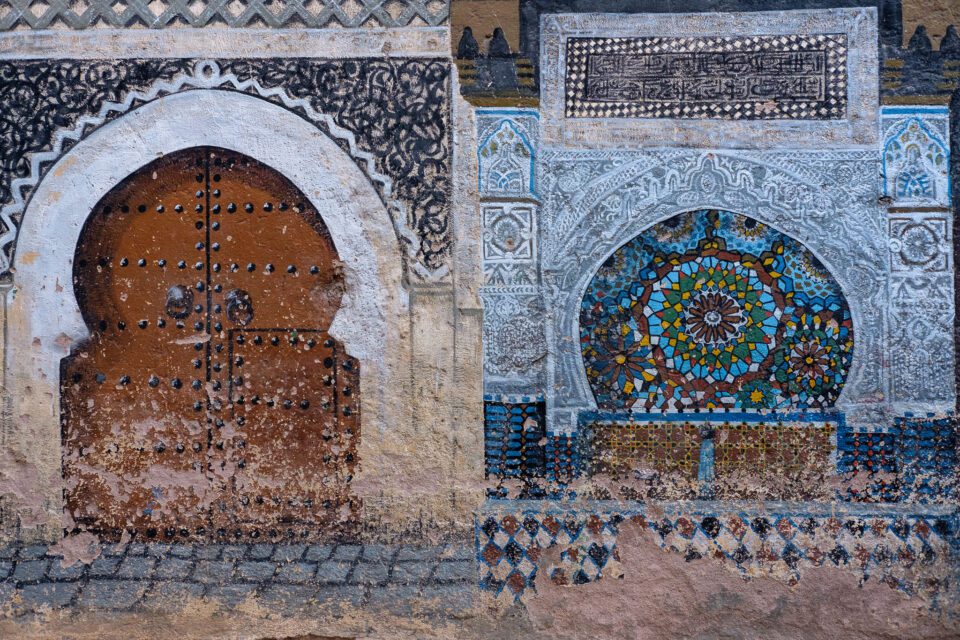 There was also a stork nest right on top of one of the tall columns: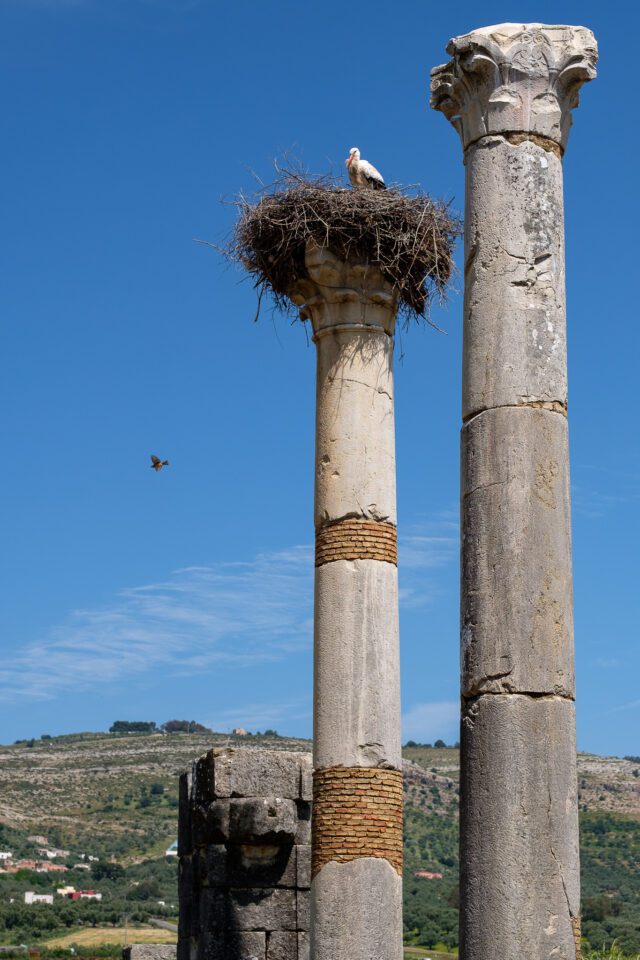 After spending a few hours in Volubilis, it was time to move on to Fes, where I intended to stay for 2 nights before heading out to the blue city of Chefchaoun.