Casablanca
Considering how little time I had in my schedule, I had to make sure that I stay productive during the trip, visiting locations that I would have interest in photographing. Although I was told to skip Casablanca by other photographers, I decided to check it out anyway and spend half a day in the city. The first on my list was the Hassan II mosque, which looked very promising. As I got close to the location, the stunning minaret stood out from the distance. It is a massive, Moroccan-style minaret that is a work of art by itself: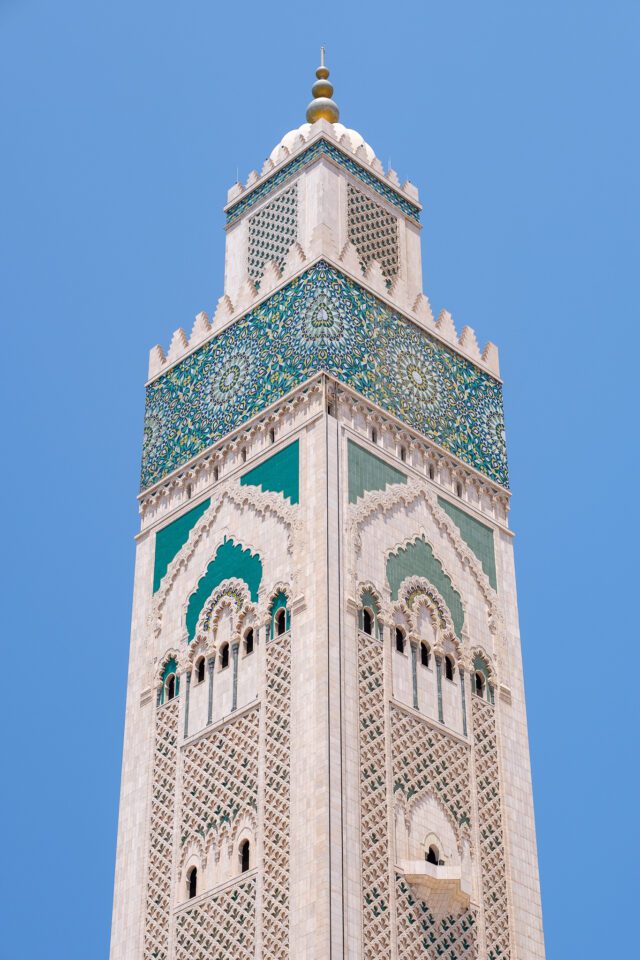 As you approach the mosque, you will be presented with a grand view of the entire building and a beautiful open area that leads up to it: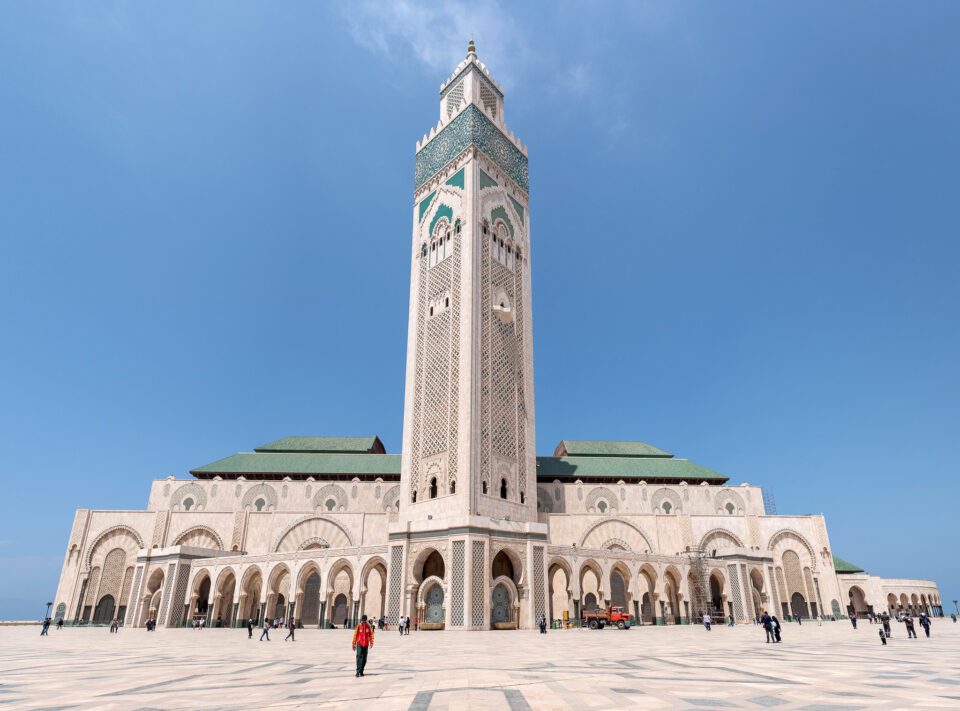 While touring the mosque during the day, I noticed that there were plenty of tourists around, but unfortunately, due to the construction that was taking place, most of the building was inaccessible. So I decided to walk around and photograph the mosque from the outside. As I toured the outside, I saw a number of good opportunities, with beautiful textures and patterns. Here is what the area where ablution is performed looks like: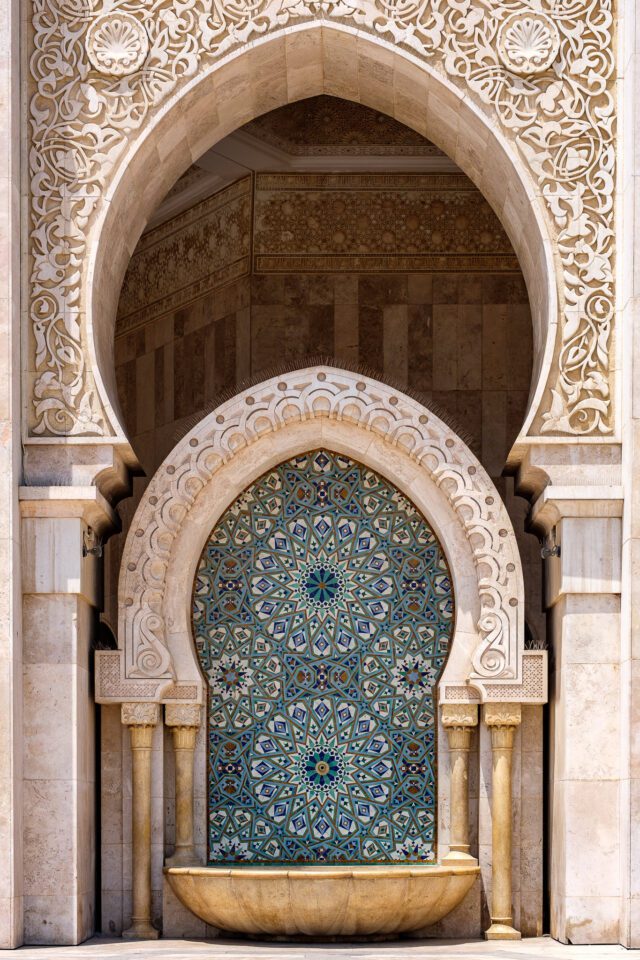 The entrances to the mosque are particularly beautiful, as you can see below:
And if you wait for the right moment, you might be able to encounter interesting subjects in the area as well: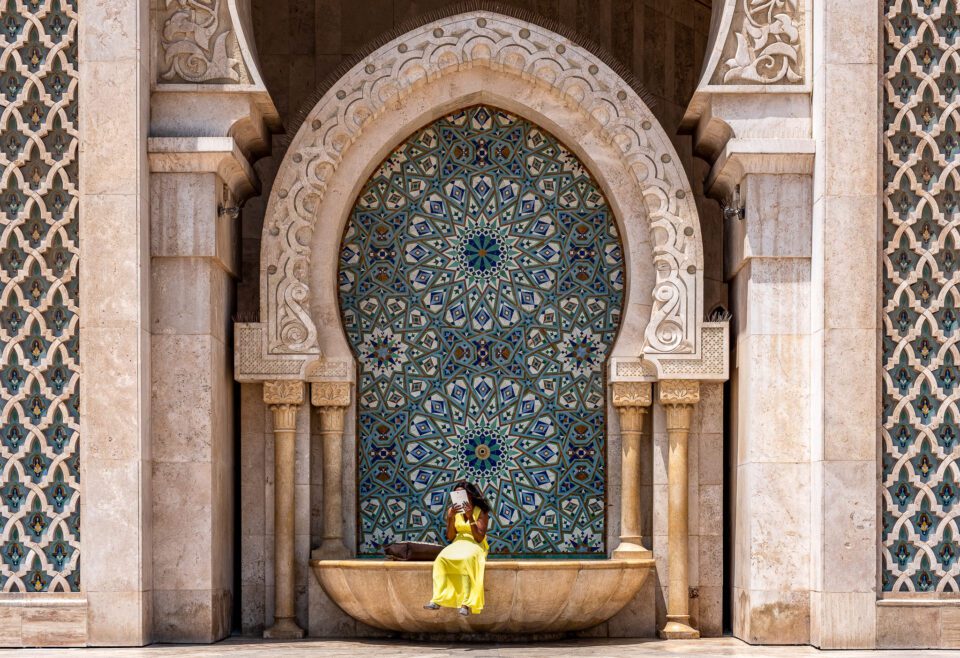 After a little while, I went back to the only entrance door that was open and saw that the mosque was now finally open. As I entered the building, I was amazed by the stunning architecture: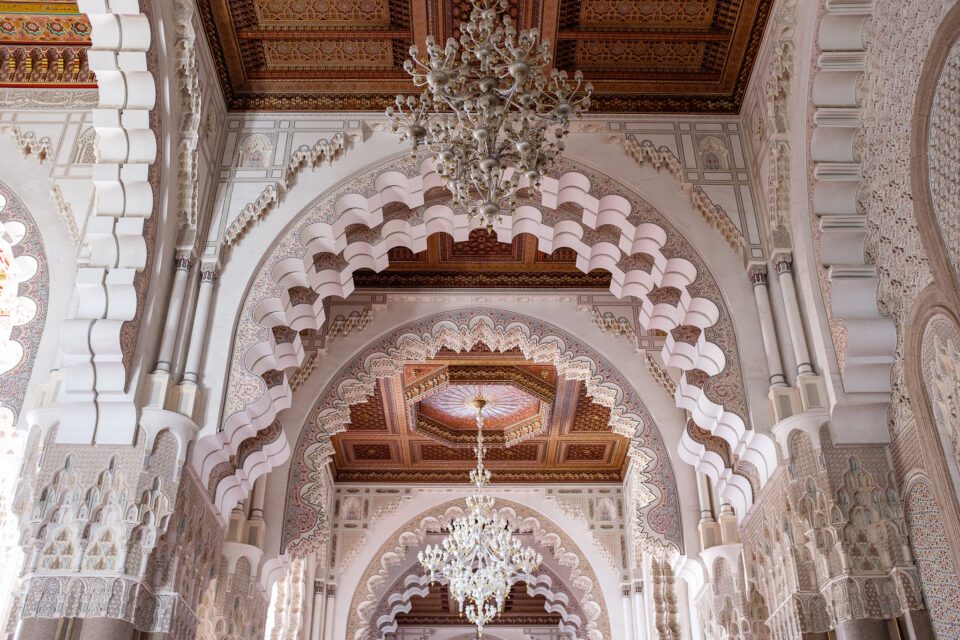 The columns, lines, curves and all the small details were absolutely amazing: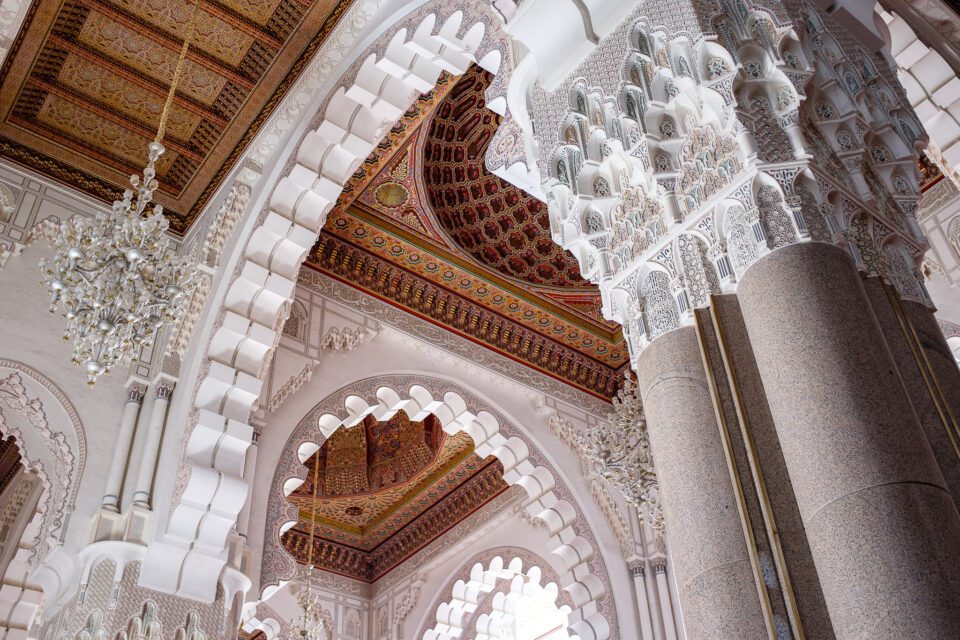 As I got further in, I saw the open courtyard, made in the style of Riads in Morocco. There was a lot of light in some areas, making it tough to photograph, but I made sure that I didn't blow out the highlights. The shadows were heavily pulled in Lightroom: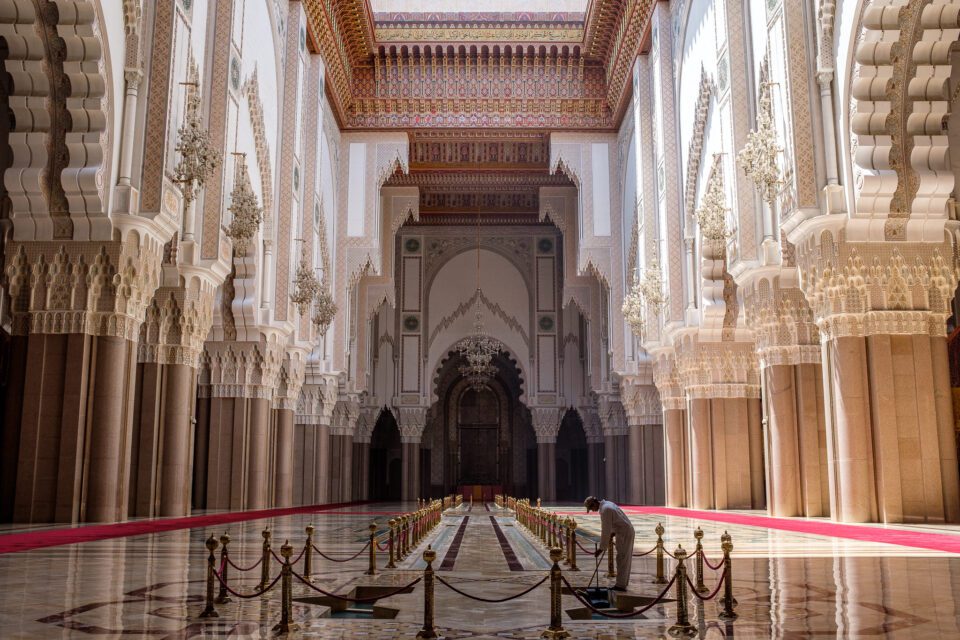 Unfortunately, a lot of the areas within the mosque were out of reach. I wish I could have gone in and focused on other areas of the mosque, as there was a lot to photograph.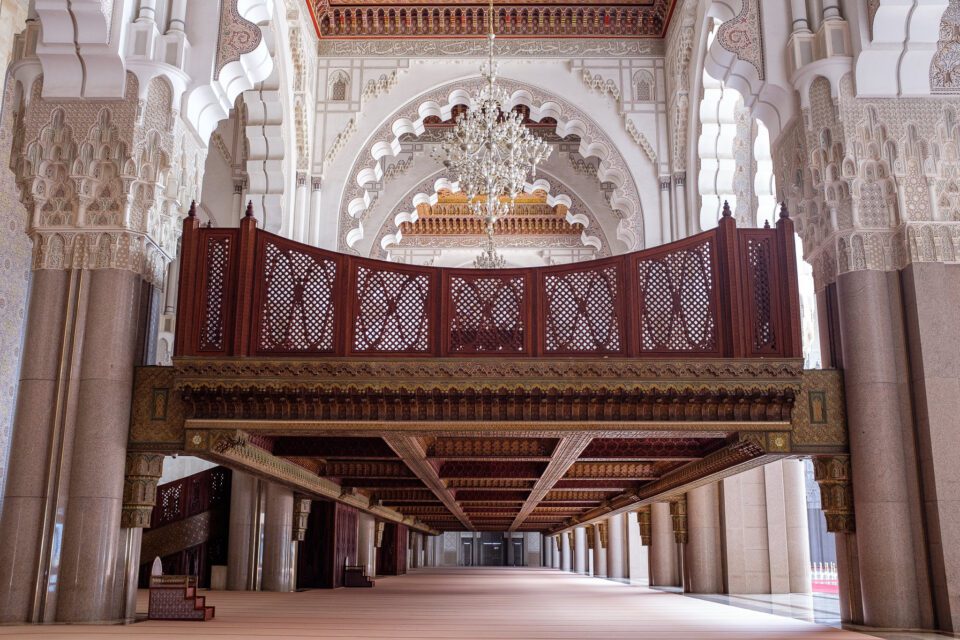 After spending limited time at the Hassan II mosque, I decided to drive in Casablanca and look for other opportunities. Unfortunately, due to the crazy traffic and drivers, as well as lack of solid subjects to photograph, I had to route my way to Marrakech instead.
Marrakech
Marrakech is a crazy city in many ways, but the photographic opportunities there are pretty amazing. Although I found opportunities for street photography throughout the day, the best time of the day, without a doubt, was early mornings. Waking up before sunrise and walking through narrow streets when the first rays of light hit them allowed me to focus on specific locations and take advantage of less people on the streets, which meant less chaos. I was able to walk around for a couple of hours without anyone paying attention to what I was doing and the streets were mostly empty, with early risers doing their work sweeping streets, or getting prepared for the day. It was also refreshing to see no tourists on the streets – they were all asleep at this hour.
The host of the Riad where I was staying was kind enough to offer me to visit another Riad that had a nice overlook to the Jemaa el-Fnaa, the main square of Marrakech. Although the square itself didn't have anything attractive to photograph at sunrise, I was still happy to be there to catch the first rays of light hitting the nearby buildings: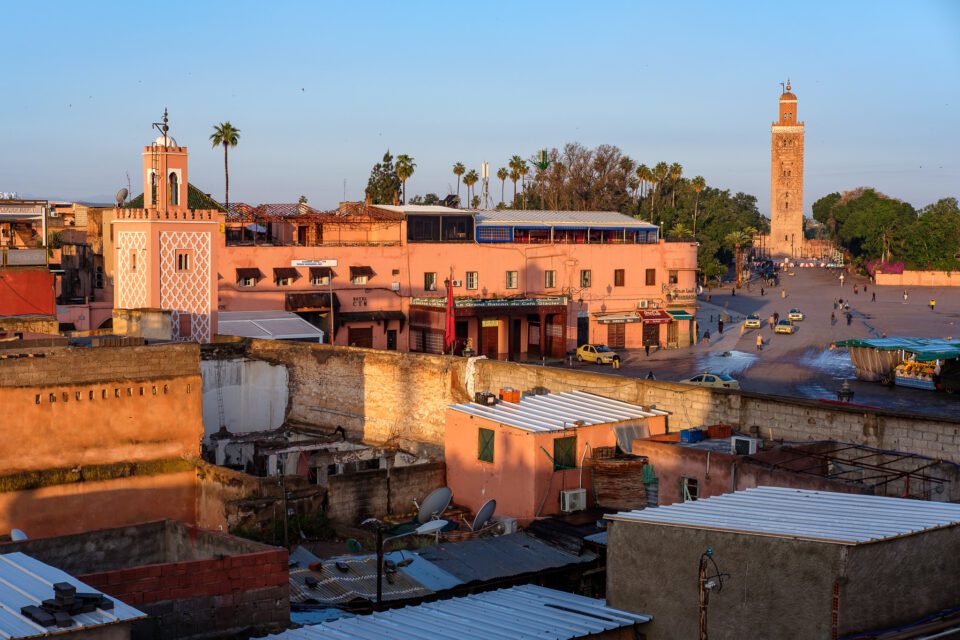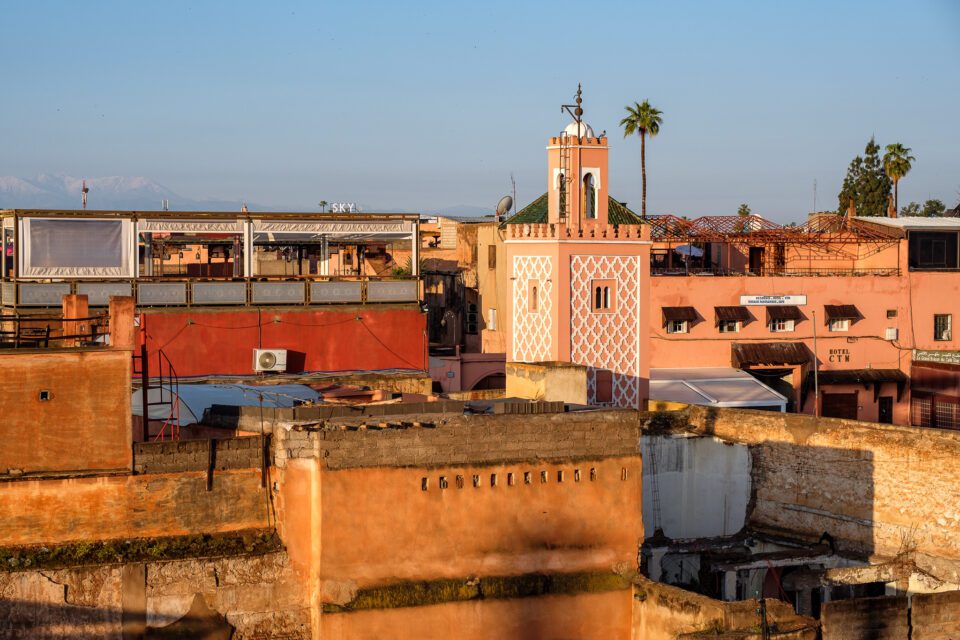 The beautiful Atlas mountains were also visible in the distance, but there was a thick haze covering the mountains and there wasn't anything interesting to photograph in that direction anyway, so I took a few shots of other subjects. Here is an abandoned house, covered in chaos of destruction: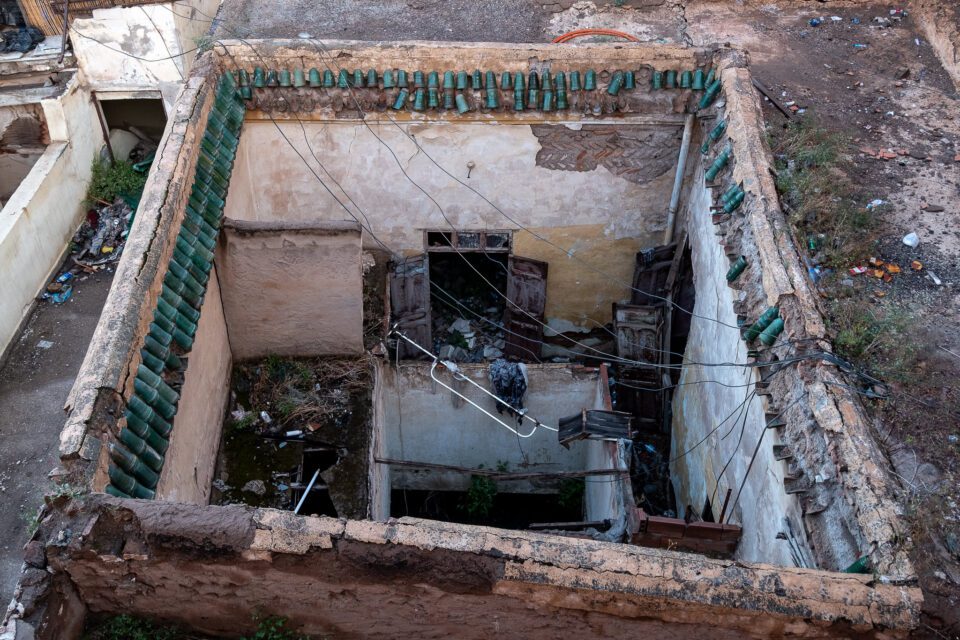 As you explore Marrakech and other towns in Morocco, you might come across many abandoned homes like this. I would caution against trying to get inside, as it is unsafe and probably even illegal to do so.
While exploring the narrow streets of Marrakech Medina, I was able to find some spots where I could observe people passing by early in the morning: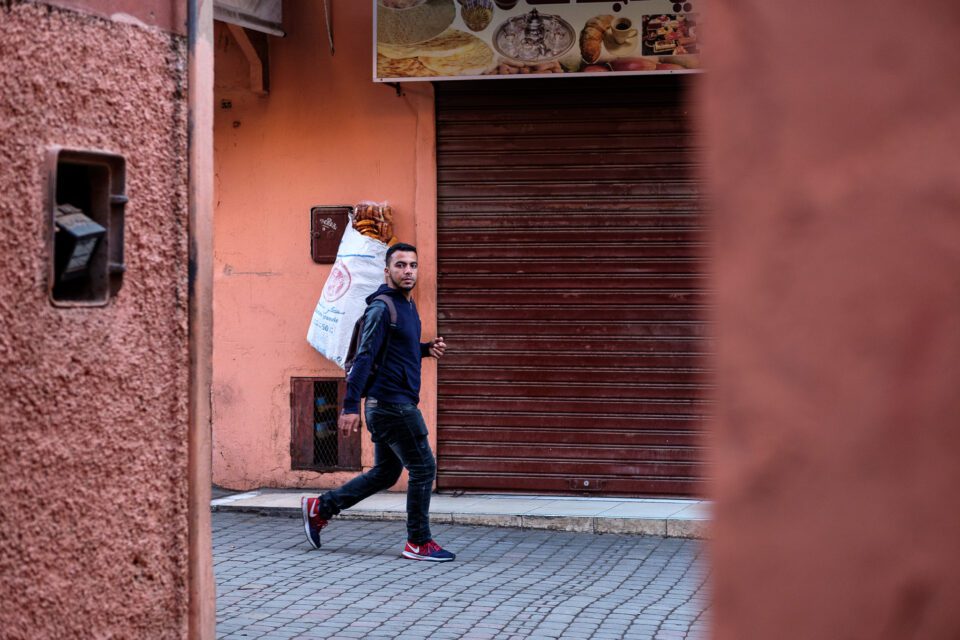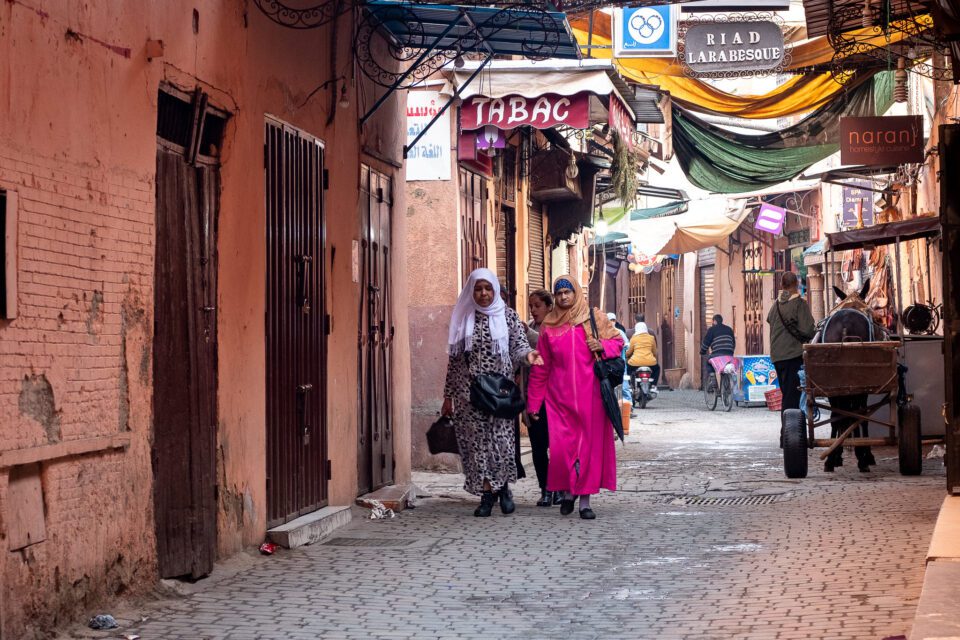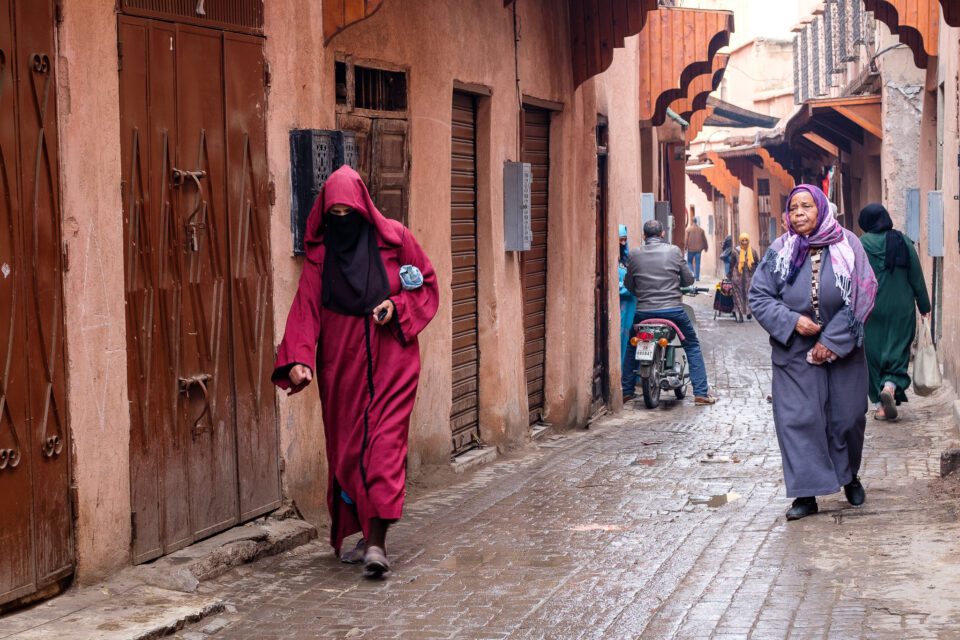 And finding little beams of light allowed me to capture subjects walking through them. I captured some images from the front, then moved to the back to get some backlit shots: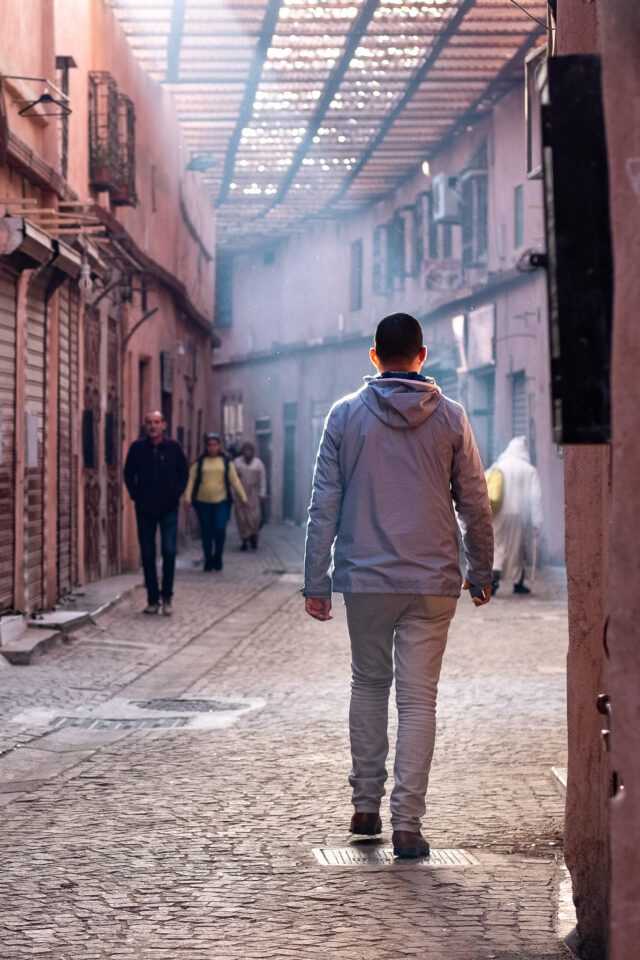 A lot of buildings in Marrakech are made from mud bricks and they wear out after heavy rain and natural erosion, making them interesting to photograph: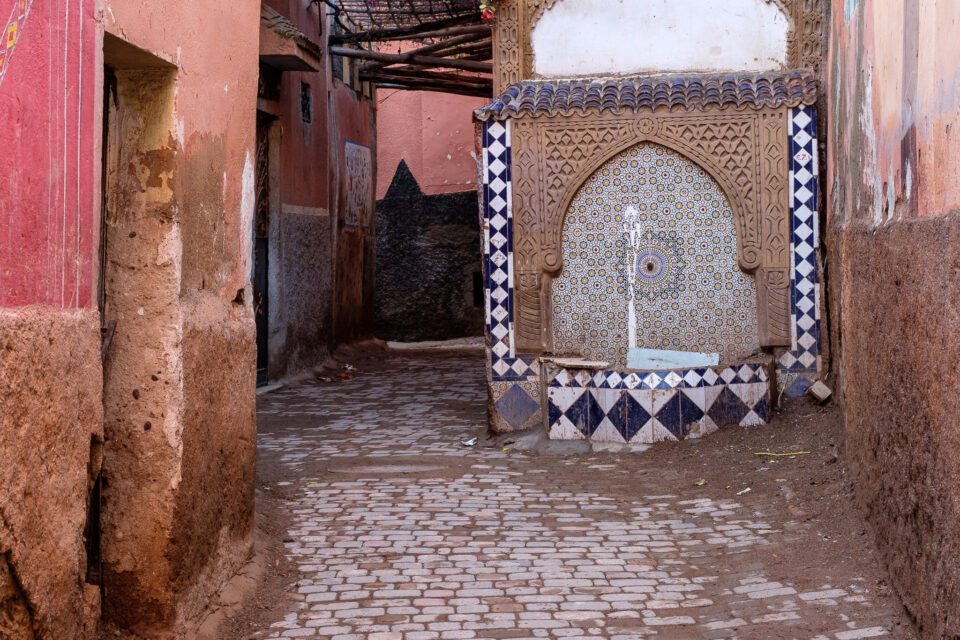 And let's not forget about the colorful doors and gates that you will find all over Marrakech: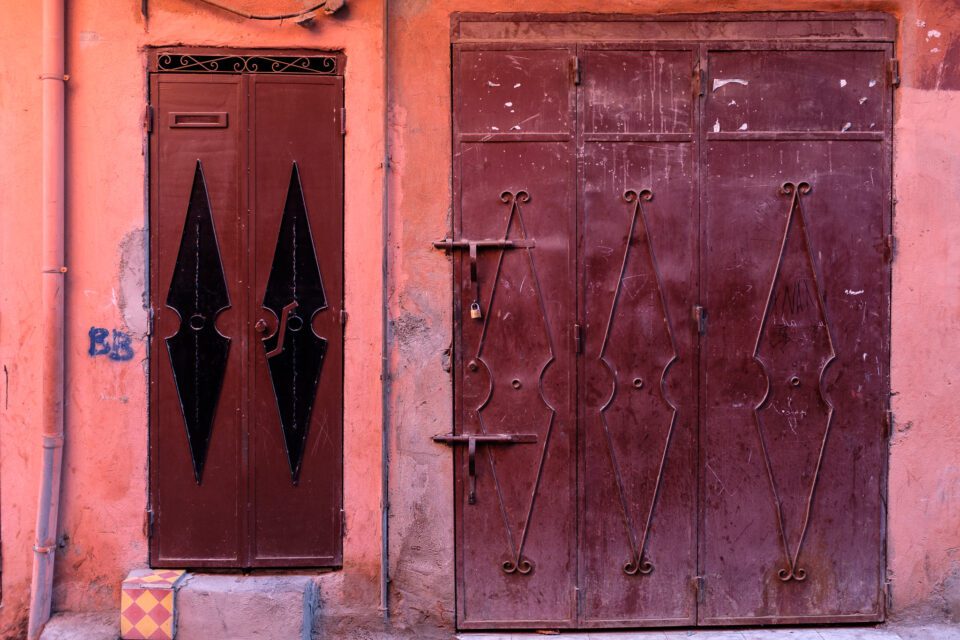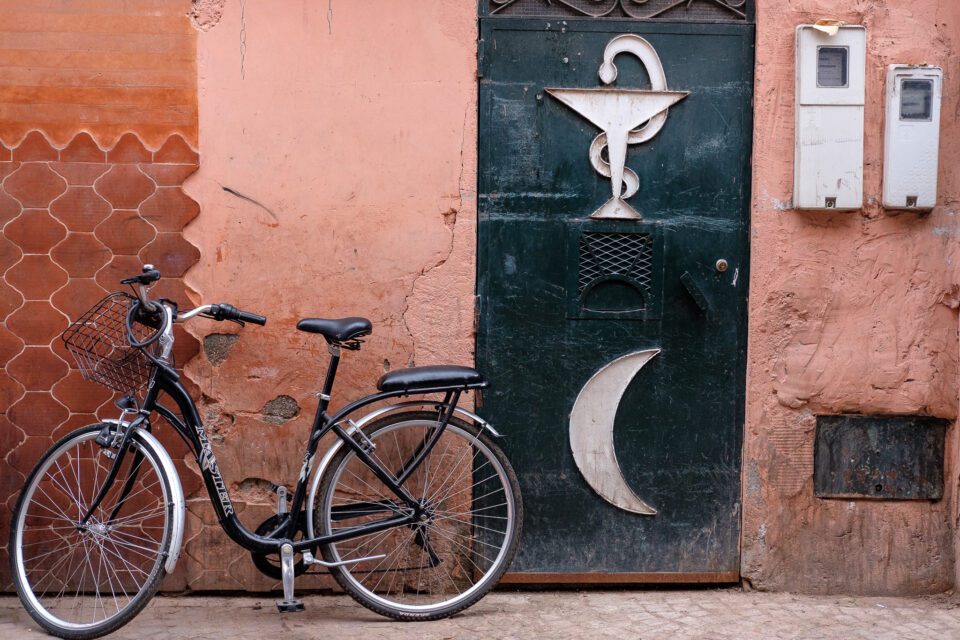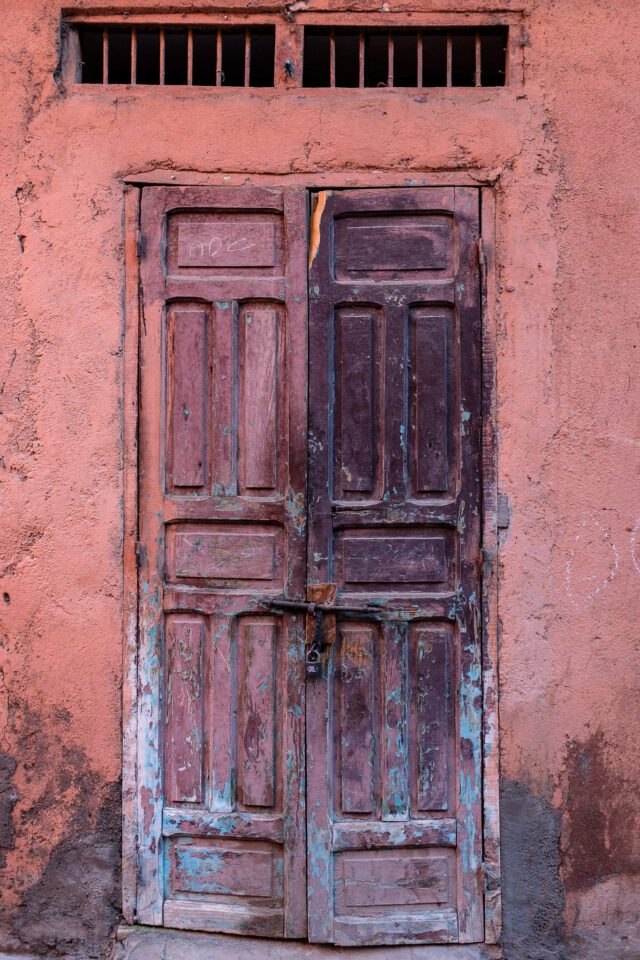 Even within the Riads themselves, you might find excellent opportunities to capture beautiful decor, colorful walls and textures:
If you are after cats, you will find plenty of them in Marrakech: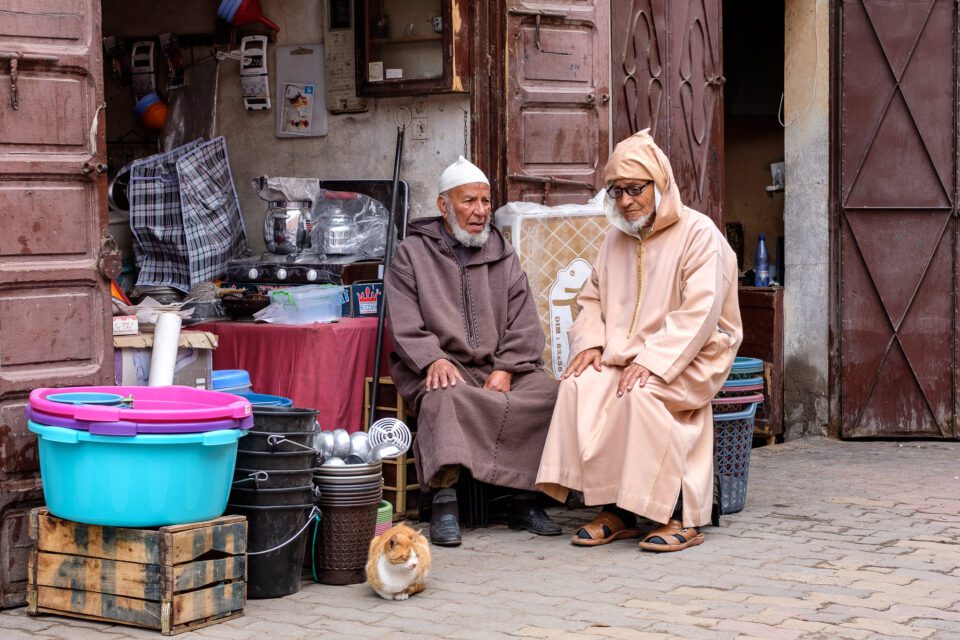 Unfortunately, many of them are not taken care of at all. In fact, there are no government services that provide spaying or neutering services, so cats multiply pretty quickly as a result, something that happens quite a bit in most middle-eastern countries. Some cats look pretty sick and it is not uncommon to see starving kittens.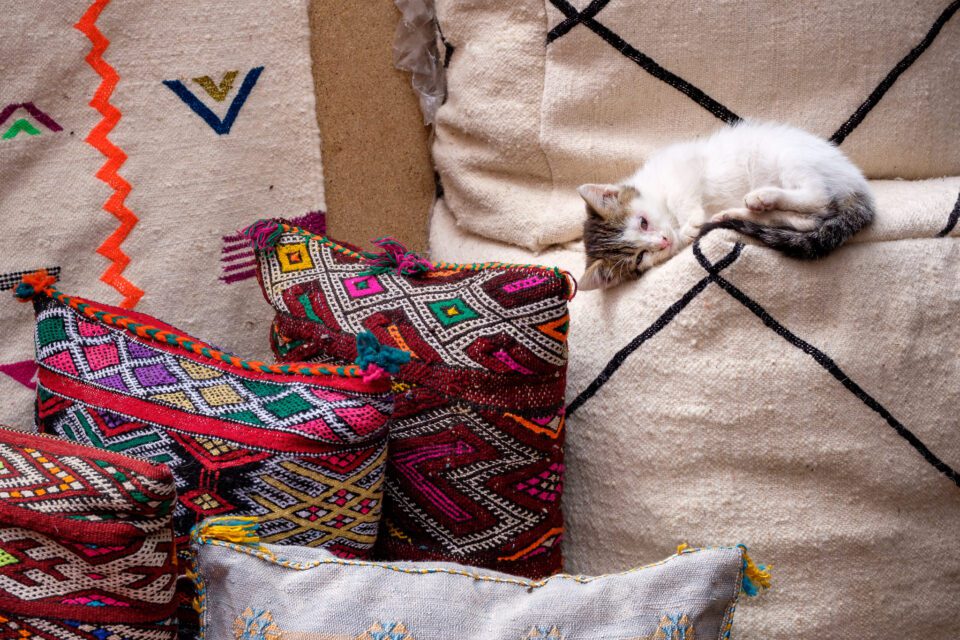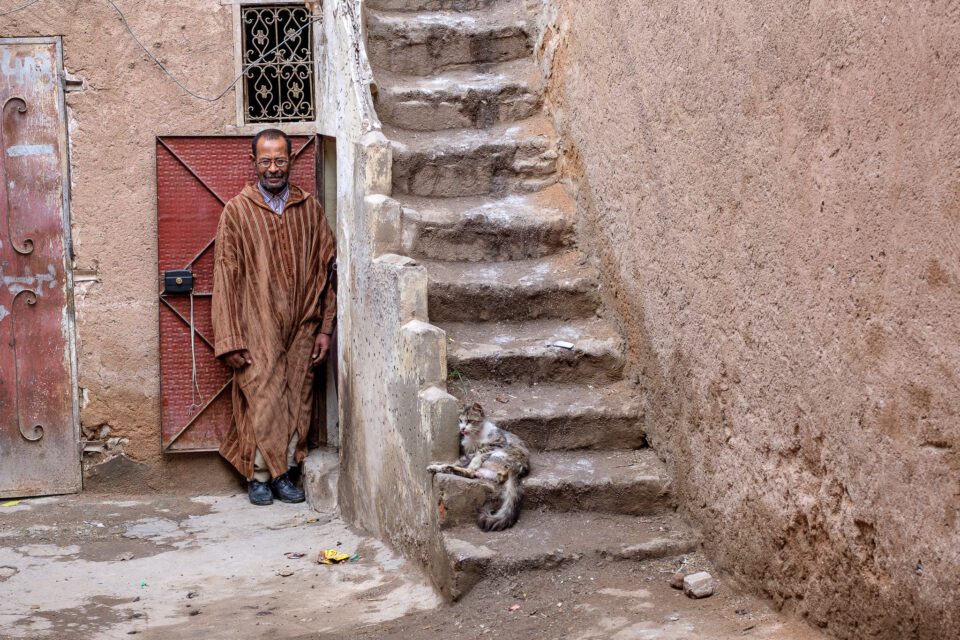 As you roam the streets of Marrakech, look for shops that might offer opportunities to capture colorful details and textures: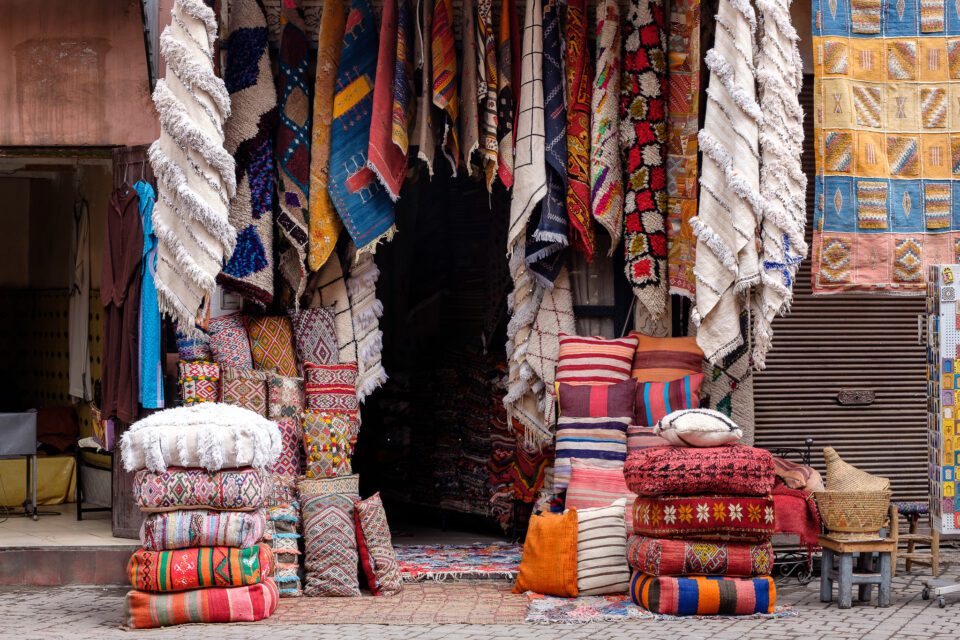 Last, but not least, you might come across interesting subjects dressed in traditional Moroccan clothing: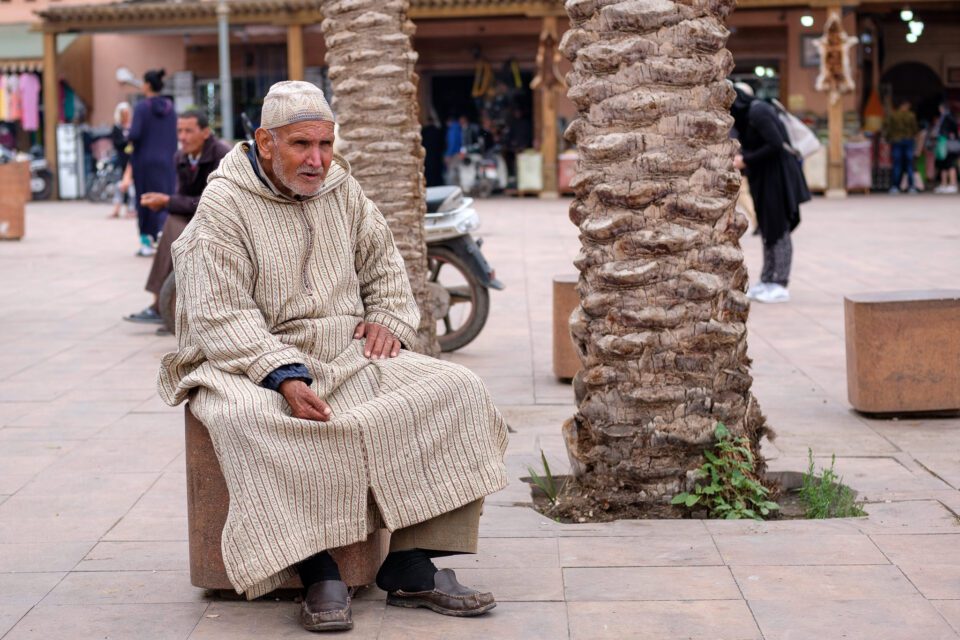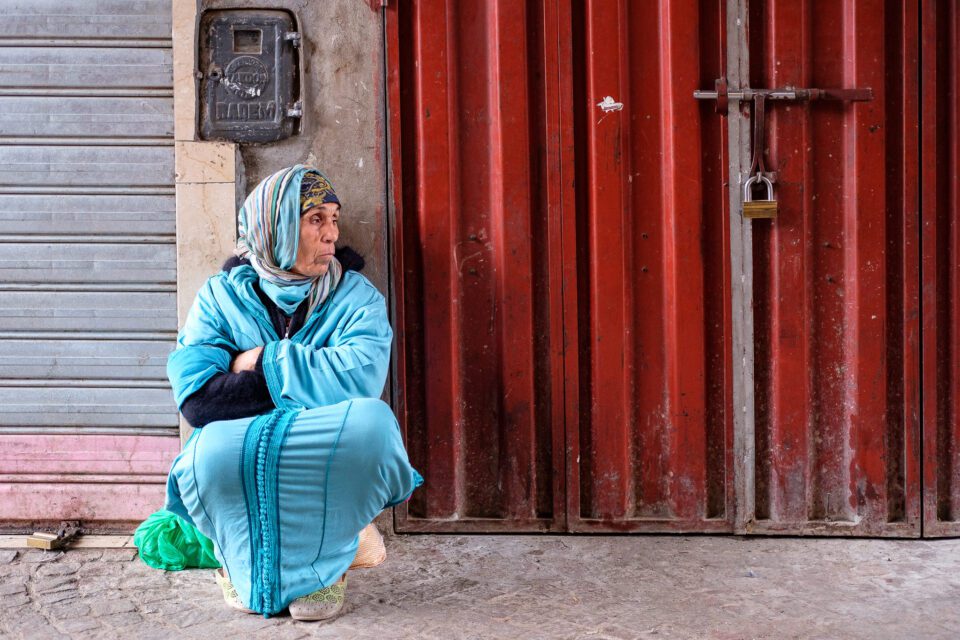 Just be careful when photographing them – you might want to ask permission first, or you might get into trouble (as I have highlighted on the first page of this article).
While in Marrakech, you can explore a number of great locations that are absolutely worth visiting and photographing. One of them is the Ben Youssef Madrasa, a beautiful Islamic college in Marrakech Medina. When I arrived to the location, I was disappointed to find out that the madrasa was going through major renovations, so it was closed for public access. I was told that it was a major renovation that would take a few years to complete. Sadly, I had to skip it and move on to other locations, but if I were to come back to Marrakech, I would definitely try to go there.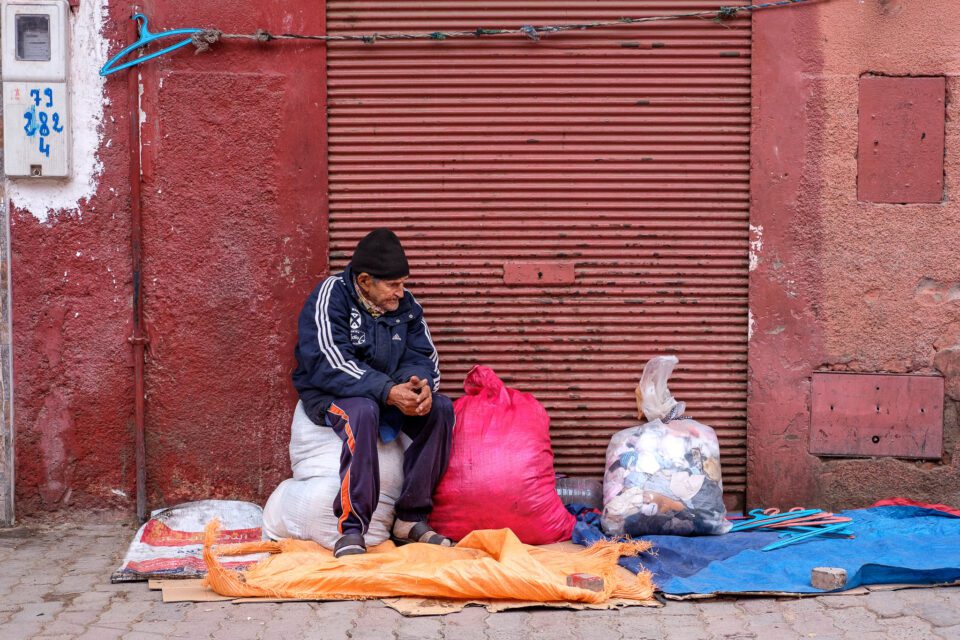 I had limited time in Marrakech, so I had to choose carefully where to go next. I wanted to photograph Moroccan Islamic architecture, so I picked Bahia Palace. It was already mid-afternoon, so I knew that the palace was most likely packed with tourists…and it certainly was! If I were to do it all over again, I would recommend to get to the palace first thing in the morning in order to avoid all the crowds, since everyone who visits Marrakech goes there. Still, despite the large number of tourists in Bahia Palace, I found plenty of opportunities to take pictures, so it is totally worth going there. Right before I entered the palace quarters, I found a Moroccan relaxing and dozing off on a chair: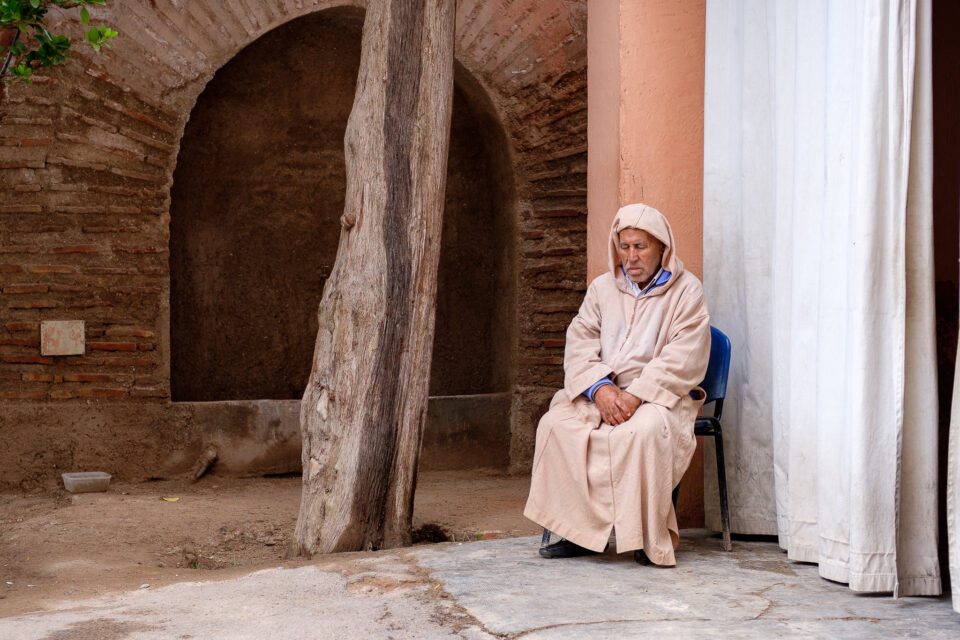 From there, once I entered the palace, all I had to do was concentrate on the beautiful textures, colors and patterns that could be found all over the place. Just point the camera up and you can capture ceilings and domes like this: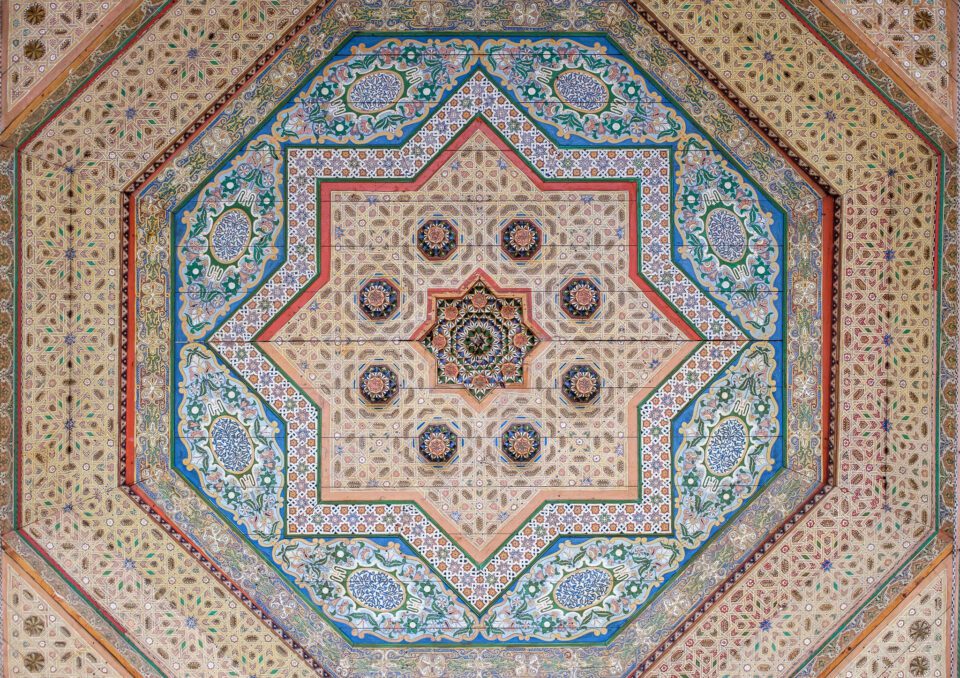 And this: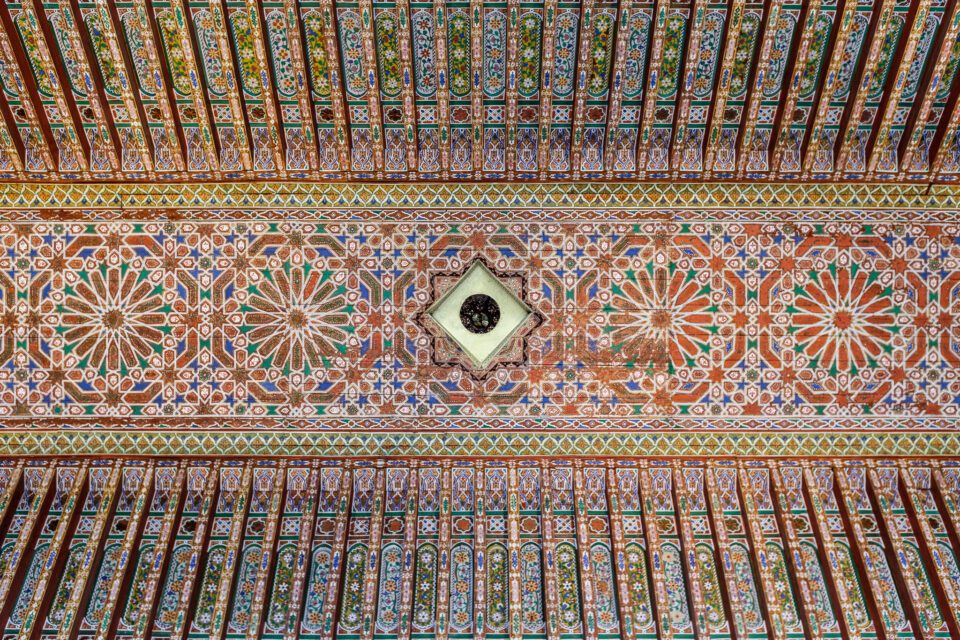 And this: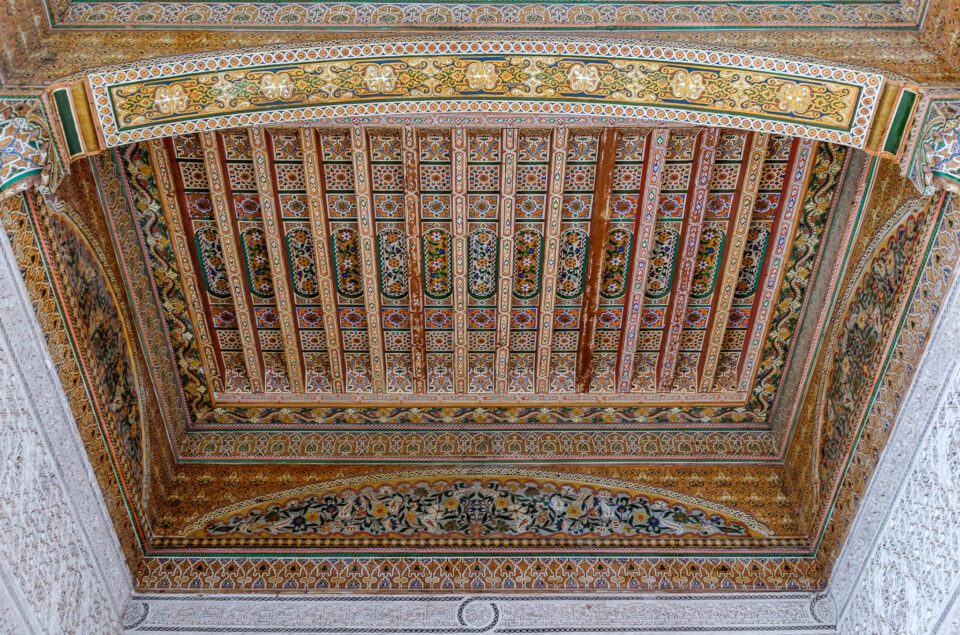 The doors at the palace are exquisite: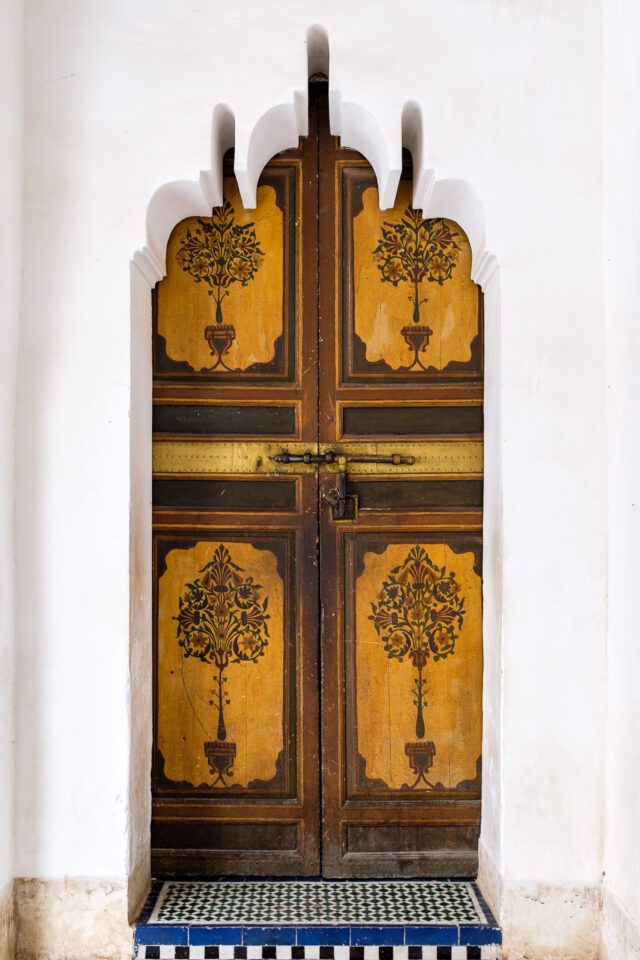 Even windows are worth photographing by themselves: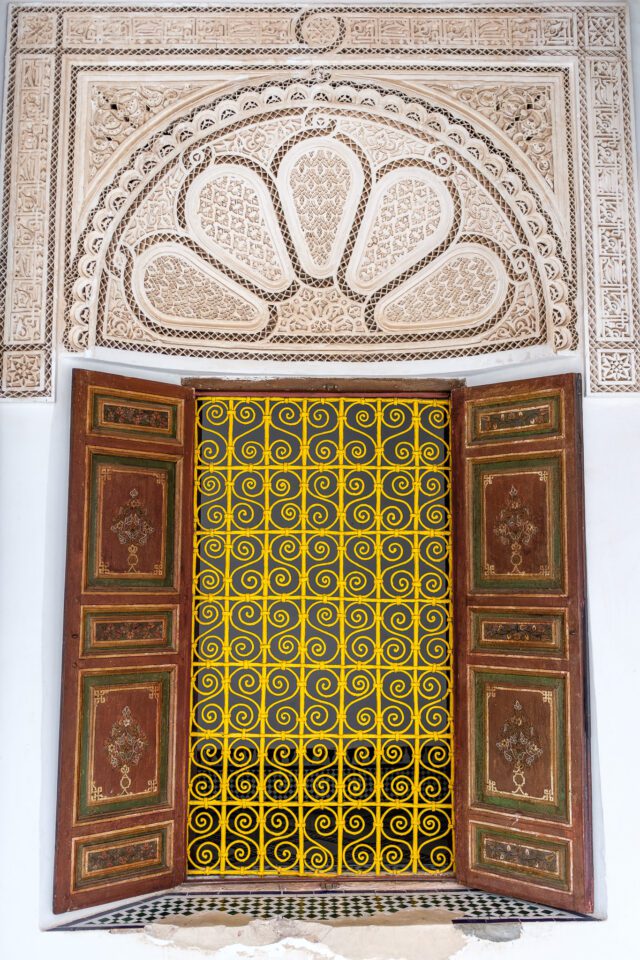 If you walk in the courtyard, you might find other photographic opportunities. Here, a female tourist was enjoying the beauty, while two workers were setting up equipment for a night show: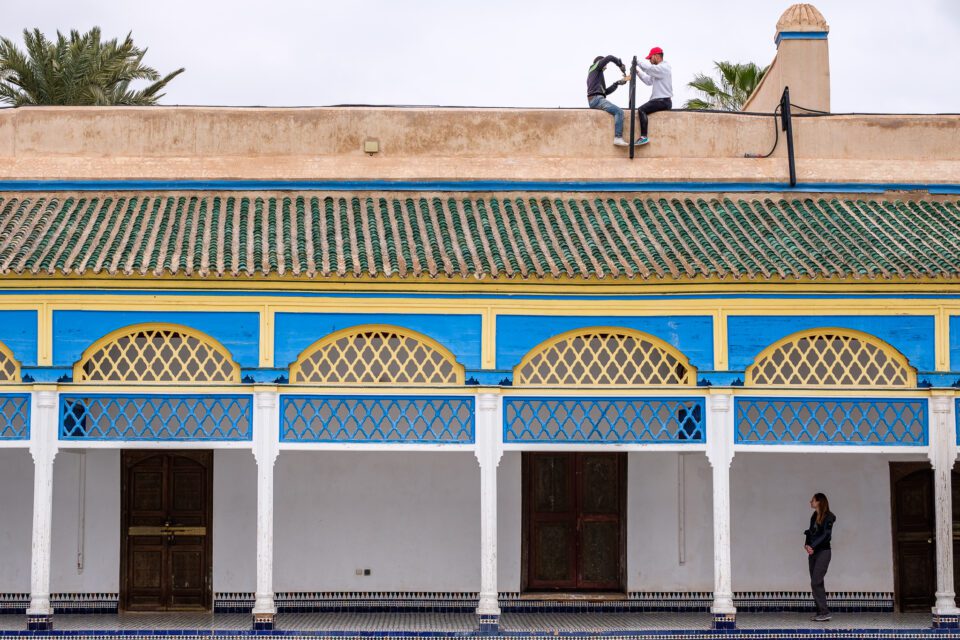 My most favorite part of the Bahia palace were the details and textures of Islamic architecture, especially on the sides of entrances. It was hard to get enough of this beauty, so I walked around and captured it from different angles: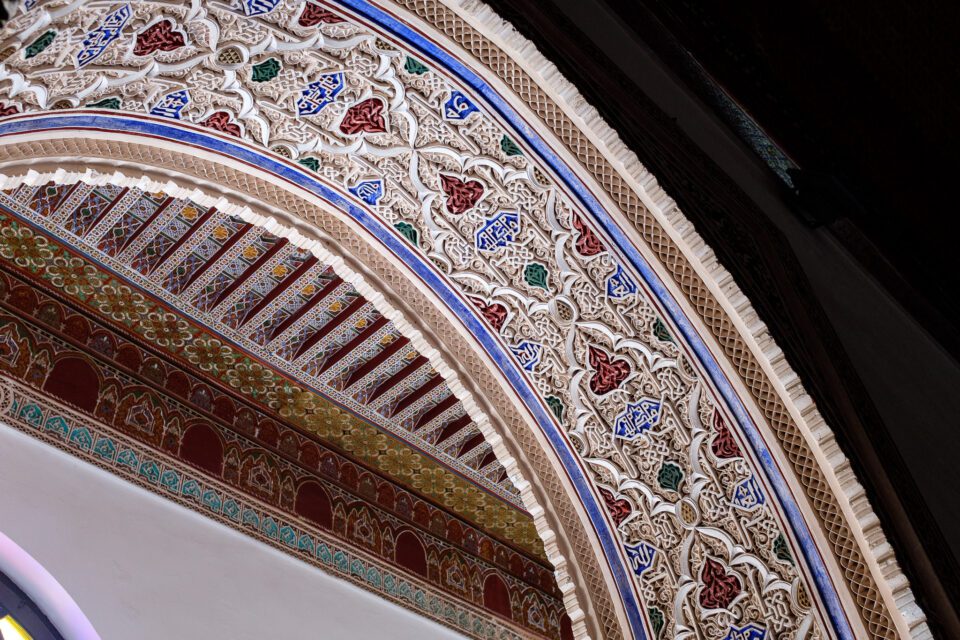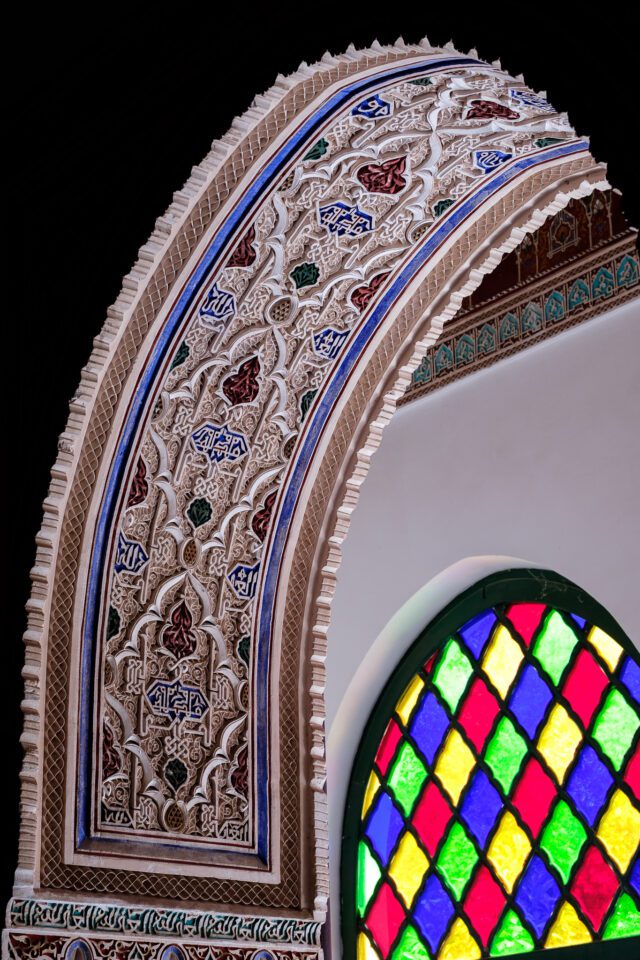 Just look at the details and the colors!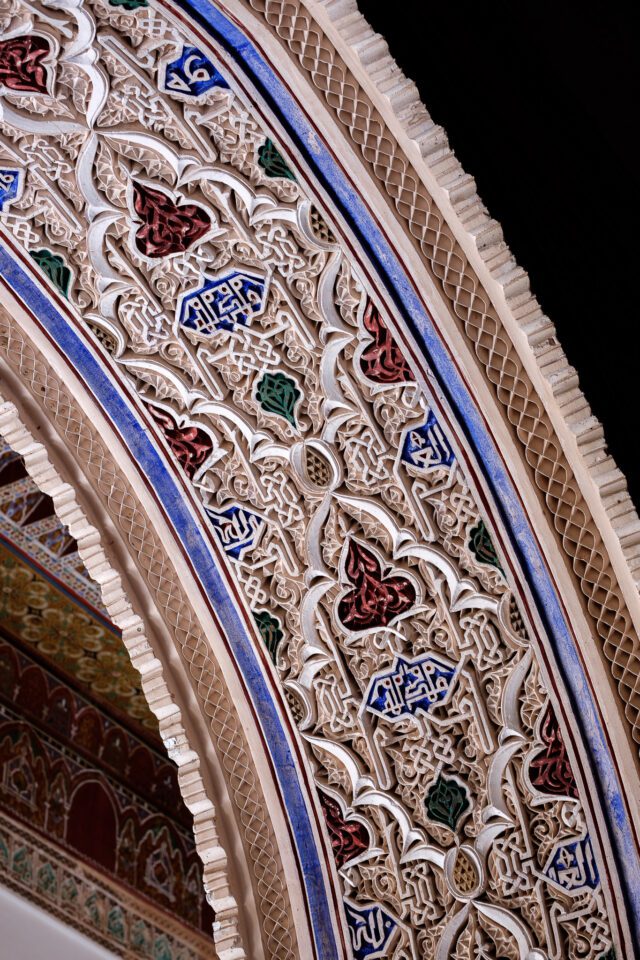 As you walk around, you will come across even more beautiful patterns and textures in different, rich colors: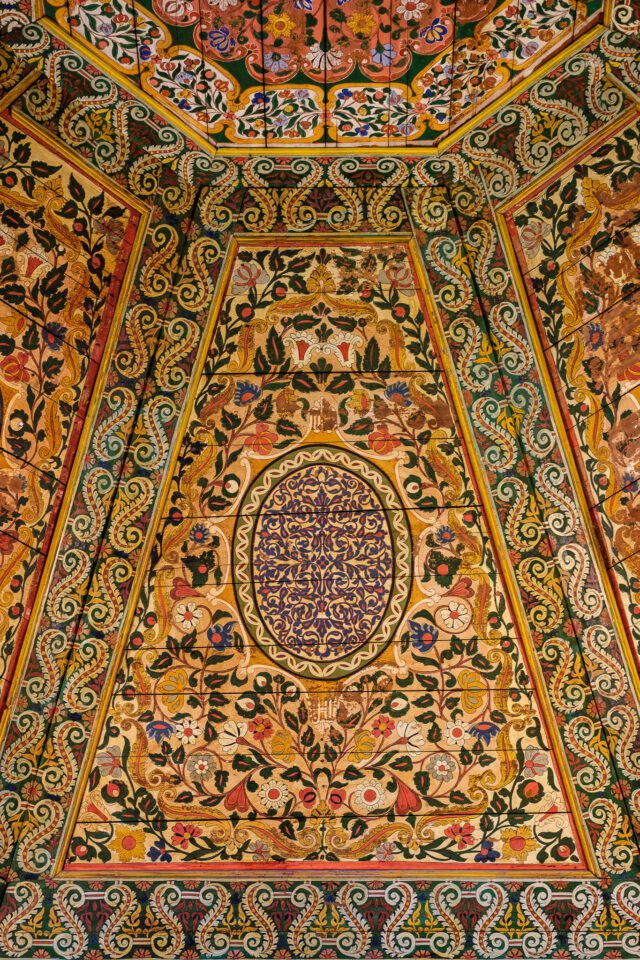 And if you step outside, you will enjoy looking at some of the woodwork and its intricate details, with every inch of it carved and painted: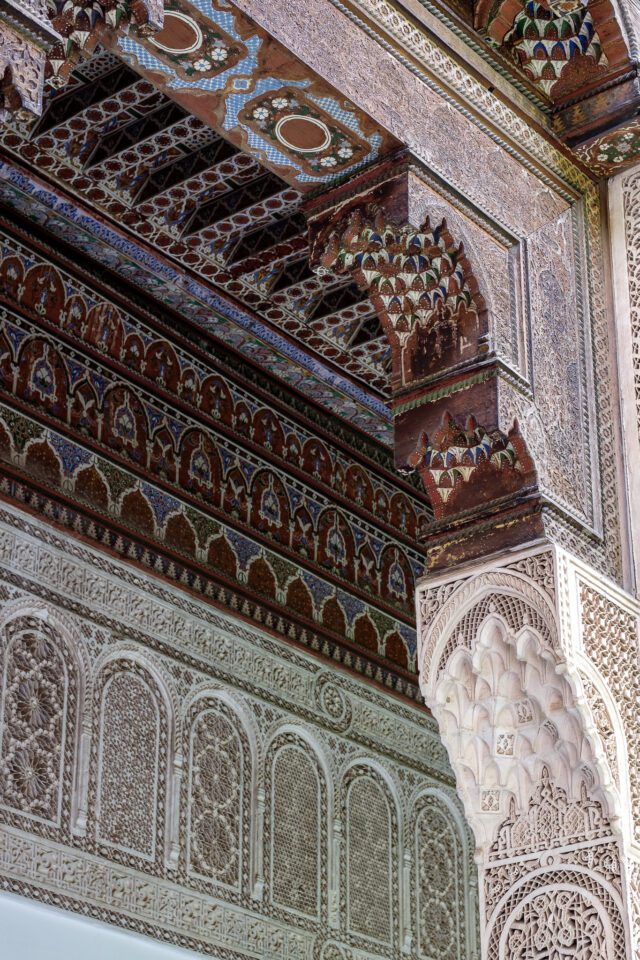 Lastly, don't forget to be patient and wait for other opportunities – you will find plenty of them around you!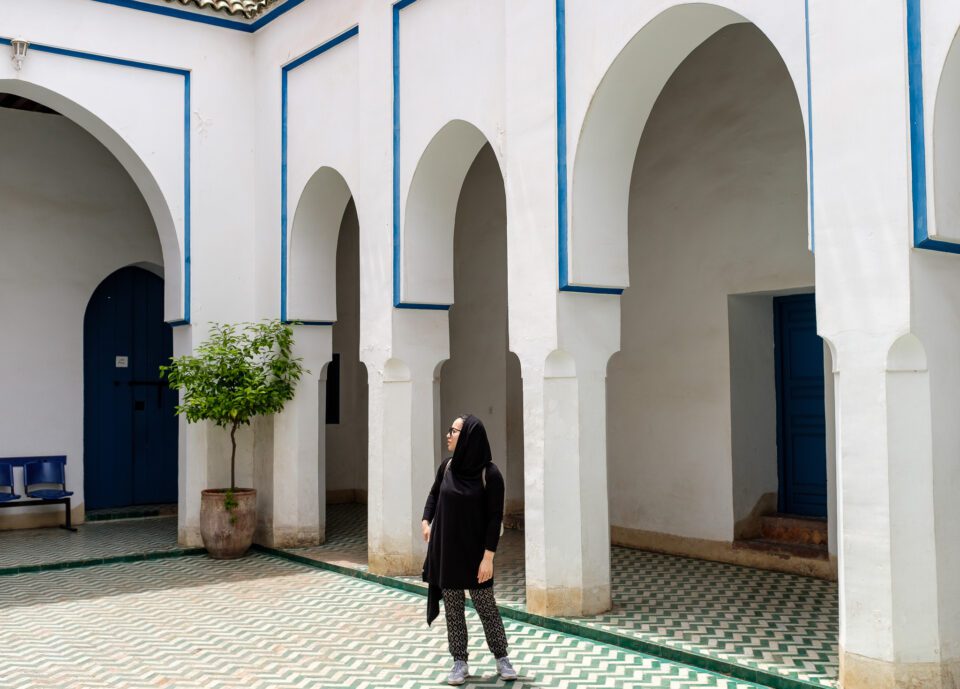 Although I took my time to explore the Palace, I decided to move on and do some more street photography. My next destination were the souks (local bazaars), which you can find plenty of in Marrakech. As I walked out of the palace, I noticed that there were a few horse carriages parked outside. I asked for the price to get back to the Jemaa el-Fnaa area and I was given a pretty ridiculous tourist price. I said "no, thanks" and moved on. On the way, I snatched the below photo of al old man with a cane:
The souks were wonderful, but photographing them was not particularly easy, especially in busy areas. Some shop owners yelled "no photo" when I raised my camera, and in other places I was prompted to pay to take a picture. I refused, but still managed to take a few pictures here and there.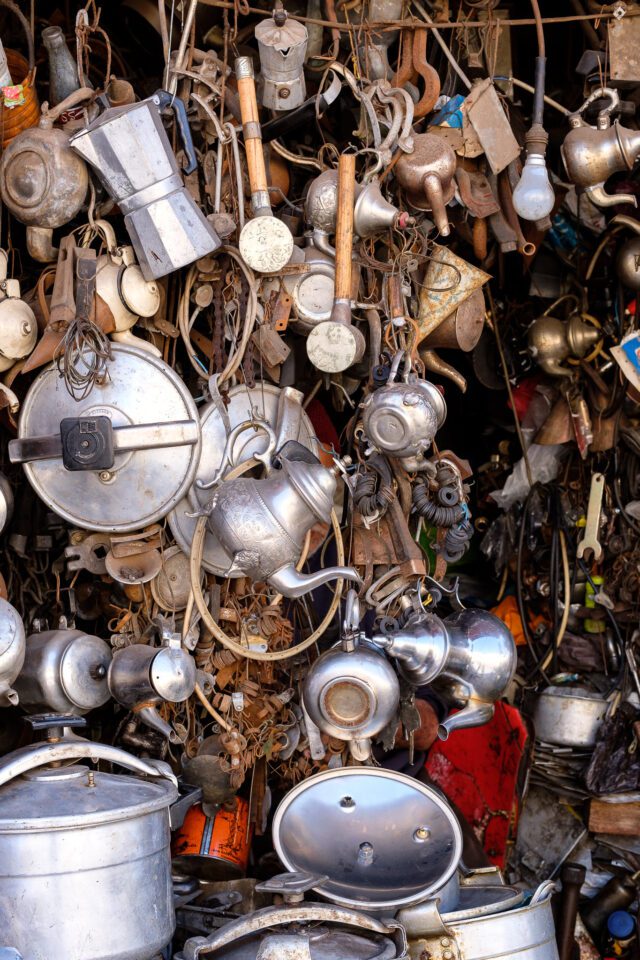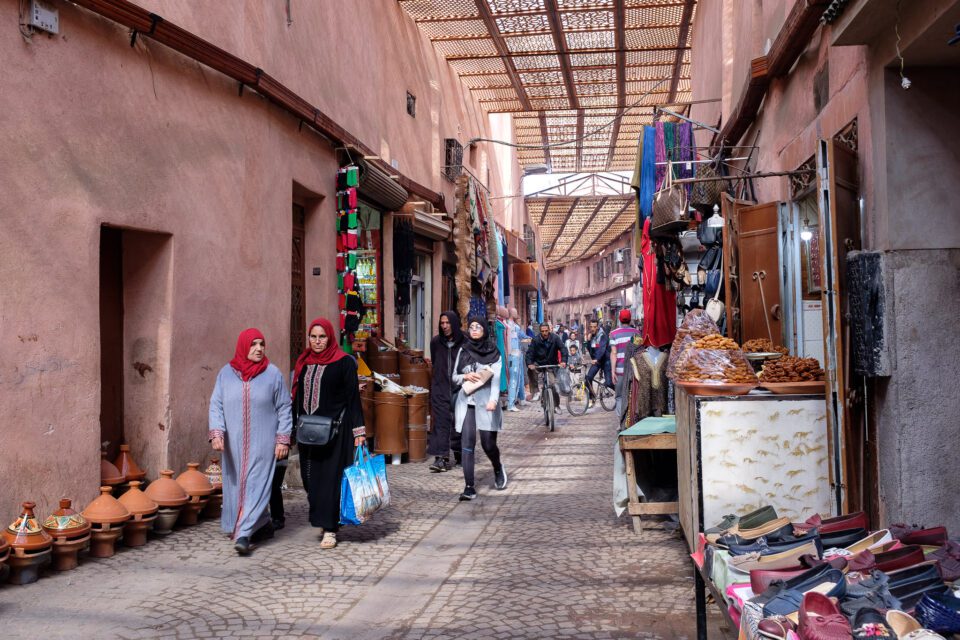 As the day was coming to a wrap, I found a couple of spots where I stood and waited for interesting subjects to pass. It was not very easy with all the passing traffic, but I managed to capture an image I like: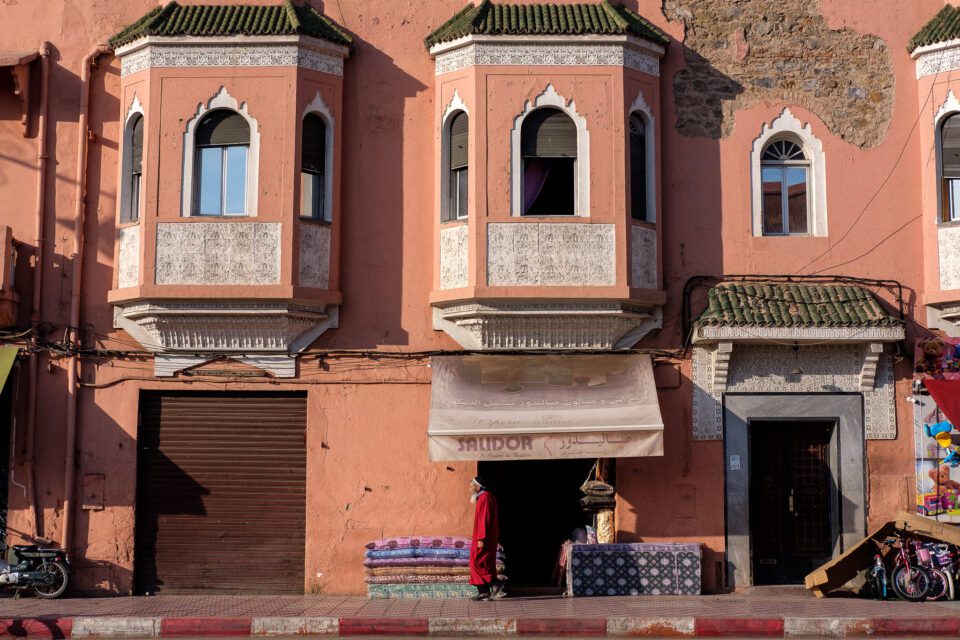 At this time, I was on the south side of the Medina, near the Kasbah Mosque (also known as Mosque of Moulay al-Yazid), where I captured a few images of the beautiful minaret: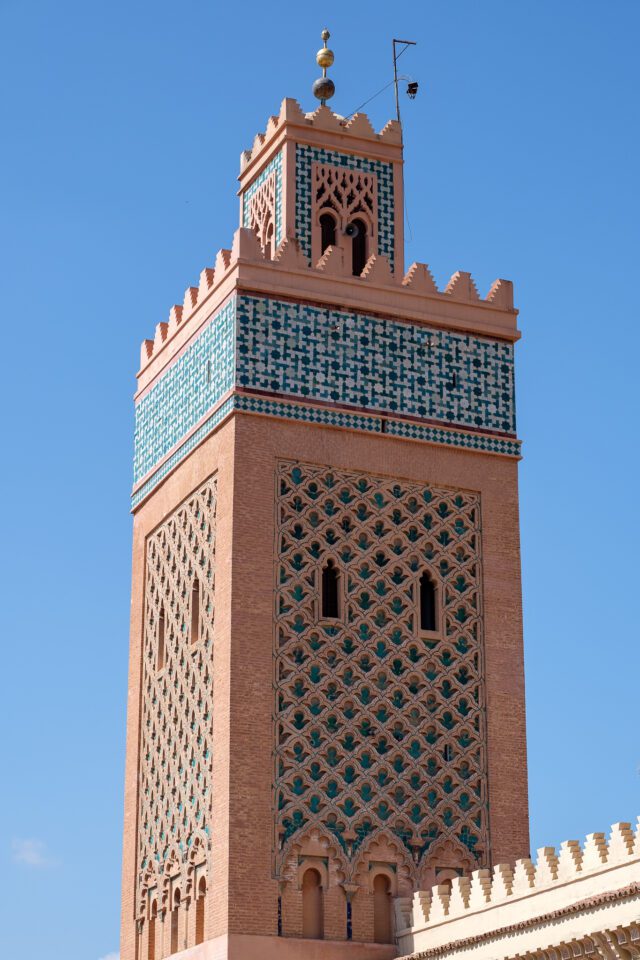 As well as some street photos of the locals: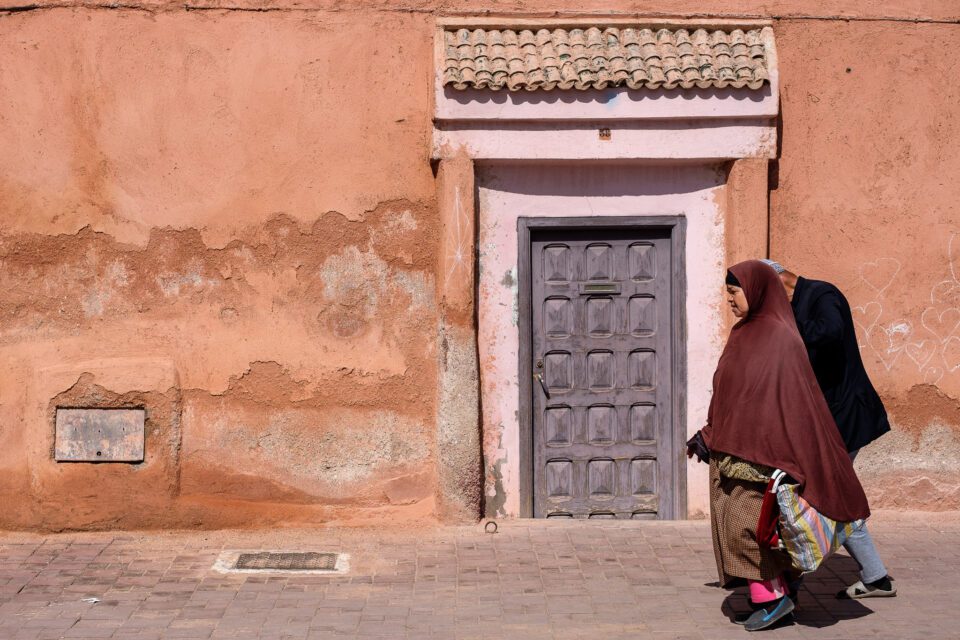 My next target was the Koutoubia Mosque, a large mosque with the most prominent minaret that stands 77 meters tall. It is probably one of the most recognizable mosques in all of Morocco, thanks to its massive minaret: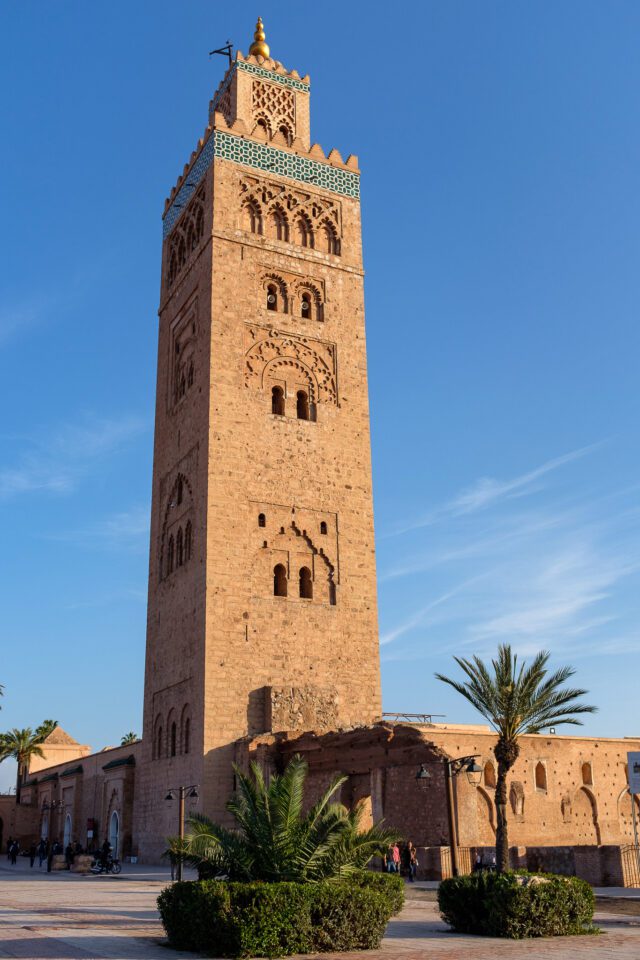 The area around the minaret is full of locals and tourists, who come and hang out there, so there are plenty of great photographic opportunities there as well: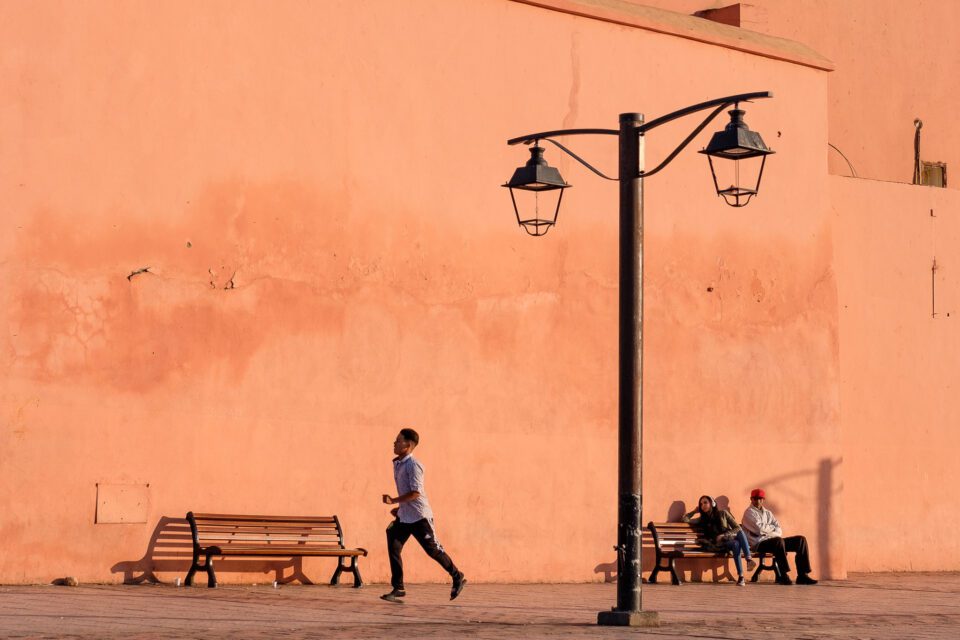 Sunset was approaching fast and I had limited time left before losing available light, so I moved on to the Jemaa el-Fnaa area to capture some shots from one of the rooftops. Right on the square, I found a rather large restaurant that had a bunch of tourists on its top terrace, so I decided to come up there and check it out. Upon moving to the second floor, I was told that I had to buy a drink to enjoy the view. I went ahead and paid for a bottle of cold water and checked out the view: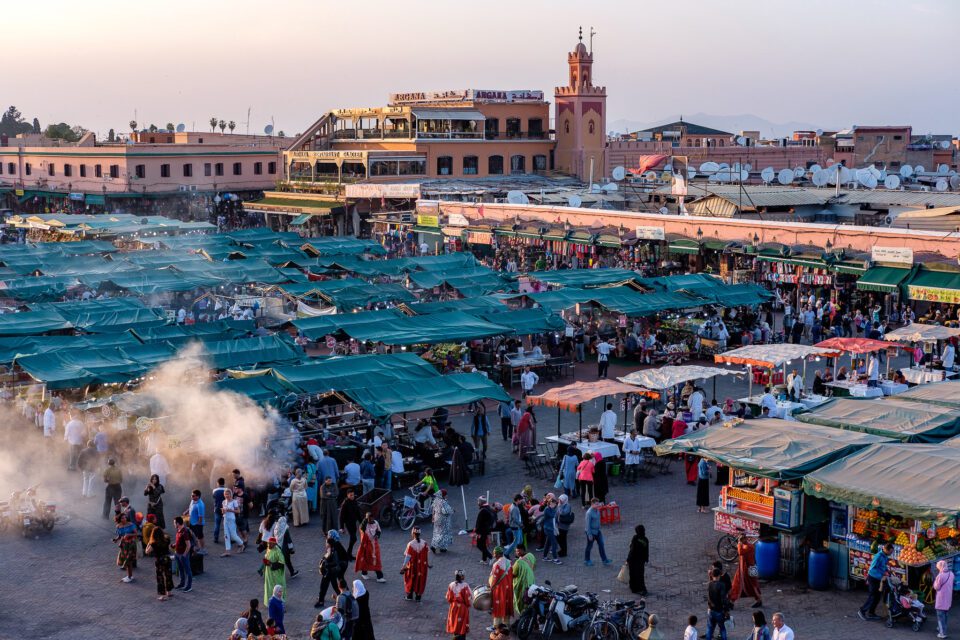 It was surely a nice view to the Jemaa el-Fnaa and if it wasn't for the sheer number of tourists that were blocking the view and just sitting there and enjoying their cold drinks, I would have stayed a bit longer to capture the square at night. It was starting to get chaotic down there, so I went back to see if I could capture some more images before the sun completely disappeared to the horizon. Unfortunately, it already got fairly dark at that point and people were busy entertaining and getting entertained, so it was time for me to get some dinner.
Speaking of food, you get all kinds of food choices in Jemaa el-Fnaa – from beef and lamb kebabs, all the way to seafood and cooked sheep heads. And if you just want some fresh juice, you can get it for cheap as well: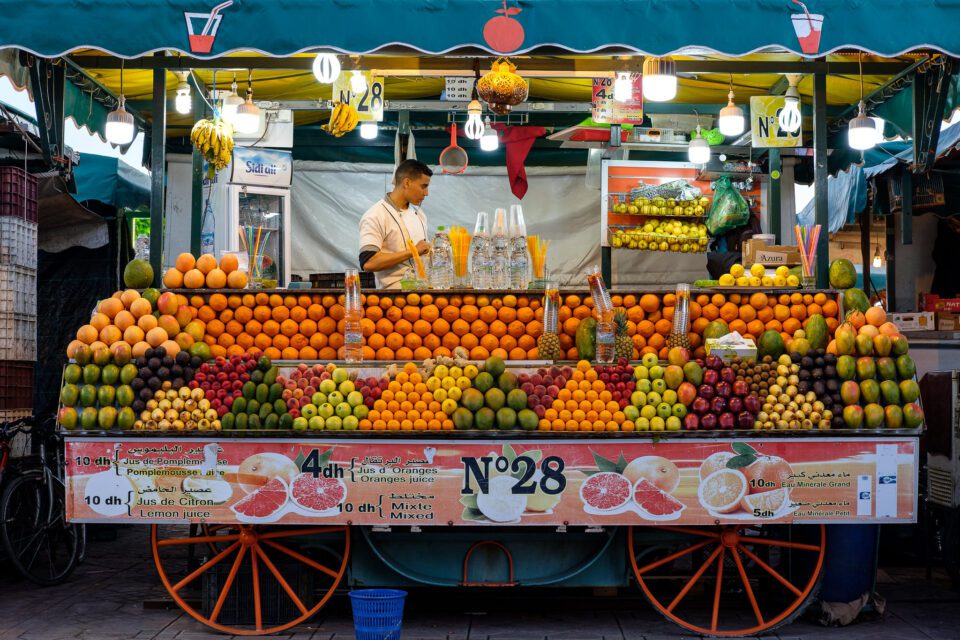 Many juice stands have their prices specified on a piece of cardboard, so just go to those…otherwise, you risk the chance of getting significantly overcharged.