8) The Ancient City of Jerash
One of my most favorite places to visit in Jordan was Jerash – another ancient city with amazing history. Jerash is located about 30 miles north of Amman, so it will take you about an hour to reach it. Although a strong earthquake destroyed most of Jerash in the 7th century and it was buried in soil for hundreds of years, archaeologists discovered the historic site and excavated it in early 19th century. The city of Jerash was later inhabited by Circassians and Syrians, who built communities around the historic site. Today, the population of Jerash exceeds 150,000 and you can see people's houses all around the ruins: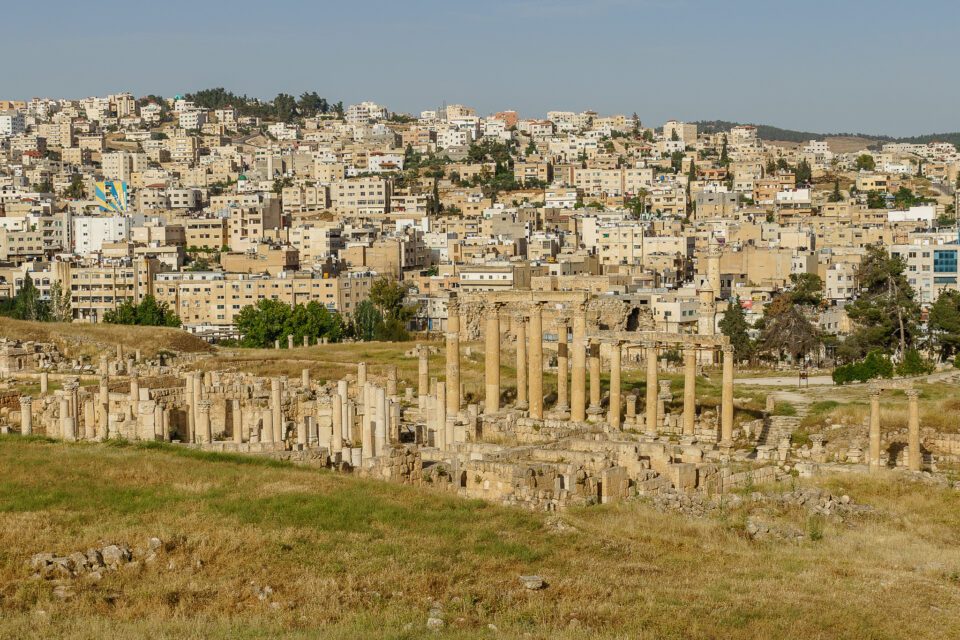 The ancient city is so vast that it will take a while for you to walk from the entrance all the way to the top of the hill – get ready for some hiking and exploring!
Before you reach the entrance, you go through a market, where you will get a chance to buy all kinds of Jordanian goods from local craftsmen. I would recommend to get a scarf to put on your head and on your neck to protect you from potential sunburn, particularly if you arrive at high noon:
If you ask any of the sellers in the market, they can show you how to properly wrap those around your head like Bedouins do!
At the main entrance, you will see a large and beautiful structure, "The Arch of Hadrian", which today serves as a gate to the ancient city: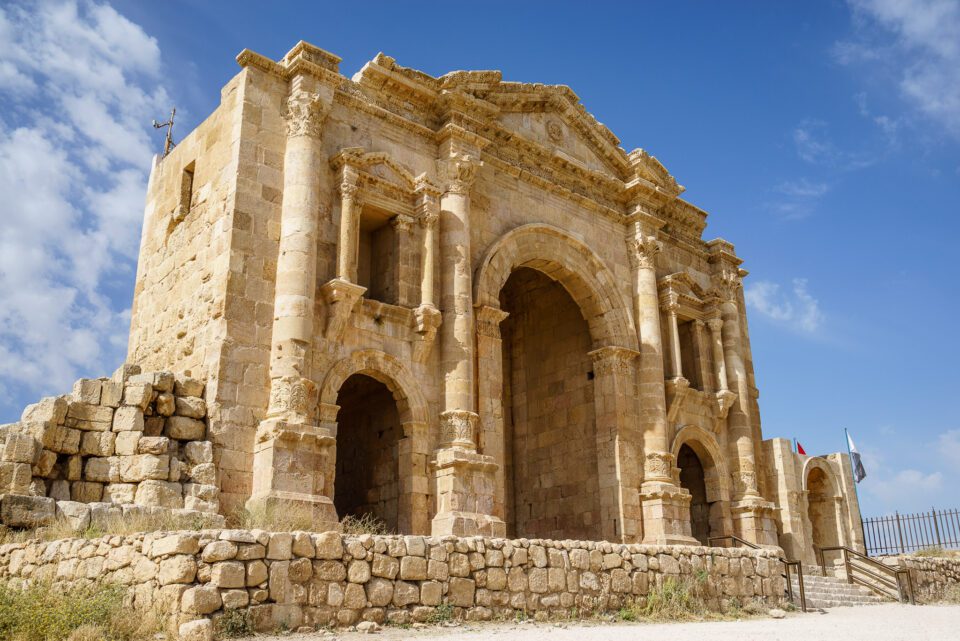 It is hard to get a clear view, because Jerash is a prime tourist attraction – I had to wait for about 20 minutes to get this shot without people in it. And if you stand in the front, you might get a nice shot with some locals in the frame: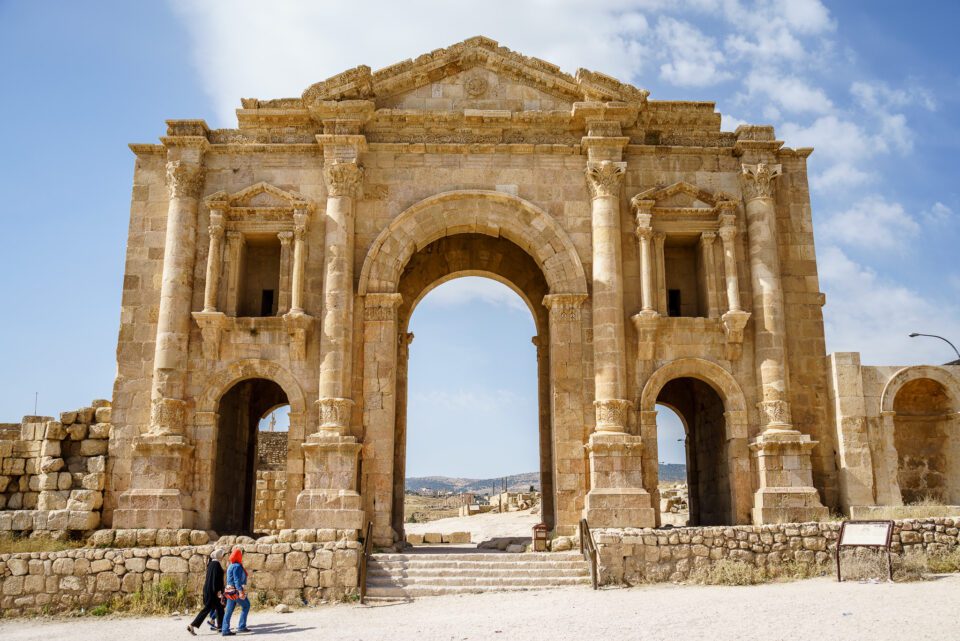 As you move past the entrance, you will get a chance to see a hippodrome that was once used for chariot racing. It was amazing to see well-preserved seats, where people once used to sit and watch those fast-paced races: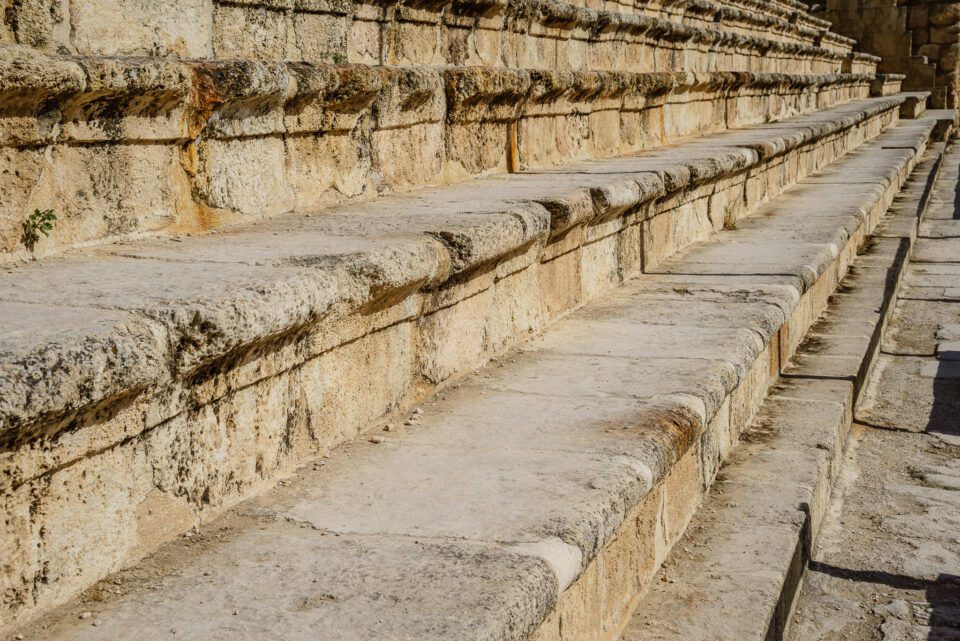 Past that, you get to see a number of different structures. Next, you get to the stunningly beautiful and relatively well-preserved Oval Forum: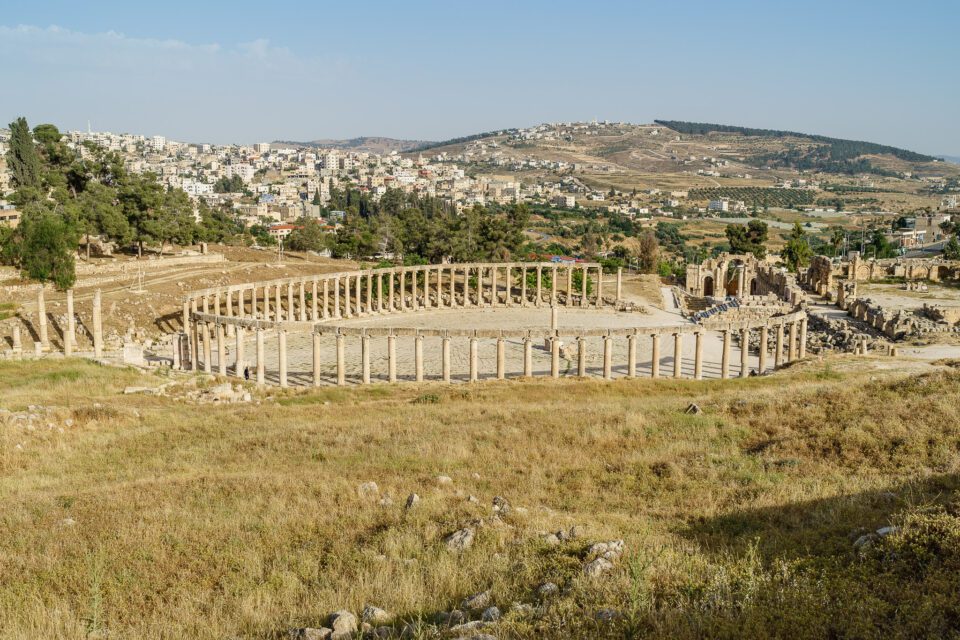 I photographed the forum from a hilltop to the left of the site. It gets usually crowded during the day, so you might have to shoot a few frames on a tripod with people moving in and out, in order to later remove them in Photoshop, if that's what you want to do.
To the left of the Oval Forum you will find a number of different structures and the main attraction there is the South Theater. It is definitely worth climbing up to the top of the theater to get a nice shot, although you will again have to most likely rely on a tripod to take a few shots and clone people out later in post – the theater was so busy the day I visited, that I could not do it (plus, I had kids with me and it was not a very safe climb for them). Some people come and just sit there for a while, so you will need some patience!
There are a few other cool structures to photograph and your best bet might be to stand on the top of a hill and zoom in with a telephoto lens: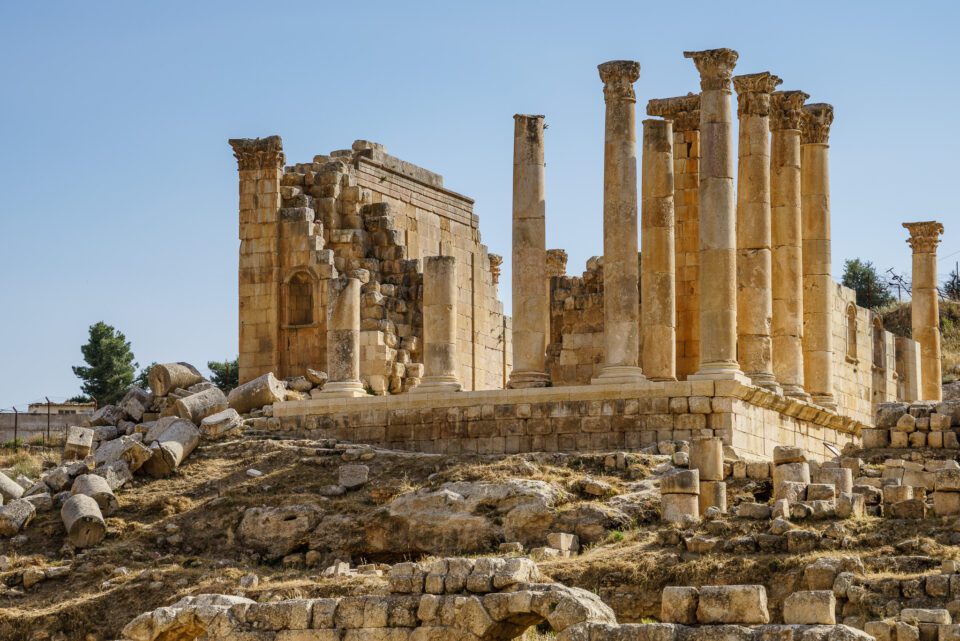 Once you pass the Oval Forum, you will get to the Cardo – a 600 meter colonnaded street:
Some excellent opportunities there, because you get to photograph really interesting structures at the start of the street: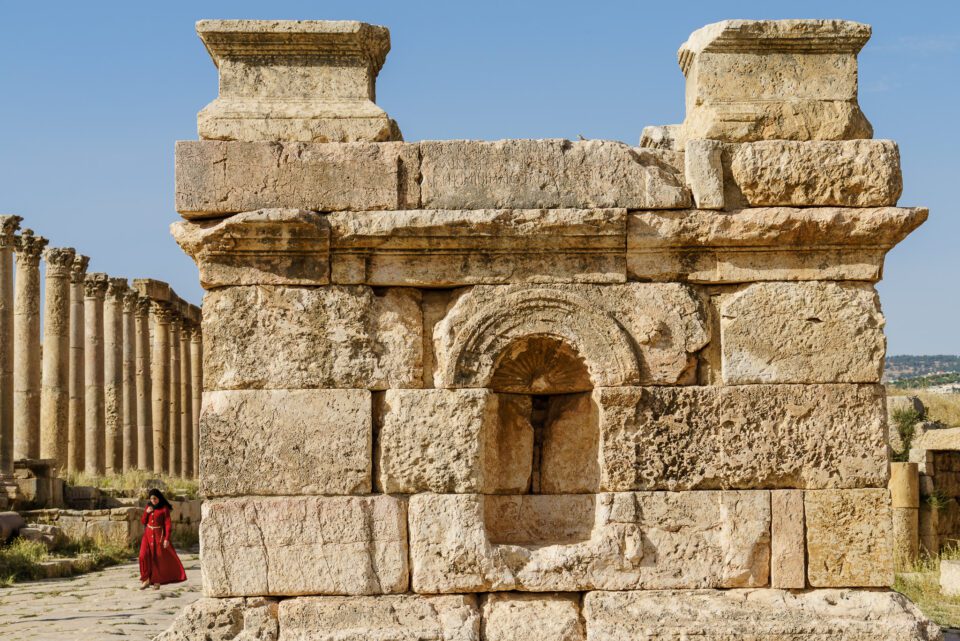 And the columns are really beautiful just by themselves, particularly against a cloudy sky: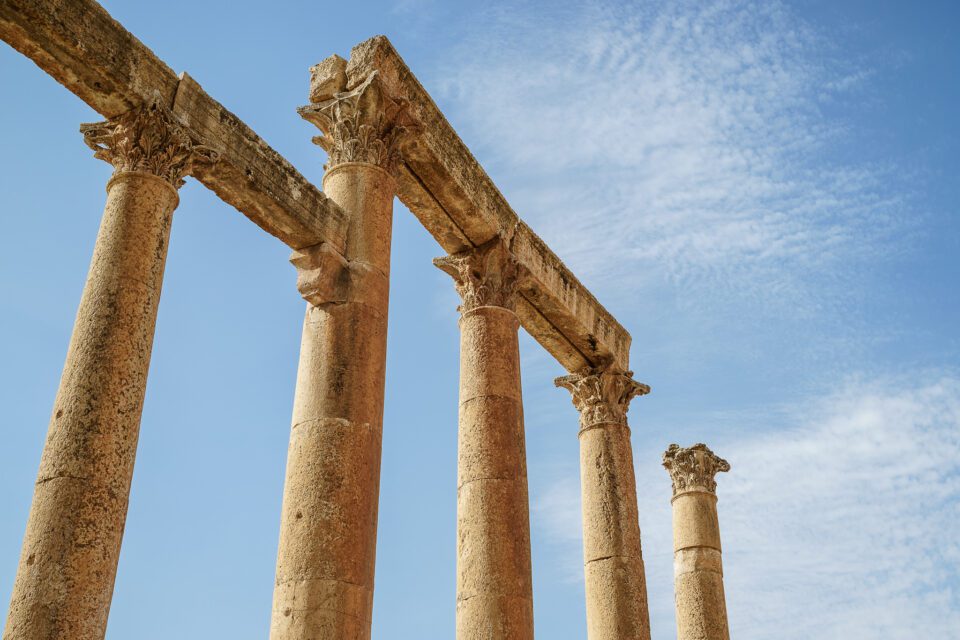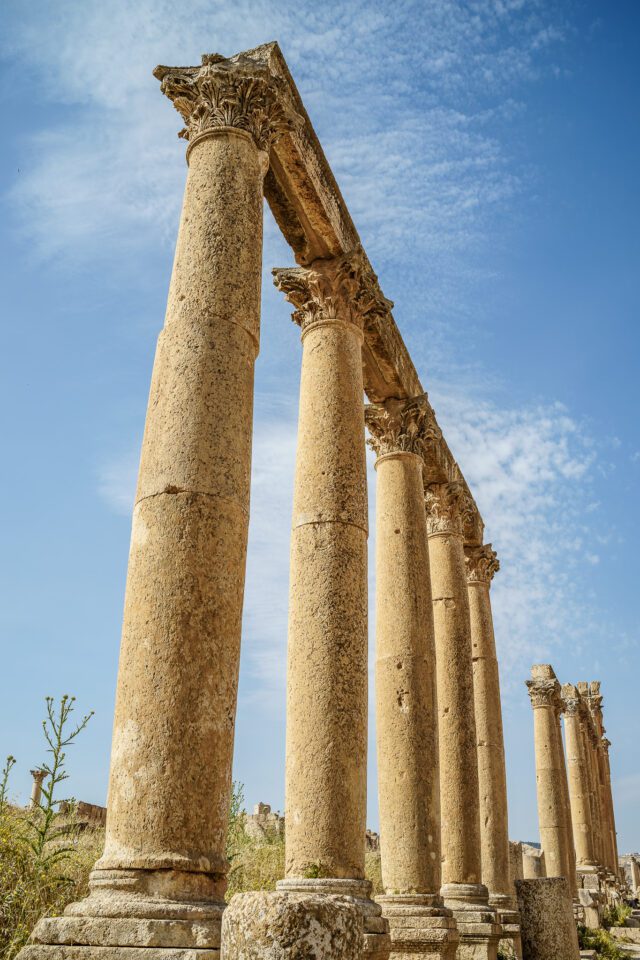 Once you reach the end of the street, a lot more beauty will unfold – now you get to see some really ancient structures! Definitely explore this area, because you will find photographic opportunities everywhere. Here is the grocery market Agora, which was once decorated with a central fountain: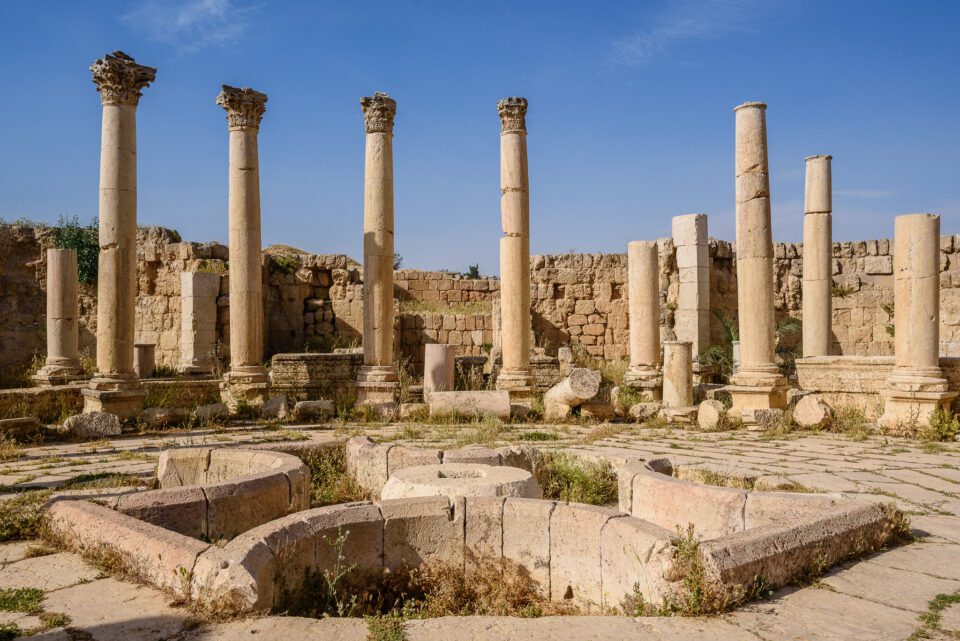 The North Theatre is absolutely beautiful! Here, I photographed the two structures with the sun piercing through one of the holes. To get the sunburst effect, I stopped the lens down to f/16 and partially blocked the sun by slightly moving myself: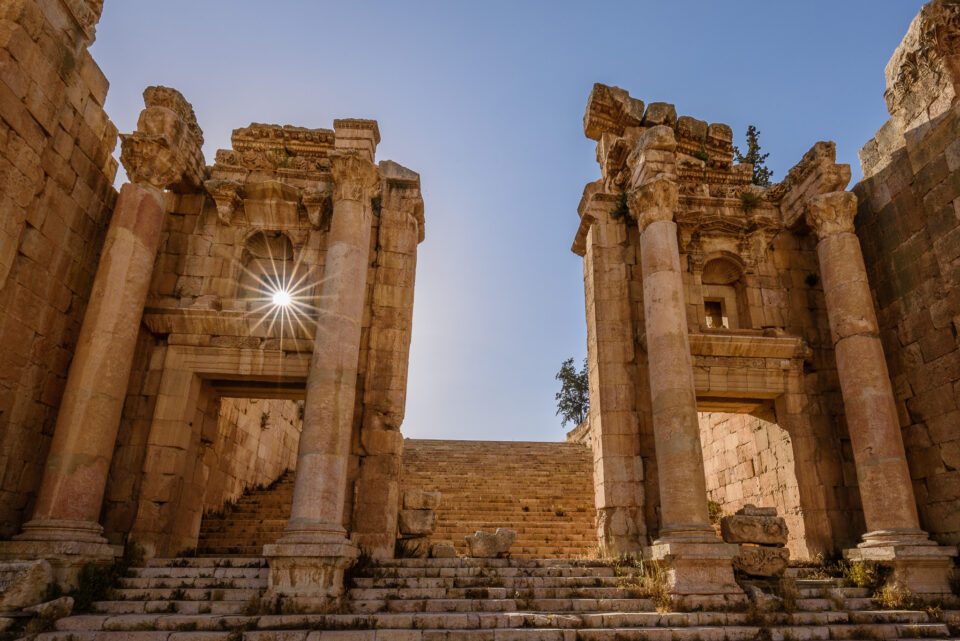 And here it is from the other side: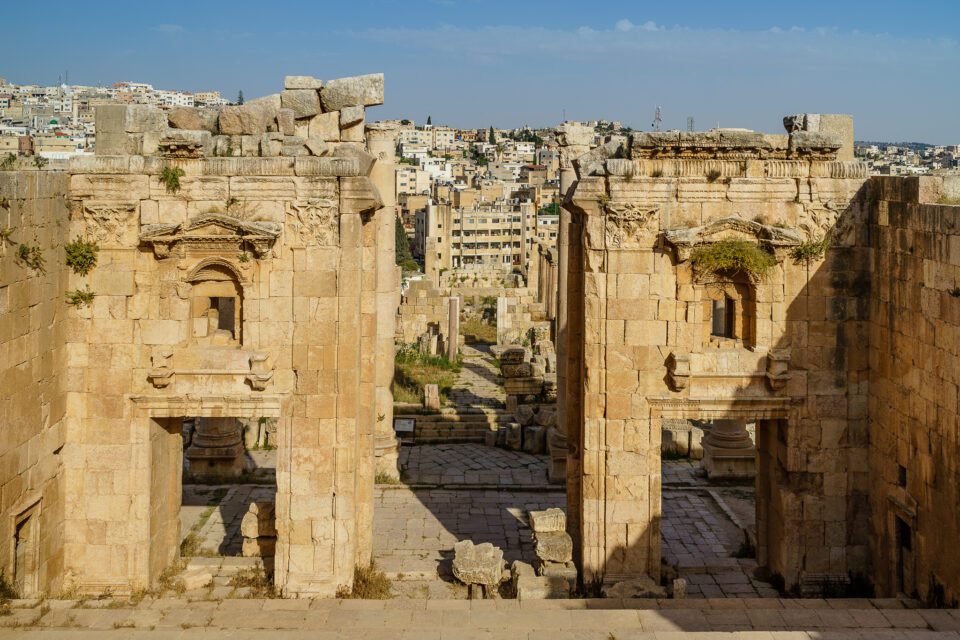 As you move up the steps, you will get to the Temple of Artemis – another hot spot that is definitely worth checking out. Here you will find the mysterious moving column. Some really nice photo opportunities here and you can take some great shots of the columns by themselves: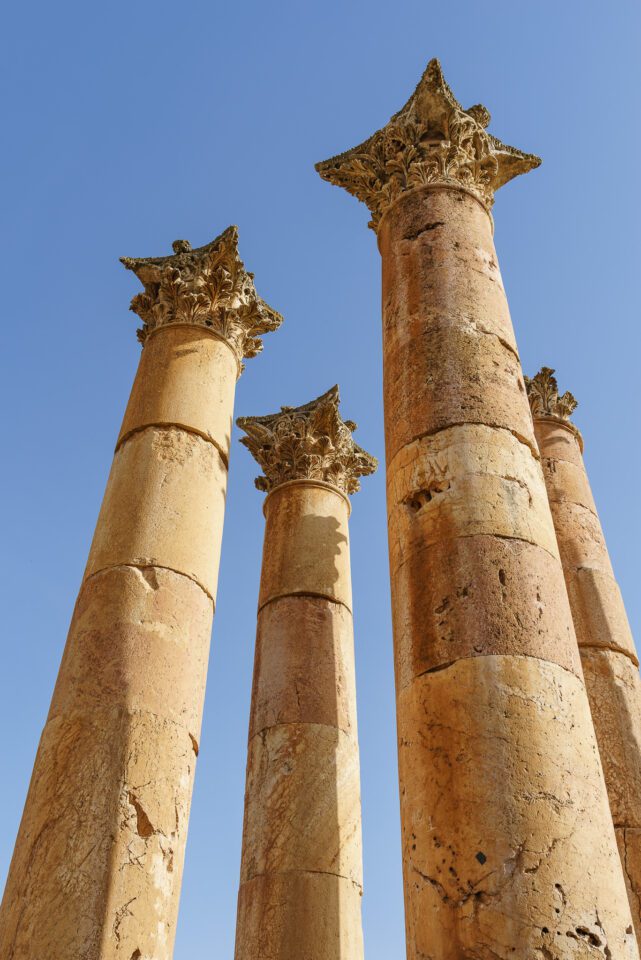 From there you can start your way back on another trail that goes up through the top. Along the way, you will find many more columns: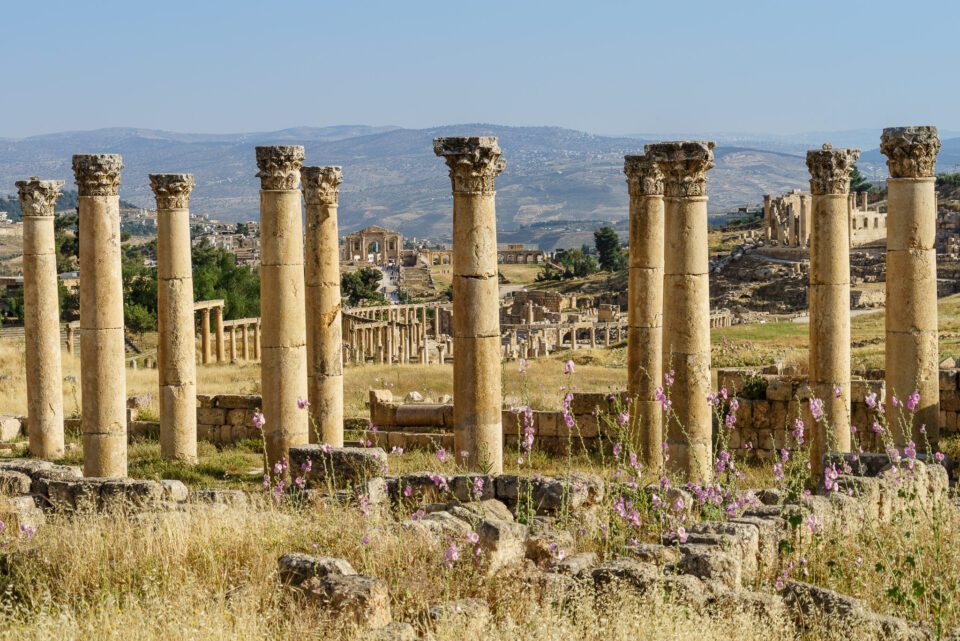 And a really nice view leading up to the inhabited area in the back: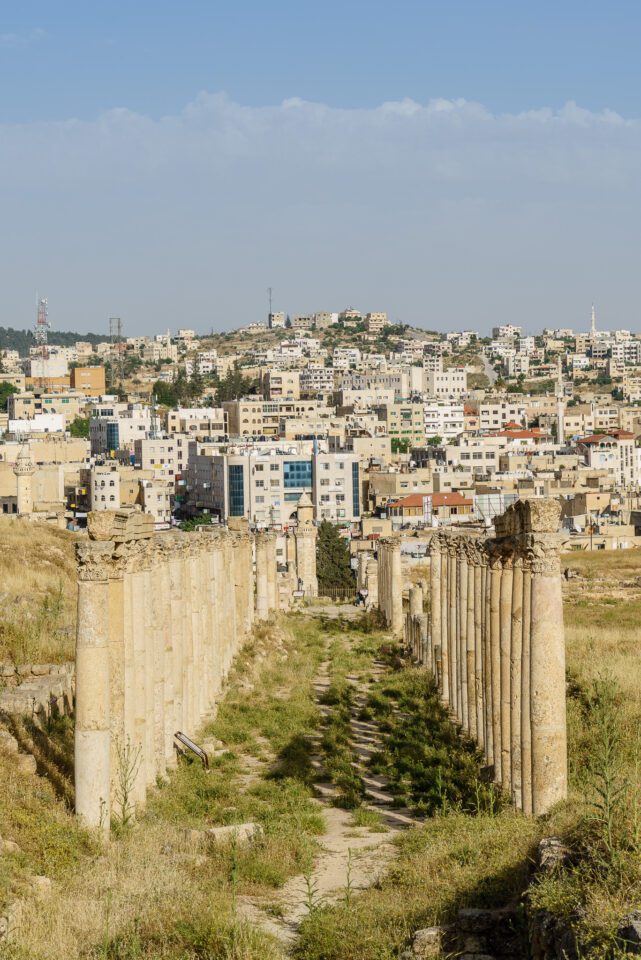 I really wanted to go back to Jerash for a whole day and spend some time by myself, but sadly did not have a chance to do that. I would definitely want to spend a few days exploring Jerash – there are just too many opportunities for great photography there, particularly at sunset!