23) Carmel Market
All right, we are finally on the last page of the article and I am here to talk about the photographic opportunities of Tel Aviv. Although for me personally Tel Aviv is not as exciting as Jerusalem, there are still some great opportunities for photography here, especially for street photography. Despite its hefty population of 3.7 million, Tel Aviv is a relatively small city, making it pretty easy to move around by feet. We stayed in the luxurious Poli House hotel right in the heart of Tel Aviv, which made it easy for us to access the popular Carmel Market and other popular spots.
The Carmel Market should definitely be on your bucket list if you are planning to visit Tel Aviv. So much happens here, with the busy market full of people buying and selling goods: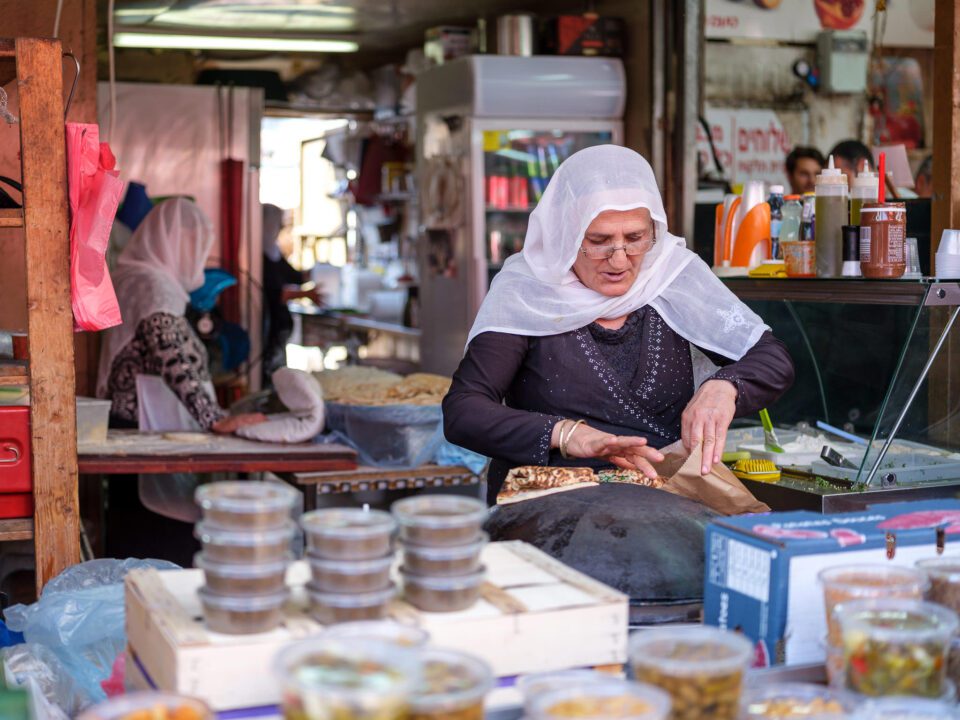 You can even find cool looking dogs chilling out here, while their owners are busy selling: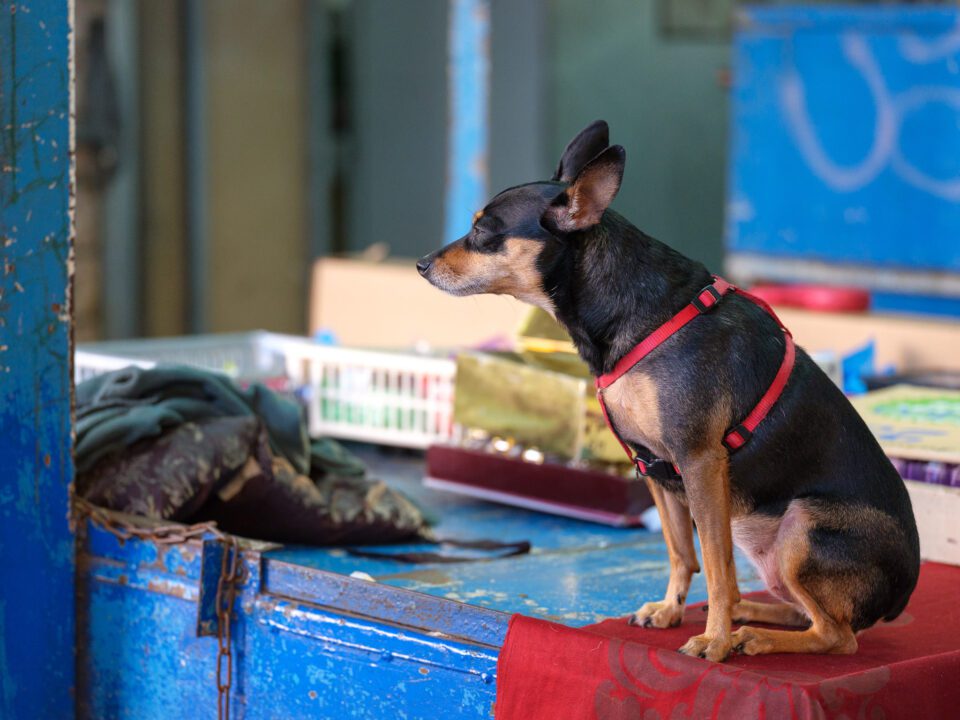 Actually, at the start of the market between Allenby and King George St, there is a nice touristy area where locals love coming and hanging out at. Keep your camera ready here, because you might find lots of great opportunities to do some street photography: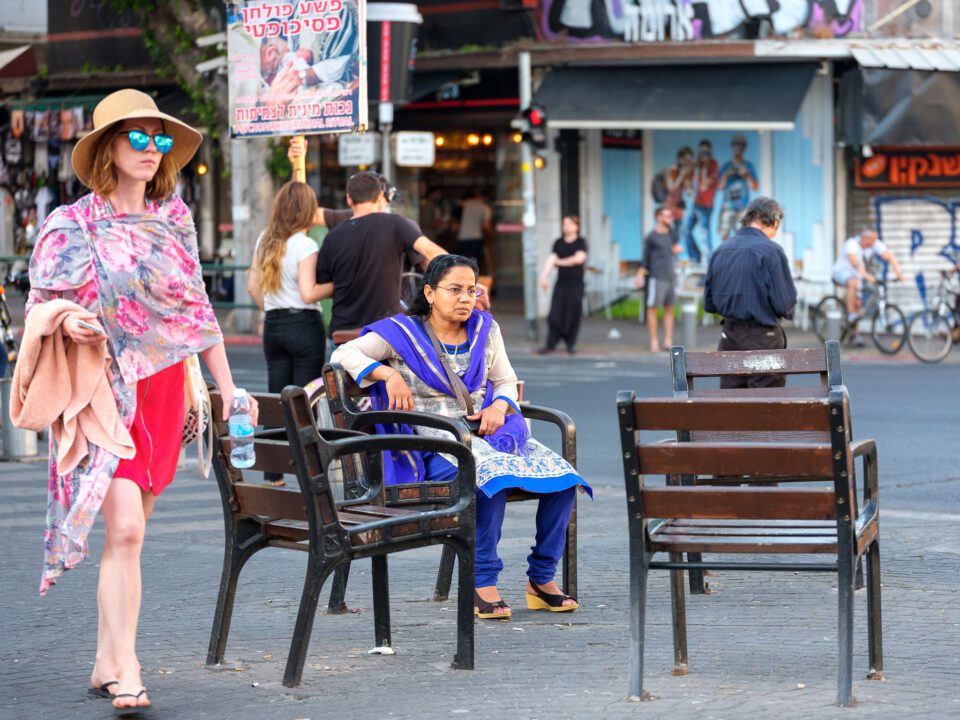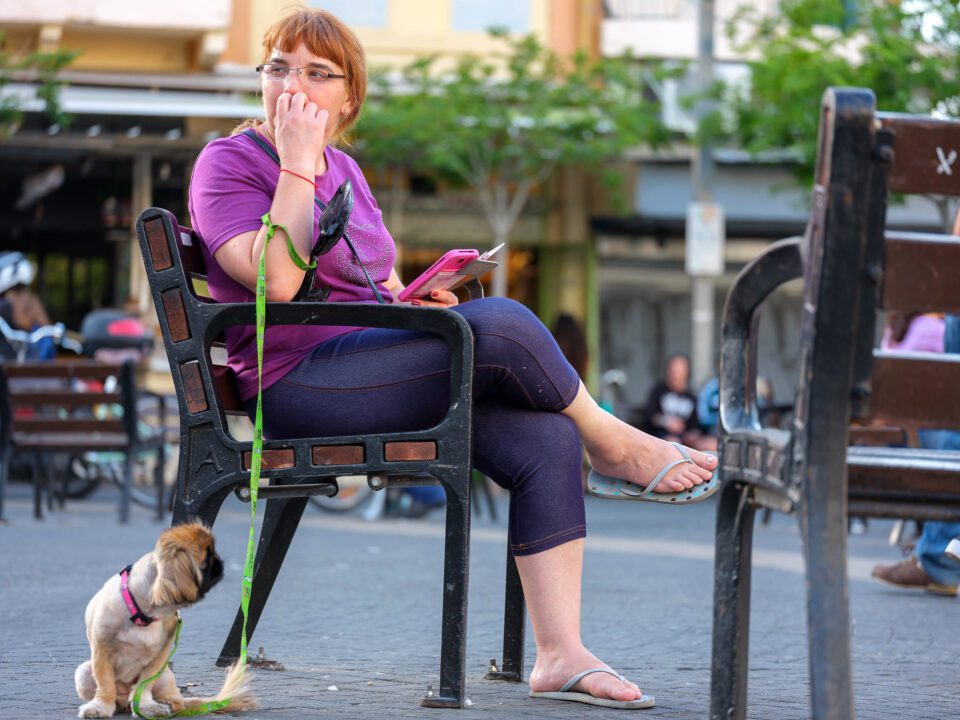 And if you have a moment, check out the top balcony of the Poli House, where you can shoot the street from above: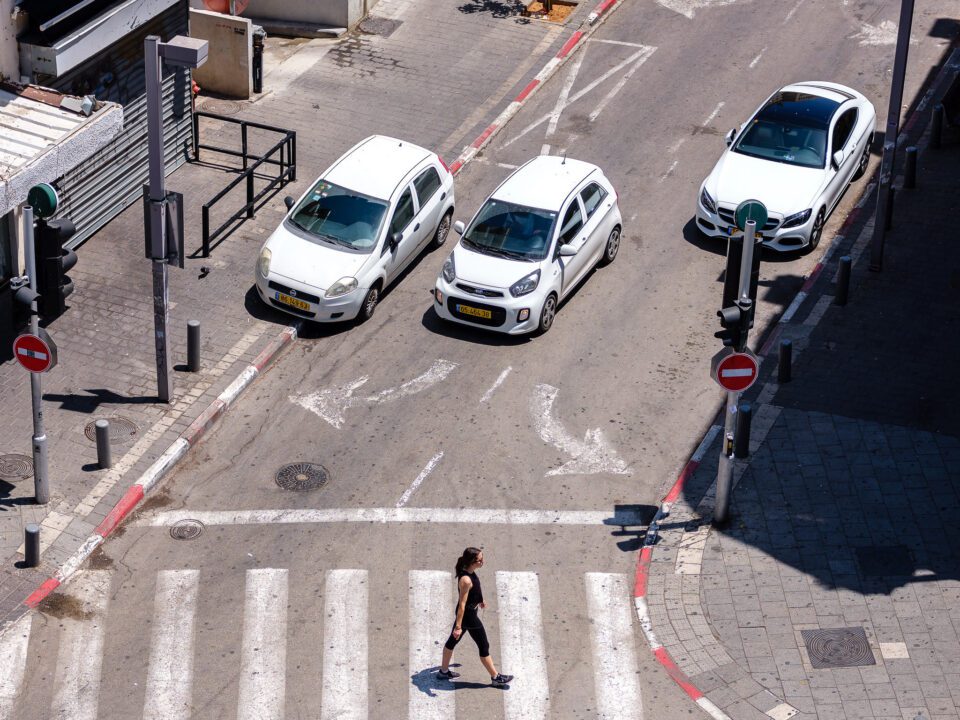 You might find some locals doing some shots: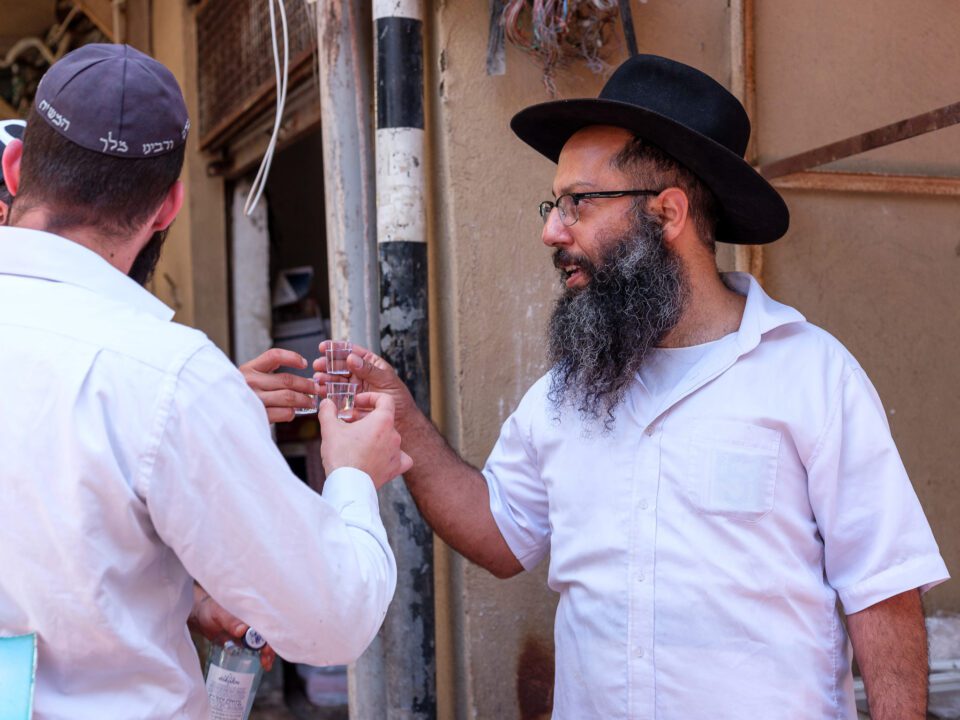 Or you might come across a group of Ultra-Orthodox Jews trying to preach to the youth: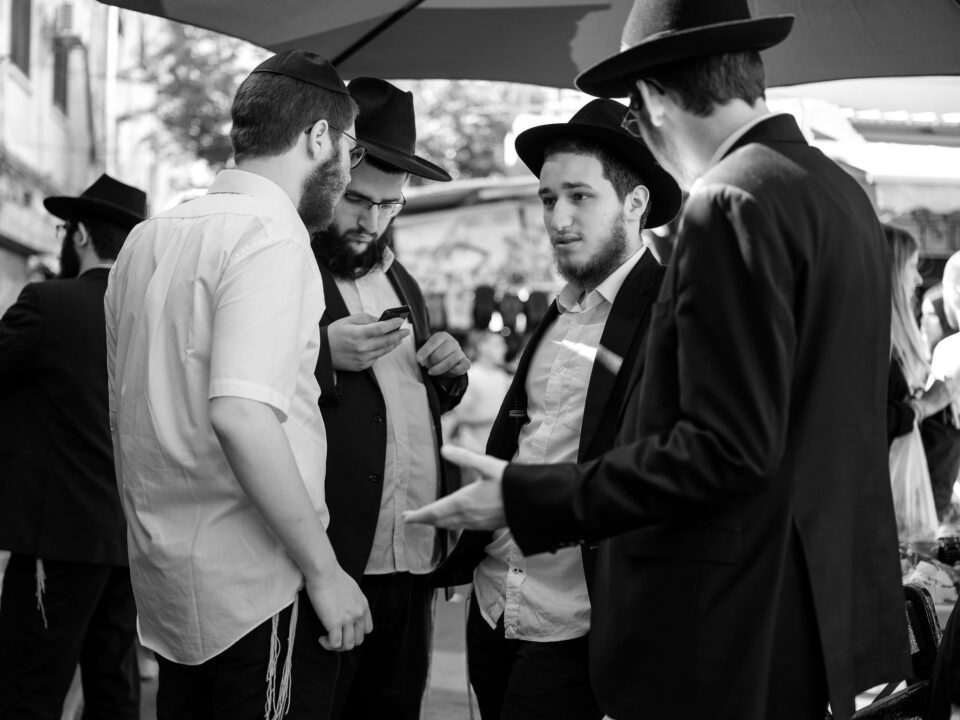 Occasionally, you might even come across a street bum: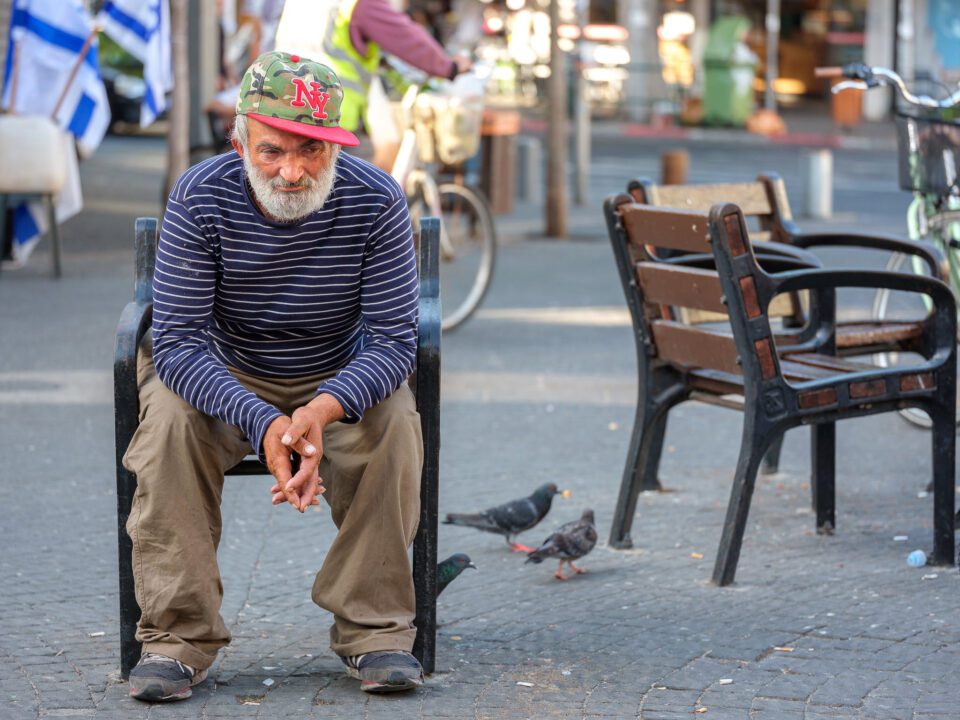 Right across the street, there are a few restaurants where mostly young people hang out, eat and drink: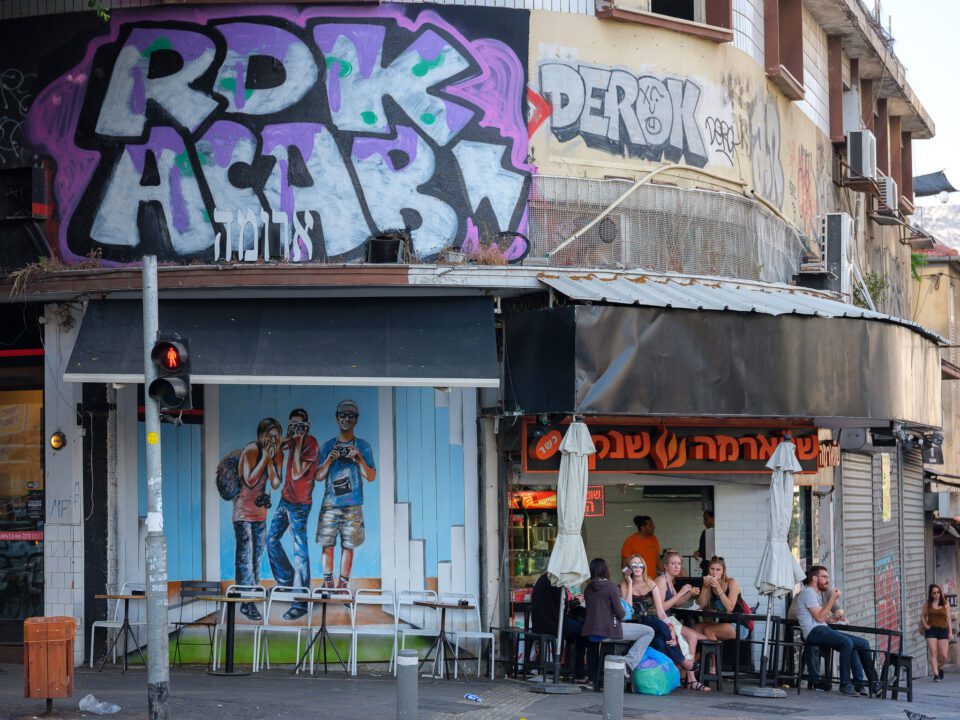 And as you walk in the streets, you will come across lots of fun graffiti and art: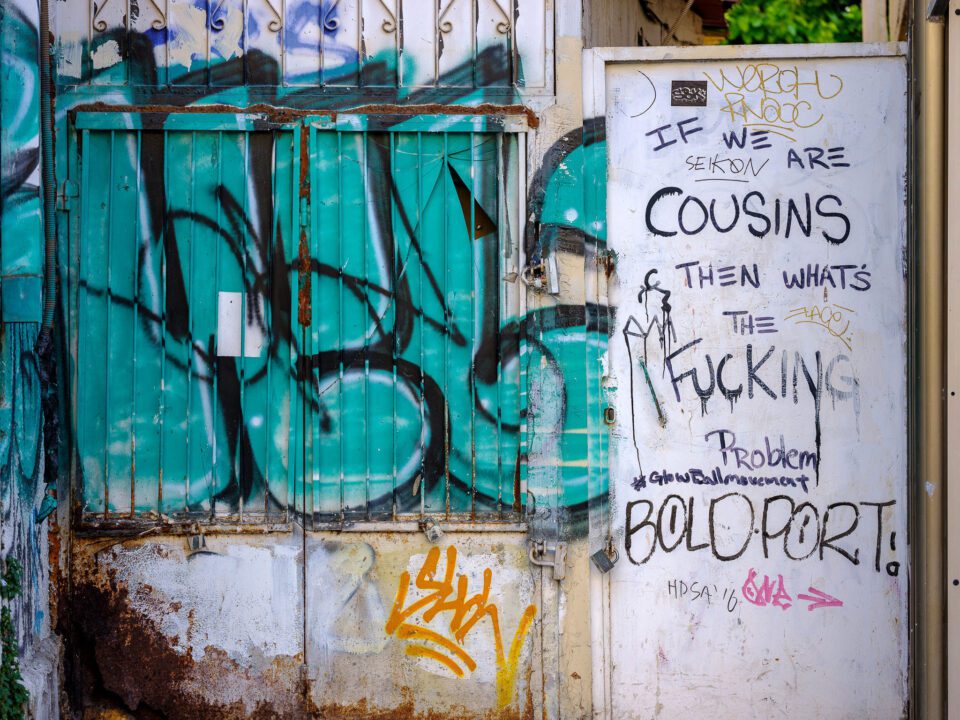 If you turn towards Nahalat Binyamin St, you will see even more wall art and interesting people to photograph: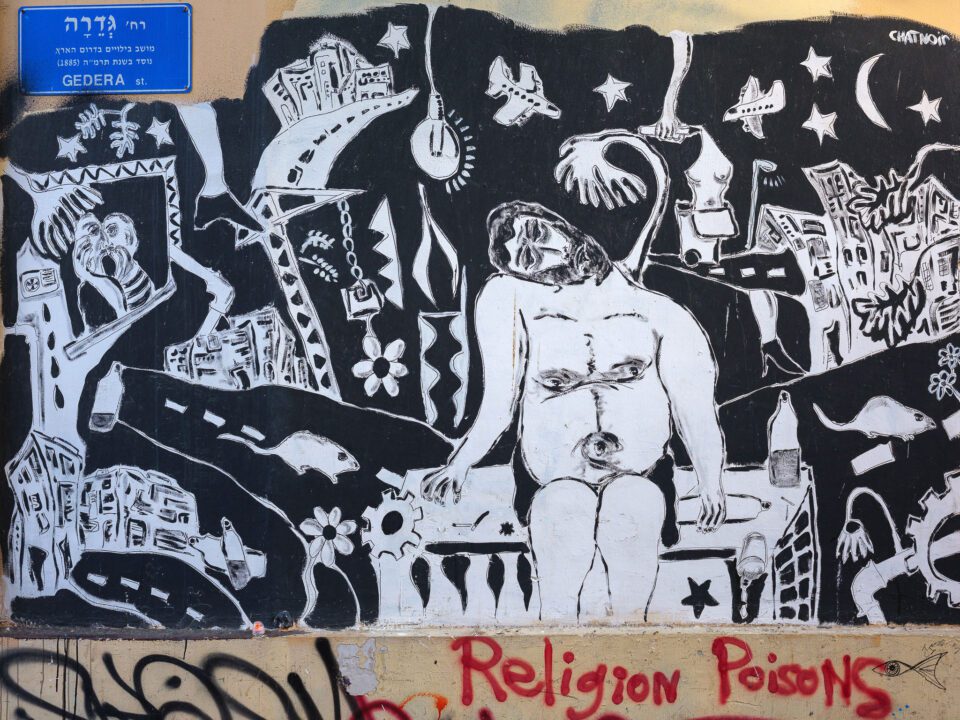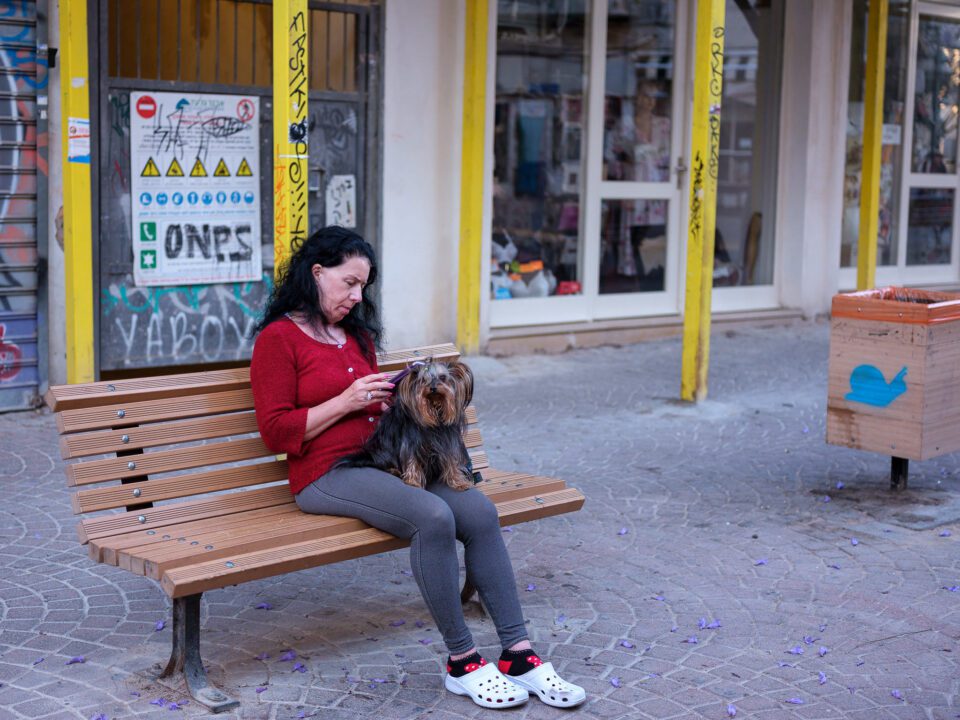 Definitely worth checking out!
24) Levinsky Market
While I was in Tel Aviv, I had an opportunity to host a photo walk. A bunch of people showed up, many of whom attended my photography lecture at Galitz School of Photography. We decided to meet at Levinsky Market at 6:30 PM on Thursday and it turned out to be a bad idea, since the market was already closed for the most part. While the market itself might offer great opportunities earlier in the day, I really enjoyed our walk from the Levinsky Market to Jaffa.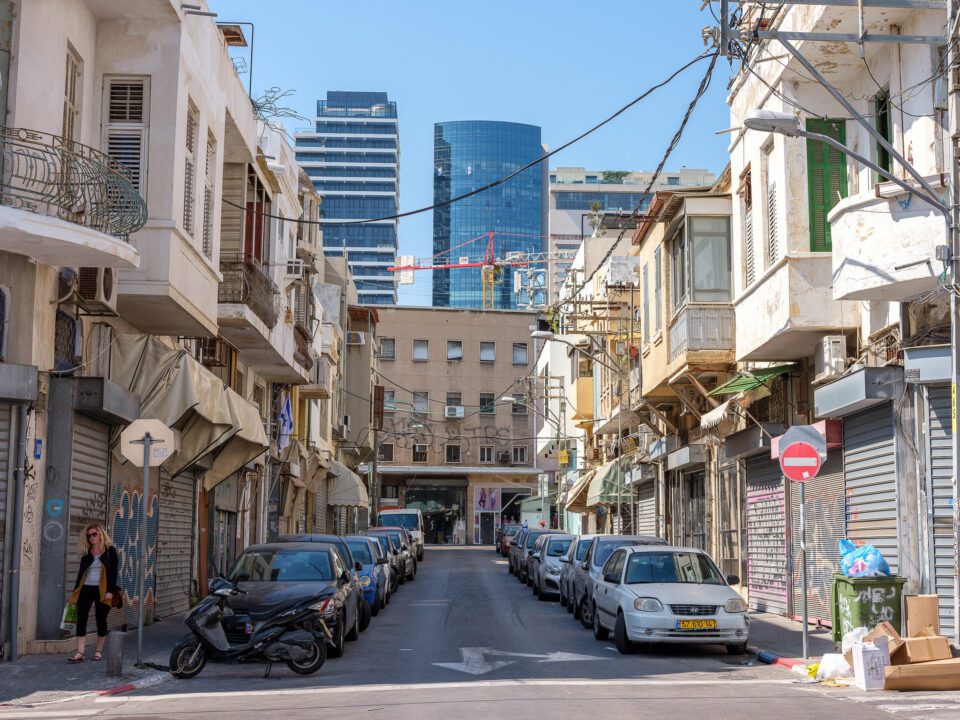 We found great opportunities to shoot some old and new buildings: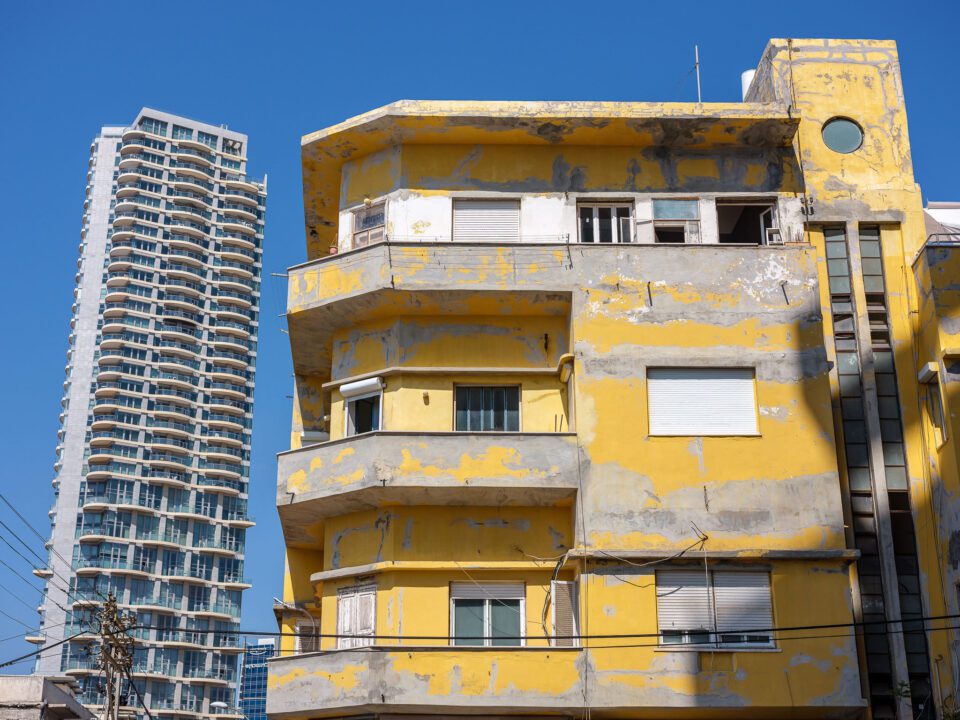 And a few tall apartment buildings that offered some nice perspectives: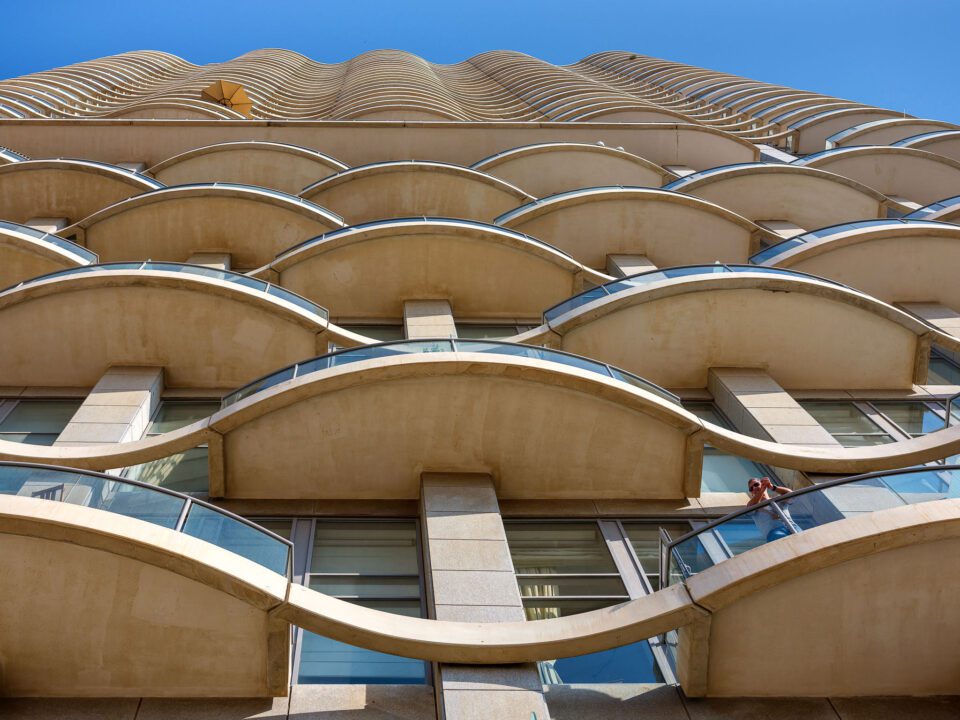 As we walked on one of the popular streets in the area, we came across a really cool guy who posed for us for quite sometime. With so many photographers around him, even a street cat decided to join the fun: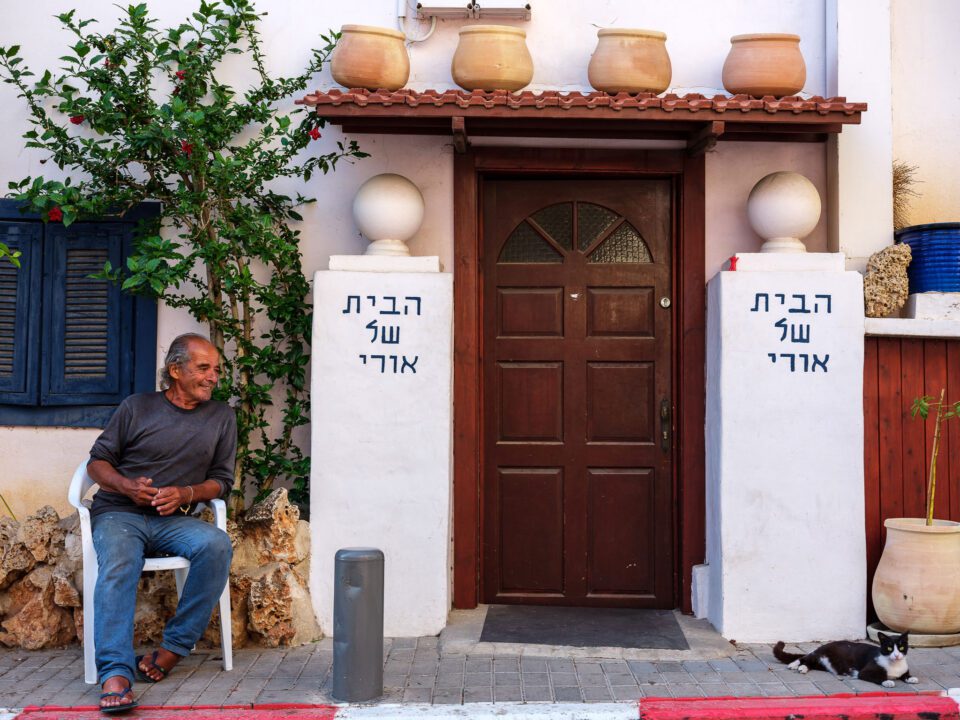 He was a very nice and kind man!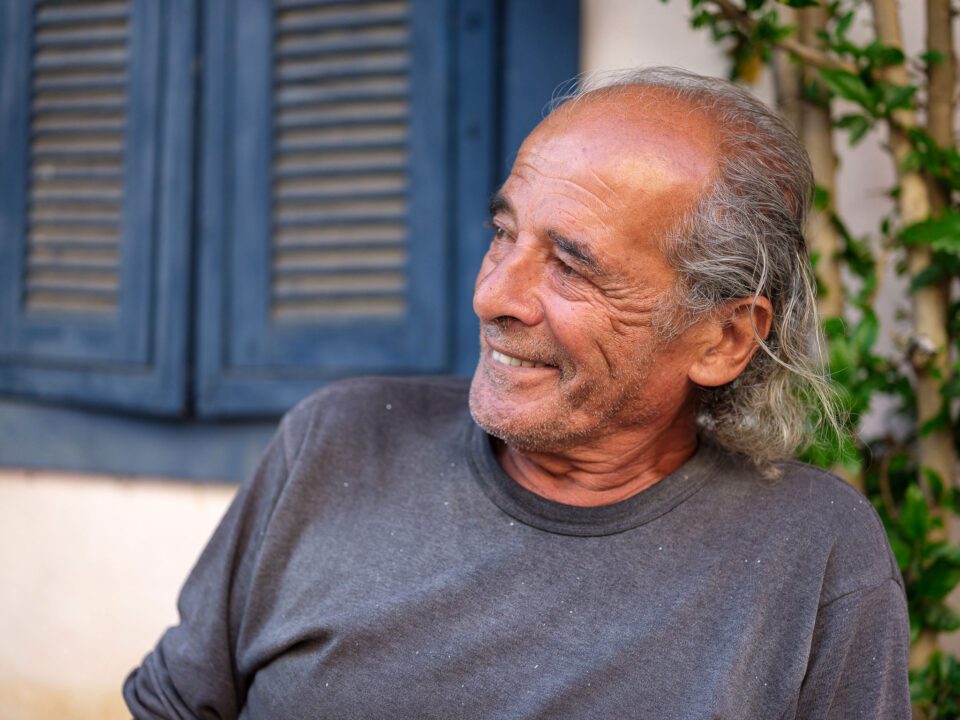 As we came to Shabazi street, I found a young lady who was checking out her phone, while the late afternoon light was cutting the frame in half, crossing right into her face: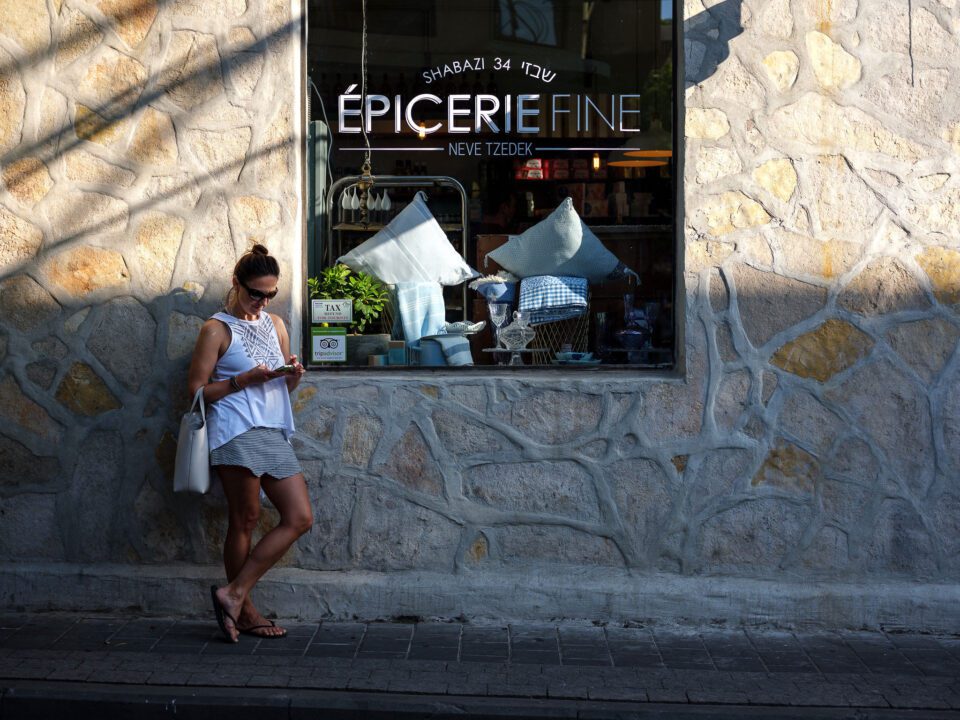 And walking further down, I saw another woman peeking into a store, checking out what was inside: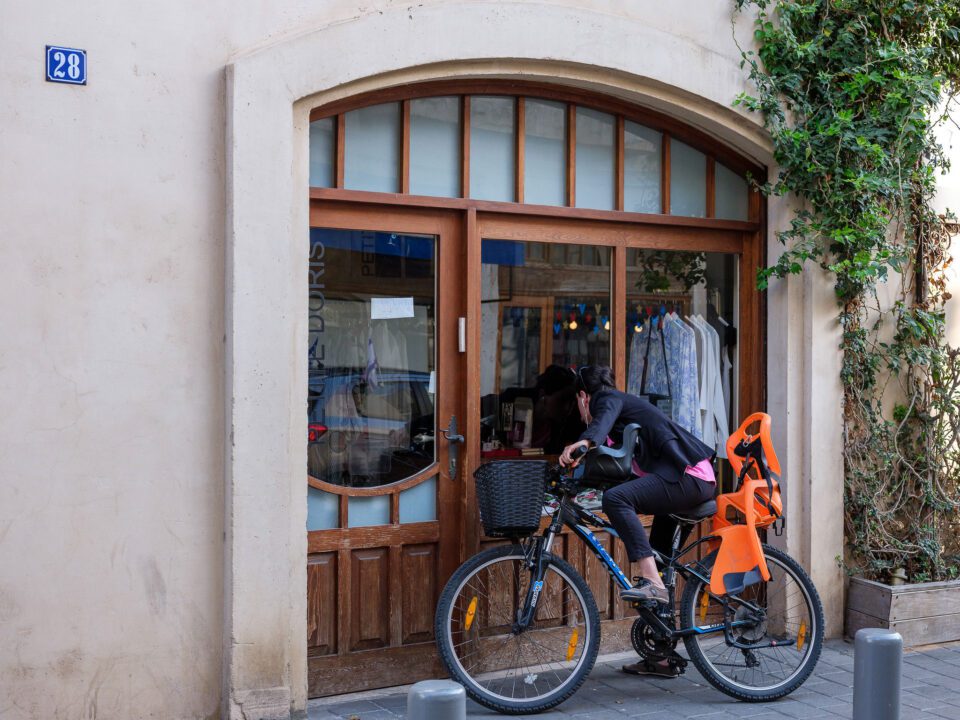 From here, as you head towards Jaffa, take it slow and check out the areas around the beach. You never know what treasures you might find: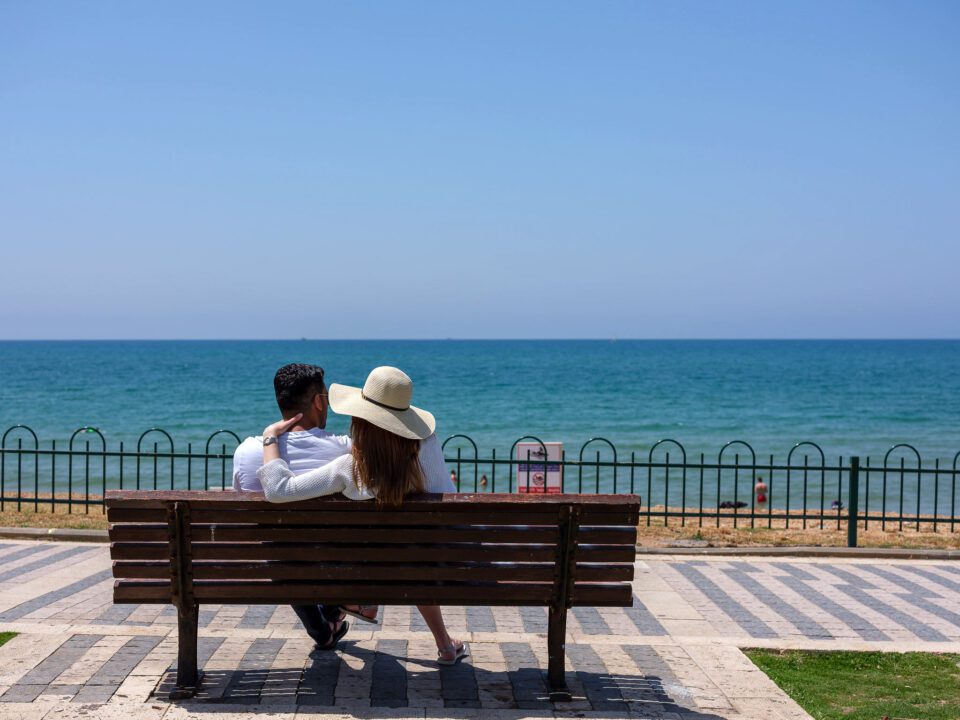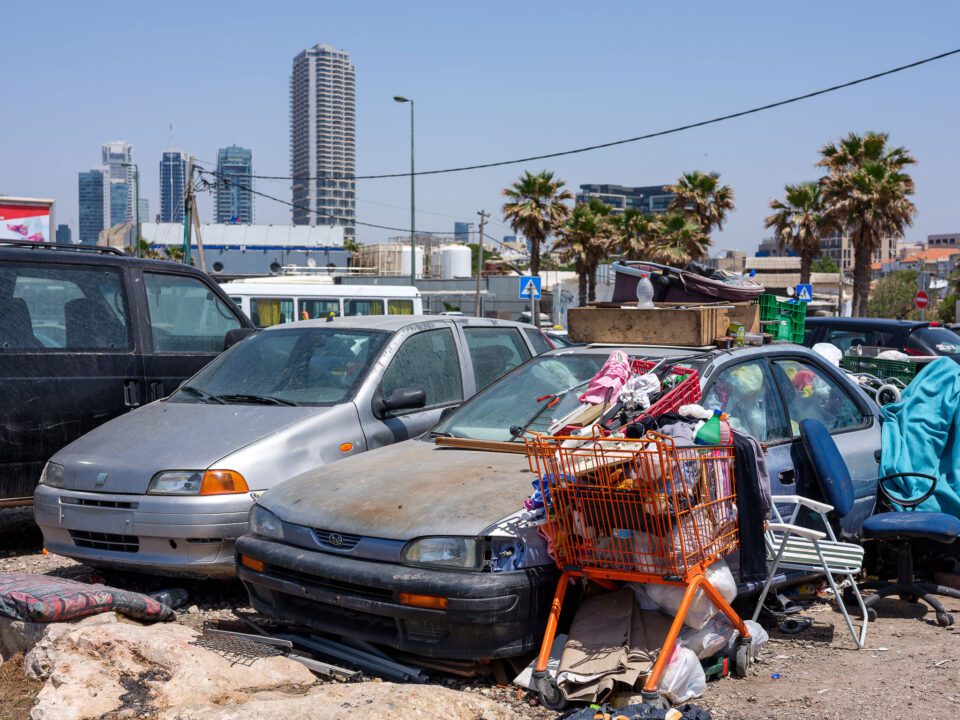 And the beach itself can be a fun place to shoot: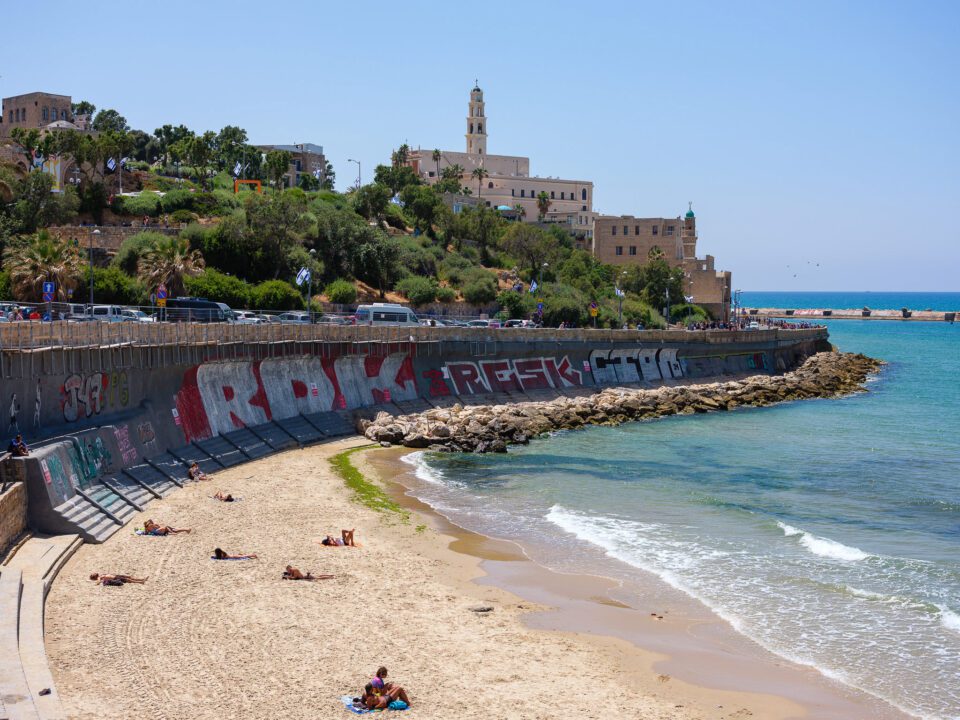 Especially facing the other way, which can get rather crowded on a nice day: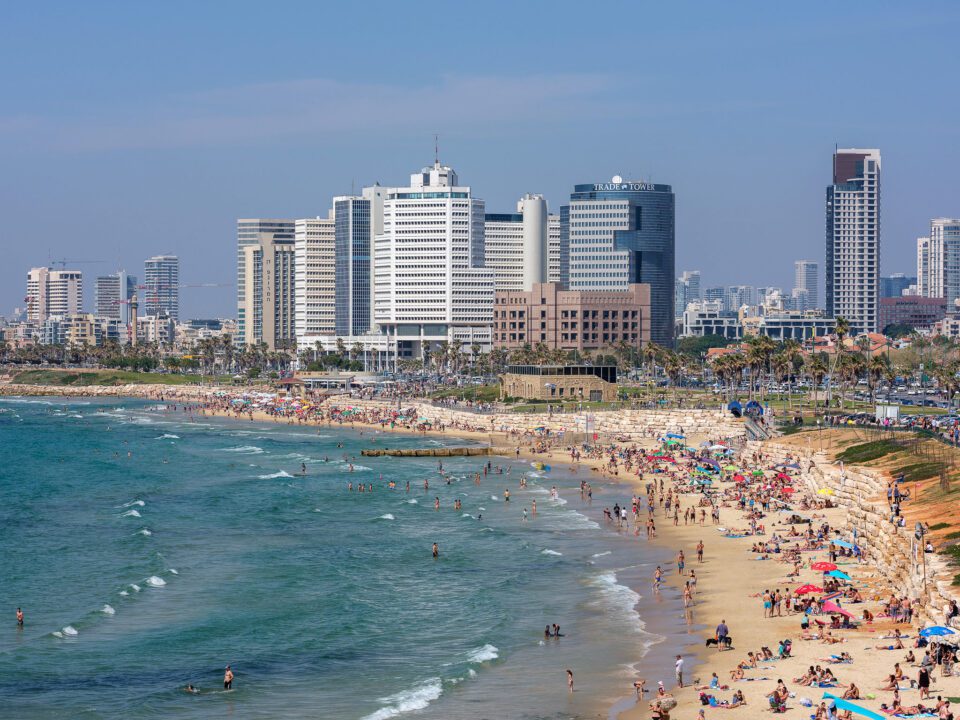 Walk a bit further and you will come across bike racks where you can rent one: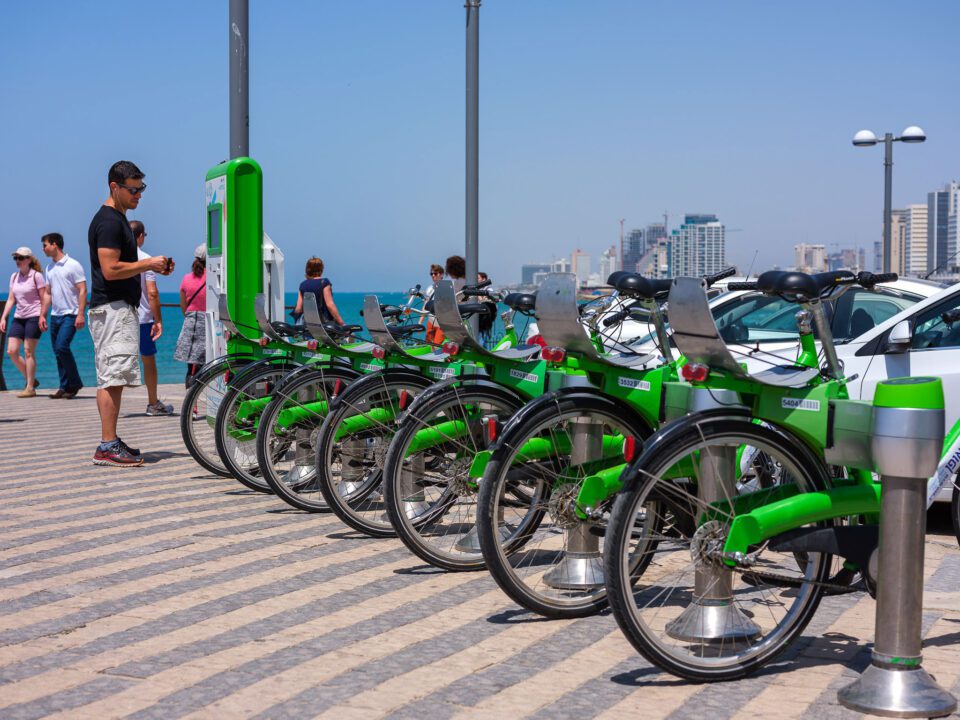 25) Jaffa
My most favorite area to photograph in Tel Aviv is Jaffa – that's where I spent most of my time. After our tour was over, I booked a hotel in that area and I am so glad that I did, as I had so many great opportunities for photography there. With its historic Ottoman-style buildings that house markets, restaurants and bars, it is easy to see why Jaffa is a popular tourist destination in Tel Aviv. The market itself is absolutely amazing! I loved walking around with my camera here, taking lots of street photos: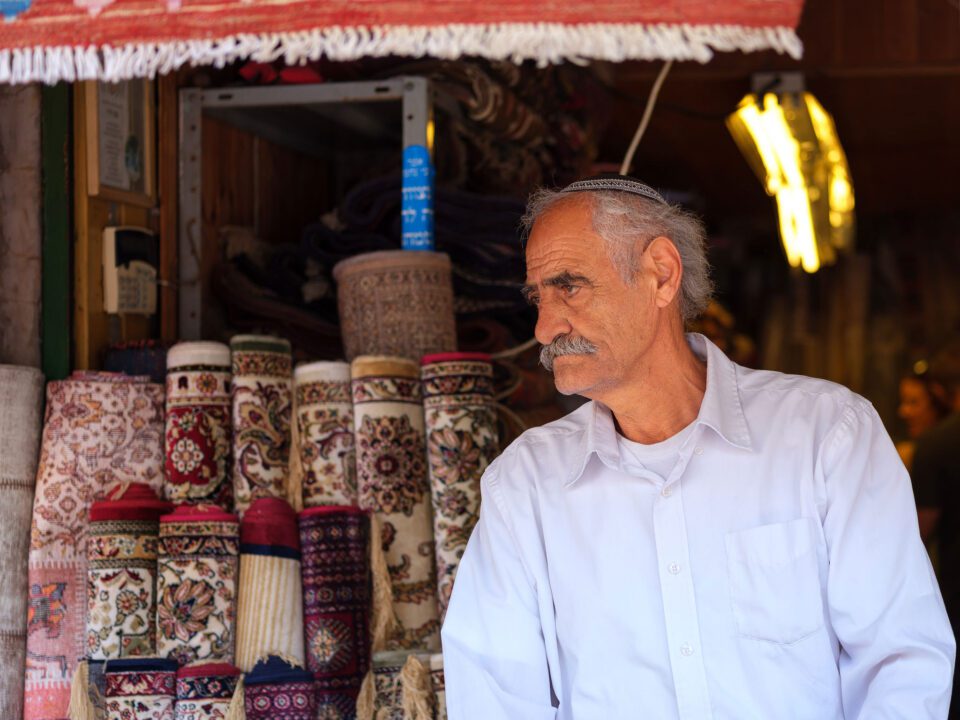 Merchants here are used to tourists and if you ask them nicely, they will pose for a shot or two: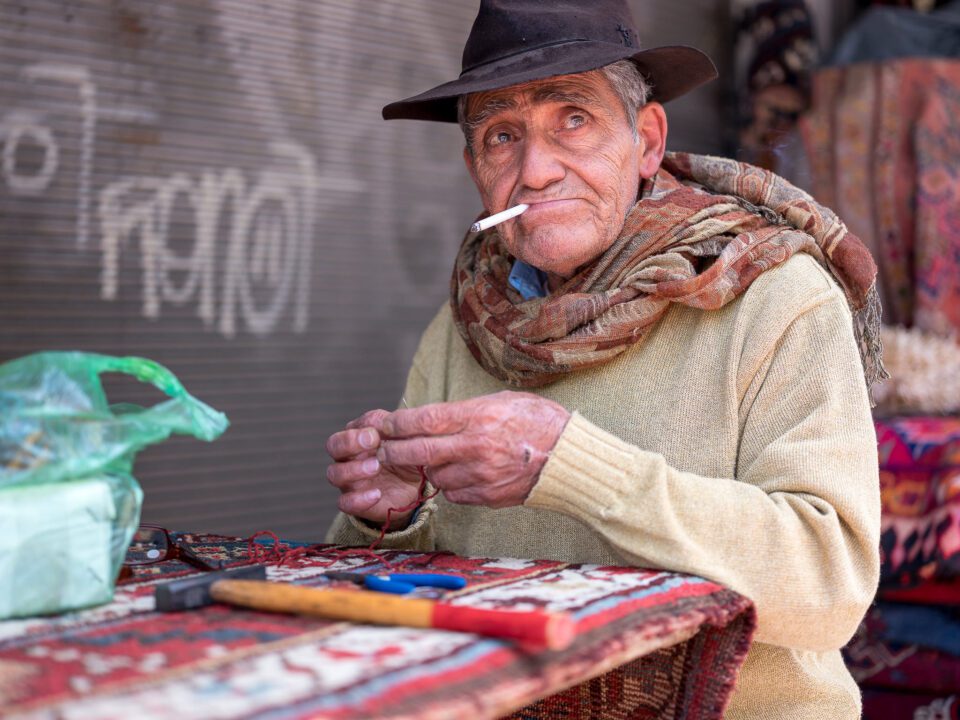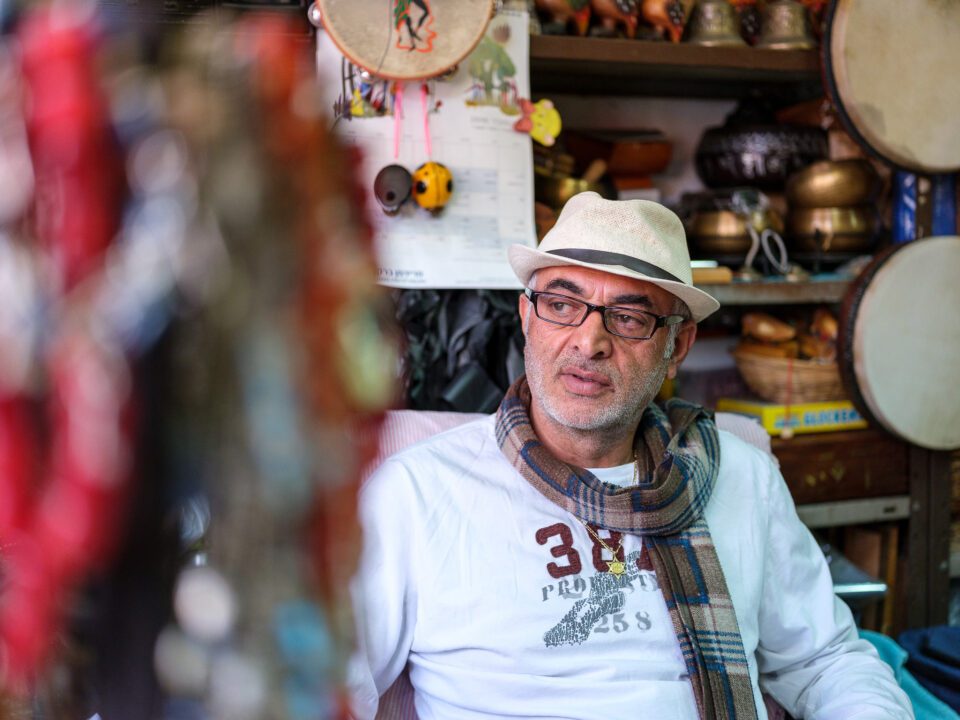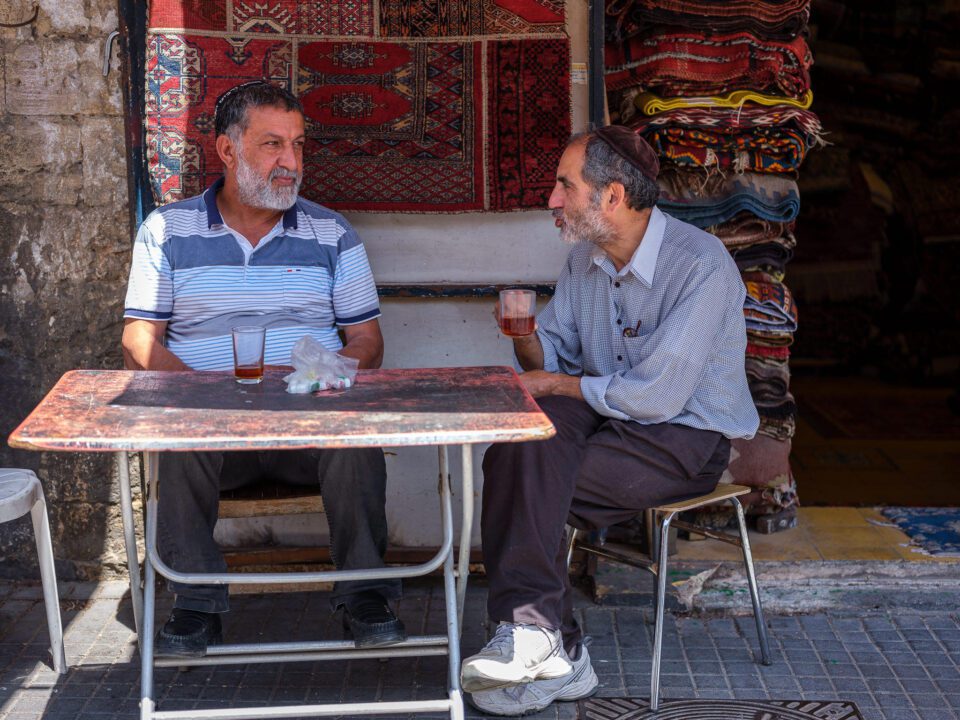 A lot of action happens on the streets of Jaffa, so always be prepared to take pictures!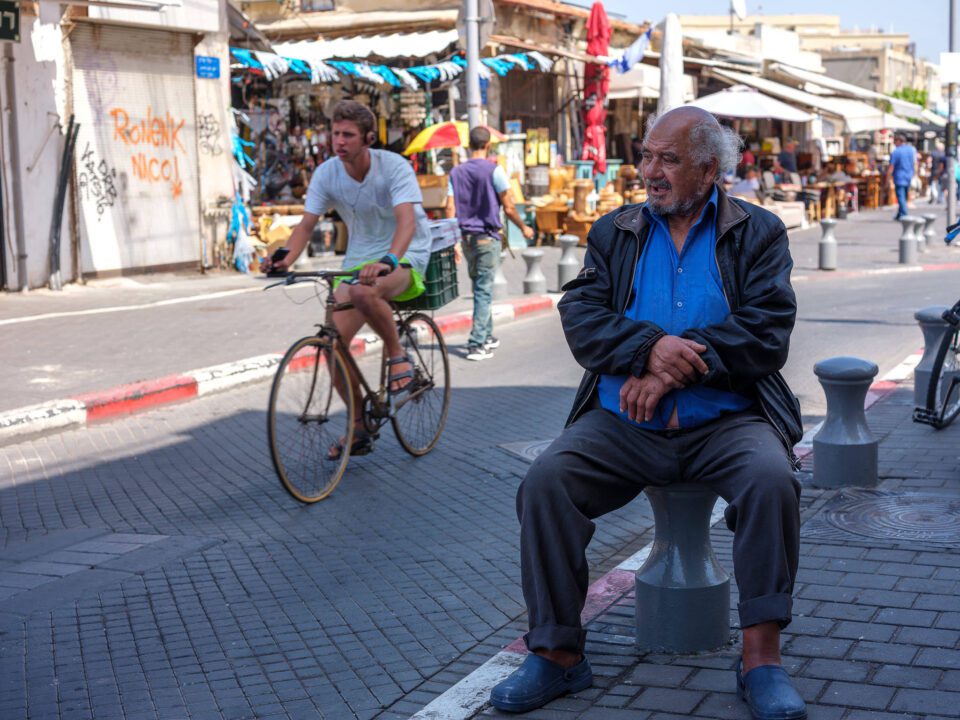 Don't be surprised to find weird dumps like this, with people just sitting there and doing nothing: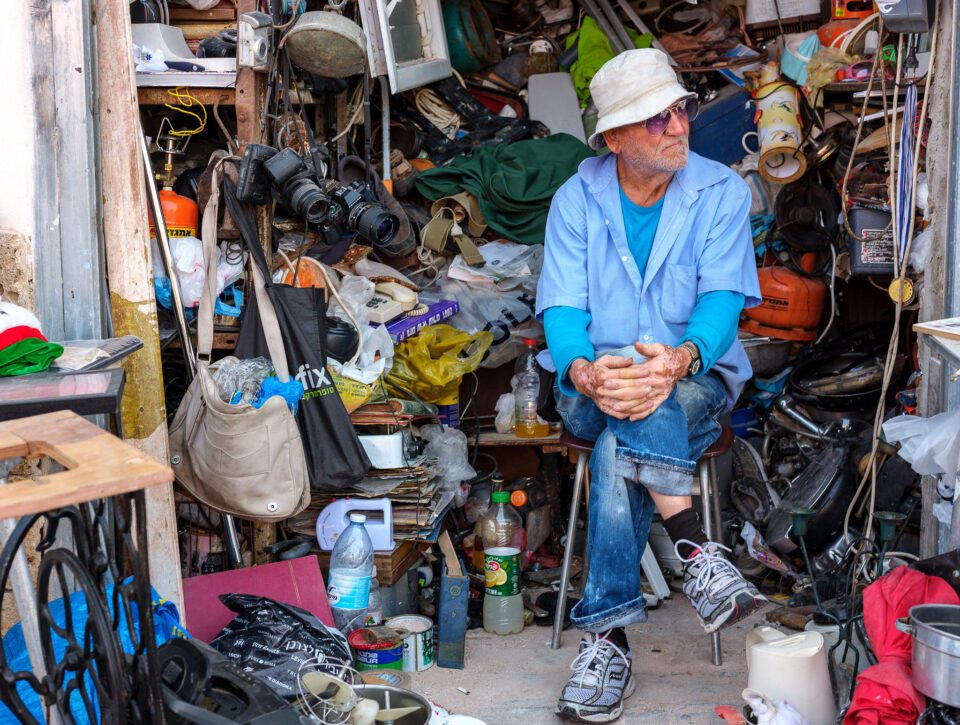 Although I am sure everything is for sale in such spots.
Similar to the Shuks in Jerusalem, there are also some covered areas with merchants selling clothes, rugs and carpets: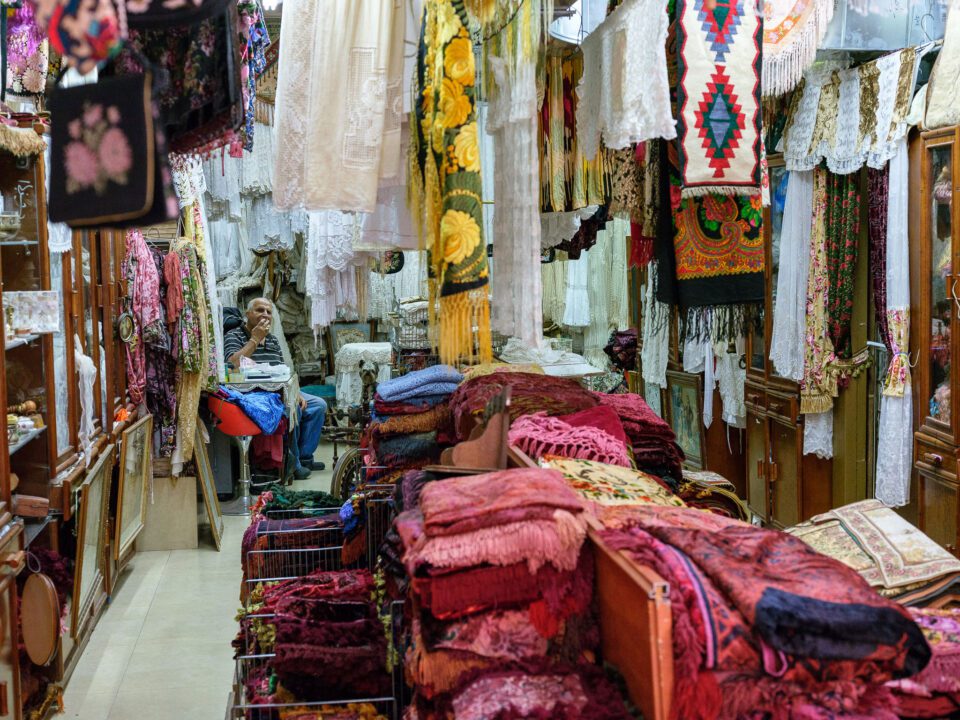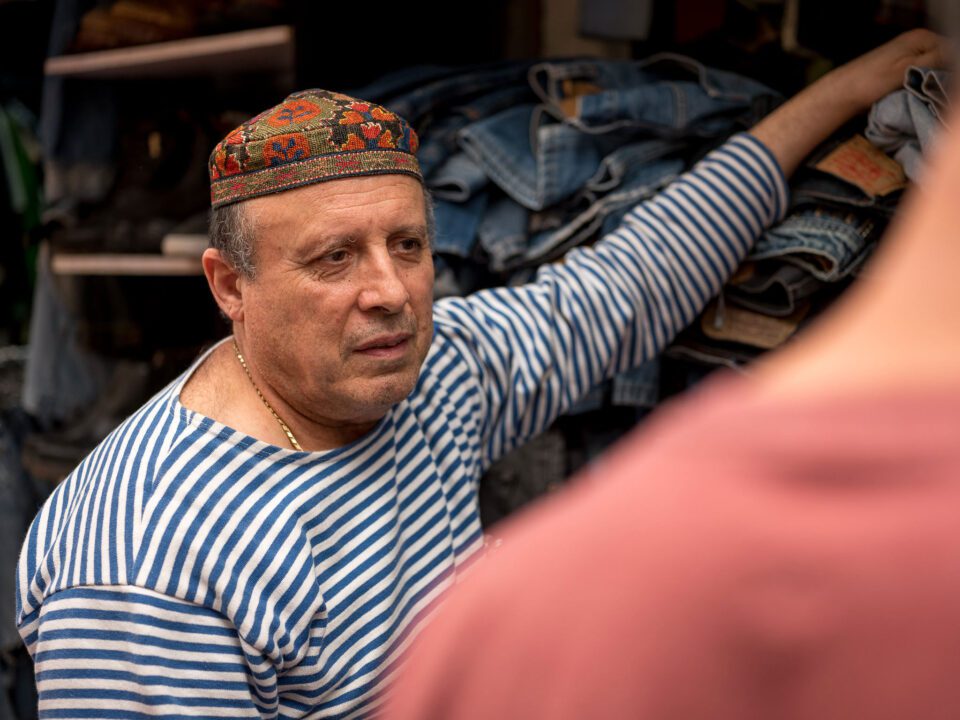 And if you are after all kinds of collectibles and antiquities, you will have a chance to see them all as well: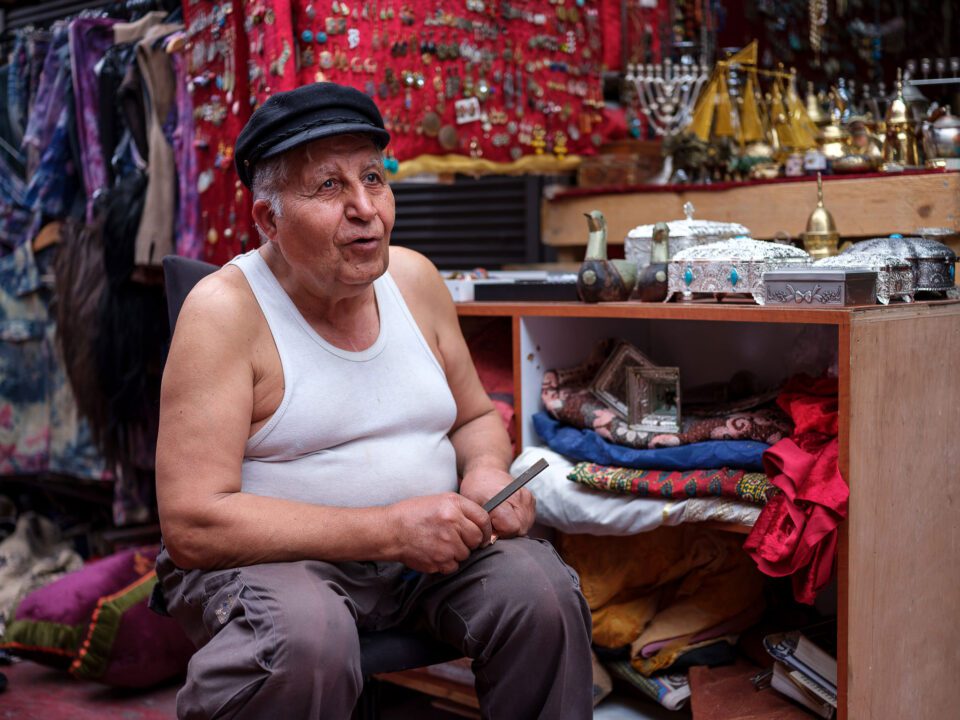 Rug and carpet sellers will sell you everything from new to antique: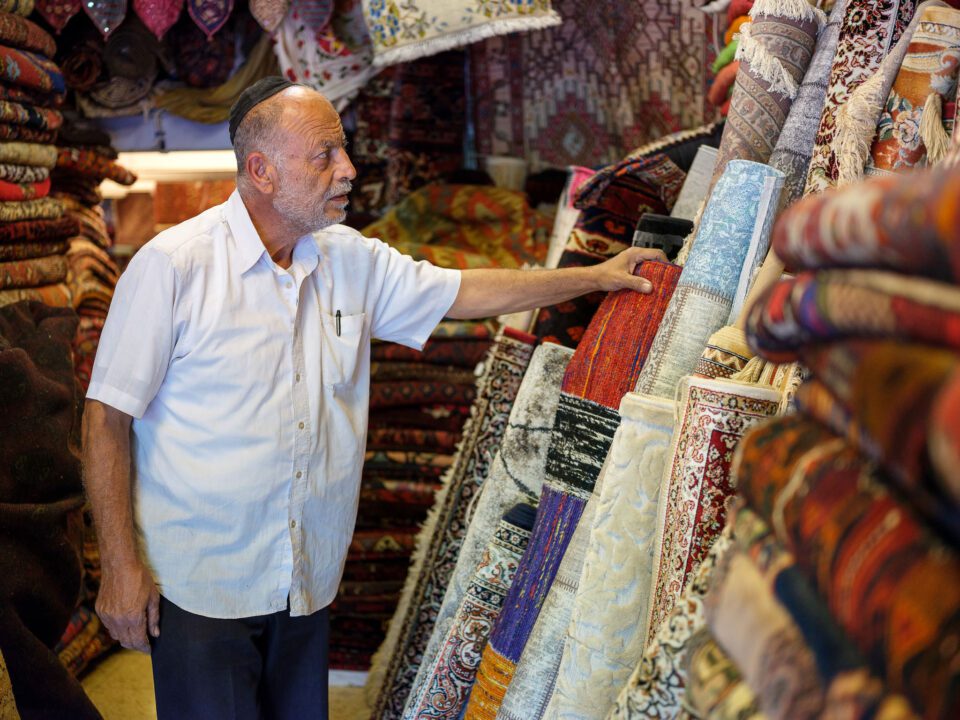 And the alleys sometimes offer nice contrast between old and new: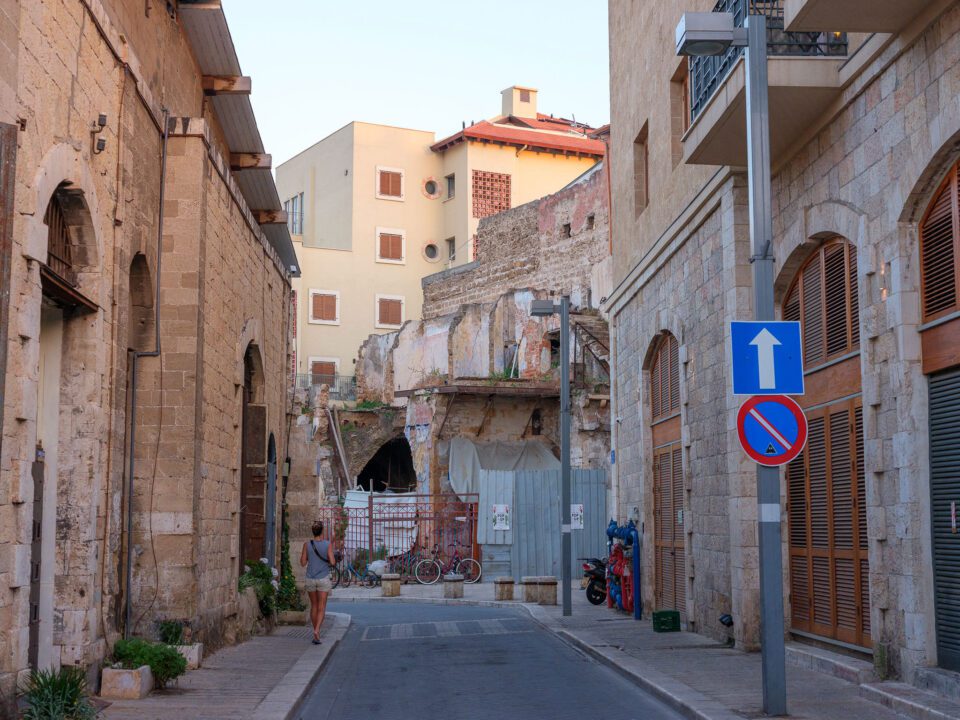 Don't forget to look up every once a while: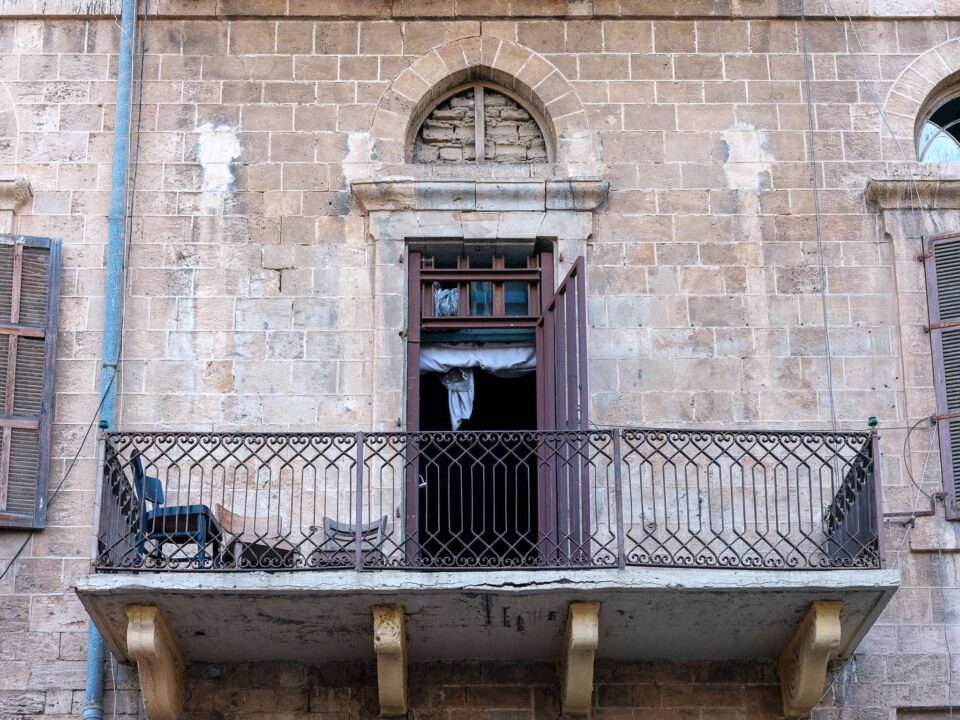 I waited a while for someone to come out, but they never did! More crazy buildings and windows: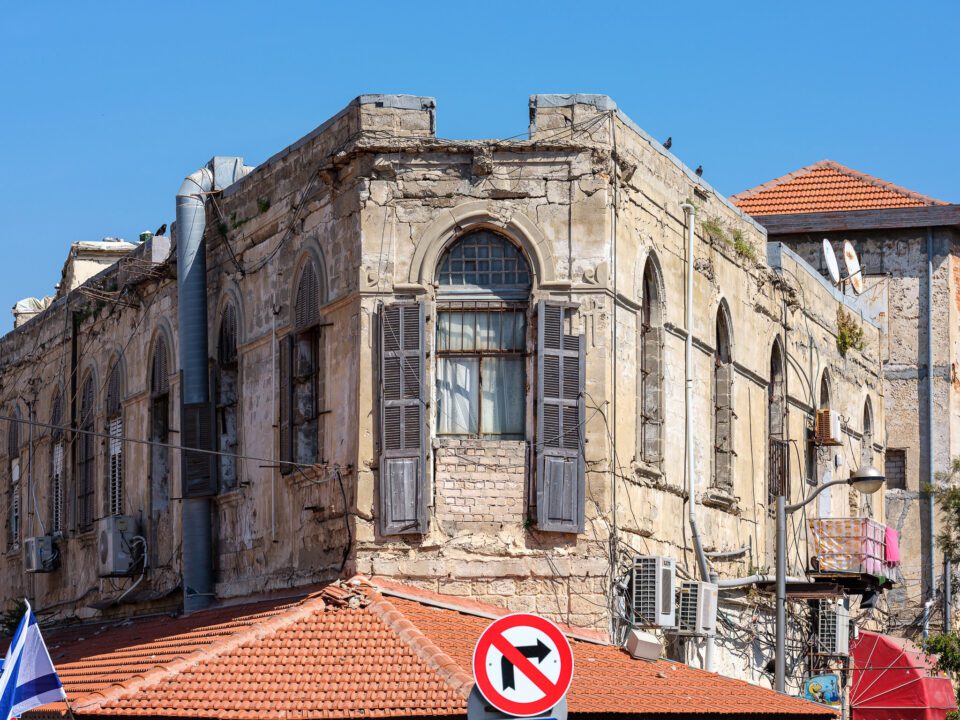 This bike shop seemed to attract quite a few people from the street: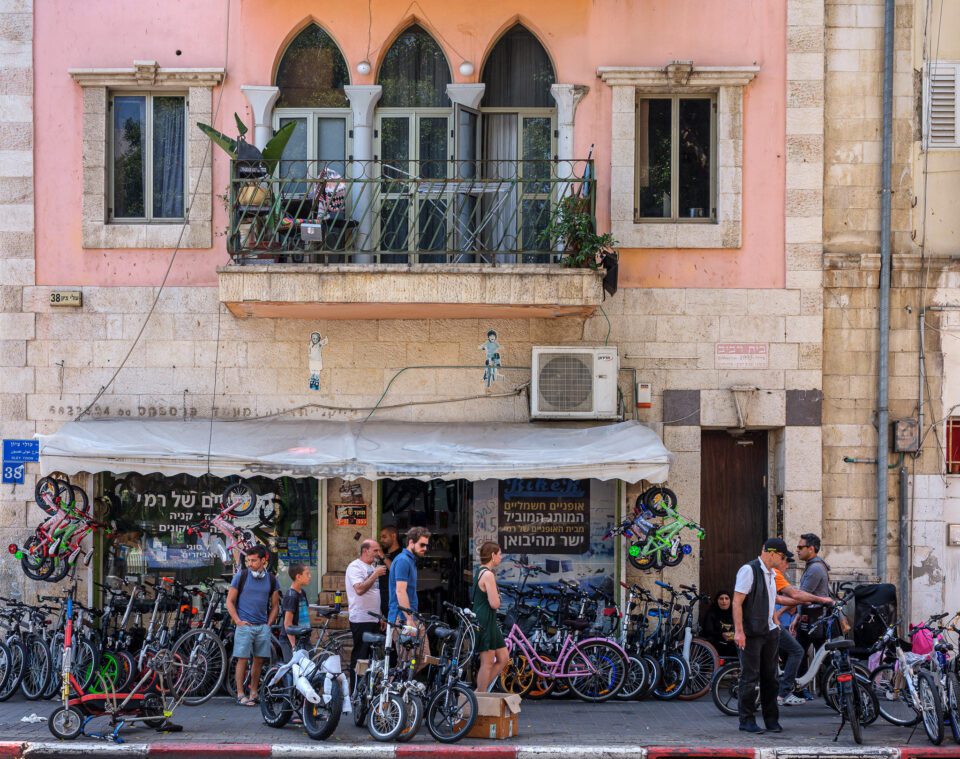 There is so much more to see in Jaffa, the list simply does not end. Being on the coast, the Old Jaffa offers even more photographic opportunities. Walk along the narrow streets and photograph the beautiful buildings and colors all over: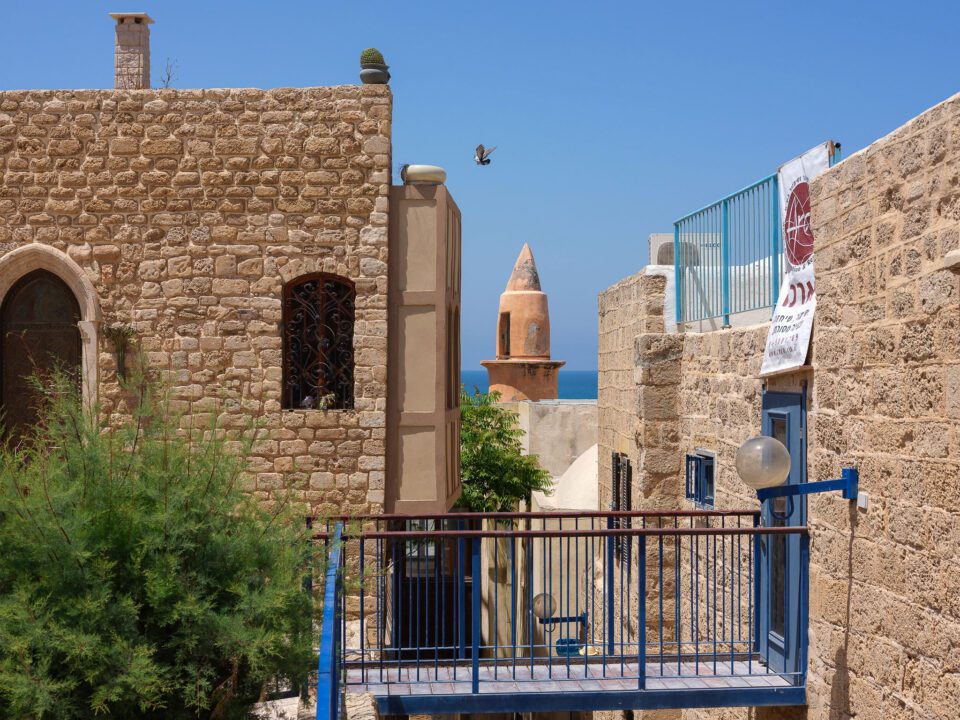 And in between the narrow streets you might come across some surprises: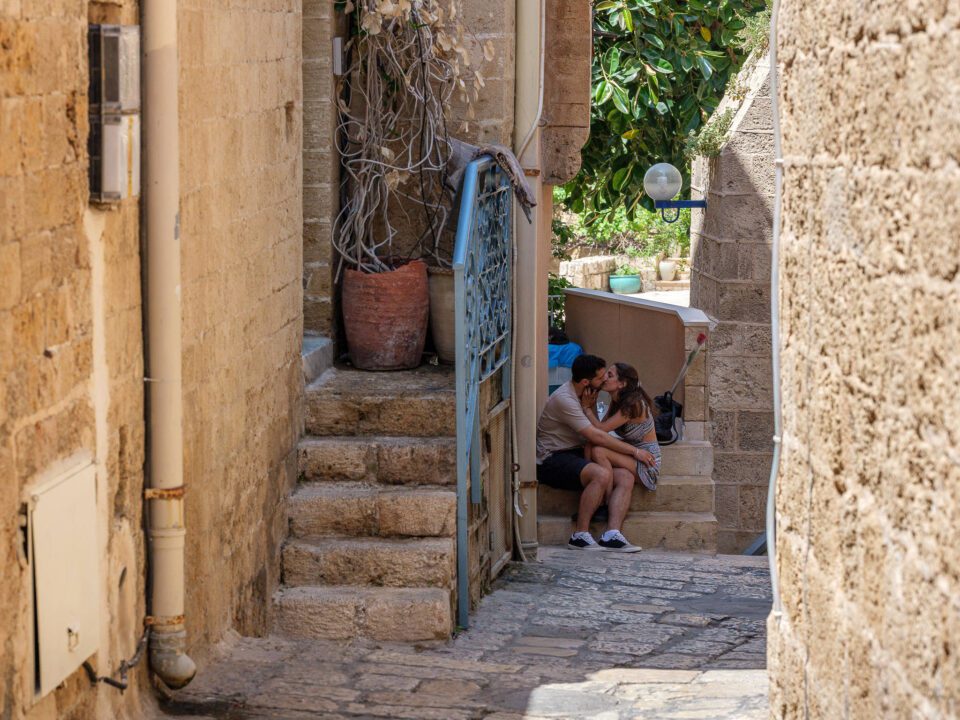 Don't forget to check out the Mifrat Shlomo Promenade, along with other cool spots like the Wishing Bridge and the Ramses Gate. As you walk the area, you might come across some photogenic tourists to take pictures of: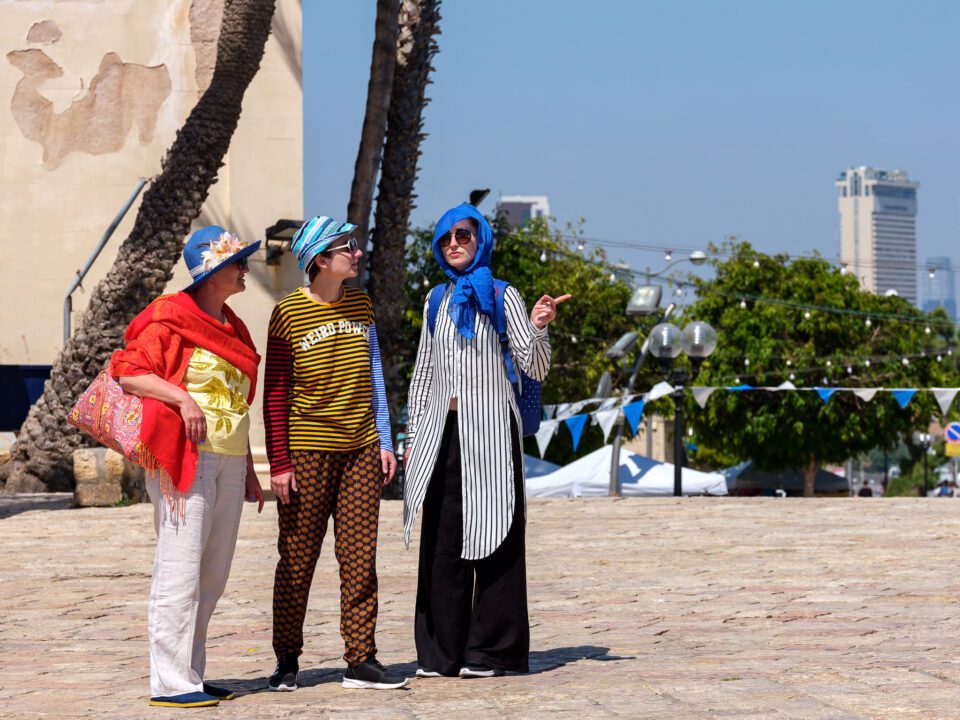 As you move along Retsif ha-Aliya ha-Shniya St, you will come across stone buildings with beautiful blue doors: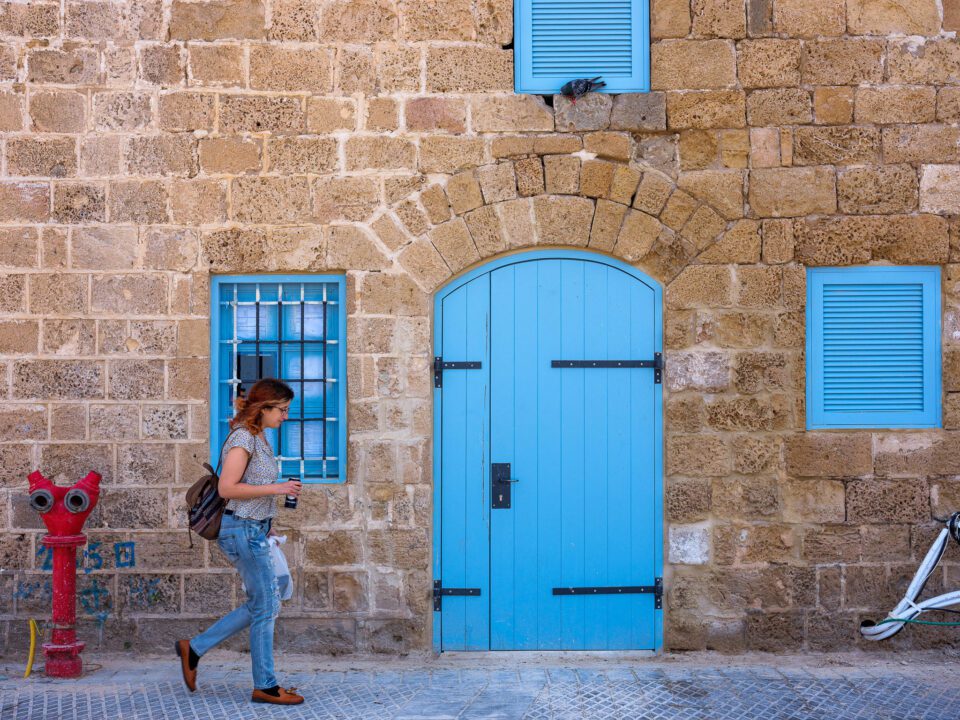 Be patient, pre-focus and frame your shot, then wait for someone to get into your frame. This was a bit difficult to do, since some people were going around me, thinking that I was taking a picture. But every once in a while there were those who did not see or did not care.
The Al-Bahr Mosque is another Ottoman-era building that is still in use. During the photo walk, a number of photographers got busy photographing this couple, who happily posed for us: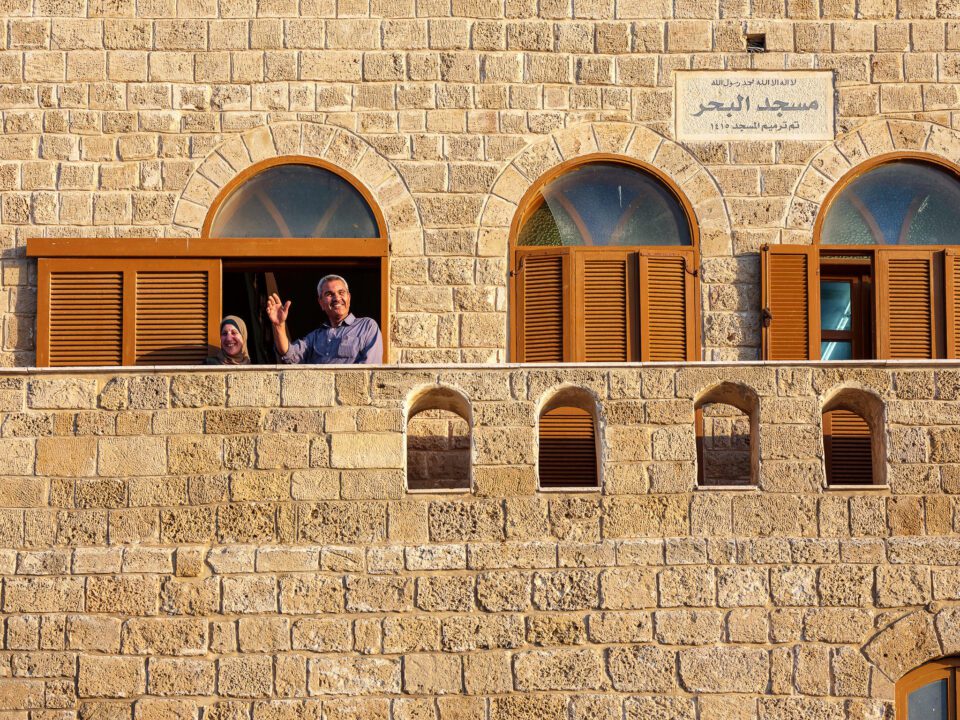 And the front gates of the mosque are really beautiful, so we patiently waited for people to come out in order to take their pictures: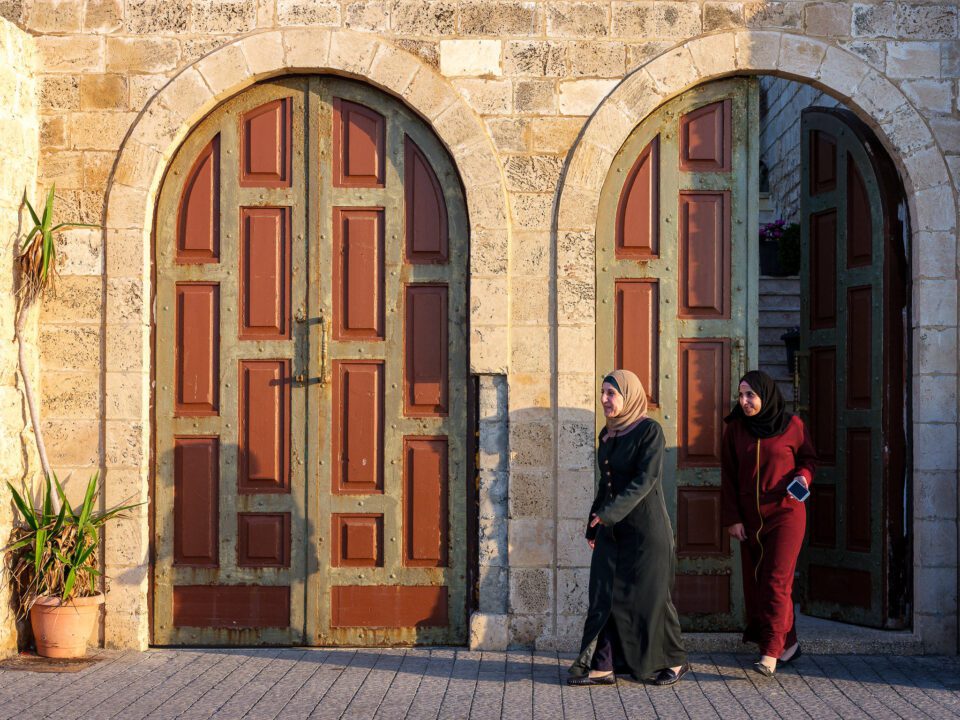 As the sun was setting, the other side of the mosque also offered a great opportunity, with people coming down the stairs: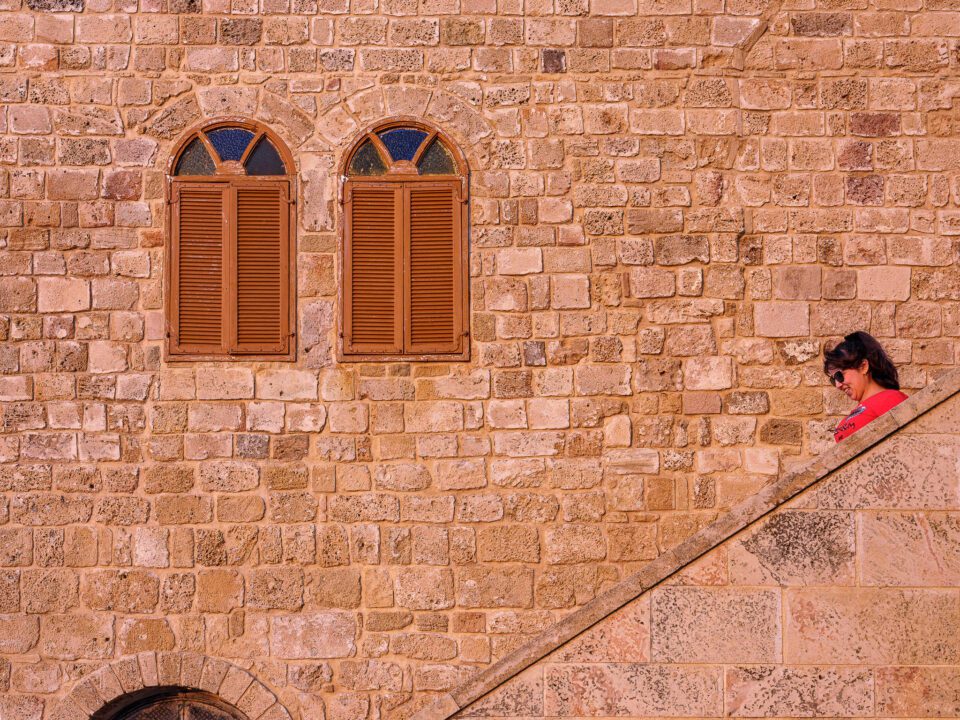 And lastly, aligning the moon with the top of the minaret was also a cool idea by one of the photo walk participants: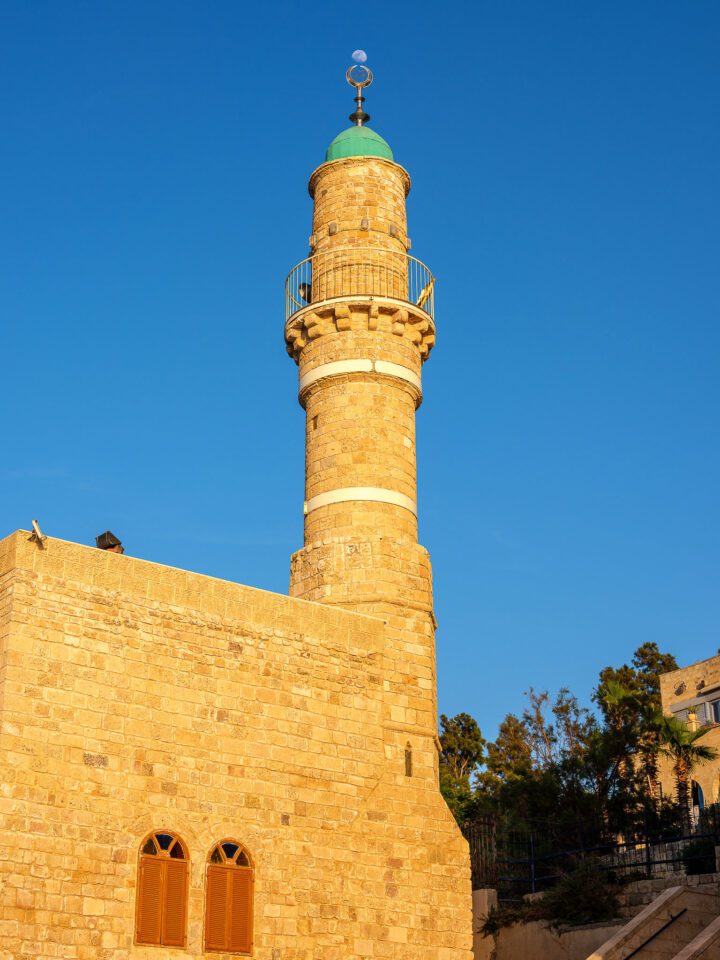 With the sun setting in the horizon, couples were gathering up by the coast, sitting and enjoying the beautiful sunset, so it opened up a good opportunity for us to take some silhouette shots: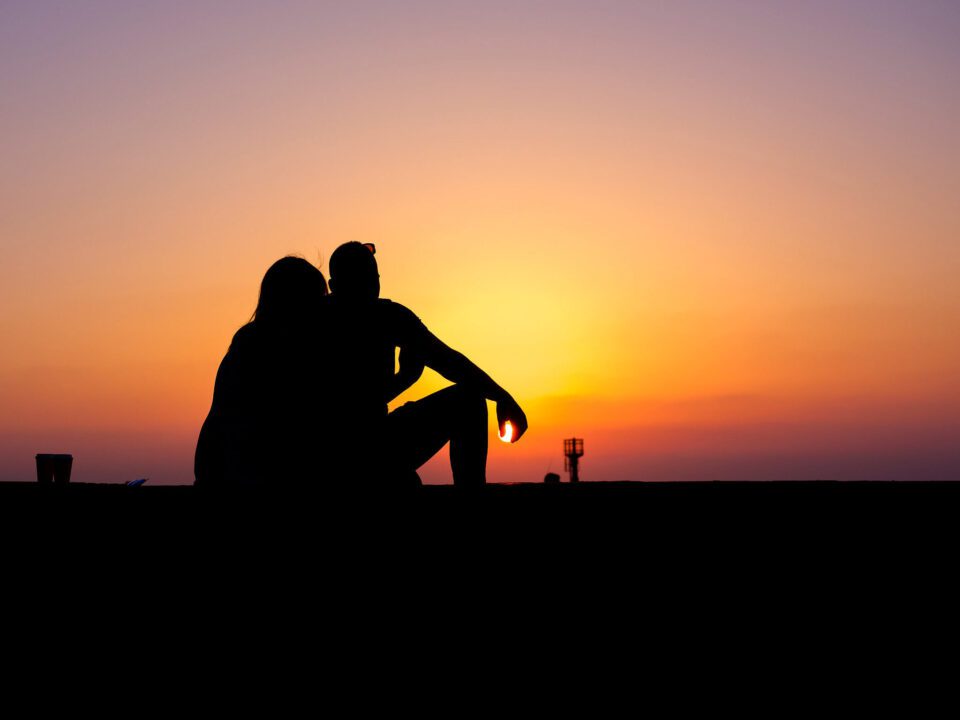 What a nice way to end the day!
Big thanks to Vibe Israel for organizing this trip. I am very happy to have met a lot of new friends and it was an incredible experience meeting our readers in Israel.
I hope you have enjoyed this 8 page long photo essay! As you can see, Israel offers a lot of travel and photographic opportunities. Although I feel like I saw quite a bit of Israel in the two weeks I spent there, I know that in reality I only touched the surface – this country has so much more to offer! If you have never had a chance to visit Israel, I highly recommend to go there. You will not regret it, I promise.
If you have been to Israel before, please share your experience in the comments section of the next page. And if you have any questions about Israel or any of what I have written in this article, please let me know as well!