7) The Western Wall
The Old City is a fascinating place to visit. Due to the significance of the location to all three Abrahamic religions, it is considered to be very sacred and holy. For Jews, this is where the Solomon's Temple once stood. For Christians, the Church of the Holy Sepulchre is considered to be the holiest site. And for Muslims, the Al-Aqsa Mosque represents the third holiest site in Islam. Because of its religious significance, the Old City attracts pilgrims from all over the world. And since each religious group maintained its own holy sites and areas surrounding them over many centuries, the Old City was partitioned into three main sections: The Jewish Quarter, The Christian Quarter and The Muslim Quarter (technically, there is also The Armenian Quarter, but since Armenians consider it to be part of the Christian Quarter, the two can be categorized into one).
I will first start with the Jewish Quarter and talk about its photographic opportunities.
Most likely, you have already seen pictures of the Western Wall, also known as the Wailing Wall. The Western Wall is where Jews come to pray, read Torah and weep over the destruction of the Temples. Due to its proximity to the Temple Mount, it is considered to be the second holiest site in Judaism (after Temple Mount itself).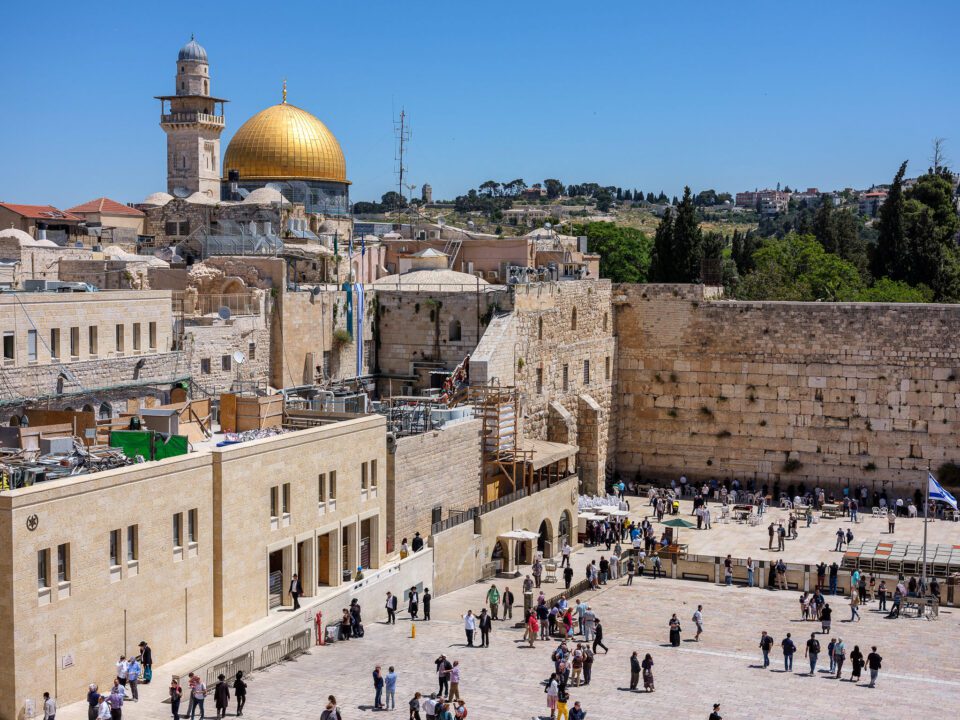 Photographically, the Western Wall is possibly the best spot to be in the Jewish Quarter, due to its significance and the crowds that it attracts. You will see many religious and Ultra-Orthodox Jews coming to pray to the site and occasionally you might even see some Christians visiting the site and dropping their wishes written on notes in between the wall stones. Sometimes people break down in emotions and weep at the wall, so it can be a pretty intense place to be in.
The Western Wall is open to visitors, so you can come pretty much any time and photograph the site. The area is under tight security control and there are only a couple of spots where you can get through. In each location there are security guards and metal detectors (and not all security checkpoints are open for visitors), so if you bring a camera along, it will have to go through a scanner. Make sure that you don't bring a tripod along, since tripods are not allowed past security checkpoints.
Once you are in, you can walk around and take pictures anywhere. You are allowed to take pictures of people praying, but I suggest to be respectful to the Jews by being quiet and discrete. You do not want to be spraying with your camera like a machine gun, especially if you have a loud DSLR. Keep your distance and do not shove the camera to people's faces. At the time we were touring the area, the Western Wall was not very busy, so I was able to get a few intimate shots of Jews praying at the wall:
You might also check out the covered area to the left of the exposed wall, where you will find many Ultra-Orthodox Jews reading Torah: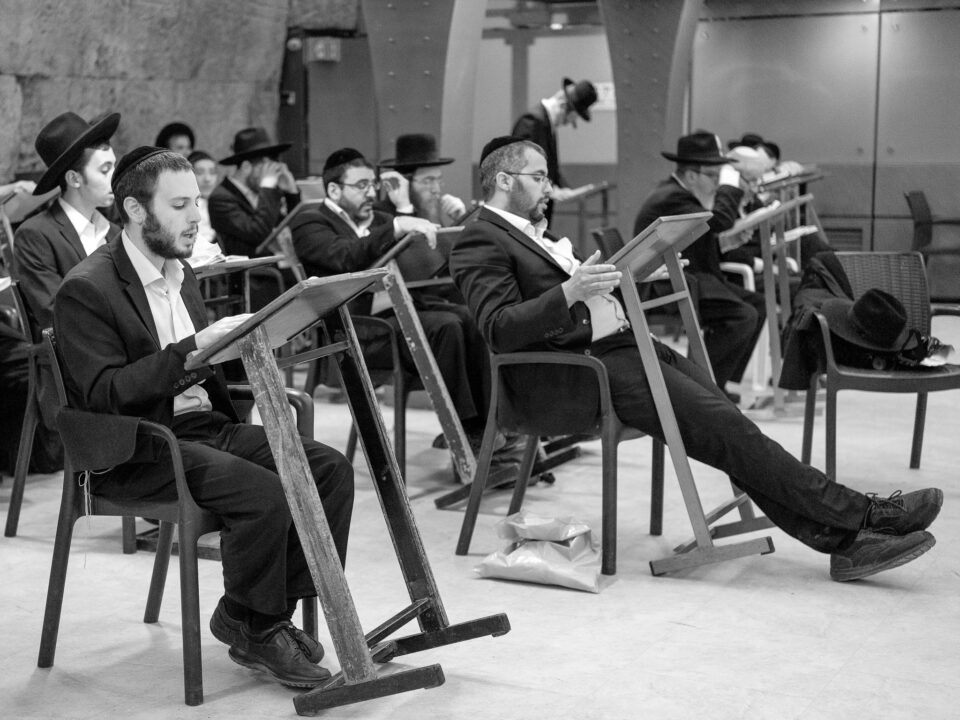 Religious Jewish soldiers also come to the site to pray. As I was taking pictures, I noticed two soldiers walking around. I asked if I could take their picture and they happily agreed: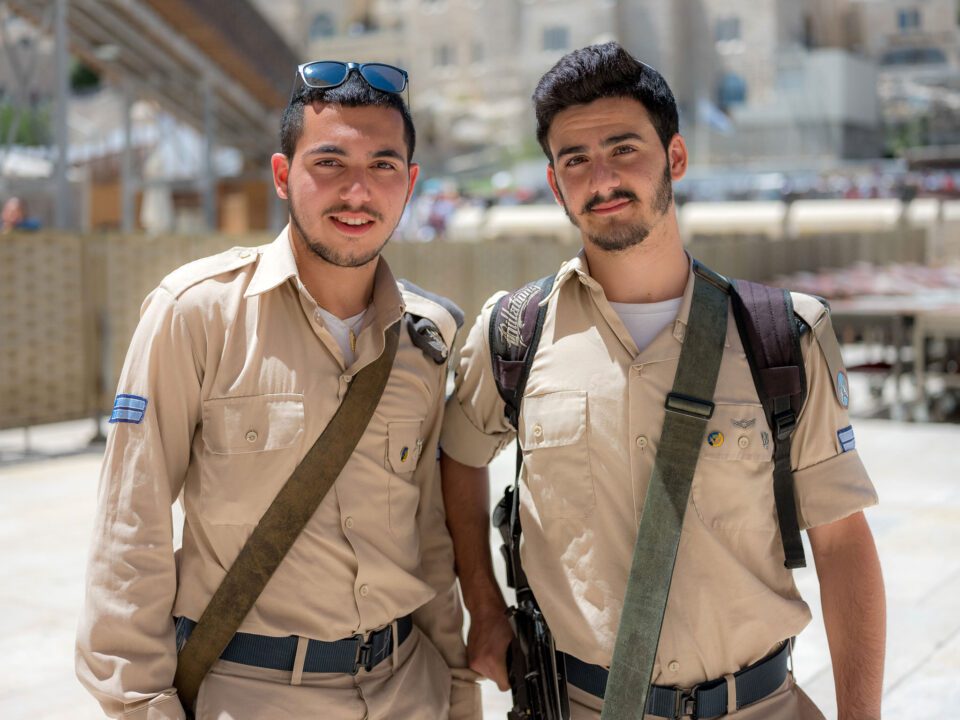 I messed up my ISO here – after shooting indoors at high ISOs, I forgot to bring my ISO down. The GFX 50S handled it really well despite my error, since I had the shutter set to Electronic + Mechanical, so instead of overexposing the image, the camera simply raised the shutter speed to 1/12000 of a second (electronic shutter).
The Western Wall was also an interesting place to be in on the Memorial day. It was a pretty big day, with the president, party and army leaders, along with many foreign diplomats present during the memorial ceremony. It was very crowded and I could not get very close, so after the event was over, I walked around and took some pictures of the memorial area and the soldiers: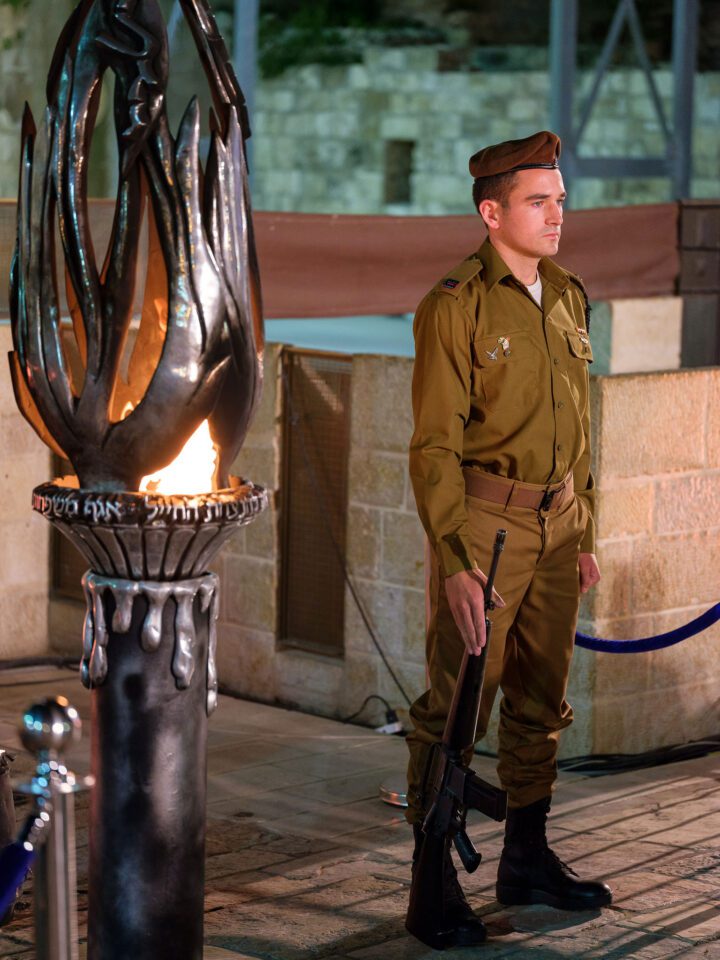 Here, soldiers are attentively listening to their commander after the event: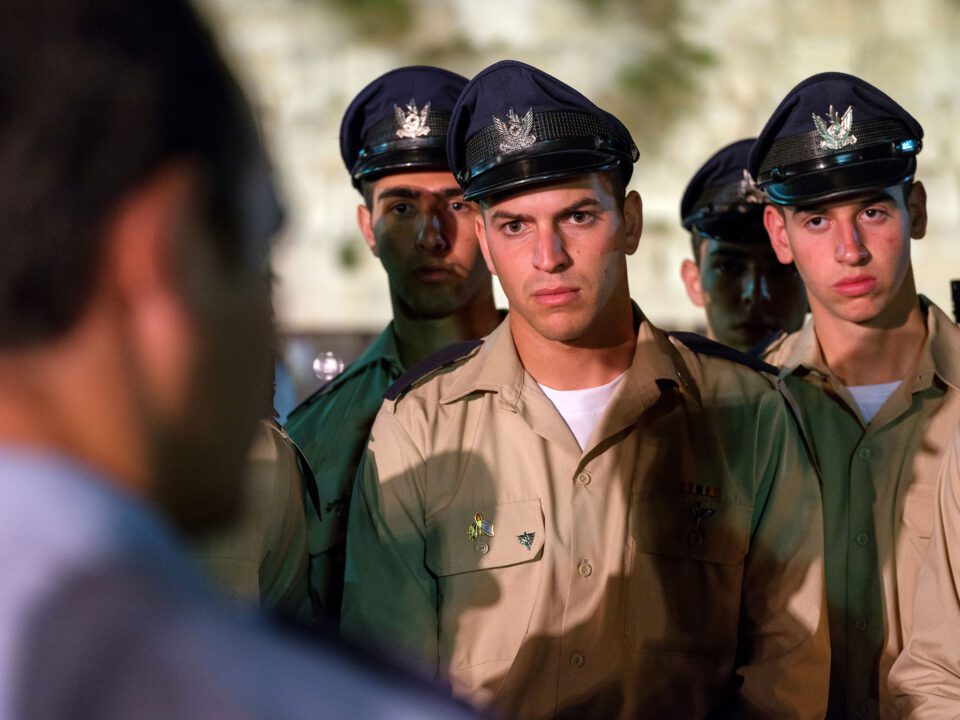 The Western Wall is a great place to photograph, so if you don't know where to start, I would definitely recommend it as the first spot to visit with your camera. If you have the time, be patient and wait for the opportunities – they are always there.
8) King David's Tomb
Another holy site that attracts a lot of visitors is King David's Tomb. It is a fairly small place to visit, so it can get crowded pretty quickly. Inside the building, you will often find religious Jews reading Torah, many of whom are typically Ultra-Orthodox, which means that they most likely won't like being photographed. I moved to the side, took a picture and did not see any emotional response, although the older gentlemen dressed in white in the back clearly did not like cameras pointing towards him – as you can see, he is blocking his face from the left side, where another photographer was taking a picture from that angle.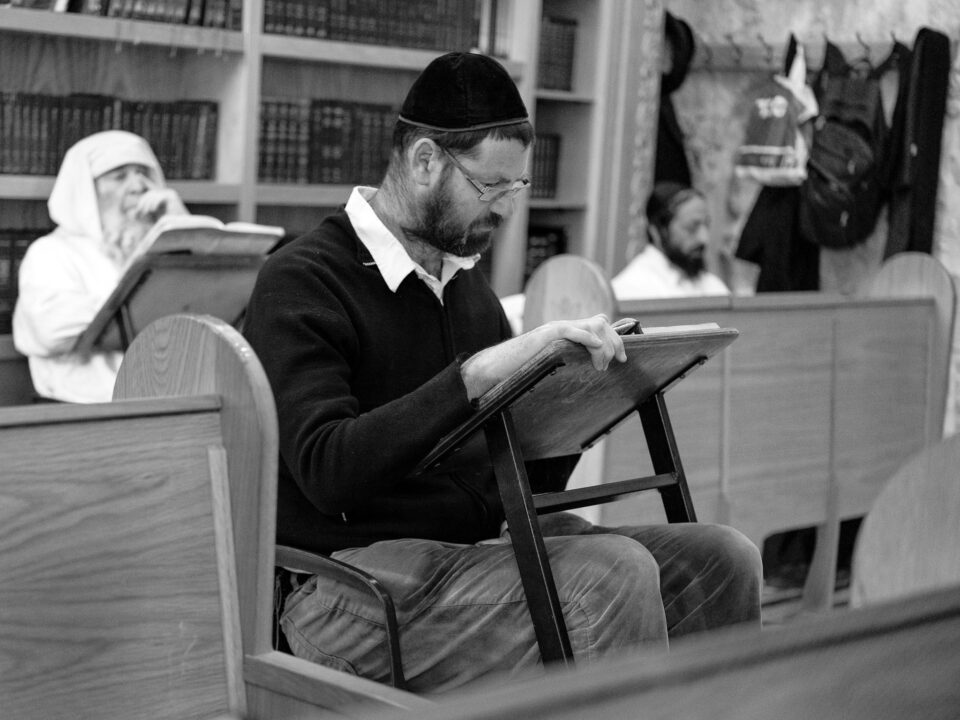 Shooting indoors here was tough – the amount of ambient light was very low and the room was lit by nasty lights that cast a lot of yellow and green colors on the subjects, which is why I ended up converting the image to black and white (Fuji Monochrome Color Profile looks great in Lightroom) and adding a bit more grain in post.
To be honest, there is not much to photograph at this site. The next room contains King David's tomb and aside from the tomb itself, there is not much to shoot there either. There were a lot of people in this tight room, so after I glanced there a couple of times, I decided to leave and look for other opportunities.
9) Old City Streets
As you walk in the Jewish Quarters, you will find more great opportunities to take pictures, since you will be dealing with ancient walls and all kinds of tourists and religious people walking on the streets. As we toured the area, I looked for interesting subjects and I was able to capture a few interesting shots of religious and Ultra-Orthodox Jews. Here, an Ultra-Orthodox Jew is walking with a cane right next to the ancient city walls: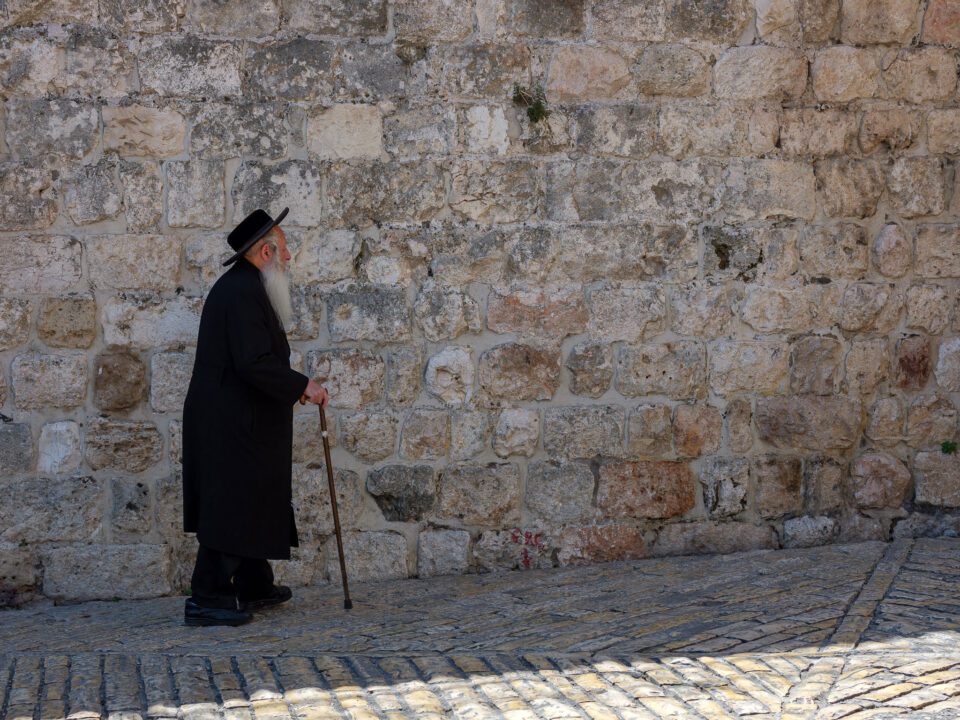 And as I walked along another road, I found a couple walking towards the Jaffa gate. They were already behind me when I realized that I wanted to take a picture, so I had to run back to a spot and wait for them to cross the area. I found an angled yellow sign, which ended up working well for my composition and framing: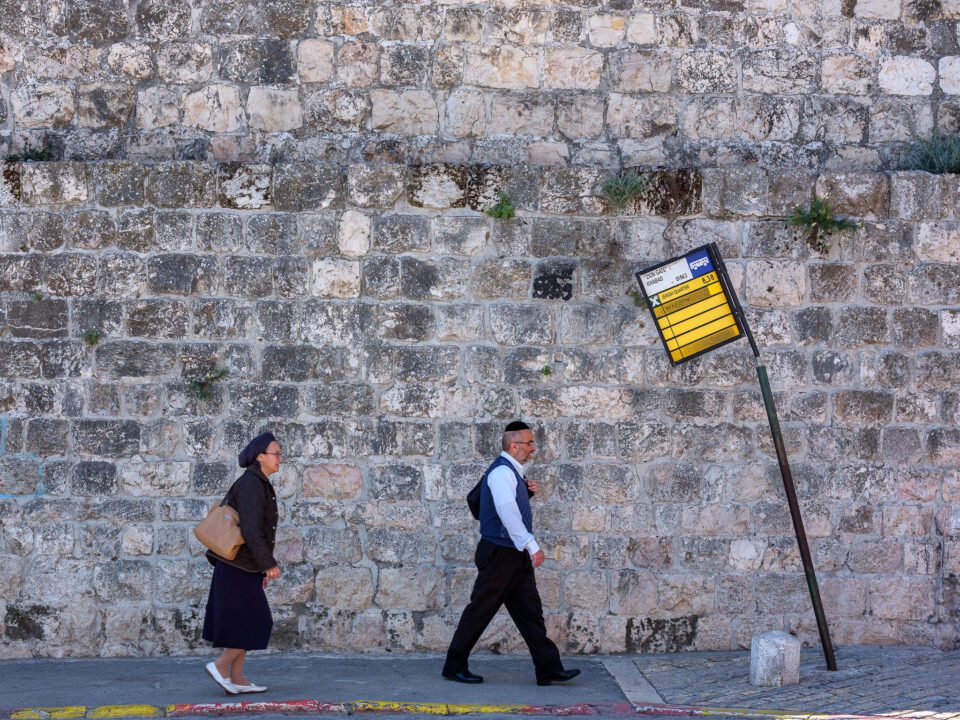 An Ultra-Orthodox Jew passing by a tourist woman in a nearby market: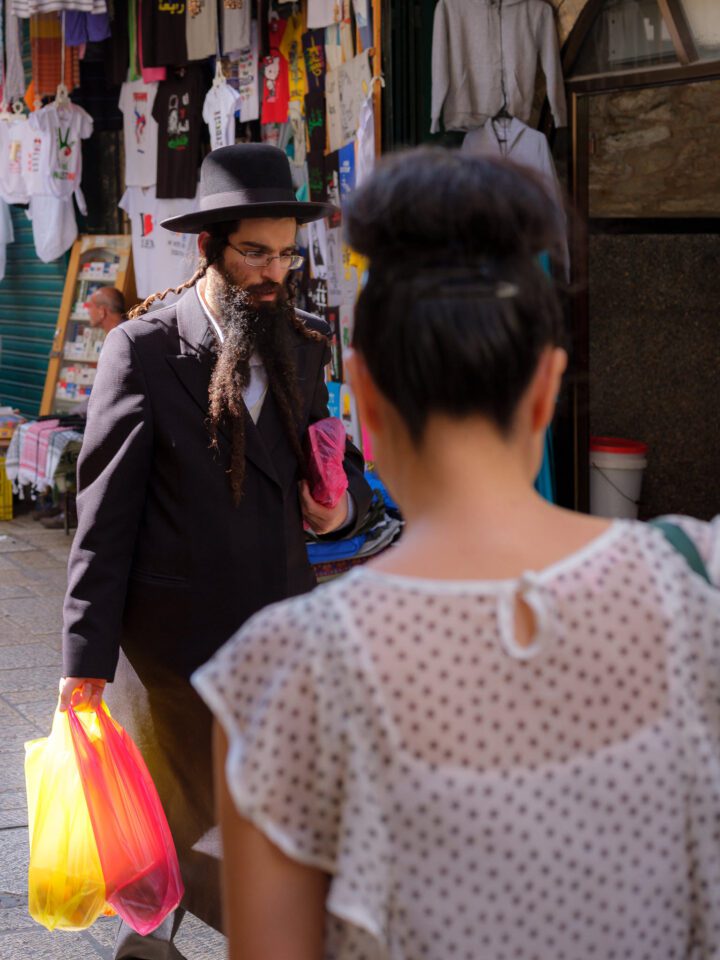 In addition, you might find interesting colors and textures on the walls, including hand-made mosaic. You might also find beautiful gates to photograph: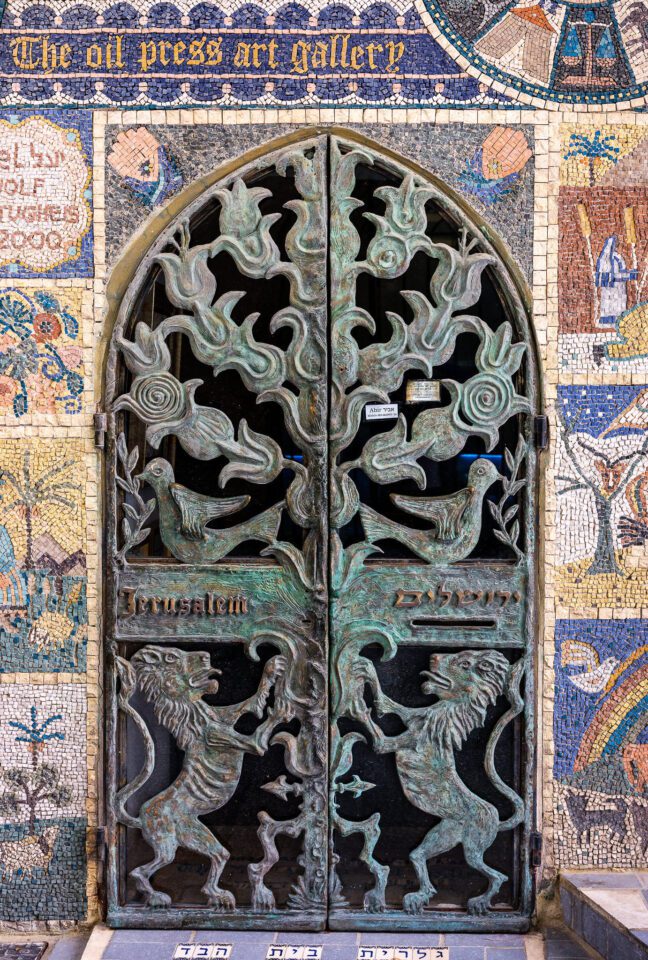 Looks like this mosaic is depicting Moses in Egypt: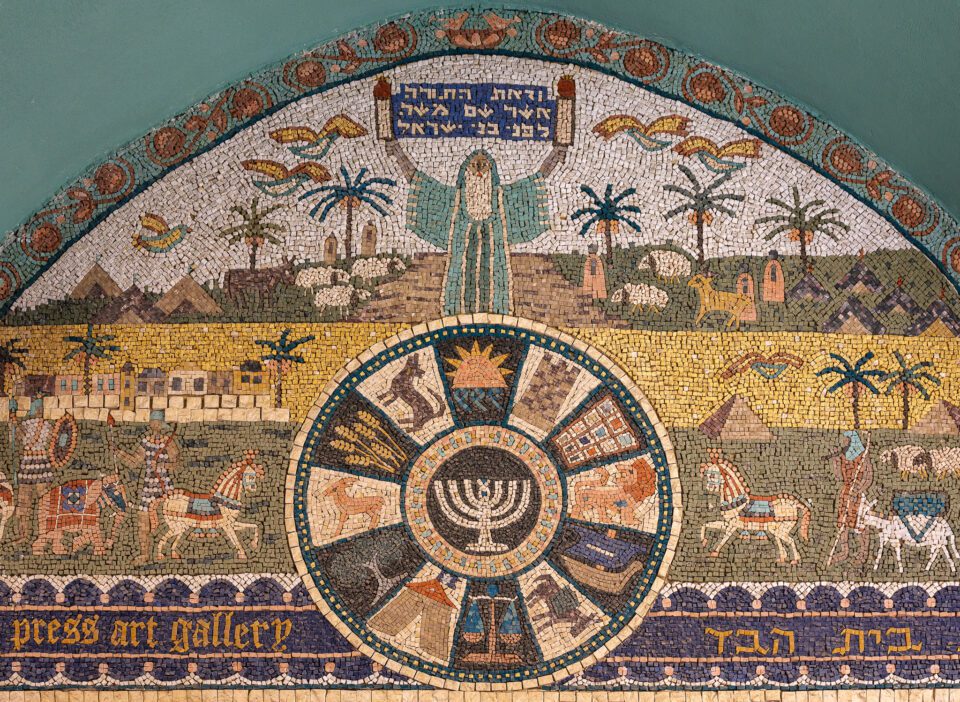 Take your time and explore the Jewish Quarter – there is much to see and photograph! Let's now move on to the Christian Quarter. Please select the next page below.