4) Jerusalem
We started our tour in the ancient city of Jerusalem and for a good reason – it is an absolutely stunning place to visit and photograph. Only about an hour away from the Ben Gurion International Airport, Jerusalem is very easy to get to from Tel Aviv by taxi or bus. Although I was quite a bit tired from my long flight from Denver to Munich and then from Munich to Tel Aviv, I could feel the magic of the city as we were getting into it and could not wait to start exploring it. With its ancient structures, old buildings and rich history dating back thousands of years, I knew Jerusalem was what I came to Israel for. In fact, I fell so much in love with Jerusalem, that I dedicated most of my second week in Israel to it, coming back as soon as the Vibe Israel tour was over.
After having a great group dinner at a local restaurant, everyone felt tired and went to sleep, since the next day was going to be packed with the tour of the Old City. My body clock was completely messed up, so after sleeping for a couple of hours the first night, I was up bright and early. When I looked through the hotel window around 5:30 AM, I realized that Jerusalem was still sleeping – not a single soul was on the streets. I mounted the GF 63mm f/2.8 on my GFX 50S and with a fully charged battery, went out shooting.
The streets were indeed completely empty! Aside from a couple of cars here and there, it was dead silent all around me, giving it a very calm, almost eerie feel. Everything stayed pretty calm even as the sun rose at around 6 AM, giving me an opportunity to photograph some of the old streets in warm morning light. Between the streets I found some interesting textures and graffiti to photograph: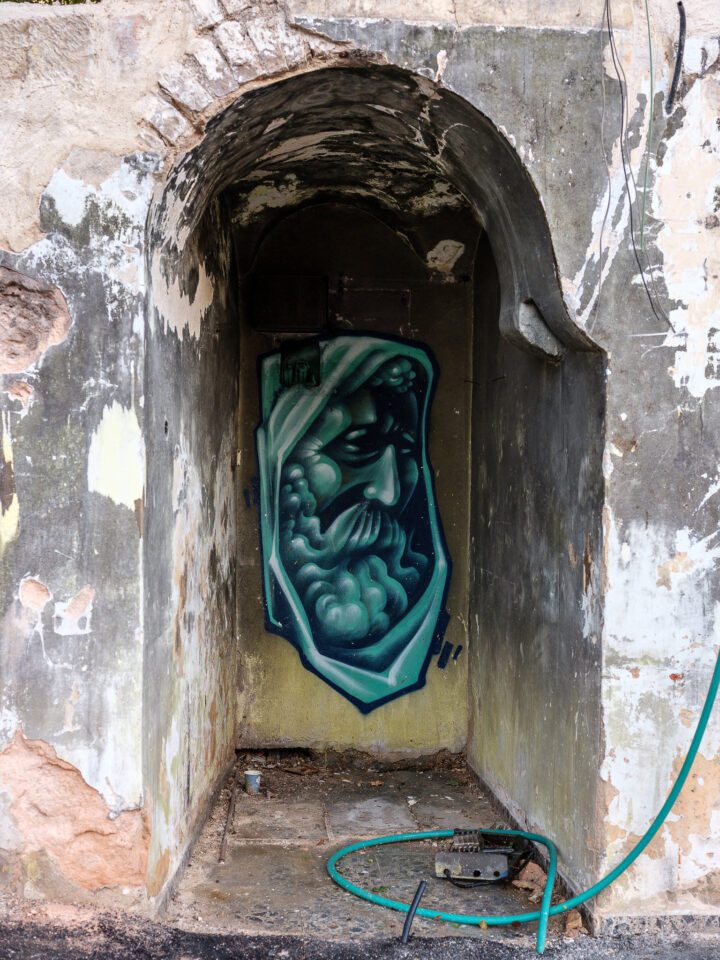 And there were a lot of colorful doors all around as well: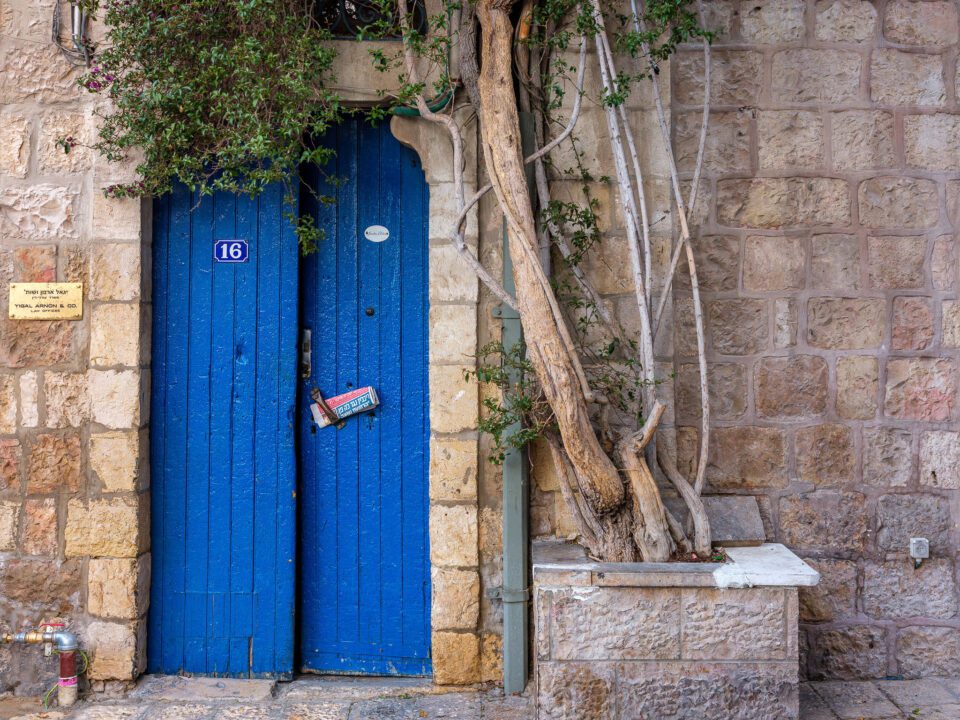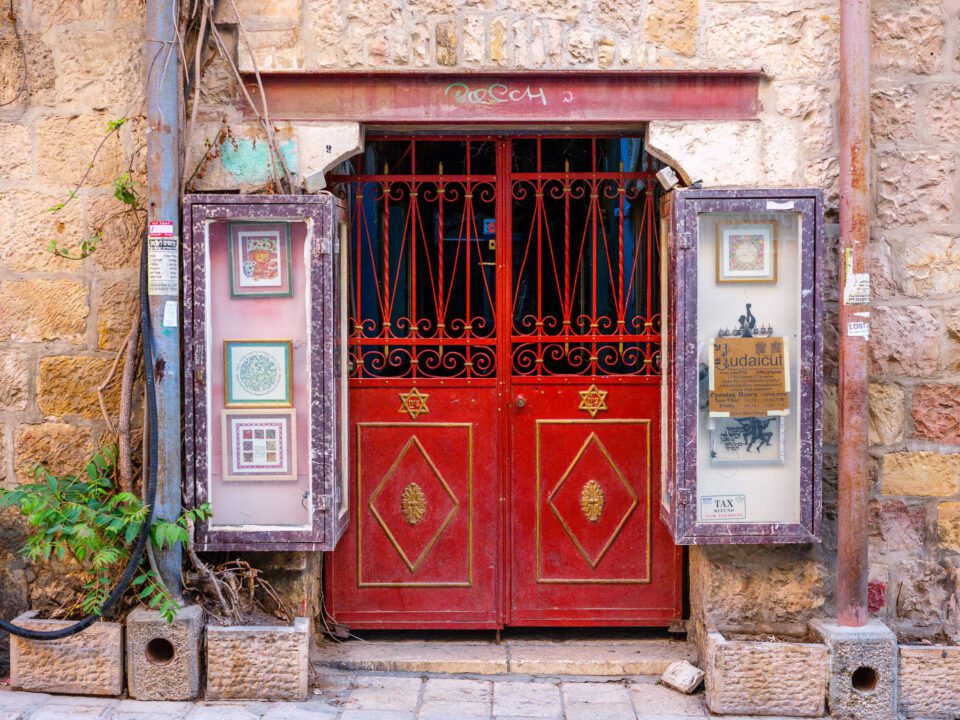 As I kept on going, some cars and motorcycles started appearing on the streets, giving me an opportunity to try out some interesting shots with some motion: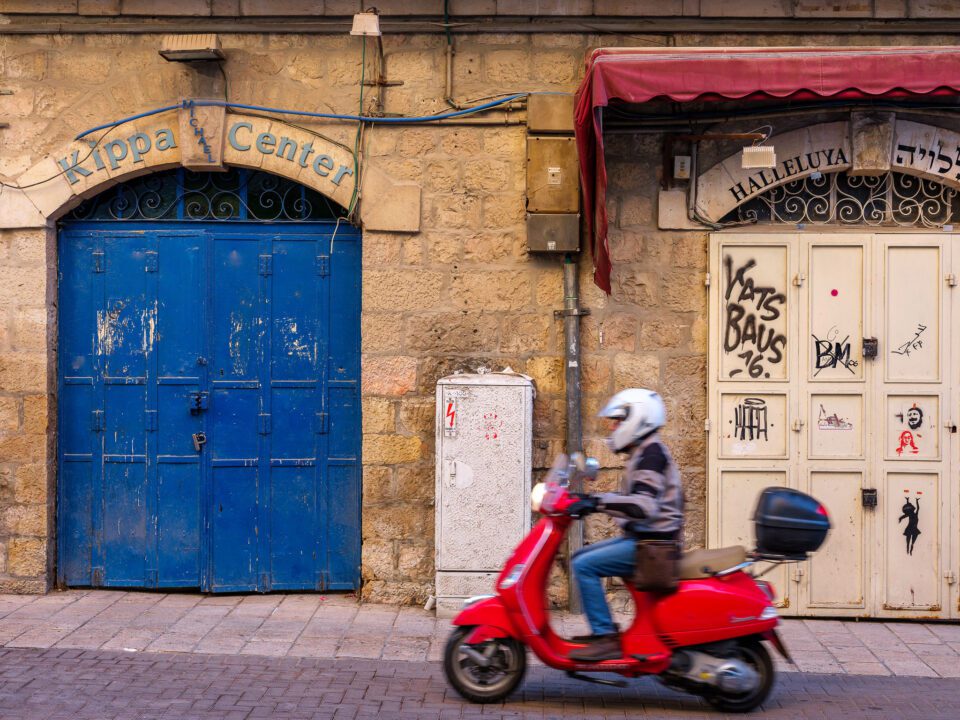 Before my trip to Israel, I did not have an opportunity to shoot the GFX 50S for anything serious, so this was the first time I had the real opportunity to play with the camera. Just like all other Fuji cameras, the GFX 50S turned out to be a very intuitive camera to use, so I was able to get going with it pretty quickly.
The morning light was beautiful, so I took every opportunity to shoot anything interesting I could find, including old walls, textures and wall art: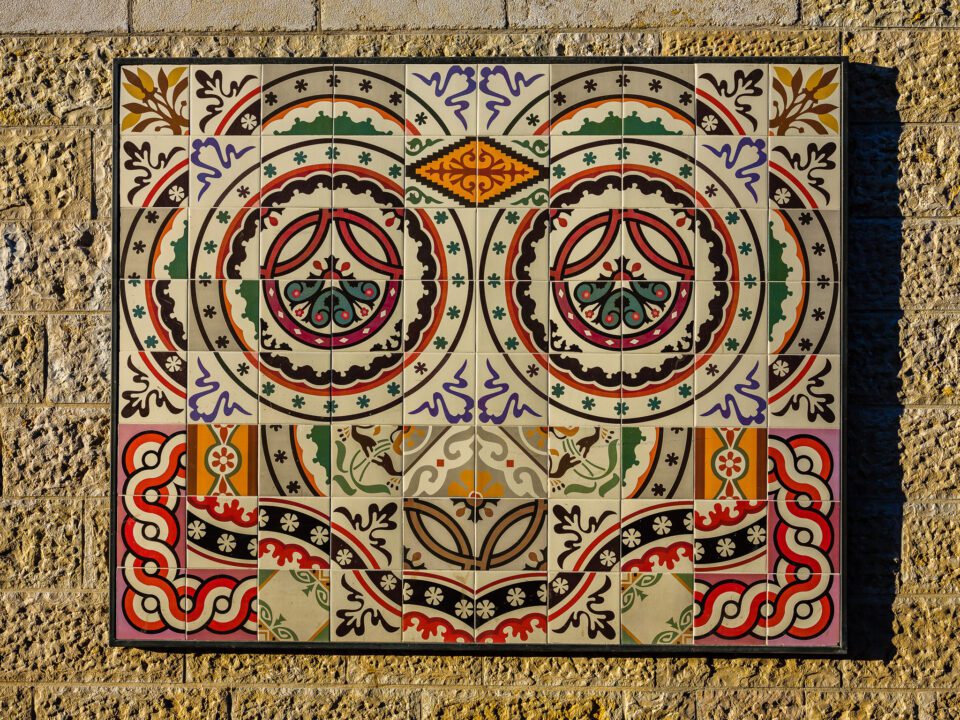 And as I was moving along, two Palestinians hopped off a bus, probably hurrying towards their workplace. Since it was so empty all around and I was the only guy around, they turned towards me and smiled. I asked for a photo and they happily agreed, posing for the below shot: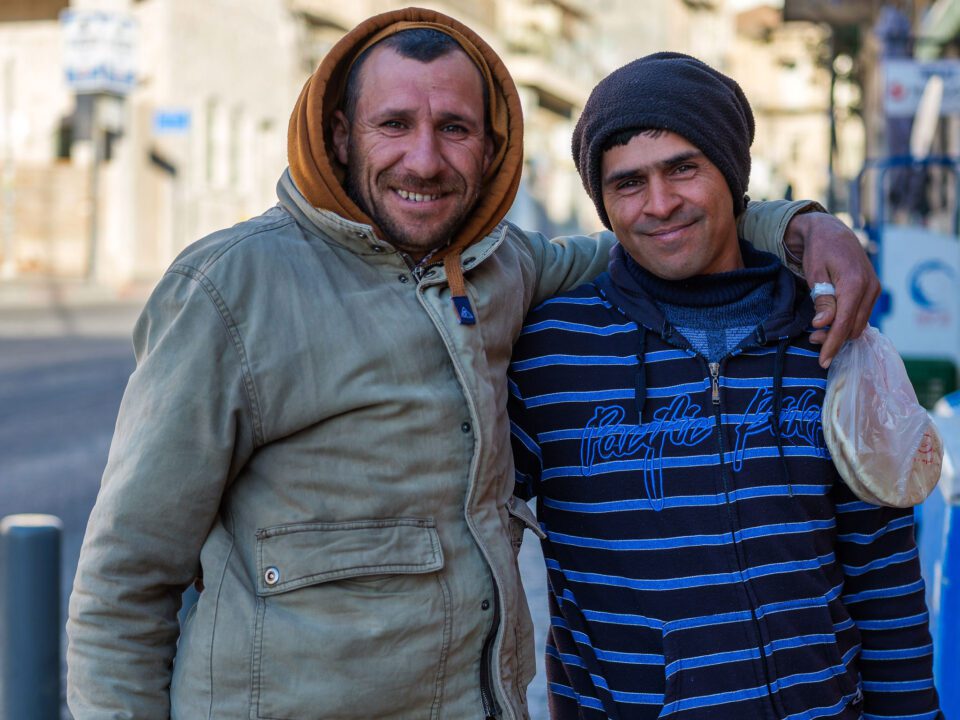 As you can see, it was a pretty chilly morning. I was glad that I brought a warm jacket with me, since it was also slightly windy, making it feel very cold. It turns out that despite being only one hour away from Tel Aviv, Jerusalem has a very different climate – it is typically colder and not as humid in comparison.
It was a wonderful experience walking on the streets of Jerusalem by myself. I did not feel scared or threatened by anything and the peaceful environment around me really calmed me down. As I was walking back towards the hotel where we were staying at, the city began to awake and more people started to appear on the streets. The below Ultra-Orthodox Jew moved a bit to the left of the bus stop, since there was another female with her children there. I turned towards him and took the below photo from the other side of the street: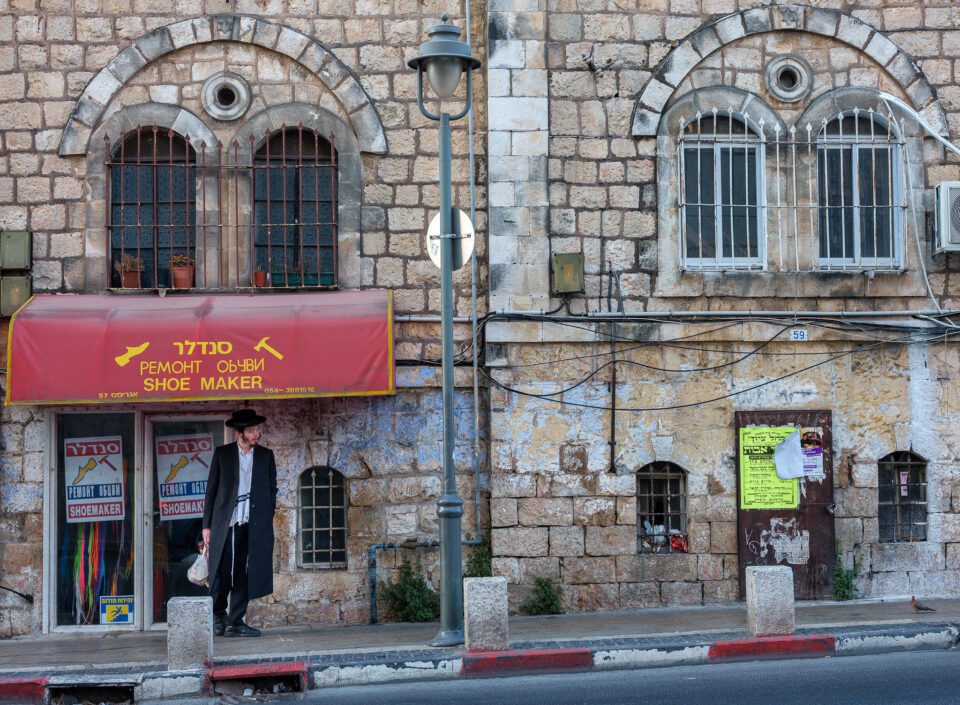 As I have previously pointed out, the population of Russian-speaking people is very high in Israel and also specifically in Jerusalem – you can see that the Shoe Maker sign is written in Hebrew, Russian and English, and those are the three most common languages spoken on the Jewish side of Jerusalem.
Moving along, I spotted a street with bright morning light shining right into it. At the end of the street, I saw a man walking towards me. I turned the camera on, focused on one of the trees to the right of the street, stopped down the lens to f/8 for more depth of field and waited for the moment. As the man walked right into the light, he looked down on the ground, since the light was too harsh for his eyes. As he started to pass the area of the scene where I pre-focused, I took the picture: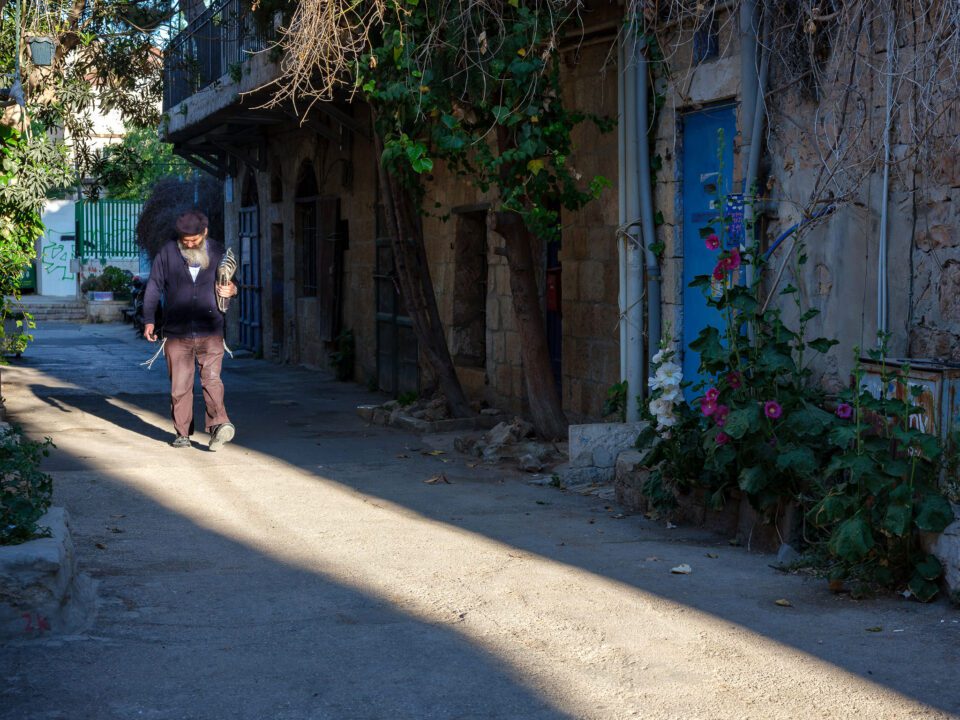 The Fuji GFX 50S is a wonderful camera, but its autofocus is contrast-detect only, which can be pretty slow at times. For this reason, I quickly found out that if I wanted to get a moving subject perfectly in focus, I had to pre-focus and wait for the subject to enter the focused area.
Similar to other countries in the Middle East, Israel has a pretty healthy population of feral cats. Although the Israeli government tries to control the population of cats on the streets by neutering or spaying them, I found plenty of cats waiting to be fed all around Jerusalem and Tel Aviv. The below kitty approached me as soon as I stopped on one of the street corners, probably waiting for me to give some food: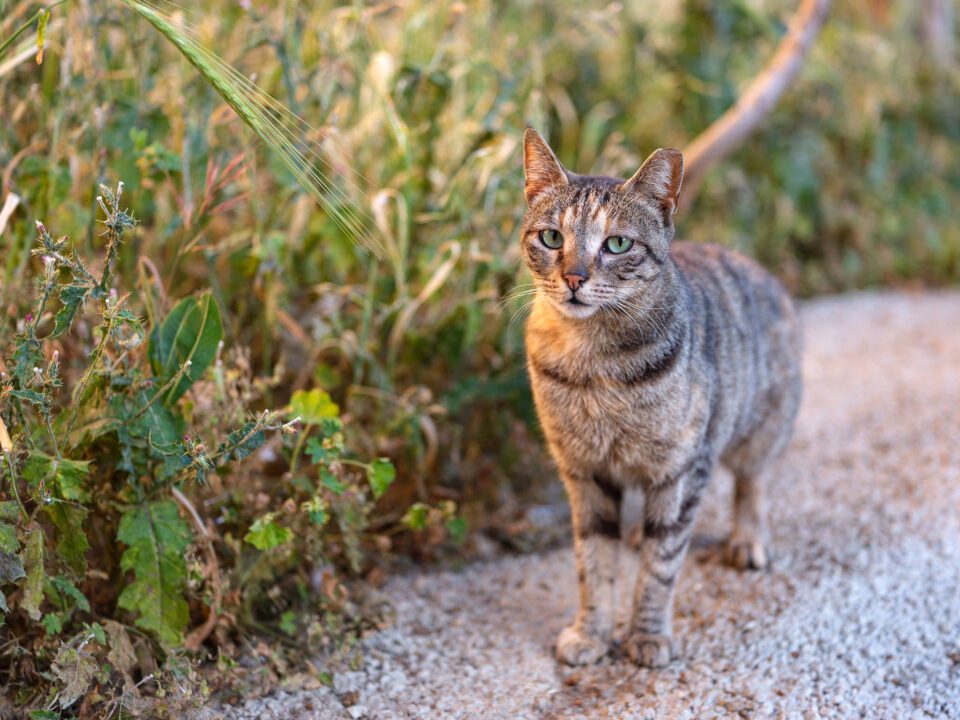 And here is another picture of a street cat that fell asleep under a big cat graffiti:
It was time to get back to the hotel at this point, since I was getting hungry and I knew that we had a long day ahead. But I was happy that just an hour or so of walk in the morning let me capture a number of shots I was already happy with – definitely a good start!
After having a fine Turkish-style breakfast at the hotel, our group got together and headed off towards the Old City. On our way, we passed along Mamilla Mall, where we occasionally stopped and photographed some of the buildings, including the below Stern House: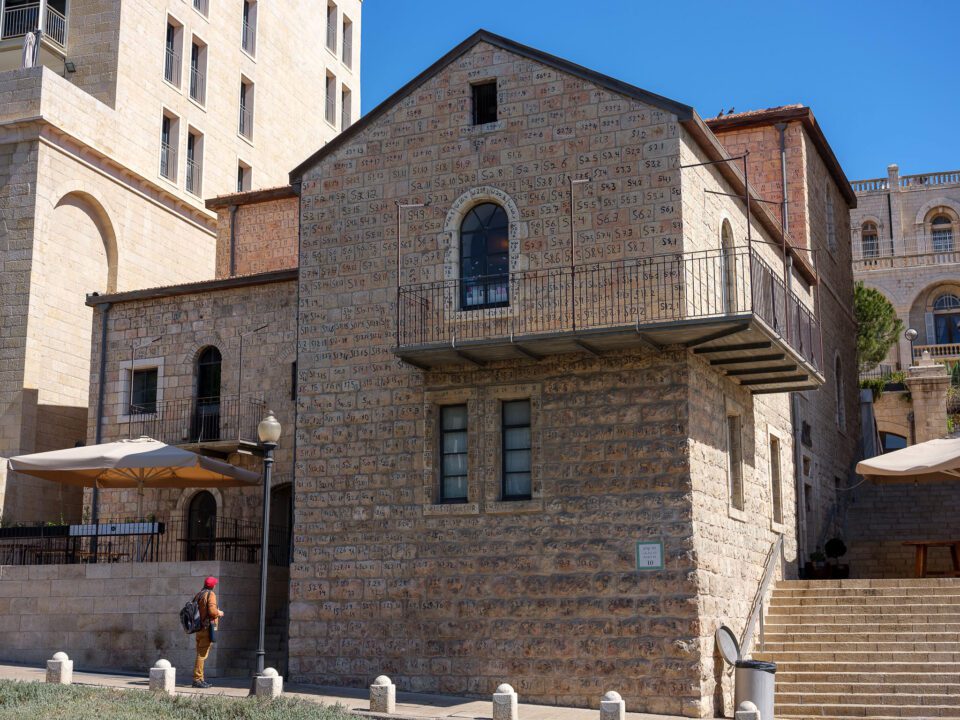 There were also luxurious homes along the way, with beautiful facades and archways: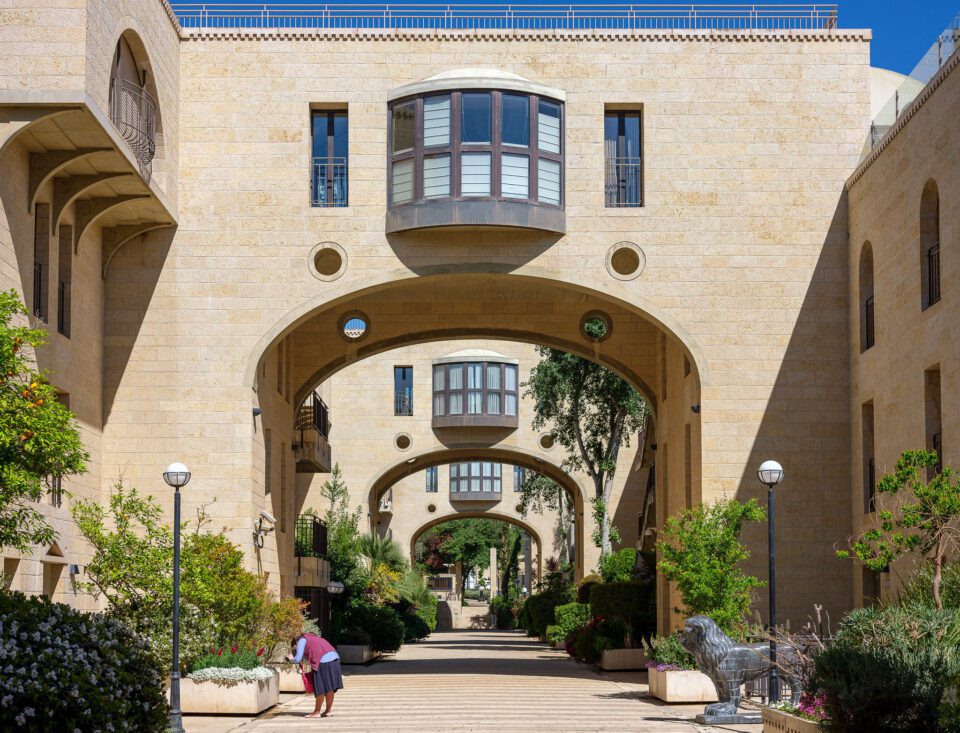 The streets were busy with life – lots of young people and children were hanging out on the main streets of Jerusalem: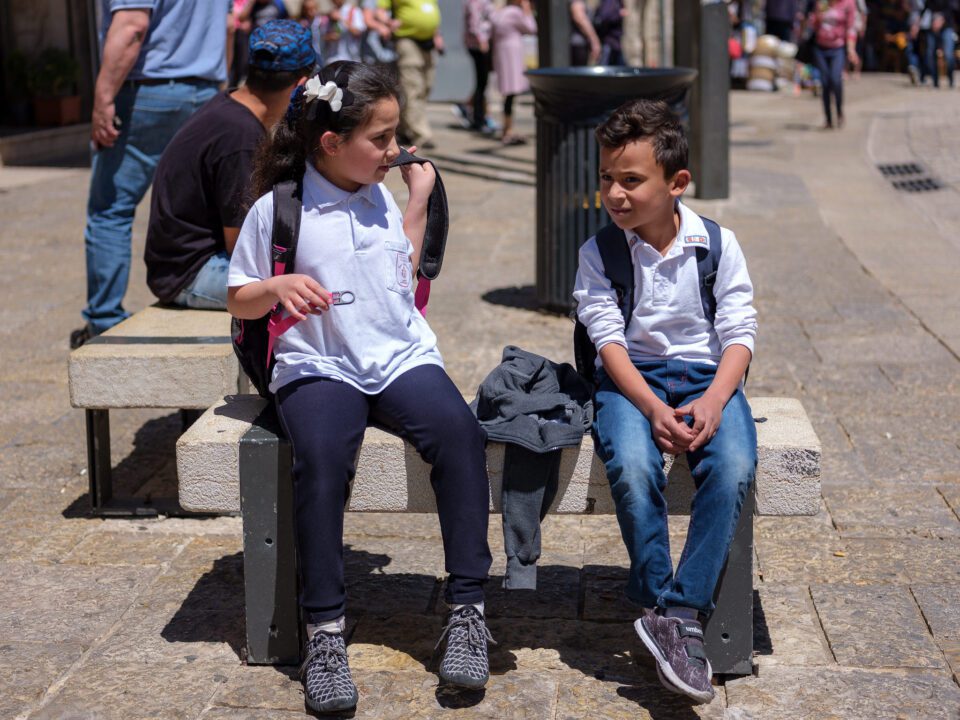 I found Jerusalem to be fascinating in many ways, especially when it comes to its people. So each time I walked in the city, my camera was always in my hands, ready to take a picture. Finding interesting subjects is not a problem in Jerusalem – you will come across many people with different backgrounds, ethnic groups and religions: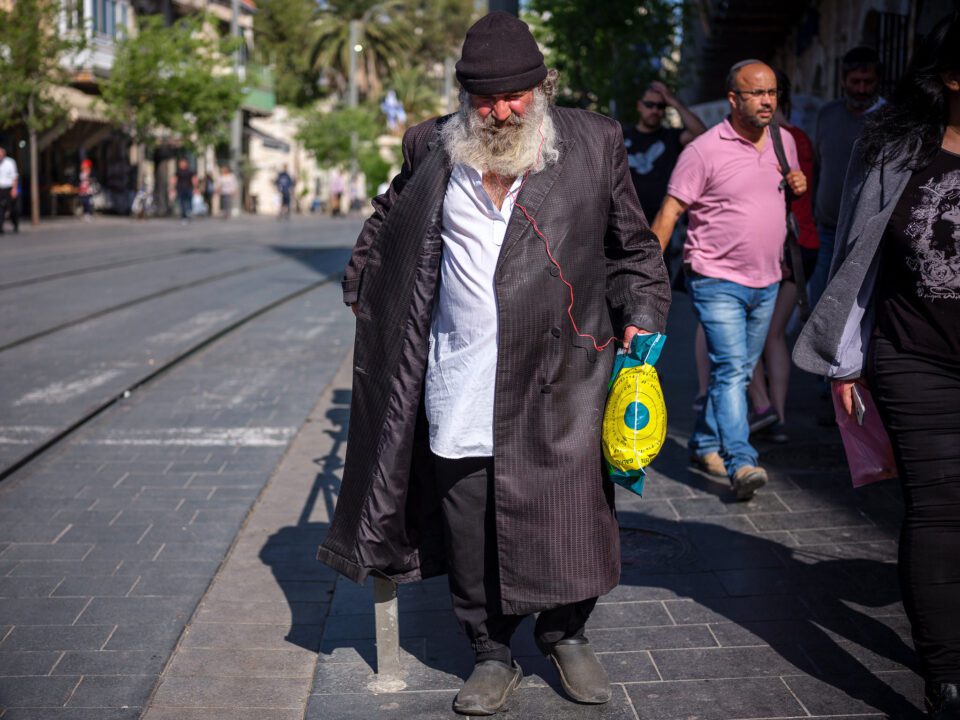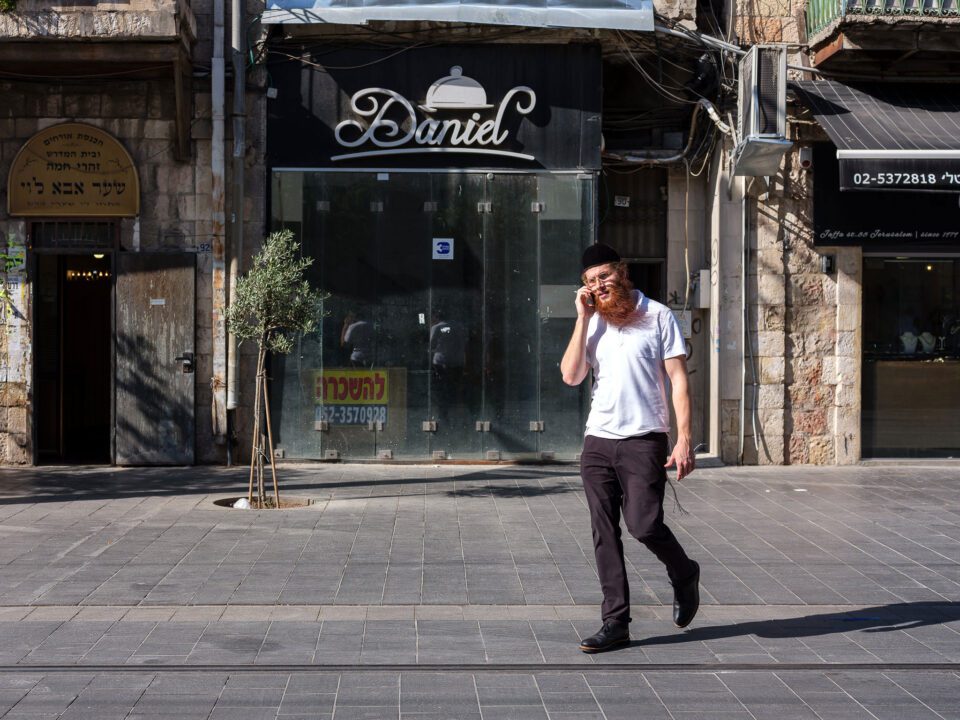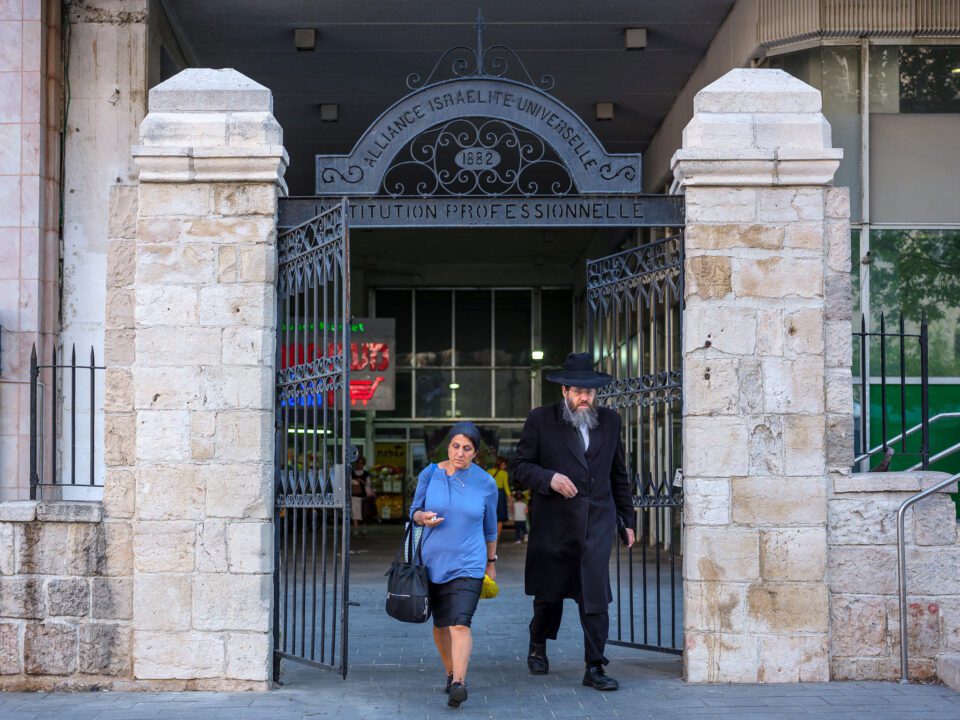 Despite the fact that Jerusalem is a much more religious city than Tel Aviv, there are many secular Jews living in Jerusalem as well. I photographed the below young couple who were walking towards me, with the guy passionately explaining something to his girlfriend: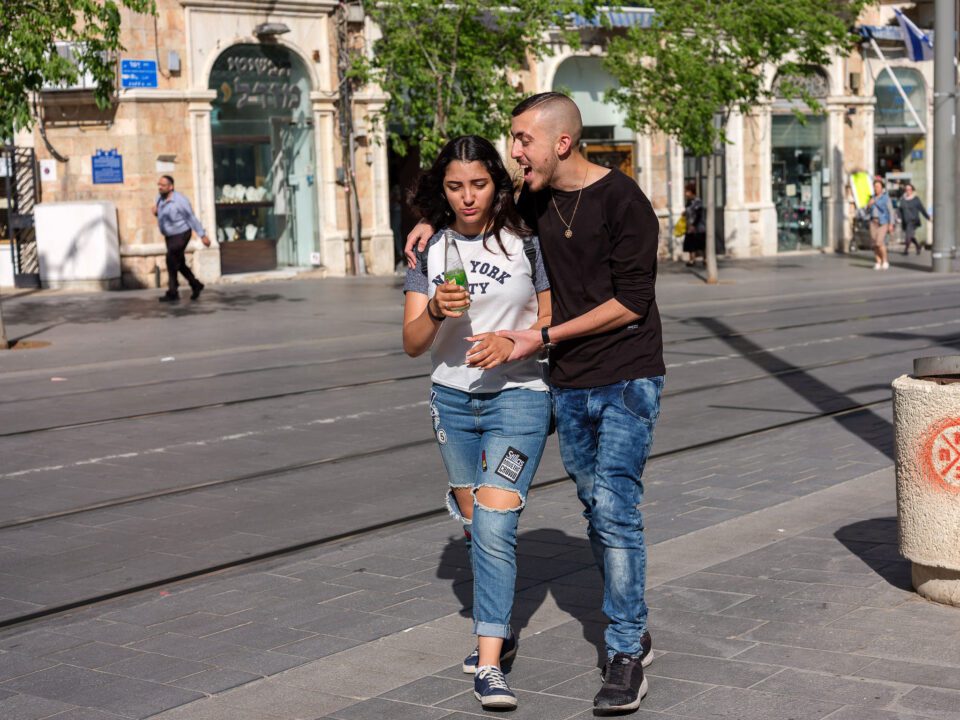 And the nicely dressed lady below was walking towards her parked car after shopping at a local store: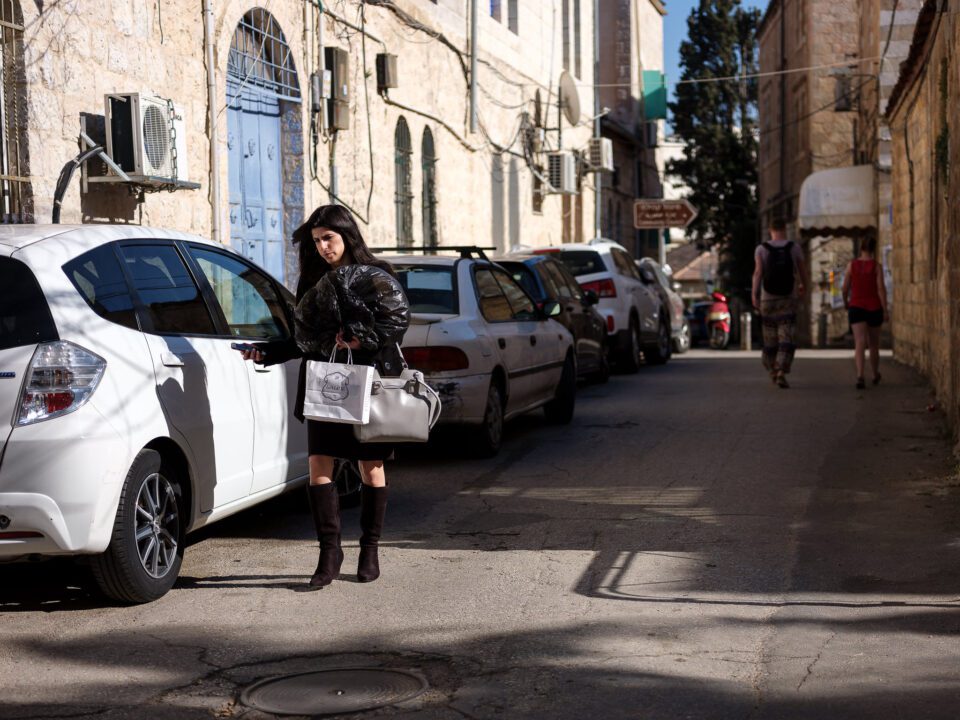 Some of the streets of Jerusalem are very colorful and worth exploring. Juan Jerez, an inspiring photographer from Paris who I immediately became friends with (what an amazing guy!) decided to join me for a walk in the afternoon, so we decided to hit the streets. We found a very colorful alley and decided to wait for some people to show up. Although it was not a very active street, we eventually got some people to capture: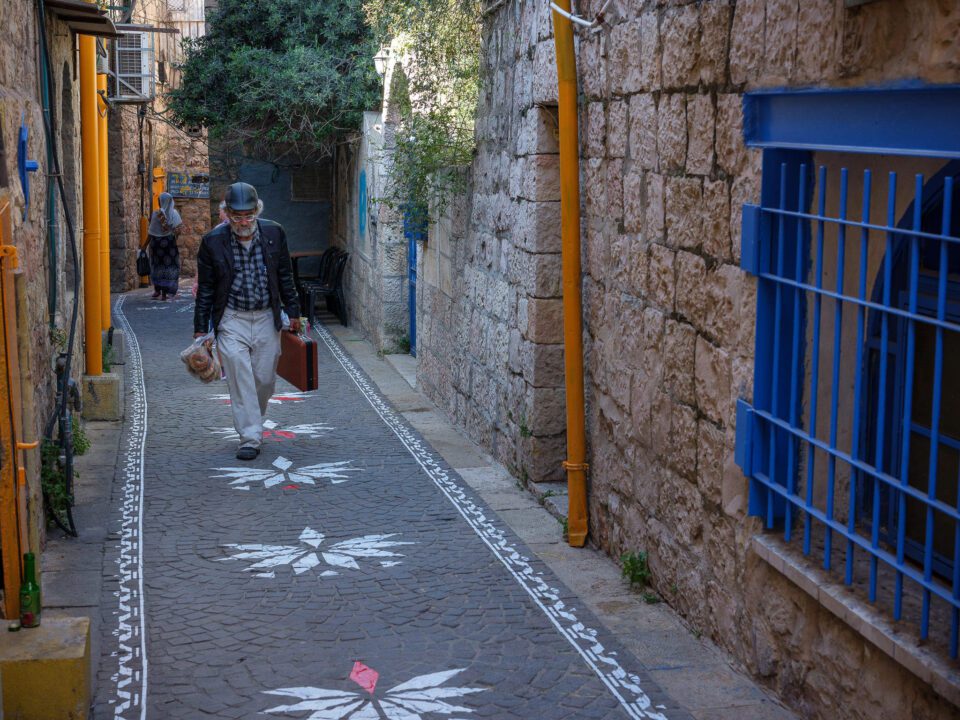 Generally, photographing people in Israel is not a problem, especially if you ask them first. There are, however, some exceptions – I quickly found out that the Ultra-Orthodox Jews do not like to be photographed. In fact, as soon as they would see me raise the camera, they would either cover their faces, or walk in a different direction. I did not get in trouble for this, but it was pretty clear that they preferred to be left alone and not photographed. I am sure there is a religious reason for it, since I found it to be a pattern among this particular religious group. While I tried to approach some of them, either my camera or the language were a problem. For this reason, my two methods to photograph them was the "hit and run" photography, where I would either take a quick shot and move along, or lower the camera to my chest level with the LCD tilted up towards me and pretending like I was looking at the camera. The latter method proved to be the most fruitful, since the GFX 50S does not have a fast AF system for those quick snapshots and looking at the LCD and slowing down allowed me to frame my shots much better.
This is where tilting LCD screens come really handy! While I love my Nikon D810, I often end up using my Nikon D750 for its tilting LCD screen. Kudos to Fujifilm for including this feature on a medium format camera. I wish all manufacturers started using tilting LCD screens on every camera, since it is a must-have for street photography. If Fuji can do it on a high-end medium format camera, everyone else should be able to do it too! A tilting screen does not diminish build quality or weather sealing of a camera – those are just myths and excuses.
Thanks to the chest-level shooting, I was able to capture a number of shots of locals, who had no idea what I was doing: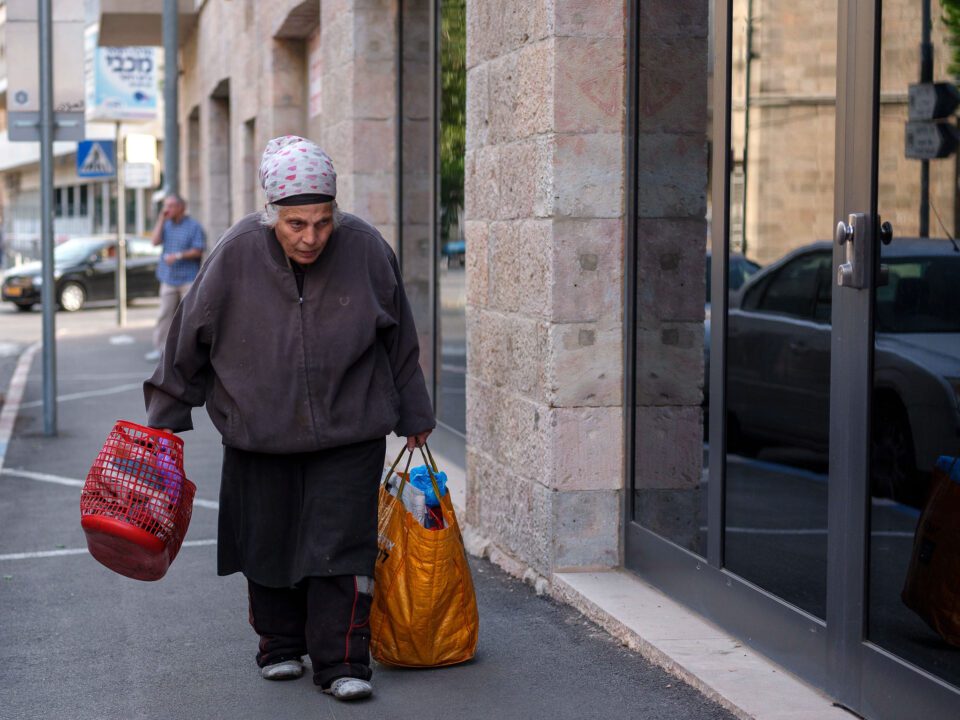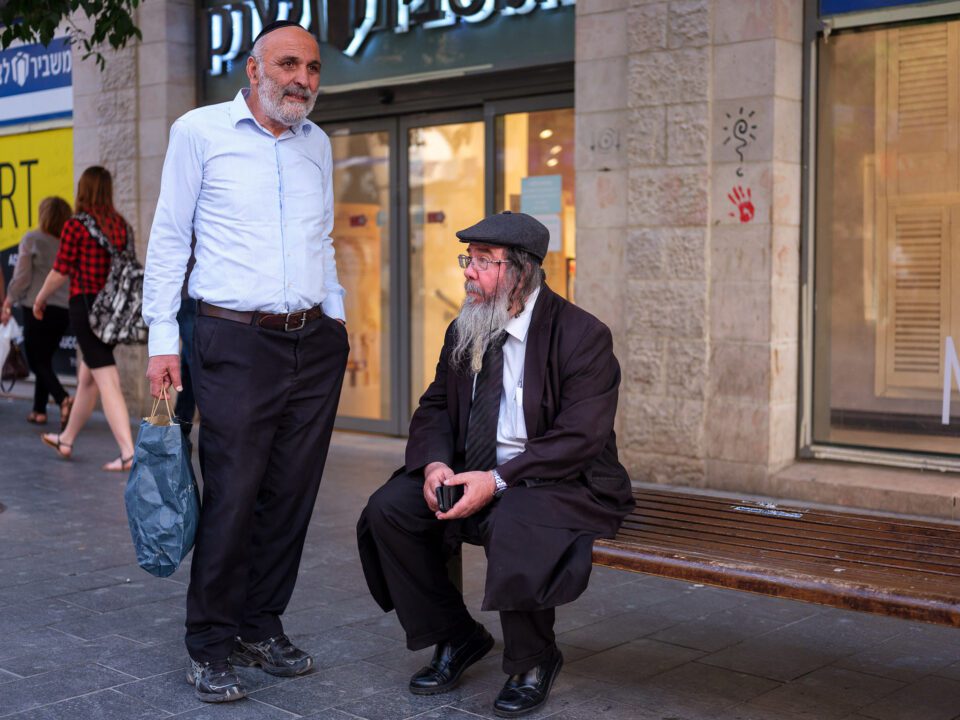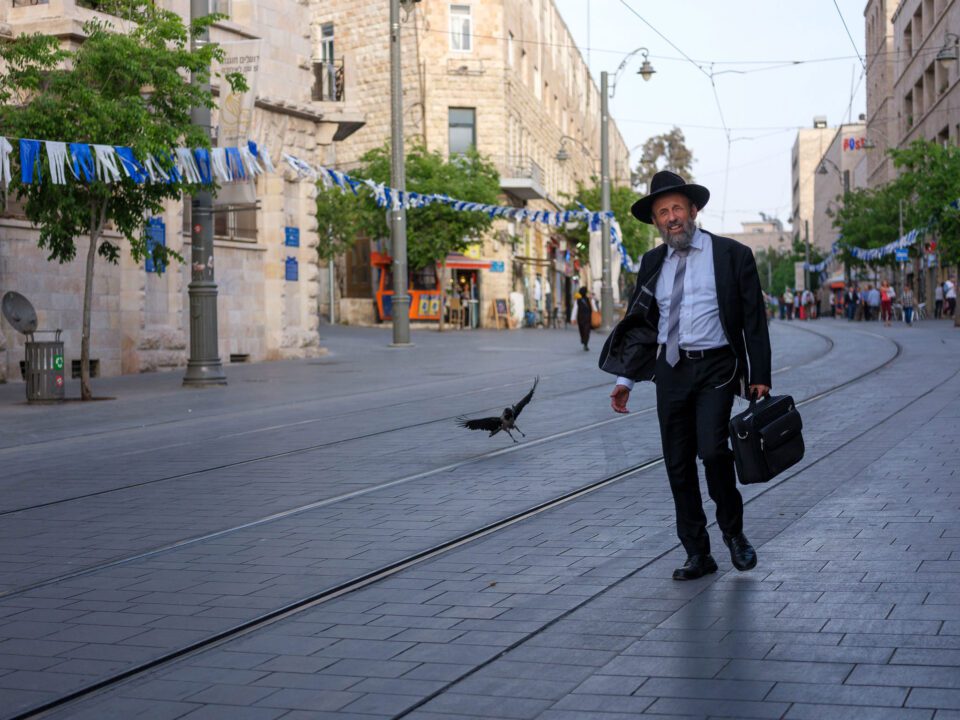 Sometimes after standing and photographing them for a while they would turn towards me and look, but I would keep the camera moving towards another direction, pretending like I was filming something else.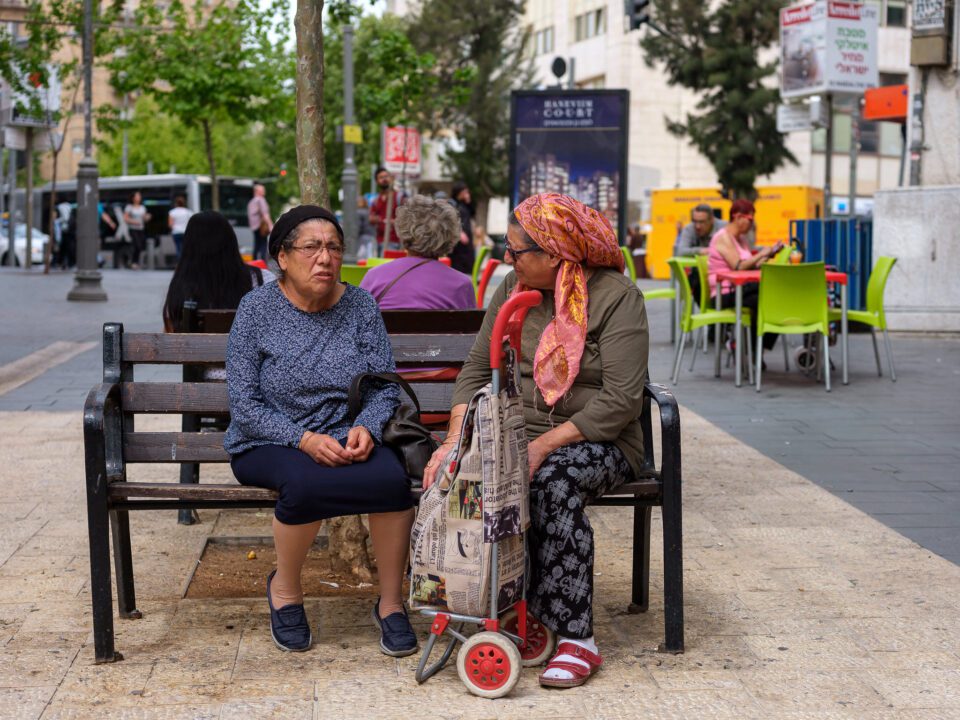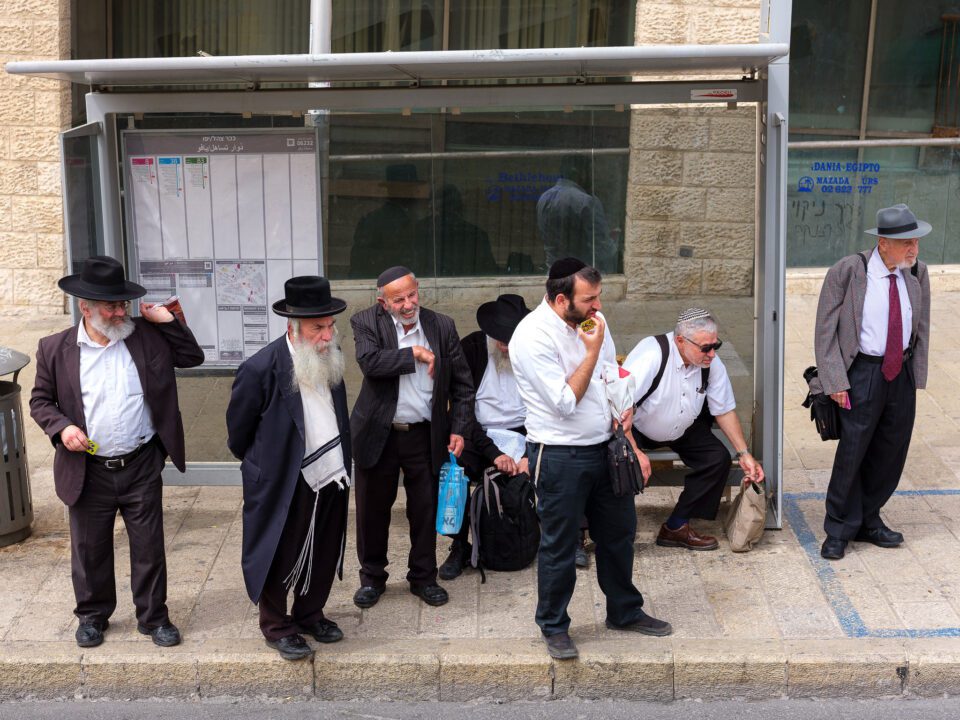 5) Mahane Yehuda Market
The Mahane Yehuda Market, also known as "The Shuk" (from Arabic word "Souk", which stands for "market") is the place to go if you are interested in photographing a busy market with a lot of action taking place throughout the day. Aside from opportunities to take pictures of busy merchants selling all kinds of foods and goods, you also have the opportunity to grab a bite in a local restaurant. And since everything is so busy around you with lots of people passing by, keeping your camera handy at all times might be a good idea.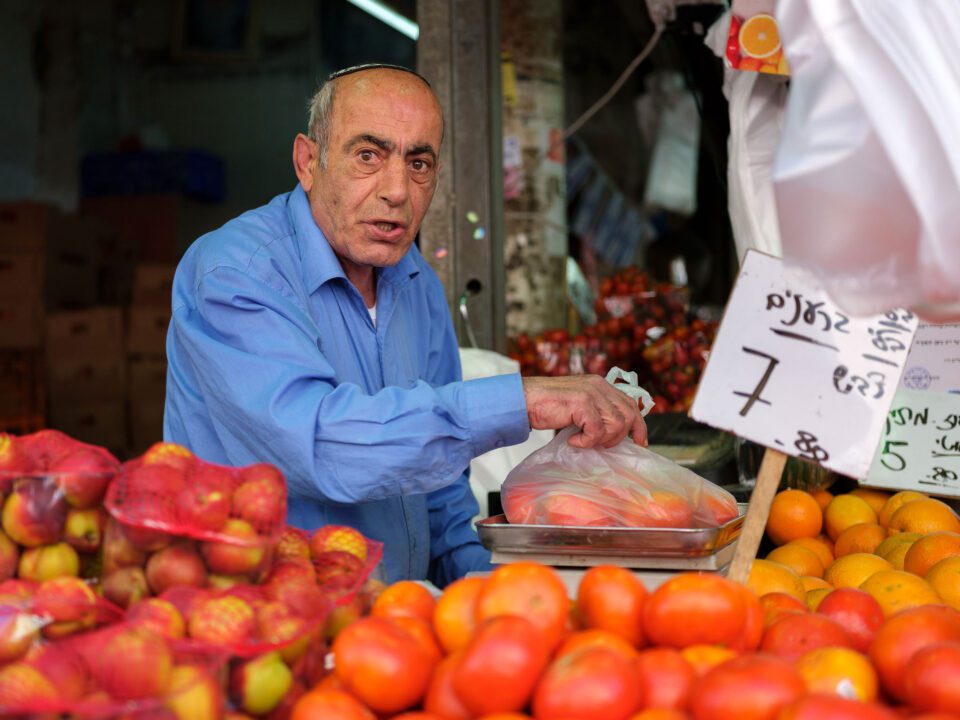 As you walk around, you will see many opportunities for photographing people. Just be sure that your camera gear is fast enough to capture the action, since nobody is going to stop and pose for you. The Fuji GFX 50S was not a very fast camera for the market, but I took the opportunity to slow down and shoot selectively, which worked out fairly well. In one case, I came across an older couple who were hanging out by a restaurant table. I raised the camera and took a picture and they both gave me this fierce look: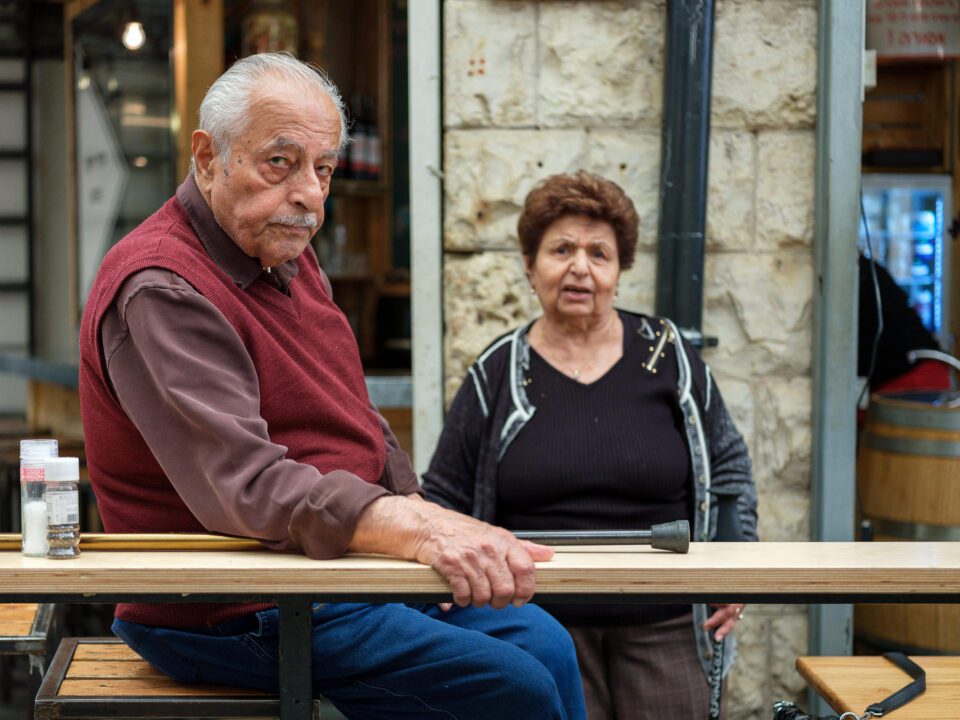 After taking the picture I thanked them and they did not seem to mind, probably thinking "damn tourist!".
Now if you really want to take pictures of patient folks who are used to being photographed all the time, come to the Iraqi area of the market, where Iraqi Jews hang out and play backgammon. Here, my recommendation would be to take your time, relax and wait for action. Action does happen for sure in this area, especially once the game intensifies, creating reaction from the surrounding observers. Backgammon battles are fun to watch and photograph, but don't forget your surroundings – other Jews who are not playing often just sit here to chat with each other and wait for their turns. In my case, since I was with the group and there were a number of us photographing the game, I decided to focus on the Iraqi Jews hanging out on the side: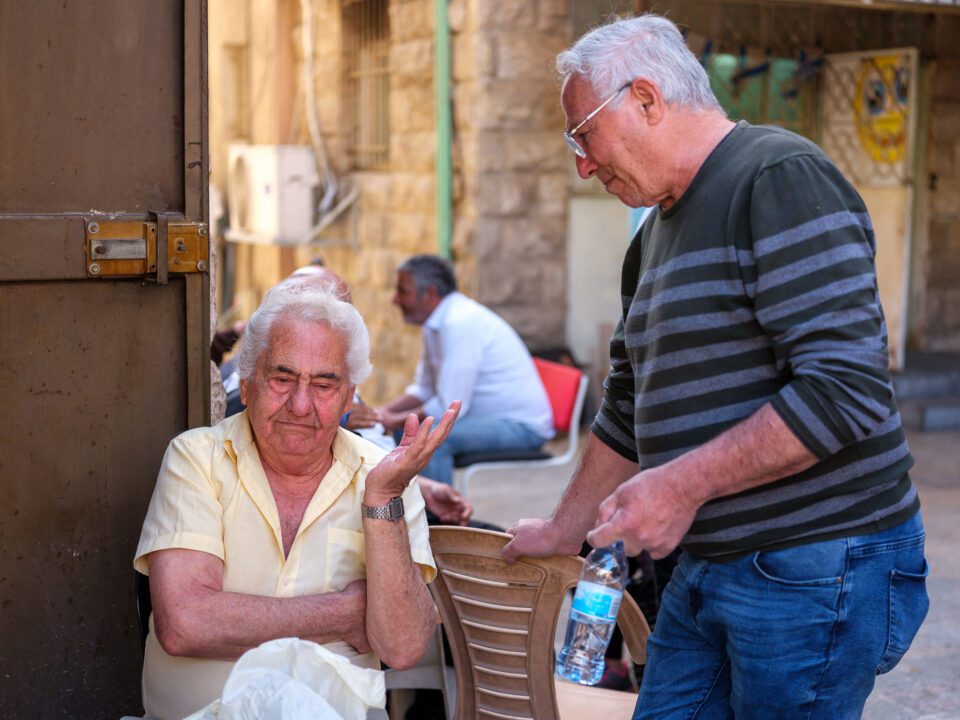 They were very friendly and they kept on conversing despite me standing there and taking their pictures.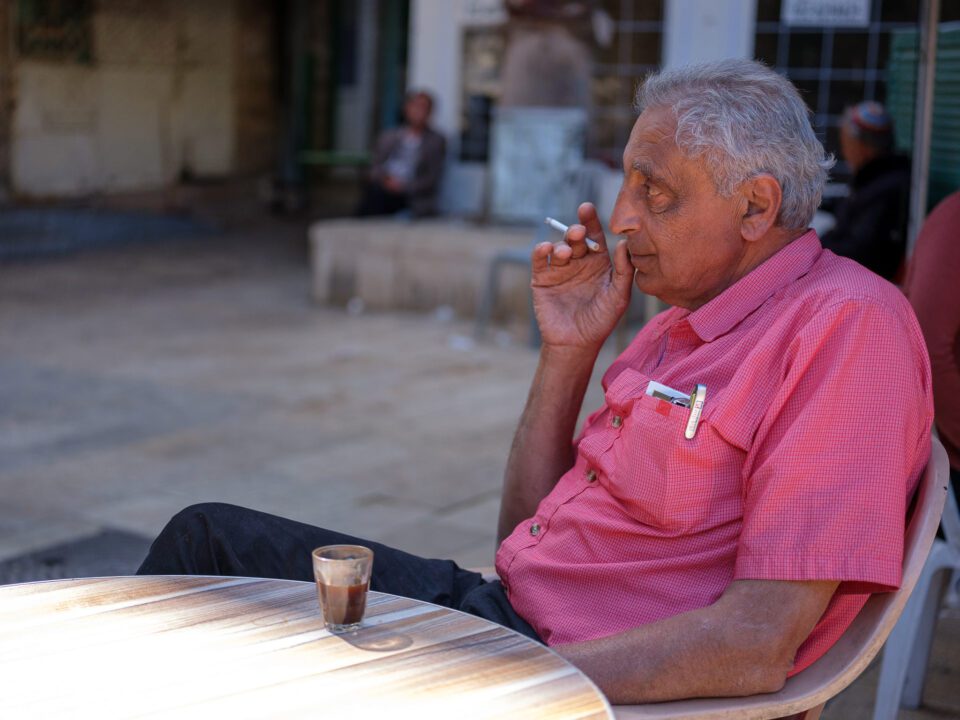 6) Memorial and Independence Days
If you are lucky to be in Israel during its Memorial and Independence Days (which vary each year according to Hebrew calendar), you can witness great opportunities for photography. On Memorial day, the siren goes off for a minute in the evening at 8 PM. If you have never seen what happens, it is definitely worth checking it out, especially on a busy street or highway. Basically, everyone freezes in remembrance of the fallen soldiers. Everything stops and all the moving cars stop, no matter how busy the road is. People get out of cars, trolleys, buses and buildings and stand still until the siren stops. Since it was already rather dark after sunset on the Memorial day, I decided to photograph the siren the following day at 11 AM, which lasts twice longer (a total of 2 minutes).
Knowing what was about to happen, I started scouting the streets of Jerusalem. I wanted to find a place where there were a lot of people and preferably, an intersection with a lot of cars. Unfortunately, as the time approached 11 AM, one of the busiest intersections I was standing on got pretty empty. There were only a couple of cars around, along with two tour buses. The streets were not very busy either, since people were most likely in their homes. Still, I was able to capture a couple of shots during the siren: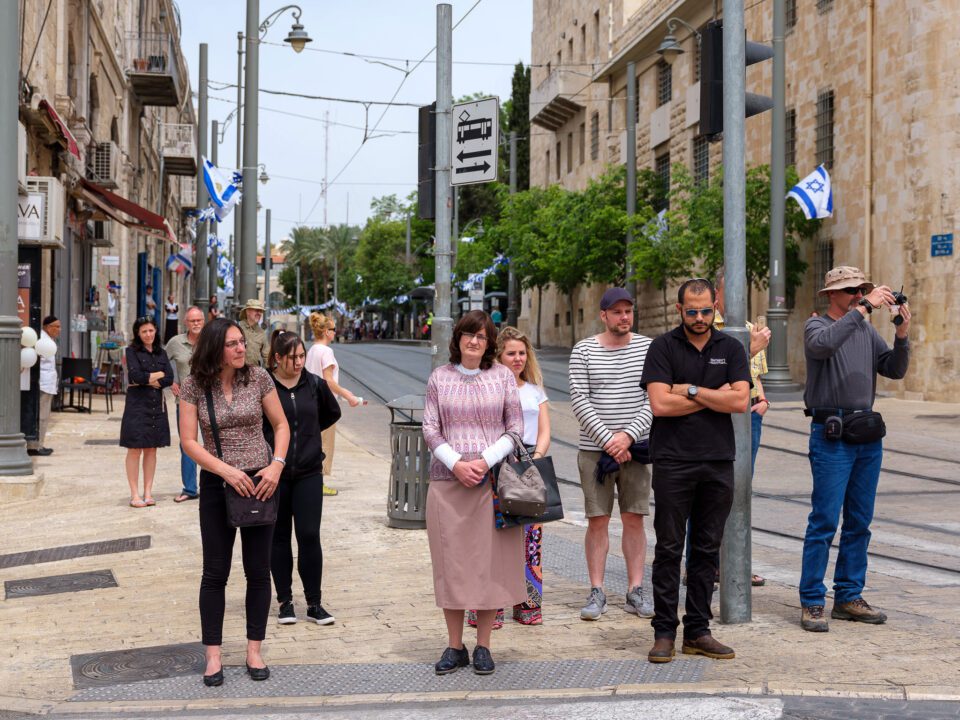 As you can see, I was not the only one photographing the scene – there were a bunch of photographers around me, who also wanted to get some shots of this moment. Since all the traffic stopped, even the people from the tour bus got out to see what was going on: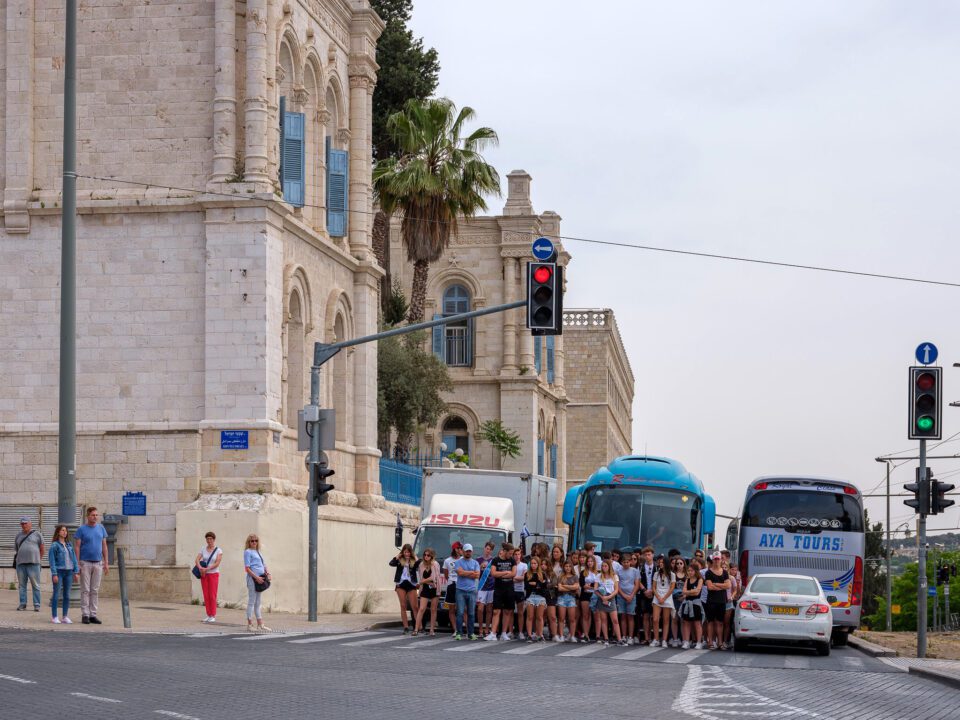 While soldiers turned away from each other and had their heads and guns lowered: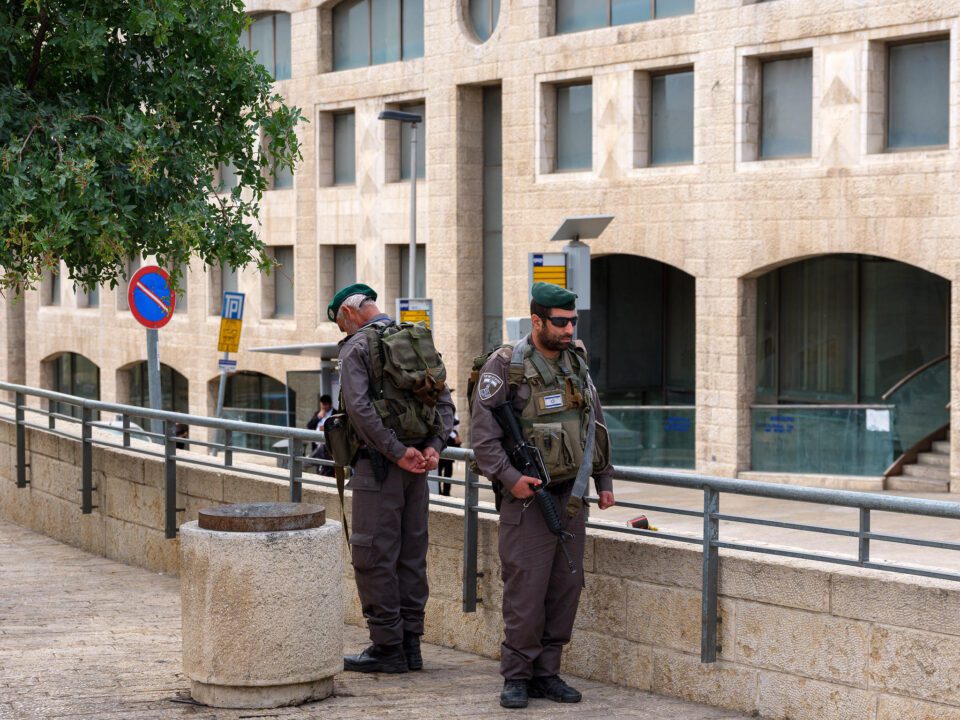 I wish I found a busier street to photograph – imagine how cool it would be to capture all this with a lot of people frozen on the streets!
Now here is the shocking part – once the Memorial day was over, the Independence day the following night was the total opposite. The quiet commemoration was replaced by fireworks and parties all over the country!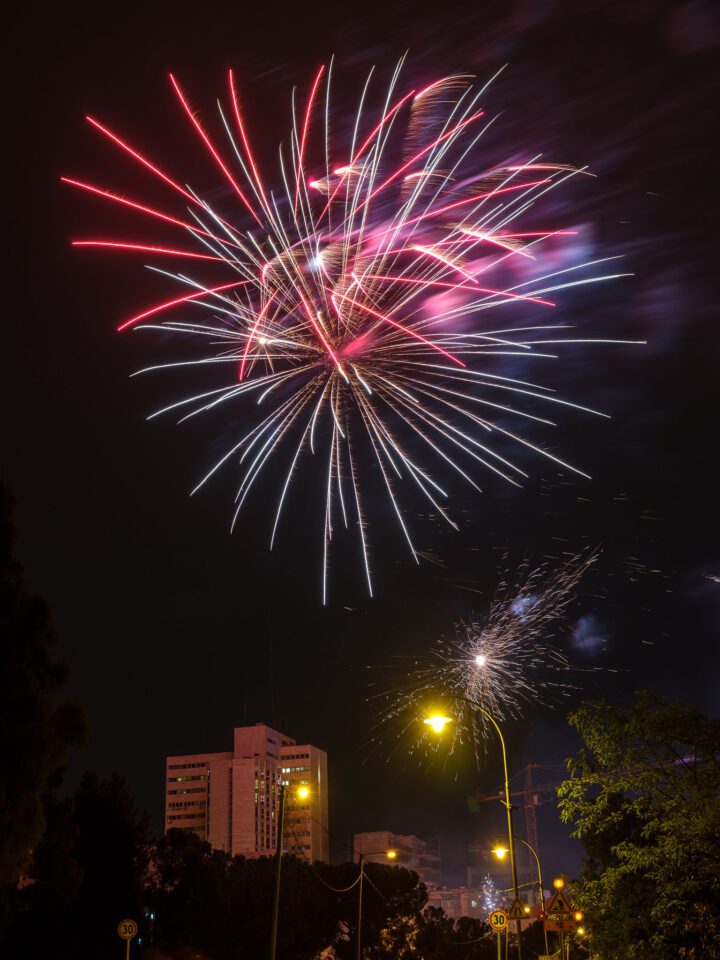 It was absolutely crazy…from remembering the fallen in the morning to extreme partying and drinking at night. In a way, it all seemed almost apocalyptic: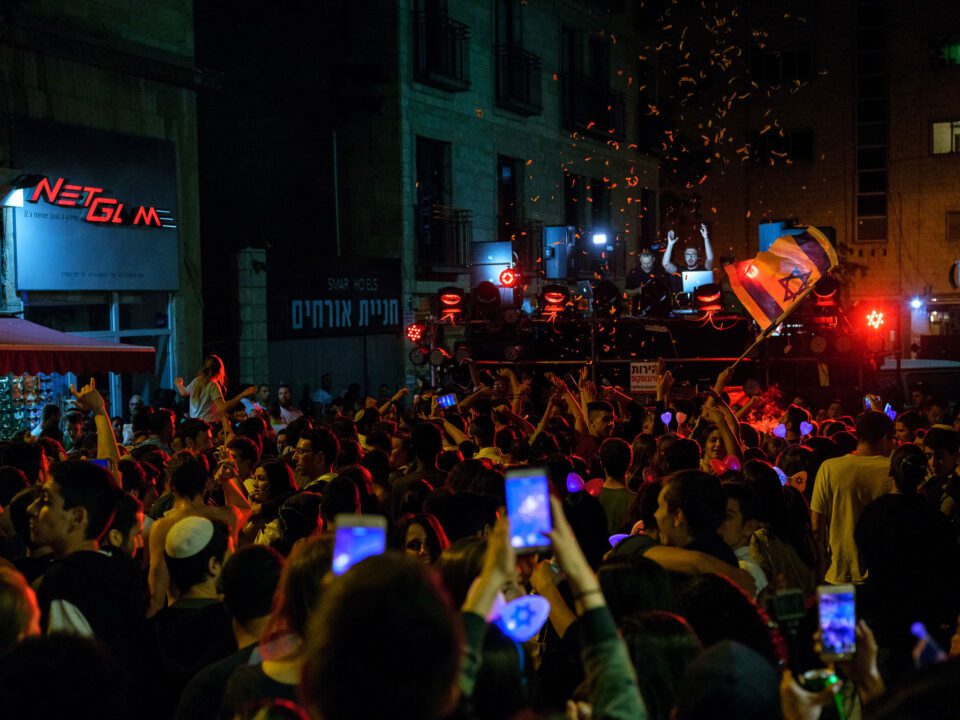 Every big corner of main streets and parks was filled with music stations and DJs playing trance music. I am not sure if there was a special theme going on, but it was fast-paced trance everywhere, bringing the young crowds together to dance. Young people were walking around with alcohol bottles in their hands and local police / security did not seem to mind it, despite the laws prohibiting the consumption of alcoholic drinks in open containers. Youngsters were also walking around with inflated balloon hammers, harmlessly striking each other on the head with them and spraying foam on strangers. While I was walking back through the crowds to my hotel, a bit of the foam was sprayed on me as well, which turned out to be rather sticky and not easy to clean up. The party went on all night and I could hear music and voices from my room pretty late into the night. And that was Jerusalem….I assume Tel Aviv was even a bigger party!
It was tough to fall asleep, but I was very tired and managed to crash for a few hours. I thought I would wake up to a completely trashed Jerusalem. After eating my breakfast, I headed off to the same streets at around 10 AM in the morning and I was shocked again – the streets were sparkling clean! I am not sure how the locals were able to clean up all that mess, but they did so remarkably quickly.
Since it was the Independence day, Israel was showing off its military might. I thought I would miss it all in Jerusalem (since most of the demos were set up in Tel Aviv), but that was not fully the case – the Israeli air force did fly their best jets over Jerusalem: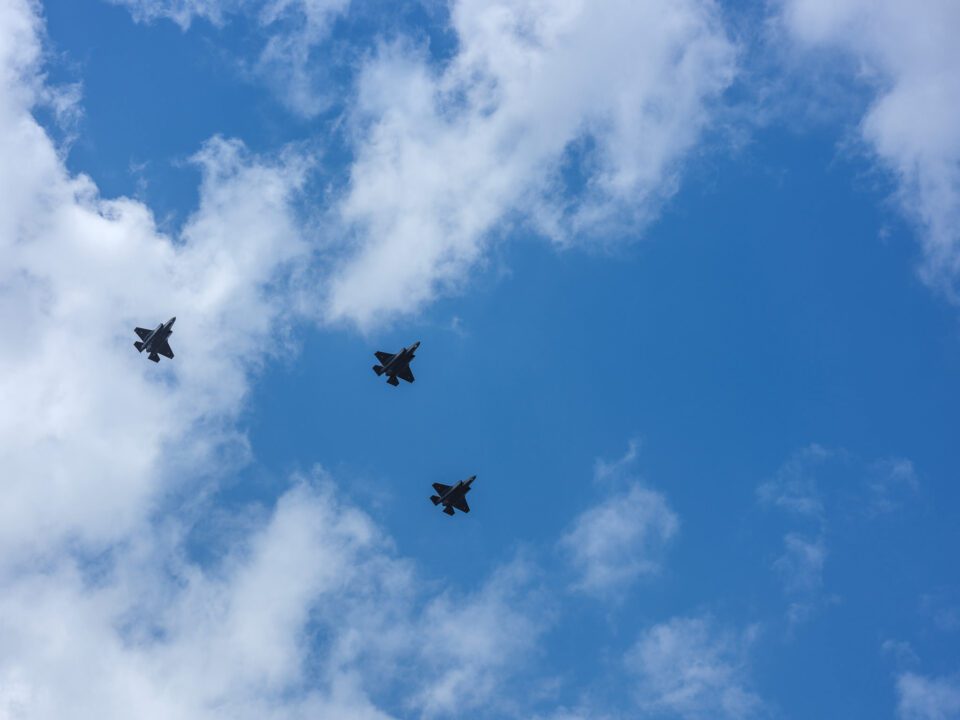 There was a flock of F16 jets that flew before these guys, followed by a trio of F15s being fueled by a Boeing 707.
As I continued walking on the streets, I did some more street photography on Independence day. Although the number of people on the streets was pretty minimal (the young were mostly resting at their homes), there were still some people out there to photograph: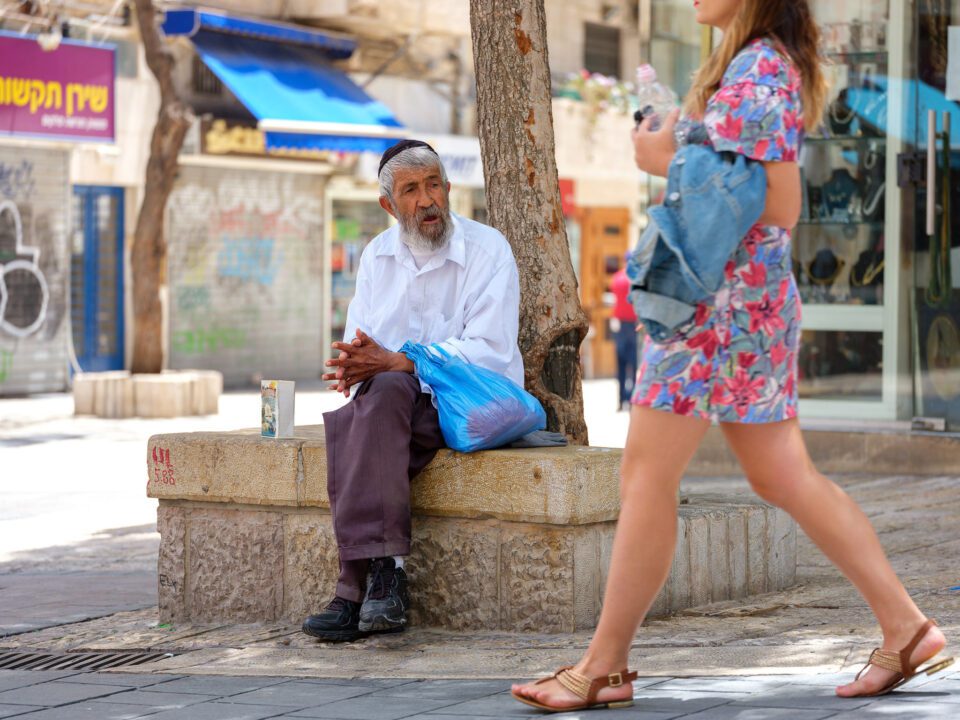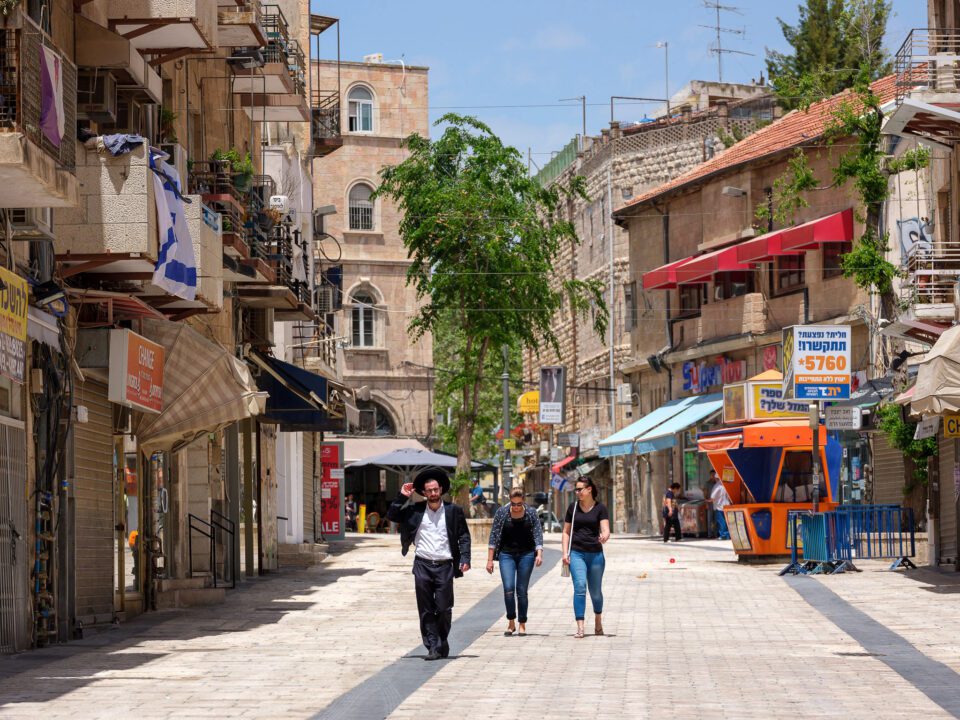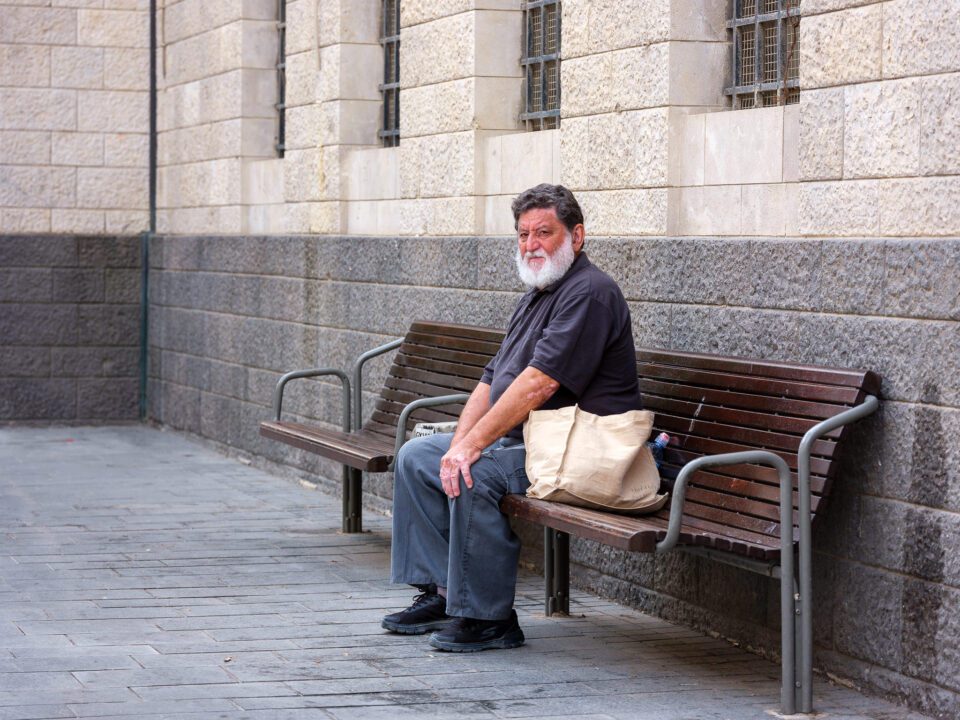 As I was walking past a shop, I saw a lady cleaning up the store front. She looked really interesting, with a very doll-like face and dark red lips. I stopped, raised my camera to take a picture, which immediately attracted her attention and she stopped for a moment, wondering what I was doing. I took her picture, said "thank you" and moved on. She was emotionless the entire time: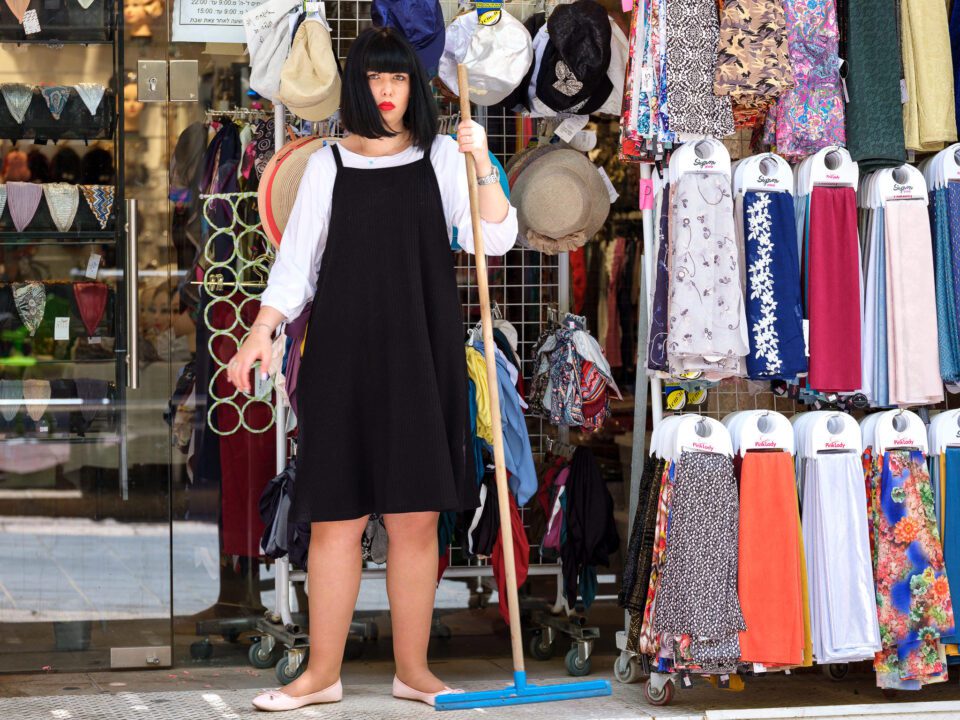 And here is a Russian Jew (yes, I could easily tell) getting arm-tefillin from a religious Jew preacher on one of the main streets of Jerusalem: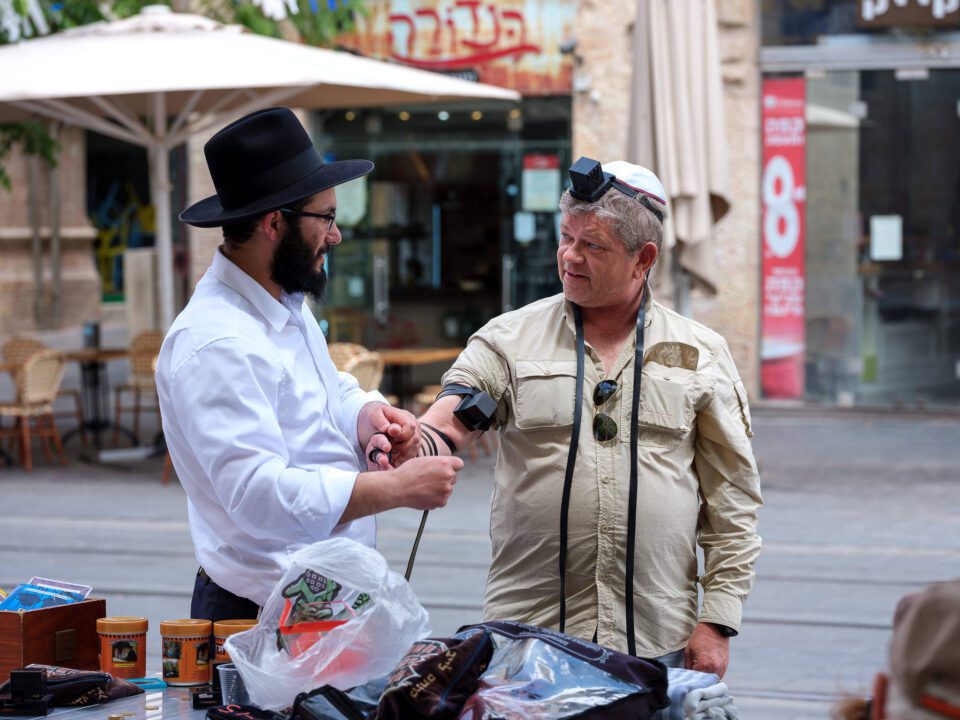 The celebrations were not over – the city hall of Jerusalem hosted an event for young people on Independence day, showing the many different faces of Jewish people from all over the world. There were a lot of T-shirts, baseball caps, flags and other pieces of clothing showing countries where the young groups were from. More music and dancing took place at the event: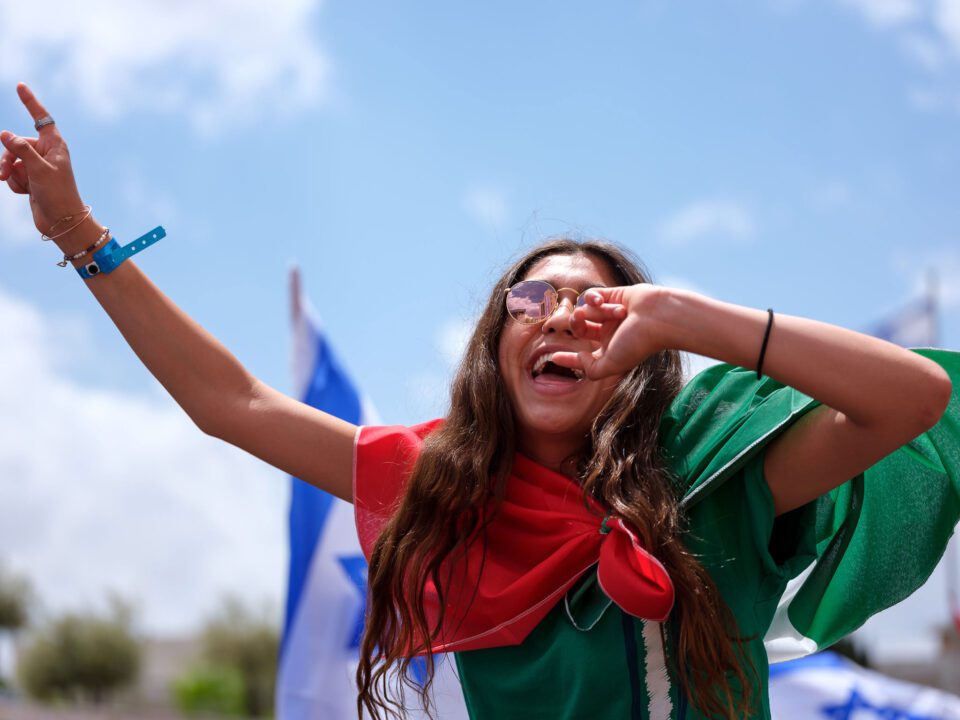 And here are some guys with Mexican flags on their backs, along with a Canadian head-umbrella: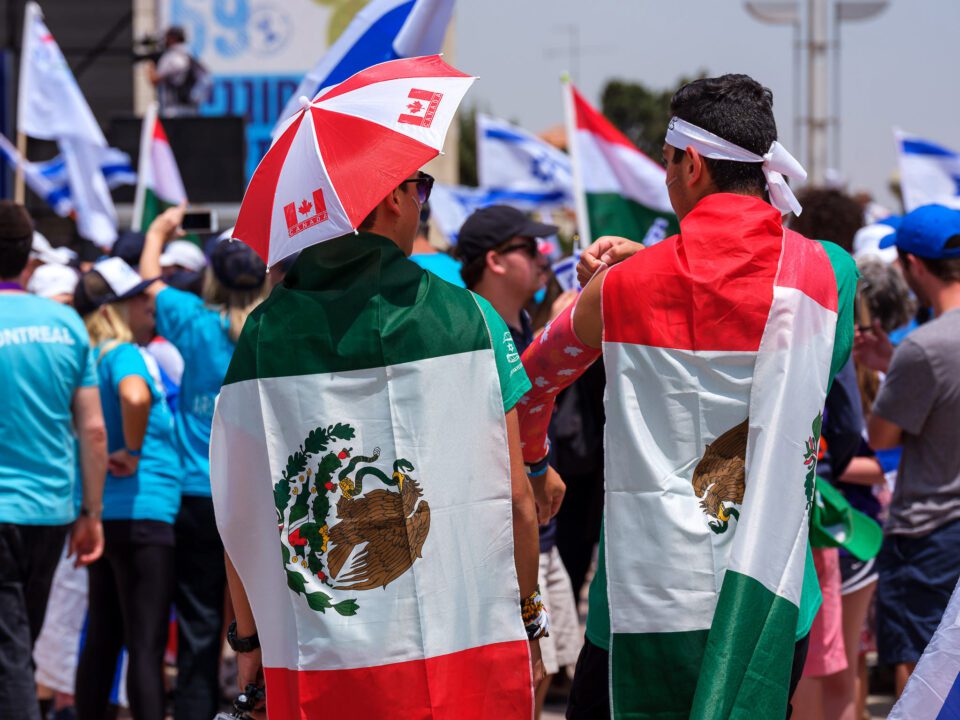 I did not stick around for this event much longer, as I wanted to go back to my most favorite part of Jerusalem – the Old City. That's where I spent most of my time exploring and that's what I will cover in the next section of this article.
On my way to the old city, I captured a few extra shots:
And finally, we come to the walls of the Old City: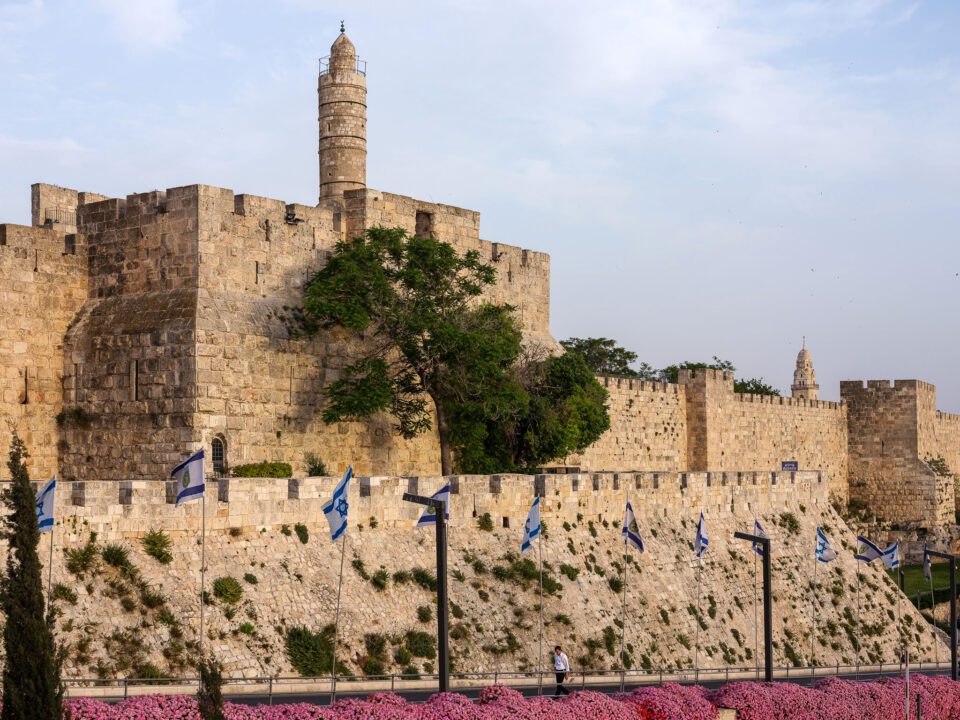 That high minaret you see was built by the Ottoman empire back in 1535 AD (now known as the "Tower of David"), when the collapsing walls of the Old City were rebuilt after many phases of destruction. Here is another view of the walls and the minaret from the other side: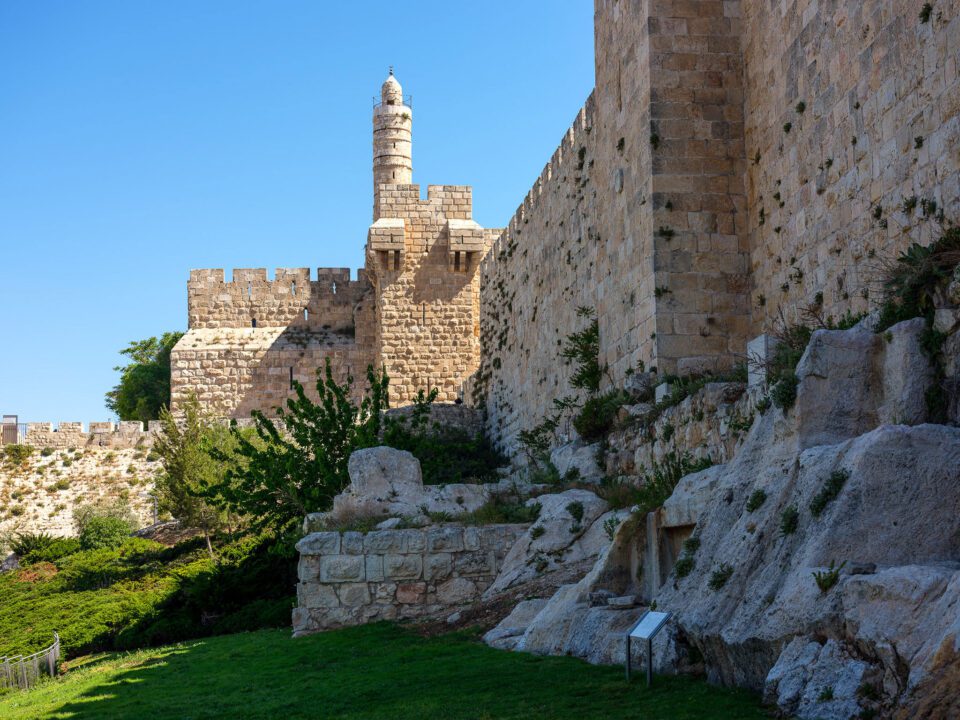 As you come close to the Walls of Jerusalem, you will start to see the real history behind the Old City and what makes it so special. The signs in front of the walls show the many phases of construction they went through over 2500 years, with the building blocks on the bottom possibly dating back all the way to 516 BC.
As I entered the Jaffa Gate, there was a lady playing on a harp: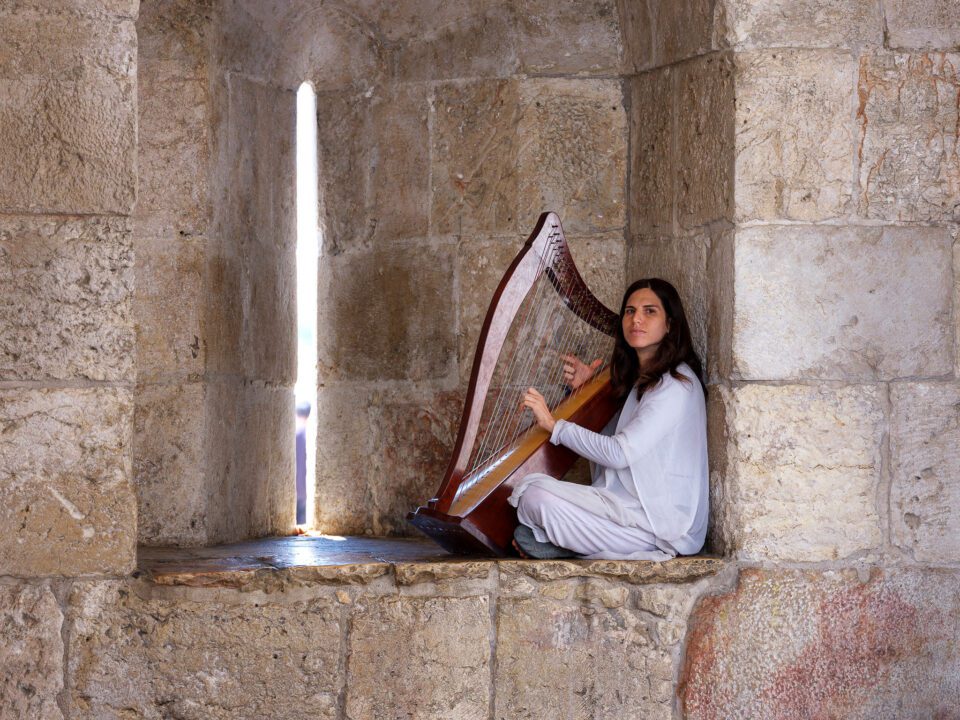 And that's what opens the next chapter of the Old City, the Jewish Quarter. Select the next page below.