The forest floor gave way to a small black pond which was by now almost indistinguishable from the muddy trail which led to its bank. Towering over the basin of the pond were the Ceiba trees, like obscure shadows that were closing a casket over the ground below. Every now and then an opening in the forest canopy revealed a night sky which had grown far more compelling since we first set out at dusk. La Selva was rich with sounds; there were howls and croaks from the forest's diverse denizens and this abundance was further accompanied by the voracious buzzing of the local mosquitoes who were gorging themselves at our expense.
Our mission and subsequent appendageal sacrifice (we were not using a DDT based Mosquito-Replant for reason which I will explain later) was to find one of Costa Rica's most enigmatic creatures: The Red-Eyed Green Tree Frog. A brilliant medium sized tree frog whose arboreal and nocturnal nature made finding it an exclusively night based venture. During the day, the frog sleeps high above the ground in the shade of the canopies leaves. At dusk, they begin descending towards the ground in a nightly journey to find food. With our flashlights leading the way through the thick undergrowth, we were hoping to come across one such hunter on his nightly jaunt.
We spent the next hour combing through the plants that surrounded the murky pond. Our search yielded a host of the forest's other nocturnal inhabitants. From a variety of different spiders to a lively Kinkajou feasting on fruit, the forest was bustling with activity yet our quarry remained hidden from view.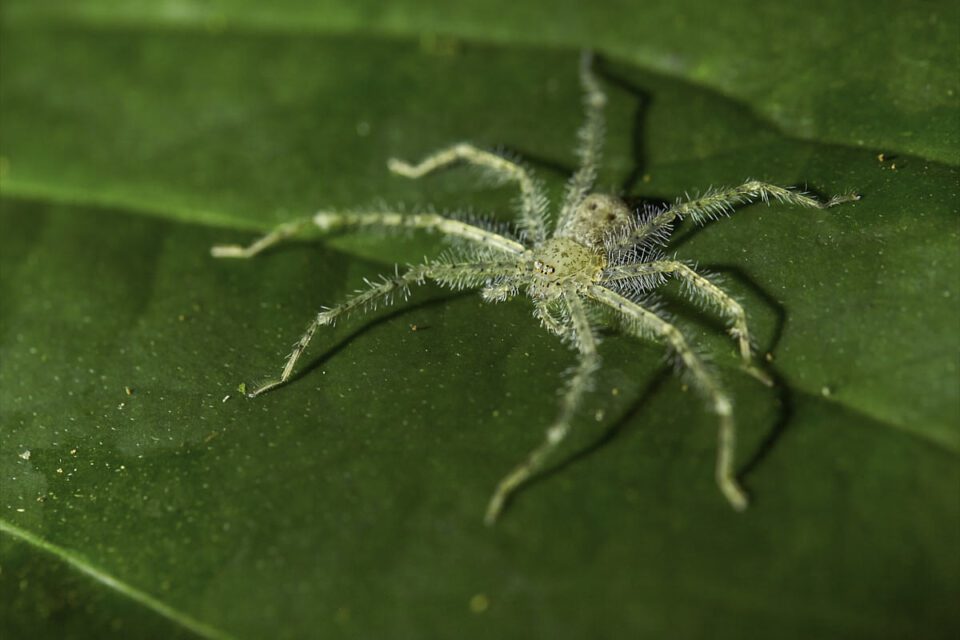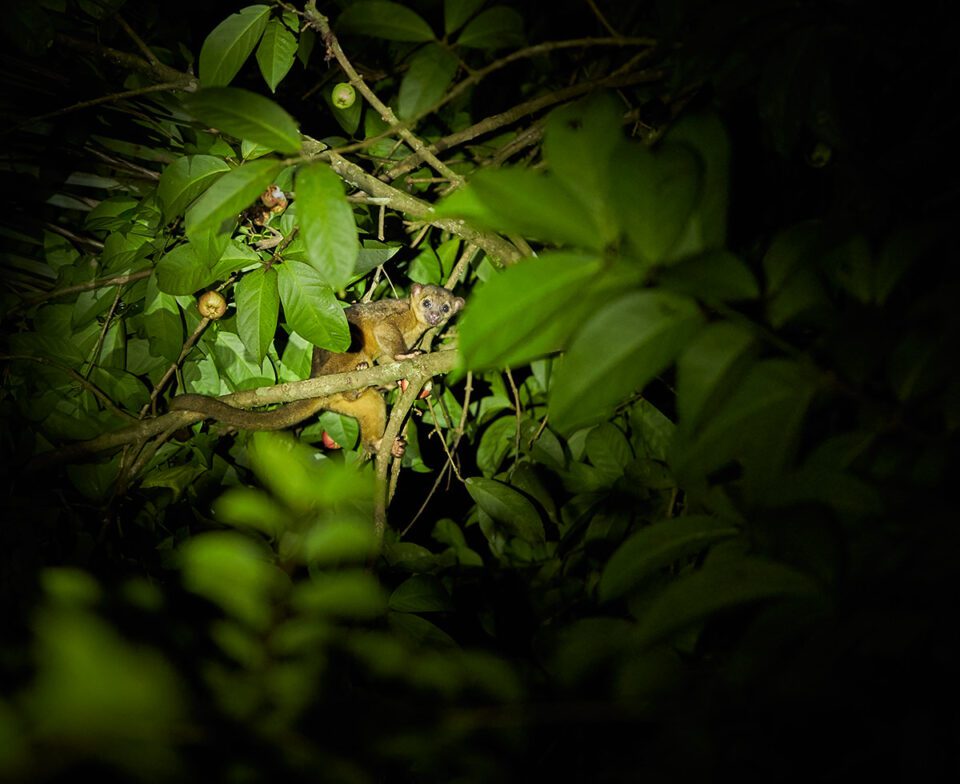 The key to finding the Red-Eyed Green Tree frog, whose green skin makes it all but indistinguishable from its environment, is the frog's enormous ruby-red eyes. These glow like red embers in the darkness when they are exposed to light.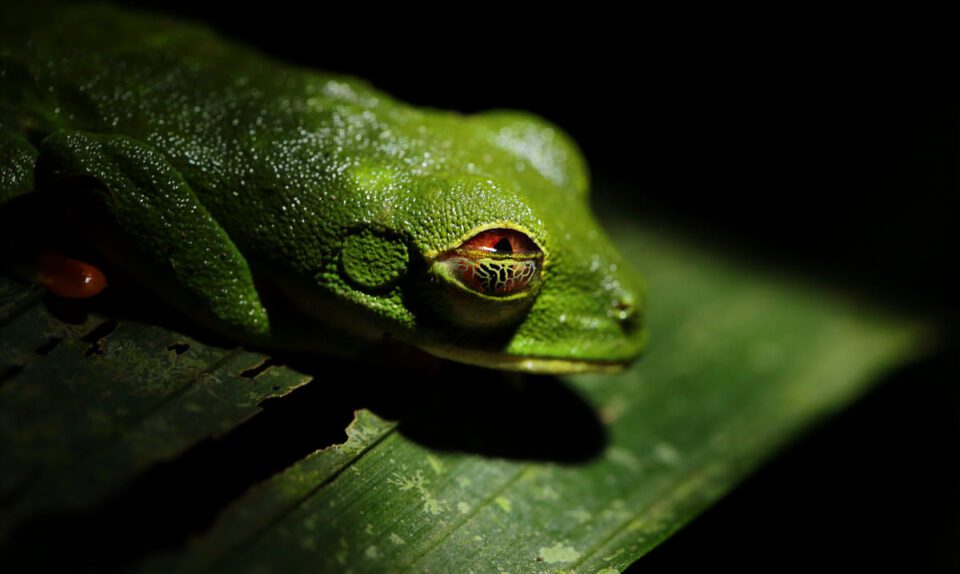 It was two hours into our search when, with a bit of luck and persistence, we had finally found not one but two Red-Eyed Green Tree Frogs in close proximity. Due to their sensitivity to light, the challenges of photographing the species at night soon became clear. They close their eyes and tuck away their body if they are exposed to light for more then a few seconds. This meant I had to work in short intervals to try and capture the frogs with their eyes open. This was only partly successful as you can see from the photo above.
Note: I did not put any DDT based bug-replant to ward off mosquitoes because I knew I would be working with amphibians who can be can be extremely sensitive to chemicals.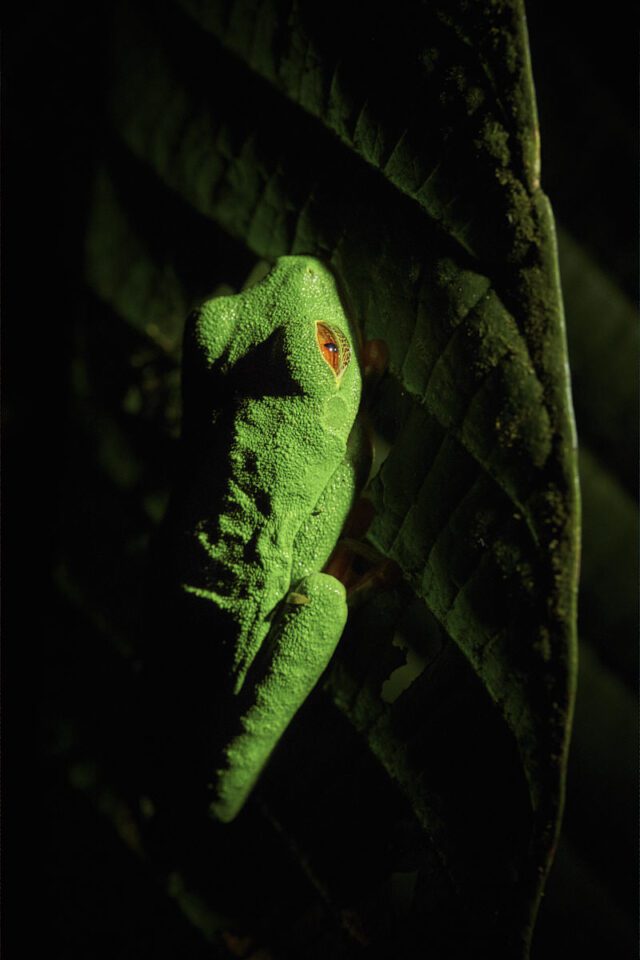 That night, I would go on to spend a glorious thirty minutes with the pair of Red-Eyed Green Tree Frogs. This was part of my introductory trip to Costa Rica which is home to more than 500,000 species of wildlife. It's variety of contrasting forest and rainforest habitats have made it one of the most bio diverse countries in the world, with over 4% of the Planet's species residing within its borders. While it's allure is unquestionable, it is Costa Rica's developed infrastructure which has made it one of the foremost photographic destinations in the world. My experience with this beautiful countries natural wonders is only partially complete, and it will take many more trips to fully uncover all that it has to offer. That said, I wanted to offer a list that covers my current photographic recommendations for nature photography in Costa Rica and this list will be updated in the future.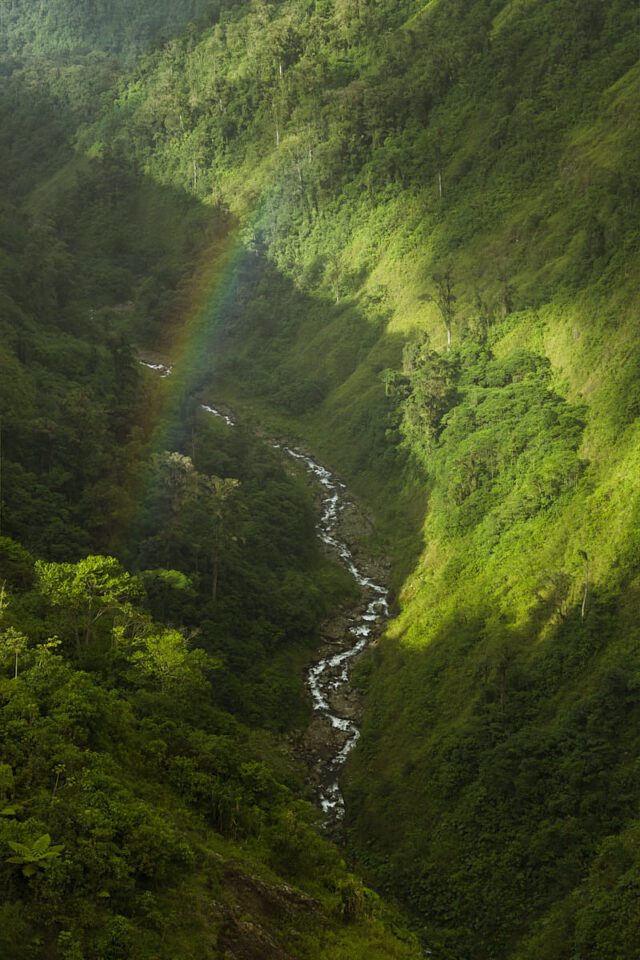 Poas Volcanoes
Our first stop is nestled on the slopes of an active volcano just under fifty kilometers from Costa Rica's capitol city of San Jose. The verdant coffee plantations splayed out across the valleys leading up to the park entrance only hint at the opulence of the greenery to be found on the slopes of the Poas Volcano. Standing at over 2700 meters, the volcano has recently erupted, leading to a temporary closure of the park until further notice. Yet it is this very activity of the mountain which makes the ground of the surroundings valleys to so rich and fertile. When it is not active, visitors are allowed to go up all the way to a vista which over-looks the 290 meter deep crater. Despite the crater's depth and distance from the vista, winds help carry copious amounts of gases up from the crater towards the viewing platform and thus making it difficult to breath for extended periods of time. Because of this, I suggest taking 5-10 minute intervals when attempting to photograph the volcanic crater.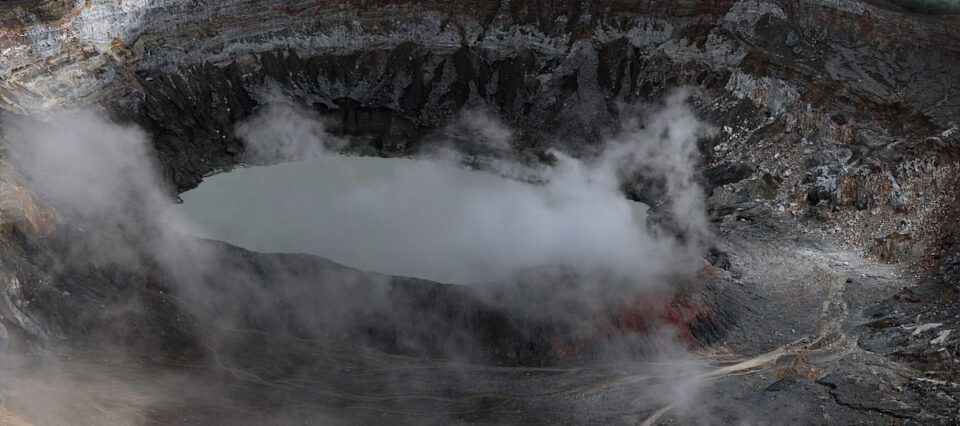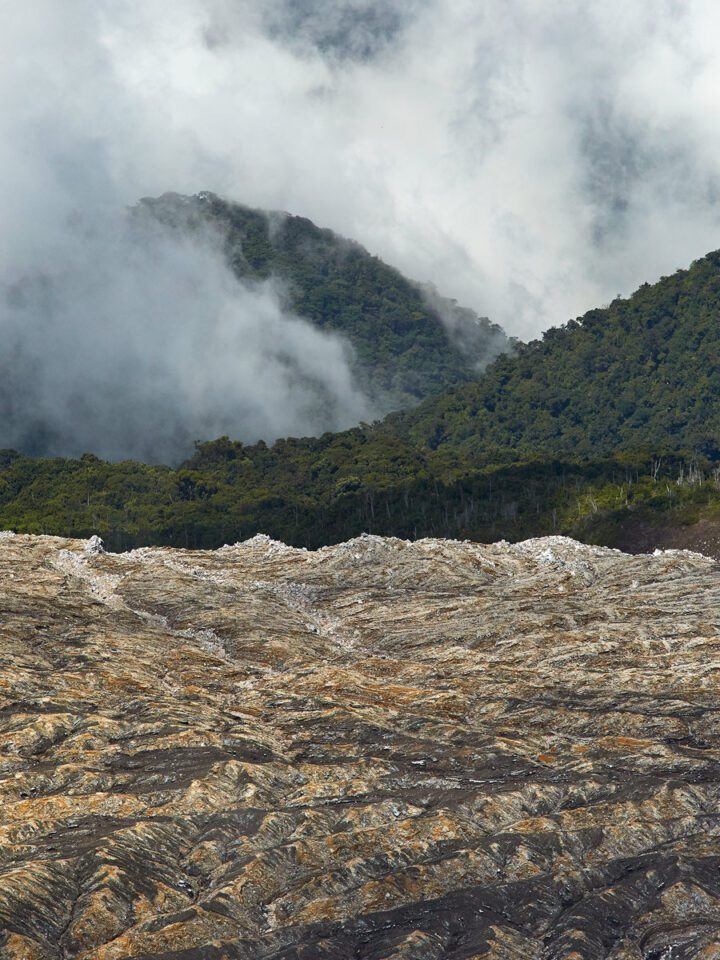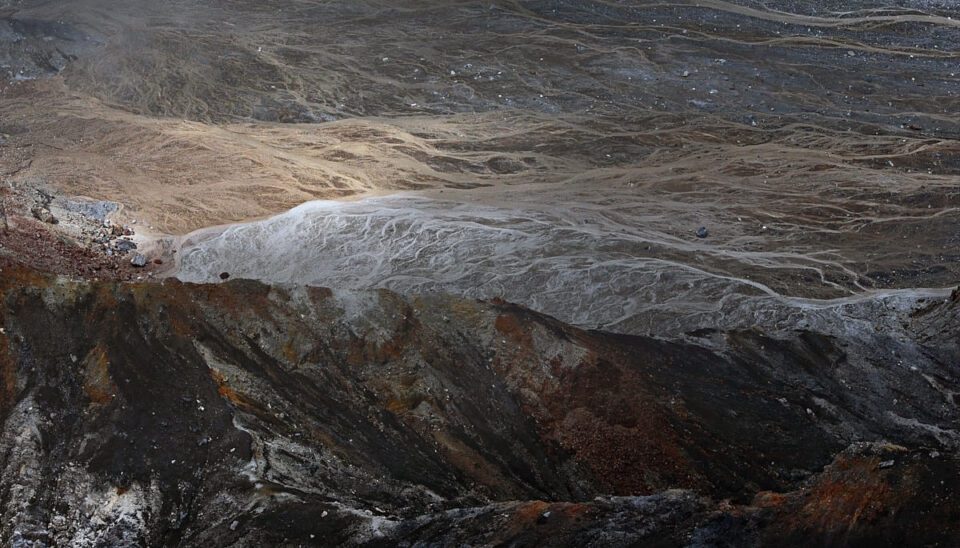 The main crater is not the sole attraction of the National Park, for narrow trails in the surrounding cloud forests reveal a lush world of ferns and bromealids.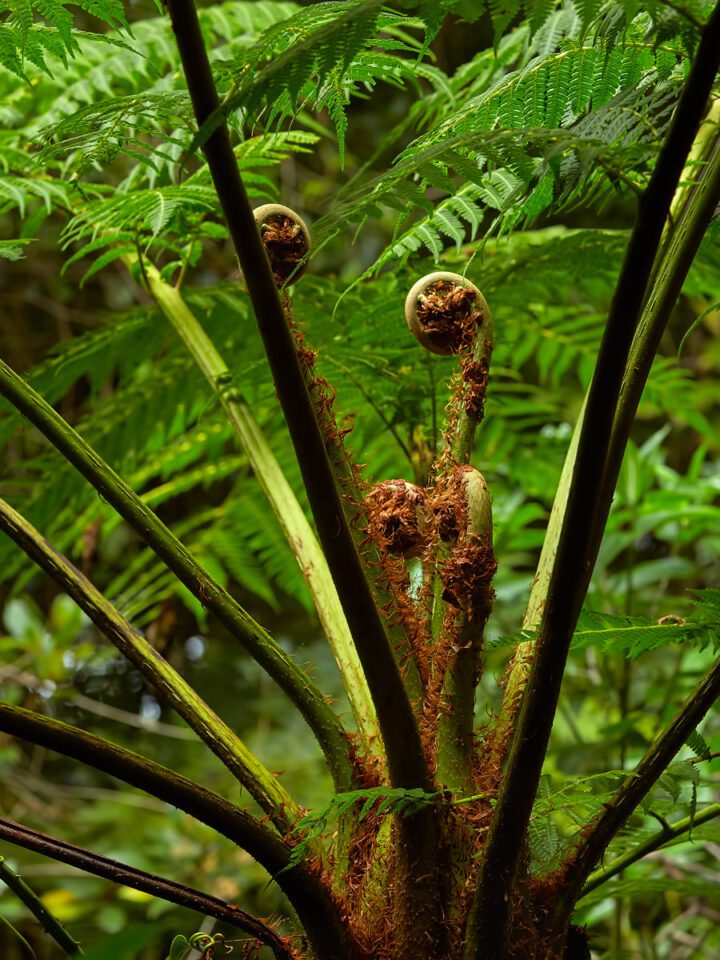 Eventually, the trail leads to an opening in the forest and a ledge overlooking a cold, green water lake. Surrounded by cloud forests, Lake Botos fills an inactive crater, which last erupted almost ten-thousand years before. Today, the placid lake and crater serves as a contrast to it's tumultuous cousin.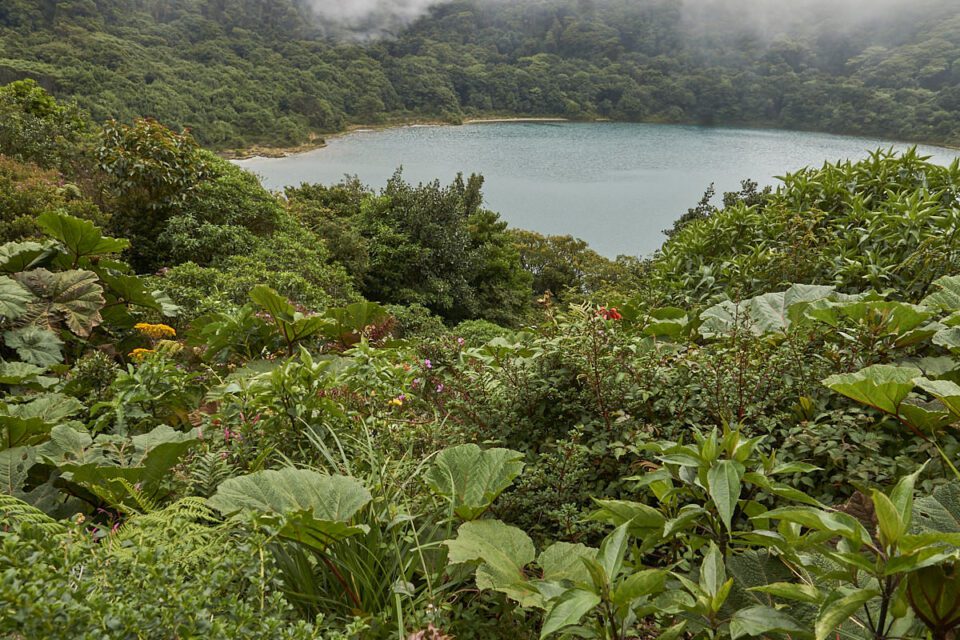 Exploring the mountains surrounding valleys and hillsides reveals other secrets like the unique Peace Waterfall.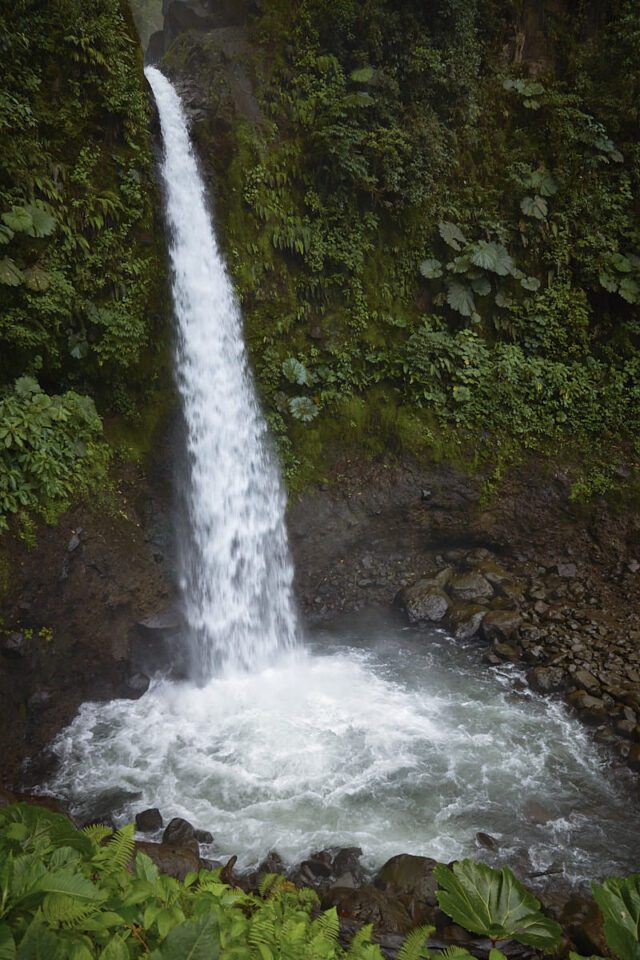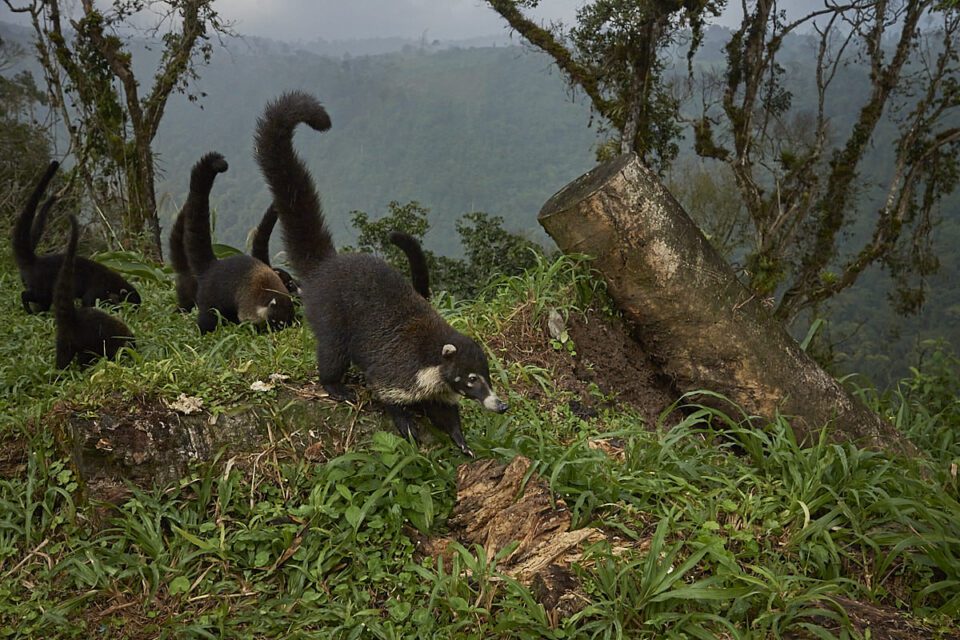 Braulio Carrillo National Park/ La Selva
Adjacent to the Poas Volcanoes lies the Braulio Carrillo National Park which comprises of some of the best preserved examples of primary forests found in Costa Rica. Its relatively large size (475 square kilometers) and its varied altitude (over 3000 meters between the lowest and highest points) allows Braulio Carrillo to encompass a multitude of different habitats and biomes.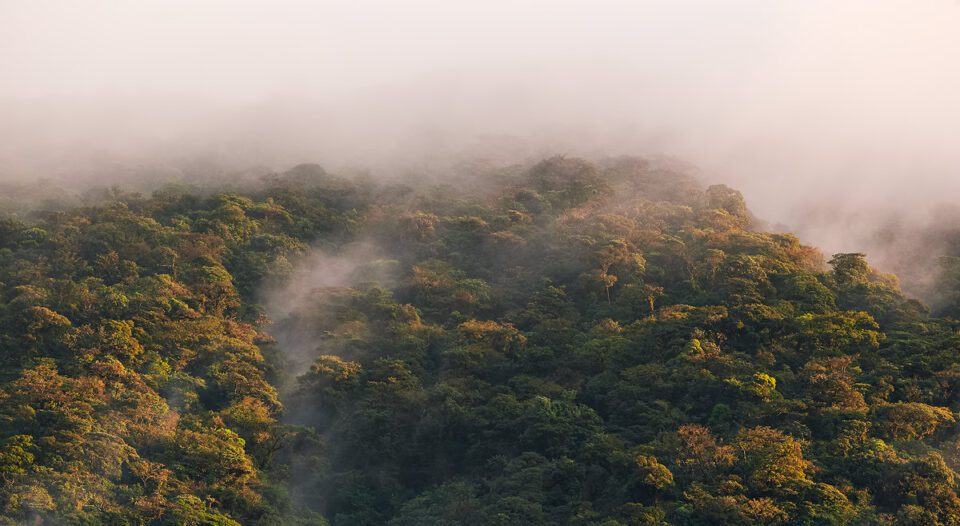 The mountainous side of the park hosts the Talamancan montane forest ecoregion, which is characterized by vast swathes of evergreen forests lying at elevations above 750 meters. These forest's host a richness of life virtually unrivaled, with 136 mammal species and 450 species of birds calling these forests home. While actually coming into contact with many of these species can prove difficult in the endless labyrinth of the forest, some wildlife can be found while trekking the mountain trails found in the southern half of the park.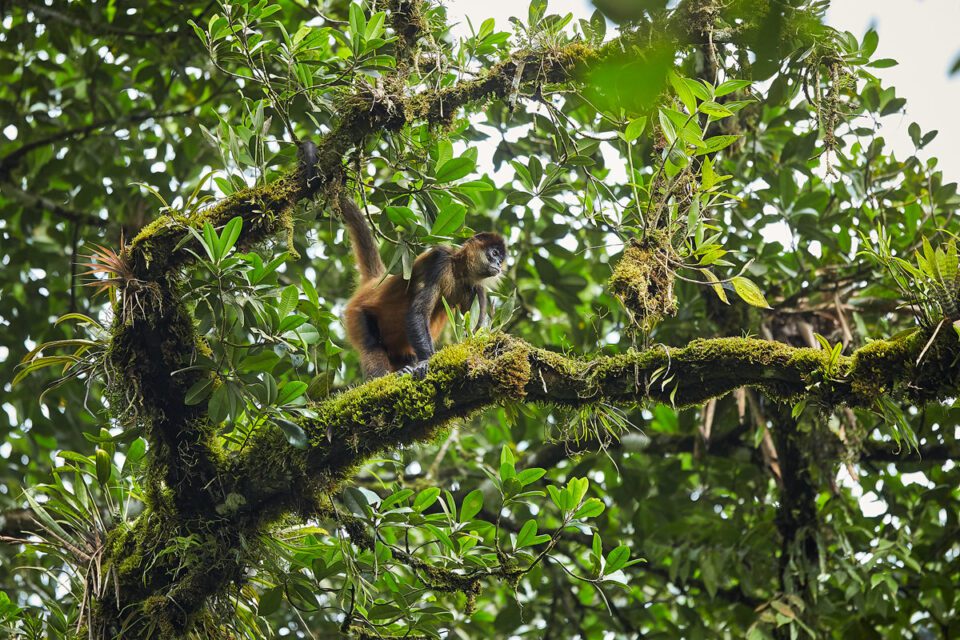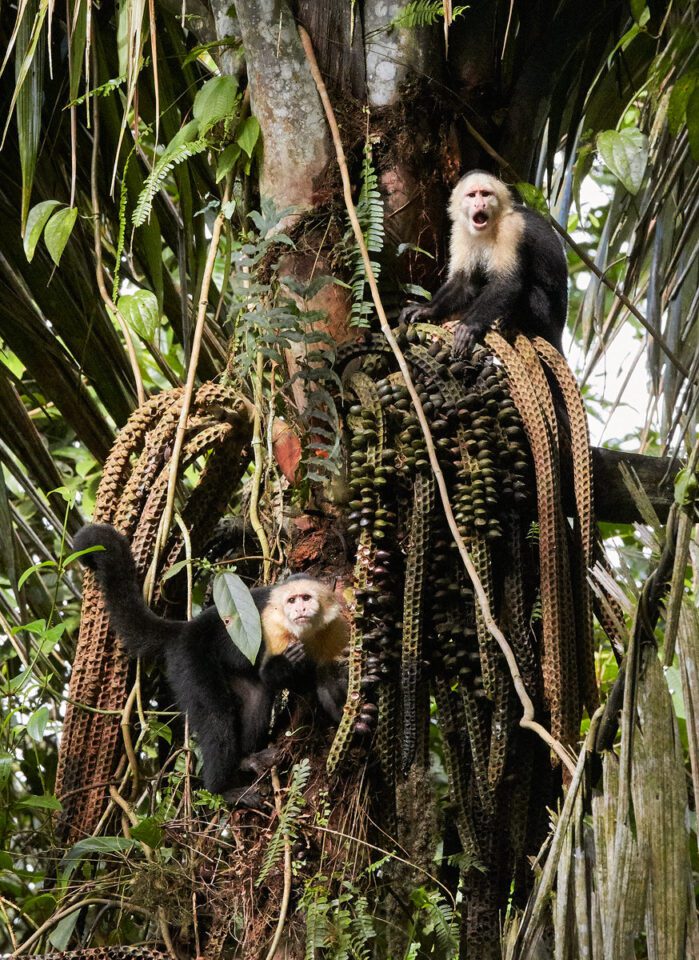 The northern reaches of the park are characterized by lower elevations which host the Atlantic Moist Forest ecoregion. Here, the temperatures are much higher then in the mountains with a 30 Celsius average day time high. The area also receives an average annual rainfall of over four meters and this precipitation remains mostly consistent throughout the year. Because of this, a raincover is a necessity if one hopes to keep their camera gear from getting soaked.
Lying at the north-eastern corner of Braulio Carrillo National Park is the world famous La Selva Biological Station. The research station is recognized internationally as one of the most productive field stations in the world for studying tropical rainforests and it hosts scientists and research teams throughout the year. The site's many trails offer a glimpse into a world of astonishing diversity. Just within the confines of the 15 square kilometer protected area of the station, one can find 5,000 species of vascular plants of which more than 700 species are trees. There are also about 300,000 different species of insects, with over 450 ant species and more than 5,000 species of moths. You need to have a guide with you at all times and they are quite expensive, but they are also incredibly knowledgeable and helpful in finding different species.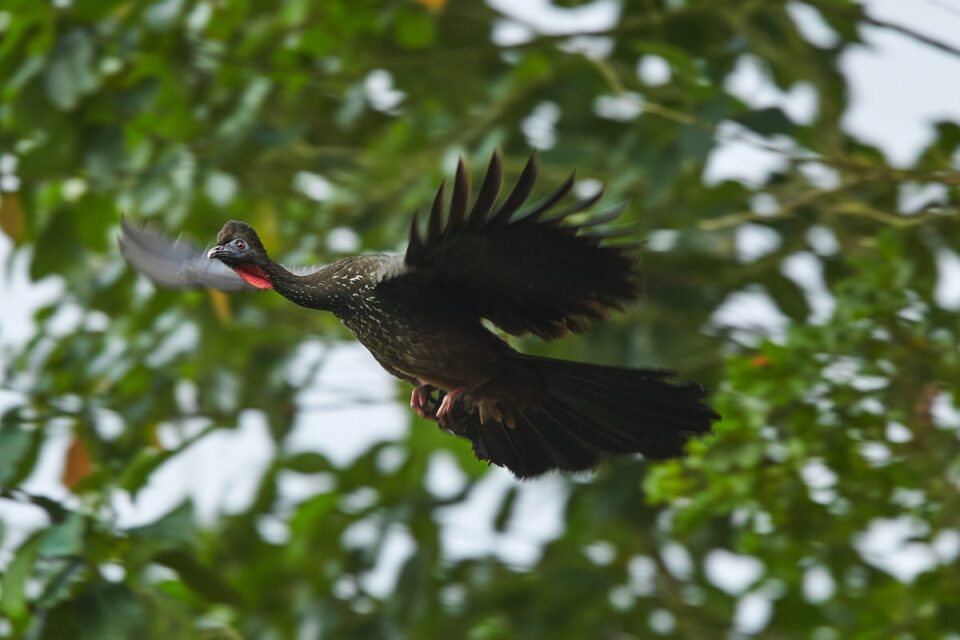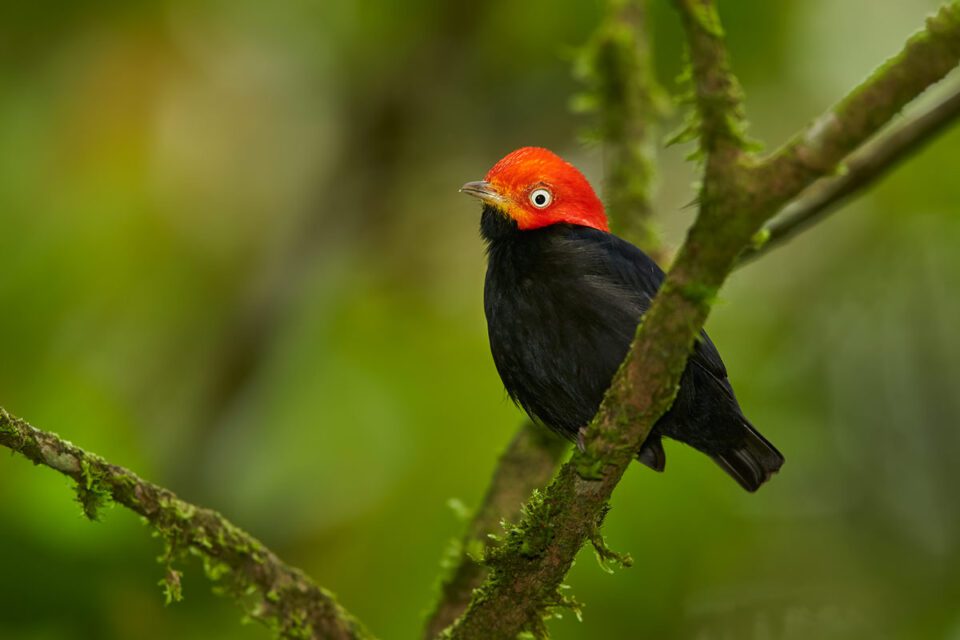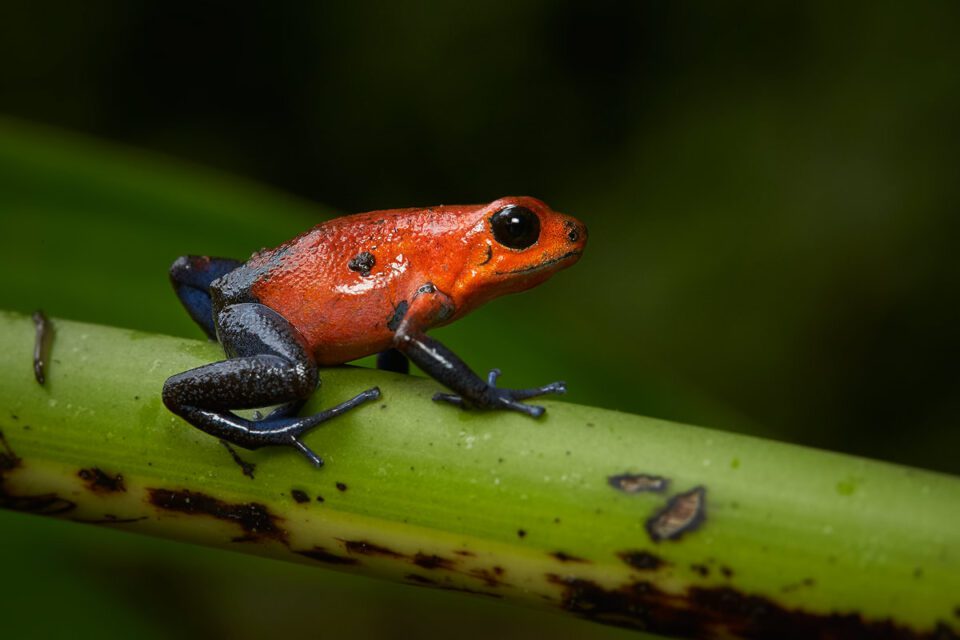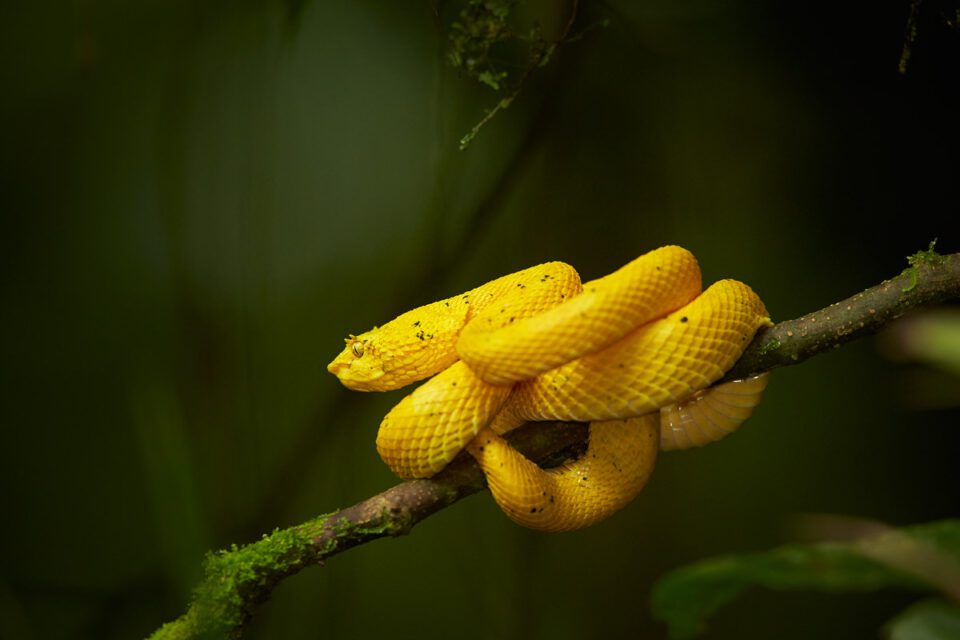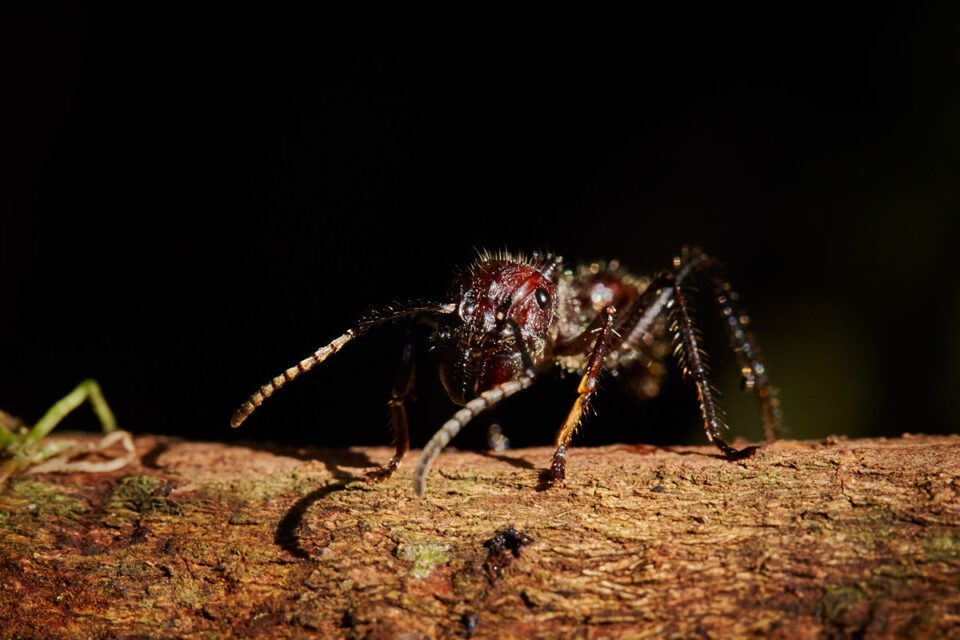 Arenal
Over two hours west of La Selva lies Arenal Volcano National Park which comprises of the parks namesake and the surrounding forests and lake. Considered dormant for hundreds of years, Arenal sprang to life in 1968 when it erupted unexpectedly, destroying the small town of Tabacón in the process. The volcano remained active until 2010 when it became dormant and today the slumbering giant hosts beautiful rainforests that lie on it's foothills. A number of different trails snake their way through the forests and I recommend doing them all, especially if you are interested in finding some of the parks resident toucans which are quite easy to spot, but prove much harder to photograph.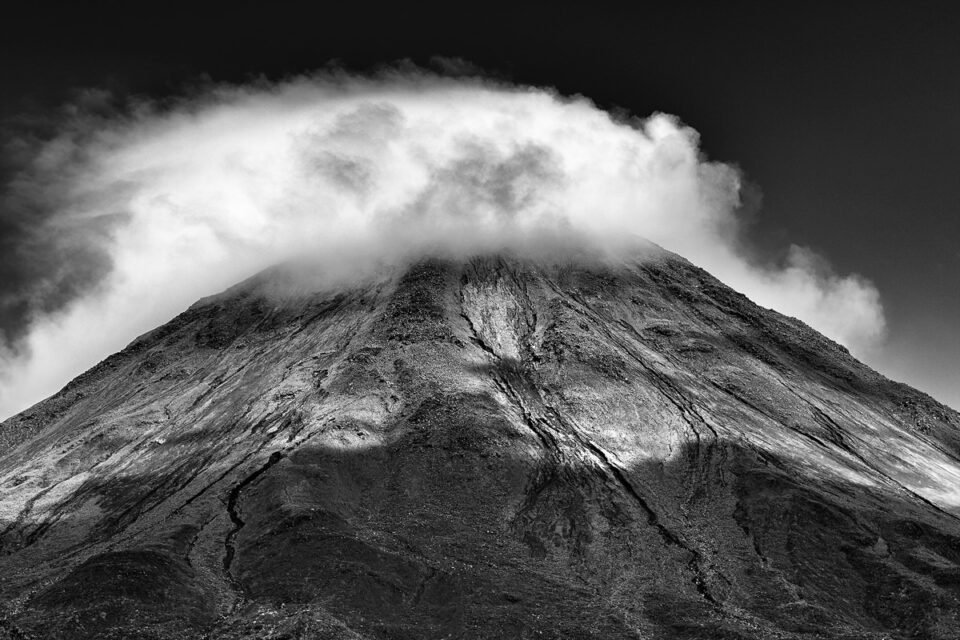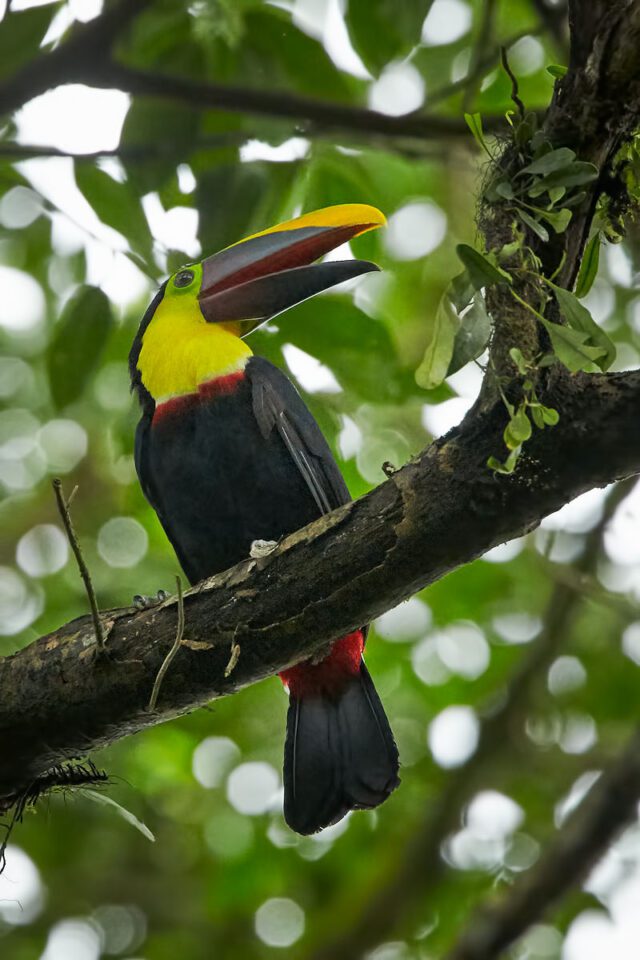 Santa Rosa
The last stop on our journey (for now) takes us further west to where one of Costa Rica's best kept secrets lies. It is here where the azure waves of the pacific crash into the sand of Santa Rosa National Park's coastline. From there, the path inland leads through a multitude of habitats and forest types punctuated by the increasingly rare and fragile Tropical Dry Forest.
These forests will drop their leaves during the dry season and will remain bare for three to five months. The reason such forests can thrive here is due to the dry, almost parched climate found in Santa Rosa.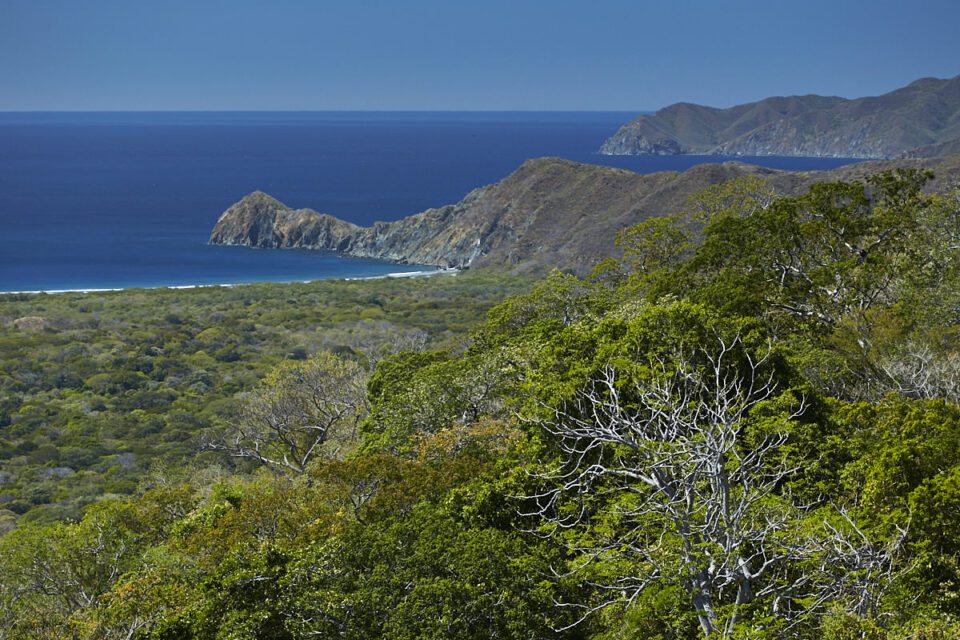 Though seemingly barren at first, the keen observer will notice a forest rich with life and diversity. With about 500 bird species and an estimated 140 species of mammals, 40 of which are bat species.
White Faced Capuchin Monkey trying to break open a branch to find the food contained within.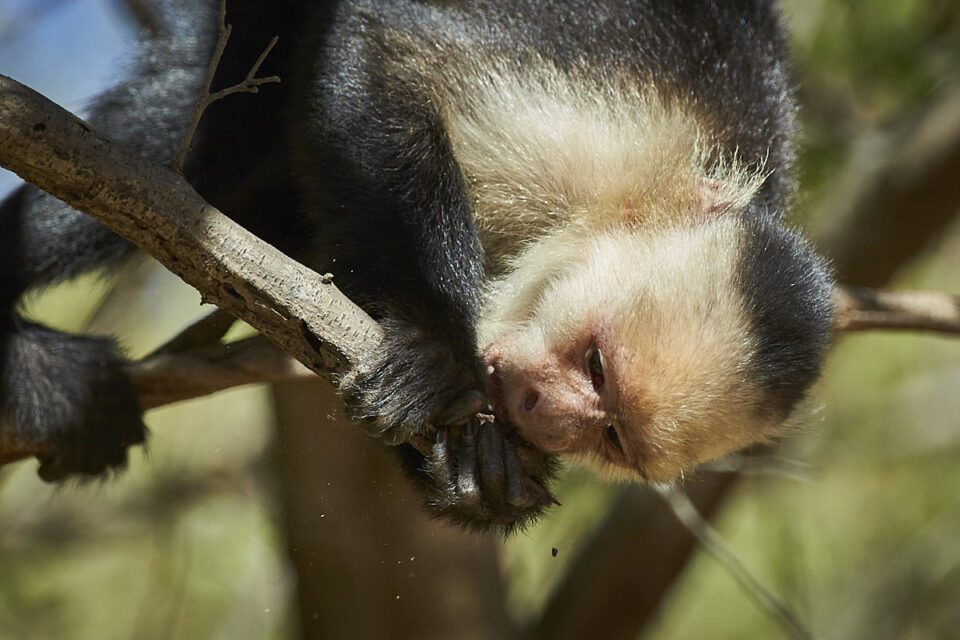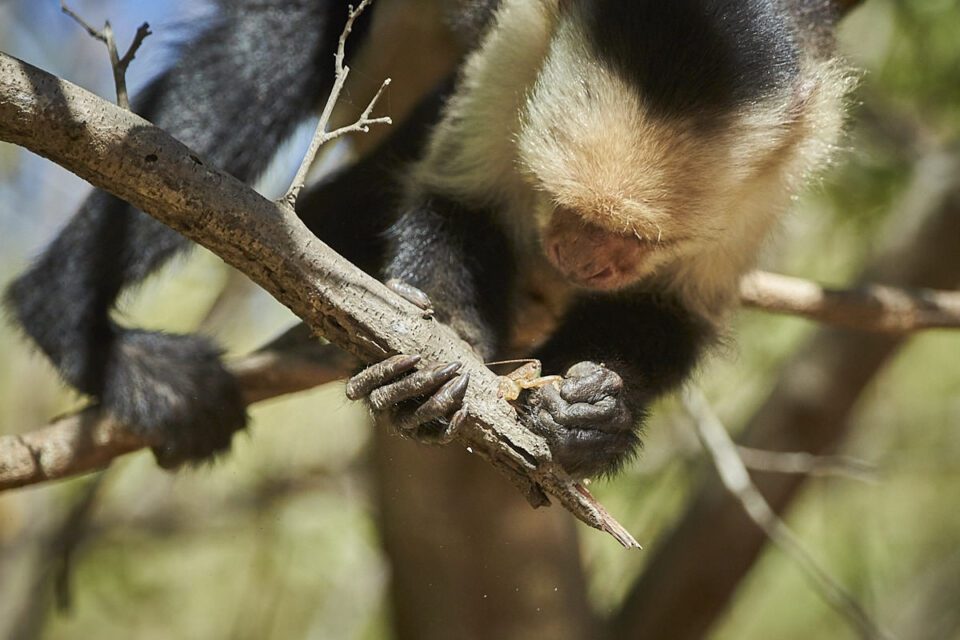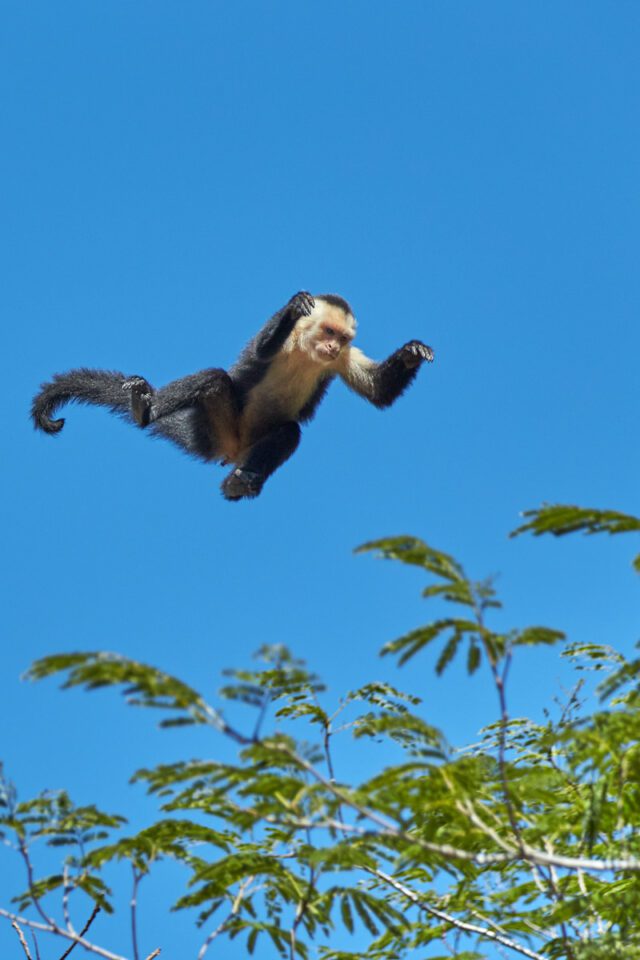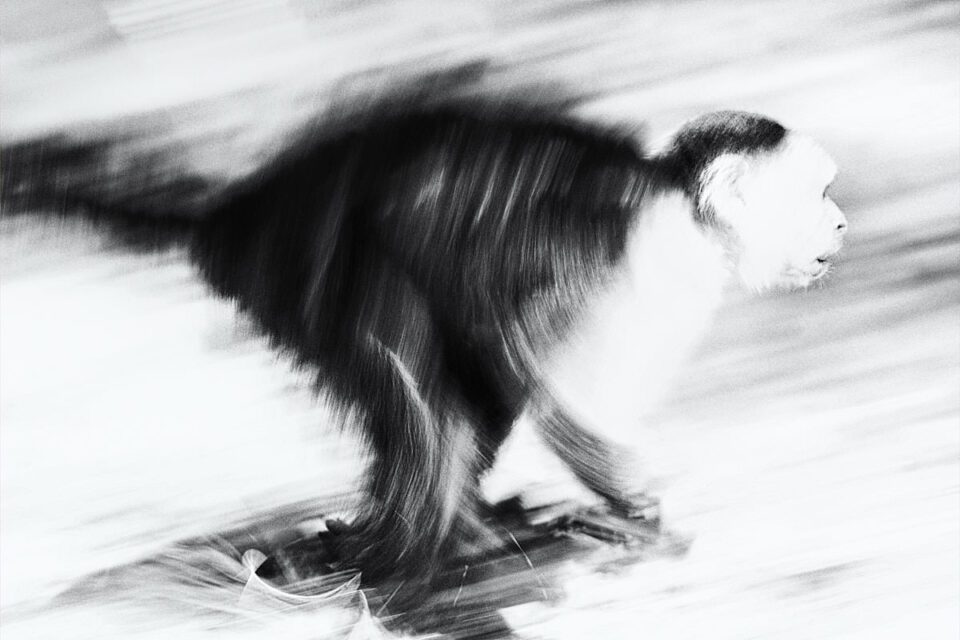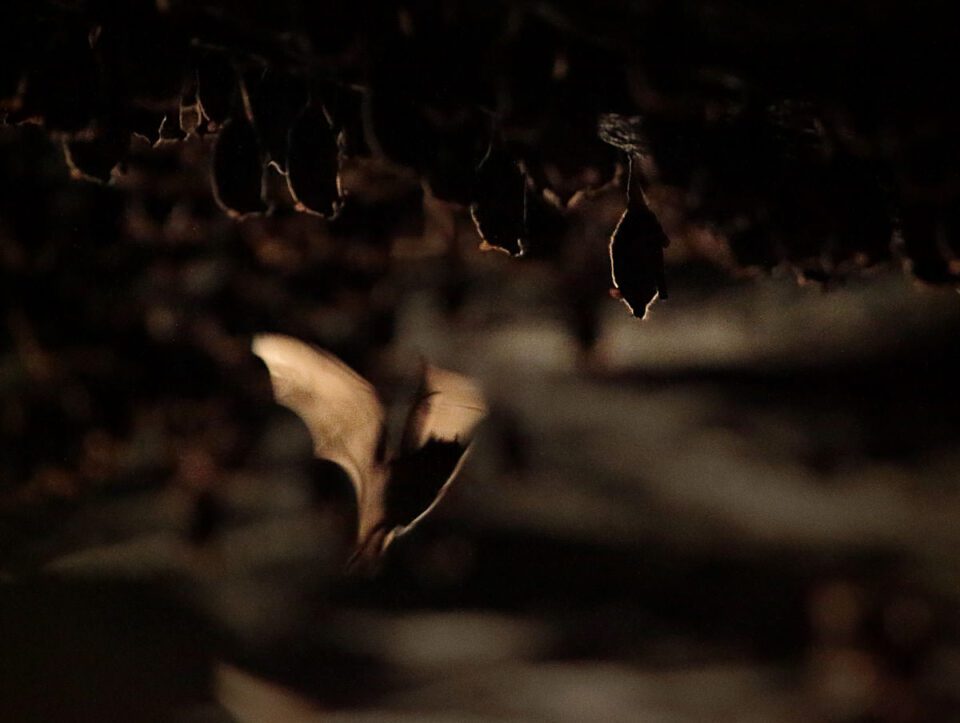 The park has very few trails and the main road that leads to the coastline is only meant for the better 4×4 vehicles, something I learned the hard way trying to traverse it the low clearance Toyata Rav4. But the views along the way are spectacular and the chance to see some of the parks less reclusive wildlife offers a great incentive.
Rincón de la Vieja Volcano National Park
Were it not for the cattle farms that fragment Santa Rosa from Rincón de la Vieja Volcano National Park. you would be fooled into thinking that the two parks are one. Easily visible from Santa Rosa's dry forest lies the ominous peak of the active Rincón de la Vieja Volcano (which has very recently erupted) and a landscape that is more reminiscent of Yellowstone then Costa Rica.
With it's volcanic vents, geysers and mudpots, Rincón de la Vieja Volcano National Park offers an interesting mix of geological phenomena along with a beautiful dry forest teeming with life.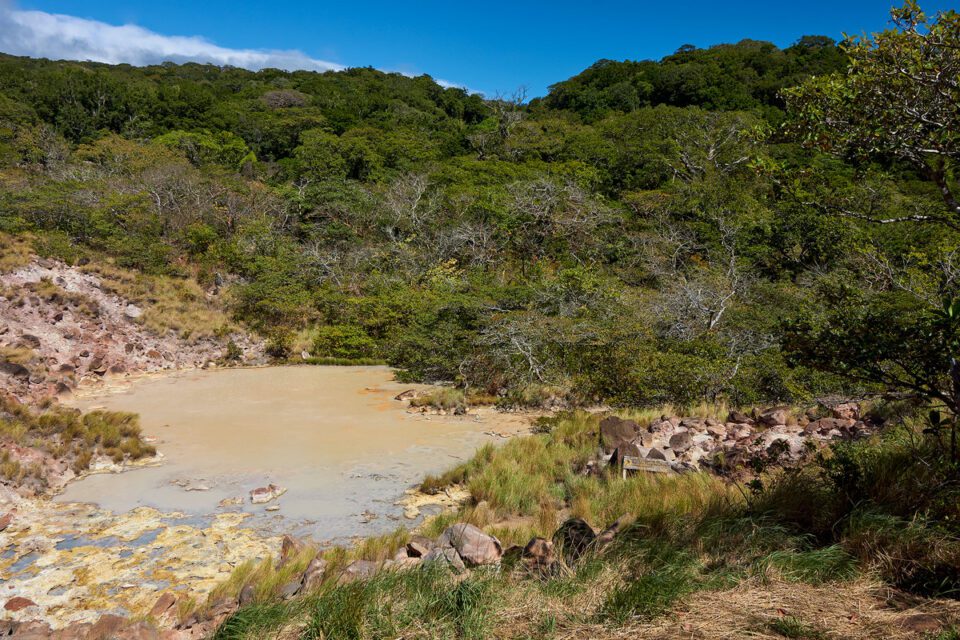 Perhaps no image can conjure the delicate and peculiar fauna of neotropical forests in general and Costa Rica in particular as the Red Eyed Tree Frog, and undoubtedly the small nation offers exceptionally preserved specimens of such forests and their shy inhabitants. Costa Rica offers a variety of forest habitats, magnificent displays of geological phenomena, and an incomparable diversity of wildlife, which unfortunately is increasingly threatened by the proliferation of cattle farms and deforestation. This makes documenting the fragile yet extraordinarily rich and sustaining ecosystems of Costa Rica all the more imperative and is fortunately, with the right gear and proper preparation, not an arduous task.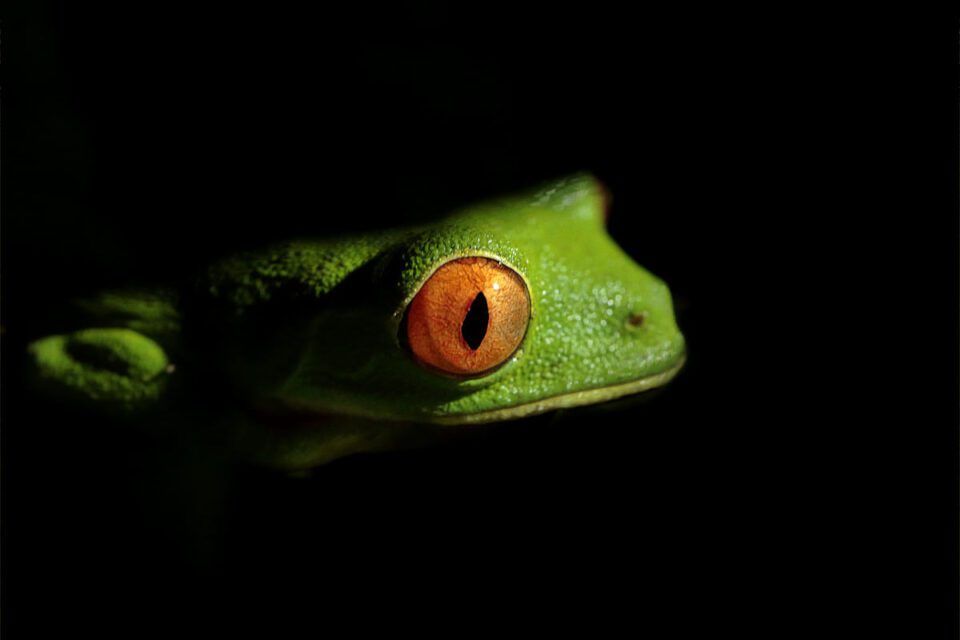 Such a pastoral scene isn't it? A herd of cattle quietly grazing on a green pasture with a beautiful backdrop. Yet just a few years before, in this very spot, there was once a beautiful rainforest teeming with life. Many of the species photographed above used to call this spot home and today the only two species remaining here are cattle and humans. The number one driving force of deforestation in Costa Rica and the Americas is our insatiable and unsustainable appetite for beef. Every single day whole forest's and their inhabitants perish in Costa Rica to make land for cattle pastures. This sight was all too familiar as I traveled throughout Costa Rica, a country that cuts down 4% of their rainforests each year to make room for cattle and agriculture. A little math would make it obvious that such rates are not nearly sustainable in the long run. Personally, I have stopped eating any beef products because of my experiences in the world's rainforests and seeing first hand the damage that my appetite can cause. And it serves as a stark reminder that our seemingly meaningless every day choices can have a lasting impact on the rest of the world and the livelihood of the species we so love to watch and photograph.