A low-pass filter, also known as anti-aliasing or "blur" filter, was designed by camera manufacturers to eliminate the problem of moiré by blurring what actually reaches the sensor. While extreme details are lost in the process, the problem of moiré is completely resolved. Since most cameras are designed to be used for day-to-day photography, where moiré pattern is very common, most cameras on the market today use a low-pass / anti-aliasing filter.
While this surely benefits most photographers out there, it is a big blow on landscape photographers that never see moiré and yet end up with blurred details. Because of this problem, some companies on the market started specializing in removing the low-pass / anti-aliasing filter from modern DSLR cameras, specifically targeting landscape photographers. Most digital medium-format and some high-end cameras do not have a low-pass filter, because they want to deliver the best performance from their sensors. While those cameras are affected by moiré, manufacturers leave it up to the photographer to decide on how to avoid it or deal with it in post-processing. Below you will find two examples of low-pass filters used on typical Nikon DSLRs and on the Nikon D800E.
A typical low-pass filter contains of 3 or more different layers, as shown on the top illustration below: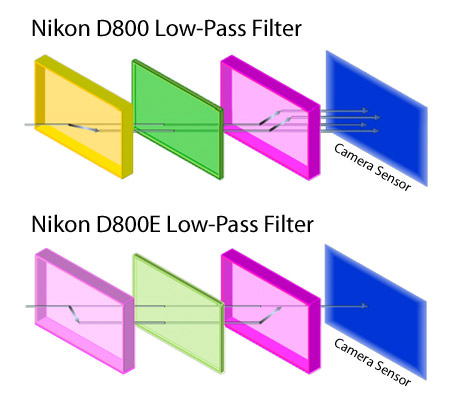 As light rays reach the first "horizontal low-pass filter", they get split in two, horizontally. Next, they go through an infrared absorption filter (illustrated in green color). After that, the light rays go through the "second vertical low-pass filter", which further splits the light rays vertically. This light ray conversion process essentially causes blurring of the details.
With the Nikon D800E DLSR model, Nikon took a different approach. The full low-pass filter cannot be completely removed, because it would cause the focal plane to move; plus, the camera still needs to be able to reflect infrared light rays. Instead of making a single filter with one layer, Nikon decided to still use three layers, but with two layers canceling each other out. As light rays get split into two with a vertical low-pass filter, then through the IR absorption filter, those same light rays get converged back when passing through a reversed vertical low-pass filter. Hence, instead of getting blurred details as in the first illustration, we get the full resolution.
I am not sure if the above method is the best way to deal with the issue, but I suspect that Nikon decided to take this route for cost reasons. It would probably be more expensive to produce a single IR absorption filter layer coated on both sides, than continue to use the same layers, but in a different configuration.
Here is a sharpness comparison between the Nikon D800 and D800E (Image courtesy of Nikon):