At this time when many of us are excited by the new camera announcements, I thought it will be intriguing to do a write up describing my first time shooting 35 mm black and white film. Last summer, I found some time to swing by the Ancient Bristlecone Pine Forest in White Mountains near Bishop, California. I knew that the timing of my trip will not coincide with the best lighting for photography, especially in color. So, I decided to photograph these ancient trees in B/W. Why B/W film? Well, I have always wanted to enjoy the aesthetics of it as well as I thought it will force me to think in terms of highlights, shadows and texture. All in all, a good learning experience.
Since this was a side trip, I wanted to keep my equipment fairly simple and light. I chose my trusted Nikon FE together with Nikon 24mm f/2.8 AI and Nikon 75-150 f/3.5 E AI lenses. This trio can be acquired used in very good condition for about $250! Both these lenses are very sharp when stopped down to f/8 and hold reasonably well upto f/16 (they also make an excellent backpacking combo with Nikon D610 or D750). Also, the common 52 mm thread meant that I can share a polarizer and an orange filter between them. Orange filter? Now why is that needed?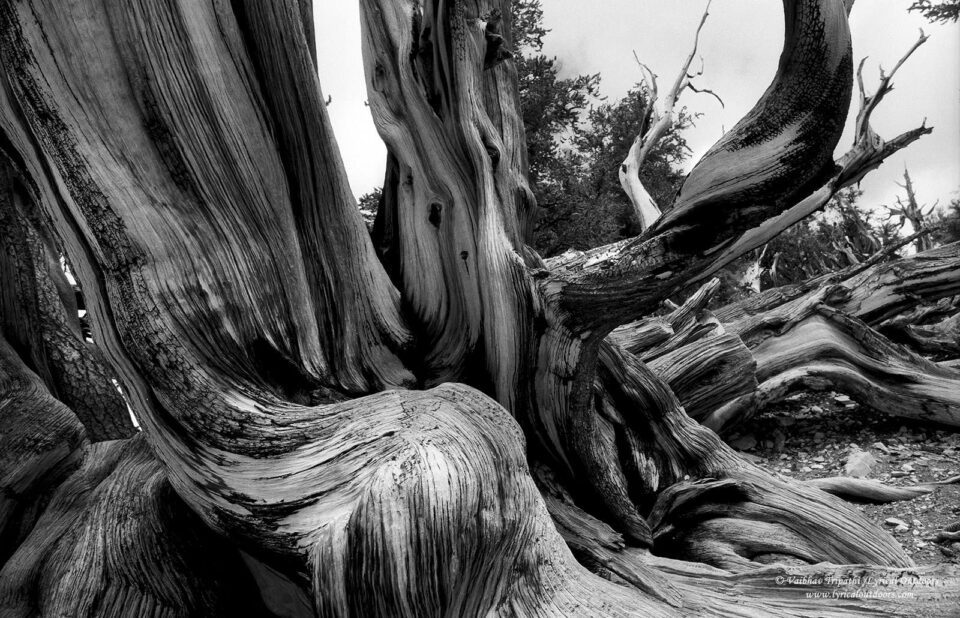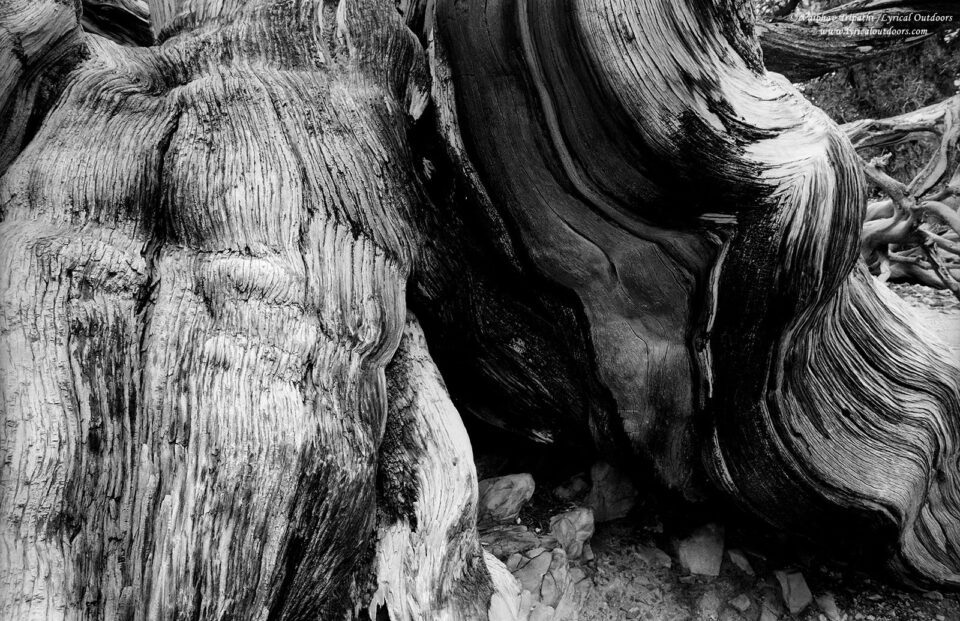 An orange filter as the name suggests allows orange-red wavelengths to pass and blocks violet-blue light. This darkens the blues and helps the clouds to stand out more in the sky. Moreover, the bristlecone pines have orange barks. These will be rendered as white (or comparatively brighter), which will increase contrast in the texture. It should be noted that a red filter will do the same and even more so. I chose an orange filter to play a little safe for it was the first time for me shooting B/W film with filters.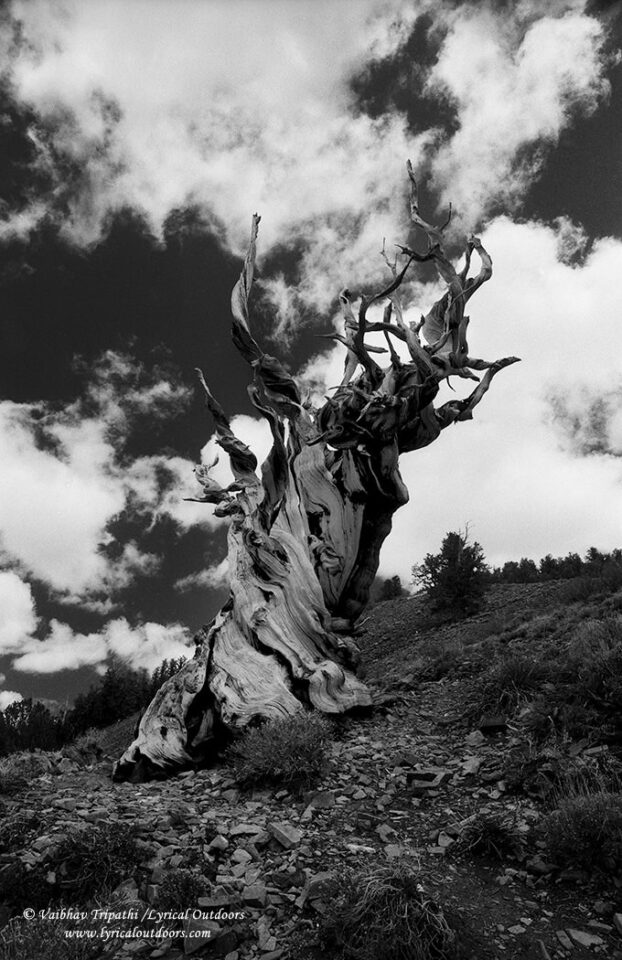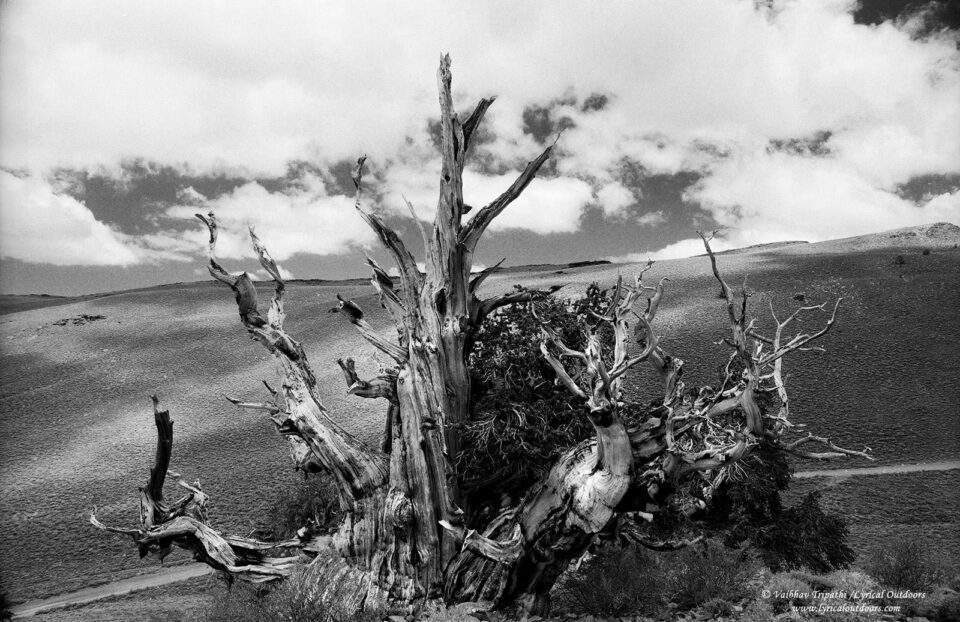 Since, orange filters alter the luminosity selectively, which in turn may also modify the response of b/w film, there is a consensus among photographers that some exposure compensation is required. I spend some time reading about this and found a variety of recommendations- from +0.5 EV to +3 EV, which left me confused. In the end I decided to bracket exposures and draw a conclusion of my own. I found that about one-third to two-third of positive exposure compensation works well for an SLR camera that uses TTL metering. This is easily accomplished by setting the ISO (ASA) speed appropriately. For example, I was using Ilford FP4+, which has a box ISO speed of 125. In my Nikon FE, I set the ISO dial to 80, thus allowing +2/3 stop of exposure compensation. I chose ILFORD FP4+ because of its pleasing tonality and almost endless highlight headroom. This film takes overexposure with such an aplomb that with careful scanning one can recover highlight details from a scene overexposed by 2-3 stops (maybe more!).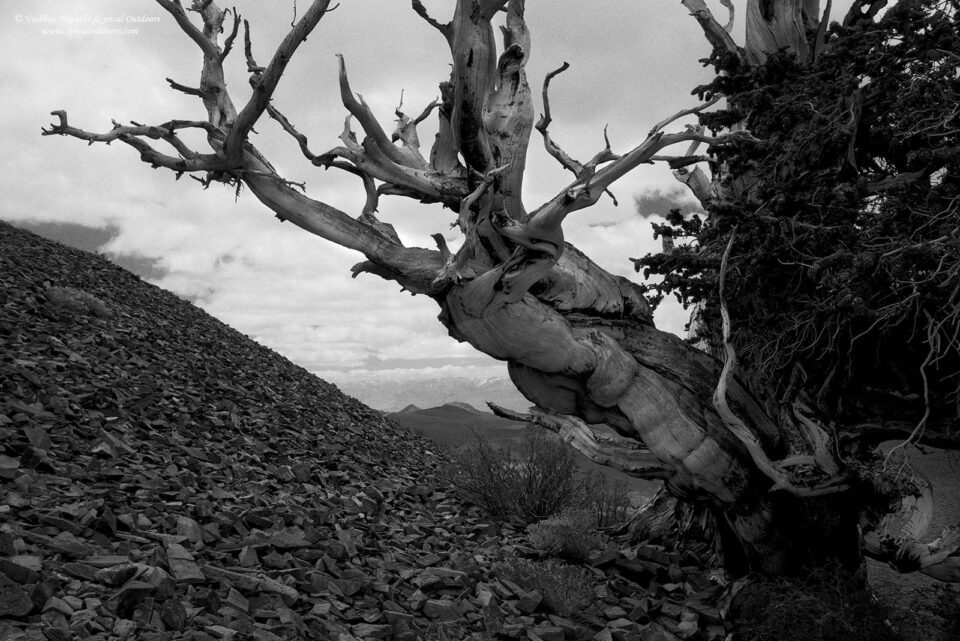 At the Ancient Bristlecone Pine forest, I hiked the Discovery loop at the Schulman Grove. It is a one mile trail that saves the best for the end if hiked in a counter-clockwise fashion. I spent about two hours here, stopping several times, looking for compositions and making photos. The bristlecone pines are very photogenic and each tree has a character of its own. I recall myself being enthralled and completely absorbed on the trail. It is fascinating to imagine that several of these trees were already thousand(s) of years old when Jesus Christ was born.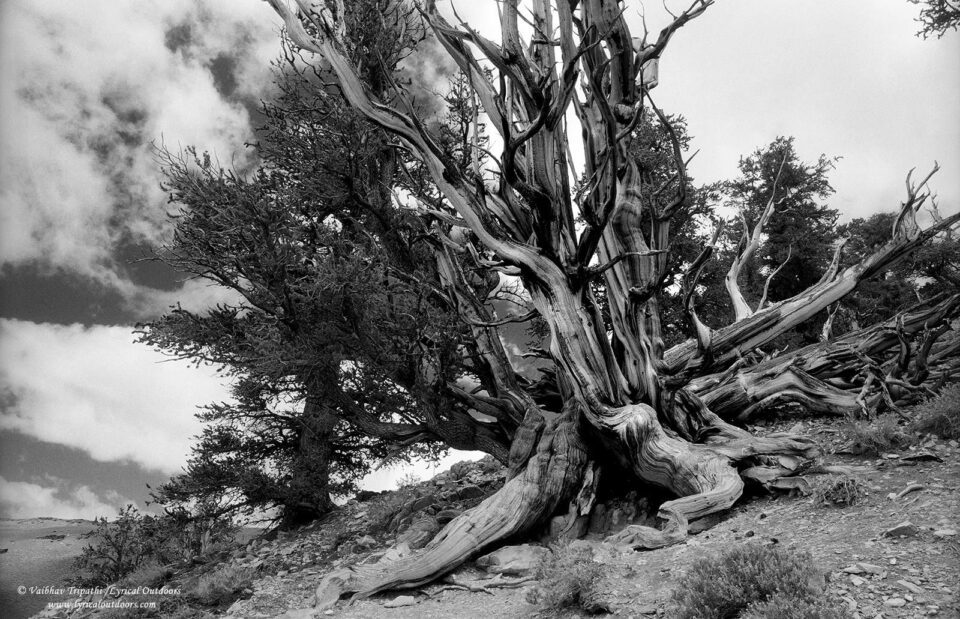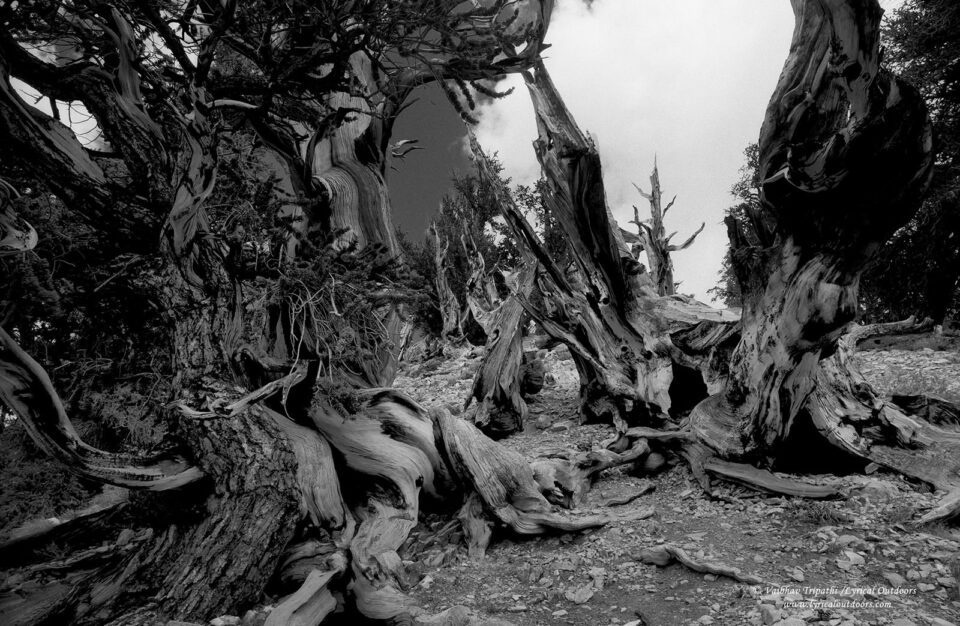 Fl
The film was developed at ILFORD LAB DIRECT and I scanned it using my Nikon Coolscan 5000 (the b/w mode works quite well). Since the digital ICE (scratch and dust removal) tool in the scanner is not suited for traditional B/W film, dust spots and scratches need to be removed manually, which adds to the scanning time and effort. I also used contrast curves and minor dodging and burning in Photoshop to reach these final selected images. I hope you enjoyed them it will be great to hear comments/feedback. In the end, I will share a photo of Tuolumne Meadows in Yosemite National Park that I clicked while driving to Bishop.