I had the chance to test the Viltrox AF 24mm f/1.8 and Nikon Z 28mm f/2.8 extensively in the field – part of my quest to find the best wide-angle prime for the Nikon Z system! Both of these lenses aim for low prices rather than maximum performance, but which is actually better?
Initial Considerations
Before I get into the differences in image quality, I should be clear that the Viltrox AF 24mm f/1.8 and Nikon Z 28mm f/2.8 were designed with different goals in mind. Viltrox's intent was to offer f/1.8 at a low price, while Nikon was more focused on minimizing size and weight.
Why am I comparing these two lenses, then? Because right now, they're two of the only budget wide-angle primes for the Z system! The Viltrox AF 24mm f/1.8 costs $380, while the Nikon Z 28mm f/2.8 costs $300. If you're trying to save money as a Nikon mirrorless shooter, I'm sure that both of these lenses are on your radar.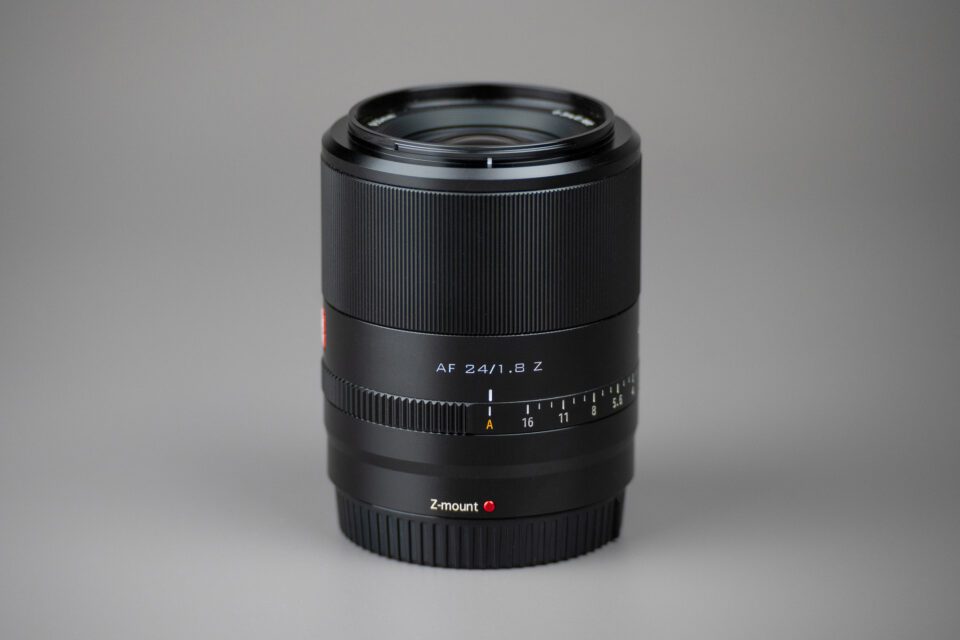 If you look at the intended uses of both lenses, you'll actually find a lot of similarities. Both are budget lenses geared toward travel photography more than anything else. The Viltrox's strength is low-light, handheld travel photography, while the Nikon's strength is that it's light enough to carry all day without weighing you down.
It's not that the Viltrox is a huge lens by any stretch, but it's more than double the weight and size of the Nikon (370 grams vs 155 grams to be exact). That's not surprising considering that it can gather more than twice as much light at f/1.8!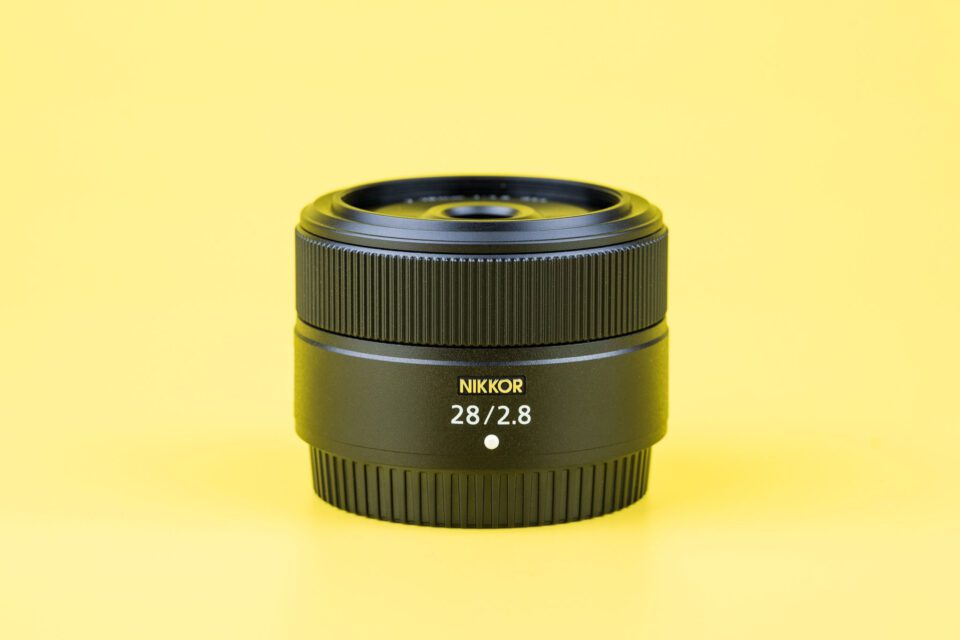 A final consideration that I'd like to mention is weatherproofing. While the Nikon Z 28mm f/2.8 has good dust and moisture protection, the Viltrox 24mm f/1.8 has none. This definitely undercuts some of the Viltrox AF 24mm f/1.8's value for travel and landscape photography, where a sudden rainstorm could always appear and swamp your gear.
Image Quality
1. Vignetting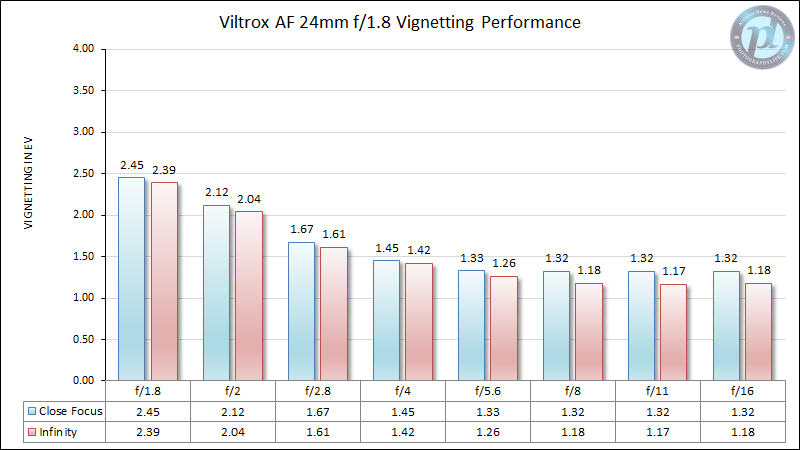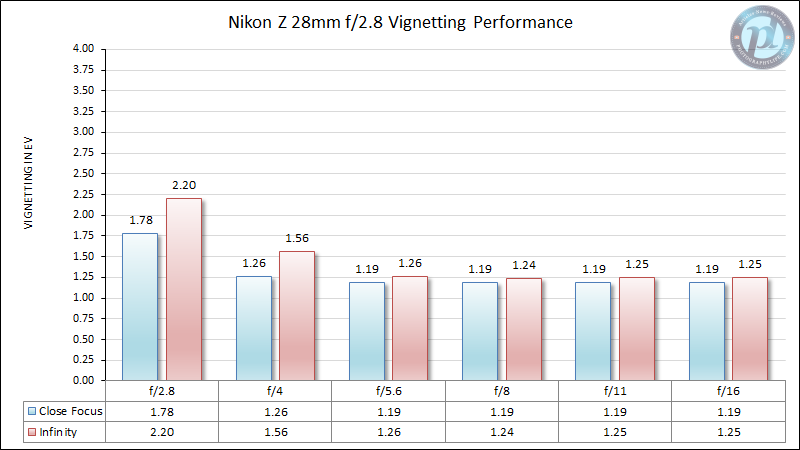 Both lenses have more vignetting than I'd like, even at narrower apertures like f/8 through f/16. In the shared aperture range, the results are very similar; the Viltrox wins at f/2.8 specifically, while the two lenses are basically tied after that.
2. Distortion
The Viltrox AF 24mm f/1.8 measures at 0.83% pincushion distortion in the lab, although in reality, it exhibits complex mustache-shaped distortion that isn't always easy to remove completely. Meanwhile, the Nikon Z 28mm f/2.8 has -2.39% barrel distortion, which is on the high side for a prime lens, but still correctable. The Viltrox probably wins this round, but it's pretty close.
3. Lateral Chromatic Aberration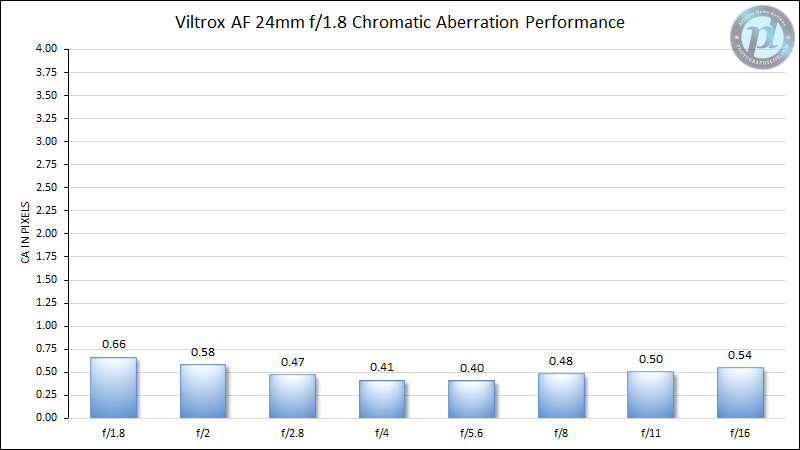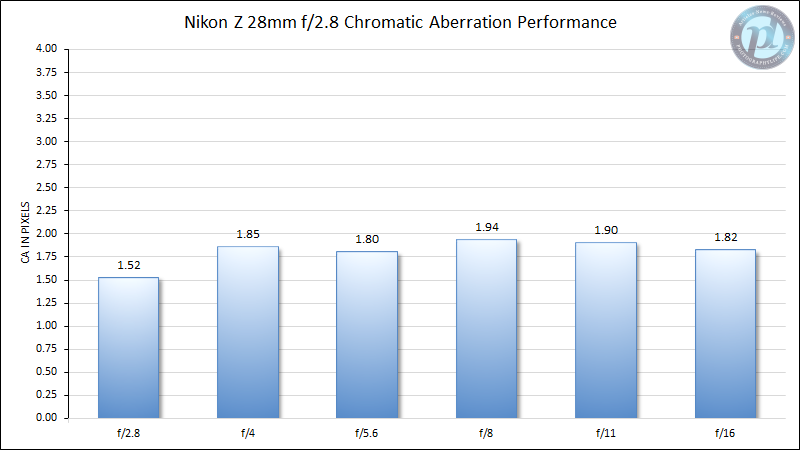 This is our first clear win so far, with the Viltrox AF 24mm f/1.8 having hardly any chromatic aberration, while the Nikon Z 28mm f/2.8 has moderate levels. If you're shooting backlit, high-contrast subjects (like tree branches against the sky), you'll need to keep chromatic aberration corrections turned on with the Nikon Z 28mm f/2.8. It's still not high enough to be uncorrectable, but the Viltrox probably won't need any corrections at all.
This is what I was the most curious about. On one hand, the Viltrox is a relatively cheap third-party optic, which isn't usually a sign of killer sharpness. On the other hand, Nikon definitely was aiming for light weight rather than maximum sharpness with the Z 28mm f/2.8. We're in for an interesting comparison!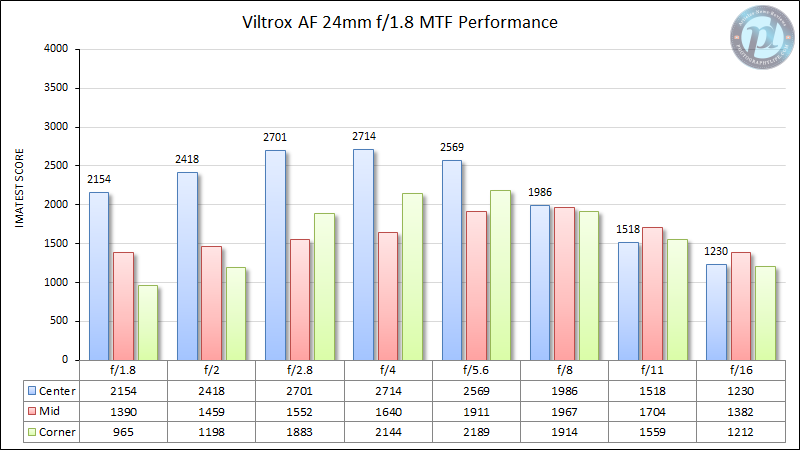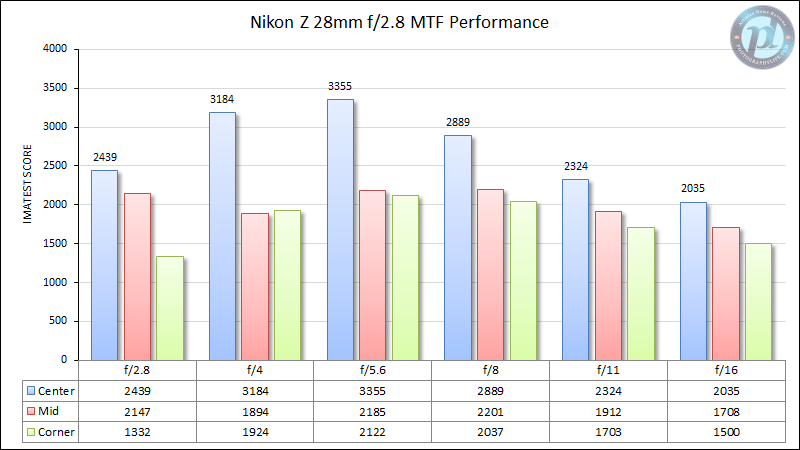 Since the two lenses have different maximum aperture values, make sure that you're comparing the same apertures if you want a true head-to-head comparison.
When you do that, it's clear that the two lenses are in a similar ballpark. The Viltrox AF 24mm f/1.8 has higher corner sharpness at f/2.8 and f/4, while the Nikon Z 28mm f/2.8 has better central sharpness at f/4 and narrower. Midframe sharpness favors the Nikon lens, since the Viltrox has some extensive field curvature issues. And at the narrower apertures of f/8 and beyond, the Nikon wins across the frame, although generally not by huge margins.
All in all, I'd give the nod to the Nikon Z 28mm f/2.8, but it depends where you look in the image. The Viltrox definitely holds its own.
Value and Recommendations
Both of these lenses are well-priced and represent good values if you're on a budget. There is no straightforward "winner" of this comparison, because it depends upon what qualities you value the most for your own photography.
The Viltrox AF 24mm f/1.8, for example, is clearly the better choice if you plan to do low-light, handheld photography, thanks to the f/1.8 maximum aperture. Plus, many photographers prefer a 24mm focal length lens over a 28mm lens for something like landscape work.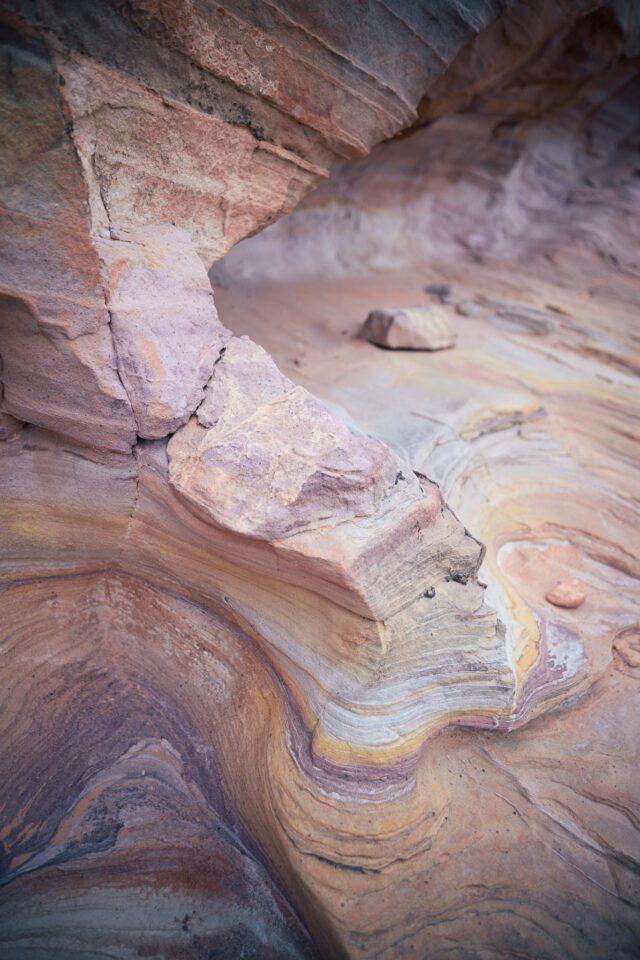 On the other hand, the Nikon Z 28mm f/2.8 is definitely the way to go if portability is your priority. You could carry two copies at once and still be traveling lighter than one copy of the Viltrox! It also has weatherproofing, which the Viltrox lacks – a major factor if you plan to take photos in adverse weather.
As for image quality, I personally wouldn't choose between these lenses for that reason; both are solid performers and surprisingly similar to one another. But if you're totally on the fence, the Nikon Z 28mm f/2.8 has marginally better sharpness, so maybe that will sway your decision.
In any case, I don't think you can go wrong with either lens if you need a wide-angle prime on a budget! But hopefully this article gave you a clear picture of the strengths and weaknesses of each lens, both in the lab and in the field.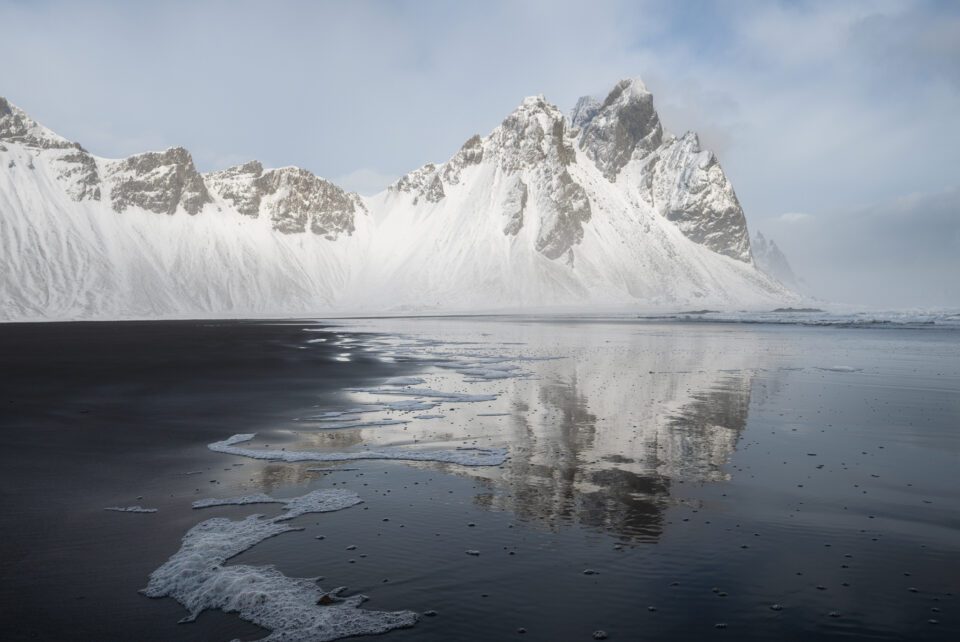 You can check the current prices, and support my testing efforts at Photography Life, at the following B&H affiliate links:
Let me know in the comment section if you have any questions about these two lenses! I've used them both in the field extensively and would be happy to help.