If you show anyone pictures of birds from South America, there are two types that they are sure to know: toucans and parrots! Toucans are the subject of today's article – I've photographed them for years during my travels, with a variety of camera equipment. Yet almost always with a 400mm lens.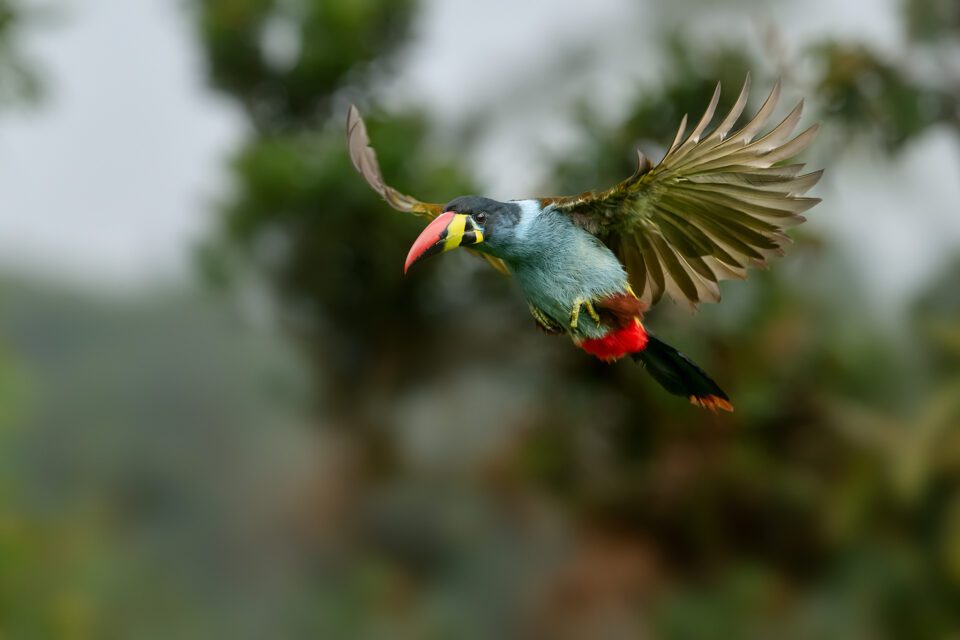 Toucans are unmistakable birds with huge, colorful beaks. But there are in fact about 50 different species of toucan throughout Latin America, and not all of them live where you would expect. Rather than lowland rainforests, the toucans I tend to photograph are quite high in the mountains.
Even the name of these toucans gives it away: they're called Mountain Toucans, and four species of them live in the cloud forests of the Andes (up to 3650 meters / 12,000 feet in altitude). They look similar to one another, with a shared color scheme of blues, browns, yellows, and reds. I've now managed to photograph three of them (all except the Hooded Mountain Toucan). Since they're relatively big birds, a 400mm lens is usually my focal length of choice.
Plate-Billed Mountain Toucan
My first encounter with this beautiful toucan is still vivid in my memory. I was sitting outside my tent, about a full day's walk through the forest trails to the nearest civilization. Water was boiling in a pot for tea, when I heard a song that I only knew from recordings. The Plate-Billed Mountain Toucan was nearby.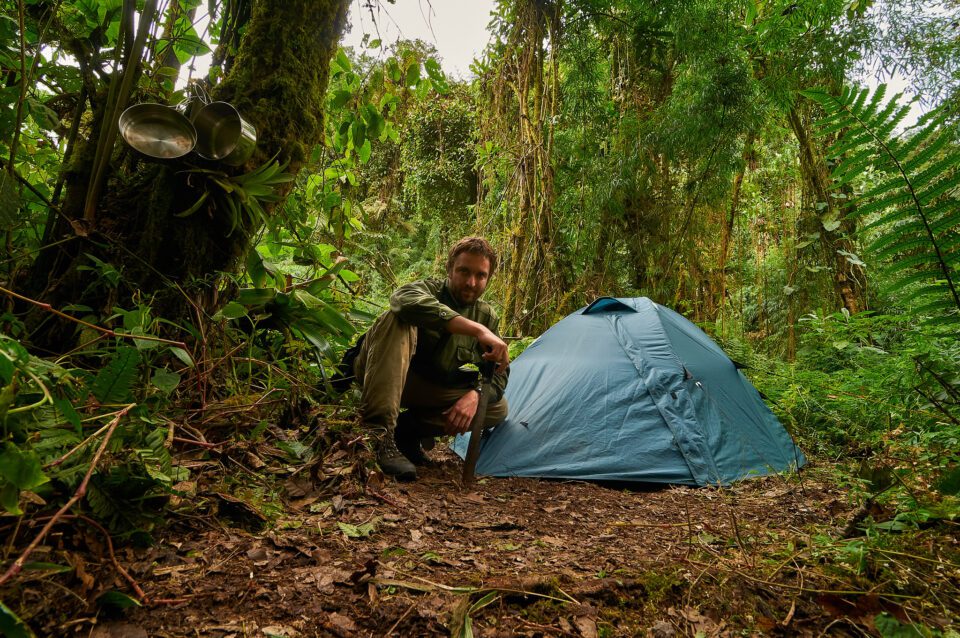 It was 2010 at the time, and I was using the Nikon D300 to record scientific imagery. Since then, I've gone back many times, including with better equipment like the D500 and F-mount 400mm f/2.8.
On that trip, I was very lucky. My group was staying on my friend's property, photographing small birds like tanagers and hummingbirds. He pointed out that a Mountain Toucan nest was nearby, and I dropped what I was doing immediately. Photographing a Mountain Toucan in the nest? This was an opportunity I couldn't miss. I grabbed my camouflage net and headed out.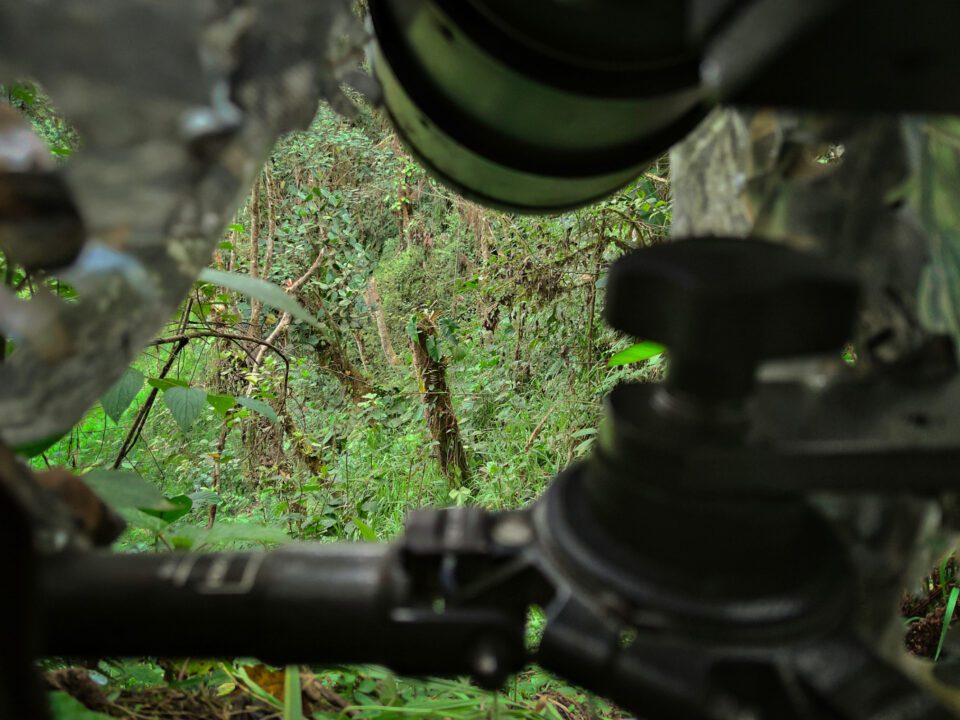 I set up my tripod, mounted my Nikon D500 with the old and heavy 400mm f/2.8 G lens and 1.4x teleconverter. This was my first photo of these birds at the nest. I still regret that I couldn't stay longer to photograph the feeding of the chicks and their first flight.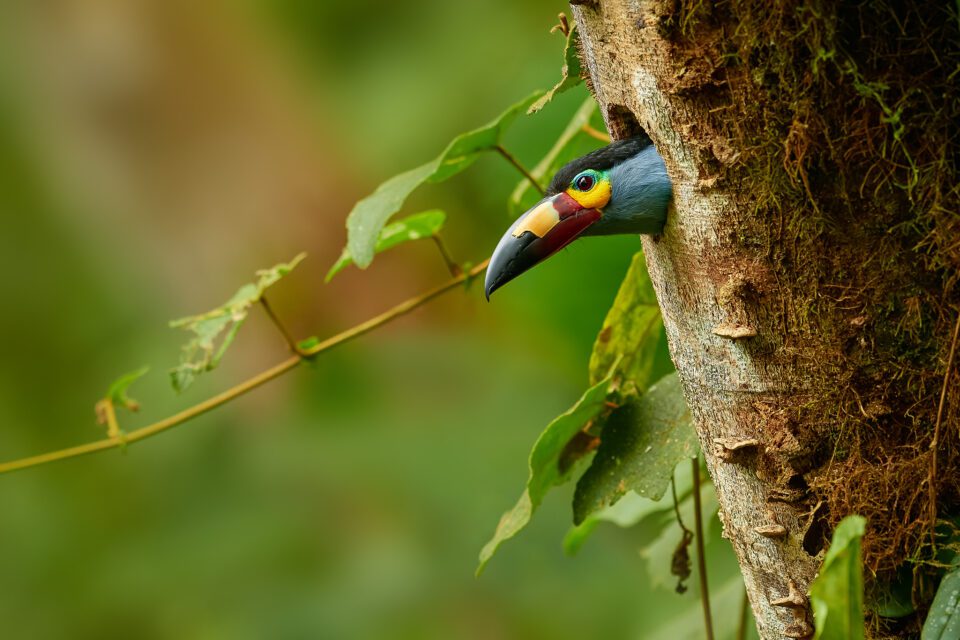 Often, you will try to maximize your reach in wildlife photography by using longer lenses or getting closer to your subjects. The toucans I saw here were not very scared of people, so a 400mm lens on a Nikon DX camera (1.5x crop factor) was perfect. I even had to back up a bit sometimes, and as you can see, the toucans take up quite a lot of the frame. I considered it a resounding success.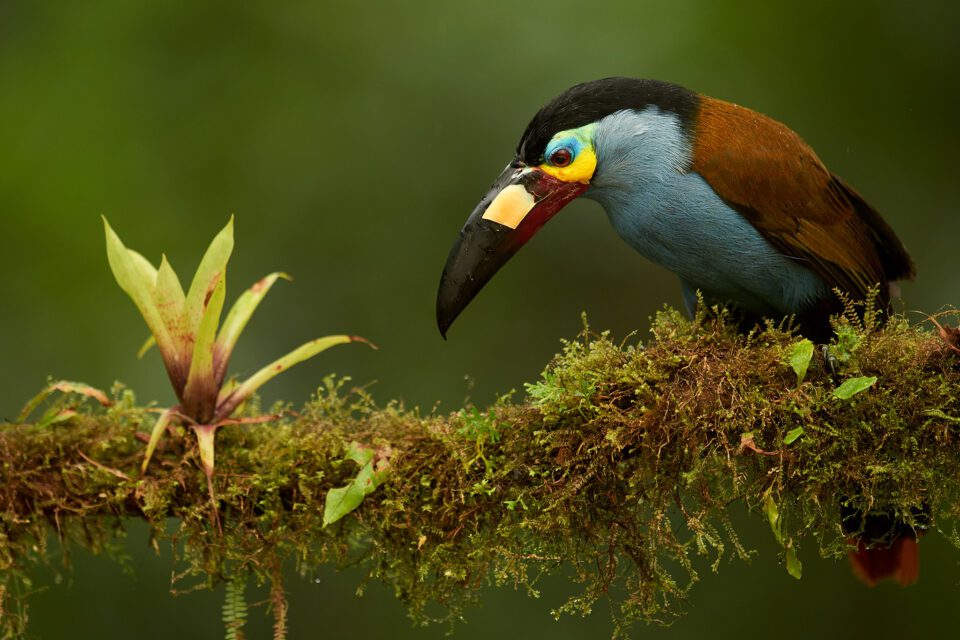 I have also photographed the toucans with the most modern 400mm option that Nikon has, the Z 400mm f/2.8 TC VR S coupled with a Nikon Z9. Well, that was a bit of an indulgence since I don't own the lens, but the built-in 1.4x teleconverter is wonderful for wildlife photography. When I saw two toucans, a mating pair, I was prepared to take some amazing photos of them.
However, the senses of birds are incredibly keen. Camouflage that would fool the average mammal doesn't stand a chance against birds. Although I had my setup ready to go, the birds this time were wary of me. Rather than landing on the branch I wanted, the two Plate-Billed Mountain Toucans watched me from a different tree. It was clear to me that I had lost this round. I packed my gear and hoped for better luck next time.
Fortunately, that came soon enough. At another site on the opposite ridge, another pair was nesting. These toucans did not me as a threat; my guess is that they were used to feeding on the bananas of nearby farms. However, their nest was relatively high in the tree. I used the roof of my car as a photographic platform.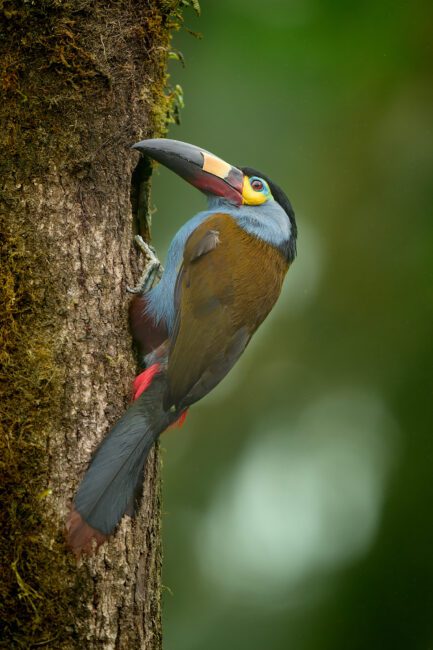 And that's my experience with the Plate-Billed Mountain Toucan. Although my equivalent focal lengths here were actually longer than 400mm, the two 400mm lenses I used were just right for the job. If I had a magic wand, I would make the Nikon Z9 able to shoot RAW photos in pre-release burst mode. That would have made it easier to capture toucans in flight. Even an extra half-second would be a godsend.
Gray-Breasted Mountain Toucan
This toucan and I occasionally met in the field, but these fleeting encounters resulted in only a few bad photos, until my more recent travels. The Gray-breasted Mountain Toucan lives at the highest altitude of all toucans. It is also one of the four endangered species of the entire family Ramphastidae.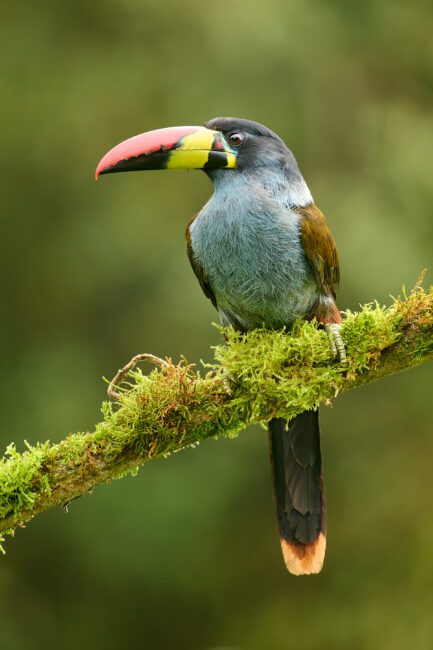 What's causing their decline? That's a pretty well-worn story. Loss of natural habitat and conversion to farmland. Cutting down mature trees with the cavities they need for nesting. Trapping birds and selling them as pets and even hunting them for meat occasionally.
Personally, I can't imagine shooting a toucan and roasting it like a chicken. As a Central European, it seems a very bizarre idea to me. Then again, some people from South America probably wonder about our consumption of pheasants. So it's a culturally distorted view. Even so, I was glad to be shooting them with a camera rather than shooting them with something else.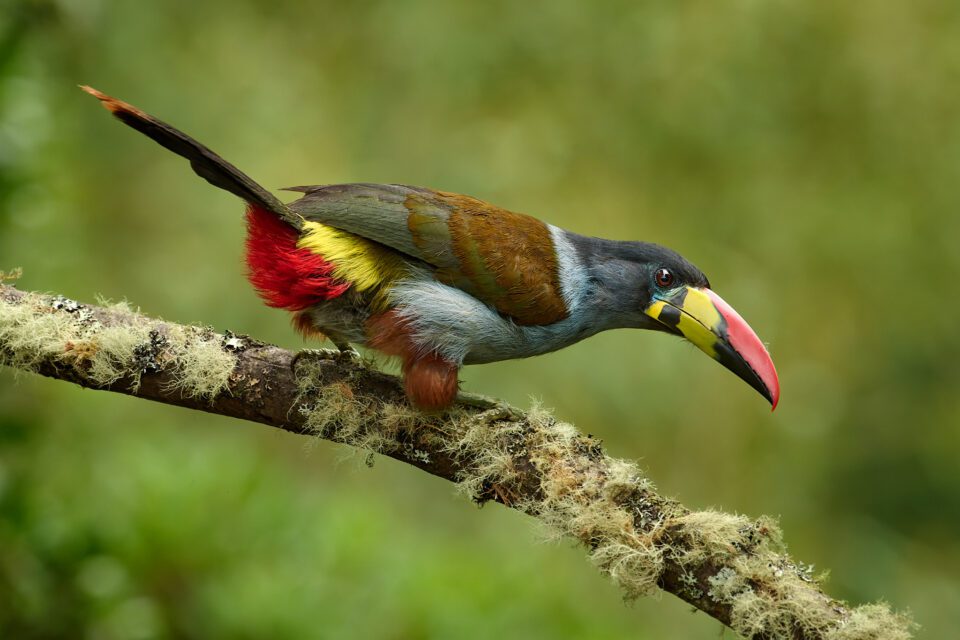 I was happy to see that this view of toucans – and nature in general – is changing. These magnificent birds can certainly provide locals with value far beyond just their calories. I am talking about ecotourism and bird tourism.
When photographers and other tourists visit an area with magnificent birds, suddenly a healthy forest is far more valuable than a degraded pasture. It's something I say all the time: Protecting nature must also pay off for the ordinary people who live there. Only then will conservation activities have a chance of a long-term future.
Attractive flagship species, such as toucans, can play an important role in this effort. And it's not just birds – protecting beautiful species can benefit the entire ecosystem and, ultimately, the entire planet. In this way, the more ordinary-looking birds can hide under the wings of the toucans.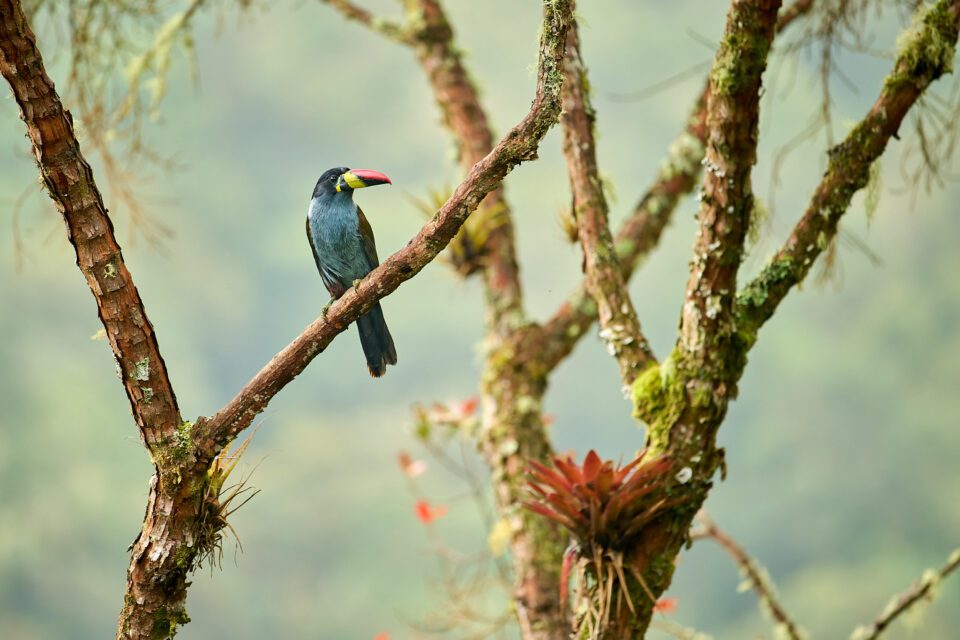 As for camera equipment, this time, I only occasionally needed the 1.4x teleconverter. Most of the time, I shot at 400mm on the FX sensor, and it was more than enough. Or, like the photo above, 400mm allowed me to contextualize the toucan and show more of its environment. Sometimes, it's not about filling the frame with your subject, but telling a story.
Black-Billed Mountain Toucan
On my recent trip to Colombia, I photographed the Black-Billed Mountain Toucan for the first time. And it's another situation where tourism can have a positive impact on nature.
Juan Martín is a young man who bought a large agricultural property on the outskirts of Manizales about 6 years ago. On the slopes of Los Nevados in Hacienda del Bosque, he raises cows, horses, and trout. Over time, he is also returning increasingly more of his land to nature.
Juan and his colleagues have planted thousands of trees over recent years. Add everything up, and they have planted a bio-corridor nearly 20 kilometers long! This allows wildlife to migrate through a landscape that is otherwise highly fragmented. And Juan is not just doing this because he is some kind of Mother Theresa figure (although he is a very good-hearted guy). His project is viable and profitable, which makes it more likely to last.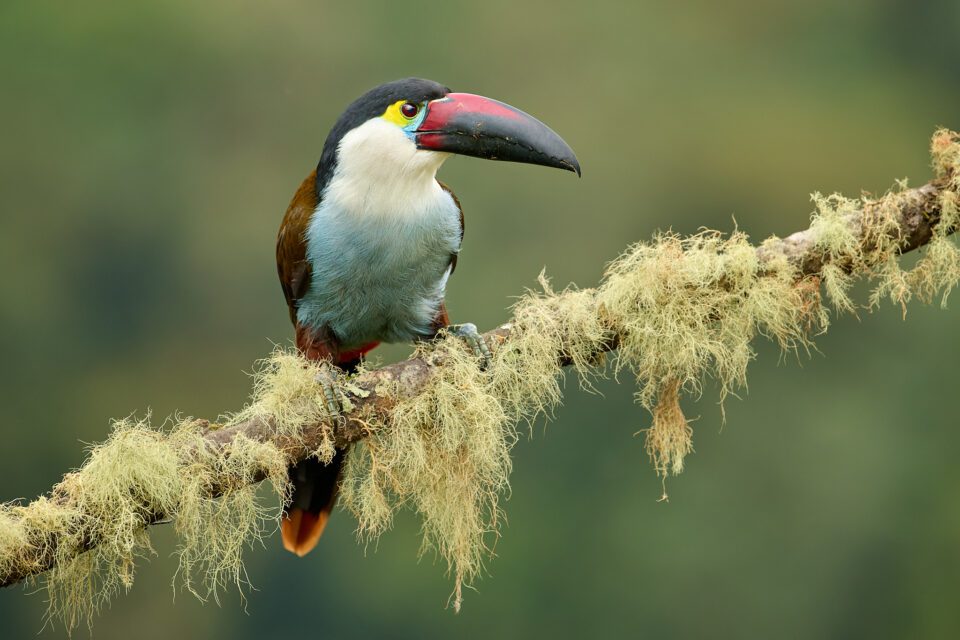 Birders and photographers from all over the world visit his farm daily. The resulting income proves that nature is worth its weight in gold. On Juan's property, two species of Mountain Toucans (among many other species) can be photographed in the same area. This is very unusual. In fact, prior to Juan's efforts, ecological literature stated that Gray-Breasted and Black-Billed Mountain Toucans had not been seen on the same site.
On the day I was at the Hacienda, however, I had no luck with the Black-Billed Mountain Toucan. It was probably nesting at the time. So then, what's the photo you see above? Well, the very next day, in a beautiful isolated spot on the edge of the cloud forest, I had good luck!
At a campground called Glamping El Color de Mis Reves, I was able to confirm with certainty that under the right conditions, both species of toucans can occur in the same spot (in a place other than Juan's property)! It was clear from their behavior that these birds did not see humans as a threat. Of course, they kept their distance and caution. However, it was possible to photograph them so close that even a 400mm telephoto lens was sometimes too long.
Sometimes, beautiful birds like these toucans give us just one chance per day, or less. But in the secretive world of wildlife photography, that's more than generous enough.