Today, Nikon has announced a new DX zoom lens for beginner photographers. Covering a vast focal length range of 18-300mm, it's not the first Nikkor with such parameters – the similar 18-300mm f/3.5-5.6 VR lens has already been announced a while ago, not to mention all the third-party competition from Tamron and Sigma. However, the new lens is designed not to just deliver a very wide zoom range, but deliver it in a smaller, lighter package. To put it into perspective, the new lens weighs a whopping 280g less than the bigger version. Quite an achievement and will surely be tempting for those few who need such a lens, but it came at a bit of a price both literally and figuratively. And that raises a question – who is actually going to need such a lens?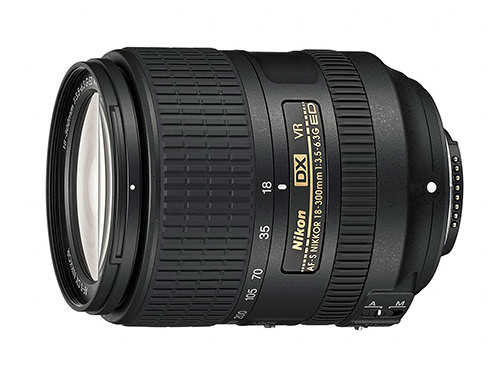 Lens Overview and Our Thoughts
As I've already mentioned, this lens' most attractive aspect is the relation between size/weight and dimensions. It really is much, much smaller than Nikon's older lens with the same focal length – it is 79mm in diameter and 99mm in legth. For the sake of comparison, the old(-ish) Nikkor 18-200mm f/3.5-5.6 VR II, whilst sporting a narrower focal length range, is almost exactly the same size. So how did Nikon manage to bump the zoom range? The answer is simple – maximum aperture at the long end is a miserly f/6.3 and I would expect it starts quite early. And that's the thing with this lens. Put it on a 24 megapixel APS-C sensor camera, set it to 300mm and what sort of image quality are you left with? f/6.3 might not seem all that different from f/5.6 – both don't make overexposing the shot in anything but the brightest environment an easy job. And yet if you think that lenses generally reach their peak performance stopped down a little… and that f/6.3 is already affected by diffraction, and that at 300mm the lens is probably at its worst level of performance anyway, there's not much hope that this lens will be even remotely impressive, unless compared to something equally uninspiring. And here's another interesting fact. It is currently priced at, wait for it… $899.95. I'm sorry, that's two AF-S 50mm f/1.4G lenses, and for me, one is enough to go through a wedding with decently diverse results.
You've probably noticed my skeptical tone by now. I will be straightforward – I do not like this lens nor any other 18-300mm class optic. Why? Because they are too much of a compromise. Here's what Nasim thought about the f/3.5-5.6 version of this lens in our review:
The Nikon 18-300mm is a very average lens with average performance overall. It is optically worse than the 18-200mm and it is much bigger and heavier in comparison. It has plenty of distortion, chromatic aberration, vignetting and other issues, but worst of all – its optical performance and focus accuracy at long focal lengths is disappointing. Personally, I would rather opt for the 18-105mm kit lens or the 18-200mm, both of which are cheaper and better optically.
Can we expect a lens that has compromised even more on image quality to actually perform not just better, but on an acceptable level? More importantly, lenses like this one cover such a vast range of focal lengths, it's almost as if the manufacturer is implying the buyer does not actually know what he wants or, crucially, needs. I strongly believe that if you need a single lens that goes from around 28mm to 400mm and over (full-frame equivalent), you are better off with a super-zoom point-and-shoot camera. There's just no point in owning a big, heavy DSLR with a big, heavy super-zoom lens, both of which cost a lot of money and don't actually make much sense in terms of image quality. If you own a big, expensive kit, it should perform like a big, expensive kit. Which is to say, brilliantly.
That brings me to Nikon's official press release which you can see further down. I usually try not to read what manufacturers have to say about their products because of all the marketing talk. Only very rarely and just some of them sound like their product aren't actually the best thing that has ever happened in this world or any other, but are judged reasonably realistically. But a short phrase caught my attention whilst I was formatting the press release – "delivering superior performance and image quality". Sorry, superior to what, exactly? Such an empty statement. There is a chance it won't be a bad lens, but it won't be a bad lens compared to another lens in the same category. So, again, superior to what? And in what light with that maximum aperture at the long end of the zoom range? And on what camera? A modern 24-megapixel D7100? Let's not kid ourselves. Yes, it's small and light for its parameters and, possibly, won't be as bad as one might think. But those are just guesses. What is certain is that it won't be good in absolute terms. This is a lens one buys to sell in a few weeks or months. Even soccer moms are better off with a 16-85mm f/3.5-5.6 VR and 55-300mm f/3.5-5.6 VR or similar duo.
Hand on heart, I could not recommend such a lens to anyone. Certainly not for $900. Decide what you actually need from your gear and focus on that. Buying a lens you'll find yourself trying to get rid of is not just costly in terms of money, it's costly in terms of creativity and satisfaction with what you own. And very few people would be satisfied with such a lens for long.
Key Specifications
Here is a short list of key specification of the new Nikkor AF-S 18-300mm f/3.5-6.3G VR DX lens:
Focal length range of 18-300mm (27-450mm full-frame equivalent)
Maximum aperture range of f/3.5-6.3
Vibration Reduction
16 elements in 12 groups, 3 aspherical and 3 ED glass elements
Seven rounded diaphragm blades
Silent wave ultrasonic motor with full-time manual focus override
Focuses down to 0.48m (18.9″)
Maximum magnification of 0.32x
Made of plastic with a metal mount
Weighs in at just 550g (1.21 lb)
Measures just 79mm in diameter (3.11″) and 99mm in length (3.9″) at shortest zoom setting
67mm filter thread
Priced at around $899.95
Official Press Release
Here is the official press release by Nikon:
THE NEW AF-S DX NIKKOR 18-300MM F/3.5-6.3G ED VR LENS IS A VERSATILE YET COMPACT AND LIGHTWEIGHT TELEPHOTO ZOOM LENS THAT ALLOWS USERS TO GET CLOSE TO THE ACTION

MELVILLE, NY (April 10, 2014 at 12:01 A.M. EDT) – Today, Nikon Inc. announced the latest addition to its legendary NIKKOR lineup, the new AF-S DX NIKKOR 18-300mm f/3.5-6.3G ED VR telephoto zoom lens. Designed for the DX-format photographer looking to get more out of their D-SLR camera, the versatile NIKKOR 18-300mm is a compact and lightweight 16.7X all-in-one telephoto zoom lens that delivers high performance and superior image quality. Whether capturing still images or HD video, the 18-300mm lens is built to help users capture content with vibrant colors and sharp details, plus shoot sports, vacations and wildlife with confidence.

"With the addition of the AF-S DX NIKKOR 18-300mm f/3.5-6.3G ED VR to the NIKKOR lens line-up, DX-format photographers have a compact and lightweight all-in-one telephoto zoom that can handle any photo or video challenge," said Masahiro Horie, Director of Marketing and Planning, Nikon Inc. "With the 18-300mm lens, DX-format photographers will be able to capture sharp images and video with incredible detail. Additionally, the lens incorporates renowned NIKKOR optics and technology like a Silent Wave Motor (SWM), three Aspherical and three Extra-low Dispersion glass elements, as well as innovative features like Vibration Reduction image stabilization."

An All-In-One Telephoto Zoom Lens

With the introduction of the AF-S DX NIKKOR 18-300mm f/3.5-6.3G ED VR lens, DX-format photographers have a compact and lightweight telephoto zoom lens, over 30 percent lighter than the acclaimed AF-S DX NIKKOR 18-300mm f/3.5-5.6G ED VR lens, that produces the incredible results users have come to expect from Nikon's NIKKOR lens lineup. The 18-300mm lens boasts an impressive 16.7X ultrahigh-ratio zoom range, offering a focal range from wide-angle 18mm to super-telephoto 300mm (27mm to 450mm equivalent in FX/35mm format). The new lens provides photographers with compositional freedom that is ideal for everyday use, whether capturing close-ups, sweeping landscapes, portraits, architecture, nature, sports and fast moving action. When recording HD videos, users will have the ability to capture wide establishing shots, medium close-up shots or extreme telephoto sequences that best complement their creative vision. With the new 18-300mm, photographers that currently use DX-format D-SLR cameras, like the Nikon D3000 and D5000 series, now have a versatile telephoto zoom lens to upgrade their current lens arsenal or complement their kit lens.

Delivering Superior Performance and Image Quality

Incorporating proven NIKKOR lens optics and technology, the new AF-S DX NIKKOR 18-300mm f/3.5-6.3G ED VR lens offers an extensive feature set that produces vibrant color, sharp detail with minimal distortion, whether capturing still images or recording HD video. Helping to ensure sharp photos and video even in low-light situations while also combatting the effects of camera shake, the 18-300mm comes equipped with Nikon's renowned Vibration Reduction (VR) image stabilization, providing the lens with four stops* of stabilization to help make shooting a blur-free experience, even while handheld.

Weighing a mere 19.4 ounces, the AF-S DX NIKKOR 18-300mm f/3.5-6.3G ED VR is remarkably compact and lightweight, making it a lens that is comfortable to carry regardless of the photo excursion. The construction of the 18-300mm lens contains 16 optical elements in 12 groups and includes three Aspherical (AS) and three Extra-low Dispersion (ED) glass elements to produce maximum contrast while minimizing lens flare and ghosting. Its three Extra-low Dispersion (ED) glass elements effectively minimize chromatic aberration at even the widest aperture settings. Also, the new lens incorporates a seven rounded-blade diaphragm, which helps achieve a beautiful and natural background blur. Like many of Nikon's newest NIKKOR lenses, the 18-300mm has a Silent Wave Motor (SWM), designed to deliver fast, accurate and quiet autofocusing (AF) performance, plus Internal Focusing (IF), which gives it a more compact, streamlined lens design.

Price and Availability
The AF-S DX NIKKOR 18-300mm f/3.5-6.3G ED VR lens will be available in May 2014 for suggested retail price (SRP) of $899.95**. For more information on NIKKOR lenses as well as other Nikon products, please visit www.nikonusa.com.

*Based on CIPA Standard. This value is achieved when DX-format compatible lenses are attached to a DX-format digital SLR camera and zoom lenses are set at the maximum telephoto position.

**Suggested Retail Price (SRP) listed only as a suggestion. Actual prices are set by dealers and are subject to change at any time.
Pre-Order Information
Oh no. You are not getting links from us, no chance. Get a 24-120mm or a 50mm lens instead if you need something versatile. Try some 35mm prime or an 18-140mm VR, too.