It has been a little over a year since Sony announced the world's first fixed lens 35mm full-frame mirrorless camera, the Sony RX1. Shortly after, Sony released another version of the same camera without an anti-aliasing filter and gave it a slightly different name – Sony RX1R, similar to what Nikon did with the D800 and the D800E. And with Sony's hard push on the NEX-series cameras, we thought that it was a matter of time until Sony announces a full-frame interchangeable lens mirrorless camera system. Back in 2012, we predicted that Sony would release a full-frame camera in 2013 and it seems like our predictions were indeed true. Today is a very exciting day for the world of photography, because Sony has just announced the world's first full-frame interchangeable lens mirrorless camera with autofocus capabilities. Sony is shaking up the industry once again with a breakthrough product that will lead the way for others in the future. Some might say that this is the beginning of the end of DSLRs. Read on to see what we think.

Aside from Leica, no other company has been able to offer mirrorless full-frame cameras so far. In addition to the high cost of manufacturing full-frame sensors, integrating a fast and accurate autofocus system and a solid electronic viewfinder with minimal lag and blackouts has been a challenge. Another factor was the cost of creating a new lens system, which requires a lot of R&D and a long term financial commitment to make a system successful. Lastly, most manufacturers realized that they would have a hard time competing with the mature DSLR market that has been historically soaring in popularity due to high demand and lower than ever prices. Having entered the mirrorless market with NEX-series cameras that sported smaller APS-C sensors seen in budget DSLRs, Sony has been probing the market with a number of different mirrorless options. Until today, Sony was one of the few manufacturers to create 4 different segments in the mirrorless market – from the budget Sony NEX-3 series to the feature-rich NEX-7 for enthusiasts and professionals. The NEX has been quite a success story for Sony, which has been rapidly growing its market share ever since. New cameras are introduced every year and the selection of lenses has been steadily growing, both in Sony's native lenses and third party options. While the NEX-series cameras are meant to compete directly with APS-C DSLRs for everything except sports and wildlife photography, they have not been able to match the performance of full-frame DSLRs. Even the best of the breed Sony NEX-7 cannot directly compete with such cameras as the Nikon D800 in image quality and resolution, due to the smaller physical size of the sensor.
Lighter, Smaller, Cheaper
With the introduction of the new full-frame mirrorless cameras, Sony is now the first company to truly challenge full-frame DSLRs. Featuring imaging sensors that are of the same size as on top of the line DSLR cameras, the new mirrorless system will offer the same image quality at smaller size, lower weight and above all – cost! Yes, with a price tag of $1700, the Sony A7 will be the first full-frame camera in history to be sold that cheap at launch. Even the Nikon D610 with a similar 24 MP resolution sensor and a discounted price of $2000 (compared to the D600) is $300 more expensive in comparison! And the Sony A7R, which has the same 36 MP resolution sensor as the Nikon D800/D800E will be sold for just $2300 – $700 cheaper than the market value of the D800. Actually, it will be $1000 cheaper, because it has no anti-aliasing filter and therefore competes head to head against the Nikon D800E, which retails for $3300. What an aggressive move by Sony – two products that are meant to essentially eat into Nikon's D610 and D800 sales directly!
What's shocking, is that Sony's full-frame cameras are also the first mirrorless cameras that actually compete with DSLRs price-wise. So far, pretty much none of the mirrorless APS-C cameras have been cheaper than their DSLR counterparts, maybe with the exception of some lower-end Micro Four Thirds models. The goal of these two cameras is pretty clear – to capture as much market share as possible at a very low cost entry and convert as many Nikon and Canon DSLR shooters to Sony, as quickly as possible. For photography needs like landscape and architectural photography, these cameras would be a perfect fit. Why wouldn't you want a full-frame mirrorless if it is smaller, lighter and cheaper than a DSLR, with the equivalent image quality? For sports and wildlife photography, it will take a while for mirrorless to catch up. Contrast-detect is unusable for moving subjects, while hybrid AF systems are currently too slow and buggy to compete with the traditional phase detect autofocus. In addition, it will take a number of years for Sony or other manufacturers to develop good super-telephoto lenses for the full-frame mirrorless mount and there will always be an issue of balance when dealing with large lenses and small cameras. In fact, mirrorless might not be able to replace DSLRs for sports and wildlife photography for many years. But that's a relatively small market we are talking about.
Nikon and Canon – Wake Up!
This is certainly a wake up call for both Nikon and Canon, both of which have been ignoring the potential of mirrorless cameras and pushing their R&D in the wrong direction. And this is certainly a huge blow to Nikon! Sony let Nikon have the lead game for a year with its D600 and D800, by selling Nikon its 24 MP and 36 MP sensors and now they are slapping the same sensors on completely different products at much smaller price points. Think about what this will do to Nikon's DSLR prices. Perhaps Nikon is counting on the loyalty of its existing customers? Well, if that was the case, perhaps it shouldn't have let its D600 customers down by announcing the D610 instead of trying to fix the dust problem? Or perhaps it should have acknowledged the autofocus problems of the D800 and taken steps to remedy them? Nikon's image has been badly tarnished during the last two years and it is not something that even the most loyal customers will easily forget for a while. I would like to see how Nikon can convince its fan base to upgrade to the D800E, when Sony offers comparable image quality at a whopping $1000 less. Obviously, it is not just about the camera and its sensor – lenses also play a huge role, as pointed out below. However, if Nikon does not turn around and act quickly, it risks losing a lot of its market share and dominance in the next few years. I am not trying to say that everyone will move to Sony, but those that are considering moving up from an APS-C / DX camera to full-frame will certainly take a close look at what Sony has to offer.
Lens Selection and Compatibility
As you probably already know, a good selection of solid performing lenses is a must-have ingredient for success. Without good lenses, Sony will have a hard time selling the system. Historically, in comparison to Micro Four Thirds and Fuji X systems, Sony has not done a very good job with its NEX lens line in my opinion. Instead of focusing on compact prime lenses with good performance characteristics, Sony has been releasing bulky zoom lenses and slow primes. To date, there is not a single native f/1.2 or f/1.4 lens for the NEX mount. And if you have been reading our coverage of the NEX system, one of my biggest complaints is the size / bulk of Sony's E-mount lenses and their average performance. Zeiss has a couple of good lenses, but they come with bulk and a high price tag.
With the A7 and A7R full-frame mirrorless cameras, Sony is launching 4 full-frame E-mount lenses and a development of a 70-200mm f/4 lens:
Sony 28-70mm f/3.5-5.6 OSS (Kit lens with the A7)
Sony 70-200mm /f4 G OSS (Spring 2014)
This is an interesting list of lenses to start with. Two primes and two zooms. The 24-70mm f/4 ZA OSS is a stabilized fixed aperture lens, which seems very promising. If I were to get one of the Sony cameras, which I most likely will, I would put that as my first choice. Should be a superb lens for landscape photography and image stabilization is a nice bonus. The cheaper, variable aperture version, the Sony 28-70mm f/3.5-5.6 OSS will only ship as a kit lens to the A7. My second choice would be the 55mm f/1.8 ZA, which should also be excellent for portraiture. As usual, I am certainly planning to review the whole system, including the four lenses mentioned above. With Zeiss designing three out of four lenses, I suspect these will not disappoint.
While going through Sony's marketing material, I saw a very catchy header "Fully compatible w/ Sony's E-mount and new full-frame lenses". Considering that the current Sony E-mount lenses were technically supposed to be designed for the APS-C format (which means that they should have a smaller image circle), I first thought that Sony did the same thing that Nikon did with DX – the lenses would mount, but work at limited resolution. However, after I saw the below image, where the Sony Zeiss 24mm f/1.8 lens was pictured together with the new lenses, I realized that Sony might have some lenses that have image circles covering wider than APS-C – the 24mm f/1.8 has been out for a while and it is probably designed to be a full-frame lens from the get-go.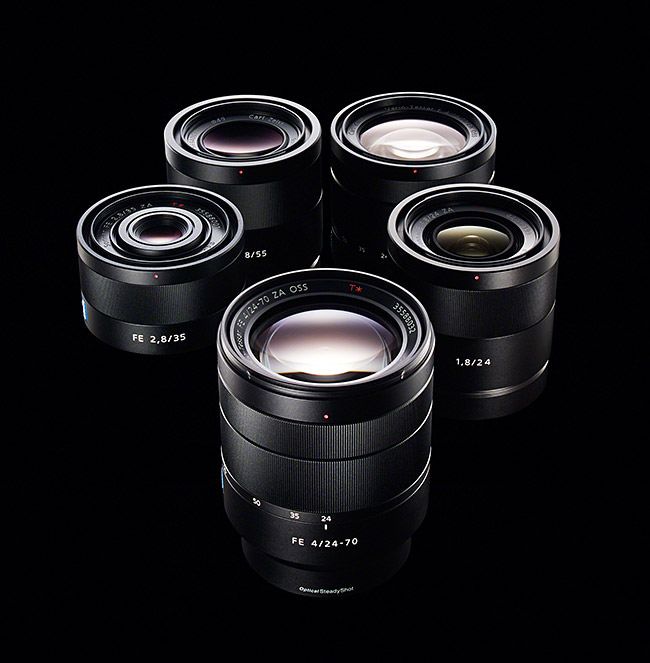 For regular E-mount lenses that have a smaller APS-C image circle, the cameras will automatically crop images, similar to what happens on DX cameras when they are mounted on full-frame cameras. The resolution will be limited to 15 MP.
There are some concerns around the weight and bulk of full-frame lenses and the balance of a heavy lens versus the light camera body. With the A7 and A7R, Sony is also launching a grip, which should help balance things out a little better. Still, considering that lenses have to cover such a huge image circle, Sony will have to be creative on what lenses they release for the mount in the future.
Summary
I am very excited to see what will happen in the photography industry during the next few years. A full-frame mirrorless system was a dream just yesterday and it is now a reality. And contrary to what many thought would be an expensive system, we are facing something that will shake up the market immediately. With Sony's aggressive pricing strategy, I expect the A7 and A7R cameras to have an impact on full-frame DSLR sales. As I have explained above, I see a direct threat to Nikon's D610 / D800 and Canon's 5D Mark III DSLRs. Perhaps those that shoot sports and wildlife might not be interested yet, but think of everybody else that will want to get a taste of cheaper full-frame system for landscape, architecture, portraiture and other needs, without the heft and weight of a DSLR. That's potentially a huge market we are talking about…
Bravo Sony, you have done it again! I cannot wait to get a hold of the new system and compare it head to head against my Nikon DSLRs. Exciting times indeed!