One topic that many of us Nikon shooters often discuss between each other in local groups, online forums, and various photography clubs, is lenses that we wish Nikon had. Sometimes desired lens comes from our experience from using a lens from another brand, sometimes it is something that does not exist, but we wish existed to make our photography easier, more fun, etc. While Nikon has been doing a great job filling in the holes during the last several years, there are still plenty of lenses that Nikon should update or have in its arsenal. In this article, I will go over the most desired future Nikon lenses, the ones that have not been released yet, but I really wish to see come to life soon. I guess you can also call the below a "wishlist" of unannounced Nikon lenses.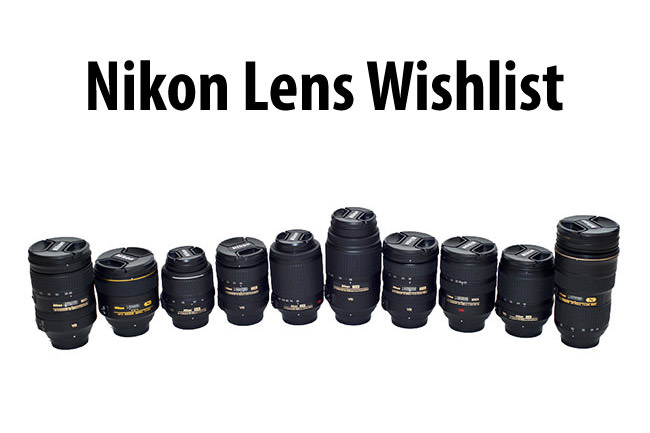 DX / APS-C Lenses
I will first start out with DX / APS-C lenses. I am not sure if Nikon is planning to keep its DX line in the future or not, since it has clearly failed to make a solid line-up of attractive DX lenses and has instead chosen to concentrate on bigger and heavier FX glass. If we look at what Fuji has done with its X-series lenses, it is clear that Nikon has been missing a lot of opportunities to make DX an attractive platform, especially for those who do not want to move up to FX in the future. Because of this, I have been rather pessimistic about Nikon's DX future. Still, Nikon continues to release and sell DX cameras and there are still far more people buying DX than FX today. So if Nikon wants to keep its DX line alive and keep its DX shooters from switching to mirrorless, it should work on releasing more attractive glass that is designed specifically for the smaller sensor.
It is a known fact that the current DX lens lineup is weak. Aside from a couple of solid zoom choices like the Nikon 16-80mm f/2.8-4E DX VR and a few outdated primes, there is really nothing else to be proud of. The 17-55mm f/2.8G was excellent back in its days, but it desperately needs an update. Without a doubt, DX users need more great primes and better zooms!
Ultra-Wide Angle DX Primes: Aside from the Fisheye 10.5mm f/2.8G, Nikon has no ultra-wide angle lenses for DX shooters. Why not release something like 10mm f/2.8 DX, 12mm f/2.8 DX and 14mm f/2.8 DX? Make them cheap, make them good optically and people will buy them. Since it does not look like Nikon is going to add in-body image stabilization to its DX cameras, VR would be a bonus.
Wide-Angle DX Primes: Add 16mm f/2.8 DX and 18mm f/2 DX to the list of affordable primes.
Nikon 23mm f/1.4E DX VR: A small, pro-grade 23mm f/1.4 DX lens would be great. 35mm is a focal length of choice for many photographers, so this lens would fit the bill perfectly, especially if its made to be small and reasonably light. Fuji has made an excellent 23mm f/1.4 lens, so hopefully Nikon can design something similar.
Nikon 23mm f/2E DX VR: A budget-friendly version of the above lens. A 23mm f/2.8 pancake would be sweet as well.
Nikon 35mm f/1.4E DX VR: We already have a budget-friendly 35mm f/1.8G DX, so why not make a pro-grade version of it specifically designed for DX?
Nikon 50mm f/1.4E DX VR: Whether it is a 50mm f/1.4 DX or a 56mm f/1.4 DX does not matter, as long as it is light and has great bokeh for portraits. If Nikon can make an f/1.2 lens like Fuji has done with its 56mm f/1.2, it would be even better, but it will probably be too expensive. A budget-friendly f/1.8E version would be a good idea as well.
Super Telephoto DX Primes: The Nikon D500 is a very popular camera, so why not make super-telephoto lenses specifically for those who want to shoot wildlife with DX and want to stay light? I would love to see 300mm f/2.8, 400mm f/4 and 500mm f/4 DX primes that are inexpensive. Imagine a D500 + 500mm f/4 VR DX kit that gives a 750mm equivalent field of view. Slap on a 1.4x TC and you have an ultimate super-telephoto setup.
The DX Trinity: Ultimately, it would be great if Nikon could develop equivalents of Nikon 14-24mm, 24-70mm and 70-200mm lenses for the DX sensor. So a new "DX Trinity" with a Nikon 10-16mm f/2.8E DX VR, 16-50mm f/2.8E DX VR and 50-150mm f/2.8E VR DX would be ideal. These obviously won't be cheap lenses to make, but Nikon should not price them higher than $900-$1,200.
If Nikon ever decides to go mirrorless, it might start off by making cameras with APS-C sensors first, as Canon has done with its EOS M line. And if that's the case, then I really hope the company will start with a solid line-up of prime and zoom lenses optimized specifically for APS-C sensors.
FX Lenses
Nikon has a number of FX lenses that need to be updated as soon as possible. There are also many lenses that would be nice to add – from wide-angle lenses to super-telephoto.
Nikon 14mm f/2.8E: Time to update the classic. It should be small like its predecessor, relatively lightweight and very sharp on high-resolution cameras. Slap on Nano Crystal Coat, fluorine coating and a weather-resistant design and it will be a very attractive lens for many.
Nikon 14-24mm f/2.8E VR: The Nikon 24-70mm f/2.8E VR and 70-200mm f/2.8E VR are already out, so it is time to update the classic with an electronic diaphragm and all the latest coating technologies.
Nikon 16-35mm f/2.8E VR: This can be either a 16-35mm or a 17-35mm lens for pros that need the quality and durability of a pro-grade lens. It will be heavy and it will be superb optically. Nano coated glass, fluorine coating, aspherical elements, rear focus with a protective rear element that is easy to clean. Unlike the 14-24mm, it should be able to take filters. Landscape photographers will drool over this lens.
Nikon 24mm f/2.8 PC-E: Yes, the new 19mm f/4E PC is excellent, but the old 24mm f/3.5 desperately needs an update. It is too soft on modern high-resolution cameras and Nikon needs to design it the same way as the 19mm f/4E PC, so that it has the same rotating capabilities.
Nikon 40mm f/2.8 Pancake: Canon has had its 40mm pancake for a while now, so why not make a cheap equivalent?
Nikon 50mm f/1.4E VR: The current 50mm f/1.4G is too weak optically, especially on the modern high resolution cameras. It is time for Nikon to bring 50mm back to life, with a pro-grade 50mm f/1.4 lens that performs well wide open. Yes, it will be heavy, sharp and expensive, and its bokeh will be beautiful. Add VR to it and it will hit the spot.
Nikon 24-70mm f/4E VR: Canon has had its EF 24-70mm f/4L IS model for a while and it is time for Nikon to respond. We need a cheaper version of the 24-70mm f/2.8E VR, which will have excellent sharpness wide open, with the latest generation VR on top. Or perhaps Nikon can find a way to make the 24-120mm f/4 sharper, especially towards the telephoto range. If we have to lose some focal length, so be it. How about a Nikon 20-100mm f/4E VR instead? That would be my ultimate landscape lens.
Nikon 85mm f/1.4E VR: The classic 85mm f/1.4G is excellent, but Nikon can do better. Add VR and all the latest coating technologies and make the new one optically superior, so that it can be sharp wide open on high-resolution sensors.
Nikon 135mm f/1.8E VR: The new Nikon 105mm f/1.4E is absolutely insane. Why not update the classic 135mm f/2D with an f/1.8 version so that it can compete with the new Sigma 135mm f/1.8 Art?
Nikon 200mm f/2E FL VR: Nikon has not updated its bokeh king, the 200mm f/2 for a long time now. It is time to push an update with fluorite glass, latest-generation VR and new coatings.
Nikon 200mm f/2.8E VR: Speaking of the 200mm f/2E, why not make a smaller f/2.8 version that does not cost an arm and a leg? It would be twice lighter and insanely sharp, reasonably priced.
Nikon 200mm f/4E VR Macro: This would be a macro lens that is insanely sharp, with VR for those of us that like to get close without having to physically get close.
Nikon 200-400mm f/4E FL VR + 1.4x TC: Time to update the 200-400mm and make it lighter, so that it looks as good as all the new FL versions. To compete with Canon's 200-400mm, it would be a good idea to include a built-in teleconverter that is optimized for the lens.
Nikon 400mm f/5.6E PF VR: Now that the Nikon 300mm f/4E PF VR is out, why not make a 400mm PF version? If it is going to be close to the 300mm f/4E PF's size, it will be an amazing lens for birding, especially once a 1.4x TC is attached! Hopefully, Nikon does not price it above $2,000.
What lenses do you wish Nikon made or updated in the next few years? What is your most desired lens from the above? Please let me know in the comments section below!