It is hard to visit any photography website without noticing extensive fanfare being paid to the mirrorless camera niche. Some tout it as the savior of the mid-to-high end camera market. Others have dubbed it the "DSLR killer." A number of prominent photographers have created videos and articles articulating how mirrorless innovations caused them to shed pounds from their bag and reintroduce them to the joy of photography. And why shouldn't they? The market for traditional point-and-shoot cameras is in a free fall as smartphones increase in usage, quality, and capabilities. Traditional DSLR sales continue to fall as well. The industry certainly needs something to cheer about. And of course, photography websites need something to write about.
There is a healthy amount of innovation taking place in the mirrorless market. Sony, Fuji, and Olympus would like to "change the game" by introducing disruptive technology and reaping the benefits that follow. They have introduced new camera bodies that pack notable technological improvements in very small packages. Even if we are not mirrorless fans or customers at this point, we should all be thankful for the technological improvements taking place on this front. Nikon and Canon have been slow to cannibalize their DSLR sales, but they may not have much choice considering the downward trend in DSLR sales.
That said, I believe the actual weight savings of mirrorless cameras over traditional DSLRs are somewhat exaggerated in the press. To hear some talk, you would think that every mirrorless lens weighs but small fraction of its DSLR equivalent, and that the traditional 30lb DSLR backpack you take on your mountainous vacations will eventually be reduced to the weight of a few pieces of fruit, and fit in a fanny pack once you switch to a mirrorless system. Ok, I am exaggerating a bit, but not by much. There are indeed reasons to be excited about mirrorless cameras and the potential of this technology, but I would suggest that size and weight should not be at the top of this list.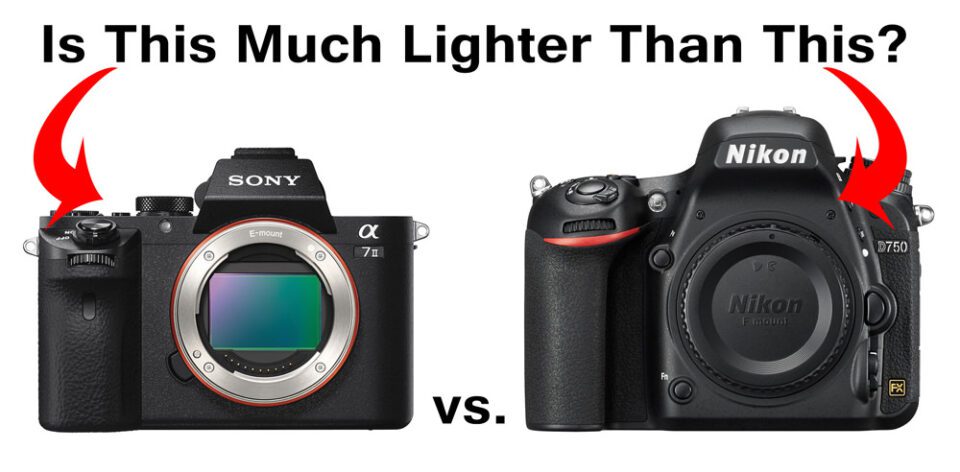 I decided to compare a Sony A7II Body to a Nikon D750 Body as well put a variety of lenses on the scale, in a humble attempt to add some perspective to the mirrorless hype. This article is not meant to represent a head-to-head comparison of both cameras across the full range of features and functionality. Read on…
Camera Bodies
Handling
The A7II 24MP mirrorless camera is an impressive gem. My concern with it, however, is the same I had when I first got back into photography in 2007 and handled a Canon Rebel – nice camera but too small for my extra-large hands. The same held true for a Fuji XT-1 that I owned for a short time. I find cameras such as the Nikon D7100, D810, and D750 much more comfortable to hold.
I am even less enthusiastic regarding how these smaller cameras feel with larger lenses attached. Any camera body can feel tolerable in your hands with a small featherweight prime lens on it. Put a 70-200mm f/2.8 or f/4 on a camera and walk around all day with it, carry it one-handed, and you will quickly realize how balanced and comfortable it is – or not. I regularly hold my D810 with an 80-400mm lens comfortably in one hand. Given the diminutive grip size of the mirrorless entries, I am not sure I would feel as comfortable doing the same.
In the Great Race to save weight and size, I believe the mirrorless manufacturers may have sacrificed some handling characteristics for a fairly substantial portion of the population. With the changes Sony made to expand the grip size of the A7II, it seems to have gotten the message that smaller grip sizes may negatively impact overall comfort and feel. In order to address these issues, however, Sony had to add a bit of size and weight to the original A7. The result, of course, was a body that is not that much smaller or lighter than the D750, thus negating what Sony had been stressing as one of its main selling points of the A7 style bodies. Surprisingly, there were no ads claiming, "After touting the smaller size of our A7 full frame mirrorless camera, guess what? We made it bigger and heavier!" Even with the improved grip, however, the A7II may be a bit small for some to comfortably hold, particularly with a longer lens attached.
If I had a word of advice for Nikon or Canon (they haven't been calling for a while now…), when they finally jump into the DX and FX market with mirrorless entries, I would suggest making them closer to the DX body size (height) than the current Sony A7II. Do not expect photographers with medium-to-large hands to grip their camera and lens with 2 or 2 ½ fingers. Saving a few ounces of weight at the expense of a comfortable grip is not worth the trade-off. Those of you with smaller hands are likely to disagree with my perspective on this matter.
Weight
All things being equal – such as the number of shots per battery and a sampling of lenses across different focal lengths and apertures – the weight benefits of mirrorless, at least for this comparison, are far less than you may have been led to believe. The Sony A7II Sony NP-FW50 Lithium-Ion Rechargeable Battery (1020mAh) gets up to 340 shots per charge (and much less under some conditions). The Nikon EN-EL15 Lithium-Ion Battery 1900mAh) gets 1230 shots per charge. If I planned on going out for a day trip, in order to make things equal, I would plan on taking 4 Sony batteries to 1 Nikon battery. Yes, that would give me an extra 110 shots with the Sony A7II (1340 compared to 1230), but I am not going to quibble on this one. Some Sony fans may cry foul, either due to their belief that I should not be using a 4:1 ration for Sony-to-Nikon battery comparison, or that they never need more than 2 or 3 batteries while out shooting for a day. Fair enough. But in my book (and this article), I am sticking to the 4:1 ratio. Adding a few extra batteries to the mix reduces the Sony A7II's weight advantage over the Nikon, while bringing their costs closer in line as well.
The total weight difference between the Sony A7II and Nikon D750, taking the battery concerns into account: 112 grams or 4 ounces. To add some context – 112 grams/4 ounces is less than the weight of a banana or my Invicta watch. Not exactly a "revolution" on the weight reduction front. If there is a reason to buy a A7II instead of a Nikon D750, weight doesn't seem to be it, despite claims to the contrary.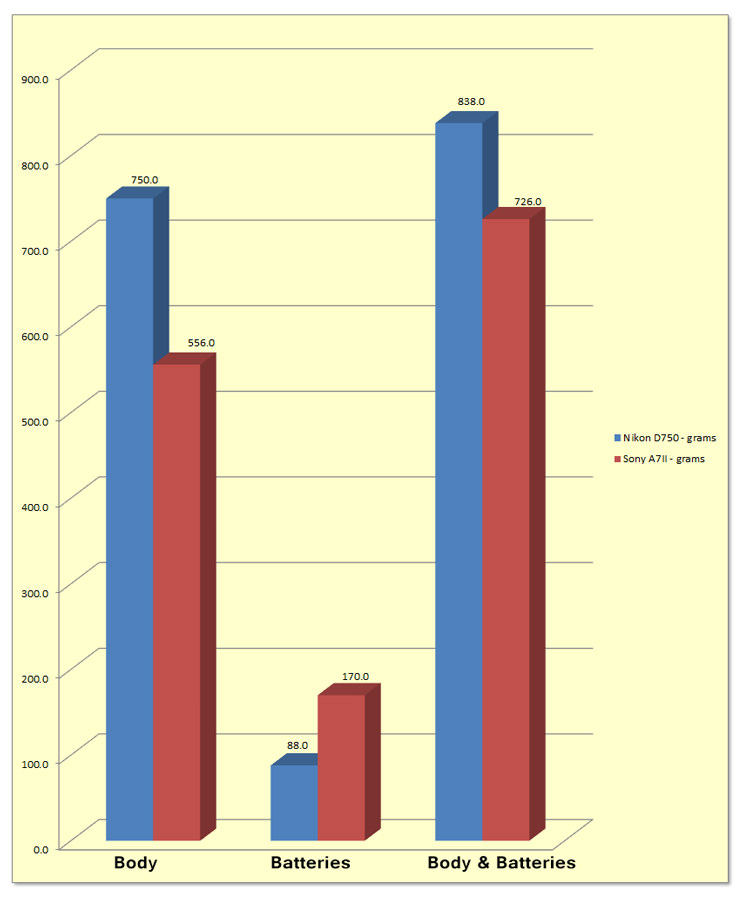 Mirrorless or DSLR?
If camera and lens weight are a significant concern for you, your first question should not be "Mirrorless vs. DSLR?" but rather "FX, DX, or other smaller sensor?" As we will see in the next section, mirrorless lenses are not guaranteed to be any lighter than their DSLR equivalents, despite the many advertisements to the contrary. Simply put, the size of the sensor drives the size of the lens. Given recent advancements in sensor technology, I am hard-pressed to recommend FX (mirrorless or DSLR) to anyone other than the most demanding photographers or those with unlimited funds (I don't personally know anyone in this latter group, but suspect they are out there). I suggest that anyone looking to buy a new camera system begin by realistically consider their needs, and then price out a few systems in FX, DX, etc. for both DSLR and mirrorless offerings and find the sweet spot between features, costs, and the weight of the system. Simply deciding on an DX rather than an FX system can significantly reduce both weight and costs.
I also listed the weight of some other common items that I wear, have in my pocket, or might toss in my backpack for a day's shooting. I don't expect to see Sony hyping the weight savings of its A7II as being the approximate weight of ½ of an avocado anytime soon, but that is the difference between these two cameras after accounting for the differences in the batteries. I added this chart to bring a bit of perspective to some of the nonsensical arguments people engage in regarding relatively trivial variations in weight between one product and another.
While I appreciate reductions in the weight of my equipment as much as anyone, saving a few ounces here or there on any single piece of gear is simply not a big deal. I get even less excited about the weight of mirrorless systems when considering the weight of a full lens suite that I might take on a photography vacation to the mountains of Colorado or Alberta. If you are an elderly person or experience chronic neck or back pain, however, you may feel very differently about saving some weight, particularly when that weight is dangling from your neck all day. Then again, if you have such issues, FX – in any form – should be crossed off your list. Period.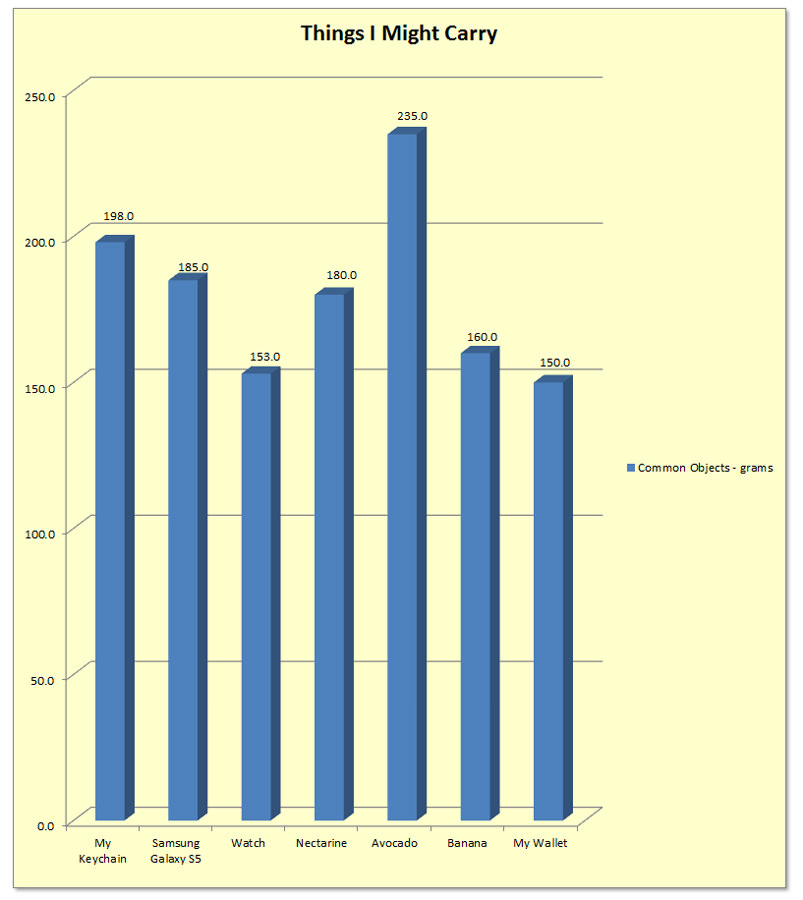 I find it rather odd that given the extremely impressive results turned in by Nikon D7200 Review, the fact that slim, lightweight, ubiquitous smartphones – which seem to be getting better by the day – are killing off what is left of the soon-to-be-extinct point-and-shoot market, and Sony, Fuji, and Olympus are touting smaller, innovative mirrorless entries, Nikon wants everyone to jump to FX camera bodies and the heavier, more expensive lenses that come with them. You have to wonder…
Lenses
There are no magical properties of mirrorless technology that will result in lenses that are significantly lighter than their DSLR equivalents. Sensor shifting image stabilization technology can alleviate the need to put image stabilization technology in each lens, potentially reducing the size and weight, but this capability is not exclusive to mirrorless cameras. My first DSLR, a Pentax K10D featured this technology in 2007. Camera manufacturers may be able to use a shorter flange on mirrorless lenses due to the proximity of the lens to the sensor. This will save some weight, but is not going to produce any significant results.
A few things about the chart below: 1. I do not mean to imply that each of these lenses is a direct match for the other. I would certainly not make the case that the Nikon 24-85mm lens is the equivalent of the Sony Vario-Tessar T* FE 24-70mm f/4 lens. I merely used the Nikon 24-85mm to show that it is possible to make a lens with a similar focal length and aperture with similar weight in this particular range for FX DSLRs. 2. You may disagree with my specific lens comparisons, but at the present time, there is not a 1:1 comparison of the Sony and Nikon lens line-ups (Canon and Nikon are obviously much better matched lens per lens). I used the Nikon version of the Tamron 90m macro since it matched the focal length of the Sony equivalent. Thus this chart is to give you some examples of how similar (but not exact) lenses equate for each respective mount/manufacturer. 3. The important issue is that the majority of these lenses, such as the 70-200mm f/4s, are pretty close in weight. None of these differences are very meaningful, except for the 16-35mm f/4 match-up. Then again, if I were in the market for a wide-angle FX zoom today, I would probably pick up the new 18-35mm,forego lens stabilization as it is not critical within this focal length range, and find a way to make do with the loss of 2mm. The Nikon 35mm f/1.8 is probably not a fair comparison to the Sony Sonnar 35mm f/2.8, but Sony does not have a Nikon 35mm f/1.8 equivalent at this time.
If you loaded all of the lenses listed in two separate bags, their total weight would only vary by a mere 195 grams or 6.9 ounces. To put that in perspective, that is more than the weight of a banana, but not as much as an avocado – for 9 lenses. Let that one sink in a bit before rushing out to trade in your FX DSLR for an FX mirrorless kit.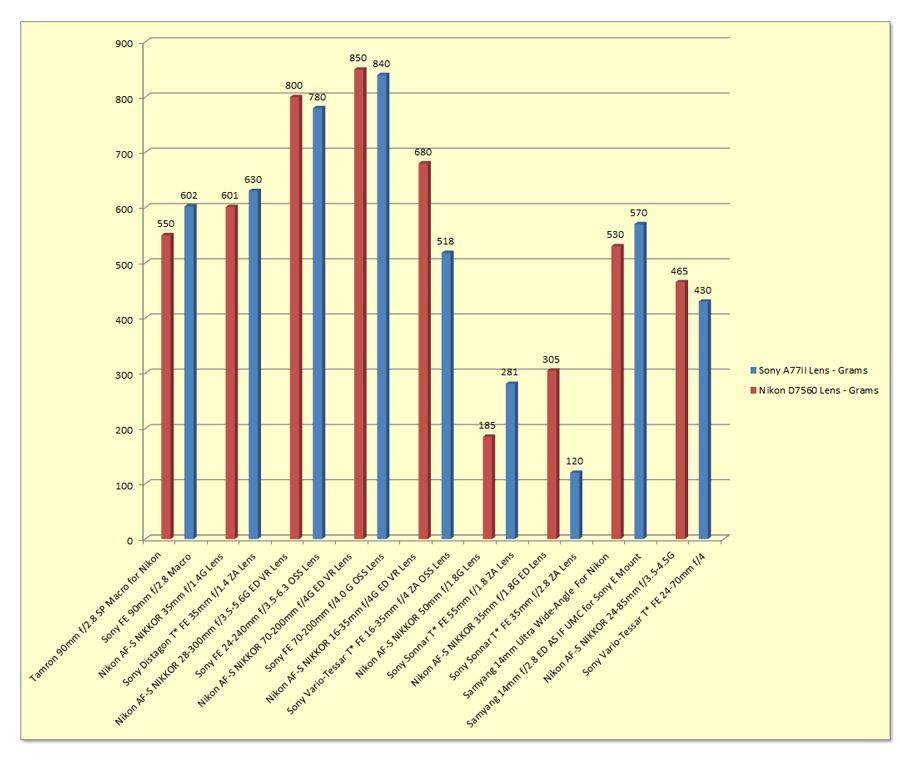 Summary
The total weight difference between the Sony A7II, the Nikon D750, batteries, and 9 equivalent lenses is a whopping (Camera: 112 grams/4 ounces + Lenses: 195 grams/6.9 ounce) 307 grams or 10.8 ounces. That is less than the weight of 2 bananas. Yawn…
Mirrorless technology continues to advance at a rapid pace. But much of the hype about weight savings is just that – hype. Don't be taken in by it. The size of the sensor, not whether the camera has a mirror, is the primary driver with respect to the size and weight of the lenses. If weight is a critical concern, take a hard look at the type of systems you can build around each of the sensor sizes – FX, DX, and smaller, relative to cost, quality, and weight. Immediately cross FX off the list unless you never intend to shoot with anything other a 20mm to 50mm prime f/1.8 lens. Mirrorless prices are coming down overall, but they still tend to command a premium over their DSLR counterparts. I would give the edge to DSLRs over mirrorless offerings for now, primarily in consideration of value, features, and lens availability, but DSLR's advantages are quickly being eroded. While you may find a few mirrorless cameras and lenses that are a few ounces lighter than their DSLR brethren, there is no free lunch – the lens must cover the sensor in the camera – and that means a minimal amount of glass, plastic, metal, and electronics per given sensor size.
I shoot with a D810 and am quite pleased with it, despite its weight. I readily admit that I occasionally fantasize about featherweight camera systems, particularly after an 8 mile hike in the Rocky Mountains. If I were starting over today, I would be very tempted to buy a D7200, leave the new 16-80mm 2.8-4.0 lens attached to it 90% of the time, rely on a 70-200mm f/4 as my next go-to lens, and opt for a few 1.8G primes, a Tokina 11-20mm, and a new 300mm f/4. I might add a 1.4 T/C for wildlife, a Tamron 90mm for macro, and a Nikon 10.5 fisheye for fun. If I wanted to increase the D7200's buffer capacity a notch for wildlife or action shots, I would simply switch from 14 bit lossless to 12 bit lossless compression, as John Sherman pointed out in an excellent article, and fire away. I would bite the bullet on low light capabilities and hope that Topaz DeNoise could work some magic on my higher ISO shots. But as Nikon D7200 review, the D7200 already does an impressive job of managing noise.
Caveats and critiques of the mirrorless weight "advantage" aside, I believe mirrorless technology will ultimately win the battle with DSLRs. Because of weight advantage? Nope. Mirrorless will win the battle because it eliminates a major electro-mechanical component. Eliminating the mirror reduces engineering challenges as well as the parts necessary to make these components work reliably and at high speeds. Throughout the history of machinery, eliminating electro-mechanical components in favor of purely electrical equivalents has been a key step in the progression of technology.
Eliminating the mirror also translates into improved reliability (less mechanical parts that can move and break), offers customers the benefits of offering high shutter speeds (historically only available in costly high-end cameras such as the Nikon D4 and the Canon 1DX) in lower-cost cameras, and reduces maintenance headaches for consumers and manufacturers alike. In my opinion, these are the real benefits of mirrorless technology. There is little doubt that mirrorless technology will ultimately be the foundation of future mid-to-high-end cameras. The slight weight reduction gained by eliminating the mirror component is the icing on the cake – not the cake itself.
Sony is obviously being very aggressive on the pricing front in order to get a foothold in the market and establish itself as a clear alternative to Nikon and Canon. The good news is that the turmoil in the camera market has turned up the heat on DSLR manufacturers to increase their pace of innovation and provide more value to consumers in order to drive sales. It is only a matter of time before Nikon and Canon are forced to respond.
Now if Nikon and Canon can only figure out how to introduce DX and FX mirrorless models while preserving consumers' investments in a combined total of approximately 190 million lenses…