If you have read any of my previous articles, then you would know I have two Nikkor super telephoto lenses and I often use them in wildlife photography. I also often mention that reach is important in wildlife photography and getting highly detailed and crisp images. Two of the super telephoto lenses I have are the 600mm f/4 prime and the 800mm f/5.6 prime and they are amazing lenses that give me amazing reach for wildlife, but this reach can also be a problem when multiple eyes are involved (ie: several animals in same frame).
Lets take a look at a nightmare photo to get with a 600mm lens at optimal distance requiring minimal cropping: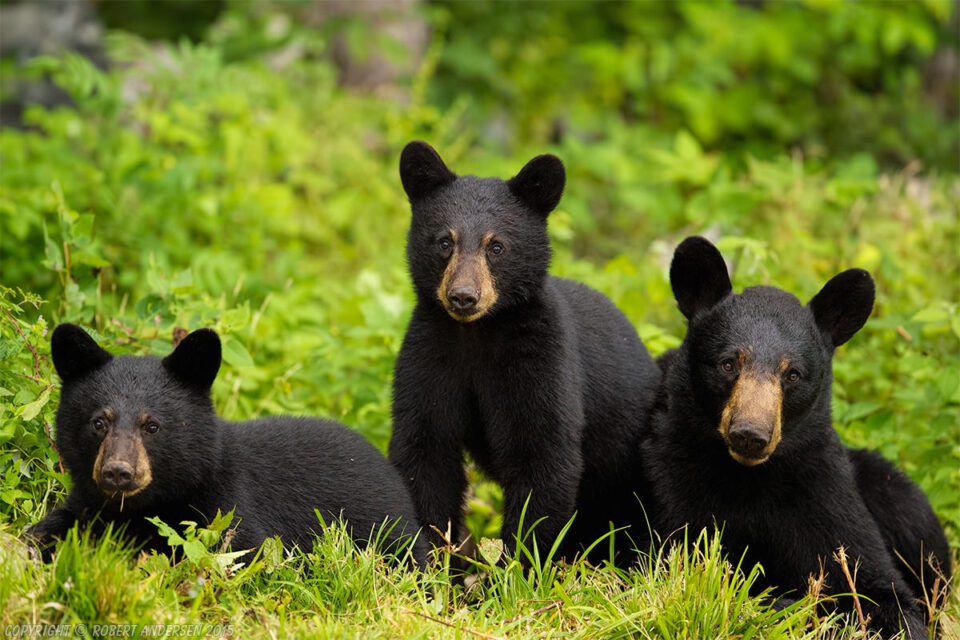 I love the photo, but having three subjects in the frame with three pairs of eyes, make this shot a difficult one to get just right. Lets just think about a few of the challenges of this composition and shooting with a prime super telephoto lens:
Three subject bodies, they can each be facing any direction, not necessarily all three towards the lens
Getting six eyes all looking at you and catching the highlights in all six eyes, is almost mission impossible
600mm reach makes depth of field an issue when three subjects are involved as it relates to all eyes being sharp. This DOF issue could be improved on by having the subjects a lot further away from the lens, but then of course you loose the detail and framing (the subjects would now be much smaller in the frame). I want this image to be framed tightly to bring out every detail, this image is not so much about the setting, rather more about the family
Its a prime, it can't zoom, being the right distance to the subject is a challenge in itself
This was late last evening light, needing me to push ISO to my limit of 3200 for the D4s and hardly enough speed because of the low light making the shot even more of a challenge
Because of the low light f/4.5 was essentially my only option and the best I could do, 320th of sec is really not fast enough, but wildlife comes when it comes and not when the light is perfect
When you get a photo like this, in my opinion, its a mixture of luck, persistence, skill, timing and many other little factors.
Luck in the way that you have to be in the right place at the right time and the subjects all being relatively in the same plane and also all looking at you
Skill in the way that you put yourself there in the first place, had the best camera settings, was ready when the moment happened and took advantage of that opportunity
Persistence in the way that it might take many-many-many attempts before all of the elements come together at the same time.
The good here, is that when everything comes together, the long reach of a 600mm produces an amazing image which is highly detailed, sharp and has enough bokeh to help separate the subjects from the background. Its definitely a challenge to get this photo with a 600mm, but when you do, its highly rewarding. I have already mentioned some of the bad aspects of shooting at 600mm, but the prime challenge when there are 3 pairs of eyes are getting them all sharp. It does not take much variation in where the subjects are positioned relative to each other to have one or more sets of eyes soft because of depth of field issues. It can drive me nuts trying to get multiple eyes, all sharp and looking towards you.
So even tough I often praise such lenses as the 600mm for wildlife, there are many challenges shooting multiple subjects with a 600mm or longer.
Lets take a look at a 800mm photo of a 6 month old black bear cub: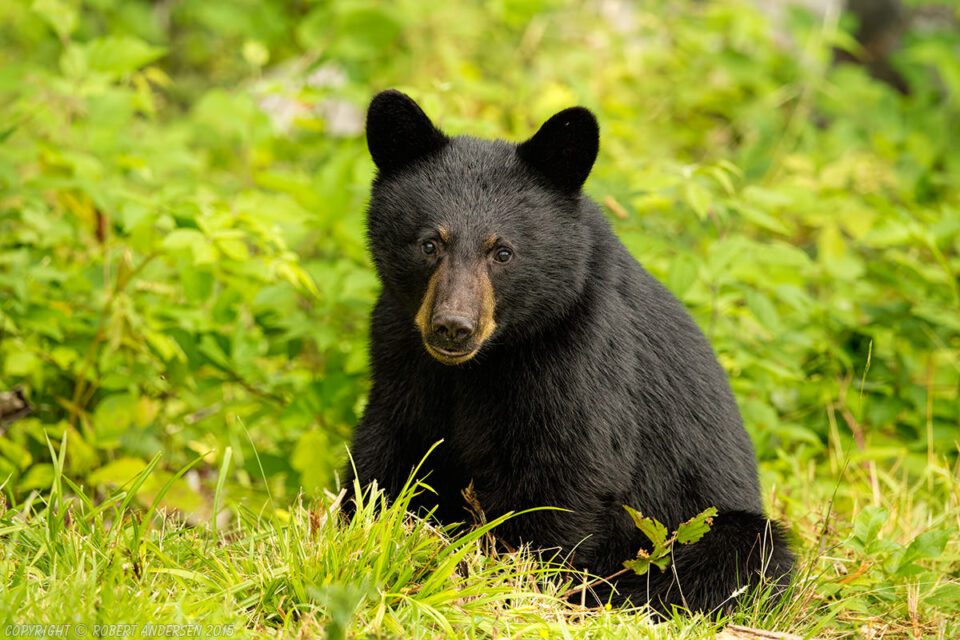 The 'good' so to speak of 800mm reach is its ability to give you a fully framed subject such as this still very small six month old black bear cub without upsetting its mother. The 800mm reach also produces amazing detail and Bokeh when it all comes together just right. The day this photo was taken was super bright overcast, a wildlife photographers dream lighting condition. It was so bright I could push the f-stop to 7.1 and still have plenty of speed while keeping the ISO at a respectable 1100 ISO.
There are many challenges of shooting at 800mm (the bad). The 800mm needs more speed (light) to compensate for any movement of the lens, sometimes getting that speed can be a challenge. Many times the 800mm reach picks up environmental conditions like heat, haze and fog etc. more so than shorter focal lengths do. It can be hard to pick up (focus on) a flying or fast moving subject, because of the magnification and there is a learning curve to train your hands to align the lens exactly on a moving subject, sometimes even requiring you to remove the camera from your eye to re-pickup the subject and try to re-focus on it. This is especially true for smaller fast moving subjects at a distance. Obviously the longer the reach, the steadier the hand is required.
I think many photographers would initially think of 600mm and 800mm reach as being mostly useful for bird photography or bringing smaller subjects closer and maybe not so useful (needed) for larger wildlife subjects like moose / elk / bear / grizzly / etc. I thought this way at the beginning, then I started using longer focal lengths to bring the subjects much closer and reveal details that can only be captured by either being close to the subject or bringing it close with lens reach. I can only try to show you what I am talking about, by letting you see the above photo at 100 percent crop, look at every hair defined, look at the texture and dimples in the nose. Maybe for some this matter and for others it doesn't, I personally love it.
See what you think, here is the 100% crop: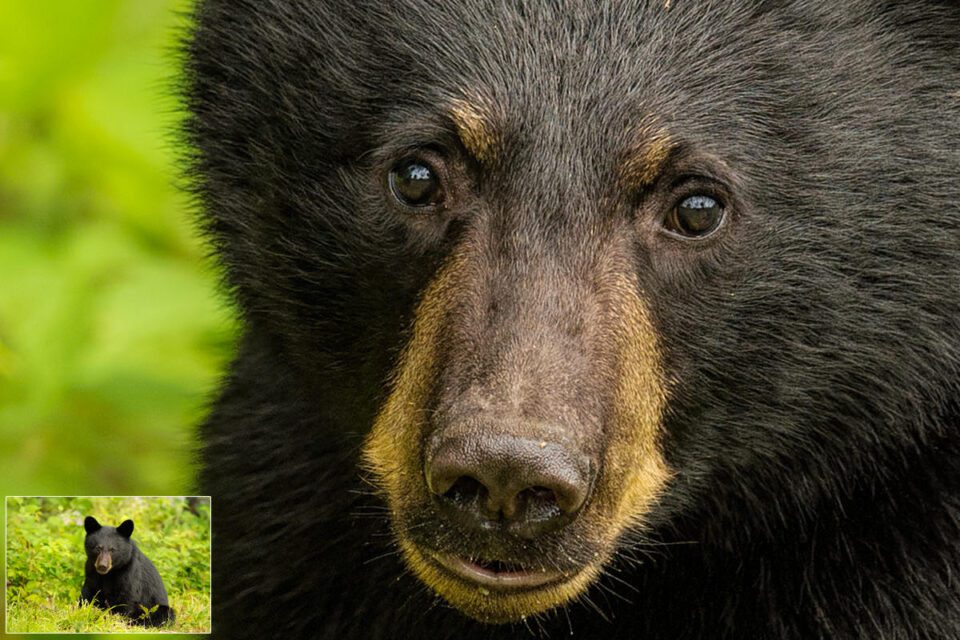 Lets take a look at a moose photo taken with 600mm reach: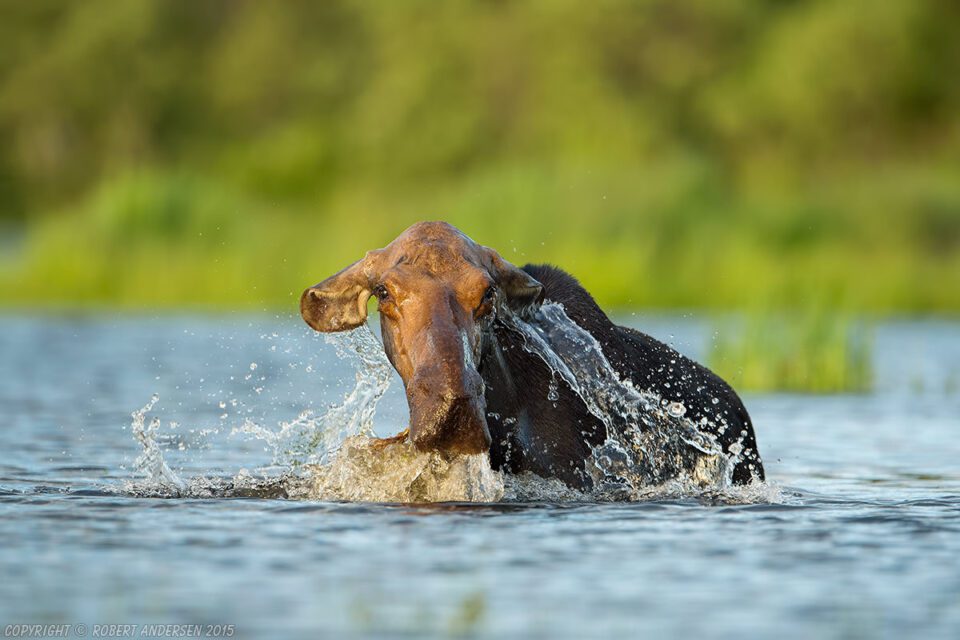 I never really thought I would need 600mm reach to photograph a moose, normally this would have been a job for my Nikkor 200-400mm f/4G VR and that length of reach should have been enough to do the job. However sometimes wildlife does not comply and for whatever reason it doesn't let you get close enough to use shorter focal lengths. The story of this photo is the action, the water splashing wildly as the cow moose works hard to get food from the bottom of the pond. What's important then, is to capture the water action and making that the focus of the photo, the 600mm reach allows me to bring this subject close enough to frame the moose as tight as I needed to capture every droplet of water, and the beautiful Bokeh helps eliminate the background by totally blurring it.
So when we are talking the good and bad of super telephoto photography and wildlife as it relates to this photo, it would be:
Good – The 600mm reach allowed me to bring the subject close enough to frame it the way I wanted without spooking (scare) it, so its runs or leaves or stops feeding
Good – By bringing it close with lens reach, I am able to capture amazing detail and clarity
Bad – shooting at 600mm requires a steady hand and preferably fast enough shutter speed to get a sharp photo and can be difficult from a kayak (how this photo was taken)
Bad – If the 600mm reach is achieved by using an expensive prime lens, then its probably heavy and makes handholding a challenge from a kayak
Bad – If 600mm is reached using a prime lens then its probably a very expensive piece of equipment to be taking out in a kayak :) ooops = bottom of the lake moment :(
Bad – If the 600mm reach is obtained by a shorter lens with a TC attached, then sharpness and clarity might suffer or lens speed could be a problem or the speed at which focus is achieved could play a part in success or failure
I mean this is NOT an all inclusive list of good or bad, but merely an attempt to highlight that getting that long reach comes with additional challenges not necessarily faced at shorter focal lengths.
Lets look at another 600mm photo and the beauty (to me) of being able to shoot at that focal length: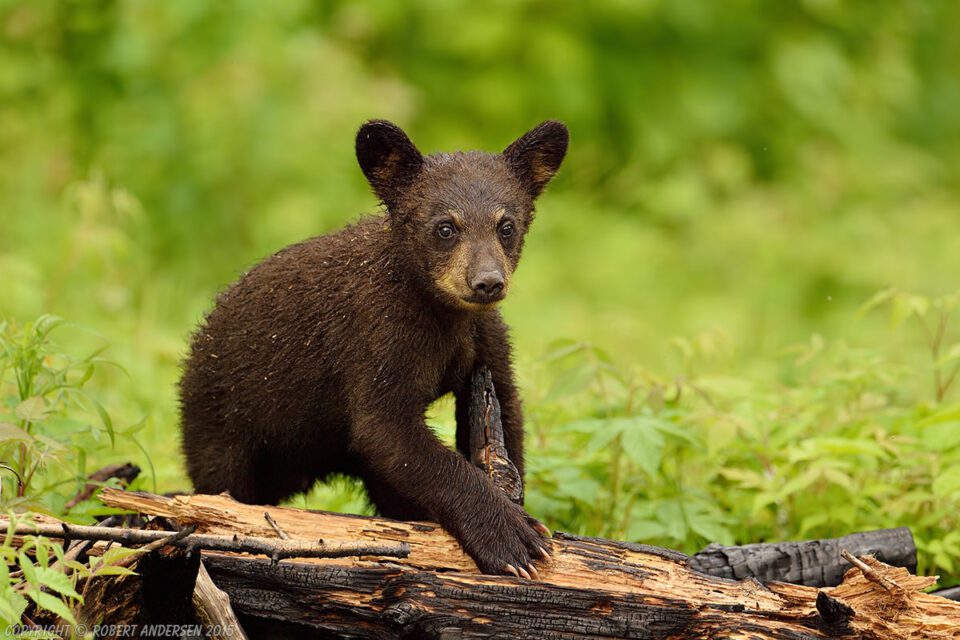 So this is a tiny bear cub, only a couple months old and oh so cute. The challenge a wildlife photographer faces with a photo such as this, is getting close enough to take the photo without disturbing the subject, upsetting its mother, getting attacked or many other possible negative results that could occur. So why do I want to be close? Detail, detail, detail is the answer.
I can get close two possible ways: Be physically close and use a shorter lens or zoom lens, be physically further away and use a long focal length like 600mm or higher to bring the subject close. Some might consider there being a third option to get closer and that would be using high mega pixel sensor and cropping their way in. I don't consider cropping to be a substitute for optical magnification in that the detail and Bokeh are significantly different between the two methods.
I personally think being further away is better for both the animal in question and you the photographer. I think being further away physically means the animal sees you as less of a threat, is more likely to behave in a more natural manner and produce photos that don't look like the animal is freaking out at your presence or proximity.
The good of using super telephoto reach like 600mm and above for this type of photo and subject are fairly obvious. Small subjects generally need long lens reach unless they are tame or used to humans being present. By bringing the subject closer you get lots of detail, like water droplets on the bear, the wetness of the fur, the little cracks in the burnt tree and so many more tiny details that would not be so prominent if the subject was, say, twice the distance away. Again the Bokek of this photo helps immensely by eliminating any distracting background features that might be a distraction and take away from the subject. The challenges (bad) of shooting at 600mm or above for a photo like this might be the need for a tripod to keep things steady, the cost of an expensive lens if using primes, the bulk or weight of a lens capable of getting 600mm reach, the speed of the lens and focus speed if using teleconverters to get to 600mm and the cost of equipment in general when trying to get to that focal length while keeping image quality at a high level.
If you have been doing wildlife photography for long enough I am sure at some point in your journey, lens reach was not long enough and you wished you had more. It really is unbelievable how close you have to get to your subjects at times to get quality images, I promise you its closer than you think. Lots of people comment when I am out with one of my big lenses and think I can take a photo of a mouse on the moon with one of those long lenses. But its surprising, even at 600mm or above, it can still be a challenge to get physically close enough to frame a subject the way you want it framed.
The photo below is of an immature bald eagle in flight and it was eagle photography that originally got us wanting quality 600mm reach: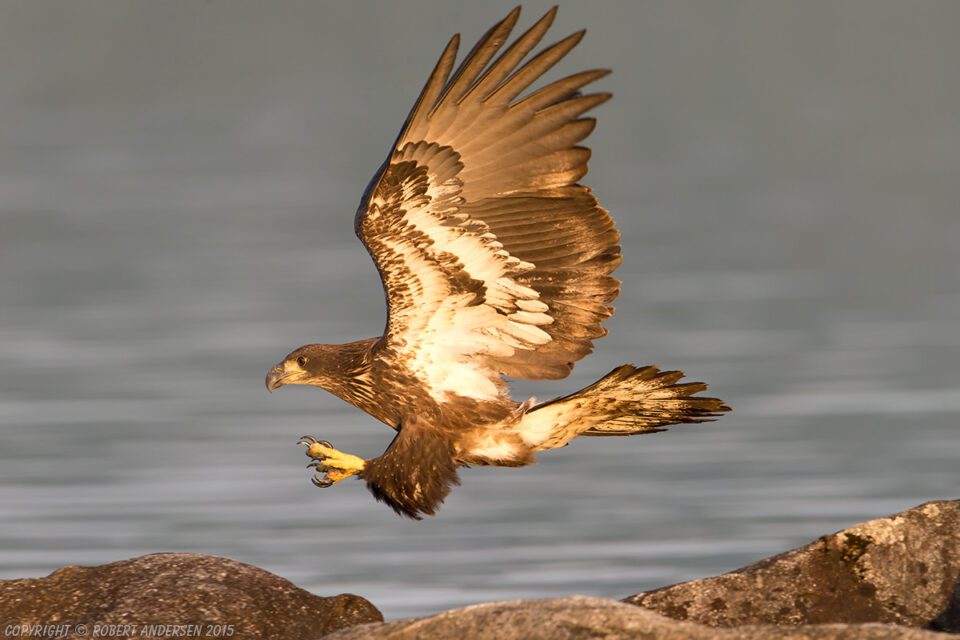 Honestly, to get a photo like this (framed this close) of a bald eagle sized bird you need to be pretty close, even with 600mm reach. That's why at some point in your wildlife photographic journey you probably will be trying to reach longer focal lengths, whether it be through prime super telephoto lenses or shorter lenses (prime or not) and attaching a teleconverter to get the reach.
For the eagle photo above (taken from a 16ft fishing boat), the good and bad of super telephoto can be simplified to the following:
Good – 600mm reach got me closeness, detail and framing of subject I wanted without the need to excessively crop the original image
Good – 600mm reach kept me far enough away physically that the bird didn't care about my presence and behaved naturally
Bad – Bird in flight moving fast – it can be hard to pickup the moving subject while looking through a lens at 600mm, it takes time to learn and become natural
Bad – A lot of photographers at 600mm and above want to use a gimbal and tripod, in can be a real challenge to use a tripod on the water as the movement of the boat directly transfers to the tripod and because of the focal length any small movement of the boat translates into a big move through the lens. It also makes it hard to stay on the bird and pan with it.
Bad – If buying or using a prime super telephoto then it is an extremely expensive piece of equipment and this cost may be impossible to justify
Bad – Handholding might make it easier to pan and follow this eagle from a boat, but might be difficult for some photographers at 600mm and above (physical abilities, weight of equipment, steadiness of hand and technique etc.)
Bad – I have already mentioned some possible drawbacks of getting to 600mm reach using TC's (speed of lens, speed of focus, quality of image etc)
Its like anything in life, there are good and bad sides to everything we do. Getting to Super telephoto focal lengths and shooting at those lengths has both a good and bad side, just because you all of a sudden got to your desired lens reach does not mean all of your problems are solved and now every photo you take is magical. Travel can be a nightmare with big and heavy lenses, cost of equipment to reach long focal lengths can be a real burden, even carrying big equipment on wildlife excursions can be a problem, heavy and cumbersome.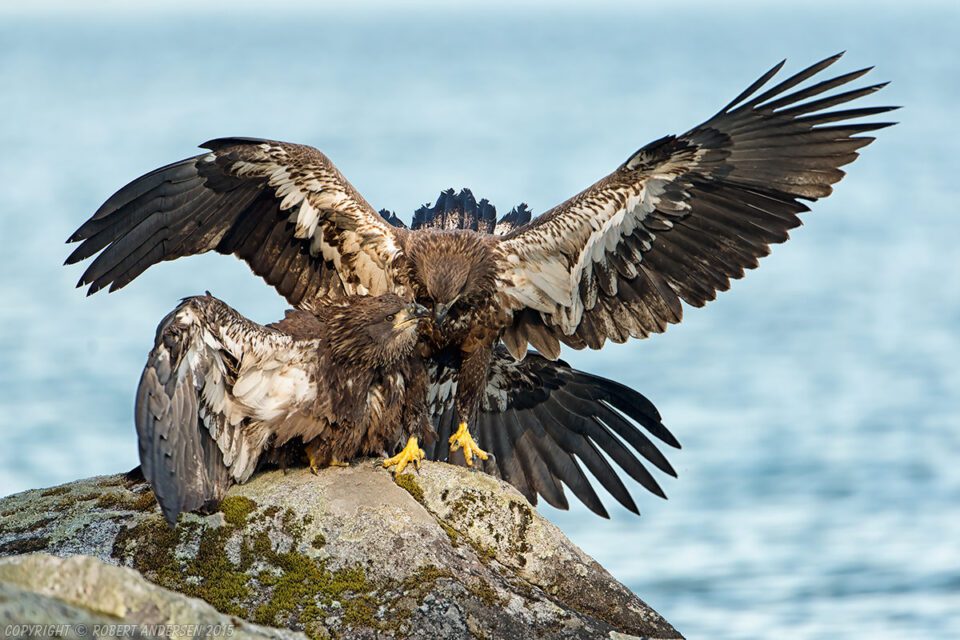 The above photo is of two immature bald eagles, squabbling with each other over food scraps on the rocks. I want to illustrate how important physical distance from the subjects is.
If you are too close (physically) then the animals tend to be distracted by your presence and focus on you, rather than behave naturally
The Bokeh that longer focal lengths affords, allows you to separate the subjects and the action from the background
By being further away, the animals generally accept you presence for a longer time period which then gives you more photographic opportunities
You also tend to have more room to move when you are further away, should you need to change the angle to your subject
In the spirit of the article, one of the drawbacks to being further away is the possibility or more obstacles or objects between you and the subject or action
Again, multiple subjects present possible depth of field issues
I'll close this article with the following image of two four month old grizzly cubs play fighting from Katmai Alaska.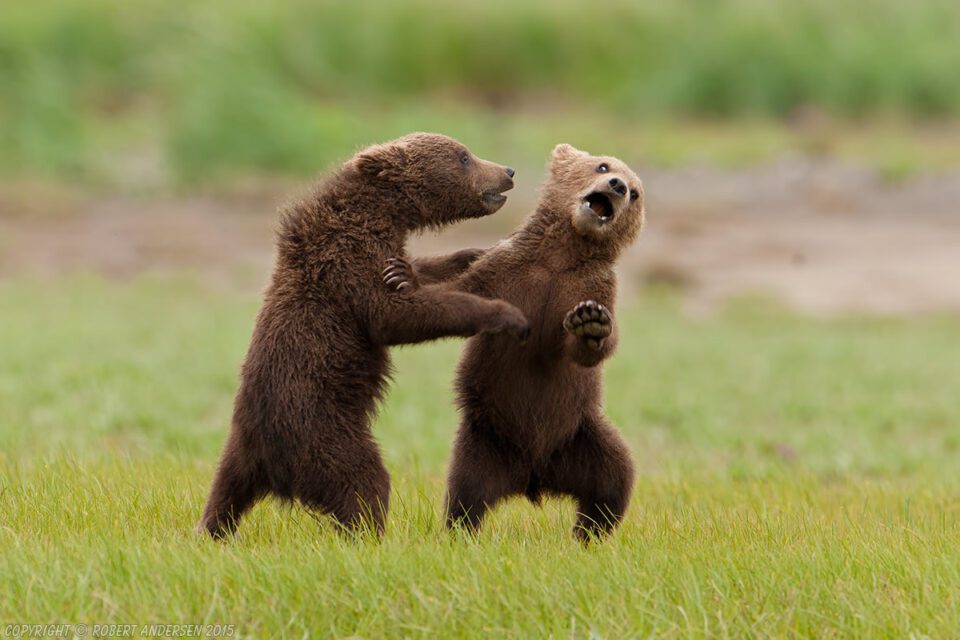 These two cubs were not particularly worried about humans being fairly close by and a shorter focal length lens might have gotten the job done. However, unless the cubs are practically playing at your feet, a long focal length like that of a super telephoto lens is generally a plus. You might be lucky enough that they play near you feet, but its more likely they will be further away or covering a large amount of ground while chasing each other. The oxy moron here is that a longer focal length could both be a plus or minus in this situation, on one hand you could be too close and not get the shot or on the other, you could get the shot only because you had the reach. The longer focal length is definitely a drawback when it comes to depth of field issues with multiple subjects, however if everything comes together, then a super telephoto shot could look magical. The ironies and complexities of photography, isn't it wonderful.
The idea of this article was to highlight the reasons why I consider using super telephoto lenses advantageous in wildlife photography, while at the same time accepting the negatives that come at this long focal length. There are many times that the 600mm has cost me missed opportunities, mainly when multiple subjects were involved. I would really like to think of using a super telephoto lens in wildlife as a high risk, high reward proposition, its my preferred method of doing my photography.
Here in an 800mm reach photo containing three subjects, a loon with two 1 day old chicks on her back: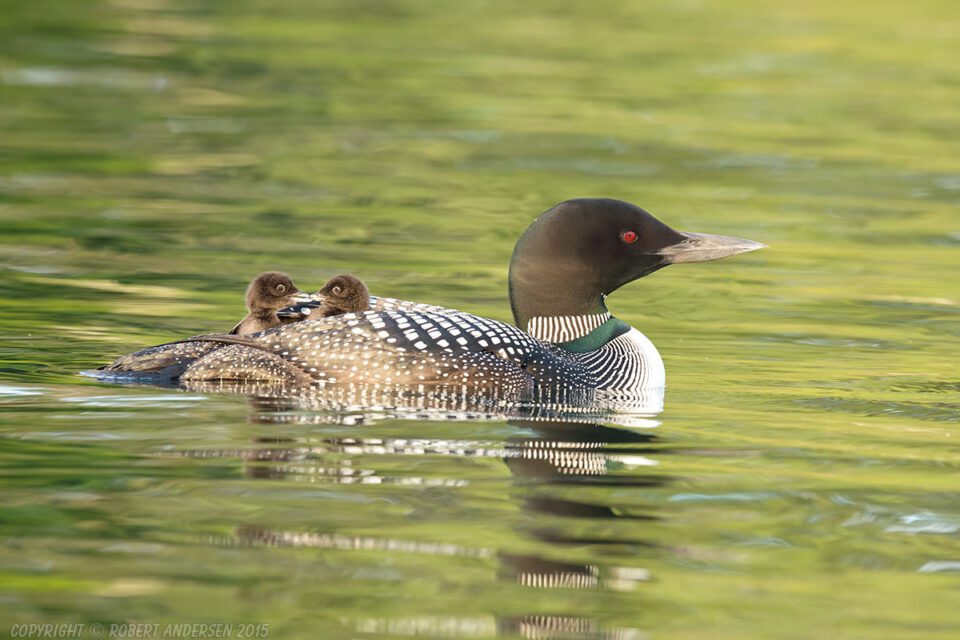 At 800mm focal length, getting three sets of eyes in focus, without depth of field issues, is even more of a challenge. This helps illustrate my "high risk, hi reward" strategy because the bird had to be just at the right distance and perfect angle for this image to work. I am in a fishing boat for this photo and not as instantly maneuverable as I would be on the ground. Also keep in mind, at one day old, the chicks are very apprehensive and they need space from you the photographer to "show up" from underneath mum's wings. Don't under estimate the problem of getting multiple subjects sharp with super telephoto lenses, some may call it the bad side of long lenses, I call it the challenge I strive to achieve.
Last, but not least: Wildlife should be respected and their space should not be invaded by over zealous photographers trying to get their shot. It can be quite traumatic and disturbing for wildlife to have a human with a camera too close, some wildlife (black bear or raptors as an example) might choose to abandon their young if overly disturbed, this is a prime reason why distance from subjects and long lens reach is so important to me.
As always, photography requires participation, so get out there and get some awesome wildlife photos to share with the world.
Regards
Robert Andersen