I recently sold my D810 to get the Sony A7R II after it was announced by Sony, so I received it less than a week ago after ordering from Amazon. The specs were too tempting, especially with Nikon being somewhat stagnant in regards to innovation on the mirrorless front. Although I loved my D810 for landscape images, lugging the camera and tripod when going on vacation or hiking with a 20 month old child, has it's challenges. The thoughts of a lighter set-up and the 5-axis image stabilization is what finally pushed me over; the 42MP BSI sensor was just the icing on the cake as I would have gone to Sony even if they stuck with 36MP.
Yesterday was the first day I actually got to test it out on a cityscape I've been wanting to capture. Up 90 min before sunrise, I got to my location about 45 min before sunrise. I started firing away on the Sony with various lenses to test out the camera. Every image was shot on tripod with image stabilization turned off. I had a 2 second delay on shutter release, long exposure noise reduction OFF, and electronic front curtain on to minimize vibration from shutter. What was most important to me was what the files would look like at ISO 100. With just a hint of daylight peaking through the clouds, the metering showed a slightly under-exposed image at f/22, ISO 100, 30 sec. I could have dialed it down to f/16-18 and got a proper exposure but with the BSI sensor I wanted to see what I could push and get away with it. Besides, I didn't have a remote release to get an exposure longer than 30 seconds in bulb mode (as a landscape shooter there is a serious issues about only 12 bit images and loss of DR and one stop of light when in bulb mode mentioned by Sony`).
Fast forward a few hours later as I begin processing the image and this is what I see (everything shot in RAW):
Image 1, RAW image as recorded by the camera: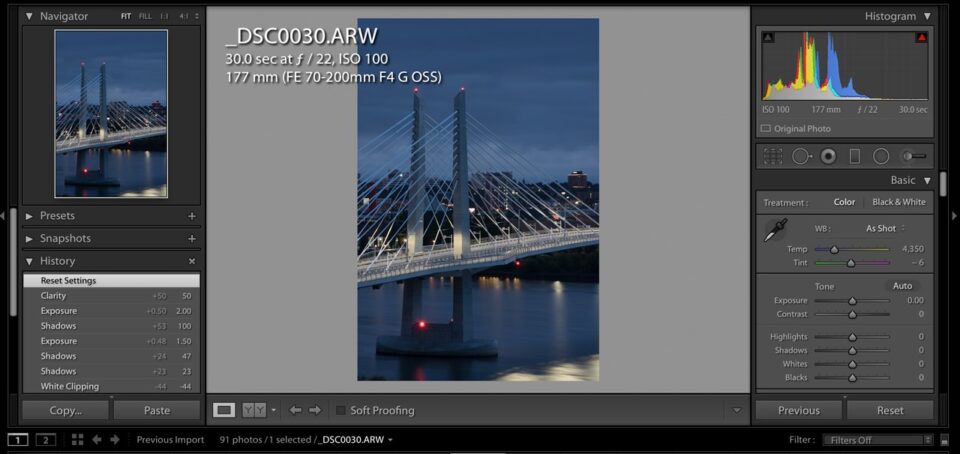 Image 2, RAW image post edit: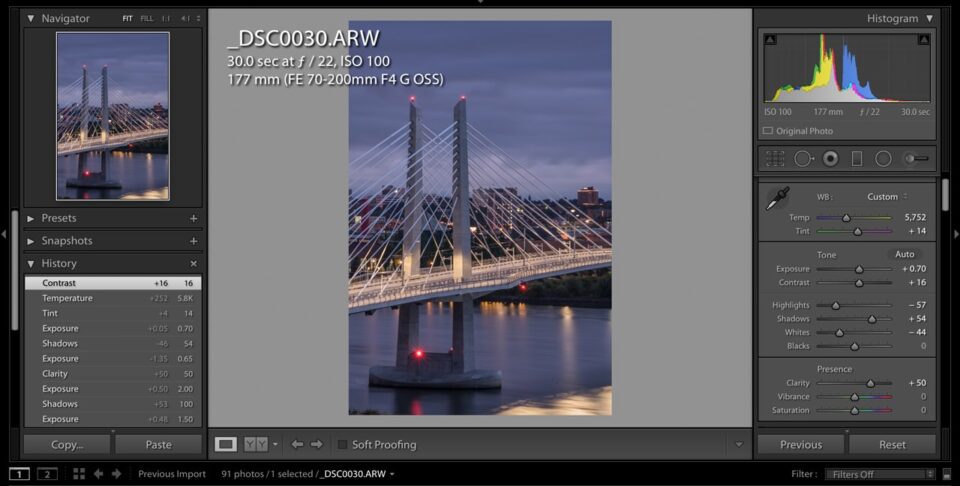 Image 3, wanting to brighten up the shadows a bit more, I zoomed into the dark area under the far side of the bridge and noticed some noise, so I applied the same parameters that PL recommended to test the D810 thermal noise issue: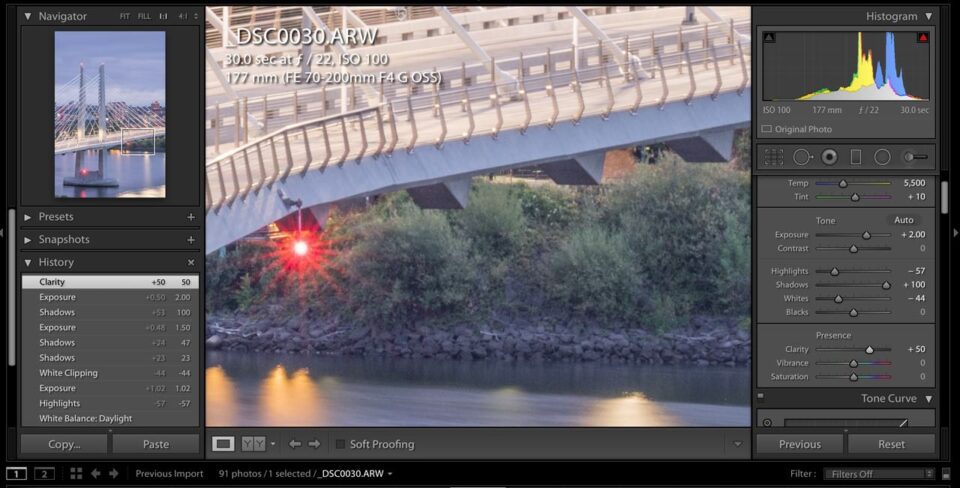 Image 4, the above image looked quite noisy with what appeared to be hot pixels at 1 to 1, so I zoomed into 4 to 1: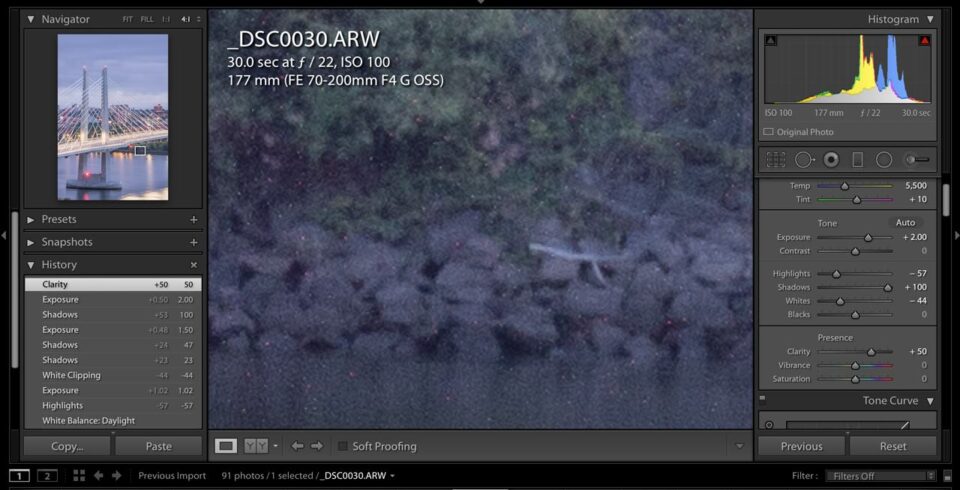 Image 5, with all the hot pixel noise in the above image, I played around with the vibrance and saturation sliders and found that the hot pixels really stand out by increasing vibrance: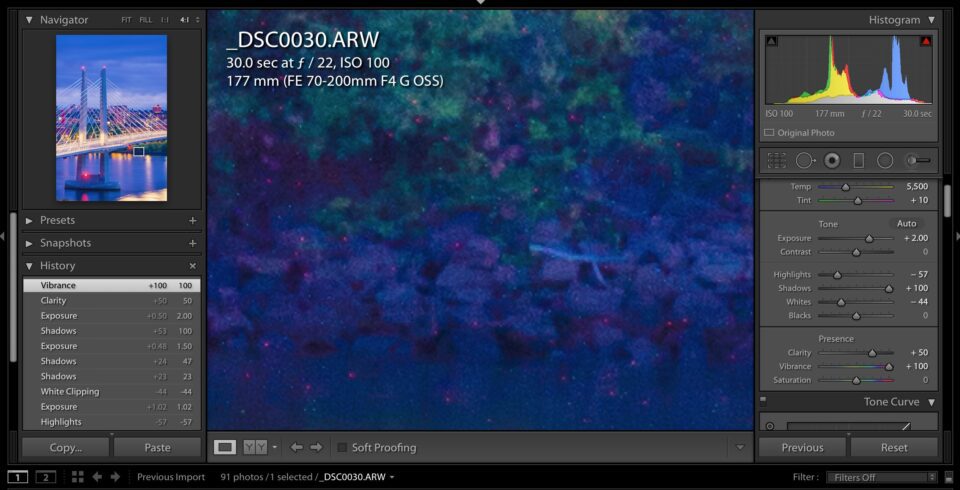 So now I have an A7R II with what I believe to be a thermal noise issue such as the D810 at launch. Other websites and forums have given the A7R II a pass on this but I think it needs to be addressed by Sony and not in post processing.
I believe that for $3200, this quality is unacceptable. The D810 image quality beats the A7R II hands down at ISO 64 and 100. Where I think the A7R II becomes better is after ISO 400-800. If there is no fix for this from Sony, the question is what's more important to me as a landscape shooter, better quality at low ISO with the D810 or better higher ISO on the A7R II that allows me to capture a greater range of light with better image quality, plus the weight savings…
P.S. Apparently the Sony cameras do a pixel mapping every month or so when the camera turns off. I tried doing that by setting the month 2 months ahead and the camera did the pixel mapping (you can hear the shutter when turning off camera), but still no luck. The following images are after trying the pixel mapping trick (which I think would only apply to stuck pixels and not hot pixels, but what do I know?).
Image 1 ISO 100, f/22, LENR OFF, shutter 30s (not in bulb mode), lens cap on, pushed +2 EV: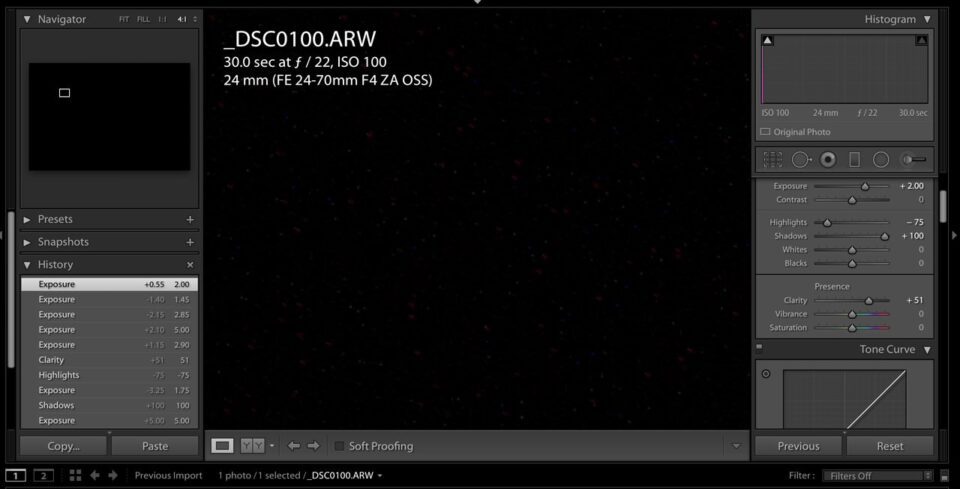 Image 2, with some hot pixels showing up, I decided to push it to +5 EV to really exaggerate all the hot pixels: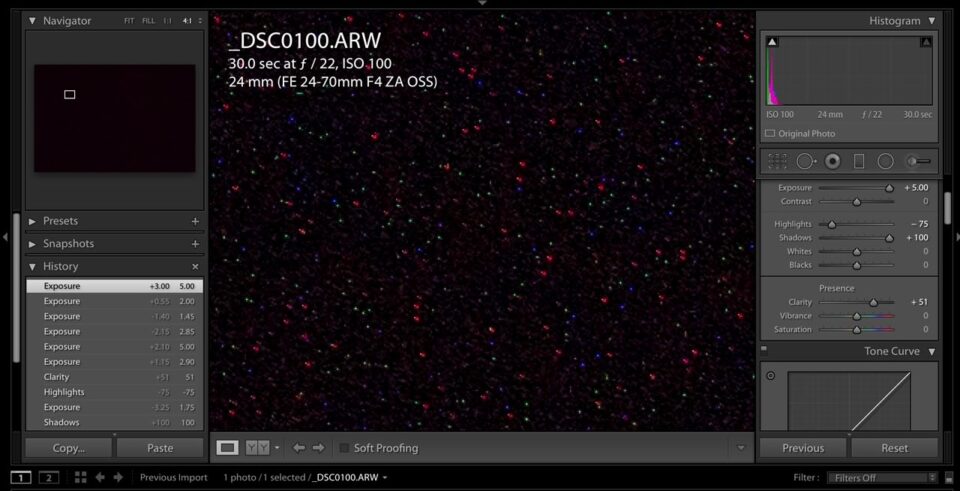 ---
This article was submitted by Photography Life reader Johnny Yun.
NOTE FROM NASIM:
Please note that the above article is a result of a study from a single copy of a Sony A7R II camera from our reader. I have not yet received multiple copies of Sony A7R II to test and verify the hot pixel issue. If I find hot pixels to be an issue in multiple copies, I will post my findings on the site as soon as possible.