Sigma lenses have been getting more and more popular in recent years thanks to some truly professional-grade optics (like the 35mm f/1.4 HSM Art, for example). As every other manufacturer, however, they use different designations for various bits of technology incorporated into the lenses. In this article, I will go through the most important Sigma lens abbreviations you might come across. Thankfully, there are not that many of them despite the fact Sigma has a broad lens line-up, so there's not all that much to remember.

1) Sigma Lens Category and Class Abbreviations
We start off by looking at different lens categories (which Sigma calls "product lines"). Not so long ago Sigma has started completely reworking its lineup. The main reason why the project (which they call Global Vision) is happening, according to Sigma, is because "more and more photographers face frustrations in lens selection, as the range of products available is enormous and the differences are not always clearly defined." So they chose not only to drastically change the design language and quality (in all senses of the word and for the better) , but also place each individual lens into a specific category. This means that all lenses in that category has a few very important features in common. You could say they are united with a single concept. There are three categories in total and here are their descriptions:
C (Contemporary) – this product line consists mainly of variable aperture zoom lenses for general use, such as standard and telephoto zoom lenses for APS-C cameras (the Sigma 18-200mm f/3.5-6.3 OS HSM Macro C, for example). The way I see it this is basically the place for Sigma's budget zoom lenses, of which there will be many.
A (Art) – you will find all the fastest Sigma prime lenses to belong to this product line. Sigma says the Art lineup is "designed with a focus on sophisticated optical performance and abundant expressive power". Some wide-angle, macro, fishey and fast-aperture zoom lenses will also belong to this category (the 18-35mm f/1.8 HSM A is a good exampl).
S (Sport) – as you might understand, this product line is for telephoto lenses (both zoom and fixed focal length) designed with sports and wildlife photography in mind. Expect these lenses to be quite pricey and also feature relatively fast maximum aperture settings.
EX – Sigma's high-end lenses of old (manufacturer's equivalent to Canon L and Nikon gold ring series), you can still find a few new and used optics with such designation. Sigma has dropped it for its new lenses, however, so we won't be seeing any recent products that would belong to the EX lineup.
2) Sigma Lens Format Abbreviations
Sigma is one of the largest third-party lens manufacturers and, as such, designs lenses for a variety of sensor sizes:
DG – lenses compatible with full-frame sensor DSLR cameras.
DC – lenses designed for for APS-C DLSR cameras.
DN – lenses designed for compact system cameras. Sigma is yet to release lenses for full-frame mirrorless cameras (the Sony duo), so it is yet unclear if such optics will have a designation of their own (quite likely), or belong to either DN or DG series.
3) Sigma Lens Technology Abbreviations
HSM – the Hyper Sonic Motor is Sigma's equivalent to Canon USM and Nikon SWM technology. It is a ring-type ultrasonic motor designed to provide quick and silent focusing.
OS – optical image stabilization technology used in Sigma lenses; similar to Canon IS, Nikon VR and Tamron VC.
ASP (Aspherical) – lenses with this designation have aspherical glass elements in their optical design.
APO (Apochromatic) – apochromatic lenses are designed to correct chromatic and other sorts of aberrations more effectively. Truly apochromatic lenses feature exotic fluorite elements and have no chromatic aberrations at all. According to Sigma, their APO lenses "are telephoto and telezoom type lenses which use special optical designs and optical materials (SLD or ELD glass) to improve their performance. The result is images which have greater contrast, sharpness and color definition than a comparable non-APO type lens ."
RF – such lenses have rear focusing design, which means that during focusing operation only a few elements positioned behind the diaphragm blades are moved (rather than all the elements). This results in potentially faster AF operation and non-rotating front elements.
IF – internal focusing is similar to RF, but in this case several optical elements in front of the diaphragm are moved during focusing (rather than all the elements). The size of the lens remains constant, but the focal length might change slightly as you focus.
SLD – Special Low Dispersion glass elements are designed to minimize chromatic aberrations.
ELD – Extraordinary Low Dispersion glass elements might have a slightly funny name, but they should perform even better than SLD.
FLD – F Low Dispersion element, at least according to Sigma, is "the highest level low dispersion glass available with extremely high light transmission." It should basically perform as well as fluorite elements (that is what the "F" stands for), but is far less expensive.
TSC – Thermally Stable Composite is a special material that blends qualities of polycarbonate and metal and is used in the construction of some lenses. According to Sigma, it "offers 25% greater elasticity than polycarbonate. Since its thermal shrinkage is low, TSC matches well with metal parts, further contributing to the high-precision construction of the lens."
4) Specialized Sigma Lens Abbreviations
MACRO – Sigma macro lenses are designed to provide good magnification with a relatively short minimum focus distance. A very popular and highly regarded Sigma macro lens is the 150mm f/2.8 OS HSM. However, if you expect the traditional 1:1 (or at least 1:2) magnification from all Sigma "macro" lenses, you are in for a bit of a surprise. For years this designation was used even on Sigma's cheapskate zoom lenses that could focus a bit closer than you'd probably expect, yet still nowhere near true macro distances. It was more of an attempt to lure less knowledgeable buyers much like cramping more megapixels into a compact camera and saying it is somehow "better" because of it. So if you are used to Canon and Nikon macro lenses that are generally capable of 1:1 magnification, make sure you check the specifications of a Sigma macro lens before purchasing it to avoid any unpleasant surprises.
Fisheye (Diagonal, Circular) – I'm sure not much explanation is needed in this case. Fisheye lenses provide very wide angles of view (180 degrees is not uncommon) with distinctive and very strong distortion. Diagonal fisheye lenses cover the whole frame, whilst circular lenses produce a circular image within the frame. Read this article if you want to learn more and see some image samples.
5) Sigma Lens Sample
Time to analyze the name of an actual lens, and my pick this time is the 120-300mm f/2.8 DG OS HSM | S lens: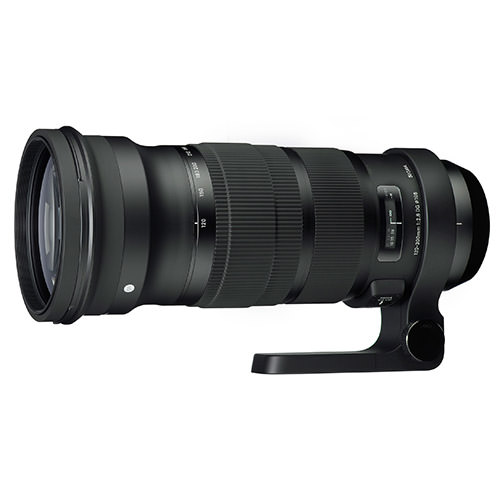 Recent Sigma lens names have been quite short and, officially, this lens is simply called the Sigma 120-300mm F2.8 DG OS HSM. As you can see, it is a telephoto zoom lens with focal length range of 120-300mm and a wide maximum aperture of f/2.8 throughout. DG means it is designed with full-frame cameras in mind, so can be used on such bodies as Nikon D800 or Canon 5D Mark III (obviously you need an appropriate mount version for either system). The lens has Sigma's ring-type ultrasonic autofocus motor (HSM) and optical image stabilization (OS). The lens belongs to Sports product line (S). Digging further in the description we can see that it features SLD and FLD glass elements to counter chromatic aberrations and improve sharpness, and is made of Thermally Stable Composite (TSC). There are no separate abbreviations for it, but the lens also incorporates some dust and water protection and the filter thread is a massive 105mm in size (Ø105). That's pretty much it!