A couple of weeks back, AT&T sent me a ZTE Spro 2 Smart Projector to review and give away to one of our readers. I loved the idea of doing this, not only because it is a neat little smart device that you can use as a mobile hotspot and as a projector, but also because with the holiday spirit, why not gift one of these away to one of PL's readers? After-all, our site is all about giving! Speaking of gifts, hope you'll get what you need this holiday season, because it does not always happen. What do you do with those unwanted gifts then? I find regifting to work the best. For example, on my birthday earlier this year I received a gift card to a store I never shop from, so I decided to regift it to a friend who does. Worked out nicely and I did not even have to think much about buying a present! Now the question is, if you win this giveaway, will it be a keeper? Anyway, before I go into the giveaway details, let's take a closer look at what the ZTE Spro 2 is capable of and what you can use it for.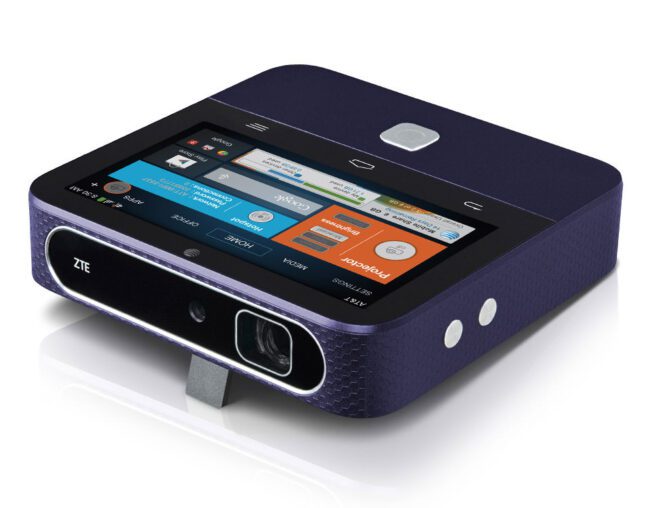 ZTE Spro 2 Overview
In a nutshell, the ZTE Spro 2 is an Android-powered portable projector that can be also used as a mobile hotspot for connecting up to 10 devices via WiFi to a 4G LTE network (the particular unit that I am reviewing and giving away is specifically for the AT&T network). It is a smart device with a 5″ touchscreen, which means that you can use it just like an Android-based tablet to check email, browse the web, watch movies, play games, etc. Although ZTE describes the Spro 2 as a "2-in-1 projector and mobile hotspot", I would instead call it a "3-in-1 projector, mobile hotspot and tablet", since the latter is an integral part of this portable device. So when not using it as a hotspot or a projector, you can still connect to the Internet via a mobile connection (requires a data plan) or WiFi, which is really neat. The only downside on the "smart device" side is that the unit ships with the older Android 4.4 "KitKat" OS and not the current "Lollipop" version, so you might miss some of the apps specifically designed for Lollipop on the ZTE Spro 2. Featuring a fairly powerful Qualcomm Snapdragon 800, the device should be able to technically run Lollipop, but there might be technical challenges to get all the components, including the projector working on the new OS. I might be a matter of time until folks at ZTE can get the Spro 2 working with the latest and greatest Android OS, but even if that never happens, I don't think I would be very disappointed, as the highlight of the device is definitely the projector + the hotspot and not the tablet features…
As you will see further down in this review, the ZTE Spro 2 has a wonderful and compact built-in projector capable of outputting up to 720p video in 4:3 or 16:9 aspect ratio, which given its compact size (5.3″ H x 5.2″ W x 1.2″ D) and light weight construction (only 19.4 oz / 0.55 kg) is pretty darn impressive. That makes the device a nice travel companion – you can carry one in your camera bag when traveling! And when you are ready to project, all you have to do is press the power button, then touch the "Project" button on the touchscreen and voila – you are projecting. With a lamp life rated at 20,000 hours, the projector should last quite a while.
The ZTE Spro 2 can be purchased either in a WiFi-only or LTE + WiFi package. The LTE + WiFi package is the way to go in my opinion, because you can use it as a hotspot to connect all of your devices (like your smartphone, tablet and laptop) and share the Internet connection, which is particularly useful on the road. You will need to activate a SIM card with the carrier and once you do that, all you have to do is enable the hotspot feature through the Settings menu to be ready to accept connections from other devices.
So what would you use the ZTE Spro 2 for? If you are a videographer, the device could be used for video presentations. Being able to fire up a projector and show a video to your friends, family or co-workers on a huge wall is really cool. You don't have to worry about finding a huge TV and you can sit back together with the audience to present the material. Although the video resolution is limited to 720p, which means that you can only output at a maximum resolution of 1280×720, you can still use the ZTE Spro 2 for showcasing your photos as well. The colors and the details might not look the best, but at the right viewing distance, it actually does not look bad at all, as you will see below.
Construction and Build Quality
The ZTE Spro 2 for AT&T has a high-quality exterior plastic shell colored in dark blue, with the exception of the glass touchscreen area. All corners are nicely rounded and there is nothing sharp on the unit that could potentially scratch other devices. Although the 5″ touchscreen seems to be made out of tough glass, I would recommend to keep it away from sand and other sharp objects that might scratch the screen. Store it in the provided ZTE case when not in use and if you want to avoid any potential of scratching, it might be best to use a screen protector. The same goes for taking care of the front of the unit where the projector sits. The projector front lens is protected by a single piece of glass and if you manage to heavily scratch that glass or make it extremely dirty, it will affect the projecting performance of the unit.
On the left side of the unit you will find two buttons for adjusting volume, while the right side only has a small venting area. The bottom of the unit has a well-vented black plastic shell where you will find four soft rubber feet, a small kickstand and a tripod socket for mounting the unit. The rear of the device has all the connection ports, which includes power input, HDMI input, a USB 3.0 port and a headphone / speaker output plug. Right below those ports you will find two additional ports – one for inserting a SIM card and one for a MicroSD card (the device supports MicroSD cards up to 64 GB in size):

The 5″ touchscreen has a resolution of 1280×720 at 294 PPI (921,600 dots), which can be set to be quite bright. Fonts, imaged and videos look great and the touchscreen is very responsive, having a very similar feel as what you get on a high quality smartphone.
Overall, the ZTE Spro 2 feels like a quality device that is built very well. Without serious abuse, the device should last a while.
Battery Life and Memory
The ZTE Spro 2 comes with a large capacity 6300 mAh battery, which according to ZTE should provide up to 2.5 hours of continuous projection. That's plenty of time to watch a full-feature movie and still have some time left to project. In fact, on a fully charged battery, I was able to squeeze over 3 hours of projection, which is really nice! And if you utilize the device itself without using the projector, say for the hotspot or tablet functionality, you can expect to get much more running time – up to 16 hours!
The device comes with 2 GB of internal memory (RAM) and 16 GB of storage space (ROM). While 16 GB does not sound like a lot for storing music and movies, keep in mind that you can easily expand the storage with a 64 GB MicroSD card. And if you find that limiting, no problem – just use an external USB drive! I connected my Samsung T1 Portable SSD drive and after a couple of seconds, the Spro 2 showed the drive contents to me. I was able to browse the folders and play back photos and videos I had on the device. The SSD drive was NTFS-formatted, but if you have Macs in your environment, the device will be able to read HFS+ formatted drive contents as well. So you don't have to worry about constantly fiddling with the MicroSD port to copy / access your media – just use an external hard drive and you are all set.
LTE, WiFi and Bluetooth
The ZTE Spro 2 ships with LTE-capable antenna, so you will be able to access the network at very fast speeds (Frequencies: 850/1900/2100MHz, LTE bands 2/4/5/17). So if you are near LTE towers, you should not have to worry about network speed issues, particularly when sharing data across multiple devices. As for WiFi, the device supports 802.11 b/g/n networks at 2.4Ghz and 5 Ghz, which is more than plenty. And lastly, you can connect your devices to the Spro 2 via Bluetooth 4.0.
Projector Output
When using the Spro 2 on battery, you can project up to 10 feet with 100 lumens. Not super bright, but if you do it in a dark environment, it actually looks pretty decent. If you have a power outlet, you can double the brightness to 200 lumens, which is more than enough to bring small theater-like experience to a room. I was actually quite surprised by the brightness and quality of the projector output when using it in my home environment. At first, I thought 720p would look pretty average on a large projection, but after I fired it up, I was pleasantly surprised by how good 720p actually looks when properly focused. Here is the main screen of the device that I output on a large bedroom shade (which worked out great, by the way!):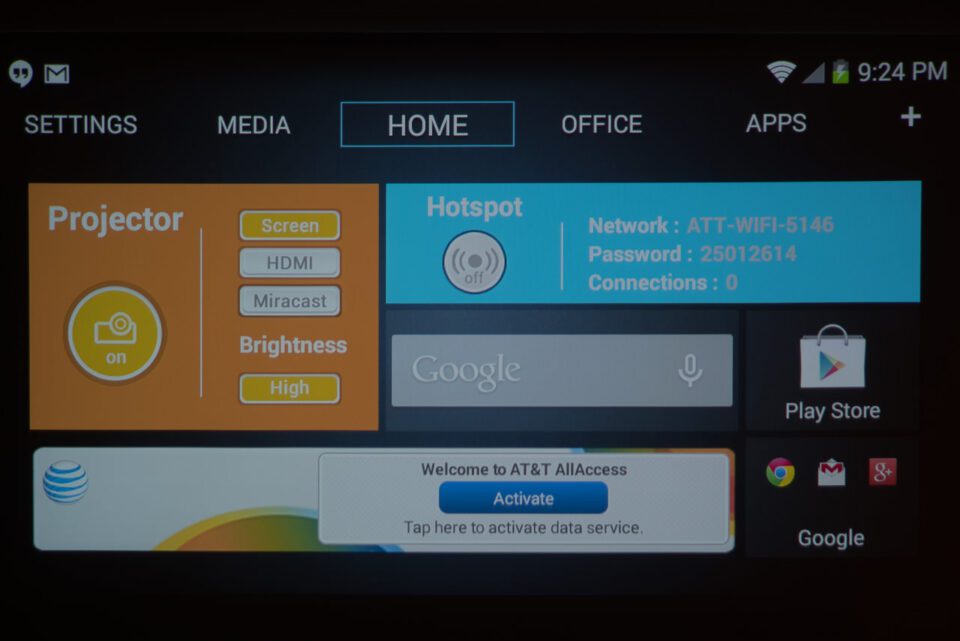 There is a bit of pixellation seen at very close distances, but come on – projectors are not meant to be seen with a loupe! At the right viewing distance, the image looks quite detailed and nice.
So what did I view next? I fired up the YouTube app and launched the Star Wars Episode 7 trailer of course! I am super excited about the premiere on the 17th and although I was not able to get tickets for the first day, I have the tickets for the morning of the 18th – my boys are pumped up and are counting days :) Not bad at all: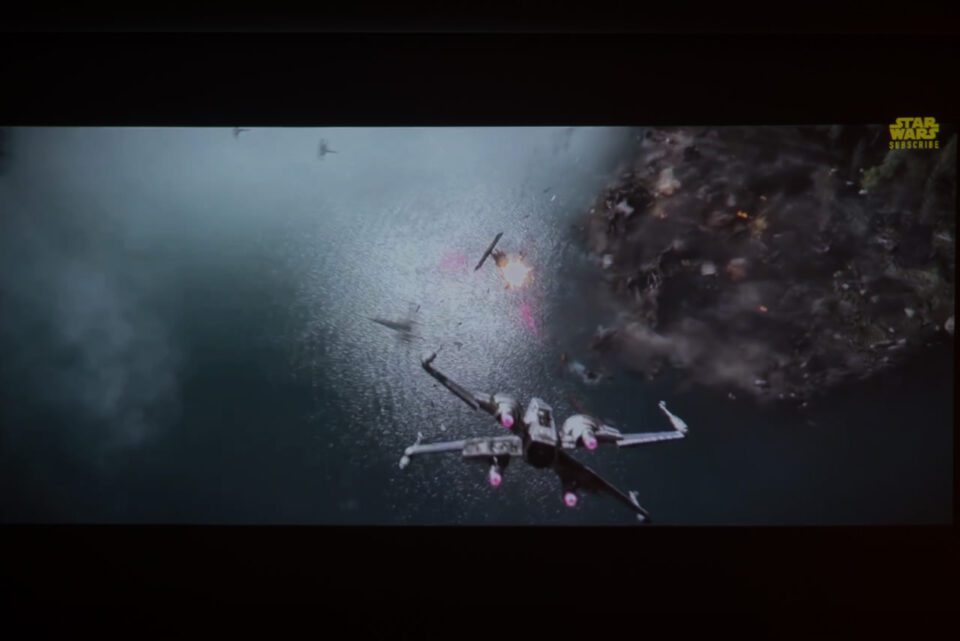 Next, I opened one of my images to see how it would display: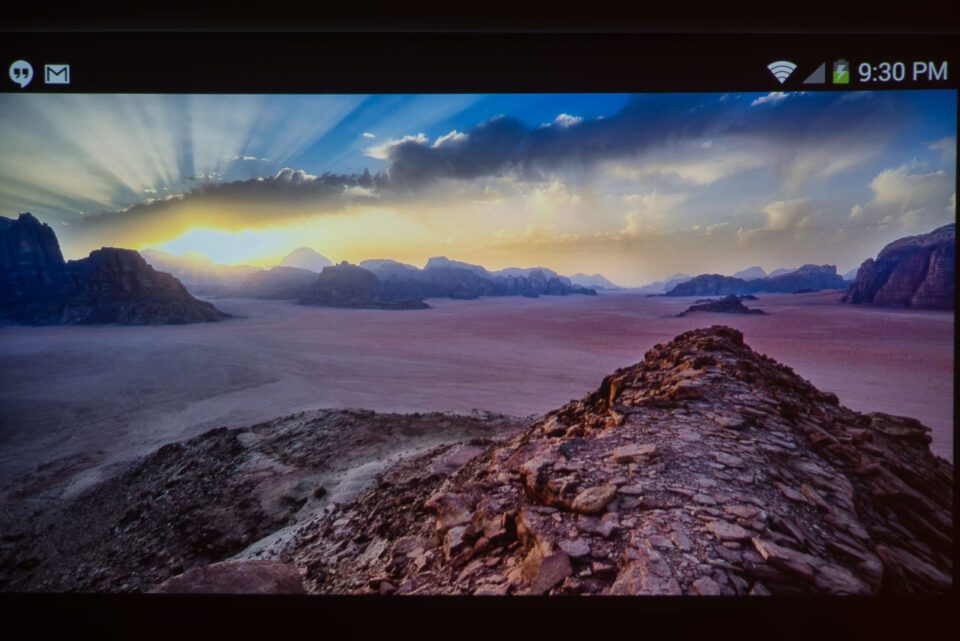 The image was obviously downscaled to fit and it actually looked pretty decent. You can definitely use a projector like this for presenting images, but keep in mind that the colors and the tones are not going to be very accurate. Plus, if you move the device too far back and the room is not completely dark, brightness might not be sufficient to bring out all the shadows in images. Still, I expected a lot worse from this small of a projector, so I was very happy to see the results.
Focusing with the projector is very easy and there is no manual focus ring to fiddle with – everything is done electronically. Under the Settings menu, you will find a "Projector" icon. From there, you can select your video source (Screen, HDMI or Miracast), Brightness Level, Focus and Keystone. By default, Brightness is set to Medium and when on battery, you cannot move it to "High" – for that, as I have already mentioned above, you need to be plugged in to a power outlet. On my unit focusing was set to Auto, which worked out pretty well, but every once in a while the image would refocus, so I switched to Manual focus. Adjusting focus position is super simple: there is a plus and a minus sign and you move focus whichever way to make the image sharper. The Keystone feature can also be set to "Auto", which is what I left mine at – it automatically corrects angular distortion to make the output look nicely rectangular. This is great, because you are not expected to always project at a particular angle. You could set the unit fairly low and project higher up or vice-versa and the projection always looks rectangular thanks to this feature. Another great feature I did not expect to see from such a compact and relatively inexpensive unit.
In addition to all of the above, you have all kinds of other tweaks in the Projector settings menu. You can lower power consumption by maintaining constant image brightness, brighten darker image areas to improve overall picture quality, adjust color correction options and even stabilize the projected image with an "anti-shake" option.
In summary, the projection capabilities of the ZTE Spro 2 are very impressive!
HDMI Input and Sound
If you enjoy playing games or watching movies, there is nothing like hooking up a laptop or a game console like Xbox, PlayStation or Wii via HDMI and entertaining yourself or your guests on a giant screen. I am not a gamer anymore, but I did watch some video clips with my family, which they enjoyed a lot! Now I am looking forward to watching a movie. If you have a Roku, or a Chromcast device for video streaming, you can attach those devices easily. You don't even need to mess with extra power cables for hooking up a Chromcast unit or even a Raspberry Pi – the device provides enough USB power to power those up. To make the projection look brighter, I hooked up the unit to an outlet, which made a huge difference. My only gripe is the fan noise – to keep the projector cool, the unit fires up a pretty loud fan, so make sure that your speakers are louder than the fan noise, or you might get a bit annoyed.
Connecting a Surface Pro 3 or the newer Surface Pro 4 to the Spro 2 is a piece of cake, but you will need a special adapter to convert Mini DisplayPort to HDMI. You can get the accessory from your local electronics store like Best Buy or purchase one directly from Microsoft.
Speaking of the sound output, the built-in speakers on the Spro 2 are pretty loud, but if you are watching a movie, I would recommend to hook up external speakers. That's what the rear 3.5mm audio jack is for – you can use headphones to go completely silent for your own enjoyment, or you can hook up more powerful speakers when watching with a group of people.
ZTE Spro 2 Giveaway
Now that you are hopefully pumped up about this device, it is time to discuss the giveaway! Yes, we will be giving away a brand new ZTE Spro 2 Smart Projector ($500 value) to one lucky reader. To participate, all you have to do is leave a comment in the comments section below with an answer to the question "How would you use the ZTE Spro 2 if you were to win it?". We will randomly select 5 readers and choose a single winner among them based on their comment. So don't just leave one or two words!
Please see the following giveaway rules:
Giveaway is only open to US and Canada residents
Participant must be 18 years and older
Only one comment per participant
The winner will be announced shortly, on December 15th, 2015!
AT&T's 12 Days of Giving
In addition to our giveaway, AT&T is currently hosting its "12 Days of Giving" program, where the company is promoting special deals every day for 12 days straight. The program started on November 30th and will stop in 4 days, on December 11th. Check out the link above to see the details. In addition to this program, AT&T is also hosting its #ATTGiftSweeps Holiday Sweepstakes, giving away all kinds of great prizes for 12 days straight between December 1st and 12th. To see the prizes and to participate in these sweepstakes, head over here. AT&T is giving away way more stuff than we are!
Good luck and happy holidays everyone!
ZTE Spro 2
Features

Build Quality

Value

Size and Weight

Ease of Use

Speed and Performance

Stability
Photography Life Overall Rating