This is an in-depth review of the manual focus Zeiss Distagon T* 35mm f/2.0 ZF.2, a second-generation 35mm f/2 prime lens from Zeiss for Nikon and Canon mounts. The lens samples I tested were for the Nikon F mount, although you can get the same lens for the Canon EF mount. The Zeiss 35mm f/2.0 ZF.2 is a professional-grade fixed wide-angle lens targeted at enthusiasts and professionals that need high-quality optics for different types of photography, including landscape, architecture, portrait and astrophotography. Similar to other Zeiss prime lenses, the lens is designed to work on both FX and DX sensor cameras (equivalent field of view of approx 52.5mm on DX) and yields amazing clarity and contrast throughout the frame.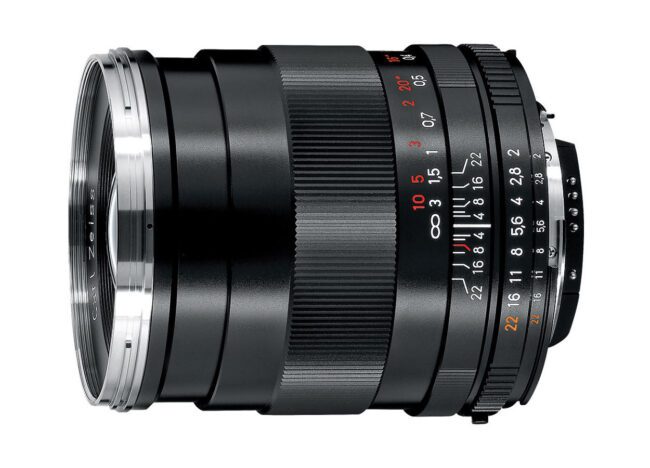 The all-metal Zeiss 35mm has a very tough and high-quality build and is sealed against dust and tough weather conditions. When compared to the latest generation Nikon lenses like Nikon 35mm f/1.8G ED with the plastic exterior, it feels much more solid in hands – even the lens hood is made of metal. The focal length of 35mm is a good compromise between ultra-wide angle lenses and standard lenses. Thanks to the 9-blade diaphragm, the Zeiss Distagon 35mm f/2.0 ZF.2 renders background highlights in round, circular shapes, making it a good candidate for portraiture and street photography.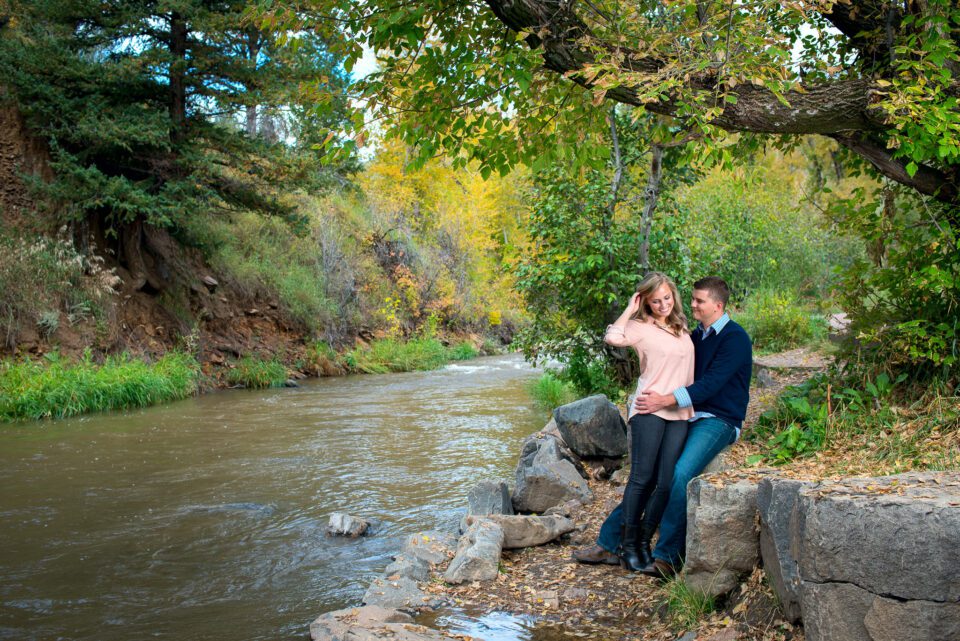 In this review, I will provide a thorough analysis of the Zeiss Distagon T* 35mm f/2.0 ZF.2 lens, along with image samples and comparisons to a number of different 35mm lenses from Nikon and other manufacturers.
Zeiss Distagon T* 35mm f/2.0 ZF.2 Specifications
Focal length: 35mm
Tested Mount: Nikon
Aperture range: f/2.0 – f/22 (1/2 steps)
Focusing range: 0.3m – infinity
Number of elements/groups: 9/7
Angular field, diag./horiz./vert.: 62°/53°/37°
Coverage at close range: 19 x 13cm
Filter thread: 58mm
Dimensions (with caps): 64mm x 97mm
Weight: 530g
Camera mounts: EF Mount (ZE), F Mount (ZF.2)
Detailed specifications for the lens, along with MTF charts and other useful data can be found in our lens database.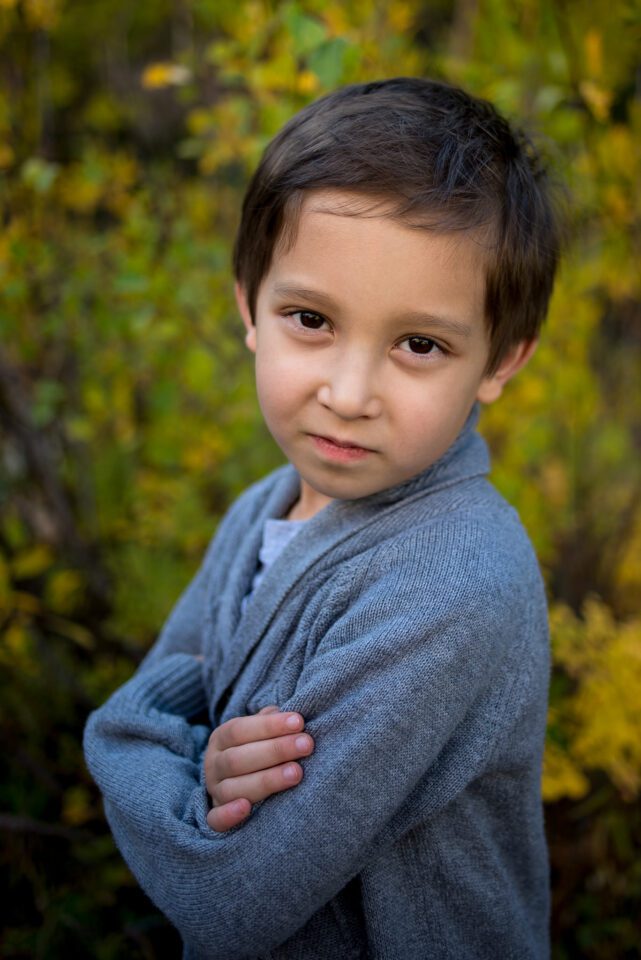 Lens Handling
Modern Zeiss prime lenses are all of very high quality, all-metal build and the Zeiss 35mm f/2 is no exception. It feels rather heavy relative to its small size, and is designed to withstand tough weather conditions, including dust and moisture. I used the lens in very dusty and rainy conditions in Utah, cold and snowy conditions in Colorado and it continued to function well without any problems. I carefully inspected the lens after the Utah trip and saw no signs of dust inside, which indicates that the lens indeed has good sealing – and that's with the extending lens barrel. So if you shoot in extreme conditions a lot, you can certainly count on the Zeiss 35mm f/2 – it will surely survive and serve you well for years to come. The lens sports 9 optical elements in 7 groups and weighs a total of 530 grams, making it about 70 grams lighter than the Nikon 35mm f/1.4G. Here is how the lens compares against other 35mm lenses (Zeiss is second from left):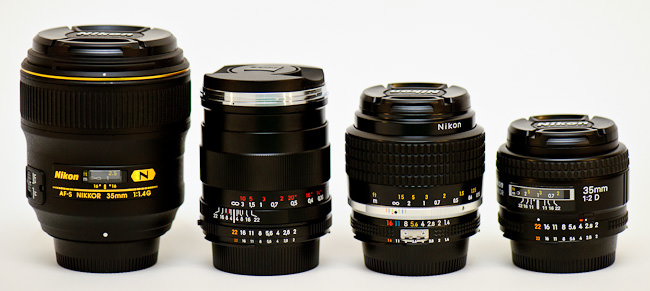 The focus ring is located in the middle of the lens barrel and feels very smooth while focusing. The provided barrel-shaped metal lens hood attaches easily and securely on the lens, which I recommend keeping on the lens at all times. Filter size is limited to 58mm, which is expected given how thin the lens barrel is.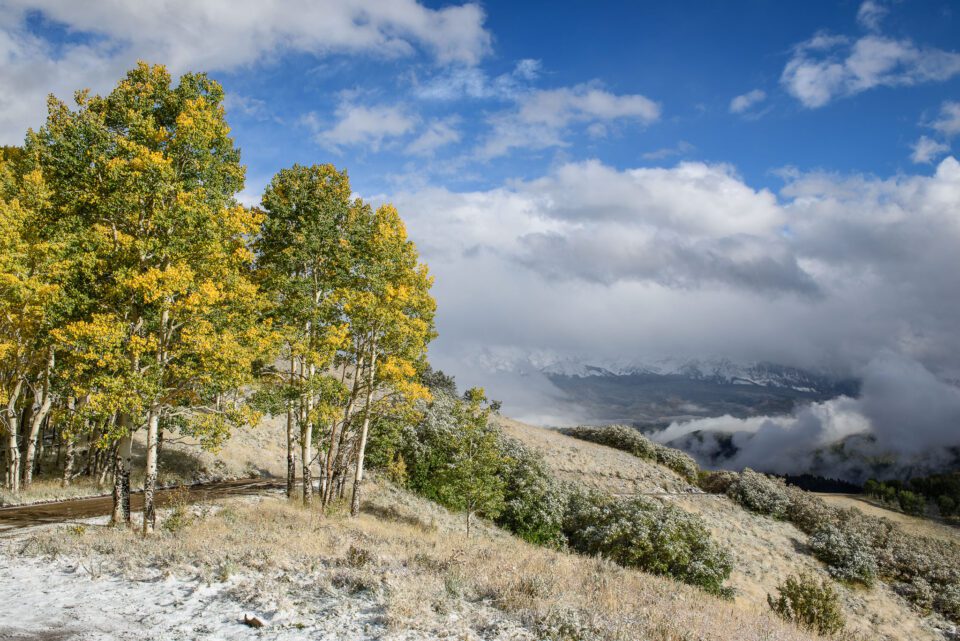 Lens Operation and Manual Focus
The Zeiss 35mm is equipped with electronic transmitters that provide metering capability and full lens information back to the camera, making it easy to use it with all modern Nikon and Canon DSLRs. Simply lock the aperture ring to the minimum aperture that is marked in orange and you can change the lens aperture on your camera without touching the aperture ring on the lens. One of the biggest concerns photographers have with lenses like the Zeiss 35mm f/2 ZF.2, is manual focus operation. Many photographers are either scared of manual focus, or just do not want to deal with it when using fast primes, especially when shooting handheld. Although manual focus can be challenging and frustrating for portraiture at close distances, especially when your subjects are fast-moving children or pets, focusing with this lens in all other situations is quite easy. The camera viewfinder gives an indication (a green circle) if a subject is in focus and will show which way to rotate the focus ring if it needs to be adjusted.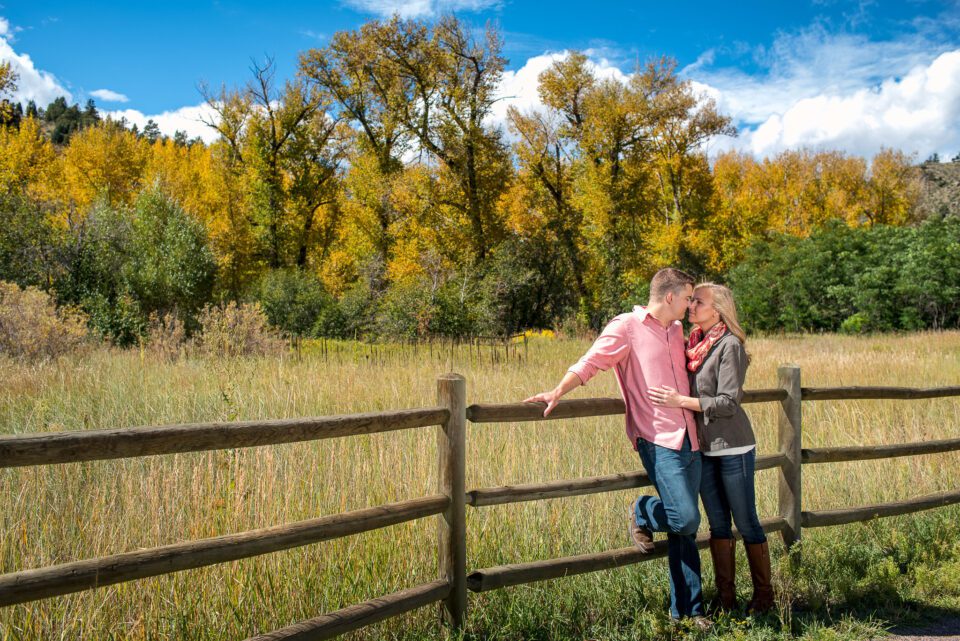 Now let me talk about the real advantage of a manual focus lens. As photographers, we are often so spoiled by autofocus lenses and automated cameras, that we either inherit or develop the "spray and pray", point and shoot mentality. Manual focus lenses require some extra work and I find myself putting a lot more thought into framing and composition, rather than just taking quick snapshots.