Lens Sharpness, Contrast and Color Rendition
Sharpness-wise, the Zeiss Distagon T* 35mm f/1.4 is generally a good performer, but not a stellar one. It is certainly not as sharp as the Sigma 35mm f/1.4 (which currently has no equivalents in sharpness) and it lags behind other 35mm professional lenses like Nikon 35mm f/1.4G and Samyang 35mm f/1.4 as well. But as I have pointed out earlier, sharpness is not everything for Zeiss – it knows that photographers pay close attention to excellent build quality, superb contrast, colors and other optical features. Another important factor to note, is that Zeiss lenses tend to be optimized for infinity focus and often exhibit field curvature and resolving issues at close distances. My lens sample did not show a "wavy" field curvature like the Nikon 35mm f/1.4G does, but it definitely has pretty noticeable "cone" type field curvature that significantly decreases resolution as you move away from the center. Stopped down to f/5.6, sharpness levels were restored to very good levels throughout the frame (since stopping down actually decreases field curvature), with f/8-f/11 range showing the best performance.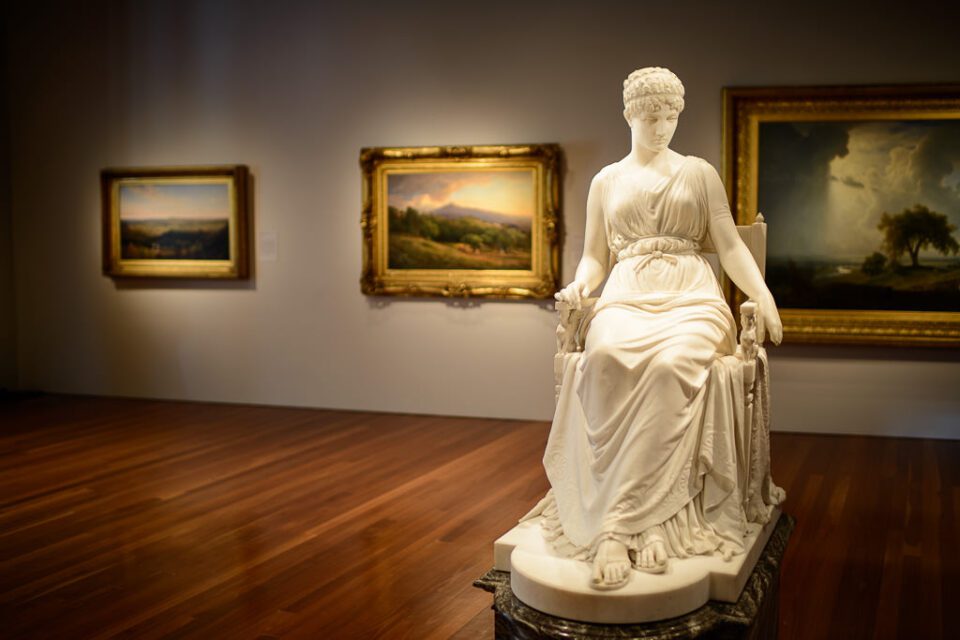 I tested the Zeiss Distagon T* 35mm f/1.4 using the largest test chart printed by Imatest (44″ x 74″), which I use for testing lenses below 100mm. I also performed some measurements at infinity, but those were too hard to quantify and compare to my lab results. Looking at 100% crops, the shots taken at infinity were slightly better than what I was getting in my lab. The center seemed to be about the same wide open, but the mid-frame and the corners looked a little better. At infinity, field curvature is not as bad as at close distances, but it is still there.
One of our readers requested that I provide an image sample to illustrate what the field curvature looks like on the Zeiss 35mm f/1.4, so I updated the review with some image samples from my Imatest lab. Take a look at the below 100% crops that illustrate the effect of field curvature at f/2.8 (full EXIF data is attached):
Take a close look at the sharpness difference between the center and the mid-frame. You can clearly see that the two differ greatly in sharpness – that's a very typical case of field curvature. If I were to focus in the mid-frame instead of the center, you would see a reverse situation – the center would be blurry, while the mid-frame is sharp. Now take a look at the corners: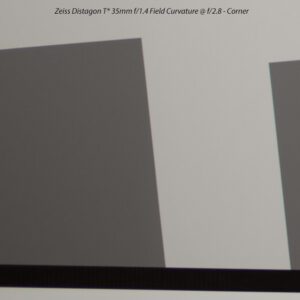 As shown in the below MTF graphs, the corner sharpness is also pretty weak. When Imatest assesses each area, it measures the thickness of vertical and horizontal lines, not what's inside the squares. Here is the way scores are computed. Imatest takes multiple horizontal and vertical lines from the center area, averages those numbers and that's what becomes the score for the center sharpness. For mid-frame, it assesses all four areas surrounding the center, averages those numbers and then computes the final score. The same is done with all four corners of the frame for measuring corner performance. For the above examples, I took a crop from the left lower side for mid-frame and left bottom side for the corners, which only shows 1/4th of the whole picture.
So if we were to visualize the field curvature of this lens, here is how it would look like: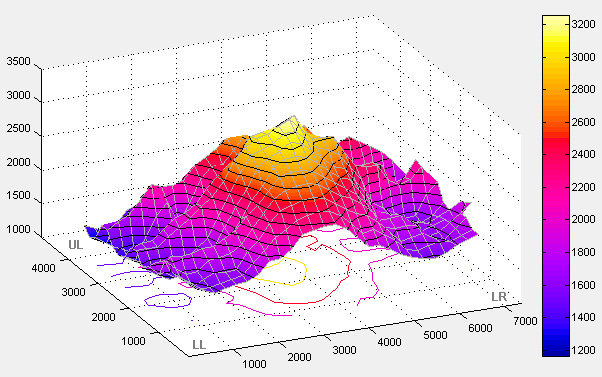 The above graph is from an analysis of 144 areas in the frame, which is why you are seeing a lot of rough areas.
As you can see from the graph, the center area of the frame is very sharp, but the image sharpness quickly deteriorates as you move away from the center. Mid-frames suffer quite a bit already and the corners are even worse. This is very typical of most lenses, especially fast prime lenses. Some really good lenses will have a minimal amount of curvature, where the peak won't differ as much from the corners. But such lenses are extremely rare…
Zeiss Distagon T* 35mm f/1.4 MTF Performance
Take a look at how Imatest measured the sharpness of the Zeiss 35mm f/1.4 in a lab environment: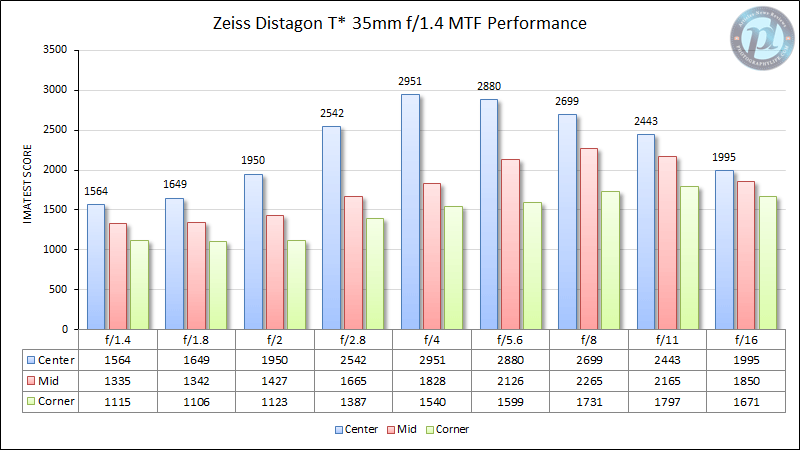 The lens starts out rather weak wide open, with pretty average sharpness in the center, mid-frame and the corners. As you stop down the lens to f/2, center sharpness starts to improve considerably, but the mid-frame and the corners are still pretty weak. There is a very visible improvement in sharpness at f/2.8 in the center, and now the rest of the frame starts catching up as well. The lens reaches its peak performance at around f/8 on average, but the corners continue to improve at f/11. Finally, diffraction kicks in at f/16, diminishing the overall resolution across the frame.
Bokeh
When it comes to bokeh, the lens renders busy highlights with defined outer rings. The inner part of the ring is also quite busy with "onion-shaped" bokeh, as illustrated in the below image: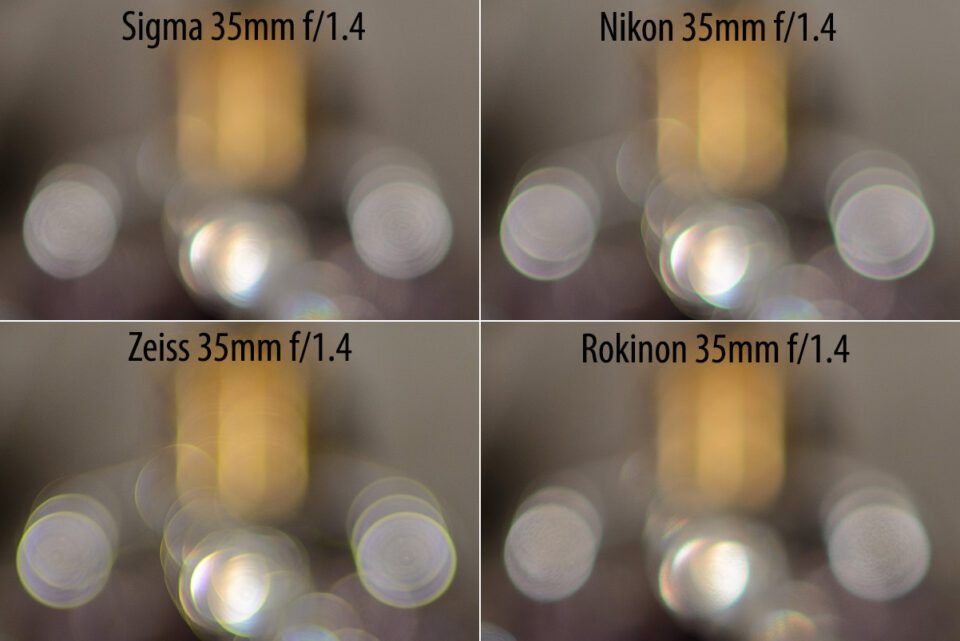 Bokeh does not look as bad when the background highlights are not as bright, but still, this is not something I would expect from such an expensive lens. For portraiture, you might find other 35mm lenses to be a little more suitable, especially the ones with an autofocus motor. Lack of autofocus is another huge negative for the Zeiss 35mm f/1.4 – it is typically difficult to obtain critical focus with manual focus lenses, even when they are properly calibrated.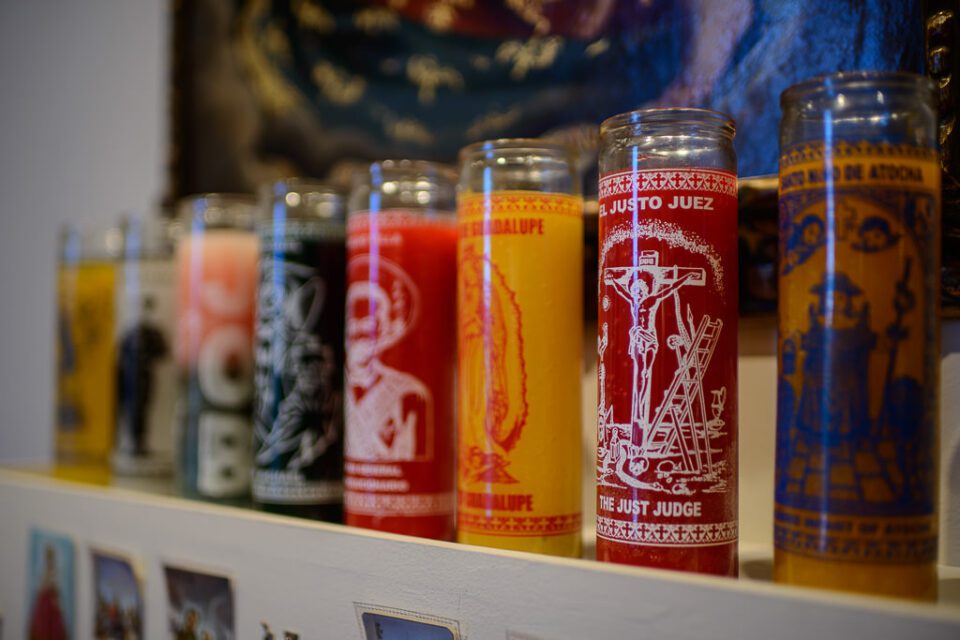 Vignetting
Most prime lenses heavily vignette when shot wide open, especially on a full-frame body. As expected, the Zeiss Distagon T* 35mm f/1.4 lens vignettes quite a bit wide open, with vignetting levels falling sharply when stopped down beyond f/2. Here are the vignetting levels measured by Imatest: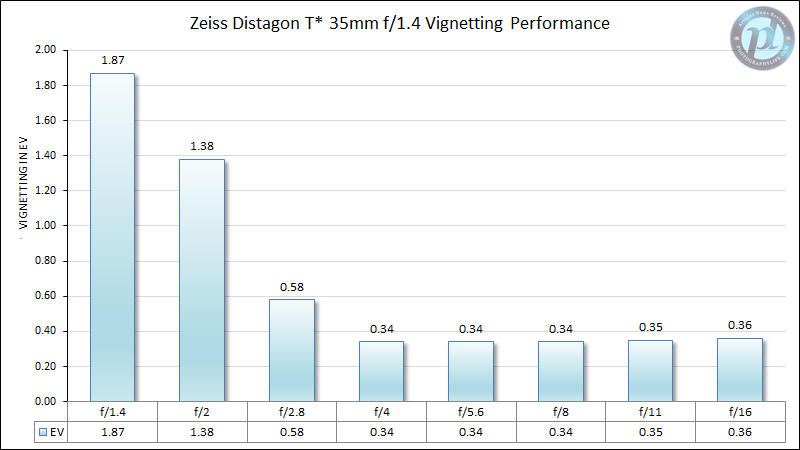 Still, this is the worst result when compared to other 35mm f/1.4 lenses. Seems like vignetting levels normalize only at f/4 on the Zeiss 35mm f/1.4.
Here is an illustration of the worst case scenario at f/1.4 by Imatest: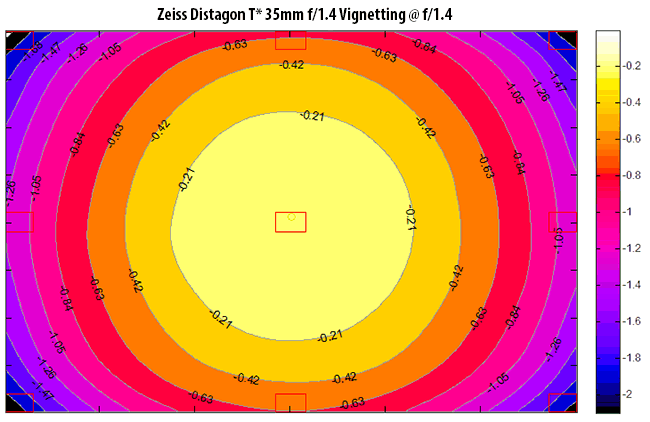 The natural vignetting can look great on portraiture and other types of photography though, as can be seen from the below sample image (LOL, sorry for such a gruesome sample):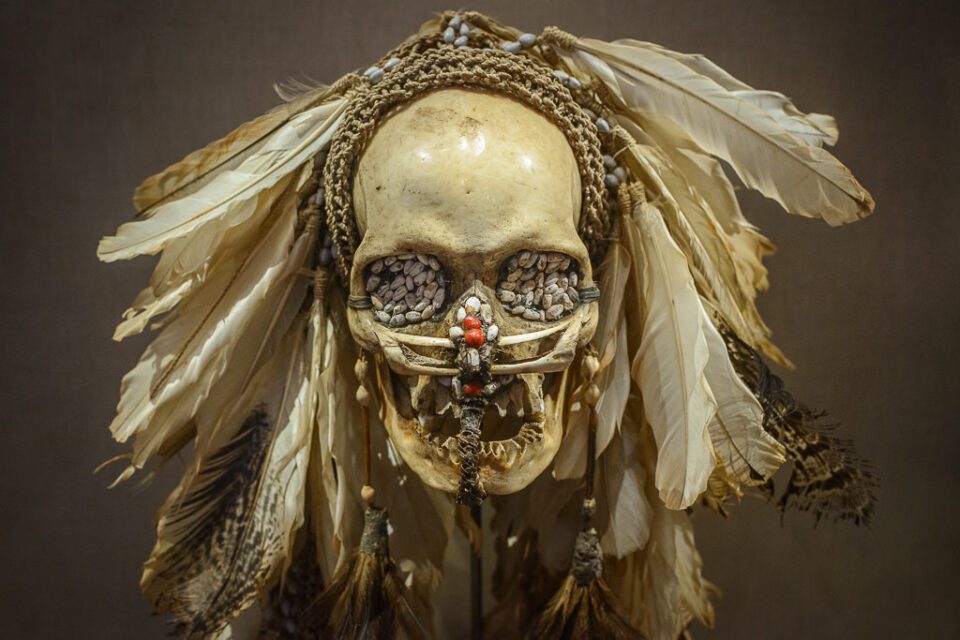 Ghosting and Flare
When it comes to handling ghosting and flares, the Zeiss Distagon T* 35mm f/1.4 is a mixed bag. If you put a bright source of light in a wrong spot, it can create visible ghosting and flare in blue/magenta/purple tint with some rainbow patterns. The tint comes from a different type of coating that Zeiss uses. Take a look at the green tint from the Sigma (Nikon has a little bit of green tint visible as well) – I actually prefer it to the blue tint in this particular example, since it is not as evident: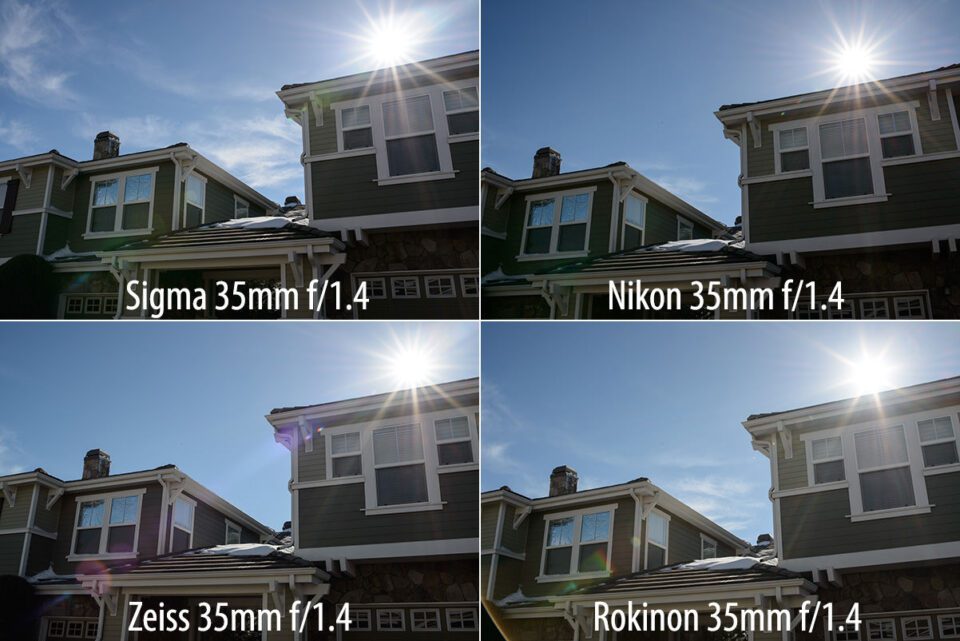 If you like photographing sunsets and sunrises with the sun in the frame, I would experiment with this lens more to see where to position the sun in the frame best. Some angles are always worse than others, so you should watch out for those bad spots. Light intensity and use of filters also affects ghosting and flare quite a bit, so keep that in mind. The above shots were taken without the lens hood or filters.
Here is a sample image that shows pretty good handling of ghosting and flare, with the sun positioned close to the center of the frame: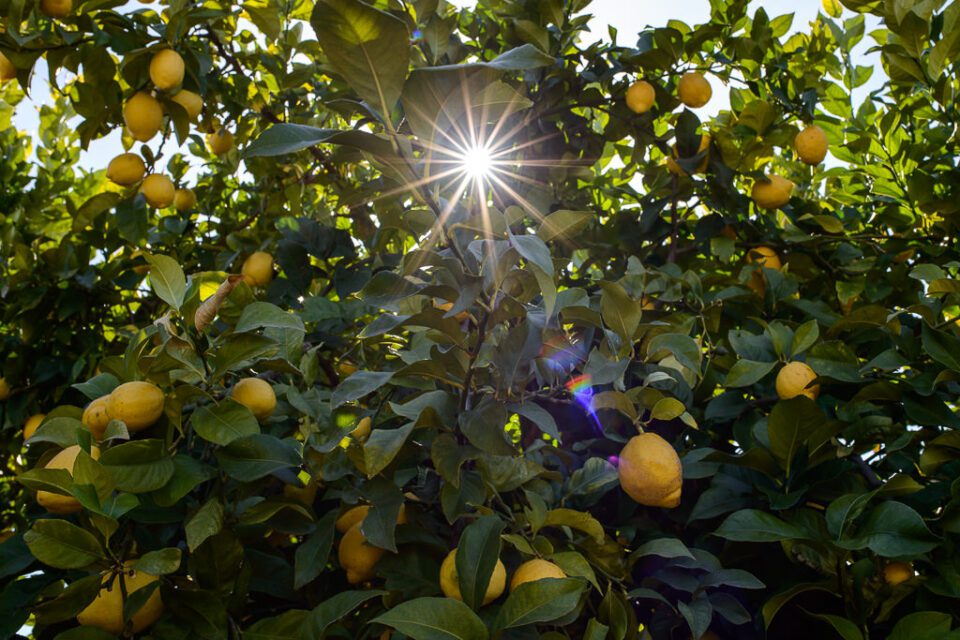 Distortion
The Zeiss Distagon T* 35mm f/1.4 exhibits about the same level of barrel distortion as other 35mm lenses at 1.12% barrel distortion as measured by Imatest, with the exception of the Sigma 35mm f/1.4, which almost has none. It is a little better than the Nikon 35mm f/1.4G, so it comes in second in the group.
Chromatic Aberration
When it comes to handling chromatic aberrations, the Zeiss 35mm f/1.4 is excellent. Take a look at the following chart: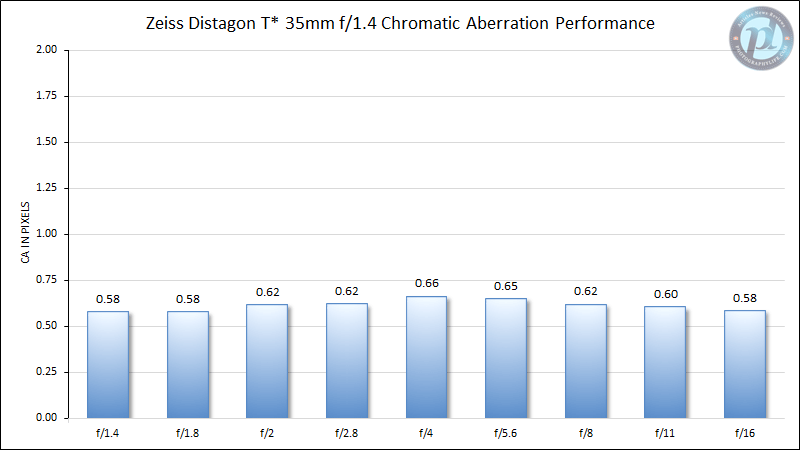 As you can see, CA levels are very low, way below what other 35mm lenses exhibit, even at the maximum aperture of f/1.4. If you see chromatic aberrations in high-contrast situations, those can be easily fixed in Lightroom and Photoshop. The Zeiss Distagon T* 35mm f/1.4 lens profile comes with Lightroom, so you can easily fix CA and other lens issues using the Lens Corrections module.
As expected on fast aperture prime lenses, there is a visible amount of longitudinal chromatic aberration.