If you're using one of the newer mirrorless systems, like Nikon's Z mount or Canon's R mount, your native macro lens options are probably relatively limited. Fortunately, there are a lot of third-party options, including the the Venus Optics 90mm f/2.8. This lens promises a 2x magnification ratio and exacting optical performance, with an apochromatic design. It's available in Z, RF, E, and L mounts. In this review, I'll take a look at the performance of this 90mm option and test both the macro and normal-distance performance.
Lens Specifications
The Venus Optics 90mm f/2.8 covers a full-frame image circle, and since it's available for so many mounts, it can fit a huge range of mirrorless cameras. Plus, with the 2x magnification, it's definitely appealing for a lot of those mirrorless cameras! There aren't a lot of lenses out there if you need such ultra-high magnification.
The lens itself is quite compact, suiting the mirrorless-first design. By targeting the shorter flange distances of mirrorless cameras, the 90mm f/2.8 is pretty small even compared to other Venus Optics macro lenses.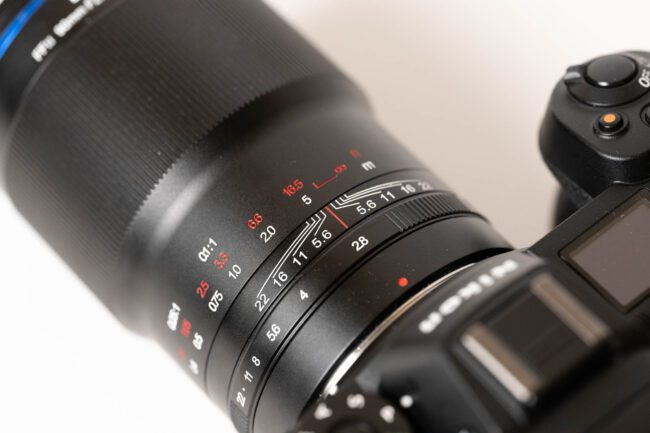 The lens weighs in at 619 grams with caps (1.36 lbs), and it's a bit under 120mm in length (5 inches). Compared to most other 100mm macro options, it's shorter, thinner, and lighter, despite having a metal construction. It still manages to pack 13 lens elements into 10 groups, with 3 of them being ED glass.
Overall, I'd definitely consider the lens compact, particularly for a macro lens that can reach 2x magnification. As you'll see later, the fact that this lens can still do full infinity focus means it's not limited to just macro use, but instead could serve as a capable portrait prime or short tele prime.
The lens has a big "Laowa" label on the top, so even though it's made by Venus Optics, it is often called the "Laowa 90mm f/2.8 2x Macro" as well.
Macro Photography with the Venus Optics 90mm f/2.8 2x Macro
Magnification Ratio
For macro photos, one of the most important specs is the magnification ratio. A lens that can do 1:1 means the lens will reproduce something at life-size magnification on the sensor. Meanwhile, this lens can do 2:1 magnification, which is dramatically greater. On a full-frame camera sensor, you can fill the photo with something a mere 18 millimeters (0.70 inches) wide.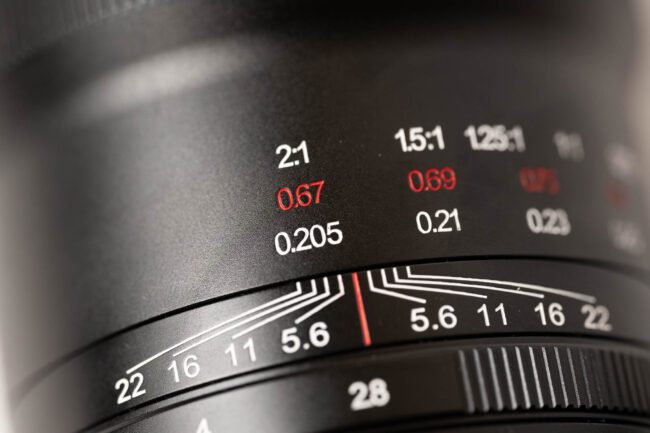 For fans of extreme close ups, this is a very welcome lens, as mirrorless mount competition like the Nikon Z 105mm and Canon RF 100mm can only do 1:1 and 1.4:1 respectively. Of course, you can use tools like extension tubes and macro filters to extend these magnifications, but it's always nice to have the capabilities built natively into a lens.
The limitation, however, is that high magnification comes with a short minimum focusing distance. The 90mm f/2.8 is actually better than a lot of macro lenses because of its small size, but you'll still find yourself blocking the light at 2x magnification. You end up with about 75mm (3 inches) of working distance from the front element of the lens at closest focus.
While this is still perfectly usable, it is a factor for some subjects like skittish bugs. Poking the lens right up to them won't work, and so your actual closest focus may be more limited. With subjects like flowers and jewelry, however, you don't have to worry about them flying away.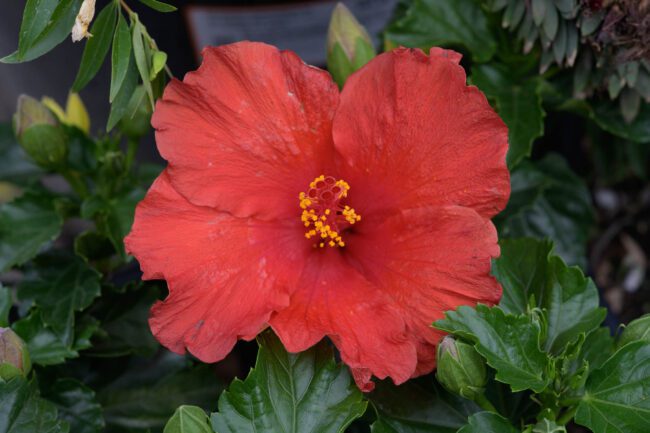 Manual Focus
Another limit to this lens's usability comes from the fact that it's manual-focus only. My Z-mount copy also has a manually-operated aperture. While neither of these would be an immediate dealbreaker for macro photography, they can feel limiting at times, particularly when using this lens at non-macro distances.
Manual focus itself is quite easy, thanks to both the aids offered by mirrorless cameras and the generous throw of the manual focus ring. It's about 180 degrees of rotation to get through the macro to 5 foot range, with 5 feet to infinity being covered in another 45 degrees. For the precision necessary for macro subjects, this spacing is great. For medium range subjects, I'd need some more practice before I could consistently hit critical focus at f/2.8, although for experienced manual focus users, it should be very doable.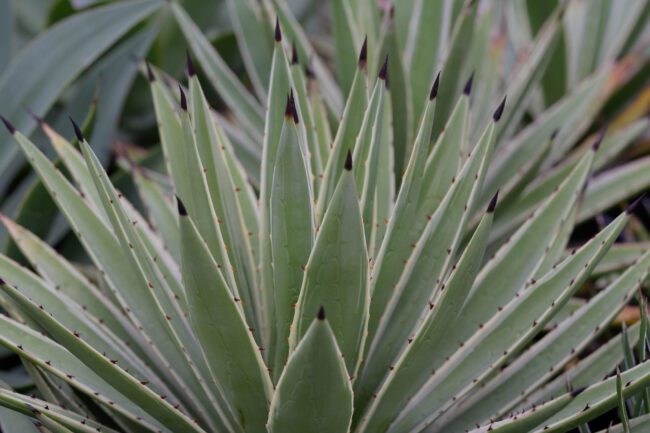 The focusing ring is quite comfortable to grip, with a subtle striping. On my copy, it's a bit gritty around the macro transition point (perhaps gears switching), although this is only noticeable in contrast to the smoother travel throughout the rest of the range. Additionally, coming from the focus-by-wire Z lenses, it's nice to have the lens physically hold focus.
Overall, the Venus Optics 90mm f/2.8 2x Macro is very sharp. Optical performance is excellent, and the high degree of sharpness at the focal plane makes manually focusing easy. It's quite easy to hit focus on a static subject without aids, while focus peaking makes it possible to catch focus on slow moving subjects, with a little practice.
Across the frame, the lens really is quite sharp. The center is excellent, matching the best macro lenses I've used. Corners are slightly weaker, but are still very competitive. For a longer macro lens, I think this is perfectly acceptable behavior. On something like a 50mm macro lens, which is more often used for art reproduction, corner sharpness is generally more relevant.
I've previously tested the extremely highly-regarded Venus Optics 100mm, and I'd say this is a very close competitor in terms of sharpness. The two lenses are so similar that, at first glance, you might wonder why Venus Optics makes both of them. In practice, the big benefit of the 90mm f/2.8 2x Macro is its working distance. It's almost 1.5 inches shorter than the otherwise similar 100mm f/2.8 2x Macro, which is a huge help if you need to get very close to your subject.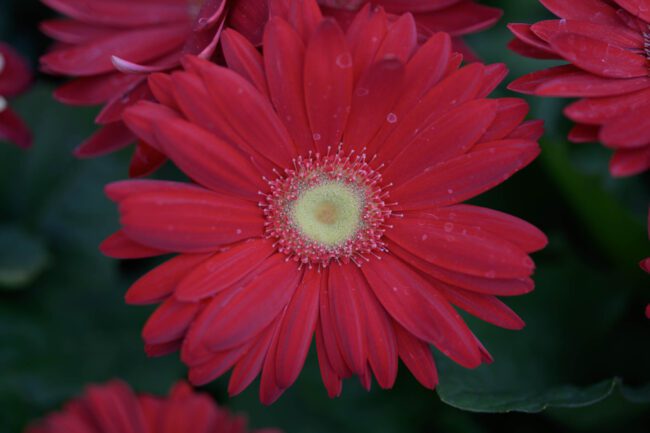 Longitudinal Chromatic Aberration (Color Fringing)
As an apochromatic lens, the expectation isn't just that the 90mm f/2.8 2x will have good image quality, but image quality unaffected by chromatic aberrations. That holds true in practice. The lens doesn't leave any fringing, even on high-contrast subjects.
For macro photography, this is a very desirable quality, as dots of water and specular highlights are common occurrences in out-of-focus foregrounds and backgrounds. A surprisingly high number of macro lenses have color fringing in these situations, but the Venus Optics 90mm f/2.8 2x Macro does not.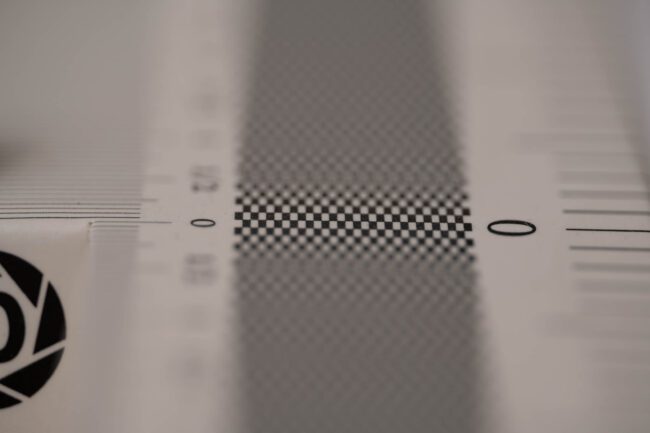 Aperture Range and Bokeh
The lens retains its strong sharpness performance across the aperture range. While apertures beyond about f/8 will start to show the usual diffraction, the lens delivers excellent results from f/2.8 to f/8. As a macro lens, you may be stopping down further, and I found that the lens handles it as well as any macro lens.
Since you're setting focus at the shooting aperture, this can make things a bit difficult if you're using strobes or longer exposure times. Trying to see through an f/22 aperture can be tricky, even with a major ISO boost in your electronic viewfinder. Then again, that's part of why the lens is relatively cheap.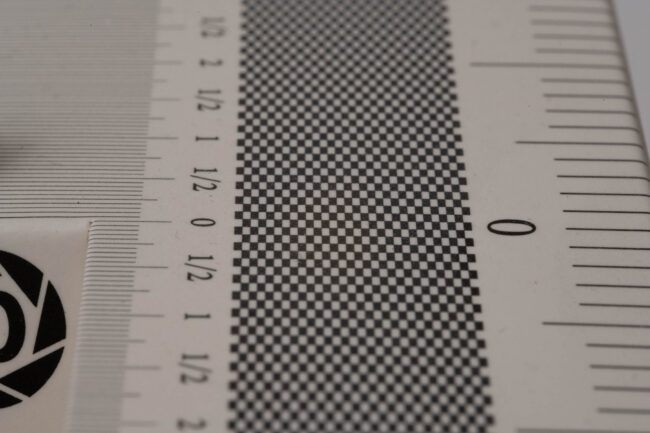 Wide open at f/2.8, the Venus Optics 90mm f/2.8 produces a very smooth background with pleasant bokeh, particularly when used at macro ranges. Despite being highly optically corrected, the out-of-focus area is still pleasant – not always the case with lenses like this. Stopping down, the 90mm f/2.8 2x Macro still retains pretty nice out-of-focus areas. The 13-blade aperture probably helps quite a bit with this, as bokeh orbs retain a pleasant shape.
Flare
While I don't find many macro situations that would lead to flare, if you're intending to use this lens as a short tele, that may be more of a consideration. With that in mind, this is really the only area where this lens doesn't punch far above its price point. Instead, I'd call it an OK performer.
You can get some veiling flare, some prismatic rainbows, or some small white orbs, depending on where the sun is positioned. Still, flare is usually not something that telephoto macro photographers will care about very much. It's just three if you look for it.
Compared to Other Macro Lenses
At just $499, the Venus Optics 90mm f/2.8 2x Macro a strong competitor to most first-party 105mm macro lenses, which tend to be about double the price. It also holds up surprisingly well side-by-side in sharpness.
Then again, first-party lenses tend to have a lot more of what I'd call "quality of life" features. Automatic aperture operations, autofocus, and tighter integration with the body all add value, but perhaps not $500 of value.
If you're looking to get into macro photography, have a tighter budget, and are not going to need autofocus, the Venus 90mm is a great way to save money over first-party lenses. The 2x magnification and short size also make it appealing even ignoring budget concerns.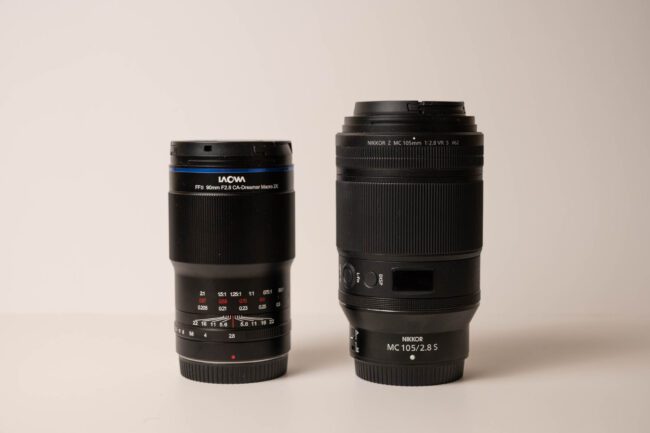 Against the slightly older Venus 100mm, the 90mm is a small but nice upgrade for mirrorless users. By trimming the extra weight and bulk from the mount, it's more packable and has a bigger working distance. The focus ring, other than the small hump, feels better, and certainly covers a longer throw range. The fixed front element with available filter ring feels like a more elegant solution than the required filter on the 100mm.
Overall, for just $500, the Venus 90mm f/2.8 2X APO is an excellent value, and it would be my recommendation for a wide range of mirrorless photographers. I think the manual-focus nature of Venus's lenses is not an issue for macro photography, where most photographers will use manual focus anyway. Meanwhile, the lens's excellent optical performance lets it compete with lenses that cost twice as much.
The Venus 90mm f/2.8 2X APO is available now from our affiliate B&H Photo.
Venus Optics 90mm f/2.8 2x Macro
Optical Performance

Features

Value
Photography Life Overall Rating