Venus Optics makes some of the most unusual lenses on the market today, including the one I'm reviewing today: a 25mm f/2.8 macro lens that goes from 2.5 to 5× magnification. Unusual is a good thing in this case, because very few other lenses (particularly for Nikon) can go beyond 1:1 magnification, let alone all the way to 5×.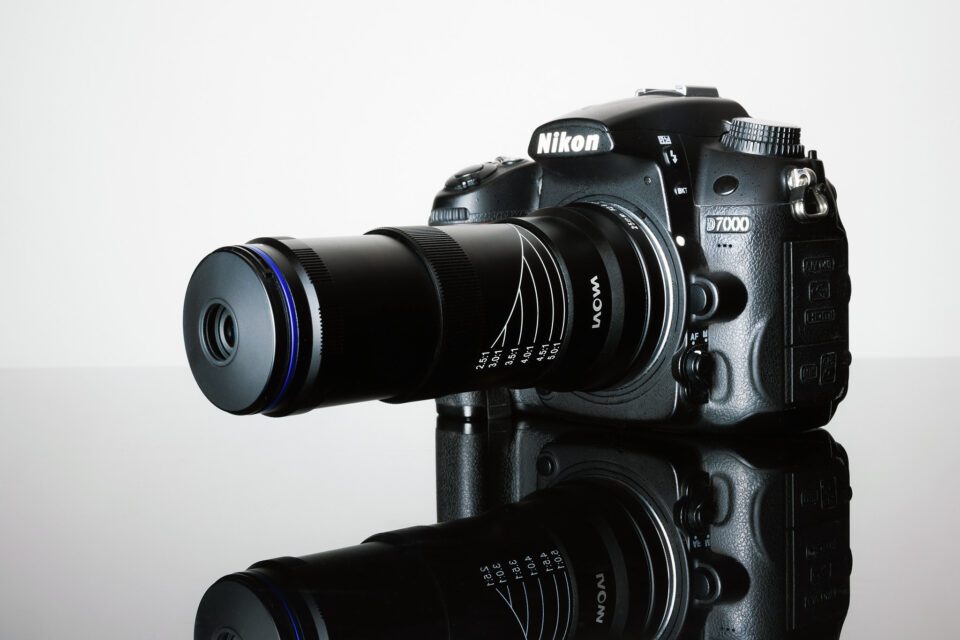 This is a macro-only lens. The farthest that the Laowa can focus is about two inches in front of the lens – specifically, 4.5 cm of working distance – so don't buy it unless high magnification macro photography is your goal (just like the Canon MP-E 65mm f/2.8).
I've been shooting with the Laowa 25mm f/2.8 for the past few weeks and wanted to share some of my impressions. It's an odd lens, but it's also one of the most fun lenses I've ever used. This review covers all my thoughts about the Laowa, good and bad, and why you may want to consider it for your own macro photography.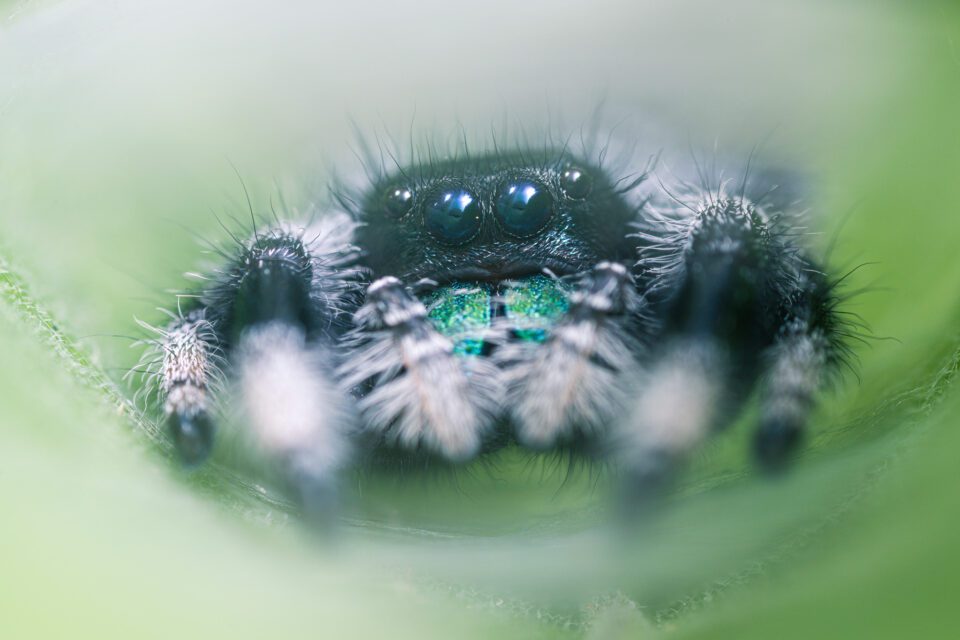 Specifications
Full name: Venus Optics Laowa 25mm f/2.8 2.5-5X Ultra Macro
Mount compatibility: Nikon F, Nikon Z, Canon EF, Canon RF, Sony FE, Pentax K, L Mount
Sensor size compatibility: Full frame and smaller
Focal length: 25mm
Maximum aperture*: f/2.8
Minimum aperture*: f/22
Autofocus: No
Electronic contacts: No
Vibration reduction: No
Maximum magnification: 5×
Minimum magnification: 2.5×
Lens elements / groups: 8 / 6
ED glass elements: 1
Aperture blades: 8
Filter threads: None
Working distance at 2.5×: 45 mm (1.77 inches)
Working distance at 5×: 40 mm (1.57 inches)
Minimum dimensions (length × diameter): 82 × 65 mm (3.22 × 2.56 inches)
Lens Length at 5× magnification: 137 mm (5.39 inches)
Weight: 400 g (14.1 oz)
Optional accessories: Front LED light, tripod collar
Price: $400 (Check current price)
*The maximum and minimum aperture specifications are the stated rather than the effective apertures. Read more about effective aperture on the next page of this review.
As you can see from these specifications, the Laowa 25mm f/2.8 is an all-manual lens – no autofocus or automatic aperture control, or even electronic contacts for recording EXIF data. That makes it very different from most modern lenses out there.
Another point that may stand out is the lens's working distance. At 2.5×, you're left with just 45 millimeters of working distance (i.e., the distance between the tip of the lens and your focusing point). At 5×, that decreases slightly to 40 millimeters – actually not bad for such an extreme magnification, but still not much room to work with.
So, whether you're at 2.5×, 5×, or somewhere it between, it's critical to find subjects which don't get scared as you approach. I had an easier time photographing grasshoppers, for example, than flies (which tended to scatter when I approached, and especially when I fired my flash). Working distance is almost always a problem with macro lenses, and the Laowa isn't an exception.
Construction and Build Quality
The design of the Laowa 25mm f/2.8 is pretty unusual, even compared to other extreme macro lenses like the Canon MP-E 65mm f/2.8.
At 2.5× magnification, it's quite a small lens – about the length of an 18-55mm kit lens, but substantially thinner. As you focus closer toward 5x magnification, the Laowa almost doubles in length and begins to look even more comical.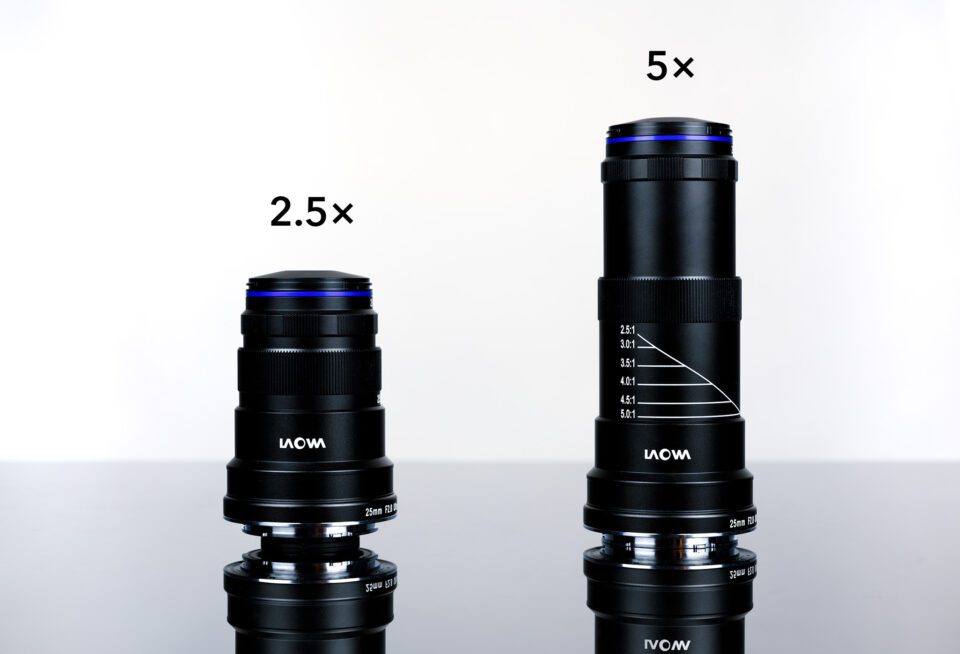 Although the lens is pretty small (at least at 2.5× magnification), it's heavier than it looks thanks to the dense metallic construction. Still, at 400 grams, it's lighter than most macro lenses, and it's really not an issue to carry around for a day of macro photography.
To change the aperture on the Laowa, you need to rotate the aperture ring at the front of the lens. It's actually a bit different than most aperture rings; you'll notice especially at 5× magnification that a whole barrel of the lens rotates to change your aperture, not just a thin ring. I find this amusing, although it's certainly not a problem.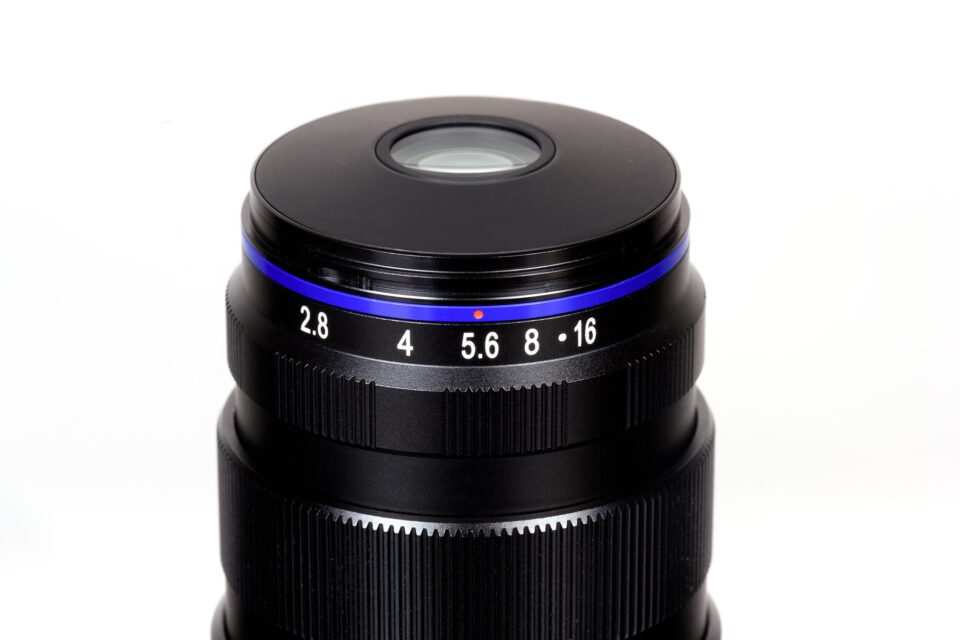 To focus closer, you just spin the large focusing ring counter-clockwise, the same direction as Nikon users are familiar with. The focusing ring takes more effort to spin than on most lenses, so you won't be rapidly moving from 2.5 to 5× magnification. But I don't consider that a bad thing. It's not as ergonomic, but it also means you're less likely to bump focus by accident, so I consider it a net even.
Overall, the Laowa is a well-built lens, and the slightly strange appearance doesn't have any impact on its usability.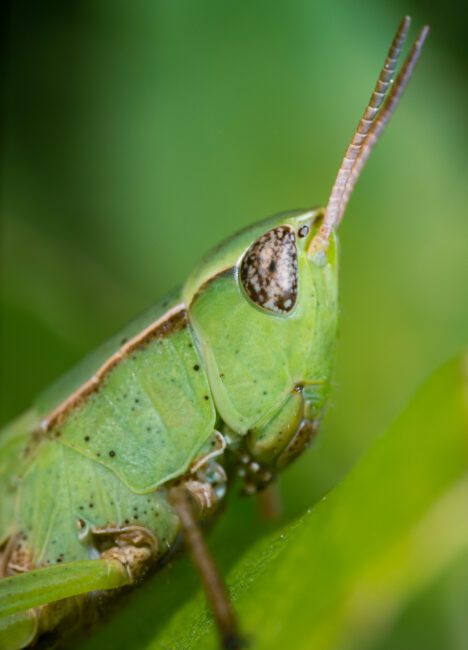 Magnification Comparison
If you're looking for high magnification, this lens delivers. Most macro lenses only go to 1× magnification (AKA 1:1 magnification), while the Laowa easily gets several times closer than that. Read my article on magnification if you want more info on why this is important. Or, just look at the comparison below between an ordinary macro lens at 1× magnification versus the Laowa from 2.5× to 5× magnification:
As you can see, the Laowa focuses extremely close. And, because it's confined to this range from 2.5× to 5×, it's a much more specialized lens than most macro lenses out there (which usually can also focus to infinity). Only a few options on the market can focus so close.
The next page of this review covers some of the biggest issues with high magnification photography, including how well the Laowa 25mm f/2.8 Ultra Macro handles them. Click the menu below to go to the next page, "Challenges at High Magnification."