This is a review of the Vello Wireless ShutterBoss Timer Remote for Nikon. For some reason, Nikon's small and inexpensive ML-L3 wireless remote doesn't work with any of it's professional DSLR bodies. If you own one of these incompatible bodies and want to use a remote shutter release, your choices can get expensive pretty quickly. I wanted a remote shutter that was wireless and did more than just trip the shutter when I pressed the button. I was surprised to find that Nikon doesn't offer such a product. Fortunately, Vello does.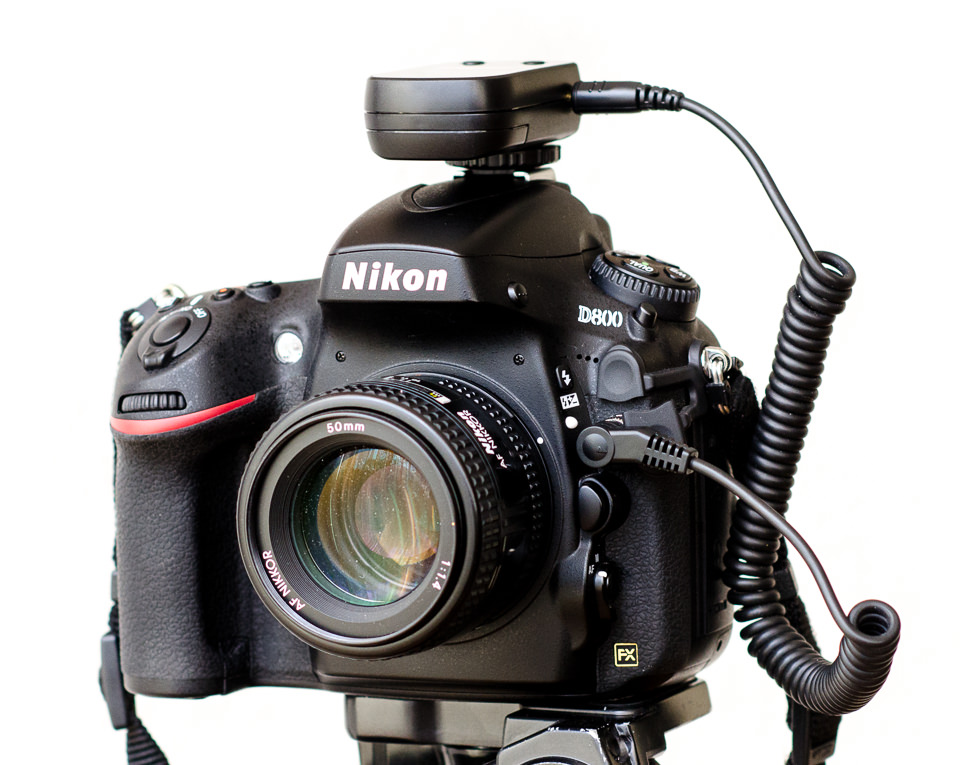 1) Product Specifications
The Vello Wireless ShutterBoss can be used as a remote release, a delayed shutter release, programmed as an intervalometer or to activate the bulb function on certain Nikon cameras. For those who may not be familiar with an intervalometer, it can be programmed to take a series of photos, with a preset length of exposure as well as time between exposures.
– 99 Possible Radio Channels
– Up to 250′ (80 m) Range
– Trigger Camera Wirelessly or Wired
– Can Work W/Dozens of Camera Models
– Dual-Function (Focus & Trigger) Release
– Delay Release Function
– Multi-Exposure Mode
– Interval Control
– Long Exposure Control
– LED Indicators–Pre-Focus & Exposure
Frequency – 99 selectable channels over FSK 2.4 GHz
Range – 250′ (80 m)
Exposure Range – 0s to 99hr 59min 59s in one-second increments
Interval – 1s to 99hr 59min 59s in one-second increments
Number of Shots – 1 to 99
Operating Temperature – -4° to 122°F (-20° to 50°C)
Dimensions – Transmitter: 5.9 x 2 x 1″ (14.9 x 5 x 2.4 cm), Receiver: 2.5 x 1.5 x 1.2″ (6.3 x 3.8 x 3.1 cm)
2) Handling
I found the ShutterBoss to be easily programmable. It has all the features that the Nikon MC-36 has, except that the remote from Vello does it wirelessly. The range is more than adequate and it worked from anywhere in my home just like the previously reviewed Vello FreeWave Wireless remote. It can be set to 99 different channels on the 2.4 GHz frequency to avoid interference or to control multiple cameras at the same time with one remote. The channels are easily selected on the transmitter and receiver electronically, not with pins/dip switches. This wireless capability allows the photographer to set up a scene and take photos without disturbing the subject, making it useful for wildlife or time lapse photography.
The contours of the transmitter are rounded and comfortable in the hand but it is the largest of the transmitters and will take up more room in your bag than the others. One negative is that although the receiver has an on/off switch, the transmitter does not and so it goes into a standby mode and will wake upon any button being depressed. According to the manufacturer, the batteries should last 3-4 years in standby mode. I cannot verify how long the batteries actually last in real world usage, however, if the batteries should die in the field, the transmitter will plug into the cable and work like a wired remote. The transmitter is powered by 2 AAA batteries and the receiver is powered by one CR2 3 volt battery.
3) Packaging and Field Use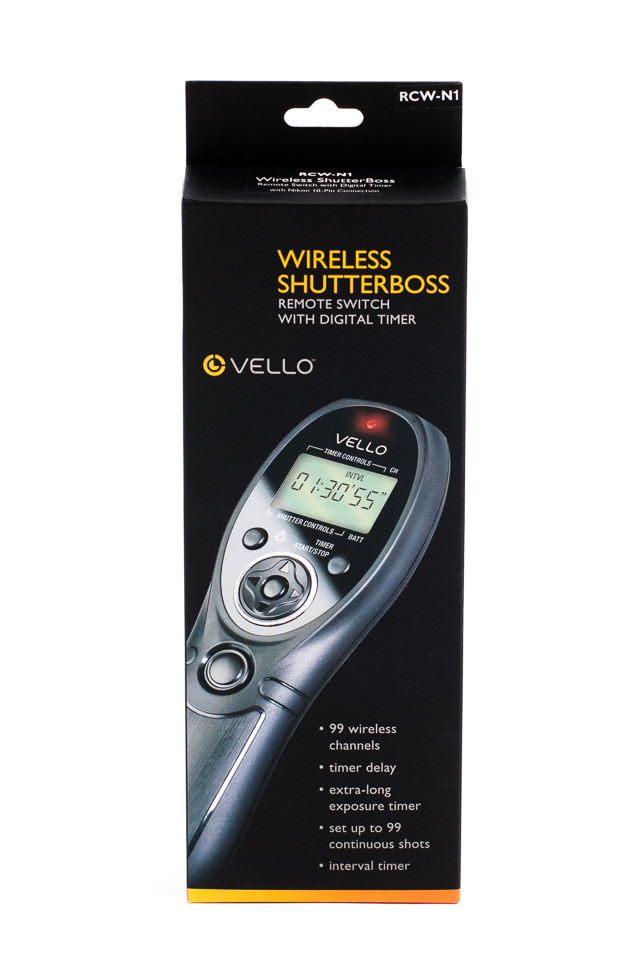 In the box, you'll find the remote (transmitter), the receiver, the cable for your specified camera, a detailed set of instructions and batteries for both the transmitter and receiver. The box is only good for shipping… chances are you won't be able to store the transmitter/receiver in it. That's OK, though, as they're small enough you'll probably be able to fit them in your camera bag if you use them often enough.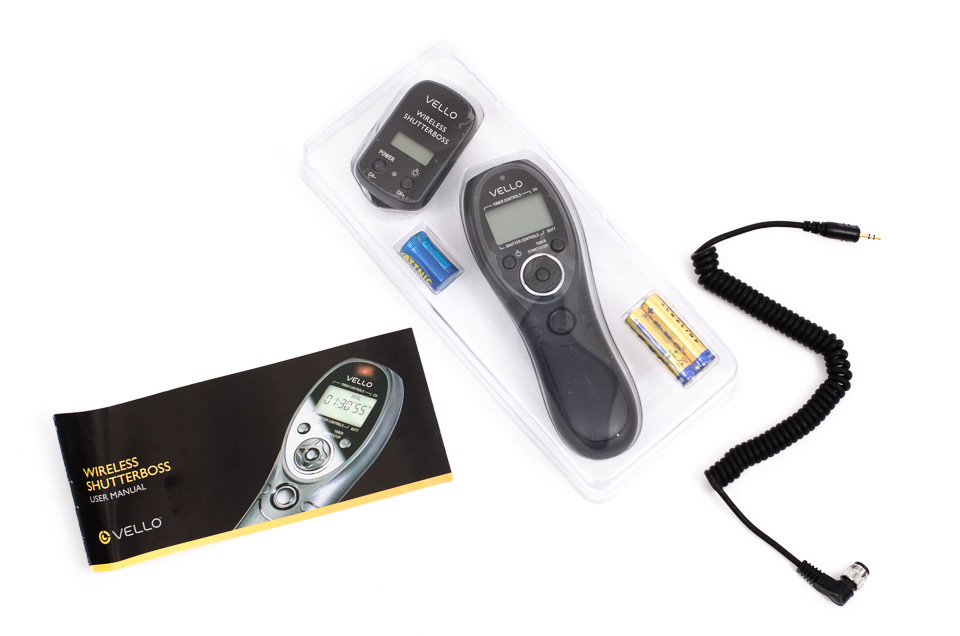 If you've got a D800 like I do, your Nikon remote options are limited. If you want a wireless remote, you can get the ML-3. If you want a simple wired trigger release, you can get the MC-30/A. If you want a multi-function remote, you can get the MC-36/A. Surprisingly, Nikon does not offer a wireless multi-function remote!
This makes the Vello Wireless Shutterboss seem like a pretty amazing piece of gear. Not only is it something that Nikon doesn't offer, it's also relatively inexpensive! Naturally, I had to wonder how well it works. Fortunately, I was pleasantly surprised.
A remote control that does so much with so few buttons has the potential to be very complicated. I was pleased to find that I was able to figure out the Remote Shutterboss almost immediately without reading the instructions. It uses basic and universal symbols to let you know what mode you're shooting in. If you do get confused, the instructions are quite helpful.
You're not just limited to using the transmitter wirelessly. You can also shoot wired with it. Just unplug the wire from the receiver and plug it into the transmitter! Both the transmitter and receiver have a backlight, making them usable in any lighting conditions.
Actually using the transmitter is similar to using a camera. To focus, you hold the button half way down and to take the shot you press it completely. Depending on what mode you're shooting in, that button press might only take one shot or it might start a series of photos. If you're using an on-camera flash and need to use your hot shoe, the receiver doesn't have to be mounted there. It can just as easily be mounted anywhere on your tripod or just left to dangle (which is not recommended)… it still works just fine.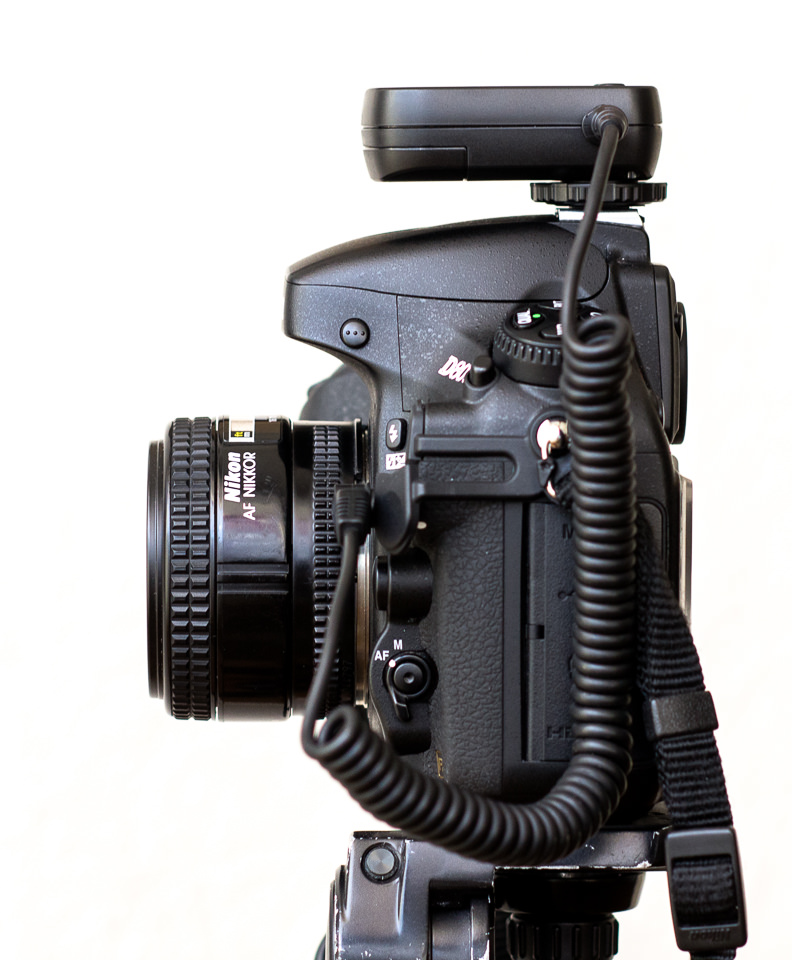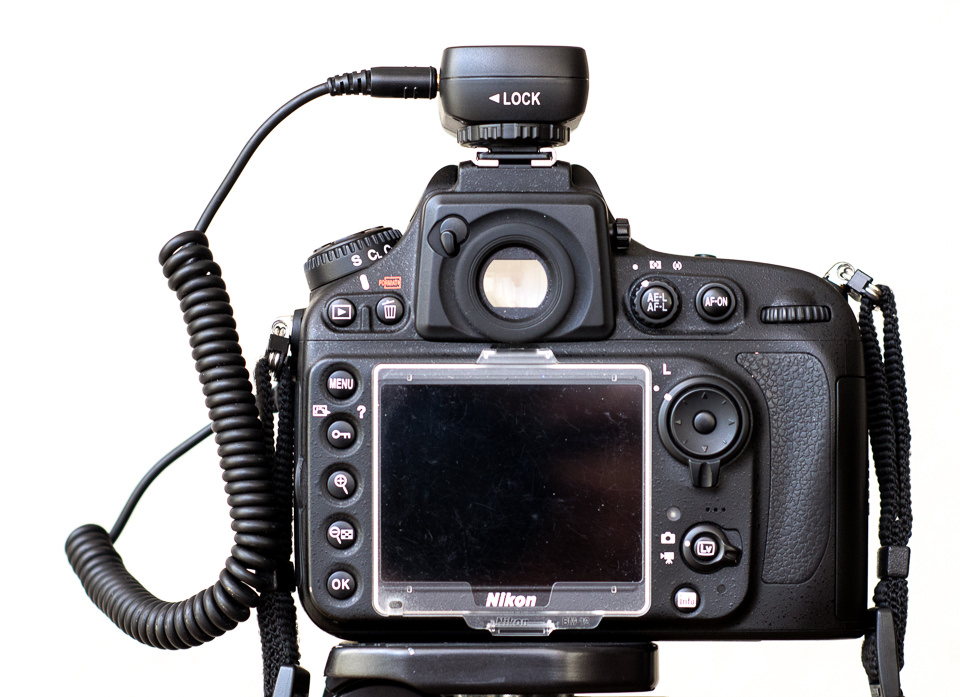 Another feature that I found to be very appealing is the fact that the remote isn't proprietary to any particular camera. If you want to use it with a different camera model or even brand, all you have to do is buy a new cable! The remote will function the same no matter what.
So, how's it work? It works great! I didn't have any missed shots while I was using it. In fact, just to test it's reliability and range, I had my wife sit next to the camera, called her so we could communicate with each other and headed down the hall of the building my studio is in. I was able to get to the end of the all-concrete hall (about 100 feet) and the remote was firing the camera every single time. I decided to head upstairs so that it had to go through the floor as well. Not only did it work every time from upstairs, it also worked while I was in the stairwell! I would say that this remote is definitely reliable.
4) Build Quality
Build quality is on par with the other remotes previously reviewed in this series. The only thing I would mention is the facing on the transmitter and receiver seemed to be a cheap laminate, the kind that looks like it might peel off with time and usage.
5) Value
The functions give you more control than the previously reviewed Nikon ML-3 or Vello FreeWave remotes at a lower price than the either of the Nikon remotes, the ML-3 or the MC-36.
If you need the features of the Wireless ShutterBoss but don't feel you need the wireless capability, then you could consider the regular (non-wireless) Vello ShutterBoss for less money.
6) Summary
Before I ever used the Vello Wireless ShutterBoss, I had a few minimum expectations that it had to meet if I was going to recommend it to anyone. If it wasn't reliable, easy to use, relatively small and inexpensive, it probably wouldn't be something that I'd use, let alone recommend to anyone else. Not only does it meet all of those expectations, it delivers so much more than I expected it to! It can shoot in a variety of modes, be used to shoot sequences of images, shoot wirelessly or wired and even be used with almost any camera! It's intuitive and simple design makes it a great piece of gear that I would bet almost anyone will find useful.
7) Pricing and Where to Buy
The Vello Wireless ShutterBoss is priced at $99.50 and is available at B&H Photo Video.
Vello Wireless ShutterBoss Remote
Features

Build Quality

Handling

Value

Size and Weight

Packaging and Manual
Photography Life Overall Rating