For as long as I can remember, ever since I bought my first DSLR I've been looking for "the perfect" casual camera backpack. For me, that means a backpack that I can take anywhere, that's easy to use, carries enough gear for a long walk or casual hike, has room to carry non-photography items and isn't too big and bulky. When I saw the USA Gear S17 (which I'll just call the S17 from now on), I knew it had the potential to be a camera backpack that I'd use on a regular basis.
1) Specifications
Internal Dimensions: 11″ x 10.5″ x 6″ / Waist straps adjust up to 14 inches ; shoulder straps adjust up to 45 inches.
Weight: 2.5 lbs
Padded compartment (16.5″L x 10.5″W) for laptops/notebooks (can fit up to a 15.6″ Laptops), tablets, books and more.
Wear as a backpack with two straps or tuck one strap away to wear as a sling; utilize the waist strap for weight management and comfort.
Many versatile features including 8 accessory pockets, rain cover, tripod holder with strap and foot holder, luggage handle slot, additional dividers and more.
Three year warranty
2) First Impressions
When it first arrived and I unpacked it, it had a very strong smell (think new plastic), but it faded after a day or so. The first impression the S17 gives is a good one. It definitely has a lower profile than many camera bags I've seen. The material seemed to be durable, with good zipper grips and quality construction. The straps appeared to be well padded and the various compartments seemed to be spacious enough for most gear and accessories.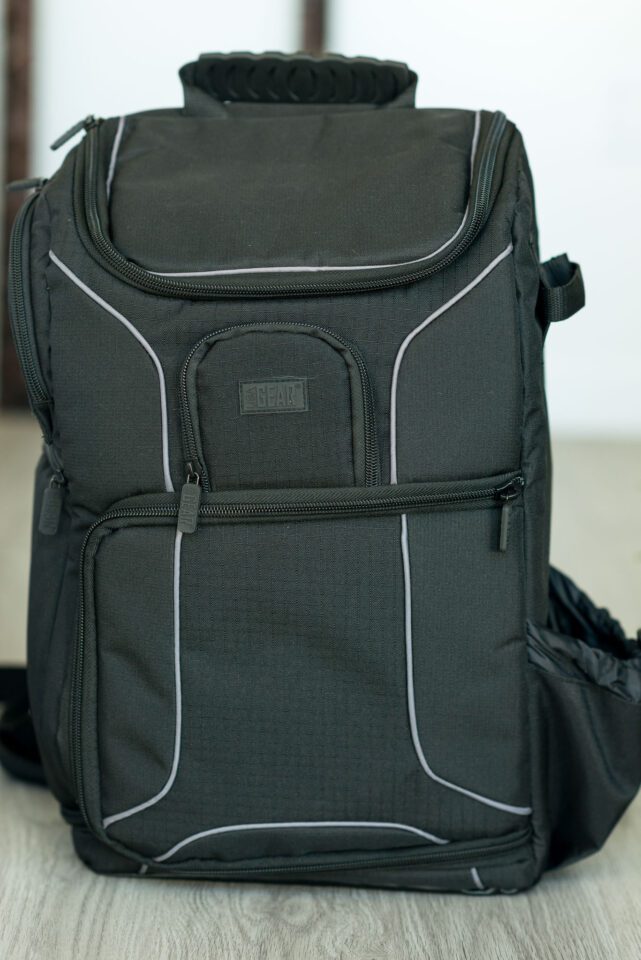 3) Storage
Once I started using the S17 I was not disappointed. The main compartment easily holds a full frame DSLR with an attached medium sized lens (like a 24-70mm f/2.8), but probably won't fit a body with a grip or a bigger zoom like a 70-200mm. It also gets a little tight if you like to leave your lens hoods on, as the dividers are just wide enough for a lens. Of course, it's easy to work around by rearranging your lenses a bit or just taking off the hoods. On the inside of this compartment's flap there are two soft sleeves with hook and loop fasteners that would be great for filter storage.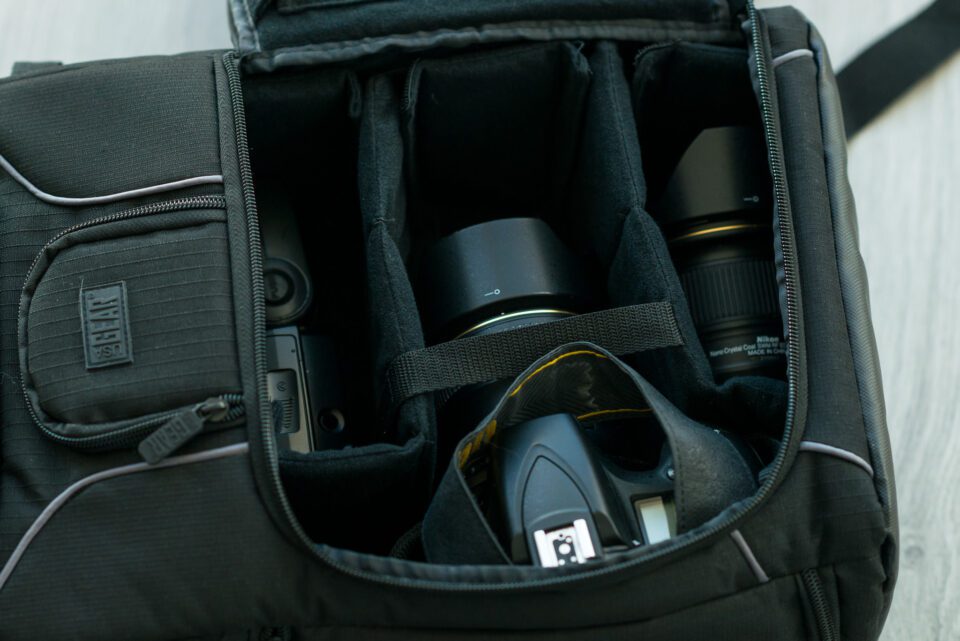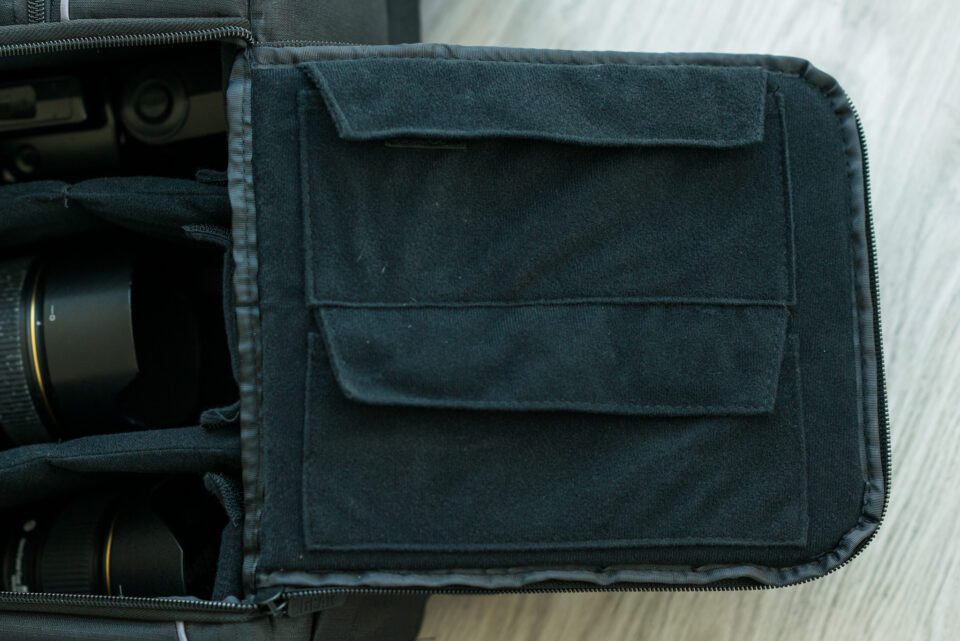 There are more storage options on this bag. There are two small zippered exterior pockets that can be used for memory cards, spare batteries or other small items. There is also a large zippered compartment on the top of the bag that is open and can hold personal items like a book, small jacket, food or chargers/cables. There are also some mesh compartments inside of this compartment, two that are elastic (one holds the rain cover) and one that is zippered. This should help to keep small items easily accessible. If you want to carry a tripod there is a drawstring pocket on the side of the bag that is made to hold tripod legs, but can also be used for a water bottle. Finally, there is a zippered laptop compartment on the back of the bag. My 15″ Mac Book Pro easily fit inside, but the manufacturer doesn't recommend it for laptops larger than 15.6″.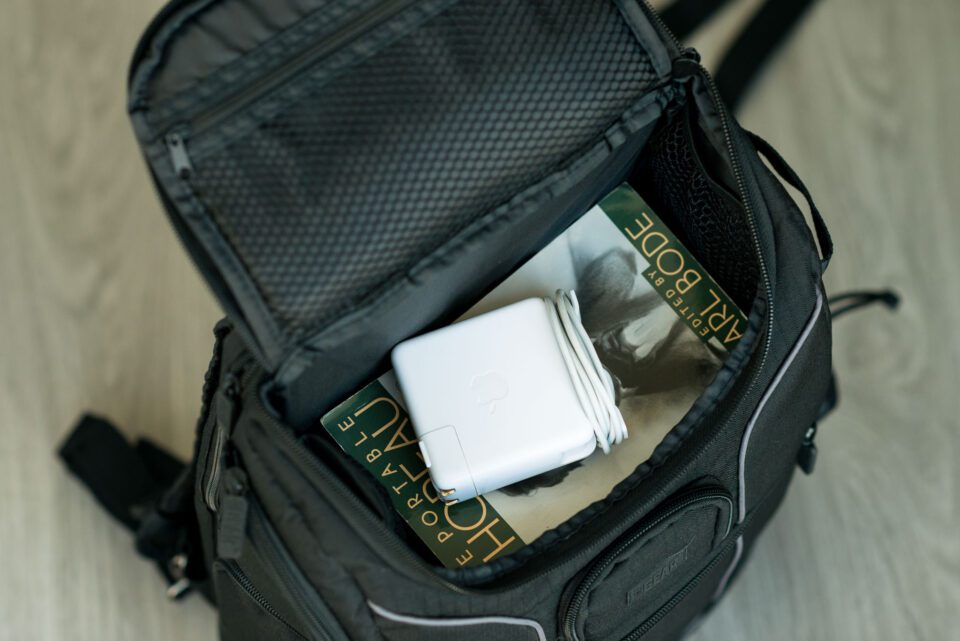 4) Other Features
The main compartment that holds your camera and lenses is also accessible via a zippered side compartment. From this opening, you are only able to access your camera, not the additional lenses/flashes that are stored inside and accessible from the main opening. This is great for quick access when you don't want to worry about dropping anything else or even taking off the bag.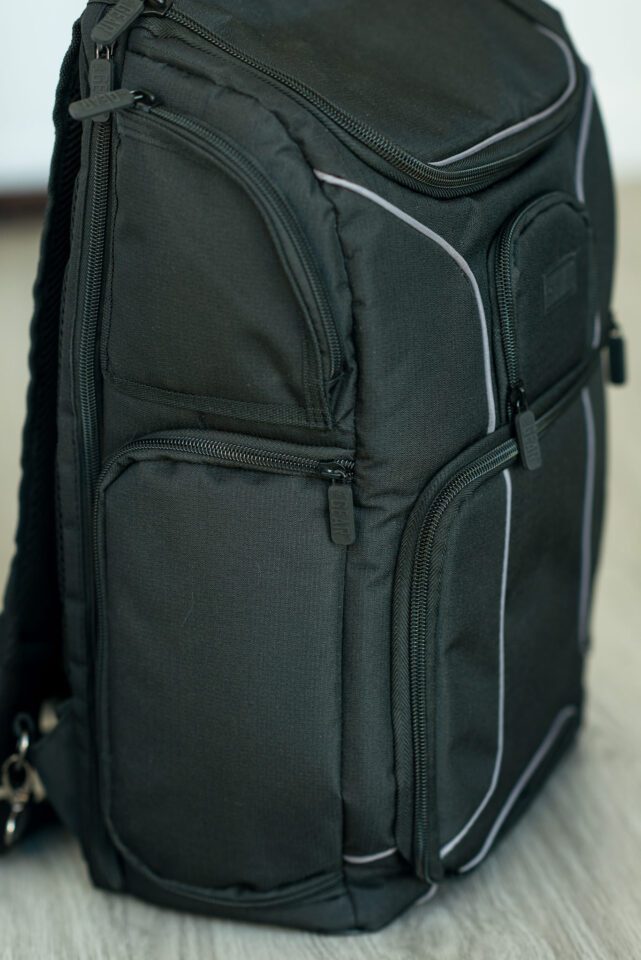 The straps are fairly comfortable. They do a good job at distributing the weight of the bag, but work even better when you use the chest and waist straps as well. One thing that I found annoying about the straps is their length. The shoulder straps are made to convert into a sling bag (more on that in a bit), but that means lots of extra strap material that is flapping around. The waist strap is also annoying. I never found myself using it around the city, so I either had to let it hang down below the bag or tuck it inside the luggage handle slot, where the buckle could dig into my back. It's not a deal breaker, but ideally the chest and waist straps would unclip from the bag when not in use.
The handle on the top of the bag is very sturdy and should stand up to years of use. The bottom of the bag seems to be a water-resistant material, so setting it down on wet ground is a lot less scary for your gear. The luggage handle slot on the back of the bag works great. My only complaint is that the spacing of the straps isn't as wide as most luggage handles, so the straps get pushed out at a weird angle and don't sit flat. Not a big deal as far as the operation of the bag goes, but worth mentioning.
If you decide to carry a tripod, in addition to the drawstring leg pouch, there is also an adjustable clip-strap that holds the top of the tripod. This is a great design that lets you clip and tighten the strap around the tripod, making sure you get a secure fit. If you don't have a tripod with you, the pouch will easily hold a water bottle.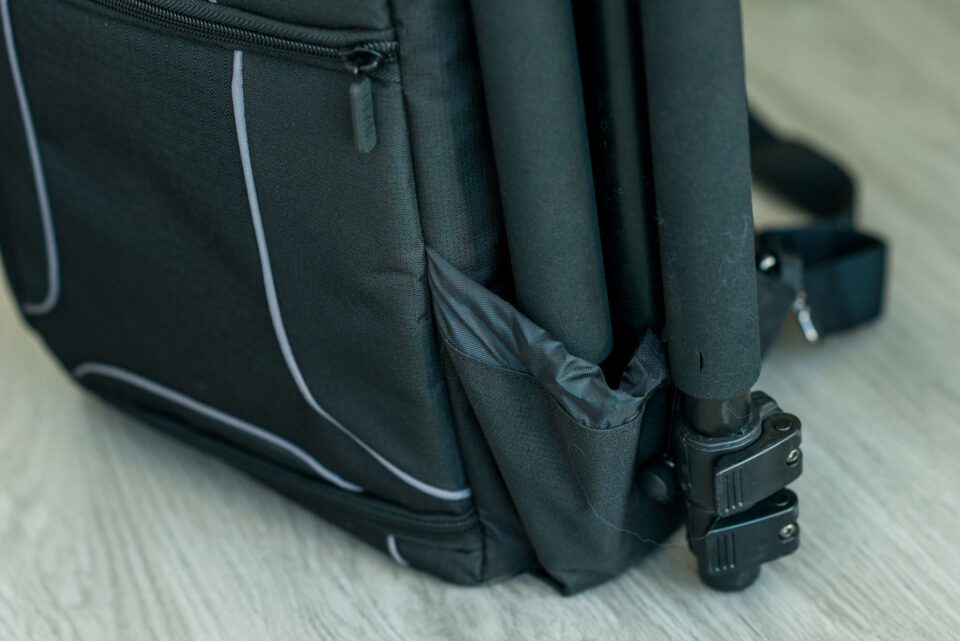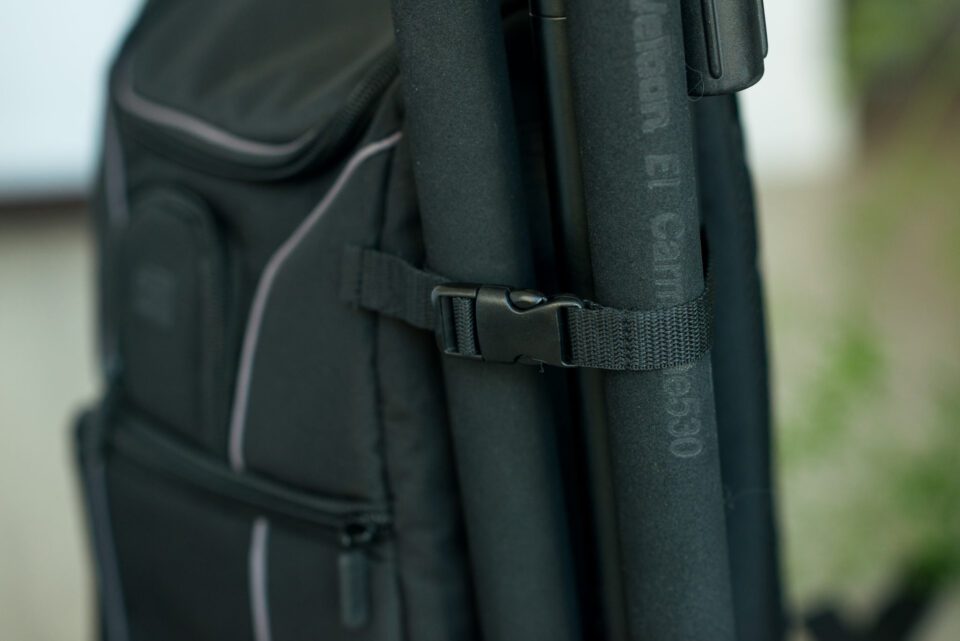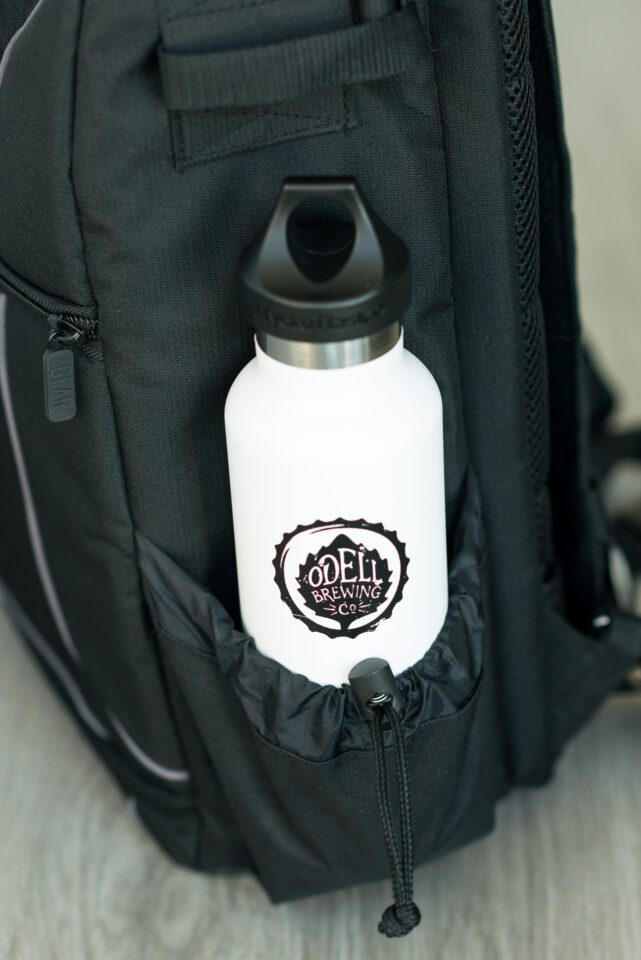 Converting this bag from a backpack to a sling bag couldn't be easier. Just unclip both of the straps, tuck one into the luggage handle slot and clip the other on the opposite side. It works very well as a sling bag, but is too heavy for my taste. Although it is convenient for quick camera access, it just digs into my shoulder too much, so I personally wouldn't use it this way for very long.
5) Conclusion
This is a great bag at a great price. It's probably a brand you've never heard of, but that's exactly the point. I think this bag's quality speaks for itself. Of course, you could be taking a chance buying from a company you've never heard of versus a big name brand, but you're also saving a bunch of money in the process.
It really checks all of the boxes for what I was looking for in a camera backpack. Low profile, good storage options and easy to use. As an added bonus, it will also carry a laptop. When I want to get away for a short trip, I'll surely be grabbing this bag with just a few lenses (which is typically all I ever use) instead of my full rolling bag of gear, most of which I won't use. It's not a replacement for my Think Tank rolling camera bag that carries all of my gear, but it's really not meant to be.
6) Where To Buy
You can read more reviews, see product photos as well as purchase the USA Gear S17 Camera Backpack for $49.99 on Amazon.com.
Update: I just heard back from the rep and it looks like we can't get an updated discount code. Sorry everyone!
USA Gear Camera Backpack
Features

Build Quality

Handling

Value

Size and Weight
Photography Life Overall Rating