For ages I've heeded the warnings from camera manufacturers that inserting non-OEM batteries into my camera could make the camera explode or at the very least give it a nasty case of shingles. But a year ago I purchased a Nikon D4s and wanted a spare EN-EL18 battery. The Nikon battery was 150 bucks – why I could get a fifth of 25-year old Glenfarclas for that much. I saw positive reviews of the Wasabi batteries and decided to try one of those at a third of the price of the OEM battery. It worked just fine so I got more batteries, both the Wasabi and the Watson brands, for my D4s and my D7000 and D810 bodies. I've been using the Wasabis for a year and the Watsons for 7 months. For the first few months, they worked so well I never give a second thought as to whether I'd grabbed the Nikon batteries or the third party batteries when I went out on a shoot.
Since giving Wasabi and Watson batteries a chance, I've shot over 100000 exposures so they've been charged and discharged a lot. As well they are properly chipped so the camera display shows how much charge is left and how many shots were taken on the charge, just like with the OEM batteries.
At the time of writing, one of my Wasabi EN-EL15s will only charge up to 22%, the other Wasabi makes it to 65%. My Watson EN-EL15 bit the dust as described below (all my fault). My Watson EN-EL18 charged to 93%, while both of my Wasabi EN-EL18s and my Nikon EN-EL18a charged up to 100%.
After all that shooting I've only had one complete battery failure and that was from a Watson EN-EL15 that was submerged in water for over an hour (the "waterproof" ammo can turned out to be less than waterproof). Under those circumstances, I really can't blame the battery for being pissed off and deciding never to work for me again. Interestingly it was in the same ziplock (also leaky) with a Nikon EN-EL15. I shook a lot of water out of both and dried them for days in the sun. The Nikon actually survived and continued working.
I haven't had issues charging the Wasabi and Watson batteries in the Nikon chargers.
Some of the bigger concerns about using third party batteries are:
Leakage
Swelling causing difficulty inserting or removing
Shorter useful life than OEM equivalent
Incompatibility with camera and/or OEM charger
Incompatibility due to firmware updates
Voiding your camera's warranty
All batteries are not created equal. Some third party manufacturers use better quality cells than others. I strongly doubt that any camera manufacturer makes their own cells. Instead they purchase them from a battery manufacturer, just like the third party companies do. How good a cell is used has a lot to do with the eventual retail price of the battery.
One difference of note is that the Nikon EN-EL 18a battery weighs 158 grams, a few more than the Wasabi (152g) and Watson (150g). Other than the 2g weight difference and the labels the Watson and Wasabi look identical – they have the same case. The Nikon EN-EL15 weighs 86g, the Watson weighs 75g and the Wasabi weighs 73g. The Watson and Wasabi batteries look like they are the same battery but with different labels. The very slight weight difference suggested otherwise. One way to find out.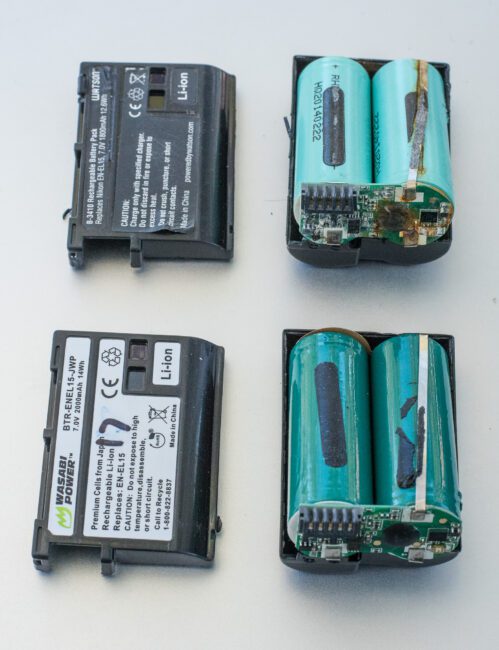 Here's a Watson (black label, light green cells) and Wasabi (white labels dark green cells) EN-EL15 broken open. The circuit boards are identical, but the actual cells are indeed different. Please disregard the rust evident in the Watson as that was the battery that got sacrificed to the river gods.
In addition to the weight differences, the mAh rating of the batteries differs. In theory, a battery rated at higher milliamp-hours should give more shots per charge all else being equal. From lowest to highest mAh for the EN-EL15s it goes like this: Watson 1800 mAh, Nikon 1900 mAh, and Wasabi 2000 mAh. For the EN-EL18s it goes like this: Nikon (EN-EL18a) 2500 mAh, Watson 2600 mAh, and Wasabi 2800 mAh. In practice, most of us slip in a spare before fully exhausting our batteries, and I never noticed any appreciable difference in how much I was getting per charge until they aged.
Most batteries have a chip in them. This communicates charge info to the camera. It also communicates if it is an OEM battery or not. Both Canon and Nikon have been known to issue firmware updates for their cameras that have disabled third party batteries (the charge meter no longer shows and perhaps other issues). As of this writing, all of my bodies have the latest firmware installed and the Wasabi and Watson batteries are working as they should. This is no guarantee that a future update might not knock them out.
One thing you get from the Nikon brand battery, besides an expensive "Nikon" label on the side, is the assurance that your camera's warranty won't be voided if there is battery related damage. I would be leery of third party batteries that are really inexpensive.
Other than reduced capacity over age, my experience with Wasabi and Watson batteries has been positive. I want to emphasize that these are the only brands of third party batteries I've tried and that my positive experience with them is not an endorsement of third party batteries from other manufacturers. Because the OEM batteries last longer, they are more economical if you shoot a lot. If you shoot sparingly you might find the Wasabi and Watson batteries to be adequate. Another reason I would consider third party batteries is if you are going on the trip of a lifetime and need a bunch of spare capacity because you won't be able to recharge during the trip. For instance, my Watson battery drowned in the Grand Canyon – an 18-day trip with no electrical outlets. Fortunately I had a bunch more batteries so I could keep shooting for the entire 200-mile raft adventure. In this scenario, I got just as much shooting out of the brand new third party batteries as I did my OEM batteries. Moreover, I saved enough by getting cheaper batteries to defray some other trip expenses. However, half a year later the OEMs are showing their superiority. With the EN-EL15s, the Nikon wins at cost per shot over the lifetime of the battery. It's too early for me to say if this is true with the EN-EL18s.
That sums up my experience with third party batteries, but because third party battery horror stories abound out there, I thought it would be more informative for our readers if we were to conduct a poll of their battery experiences rather than to just rely on my experiences with a handful of samples. Whether you have had good or bad luck with third party batteries, please consider taking a minute to answer these poll questions.
[poll id="15″]
[poll id="16″]
[poll id="17″]
[poll id="18″]
[poll id="19″]
Third Party Battery – Watson and Wasabi Batteries
Build Quality

Value

Size and Weight

Ease of Use
Photography Life Overall Rating