I have to admit that I was a bit skeptical of what I would find during my review of the Think Tank Urban Disguise 60 v2.0 bag. For many years, the Tumi Alpha Large Expandable Organizer Laptop Brief has been "gold standard" of laptop bags for me and many other road warriors. And while not designed for photography, the Tumi bag nonetheless remains the benchmark for quality that I measure all types of luggage and bags against. It was inconceivable that I might find another bag that I thought matched or beat it.
"Quality is never an accident; it is always the result of high intention, sincere effort, intelligent direction and skillful execution; it represents the wise choice of many alternatives."
– William Foster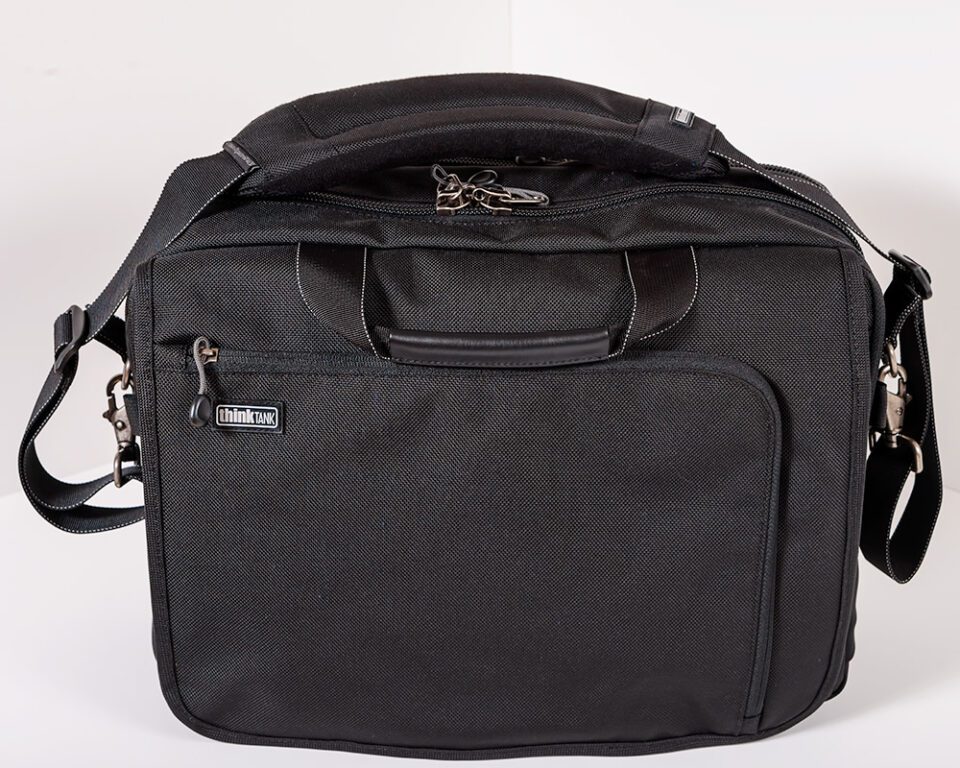 As I criss-crossed the globe and our country over the years, my original Tumi bag endured more abuse than I had a right to expect of it, often being filled to its limit and being jammed under countless airline seats. For some time, Tumi had free lifetime repairs on its bags. I made good use of the policy. At some point, Tumi ended its generous free lifetime repair policy (I suspect I might have had something to do with single-handedly dragging down Tumi's profits and the resulting change in policy!), and I started to pay $50 or so per repair. As wear took its toll on my Tumi bag, I eventually had to consider the cost of cumulative bag repairs vs. buying a new bag.
Those of us who travel frequently get attached to our bags. They reliably and safely carry our precious belongings when we are far away from home. When my Tumi bag finally reached its end, I couldn't dream of donating it or (gulp!) tossing it into the trash. No, the Tumi deserved nothing less than a Viking-style funeral! So one night, as I sipped a glass of wine, my Tumi bag literally went up in a blaze of glory in my fireplace (don't call the environmentalists!). I drank a toast to it's many years of dedicated service and recalled the interesting adventures we shared. I slept well that night knowing that the Boatman collected the coins I had placed in the Tumi, and had safely transported it across the River Styx.
So now you understand why the Urban Disguise had the unenviable task of going up against the "best of the best," particularly since this newcomer purported to be a computer bag in addition to being a shoulder bag capable of carrying my best camera equipment. Let's see how it did…
1) Initial Impressions
I went over every inch of the Urban Disguise 60 V 2.0 bag – the zippers, stitching, material, compartments, rings, straps, padding, buckles, and velcro attachments. It was absolutely flawless. I immediately grabbed my Tumi bag to ensure that I wasn't being too easy on the Urban Disguise 60 V 2.0. Sure enough, the latter had the same quality workmanship and feel as my Tumi bag. If you remember nothing else of this post, this fact alone should be enough to convince you that the Urban Disguise bag is built to incredibly high standards.
I have probably compared just about every computer bag ever made to the Tumi, and although I have come across some well-made bags, I never quite found one to be a fair match for my Tumi. I have always thought my Tumi bag was a good size for business travel, albeit just a big larger than I normally need. I expected my Urban Disguise to be a bit smaller than my Tumi Laptop bag (my Tumi model is the larger version of its more popular brother). Upon checking the specifications, I realized that the Tumi was indeed 2 inches higher, 1 inch longer, but had 1/2 inch less depth than the Urban Disguise – not very meaningful differences.
Once I got back into photography, I wished the Tumi had the compartments and padding necessary to accommodate an DSRL and a few lenses. The Urban Disguise thus seemed to offer the best of all worlds – a practical generously-sized computer bag that could be used for business purposes and also comfortably and safely accommodate my photography gear.
2) Specifications
Top Features:
• Professional appearance, does not look like a traditional camera bag
• Removable shoulder strap is contoured and padded for maximum comfort
• Separate padded compartment for carrying up to a 17″ laptop (fits most sizes)**
• Expansion Zipper increases depth to fit a pro size DSLR with standard zoom lens attached, in main compartment
• Easily accessible front organizer pocket
• Leather handle clasp keeps two carrying handles together
• Easily accessible front organizer pocket
• Expandable front pocket with divider for carrying two pro size DSLRs
• Rear panel for roller handle attachment can be closed for use as another pocket
• Optional accessories sold separately: Urban Disguise Attachment Straps and Shoulder Harness V 2.0
Gear Profile:
• Carries one pro size or regular size DSLR with 24-70 f2.8 attached, plus 2-5 additional lenses, and a 17" widescreen laptop**
• Separate padded compartment fits most 17″ laptop sizes**
• Two regular size DSLRs with standard and wide angle zoom lenses attached
• Two pro size DSLRs (BODIES ONLY) in padded front pocket, plus 3-6 lenses in main compartment
Technical Specifications:
• ID: 16" W x 11.3" H x 4.3" D (40.6 x 28.7 x 10.9 cm)
*Opening Expansion Zipper adds 2.25″ (5.7 cm) to main compartment depth **Laptop Compartment ID: 16" W x 11.3" H x 1.5" D (40.6 x 28.7 x 3.8 cm)
ED: 16.5" W x 12" H x 7" D (41.9 x 30.5 x 17.78 cm)
• Weight: 3.7–4.4 lbs (1.7–2.0 kg)
• No Rhetoric Warranty Policy
• Exterior – All fabric exterior treated with DWR while fabric underside is coated with PU for superior water resistance, 1680D ballistic nylon, YKK® RC Fuse (abrasion resistant) zippers, antique nickel plated metal hardware, Ultra Stretch pockets, nylon webbing, 3-ply bonded nylon thread
• Interior – removable closed cell foam dividers, 210D silver-toned nylon, PU backed velex liner, 2x PU coated nylon 210T seam-sealed taffeta rain cover, 3-ply bonded nylon thread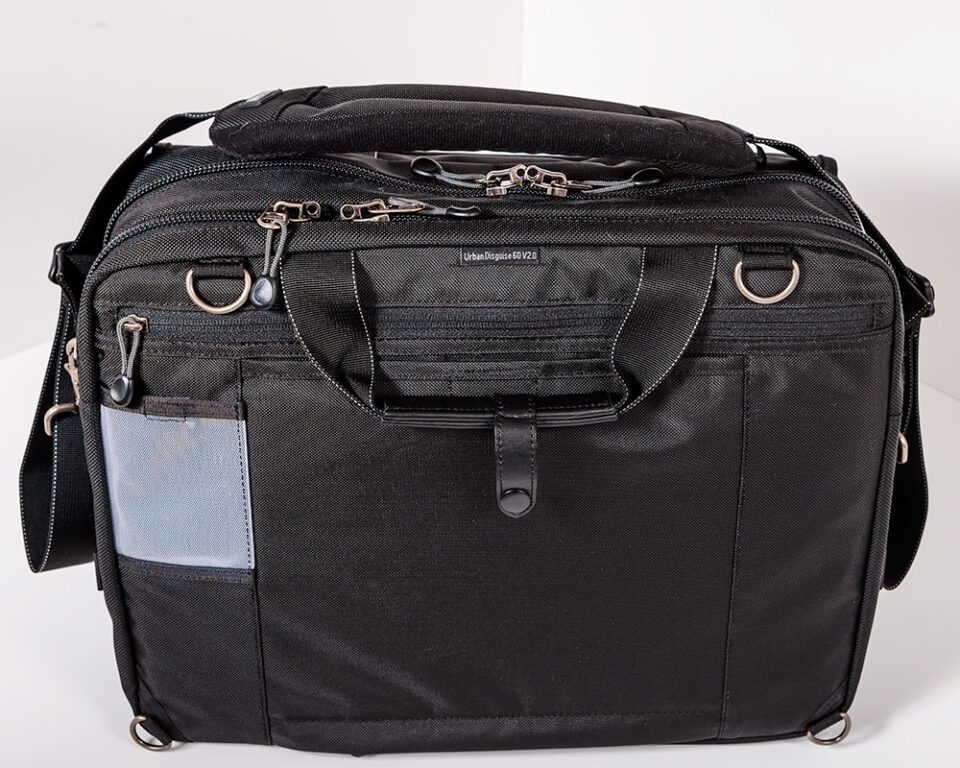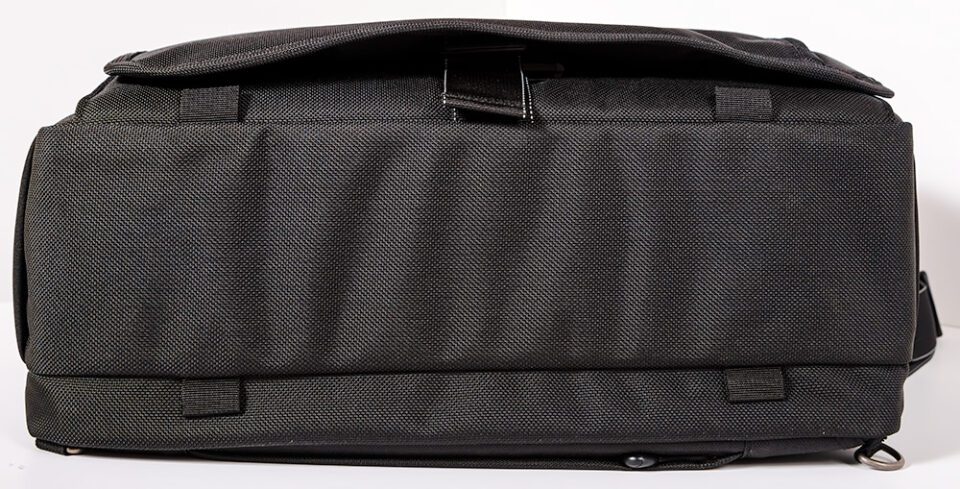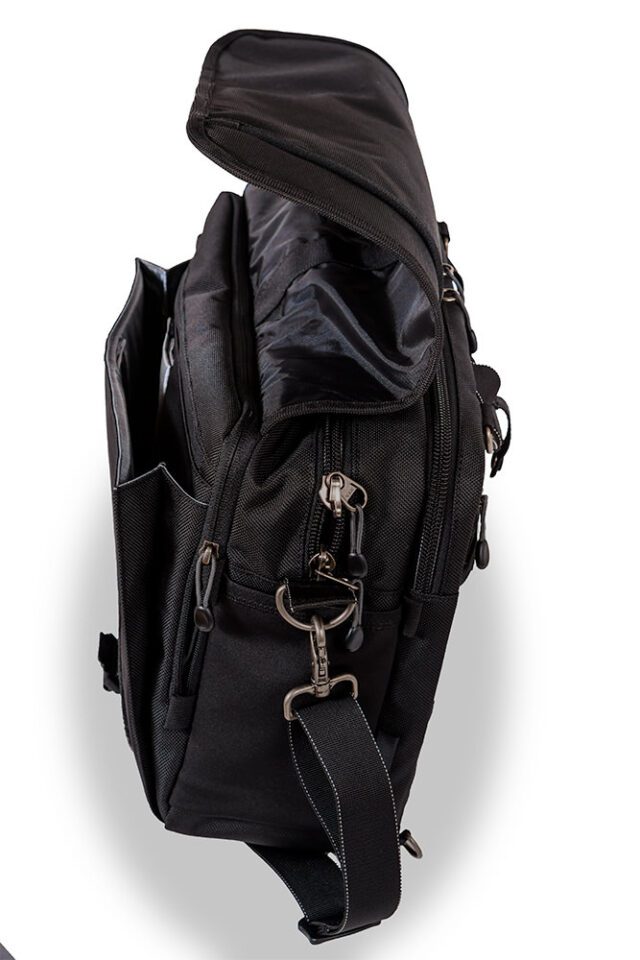 2.1) Airline Considerations
Since this bag is approximately the same size as my Tumi bag, there is little reason to believe that it won't fit comfortably under the seat of any airplane, including regional jets. Of course, if you load the Urban Disguise to its limit, you may find that it needs to go into the overhead compartment. Think Tank has added the ability to attach the Urban Disguise to the extended handle of a rolling suitcase so you can stack them together if you choose.
2.2) Material And Zippers
Think Tank's 1680D ballistic nylon material is very thick and on par with that used by Tumi's FXT ballistic nylon fabric. And while direct comparisons to Tumi's FXT ballistic nylon were a bit hard to find, the 1680D material has a solid history of serving well in such a capacity. I have little reason that the Urban Disguise's ballistic nylon won't prove as rugged and long-lasting as that of my Tumi bag.
If a bag is going to fail, you can bet that the zippers are going to be the culprit. Not to worry – the Urban Disguise's zippers are extremely well made – every bit as good as those of my Tumi bag. Think Tank uses the patented YCC RC zippers in the Urban Disguise bag. Think Tank even provided a scalloped surface to the zipper pulls, so your fingers could more easily grasp them – a small, but well-thought out detail. These zippers have an excellent reputation and represent the gold standard relative to zippers. After seeing them in operation and watching some videos regarding the technology behind them, I have little reason to believe that there is a better zipper to be found.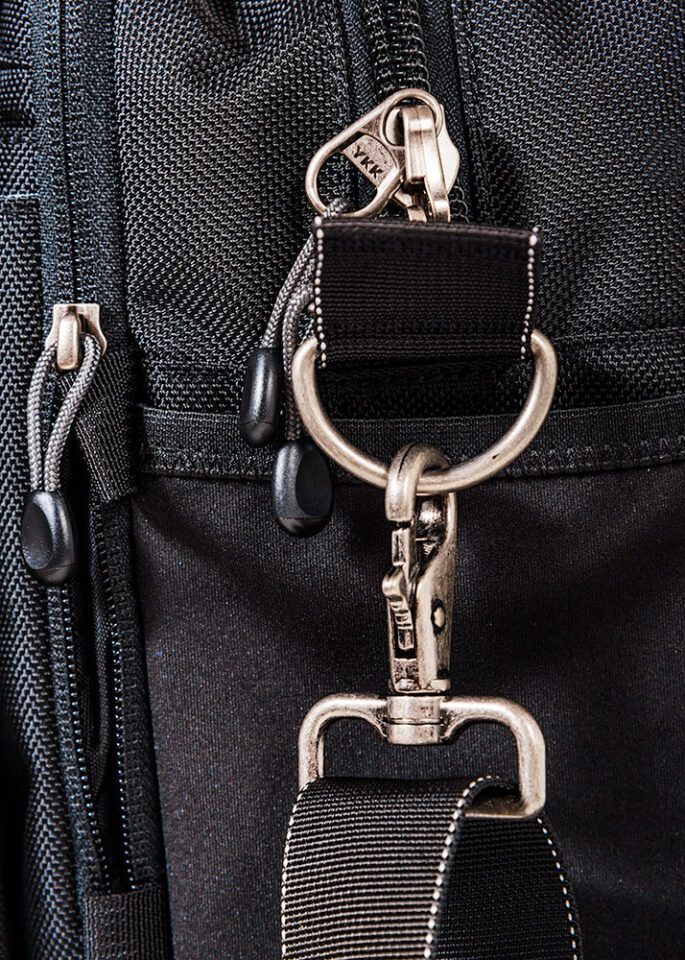 2.3) Compartments
Think Tank provided 6 main compartments beyond the area the main area that houses your DSLR, lenses, and flash. These could be used for laptops or iPads, magazines, books, etc. The Urban Disguise even has a section of much smaller compartments for pens, business cards, keys, CF or SD cards, and other smaller items – very similar to that of my Tumi bag. Many similar bags lack this level of detail. As a frequent traveler, I can attest to the fact that these compartments are very useful, particularly when storing smaller, valuable items.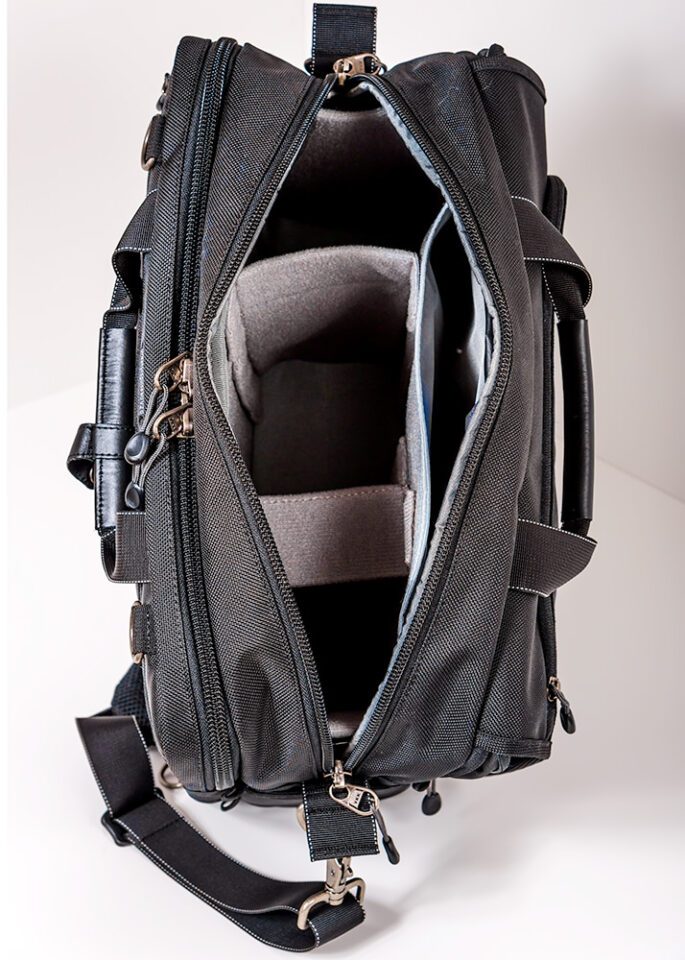 Think Tank includes a smaller velcro enclosed case that can hold a variety of CF or SD cards. The rain cover is a welcome addition for inclement weather, even putting it on restricts your ability to use the shoulder strap. Both features are very nice touches. Think Tank also supplies 8 padded nylon dividers with velcro attachments in case you want to reconfigure your photography compartment. If you stuff your computer/photo bags as I do, you will definitely appreciate the Urban Disguise's ability to expand via a zippered enclosure.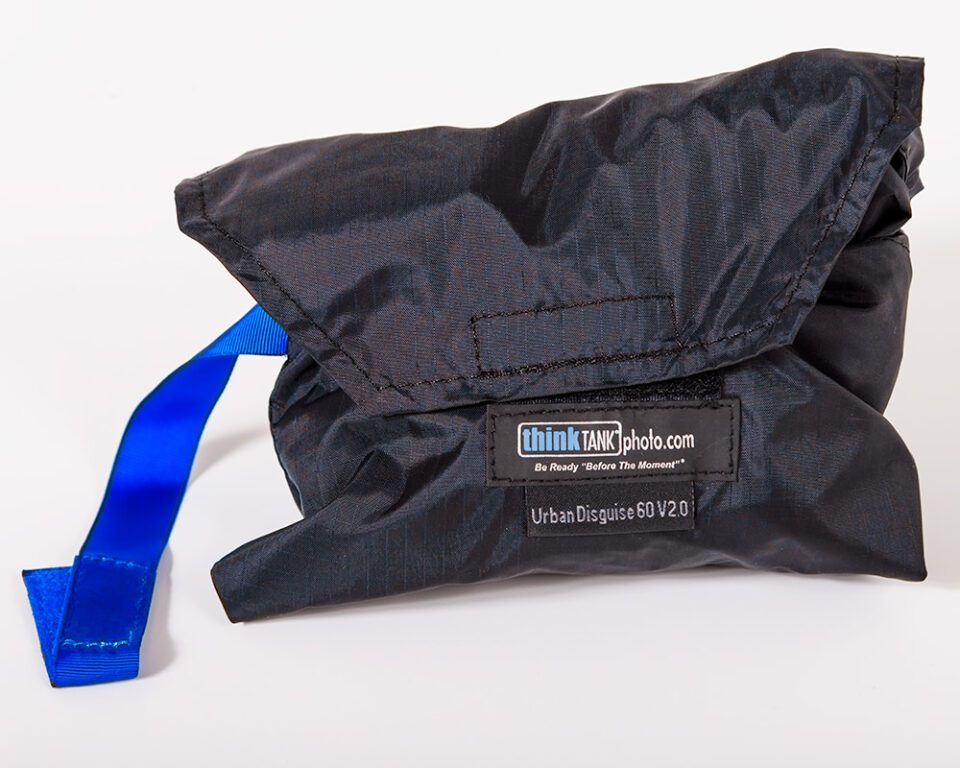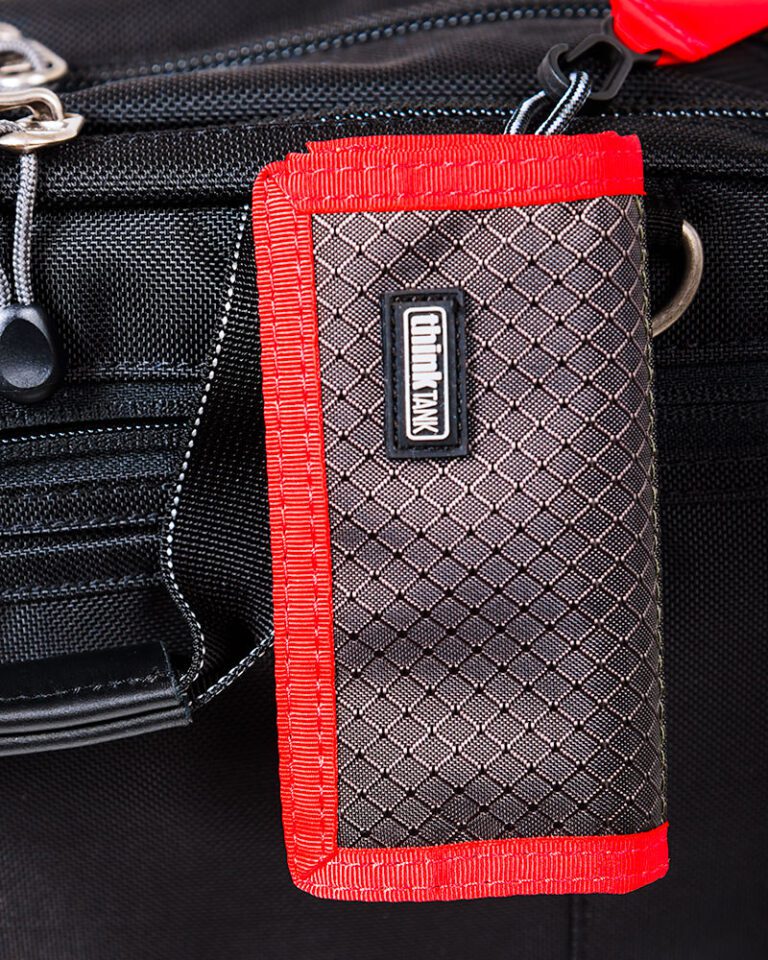 2.4) Options
As with other bags, the Urban Disguise can accommodate many of Think Tank's accessory pouches and add-ons. If you purchase the optional Think Tank strap, you can quickly convert your Urban Disguise shoulder bag in to a backpack, by attaching the strap to the four D rings at the rear of the bag. I don't know how much appeal this feature has for most, but it is a nice option, particularly if you have shoulder problems and could benefit from better distributing the Urban Disguise's weight.
The Urban Disguise had more than enough room for my D7000, Nikon 24-70mm f/2.8, Nikon 70-200mm f/2.8 VRII, Nikon 16-35mm f/4 VR, and Nikon SB-900 flash. I added my New iPad with a Zagg keyboard and case, and still had plenty of room for batteries, power strip, slim binder, and just about any other item I would think to bring with me on a business trip. Perhaps it was my imagination, but as I put my Urban Disguise through its paces, I notice my Tumi bag's front compartment contort itself into what appeared to be… a frown! ;)
2.5) Carrying Comfort
The Urban Disguise's strap is one of the most padded straps I have come across. This is one area where many bag manufacturer's often skimp. Not Think Tank. This strap is extremely well-made with generous amounts of padding. Even with all the gear described below, the Urban Disguise was very easy to carry on my shoulder. The non-slip surface of the pad was also a nice touch, since quite a few other straps have the nasty tendency of slipping off your shoulders at inopportune times. This is huge improvement over the Tumi shoulder straps, which although they look good, offer little padding. I have always replaced my original Tumi strap with better-padded after market model, which coincidentally is very similar to the one provided with the Urban Disguise.
3) What Is In The Bag?
The Urban Disguise had more than enough room for my Nikon D7000 (the D800 was also an easy fit, although I was using mine to take the photos), Nikon 24-70mm f/2.8, Nikon 70-200mm f/2.8 VRII, Nikon 16-35mm f/4 VR, and Nikon SB-900 flash. According to Think Tank, the Urban Disguise can carry 2 DSLRs and 3-6 lenses. I could have easily added a Nikon 50mm f/1.4G or 85mm 1.8G using the additional nylon dividers to rearrange the interior.
I added my New iPad with a Zagg keyboard and case, and still had plenty of room for batteries, power strip, slim binder, and just about any other item I would think to bring with me on a business trip.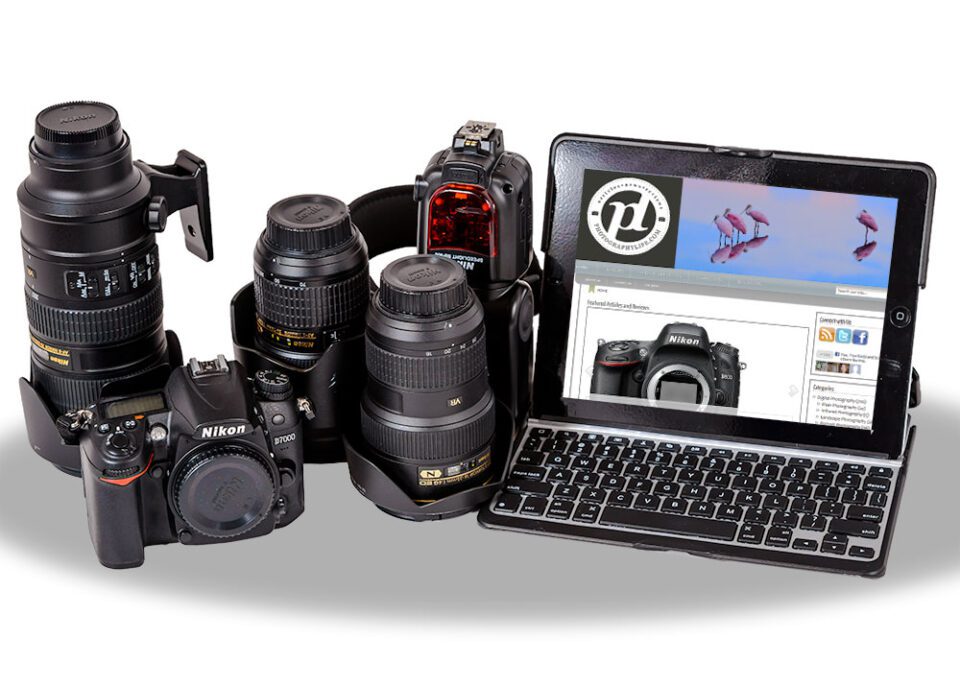 4) Quality
If you haven't figured it out by now, I believe the Urban Disguise at least matches if not surpasses the Tumi bag in some respects. I have always known that Think Tank makes solid products, but its ability to make a bag on par with Tumi speaks volumes to its attention to detail and focus on quality. I especially enjoyed reading Think Tank's "No Rhetoric Warranty." Not only was it funny, it was spot-on regarding the realities of bag usage, marketing claims, and the practical aspects of bag wear and replacement. My original Tumi bag lasted 10 years, but had I not been able to make use of Tumi's early free repair option, I would have likely considered upgrading it sooner.
5) Value
The Urban Disguise sets a high bar for value. At $215 from B&H, it $170 less than the Tumi bag. As an avid photographer and business traveler, I am hard-pressed to understand why I would ever choose the Tumi over the Urban Disguise. Features, quality, and price make the Think Tank bag an incredible value.
6) Suggested Improvements
I would recommend adding some form of hard plastic or leather pads to the bottom corners to prevent wear and tear. I realize that this is a bit tricky to accomplish, since such an item glued or stitched to the bag's ballistic nylon would be a potential failure point given how much abuse it might receive. But other luggage manufacturers' have indeed incorporated such features in some luggage designs so it is indeed possible.
The other recommendation is to add a slightly beefier seam surrounding the edge of the bag, such as those found on Tumi bags. I suspect it helps absorb some of the abuse on those parts of the bag that come in contact most with airplane seats and other hard-edged surfaces.
7) Conclusion
Although I have been on the look-out for worthy competitor to my Tumi bag, I never found one. I always felt that Tumi had such an edge in the quality and feature department that even with its premium price, it still represented the best overall value. With the Urban Disguise, that is no longer true, particularly in light of the fact that the Urban Disguise can accommodate both my photography and business travel needs.
8) Compared To
Tumi Alpha Large Expandable Organizer Laptop Brief
I think you know where I stand on this comparison by now. I would give the Tumi a very slight edge for pure ruggedness, based on the Tumi's beefy outside seems. Given all the other benefits of the Urban Disguise and the significant price differential, however, Tumi's advantage in this area does little to detract from Urban Disguise's value proposition.
LowePro Classified 200 AW
This is a very solid computer/photo shoulder bag that is a bit larger than the Urban Disguise, but targeted toward a similar niche. Although it has been discontinued, the Classified 200 AW can still be found. At $125, the Classified 200 AW provides excellent value. However, it lacks the classy feel of the Urban Disguise and falls short relative to the many generous storage areas, pouches, padding, etc. Lowepro has also introduced a variety of new shoulder bags which I haven't seen as of yet. From what I can tell, these new models may be targeted at a slightly different audience than the Urban Disguise 60 V2.0.
9) Where To Buy
You can find your Think Tank Urban Disguise 60 V2.0 at B&H or directly from Think Tank.
Think Tank Urban Disguise 60 v2.0
Features

Build Quality

Handling

Value

Size and Weight

Packaging and Manual
Photography Life Overall Rating