I was eagerly awaiting my Think Tank Retrospective 30 Shoulder Bag for an upcoming trip. I knew I HAD to have it for this trip to keep my gear securely organized and safe! While I am a big fan of Think Tank and already have their Airport Take Off and their waist system (to be reviewed in the future), I did not have any sort of professional shoulder bag for carrying my camera gear. Previously, I had taken a large purse and affixed some foam for protecting my camera and called that my camera shoulder bag. It was awful and I was in great need for a professional, durable, smart shoulder bag for my travels. Think Tank came to the rescue.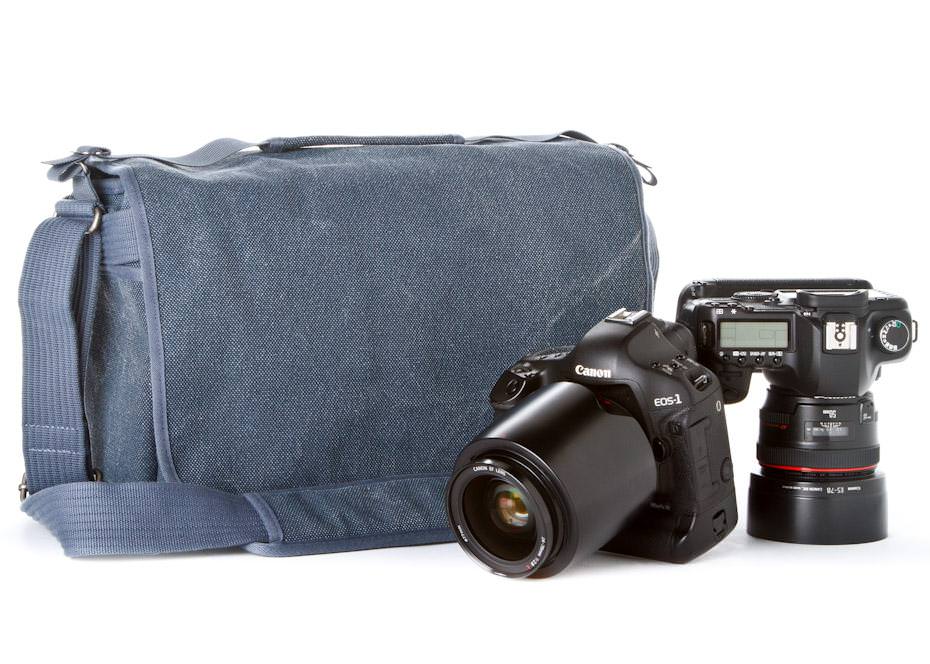 1) Product Specifications
1.1) Features
– Minimalist outer appearance conceals expensive photo equipment
– Carries a pro size DSLR with standard zoom lens attached
– Wider size to fit a 70-200 f2.8 attached to DSLR facing sideways
– Accommodates 2-4 lenses in main compartment with 2 DSLR bodies in front pockets
– Two front pockets to carry pro size DSLRs (bodies only)
– Organizer pocket built into main compartment for pens, note pad, batteries, etc.
– Hook and Loop "Sound Silencers" on the front flap eliminate noise while opening the bag
– Soft, adjustable shoulder strap with cushioned non-slip pad
– Clear business card holder under front flap
– Removable short carrying handle for convenience
– Seam-sealed rain cover included for protection against the elements
– Black (1100D 'polyspun' polyester exterior fabric), Pinestone (sand washed cotton canvas) and Blue State (sand washed cotton canvas)
1.2) Dimensions
ID: 15" W x 9.5" H x 6" D (38 x 24 x 15.2 cm)
OD: 16" W x 10.5" H x 7" D (40.6 x 26.7 x 17.8 cm)
Weight: 3.2 lbs (1.5 kg)
2) Overview
2.1) Initial Impressions
As I type this, I am sitting in an airplane with my Think Tank Shoulder bag sitting under my seat holding everything I need safely and effectively for this trip! I am en route to New York City to shoot several engagement sessions.
When packing for this trip using my Think Tank Retrospective 30 bag, I realized that my life was missing compartments! This might sound overzealous, but compartments have changed me! Normally when going through security at the airport, I have to dig through one big compartment for my wallet, then find my driver's license, while shuffling my camera, and banging it around in the process. This time around, it was a breeze because each compartment had a different purpose, making organizing my travel items simple and efficient. I knew exactly where I could find each item I packed. It sounds obvious, but compartments make a big difference.
This bag is designed well. Really well.
The Velcro tabs keeps items safely secured, but allow quick access to the items. There is a silencing feature on the velcro tabs. I found I preferred silencing the velcro if I was out where I was accessing the contents of the bag quite frequently (for example while on a shoot). But I loved having the velcro enabled when out on the streets of NYC– not only is my gear securely tucked in my bag, but if anyone tries to steal it, the velcro is quite noisy, unlike a silent zipper.
The shoulder strap is padded ensuring a comfortable fit.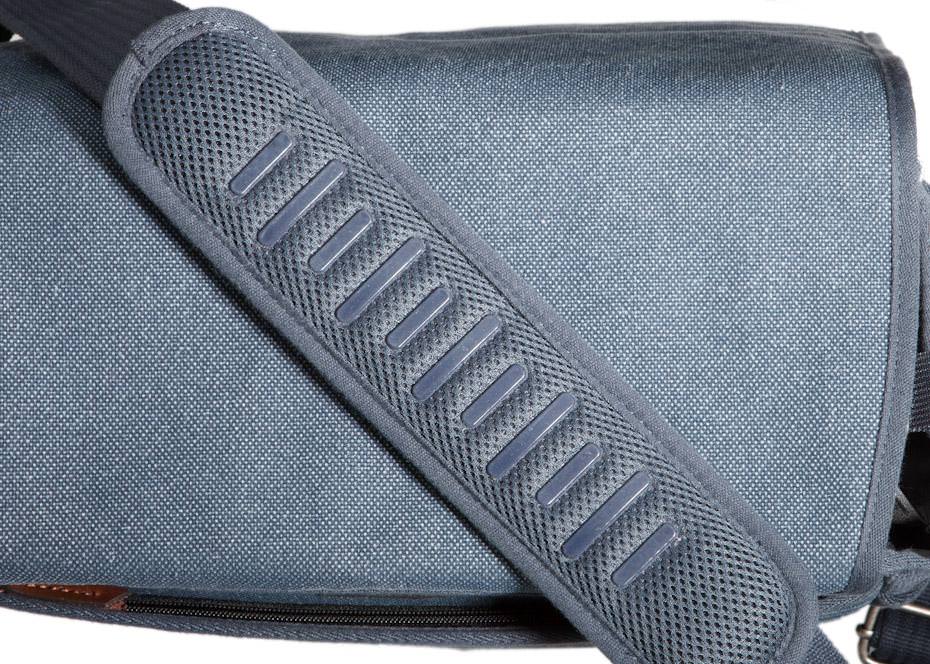 The different interior compartments are adjustable, so that what you need fits perfectly.
There are the right number of compartments so it's easy to find your stuff, but not TOO many that you can't remember where you put it.
For this trip I was planning to shoot some film and some digital. So I wanted to store my Contax 645 with an 80 mm Zeiss lens, my Canon 5D Mark III with a 50 mm 1.2 lens (both cameras with lenses attached), my Sekonic 580 light meter, about 35 rolls of film, notebook, wallet, cell phone, flash drive, batteries, chargers, and business cards. Everything had a place and the guess work of where my gear has shuffled to while in flight has ended.
(Everything I fit into this bag for my travels)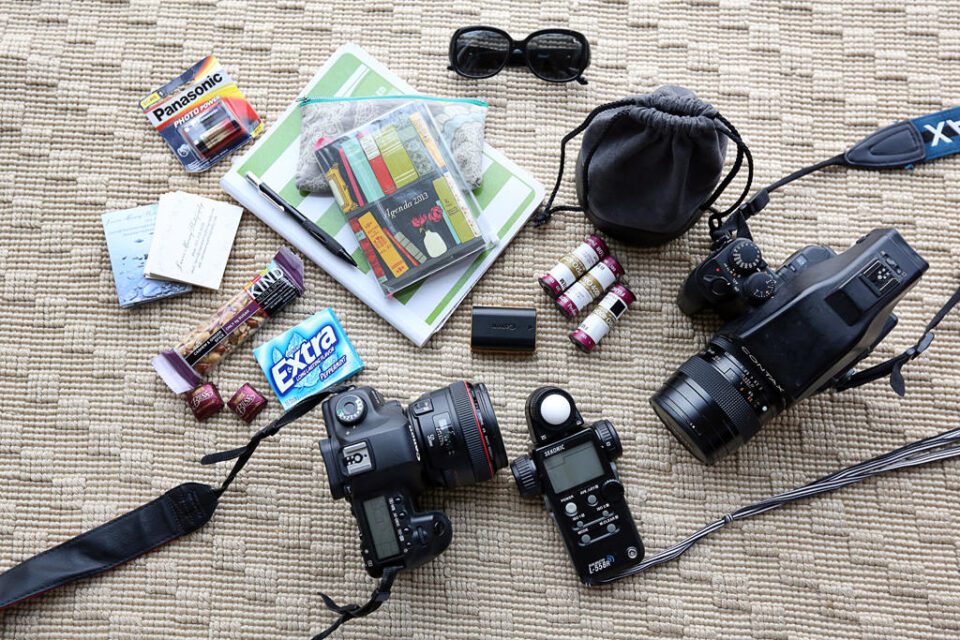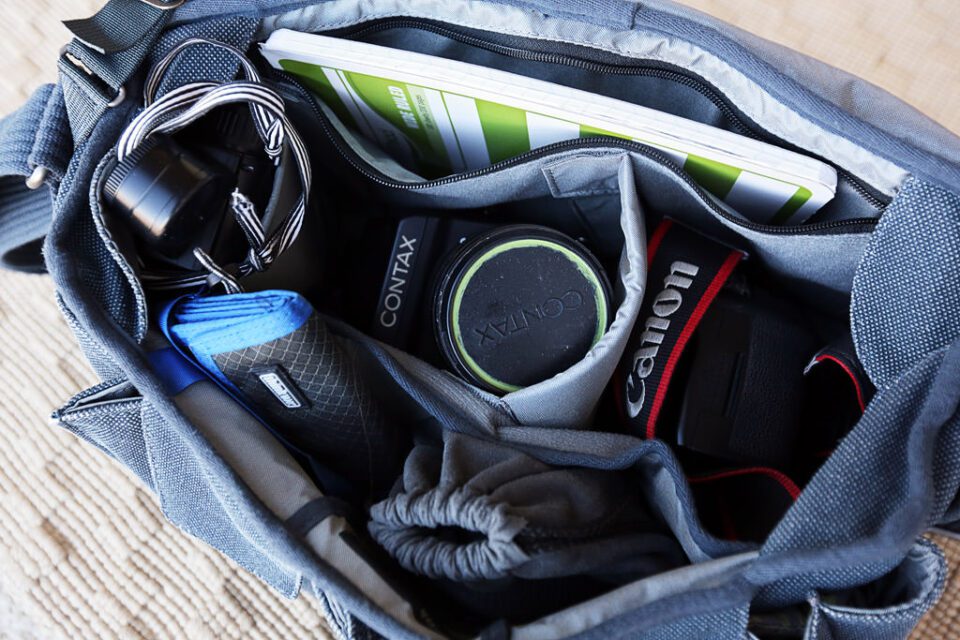 (I like how there is an attachment for my memory cards– that way I know they will not fall out by accident– or get stolen! Some wallets may also be attached. It's nice to use to keep things secure)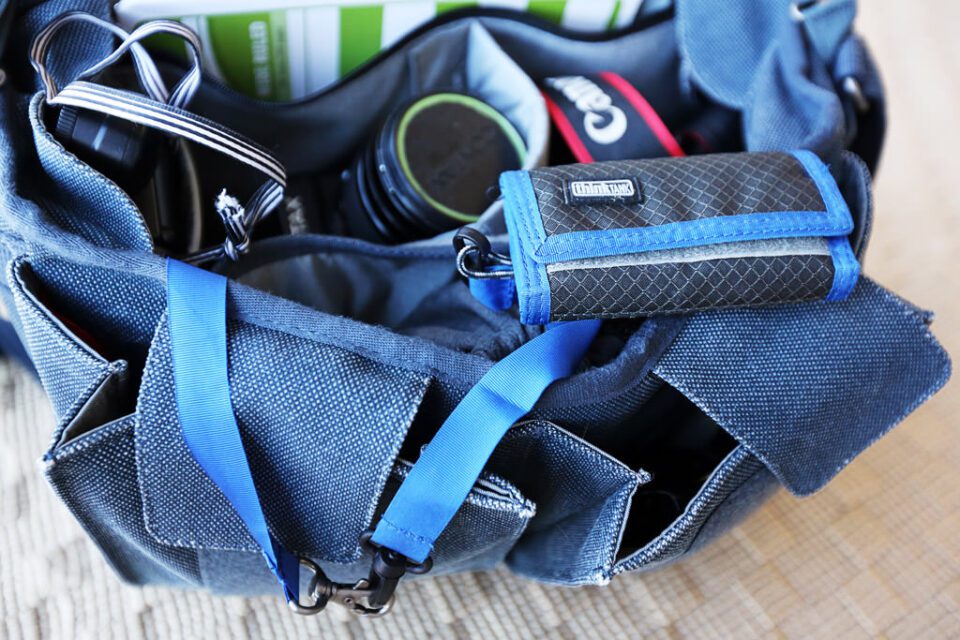 (Velcro and the way to silence them. Plus a spot for a business card in case your bag gets lost.)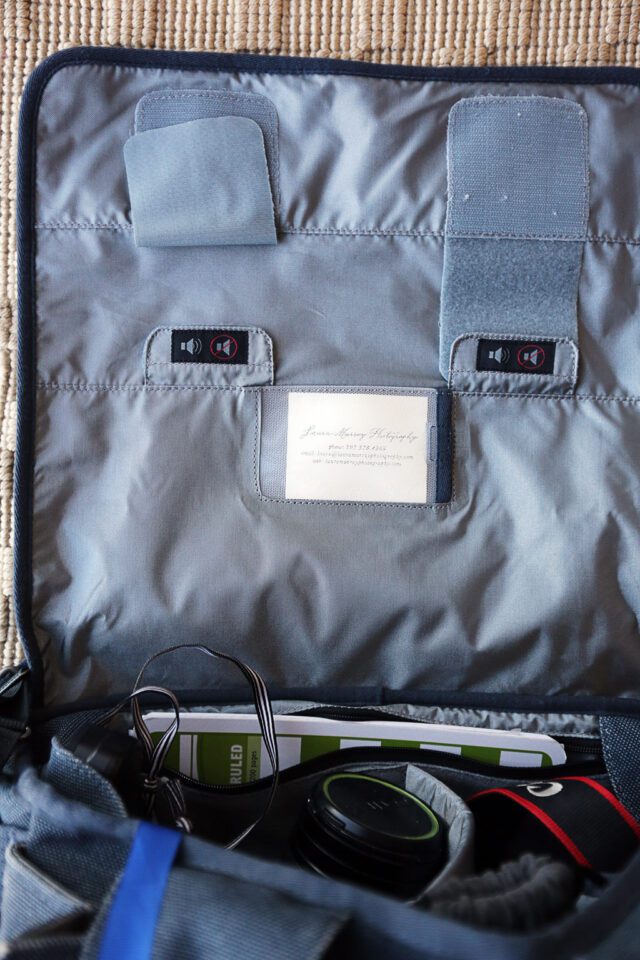 However, carrying all of this is heavy. Really heavy. The bag weights 3.2 pounds empty. But then adding my gear, the bag totaled a little over 17 pounds. It's great for an airport where you walk some, sit some. I wouldn't want to carry all of this gear for long periods of time across a city. For that, the backpack or a rolling back is a better option. When in NYC I plan to only take 1 camera for long jaunts across the city (most likely the film one- I shoot all my personal work on film), and then for the engagement shoot carry both, but it would only be for a period of a couple hours, with some stopping.
(me, with the Think Tank Retrospective 30 Blue Slate bag)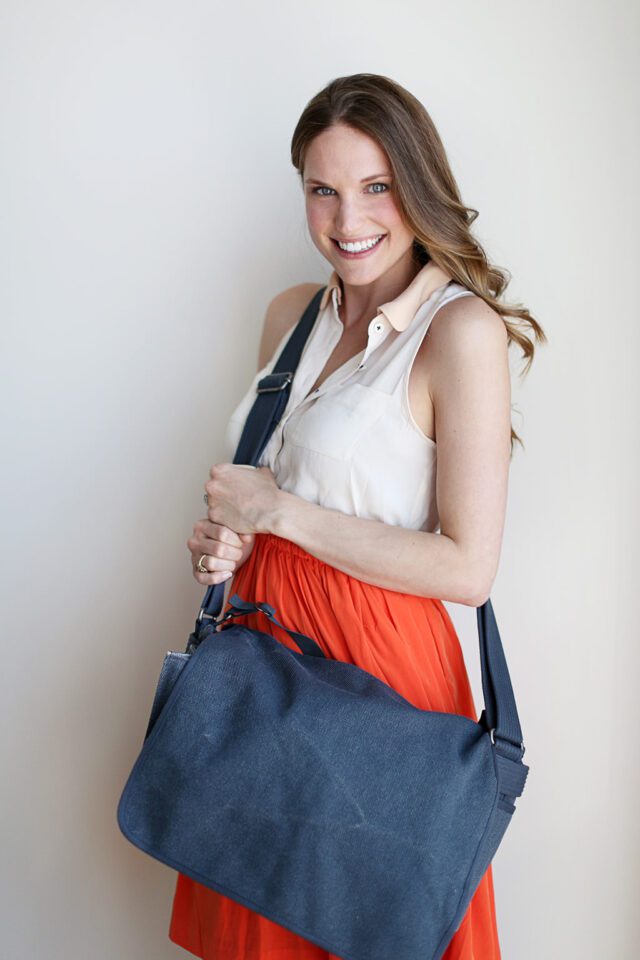 What I like about it, too, is that it's fairly stylish but is still gender neutral. I can't tell you how many times my husband ended up carrying my DIY camera shoulder bag when it got too heavy for me (and it was a very feminine looking bag!).
4) Summary
The bag is genius. The design is flawless and the craftsmanship is high quality. It handled traveling across the country with ease and made me happy to know that I knew my gear was safe and secure inside. Like any shoulder bag, it does get heavy with lots of gear. If I were hiking for an extended amount of time with my camera gear, I would prefer a backpack to distribute the weight of the bag more evenly. But for engagement shoots and traveling via plane/train/car this bag is perfect.
I enjoy this bag so much, I might just continue carrying it around, even when I am not hauling a camera with me!
5) Pricing and Where to Buy
The Think Tank Retrospective® 30 in Blue Slate is regularly priced at $187.50 (as of 5/1/13) and is available at either Think Tank Photo or B&H Photo Video.
Think Tank Retrospective 30 Blue Slate
Features

Build Quality

Handling

Value

Size and Weight

Packaging and Manual
Photography Life Overall Rating