This is a quick review of the Think Tank Airport Security rolling bag, one of the most popular and premium bags by Think Tank Photo. Targeted for busy photographers that have to travel on assignments with their gear, the Airport Security line is specifically designed to meet US domestic flight carry on size requirements. The bag also comes with TSA-approved combination locks and has an extra security cable to attach it to a fixed object. Best of all, it is a fairly large bag that can accommodate plenty of photo gear – whether you are storing a single DSLR with a 600mm lens or multiple DSLRs with smaller lenses. I have been personally using the bag to store my DSLRs, lenses and flash equipment and the bag has seen plenty of abuse this past summer during the wedding season.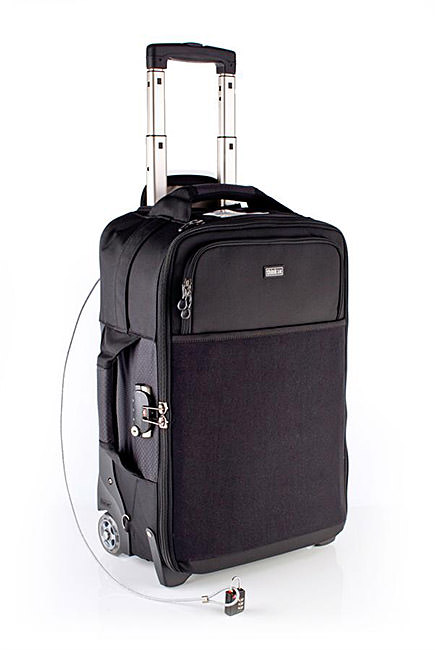 1) General Information and Dimensions
1.1) Features
Meets USA domestic airlines' carry-on size requirements
TSA approved combination lock secures the main compartment
Security lock and cable built in to the frame
Security ID plate and unique serial number
Holds pro-DSLR and super telephoto lenses up to 600mm
Emergency shoulder straps for occasionally carrying the bag as a backpack
Front stretch pocket holds an optional case for 15″ or 17″ laptops
Optional low divider set allows for up to 17″ laptop to fit inside
Clear Business card holder
Seam-sealed rain cover included
Looks like standard luggage rather than a photo bag
1.2) Dimensions
Internal Dimensions: 13" W x 21" H x 7–8" D (33 x 53.3 x 17.8–20.3 cm)
External Dimensions: 14" W x 22" H x 9" D (35.6 x 55.9 x 22.9 cm)
Weight: 12-14 lbs / 5.4-6.4 kg (weight depends on accessories used)
1.3) What's in the Bag?
Here is a partially loaded Think Tank Airport Security roller bag (click the image to enlarge):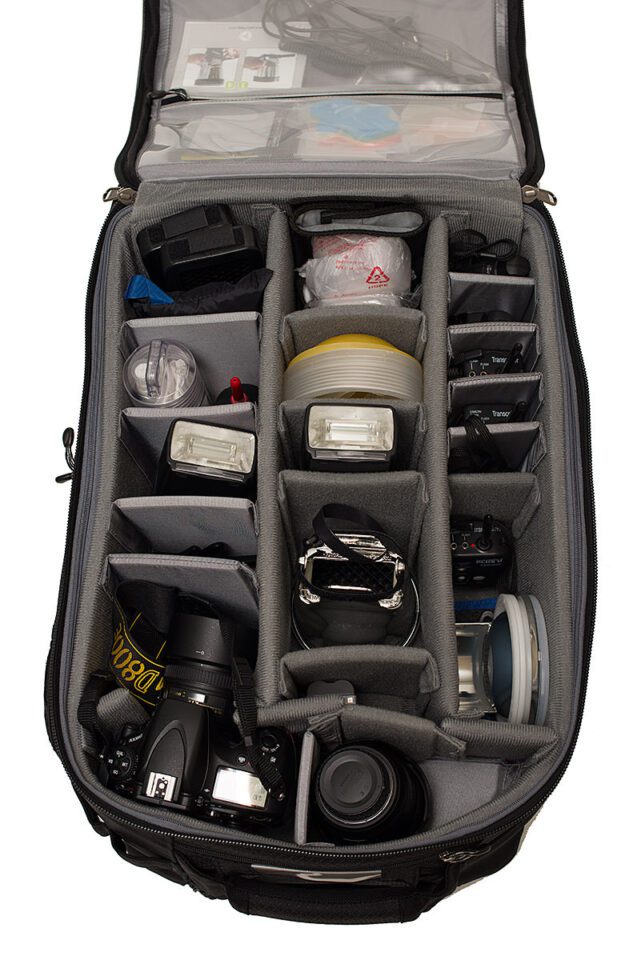 And here is a list of gear packed into the bag for shooting weddings and portraits:
Nikon D800E DSLR + Nikon 50mm f/1.8G
Nikon 24mm f/1.4G
3x Nikon SB-910 Speedlights (1 was in use)
Cleaning Kit and Giottos Rocket Blower
Full Set of Honl Accessories
Gary Fong Lightsphere Pro Kit
2x PocketWizard Plus III
4x PocketWizard Plus II
Extra Batteries
Cables, Gels, Memory Cards, etc
The bag is partially full here and you can stuff a lot more into it. I just use it for carrying speedlights, radio slaves and accessories primarily, while other cameras and lenses go in other bags. The nice thing about the compartments, is that I can easily move things around and accommodate other gear as needed. In this case, I used some extra dividers to have more compartments for speedlights and other accessories.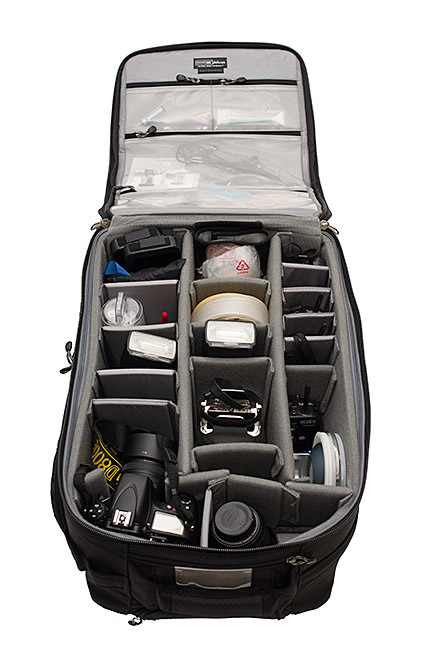 2) Size and Function (Handling)
2.1) Outside the Main Compartment
A separate stretch pocket on the front of the bag can hold a laptop up to 17 inches, and with the optional Artificial Intelligence laptop bag, you can use the security cable in front of the bag to attach and secure your laptop: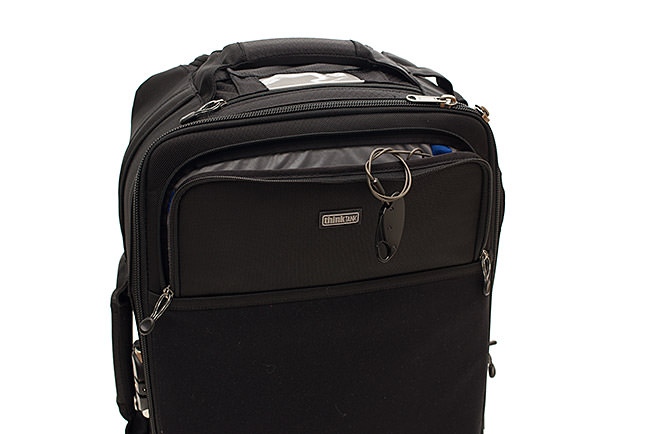 This optional laptop case unzips on the short side (the top) so that the laptop can be accessed without removing the laptop case from the front stretch pocket.
To secure your valuables, there are 2 other locks provided: a TSA approved zipper lock to protect the contents of the main compartment: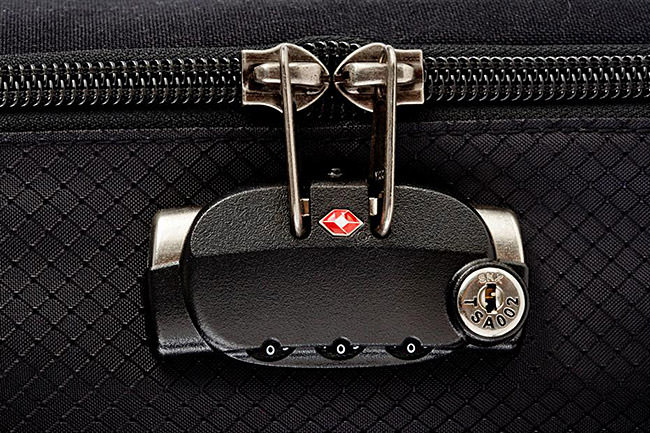 And the last one is there to lock your bag to an immovable object such as a pole. This is convenient when on location, such as a wedding, where you cannot watch the bag constantly: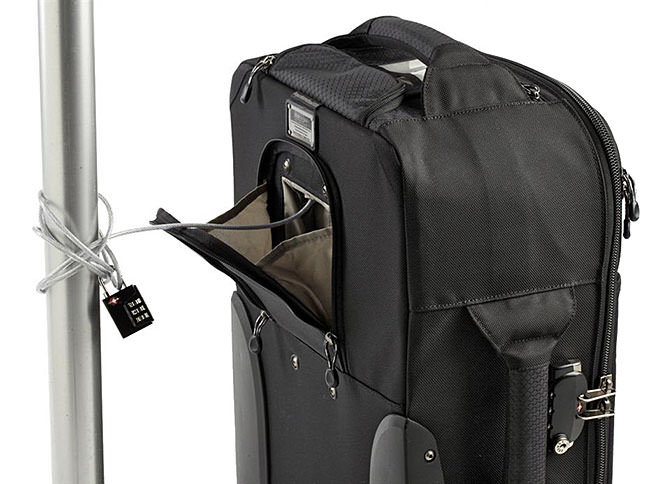 The handle is also quite nice, very similar to other carry-on roller bags: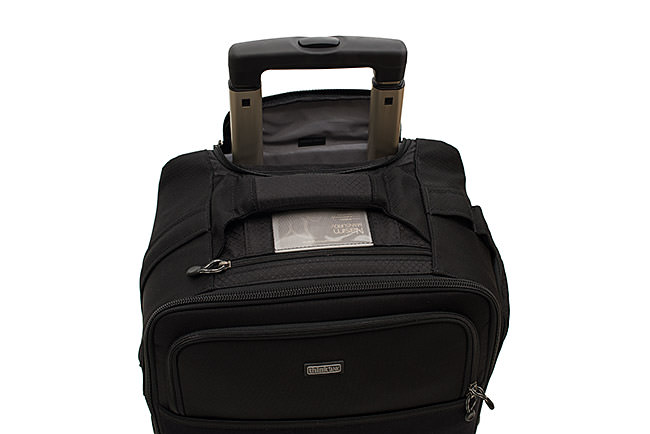 Moving a heavy bag full of equipment while traveling is much easier with a nice set of wheels and this bag surely does not disappoint. The replaceable wheels roll smoothly and silently: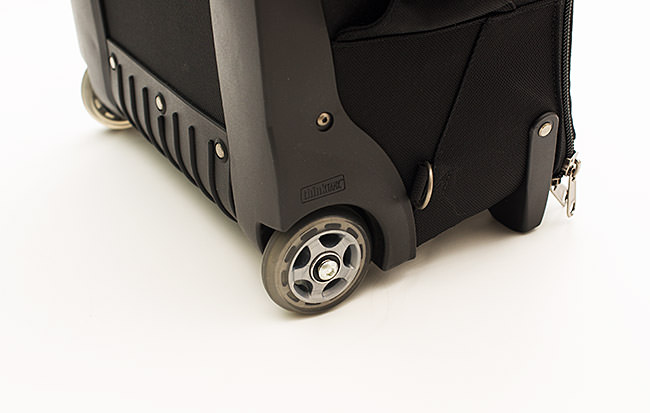 I have used other roller bags in the past and none of them felt as good when moving. The soft rubber wheels produce very little noise and you simply do not feel them when moving over bumps.
When you are through rolling to your destination, there are 3 handles, one on the top and the bottom and one on the right side of the bag, to pick it up. While the top and one side handle are large and foam filled making for comfortable handles that do not cut into your hands, the handle on the bottom of the bag is merely a strap with no padding, which minimizes bulkiness while maintaining function.
Included is a tripod holder that will allow you to connect a tripod to the side of the bag. It comes with a cup to hold the feet of the tripod as well as 2 straps to secure it to the bag. There is some flexibility as to how you attach the tripod based on its size.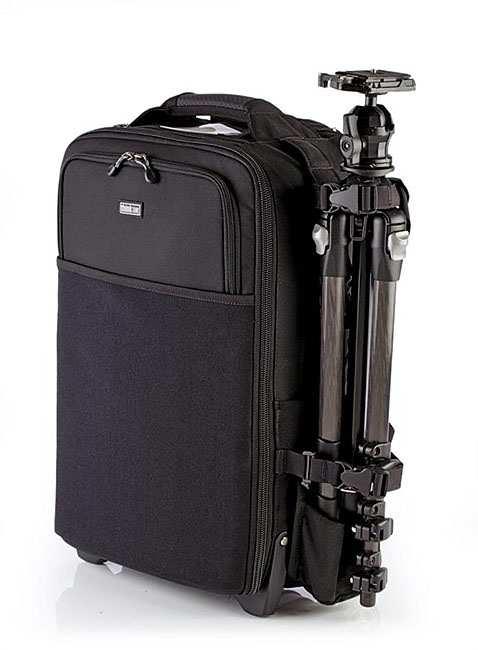 One distinct feature of Think Tank camera bags, is the ability to put and display your business card. While I love this feature, you might not want to display a business card that yells "I am a photographer with expensive equipment". I used a business card that shows my name in large letters with a logo: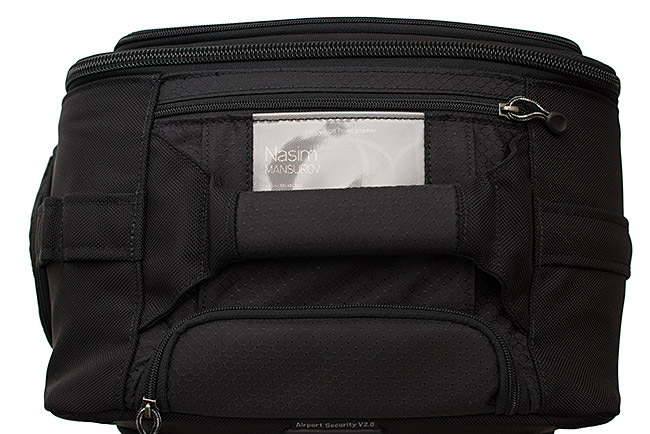 Lastly, here is how the emergency straps look like when pulled from the back of the bag: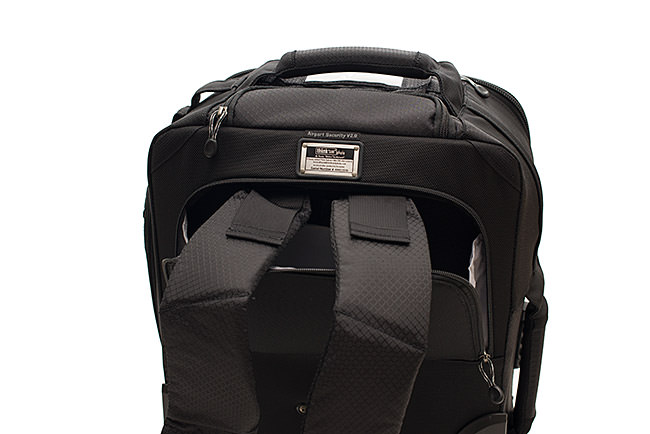 I personally do not particularly care for these, since the handles on the side and top of the bag have been sufficient for situations where the bag needs to be carried.
2.2) Inside the Main Compartment
The main compartment unzips with the hinge on the bottom or the wheel edge of the bag leading to a large, long flap that opens. Personally, I would prefer a flap that opened with the hinge on the side (long side of the bag) resulting in a little less zipping and unzipping to get access.
The dividers are adequate to give you as much flexibility to arrange your gear as you desire. There is an optional set of dividers that are lower, so that it leaves room for a laptop within the inner compartment which can be locked. Another reason you may prefer the lower profile divider is that it will allow for another optional bag made by Think Tank to hold cables, wires, chargers and other miscellaneous items inside the main zippered compartment. While some people might prefer the low profile, I prefer the normal profile dividers as they allow me to stack more items in the compartments and having the laptop on the outside makes it easier to access and separate it for a flight while the bag and gear remain in the overhead bin. If you are carrying a larger lens, such as a 500mm mounted on a pro body, the laptop won't fit well inside the compartment even with the low profile dividers so you may wish to consider your needs before ordering and paying for the optional low profile dividers.
3) Build Quality
When a company places a unique serial number on a bag, you expect something different. The materials used in the bag compartment are both excellent quality and environmentally friendly, using no PVC. The exterior fabric is 1680 denier ballistic nylon, which has been coated for water resistance. The zippers are large, heavy duty YKK RC Fuse (abrasion resistant) zippers. The skid plates are tall to prevent wear on the fabric when pulling up stairs and the wheels are smooth are smooth and quiet. Should you wear out the wheels, they are replaceable with a free kit from Think Tank Photo.
The padding and the outer shell are strong and they do an excellent job in protecting your gear. I once managed to accidentally drop the bag full of gear and lenses from about three feet on a concrete surface (don't ask how). The bag fell with the front facing down, so I thought my gear was done. But once I opened the bag, I realized that everything stayed intact – none of the flashes, two lenses or the D700 DSLR that were in the bag at the time got any damage.
Need some reassurance? Think Tank, the makers of the Airport Security have what they call their "No Rhetoric Warranty", in which they guarantee and warrant the bag against any defects in material or workmanship for as long as you own the product and are the original owner. They will repair or replace the item at their discretion and their reputation is that the warranty is not just talk but that they have excellent customer service to back it up. See their website for details.
4) Value
At the current retail price of approximately $395 USD, this bag is surely not cheap, but it also is not built cheap. Think Tank has used top quality materials and made a durable and functional bag with nice touches like small pockets to cover the zippers to prevent them from scratching your gear when the cover is closed. All around, it is a phenomenal bag and there is very little to complain about.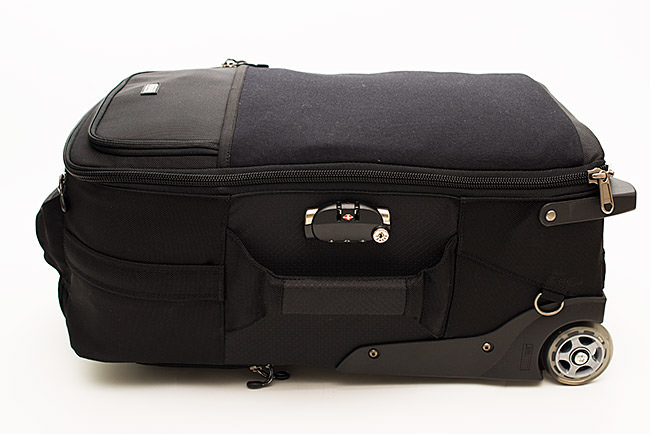 If you compare the price to similar bags, you can find cheaper, but they probably aren't built as well. Value is not always just equal to the cheapest product, but rather price in consideration of quality and functionality, thus this bag still represents a good value for the price.
5) Think Tank Airport Security vs International
Since Think Tank makes two similar bags – Airport International and Airport Security, I am sure some people might wonder about differences between the two. Here is a small chart that shows the differences:
| Feature | Airport Security | Airport International |
| --- | --- | --- |
| Meets Standards | USA Domestic | International and USA Domestic |
| Interior Dimensions | 13"W x 21"H x 7–8"D | 13"W x 18.5"H x 6.5–7.5"D |
| Exterior Dimensions | 14"W x 22"H x 9"D | 14"W x 21"H x 8"D |
| Min/Max Weight | 12-14 lbs | 9.5-11.5 lbs |
| Longest Lens | 600mm (Canon) | 500mm |
| Emergency Straps | Yes | No |
6) Conclusion
I have been actively using the Airport Security bag for the last 4+ months and I can say that it is simply the best rolling bag I have ever owned. Lola and I have been taking it with us on every photo shoot, especially when photographing weddings and portraits this past summer and it proved to be a superb tool for transporting our camera gear. The build quality and craftsmanship are superb, its padded handles are comfortable and the wheels roll very smoothly. It has plenty of room inside to carry a lot of camera gear and the padding can be re-arranged to fit long lenses or bigger accessories. While we have been primarily using it for storing and transporting speedlights, radio slaves and other strobist accessories, I have also used it to transport my Nikon D3s with the Nikkor 200-400mm, plus a bunch of other lenses and accessories and it performed as expected. I was able to take it with me on domestic flights and it fit in the overhead bin fine (make sure to close the handle fully, as it barely fits), except when flying on very small airplanes. Despite its high price tag, I find the Airport Security to be of great value for a busy pro!
7) Where to Buy
Think Tank Airport Security is priced at $394.75 (as of 11/05/2012) and can be purchased through many different local and online retailers. Below you will find a direct link to Think Tank Photo's website, along with a link to our affiliate B&H:
Think Tank Airport Security
Features

Build Quality

Handling

Value

Size and Weight
Photography Life Overall Rating