This is a review of the Think Tank Airport Roller Derby rolling camera bag. When I first saw that Think Tank had released a new 4 wheel camera bag, I was immediately curious. I had been using the Airport 4-Sight since it first came out and was very happy with it, but had filled it with as much gear as could fit in it and simply needed more room. The Roller Derby is a larger bag that looks like it has a few improvements over the 4-Sight. Could it become my new camera bag?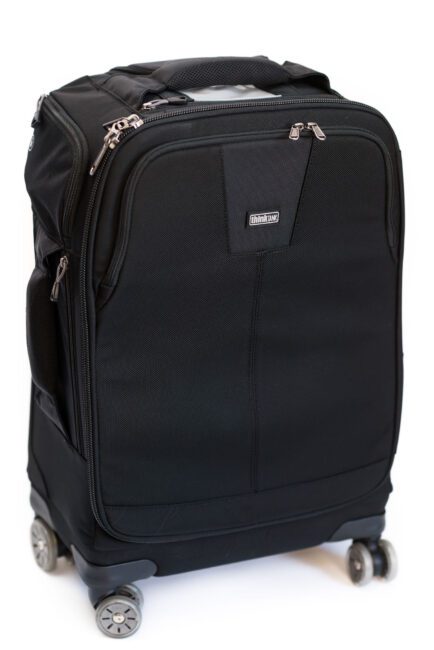 1) Product Specifications
1.1) Features
– 4 dual wheel sets (8 wheels)
– Meets US domestic and most international carry-on size requirements
– Fits up to 2 standard DSLRs with lenses attached or 1 pro DSLR and 1 standard DSLR both with lenses attached
– Fits 6–7 standard zoom lenses or strobes
– Accommodates a 400mm f/2.8 unattached (without laptop in the bag ONLY)
– Fits up to a 15" laptop and a tablet in 2 dedicated interior pockets
– Lock & cable to secure zippers and tether the bag
– Tripod mount and a compressible pocket on the side
– 2-position locking handle extends to 39"–42" for better ergonomics when pushing
– Replaceable wheels
– Interior zippered pockets for batteries, SD/CF cards, filters and accessories
– Top zippered pocket for wallet or cell phone
– Rapid access side pocket for travel essentials
– Padded top and side grab handles
– Reinforced back panel for increased durability
– Seam-sealed rain cover
1.2) Dimensions
Exterior Dimensions 14" W x 22" H x 9.0" D (35.6 × 55.9 × 22.9 cm)
Interior Dimensions 12.6" W x 18.5" H x 5.5–7.5" D (32 × 47 × 14–19 cm)
Weight 10.5-11 lbs (4.8–5 kg)
Tablet Compartment 10.5" W x 10.3" H x 0.6" D (26.7 x 26.1 x 1.5 cm)
Laptop Compartment 10.5" W x 14.5" H x 1.0" D (26.7 x 36.8 x 2.5 cm)
2) Overview
2.1) Initial Impressions
First impressions of Think Tank bags are generally the same. They all look very similar and you know that it's a quality product. Once I started unzipping zippers and digging around a bit, I saw a lot of little things that I liked. For example, the front zippered pocket that has the the laptop and tablet compartments also has storage space for pens, pencils and other supplies that you don't want cluttering the inside gear storage compartments. Another noticeable difference was the wheels, but I'll talk about those more in a bit.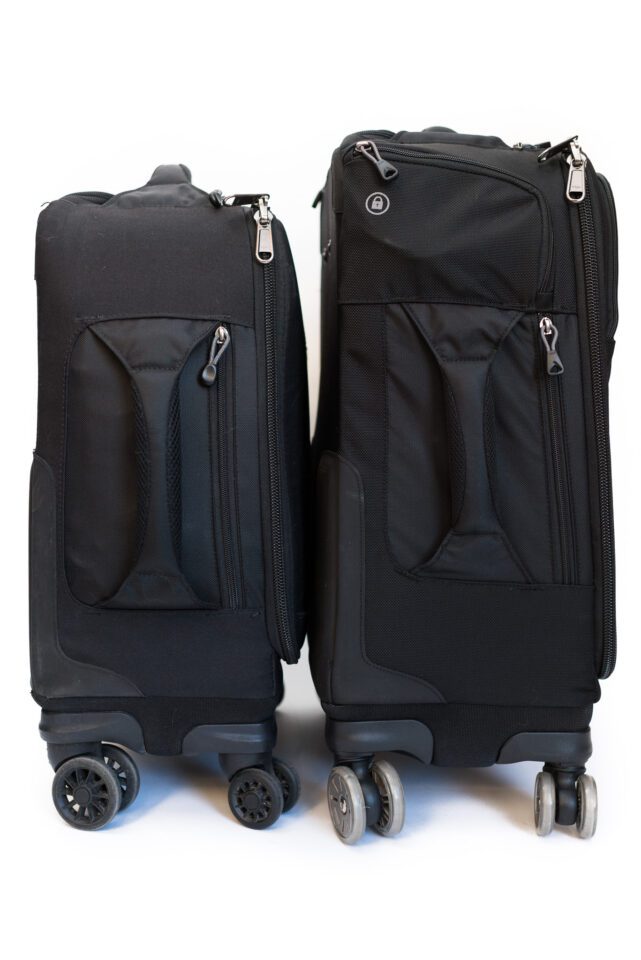 2.2) What's In The Bag?
Included with this bag are a rain cover and gear lock. The rain cover doesn't take up much room and fits nicely into one of the rear compartments that isn't good for much else due to the curve of the bag. The gear lock has a dedicated zippered compartment on the outside of the bag.
The dividers aren't as easy to configure as some of the other Think Tank bags I've used in the past. There are many different sizes of dividers that seem to only work with specific configurations. I found myself wanting more of one particular divider size and having too many other another size. Eventually I found a layout that works for my gear, but it isn't ideal.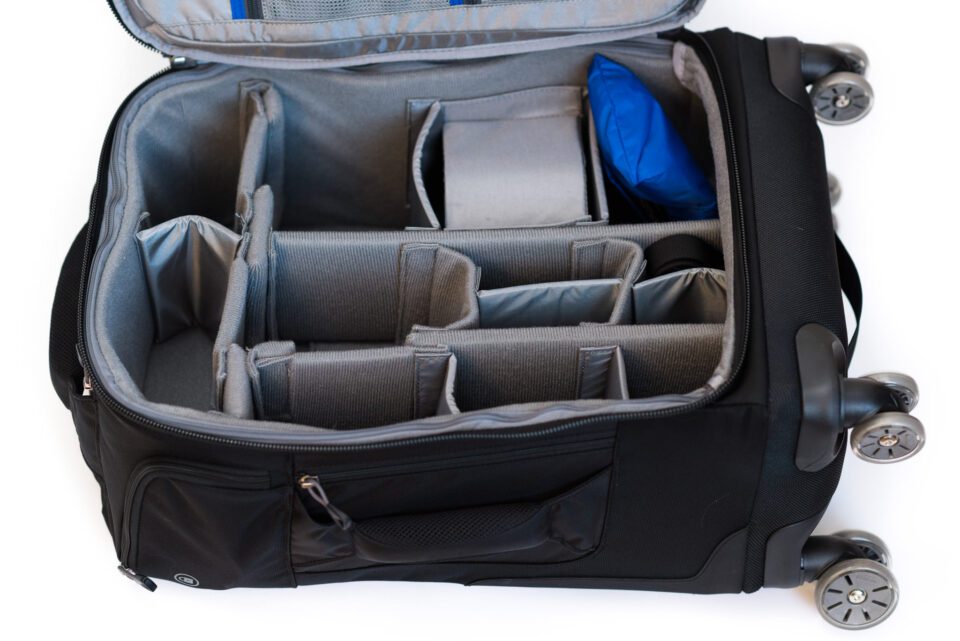 So, what did I end up fitting into the bag? Here's the full gear list:
– Nikon D810
– Nikon D800
– Nikon 85mm f/1.4 AF-S (attached to the D810)
– Nikon 35mm f/1.4 AF-S
– Nikon 135mm f/2 AF-DC
– Nikon 50mm f/1.4 D
– Nikon 20mm f/2.8 D (not pictured)
– Nikon SB-800 x 2
– Pocket Wizard Plus 2 x 2
– Pocket Wizard Plus 3
– Vello Extension Tubes
– Lens Pen
– Gum
– Spare AA batteries x 8
– Spare Nikon EN-EL15 batteries x 2
– Spare CF and SD memory cards
In the exterior compartments I have my business cards, pens, energy snacks, backup cash and an emergency beauty kit.
That doesn't really leave room for more gear (or larger lenses if, for example, I wanted to replace my 50mm with the new 58mm), which is disappointing since it's larger than my previous bag but has the same amount of gear in it (although in my old bag I had lenses stacked on top of other lenses). Of course, everything is easier to access and there's less risk of damage to my gear. I just feel like if the dividers had been a little easier to use I could have created a better layout that would have allowed for more optimized storage.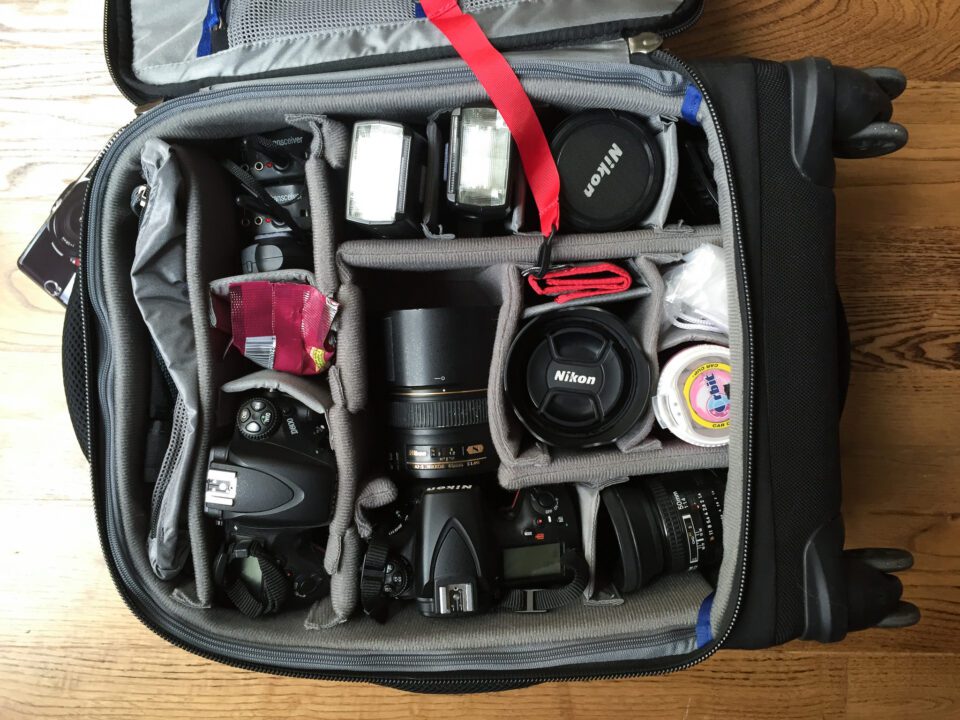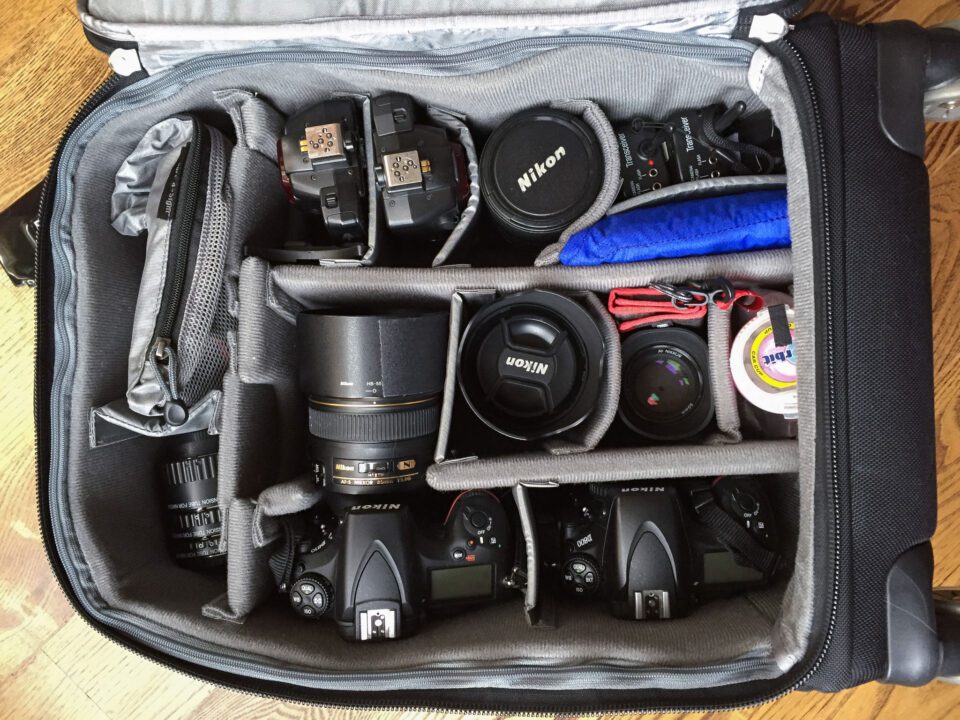 2.3) Build Quality
It's a Think Tank bag. Build quality is one of the reasons that so many photographers use and trust Think Tank. The grab handles are very comfortable to use. The telescoping handle is smooth and secure. The zippers are rugged. The material is sleek and tough. The wheels roll smoothly. I can't complain about build quality one bit.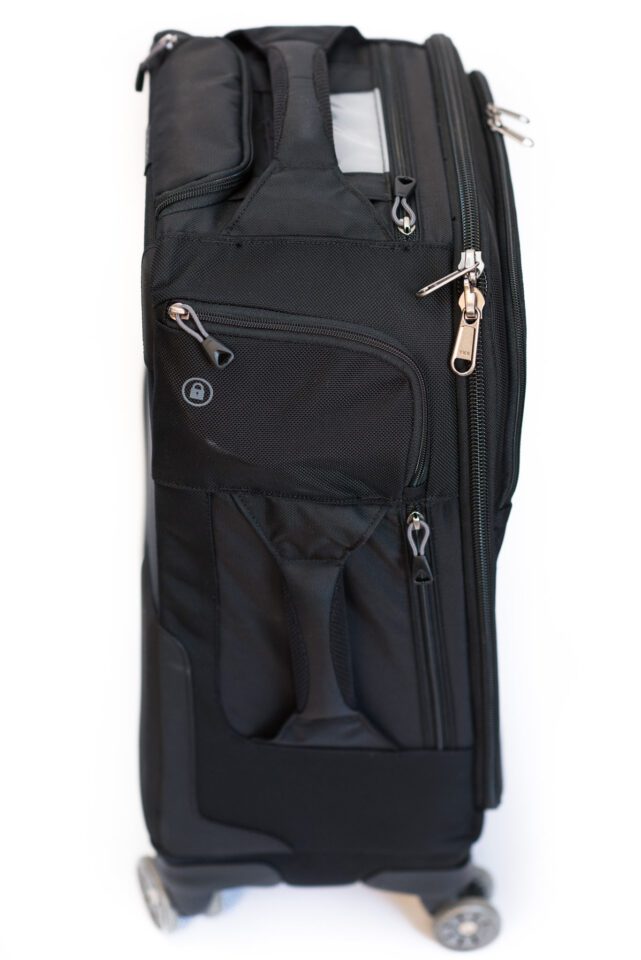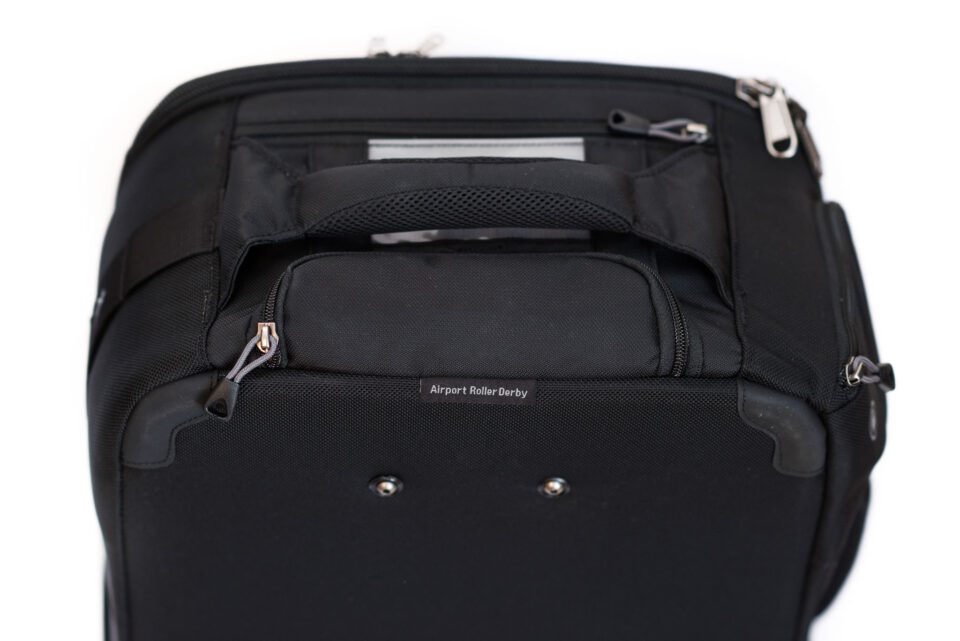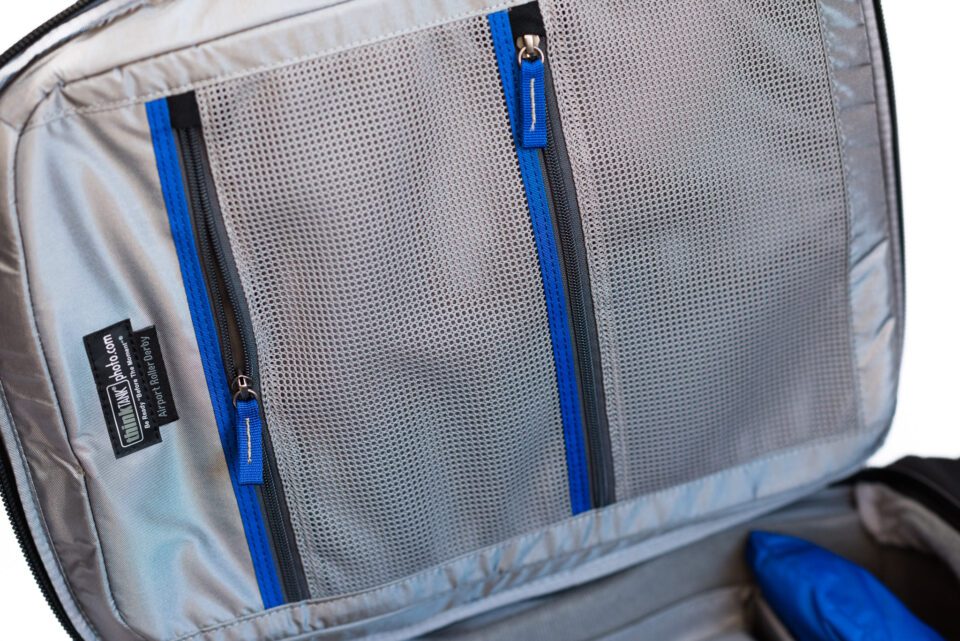 3) Field Use
3.1) Daily Use
On a day to day basis, this bag is pretty much like any other camera bag that I've used. Inside the bag, everything stays securely in it's place and doesn't shift around. There are plenty of storage compartments for miscellaneous items such as batteries, filters, pens and business cards. The velcro dividers stay secure and don't scratch my hands when I reach into the bag. It's simple and straightforward to use.
3.2) Travel
Traveling with the Roller Derby was an absolute joy! I took two trips with it, one to Cancun and one to San Diego. Both times I took it on the plane with me as a carry on and it fit into the overhead baggage compartment without any trouble. Navigating through airports and airplanes was very easy thanks to the telescoping handle and amazing wheels on this bag.
Let me tell you a bit about these wheels. First, they are larger than the wheels were on my 4-Sight. They're also made of a soft yet durable material that makes them roll smoothly over cracks and bumps. But the thing that really stands out about these wheels is how easily they roll. Walking through airports across tile and carpet, it takes almost no effort to roll this bag. Honestly, this bag almost rolls too easily. There were times when I stopped on a slight incline and it started to roll away when I let it go. When I walked down a ramp, I actually had to hold onto it so that it wouldn't get away from me. Really, though, this just means it's very easy to roll, something that you'll appreciate when navigating crowded airports, hotels or airplane aisles.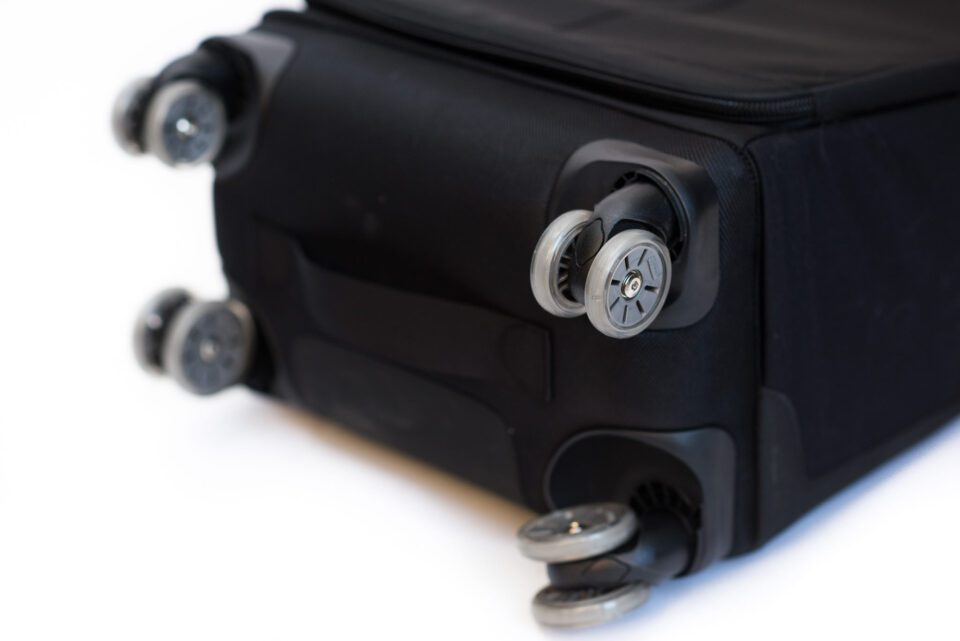 Another feature that I didn't expect to use but quickly came to appreciate is the laptop compartment. When I travel for work I generally bring my laptop with me. In the past, that meant a separate bag for my laptop and charger. Now, I can slip my 15″ MacBook Pro into the front of this bag and always have it with me. The charger easily fits inside with my camera gear or not-so-easily in the front pocket with my laptop. I chose to toss the charger in with my luggage and keep a book and magazine in the front pocket instead.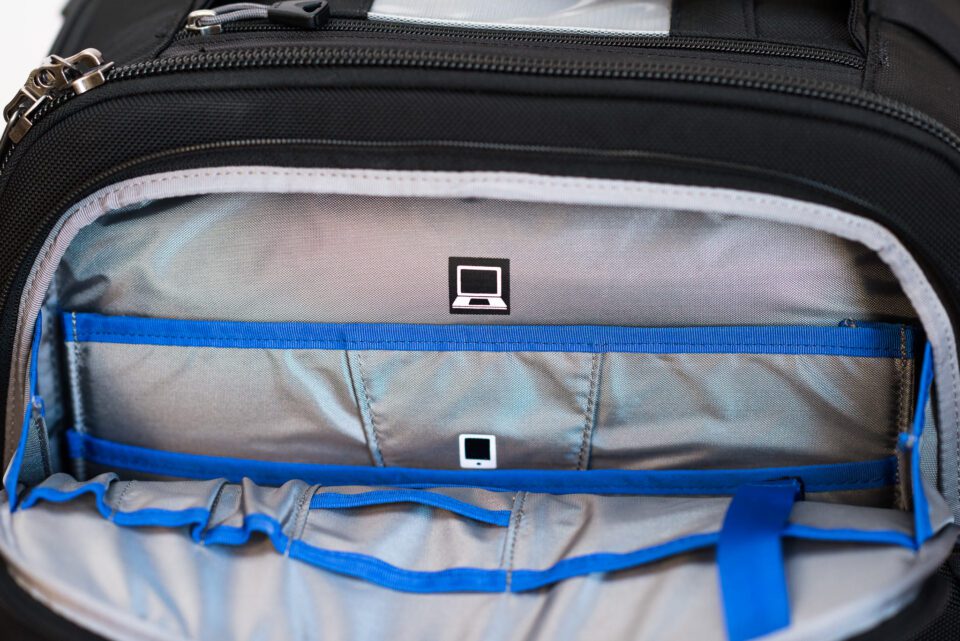 4) Summary
You should strongly consider this bag if:
– You travel and want a mid-sized camera bag that fits into overhead compartments.
– You travel and want a bag that is easier to navigate through crowded spaces than most luggage
– You want a camera bag that can also hold your laptop and tablet
– You want a well made rolling camera bag that's going to last you a long time
In my opinion, this bag is one of Think Tank's best. It's not the biggest, nor does it hold the most gear, but it should hold enough to keep most photographers happy. That's what makes it so nice. It's not so big that you'll have a hard time traveling with it and it doesn't hold so much stuff that you'll give yourself a hernia lifting it into an overhead compartment. Rolling it around is nearly effortless. Could the dividers be easier to configure? Yes they could, but if that's the only fault I can find, I can't think of any reason not to recommend it. It's not just a camera bag… it's a mobile office.
5) Pricing and Where to Buy
The Think Tank Airport Roller Derby is regularly priced at $389.75 (as of 11/25/14) and is available at either Think Tank Photo, B&H Photo Video or Adorama.
Think Tank Airport Roller Derby
Features

Build Quality

Handling

Value

Size and Weight

Ease of Use
Photography Life Overall Rating