The Think Tank Airport Navigator Rolling Camera bag is a wonderful mid-sized bag to haul your camera gear. It is extremely high quality and is the proper size for a carry on for domestic and international flights. It has both a front and a top opening to access gear quickly.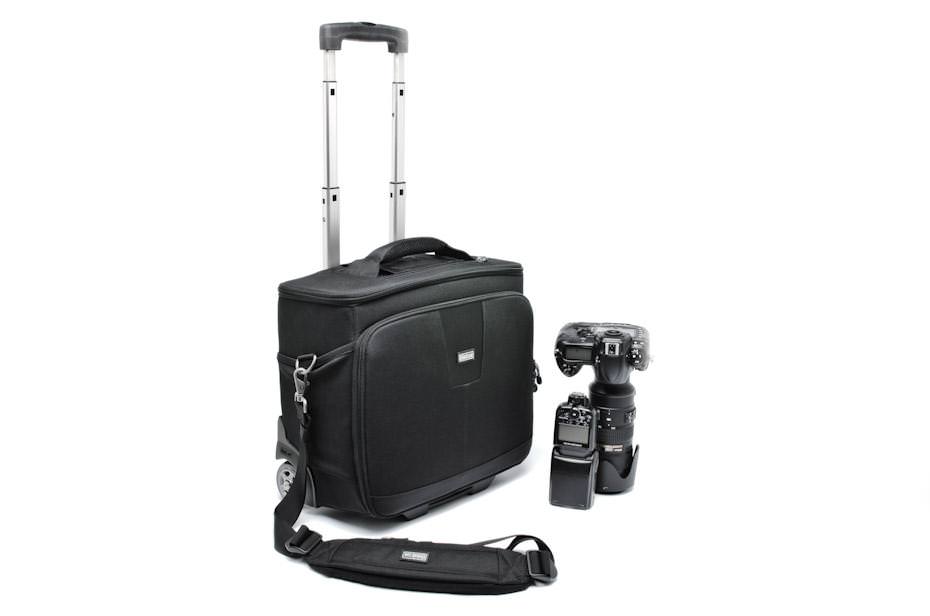 1) Product Specifications
1.1) Features
International and U.S. airplane carry-on size
Rolling camera case with front and top openings for rapid access to gear
Dedicated pockets provide easy access to an iPad and most 15.4″ laptops
Extra long 41" retractable handle for easy rolling
The included, removable shoulder strap slips over the handle of a larger roller, so you can conveniently roll two bags with one hand
1.2) Dimensions
Exterior Dimensions: 16" W x 15.5" H x 10" D (40.6 × 39.4 × 25.4cm)
Interior Dimensions: 15" W x 13" H x 6.8" D (38.1 × 33 × 17.3cm)
Laptop Pocket: 14.8" W x 11" H x 1.5" D (37.6 × 28 × 3.8cm)
Weight: 8.1-9.2 lbs (3.7-4.2 kg); Minimum weight includes 2 hinged dividers ONLY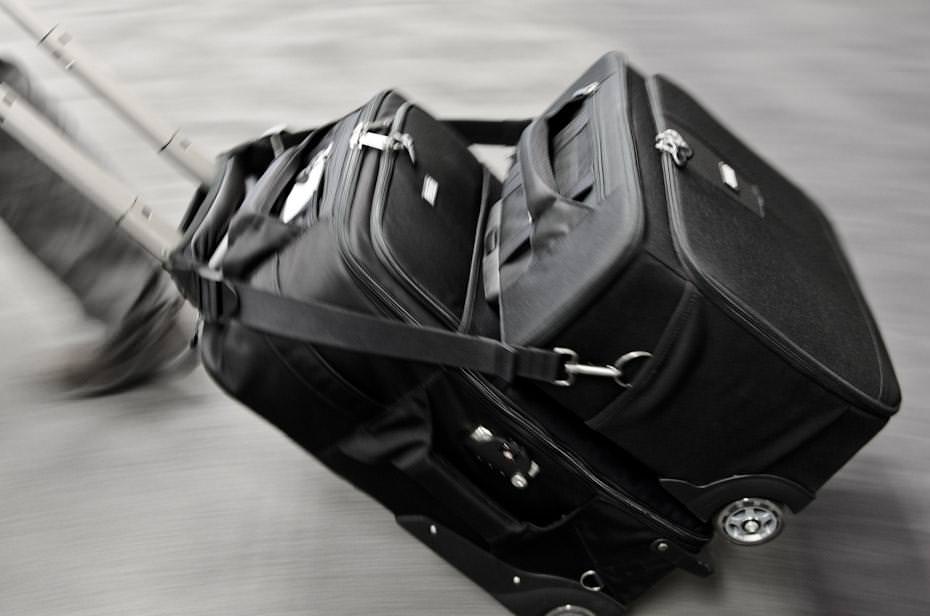 2) Overview
2.1) Initial Impressions
When I first started shooting professionally, I bought a Think Tank Airport International. It has been the perfect size to haul all my gear for travel and weddings. However, I occasionally need something smaller while I travel, something that will fit a little easier under my seat on a plane (especially on one of those small planes with a non-existent overhead compartment). Or, sometimes I want to carry more gear than the International can handle. In both cases a smaller rolling camera bag was the perfect solution for me.
I picked up the Think Tank Airport Navigator Rolling Camera Bag as a second option for hauling my gear. It is smaller than my Think Tank Airport International, but is designed efficiently to optimize space. I can fit quite a bit of gear in it, as you can see from the image below. I find I am able to pack 2 camera bodies with lenses attached, 3 additional lenses (one of them being a 70-200), my light meter, and plenty of accessories inside the Airport Navigator bag. My 13″ laptop also fits easily into a dedicated slot.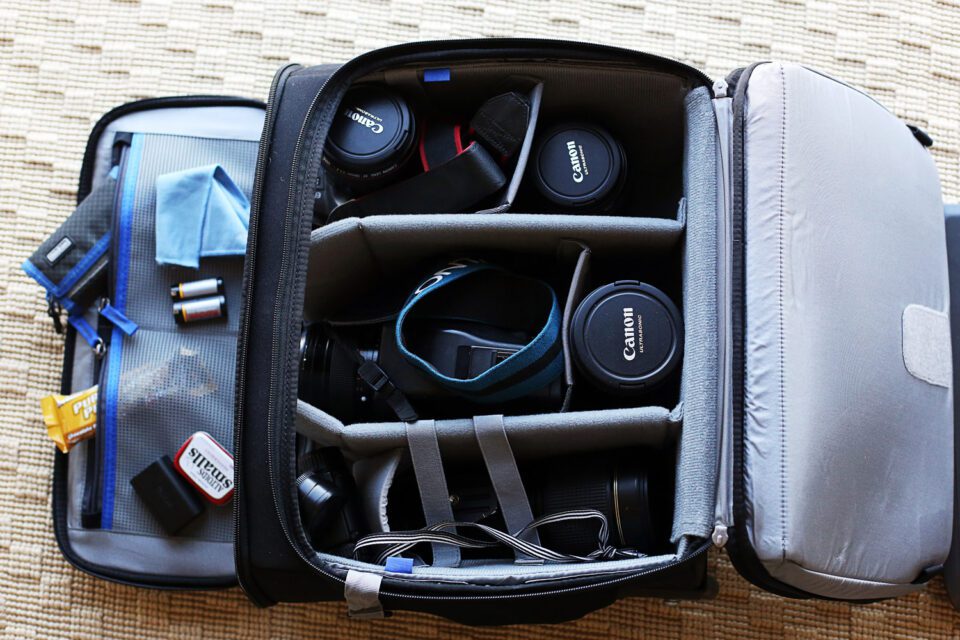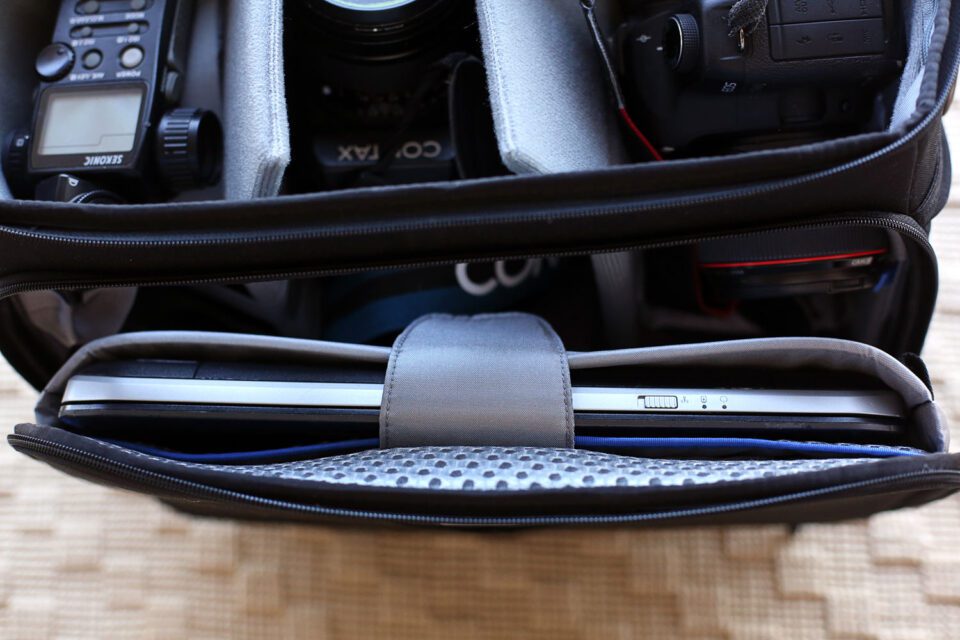 The Think Tank Airport Navigator Rolling Camera Bag comes with a variety of Velcro dividers, so you can configure the bag to work exactly the way you want.
I keep my camera bodies with lenses attached near the top of the bag, so I can access them from either the front or top opening (the top opening is much quicker to access).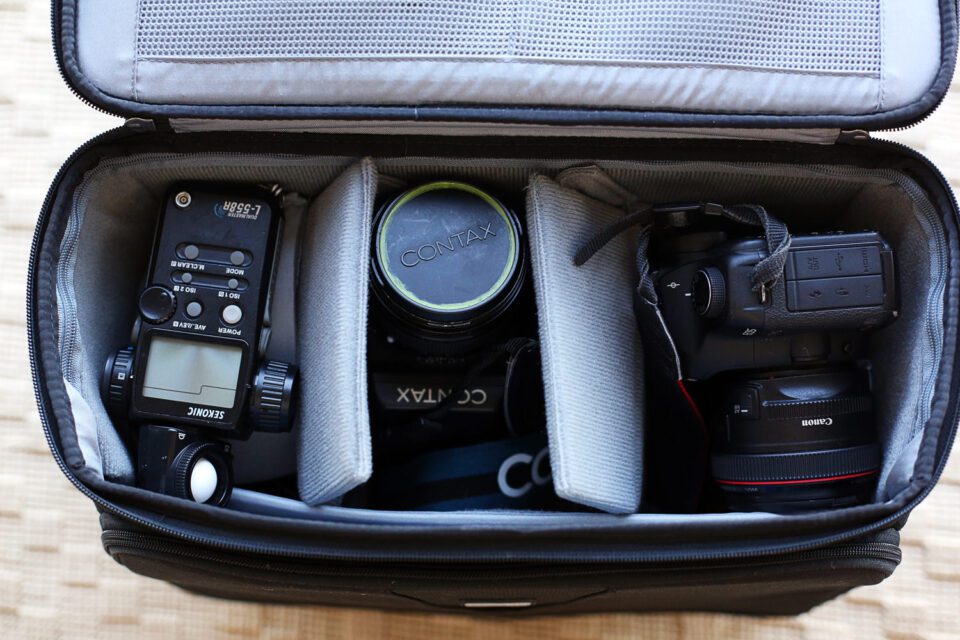 I also love that there are mesh pockets on the top opening. I can store extra batteries, a lens cleaning cloth, a protein bar, and memory cards there and know they will not get lost.
This bag, just like any other Think Tank bag, comes with a rain cover. I never really used it. In fact, I never had to use a rain cover with any of my Think Tank products in over 5 years of owning them. Occasionally, I do happen to shoot in the rain, but never long enough to need a rain cover. Of course, you may prefer to add extra protection anyway.
It comes with two cords (as seen in the image below) for opening the front zippered pocked. I removed both cords, as I would rather the front flap open all the way.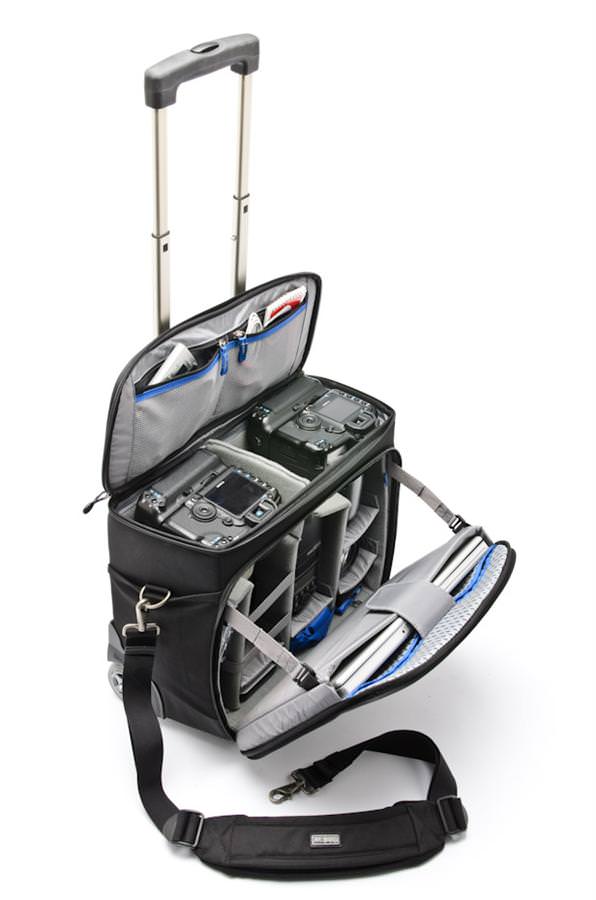 4) Summary
As always with Thank Tank gear, the quality is top notch. Think Tank uses durable materials for their products and designs them with an expert eye to maximize efficiency. The retractable handle, wheels, zippers, and interior pockets are made to withstand lots of abuse from travel. I never send my Think Tank Bags with camera gear through the checked luggage at the airport, but it can withstand me dragging the bag through dirt roads at weddings, throwing it in and out of the backseat of my car, cramming more gear inside than I probably should, and many trips under my seat or in the overhead compartment at the airport. After years of intense use with Think Tank Products, the gear is almost in the same condition as new – bags serve their function perfectly and what little wear there is came from me.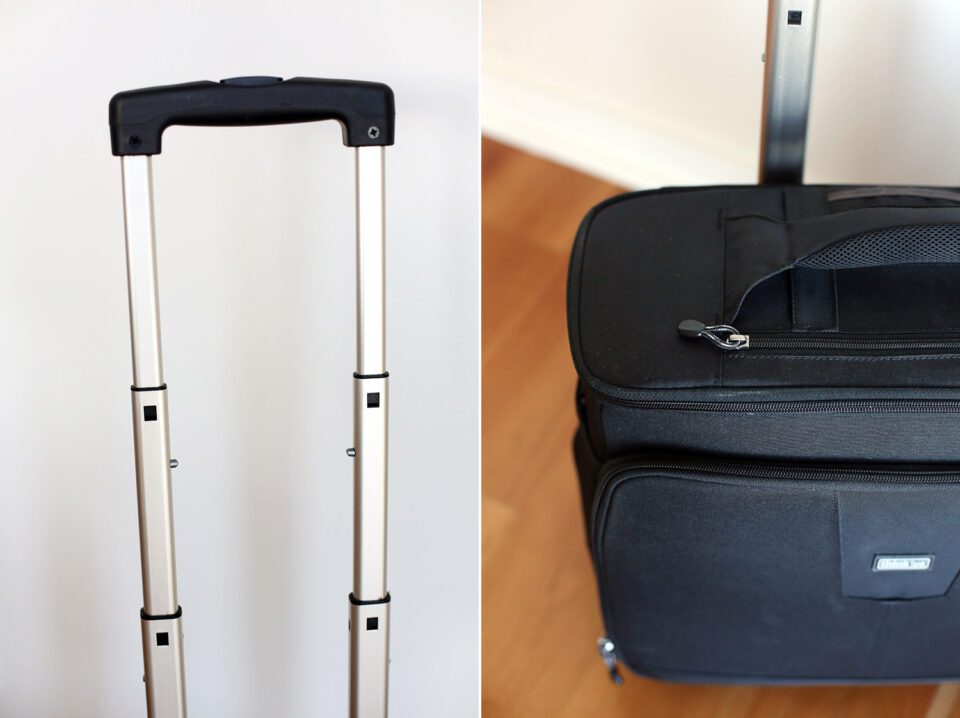 I usually carry a bit more gear to a wedding than what can fit in the Think Tank Airport Navigator Rolling Camera Bag (I need space for 1 more body, 2 flashes, and one more lens). I find the Think Tank Airport Navigator Rolling Camera Bag is perfect for me when I am traveling and not bringing all my wedding gear. It is also a great bag to bring in addition to my Think Tank Airport Takeoff when I have a particularly large job that requires even more gear than I usually carry. I do enjoy that it holds a laptop, too. My Airport Takeoff does not have a dedicated laptop slot. That has been a nice addition for when I need to carry my laptop with me on location. The Velcro dividers make it easy to configure the bag to fit exactly what you need.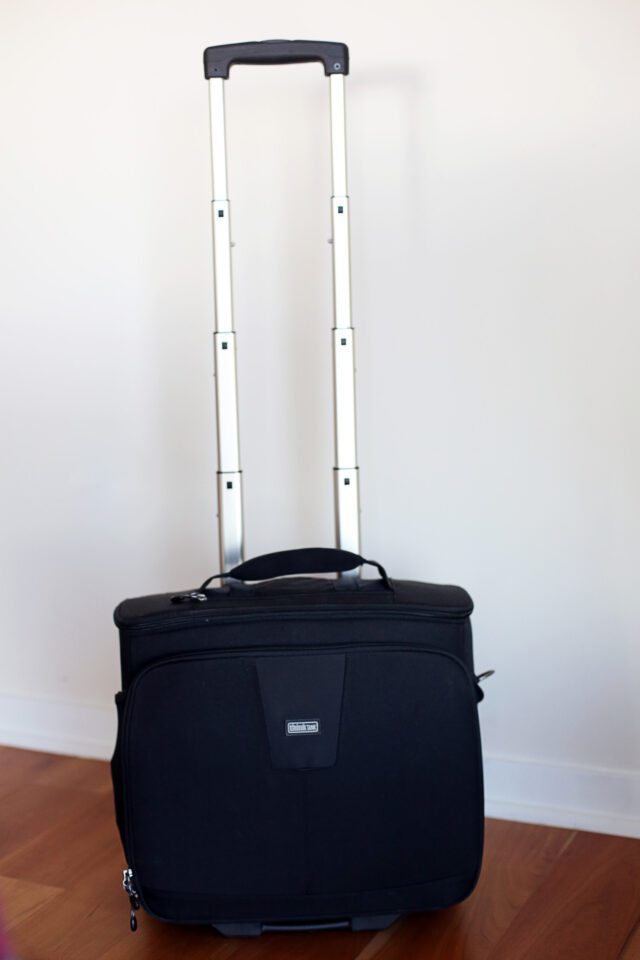 The Think Tank Airport Navigator Rolling Camera Bag is a wonderful addition for any photography to safely and easily carry about camera gear.
5) Pricing and Where to Buy
The Think Tank Airport Navigator Rolling Camera Bag is regularly priced at $249.75 (as of 7/2/13) and is available at either Think Tank Photo or B&H Photo Video.
Think Tank Airport Navigator Rolling Camera Bag
Features

Build Quality

Handling

Value

Size and Weight

Dynamic Range

Packaging and Manual
Photography Life Overall Rating