In our previous bag reviews, readers have commented positively on their experiences with Think Tank products, a company well known for making quality photographic bags and accessories. When carrying substantial amounts of gear while traveling, it is nice to have the features of a roller bag, so let's take a look at how their Airport International v2.0 stacks up.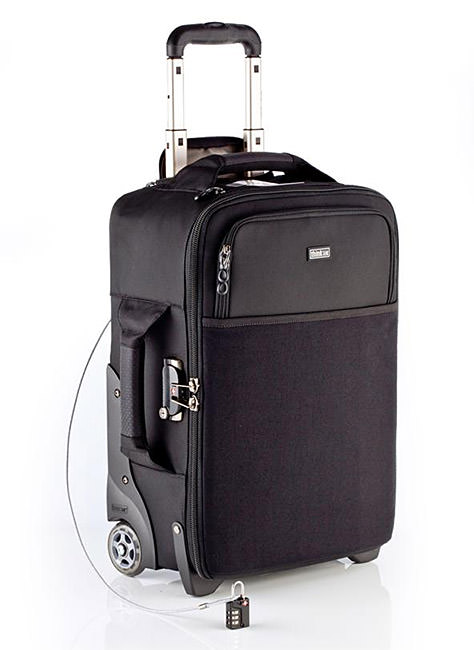 1) General Information and Dimensions
1.1) Features
Legal carry on size meets international airline restrictions
TSA approved combination lock secures the main compartment
Security lock and cable built in to the frame
Security ID plate and unique serial number
Holds pro-DSLR and super telephoto lenses up to 500mm
Front stretch pocket holds an optional case for 15" or 17" laptops
Optional low divider set allows for up to 15" laptop to fit inside
Compatible with Airport Check-in briefcase
Clear Business card holder
Seam-sealed rain cover included
Looks like standard luggage rather than a photo bag
1.2) Dimensions
Internal Dimensions: 13"W x 6.5"- 7.5" D x 18.5" H (33 x 16.5-19 x 47cm)
External Dimensions: 14" W x 8" D x 21" H (35.5 x 20.5 x 53 cm)
Weight: 9.5-11.5 lbs/ 4.3-5.2 kg (weight depends on accessories used)
1.3) What's in the Bag?
Here is a loaded Think Tank Airport International v2.0 roller bag: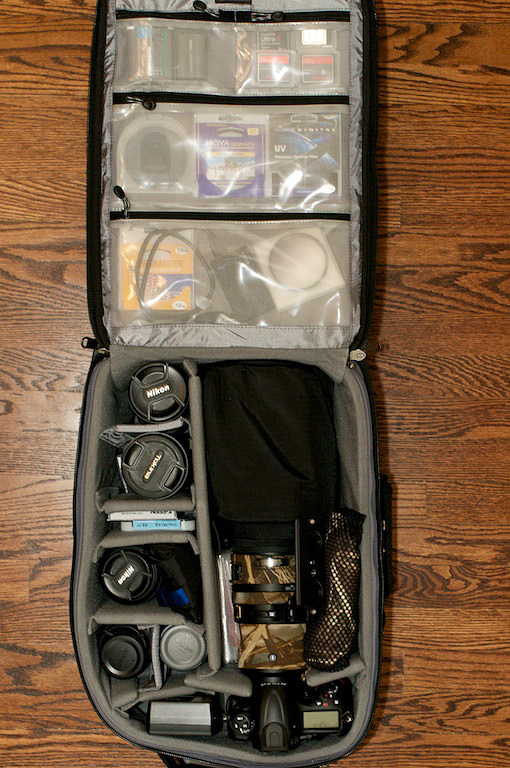 Here is a list of what was packed in the above pictured Airport International v2.0 bag:
Nikkor 500mm f/4 VR (attached to the D4)
Nikkor 18-200mm VR II
Tokina 11-16 mm
Nikon AF-S Teleconverter TC-14E II
Nikon AF-S Teleconverter TC-17E II
Nikon AF-S Teleconverter TC-20E III
Rain jacket for the Airport roller bag
Assorted Filters x7
Sony XQD card reader
Extra Compact Flash Cards x3
Extra XQD card
Nikon EN-EL3a Battery
Nikon EN-EL18 Battery
Extra lens caps

This bag will hold even more than I have here, and in fact, nothing was packed in the front pocket which is intended for keys, pens and small items. So you as you can see below it will carry a great deal of gear.

2) Size and Function (Handling)

2.1) Outside the Main Compartment

A separate stretch pocket on the front of the bag will hold a sleeve which holds a laptop up to 17 inches. The optional laptop case unzips on the short side (the top) so that the laptop can be accessed without removing the laptop case from the front stretch pocket. However, if carried separately it seems to me to be somewhat awkward with the shoulder strap or handle at the short side of the case giving the case a vertical or portrait orientation rather than the more common landscape orientation. A potential problem with the straps oriented in the landscape mode is that they may be more likely to get in the way of taking the laptop case in and out of the stretch pouch. Being used to the Kata 3n1 bag that has a dedicated pocket for the laptop, I thought that I would not like a separate case, however, after using it, I found that I prefer the option to keep the laptop with me in the chair during the flight even though there is an additional cost.

Above the opening to the stretch pocket is an outside zippered pocket designed for pens, keys and miscellaneous items. One downside is if the bag is packed full and there is a laptop in the pouch, accessing this front pocket is a bit tricky as the laptop case covers much of it and tends to compress it.

Moving a heavy bag full of equipment while traveling is much easier with a nice set of wheels and this bag doesn't disappoint. The replaceable wheels roll smoothly and silently. When you are through rolling to your destination, there are 4 handles, one on each side of the bag, to pick it up. While the top and one side handle are large and foam filled making for comfortable handles that do not cut into your hands, the handles on the other side and on the bottom of the bag are merely straps with no padding, which minimizes bulkiness while maintaining function. A plastic molded handle on the bottom, like found on some luggage, would be more comfortable than the thin strap.

Included is a tripod holder that will allow you to connect a tripod to the side of the bag. It comes with a cup to hold the feet of the tripod as well as 3 straps to secure it to the bag. There is some flexibility as to how you attach the tripod based on its size.

To secure your valuables, there are 3 different locks provided: a TSA approved zipper lock to protect the contents of the main compartment

The second is to secure the laptop bag to the main bag. One problem that I found is that although there is a lock for the laptop bag, the one that I had, had no way to truly secure the zipper which means you can secure the bag, but the zipper can still be opened and the laptop removed.

Finally, there is a third to lock your bag to an immovable object such as a pole. This is convenient when on location, such as a wedding, and you can't watch the bag constantly.

2.2) Inside the Main Compartment

The main compartment unzips with the hinge on the bottom or the wheel edge of the bag leading to a large, long flap that opens. Personally, I would prefer a flap that opened with the hinge on the side (long side of the bag) resulting in a little less zipping and unzipping to get access.

Inside, the bag allows you to carry a large telephoto (up to 500mm f/4) with a pro body attached and still carry more lenses, filters, batteries, charger and other accessories. When a pro body and a 500mm f/4 lens is attached it is tight to zip closed and in the case of a D4 with a Nikkor 500/4 attached, the frame distorts slightly and although snug, the zipper will close.

The dividers are adequate to give you as much flexibility to arrange your gear as you desire. There is an optional set of dividers that are lower so that it leaves room for a laptop within the inner compartment which can be locked. Another reason you may prefer the lower profile divider is that it will allow for another optional bag made by Think Tank to hold cables, wires, chargers and other miscellaneous items inside the main zippered compartment. While some people might prefer the low profile, I prefer the normal profile dividers as they allow me to stack more items in the compartments and having the laptop on the outside makes it easier to access and separate it for a flight while the bag and gear remain in the overhead bin. If you are carrying a larger lens, such as a 500mm mounted on a pro body, the laptop won't fit well inside the compartment even with the low profile dividers so you may wish to consider your needs before ordering and paying for the optional low profile dividers.

2.3) Overall size and weight

This bag will hold a large amount of gear considering its size and weight. You can slide the bag under the chair in front of you but it is long and sticks out and thus may not be allowed. You might be able to turn it sideways on some airlines which have the middle seat with a wider space underneath than the adjacent seats, however, I would plan on it being in the overhead bin.

One thing to watch with all bags is the individual airline's weight requirements for carry on luggage. Although the size meets US airline requirements for carry on, it would be easy to exceed the weight limit causing you to have to gate check this, so be prepared by possibly wearing a photographer's vest or have some other way of removing the valuables needed before checking. While most domestic US flights do not enforce any carry-on weight limits, it is not uncommon on international flights, so please check with your individual airline's policy before you embark on your next international flight and plan accordingly. It is also important to note that the manufacturer states that the bag is not intended to be checked and if it is checked, they recommend removing the laptop and the camera bodies.

3) Build Quality

When a company places a unique serial number on a bag, you expect something different. The materials used in the bag compartment are both excellent quality and environmentally friendly, using no PVC. The exterior fabric is 1680 denier ballistic nylon which has been coated for water resistance. The zippers are large, heavy duty YKK RC Fuse (abrasion resistant) zippers. The skid plates are tall to prevent wear on the fabric when pulling up stairs and the wheels are smooth are smooth and quiet. Should you wear out the wheels, they are replaceable with a free kit from thinkTank.

Well it all can't be perfect. One quibble is that after you load this bag and are ready to use it, you will open the zippered compartment and reveal the telescoping pull handle which leaves something to be desired. The handle has 4 sections, allowing you to adjust the height to 3 different levels. If you are a taller individual, you may appreciate the length of this handle. However, the length comes at a price of rigidity. The multiple segments lend themselves to more torsional instability and flex, giving the handle a "cheap" or weak feel to it. While so far, it has not broken, it gives you the sense that it could break somewhat easily. The manufacturer may have elected to use this design to minimize impact of the handle on interior room by using 4 shorter sections as opposed to 3 longer sections. To maximize interior space without making the bag thicker, there is a recessed area that holds the handle but intrudes into the interior compartment. Another minor quibble with the handle is the fact that when folded into its pocket the handle is recessed into padding such that grabbing it and getting your fingers around it is awkward.

Need some reassurance? Think Tank, the makers of the Airport International v2.0 have what they call their "No Rhetoric Warranty" in which they guarantee and warrant the bag against any defects in material or workmanship for as long as you own the product and are the original owner. They will repair or replace the item at their discretion and their reputation is that the warranty is not just talk but that they have excellent customer service to back it up. See their website for details.

4) Value

At the current retail price of approximately $369 USD this bag is not cheap, but it also isn't built cheap. Think Tank has used top quality materials and made a durable and functional bag with nice touches like small pockets to cover the zippers to prevent them from scratching your gear when the cover is closed.

If you compare the price to similar bags, you can find cheaper, but they probably aren't built as well. Value is not always just equal to the cheapest product, but rather price in consideration of quality and functionality, thus this bag still represents a good value for the price.

5) Compared to

We have also reviewed the Lowepro Pro Roller x200 and compared it to the Think Tank. See our Lowepro Pro Roller x200 Review for details.

Compared to the previously reviewed Kata 3n1-33 bag, this Think Tank Airport International v2.0 compares very well with a few main differences:

The Airport International v2.0 is a roller bag making it easy to transport
The Airport International will carry more, including a 500 f/4 lens which I cannot fit into the Kata Bag
The Kata bag fully packed will fit under most airline seats, leaving the overhead compartment for another piece of luggage, while the Airport International will rarely fit under the seat and looks like another roller suitcase as opposed to a backpack that can be placed under a seat. This can lead to more airline scrutiny and the possibility of a gate check with the roller bag.

6) Conclusion

I have enjoyed this bag as I have used it on trips over the past couple of months. The build quality is excellent, its padded handles are comfortable and the wheels roll very smoothly. It has enough room to carry significant amounts of gear while still meeting carry-on size requirements making for one very nice bag! If you have the budget for it, I am sure you will not be disappointed.

7) Where to Buy

Think Tank Airport International is priced at $369.75 (as of 08/16/2012) and can be purchased through many different local and online retailers. Below you will find a direct link to Think Tank Photo's website, along with a link to our affiliate B&H:

Think Tank Airport International v2.0

Features

Build Quality

Handling

Value

Size and Weight

Packaging and Manual

Photography Life Overall Rating