Over the past few months I have had the opportunity to test and use the Airport Commuter backpack from Think Tank while taking it on trips as well as using it around town. In this review, I will look at the backpack in detail, go over its features and discuss how it has been serving my photography needs when I travel. As you may already know, I am a wildlife photographer, hence not many bags can accommodate my gear. I decided to get the Airport Commuter because it is one of the largest travel-safe backpacks offered by Think Tank, which can fit long, super telephoto lenses like 400mm f/2.8 or 500mm f/4.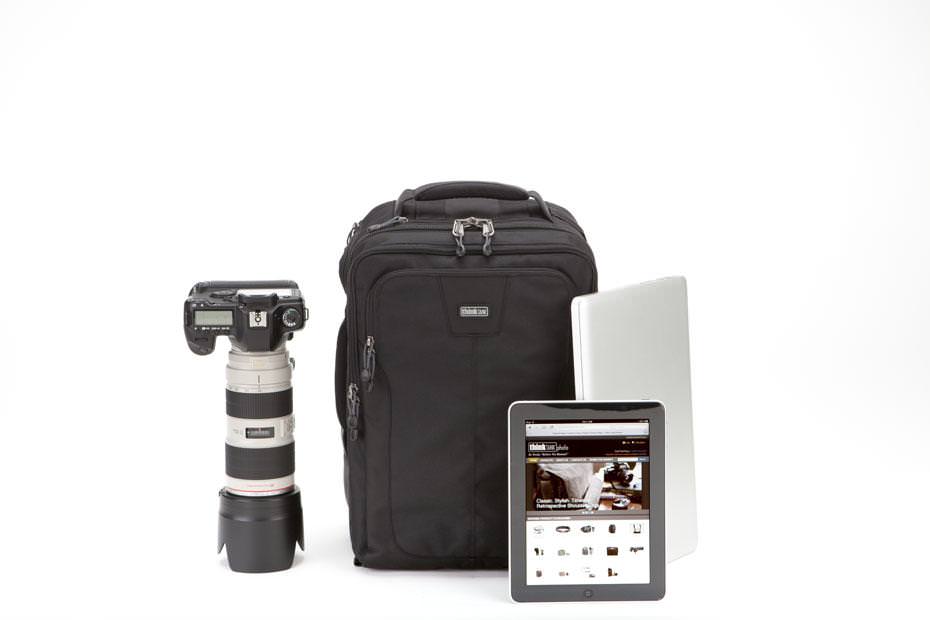 1) General Information and Dimensions
1.1) Features
Meets International and USA domestic airlines' carry-on size requirements (check with your airline to confirm before traveling)
Cable lock & locking YKK zipper sliders for added security
Holds your laptop and iPad in a separate (lockable) zippered compartment
Includes tripod/monopod mounting system
Bottom hinge opens bag completely for quick and unencumbered access
Light, comfortable and contoured harness system
Top zippered pocket for boarding pass
Removable waist belt for additional stability when walking, running, etc.
Adapts to Pro Speed Belt for additional support
Water bottle pocket
Ultra-Stretch pockets on shoulder straps
Robust handles on three sides
Easily accessible front organizer pocket
Seam sealed rain cover included
YKK RC-Fuse zipper and highest quality materials throughout
1.2) Dimensions:
External Dimensions: 12.5" W x 18." H x 8.5" D (31.6 × 45.7 × 21.6cm)

Internal Dimensions: 11.5" W x 16.3" H x 6.8" D (29.2 × 42.4 × 17.3cm)

Laptop: 11" W x 16" H x 1.3" D (27 × 40 × 3.5cm)

Weight: 3.5-4.2lbs (1.5-1.9kg)
1.3) What's in the Bag?
Here is a photo of a partially loaded Think Tank Airport Commuter bag: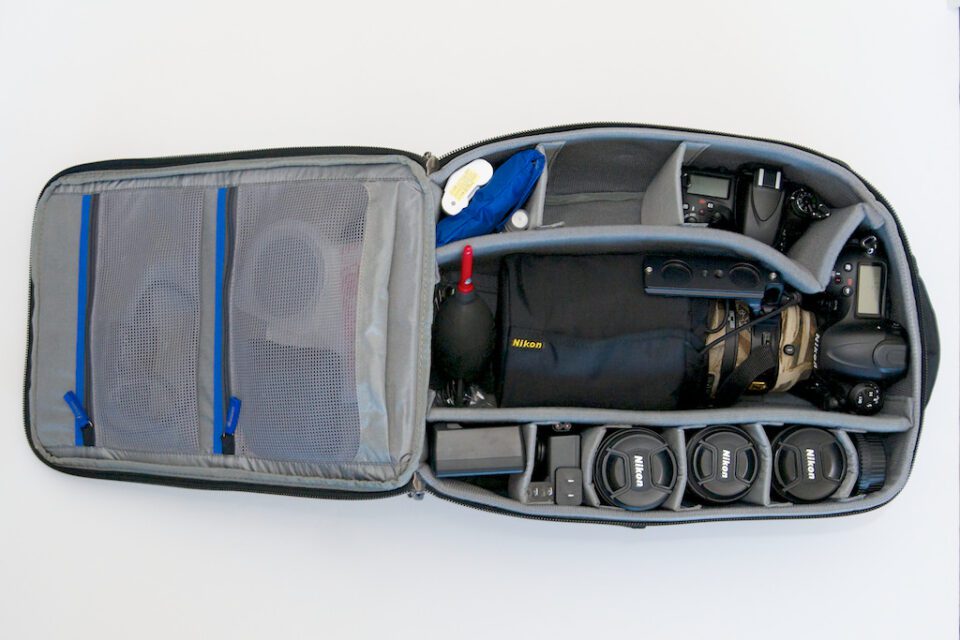 Here is what all that gear looks like unpacked: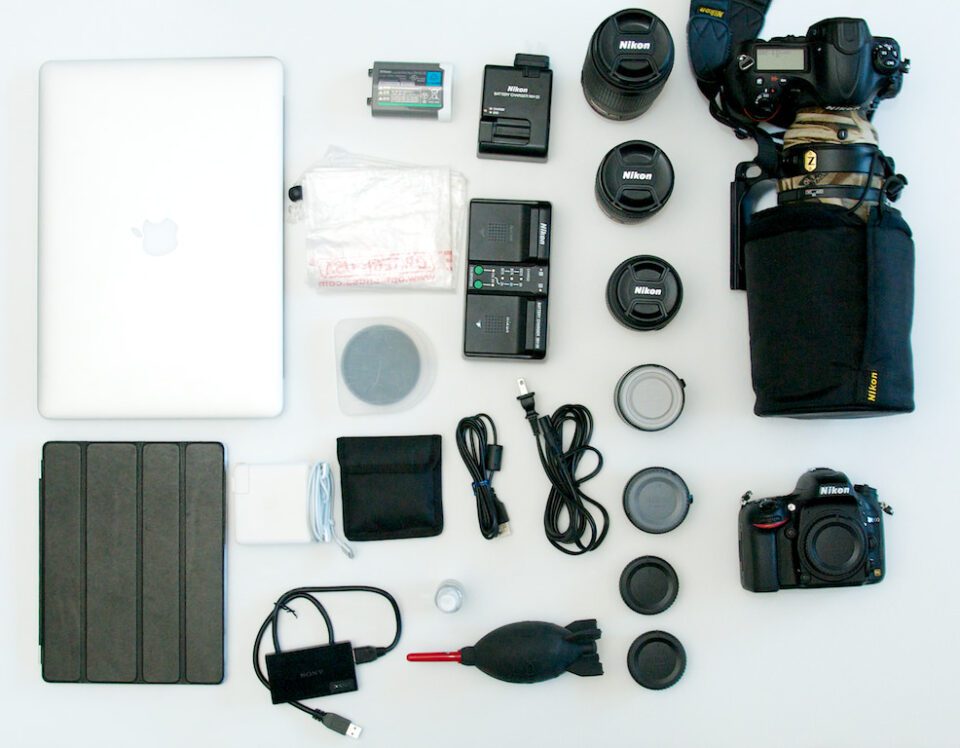 Here is a list of gear packed into the bag as pictured:
Computers:
– 15″ Apple MacBook Pro and battery charger
– Apple iPad
Camera Bodies:
– Nikon D4 Pro Body
– Nikon D600 Camera body
Lenses:
– Nikkor 300mm f/2.8 (attached to pro camera body)
– Nikkor 70-300mm
– Nikkor 24-85mm
– Nikkor 50mm f/1.4
– Nikkor 2x Teleconverter
– Nikkor 1.4x Teleconverter
Accessories:
– Sony XQD card reader
– EN-EL18 Rechargeable Lithium-Ion Battery
– MH-26 Battery Charger
– MH-25 Quick Charger for EN-EL15 Battery
– Pearstone EN-EL15 Battery
– USB cable
– Extra lens caps
– Giottos Rocket blower
– Giottos lens cleaning kit
– Optech rain cover
– Neutral Density Filter
– Circular Polarizing Filter
– Rain cover for the back pack
And lastly, for illustrative purposes here is a photo of the bag with a Nikkor 500mm f/4 lens (unattached):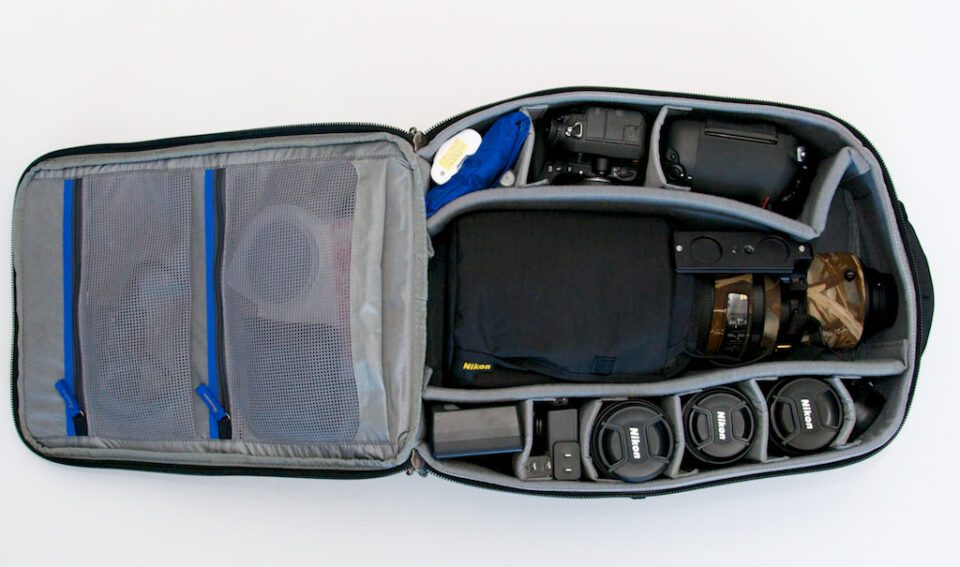 2) Size and Function (Handling)
2.1) Outside the main compartment
Large handles (2 well padded – side and top – and one strap-like on the bottom) like on all the Think Tank bags we have reviewed, make it comfortable to lift and carry despite heavy loads. I particularly like the handle on the side that allows me to carry it more like a briefcase to give my shoulders rest from time to time. I had 36 lbs packed in it on my last trip and although it can't make 36 pounds feel like 10 lbs, it can certainly make it more comfortable to lug around. Another thing that they have done to make it more comfortable, is that they added some lumbar support/padding to make it a bit easier on the lower back while carrying all that weight.
On the front of the bag are 2 zippered compartments. The first compartment is smaller to hold, cables, pens, cards and smaller accessories or even your boarding pass. There is a clip sewn into the packet that I found useful to attach my car keys until I returned back in town and picked up my car from the parking lot. The second and larger compartment on the front is composed of 2 padded sub-compartments dedicated to a laptop in one pocket and a tablet in the second.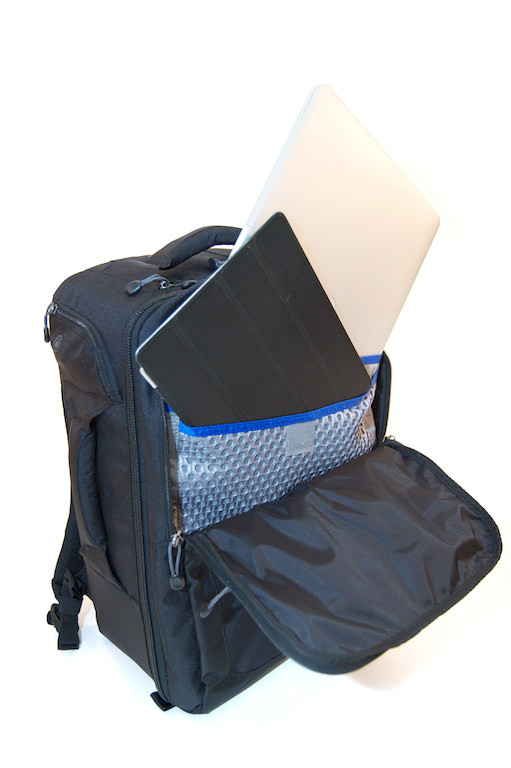 On the top of the bag, underneath the handle, is a small zippered compartment which will store a few small items or is perfect to hold the blue sealed seam rain cover that comes with the backpack.
Keeping the compartments securely closed are YKK RC Fuse zippers like those used on other Think Tank products. These zippers are heavy duty with smooth action and are made to handle the stresses placed on it by a photographer pushing the bag to its capacity limits. If you need a little security, a cable lock is included in a side pocket which can be used to lock the zipper closed and to secure the bag to an immoveable object such as a post.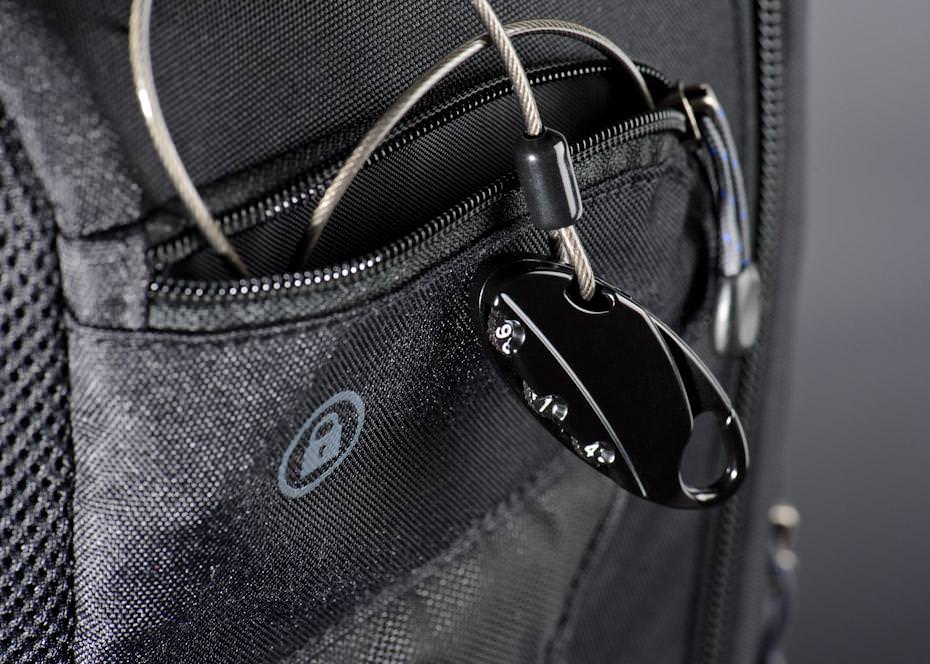 The side without a handle has straps to secure a tripod as well as a stretch pocket which can also be used to hold a water bottle.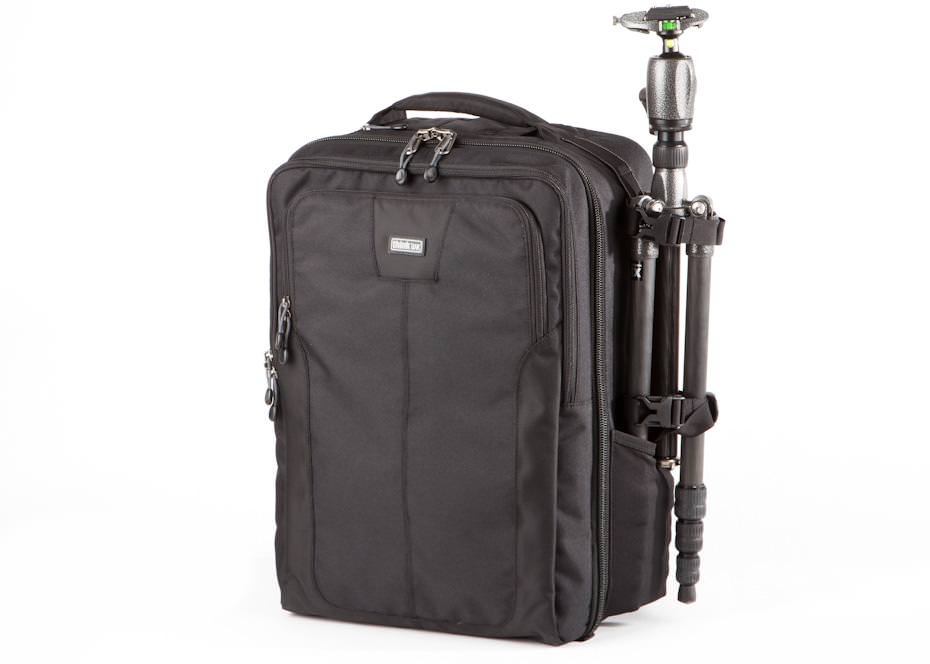 The shoulder straps are wider than found on some packs and have adequate padding. On the front of each strap are small pockets capable of holding small items like a cell phone. In addition to the pockets, are "D" rings which can be used to attach more gear as desired.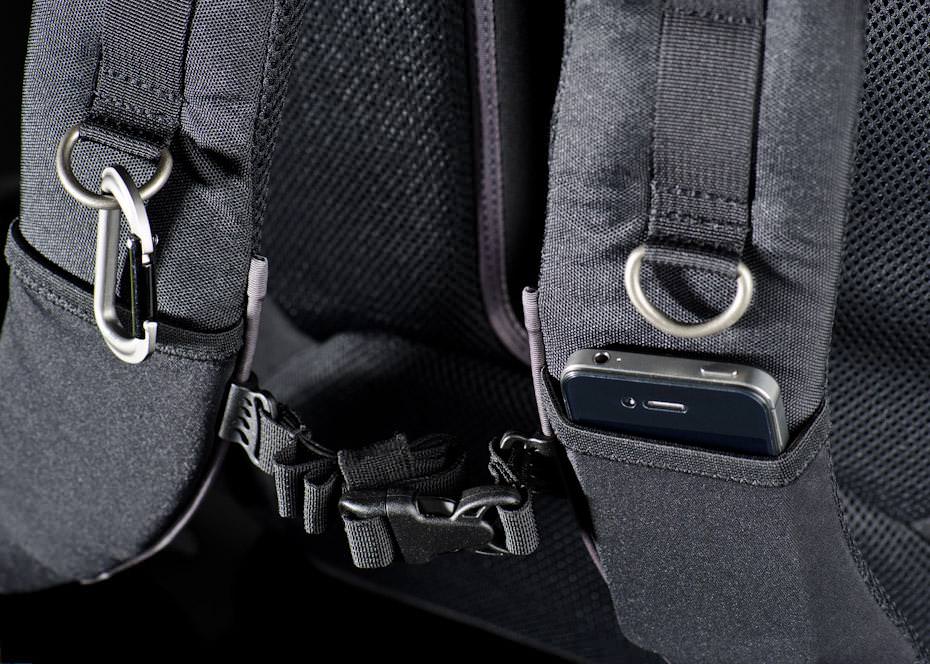 2.2) Inside the main compartment
Inside the main compartment you will find the dividers similar to most bags with hook and loop (velcro) connectors to allow for customizing the space for your gear needs. I do wish there was a little more variety in divider sizes so that there is a bit more flexibility in customization of spaces. However, I do like the depth of the main compartment as it allows me to stack items in the divided compartments and thus get more gear in.
The inside of the lid has two large see-thru zippered pockets for filters, batteries, cables, cards or other smaller items. The zippers recess into a small pocket (like on other Think Tank bags) to keep the metal from scratching the gear.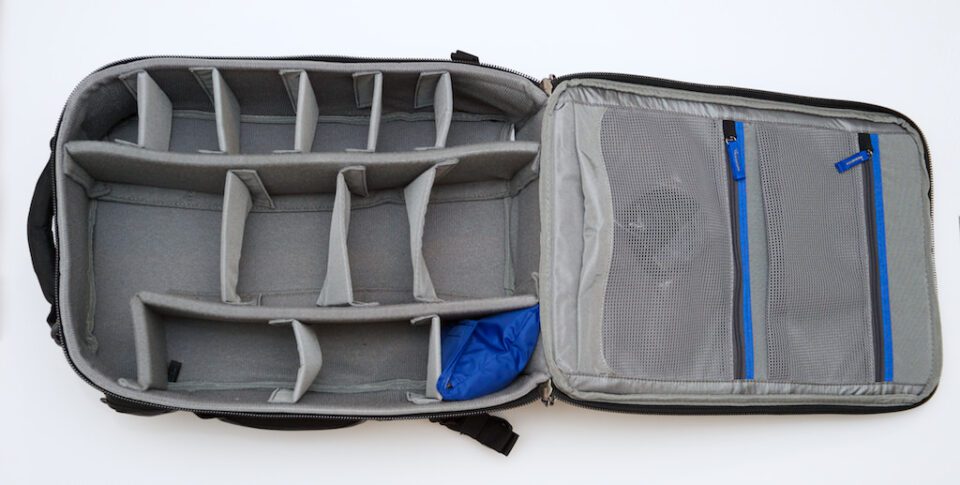 2.3) Size
This backpack will fit under a seat on most US domestic airlines and can come in handy if you have a lot of gear to pack and you don't want to check it. Recently on a trip I needed to take a considerable amount of gear which required me taking two bags. I ended up taking the previously reviewed Airport International v.2 Roller Bag from Think Tank as well as the Airport Commuter. The nice thing about this combo was that the Commuter fit under the seat and the Airport International went in the overhead compartment allowing me to avoid checking any gear while keeping me in compliance with "one bag for the overhead and one under the seat" requirement. As always, keep in mind weight restrictions for carry on luggage – fortunately for those in the US, most domestic carriers rarely enforce weight restrictions for carry-on baggage.
Here is the two bags together waiting to board a flight.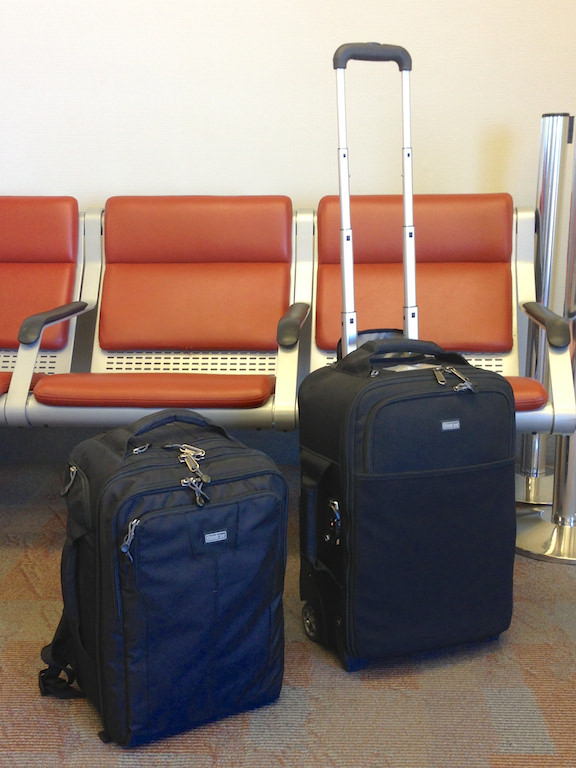 3) Build Quality
Like all Think Tank products, the materials used are durable like the 1680D balistic nylon and and have been treated for water and stain resistance. While Think Tank makes products that are durable, they pride themselves in making gear that is also environmentally friendly and thus they use no PVC. Under heavy use in which I packed this bag with over 36 pounds of gear, I have not seen any signs of broken seams or stitching, including on the shoulder straps or along the edge of the zippers where it would most likely be seen first.
We have said it here before, Think Tank makes tough stuff but if you need more reassurance, they have what they call their "No Rhetoric Warranty" in which they guarantee and warrant the bag against any defects in material or workmanship for as long as you own the product and are the original owner. They will repair or replace the item at their discretion and their reputation is that the warranty is not just talk but that they have excellent customer service to back it up. See their website for details.
4) Value
While the Airport Commuter is not the cheapest backpack on the market, it still represents a good value. It is built to last and while you pay a bit more, it has the features you need and the durability you want so that it still represents a good value. In fact, if it lasts longer than the average bag or pack, then the cost difference becomes somewhat nullified. You carry gear worth a considerable amount of money and so a bag that gives you the ability to comfortably carry it with peace of mind and protect it is worth it.
5) Conclusion
Until now, I used my Kata 3 in 1 bag as my primary bag for carrying gear around town, to the mountains and on trips. Now that I have used the Think Tank Airport Commuter backpack, I rarely use the Kata 3 in 1. The main reasons are that the Airport Commuter will hold my 500mm f/4 lens, the handles and the shoulder straps are more comfortable, and lastly, there is more overall room in the Airport Commuter. If I don't need to carry as much gear or the larger lenses, then I will grab the Kata, because it is lighter and less bulky when not full. Overall, between the Think Tank Airport International and the Airport Commuter, my needs are fairly well covered for travel around town or across country.
6) Where to Buy
You can buy the Airport Commuter from our friends at B&H Photo for $199.75 (at the time of this post) or directly from the folks at Think Tank Photo.
Think Tank Airport Commuter
Features

Build Quality

Handling

Value

Size and Weight

Packaging and Manual
Photography Life Overall Rating