The Airport Accelerator Backpack is a high quality bag worthy of consideration by anyone that frequently carries a healthy amount of gear through airports and doesn't wish to check their bag. This bag is also ideal for wedding, portrait, and landscape photographers who often find it impractical to use a roller-style bag on wooded or irregular terrain.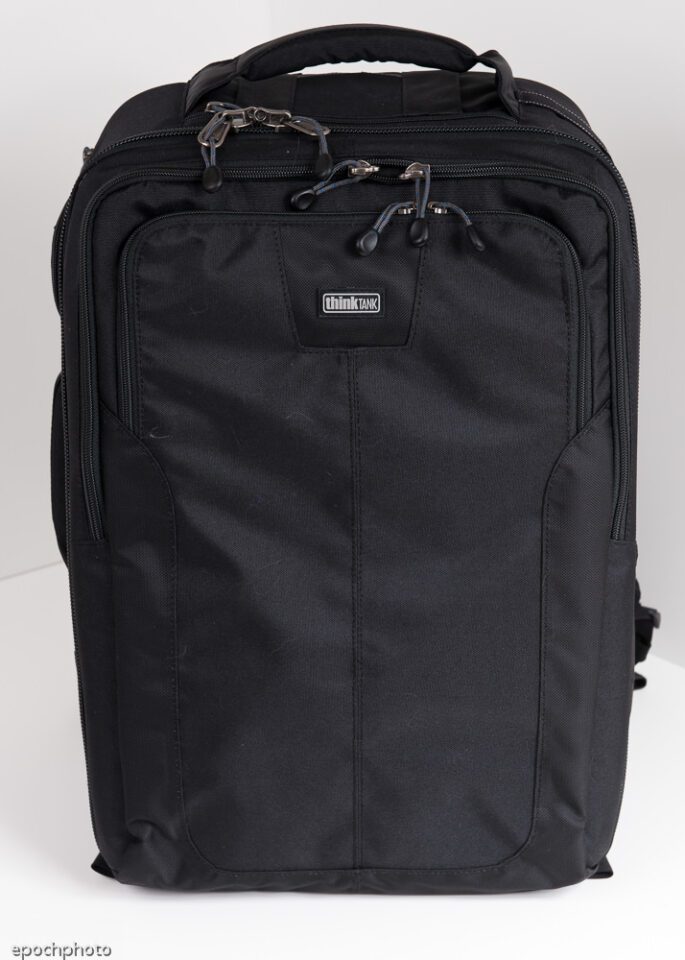 1) Initial Thoughts
My first impression of the Airport Accelerator was similar to that I have of all Think Tank products – well-built and well-designed. This bag uses the same quality nylon materials, zippers, seams, buckles, compartments, padding, and cord as found in other Think Tank products. Think Tank is famous for their quality and the Airport Accelerator lives up to the company's well-deserved reputation.
2) Dimensions
EXTERIOR:
14.0 x 20.5 x 9.0″ (35.6 x 52.1 x 22.9 cm)
INTERIOR MAIN COMPARTMENT:
13.0 x 18.8 x 6.8″ (33 x 47.8 x 17.3 cm)
Laptop compartment: 11.8 x 17.3 x 1.4″ (30.0 x 43.9 x 3.6 cm)
WEIGHT:
4.1 – 5.5 lb (1.9-2.5 kg)
3) Size
This bag has plenty of room for just about all the gear you might want to take on any photography journey. It boasts the ability to accommodate a 600mm lens, and although I don't have one, I have little doubt that it would fit comfortably in the Airport Accelerator. If you have read Nasim's and Tom's reviews of the Airport Security, and the Airport International, you will notice that these other bags are very similar to one another with respect to dimensions, and to the Airport Accelerator as well. Think Tank also makes another rolling bag named, the Airport Takeoff Rolling Camera Bag. What's the main differences between these designated "Airport" bags? Wheels and a bit of size. The Airport Security, Airport International, and the Airport Takeoff Rolling Camera bags sport some spiffy wheels much like traditional carry-on luggage, whereas the Airport Accelerator is a backpack design.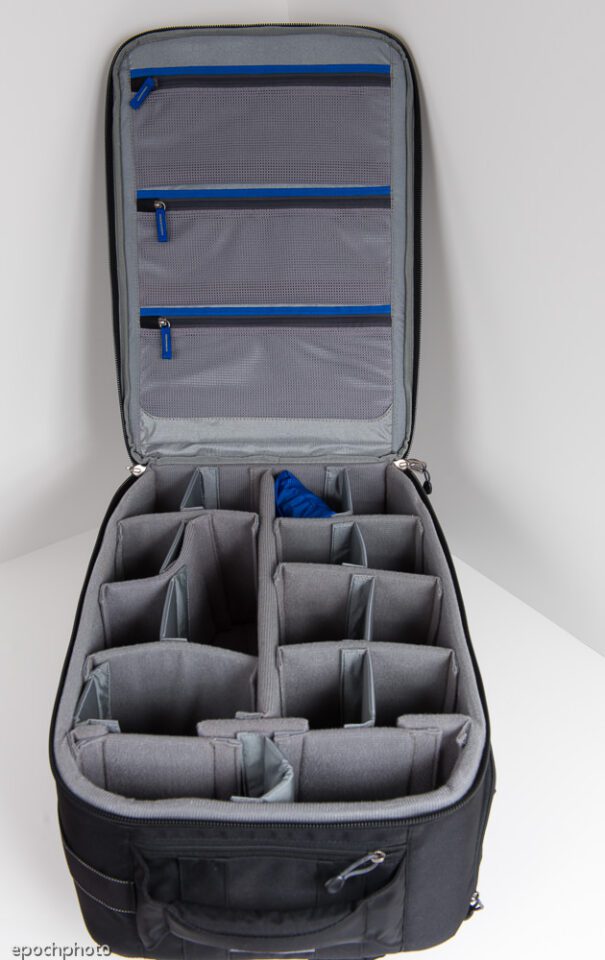 4) Features
• International and domestic carry-on size compatible
• Cable lock & locking YKK zipper sliders for added security
• Holds your laptop and iPad in a separate (lockable) zippered compartment
• Includes tripod/monopod mounting system
• Bottom hinged main compartment opens bag completely for quick and unencumbered access
• Light, comfortable and contoured harness system
• Top zippered pocket for boarding pass
• Removable waist belt for additional stability when walking, running, etc.
• Removable padded waist belt
• Adapts to Pro Speed Belt for additional support
• Water bottle pocket
• Ultra-Stretch pockets on shoulder straps
• Robust handles on three sides
• Easily accessible front organizer pocket
• Seam sealed rain cover included
• YKK RC-Fuse zipper and highest quality materials throughout
5) Materials
The Airport Accelerator relies on the same rugged 1680D ballistic nylon material featured on many Think Tank bags. It has a solid reputation and wears like iron. The bag also features two well-constructed nylon handles in addition to the shoulder straps.
6) Zippers
This bag also utilizes Think Tank's famous YCC RC zippers. Nothing ruins a trip faster than discovering that your bag has a busted zipper and you risk losing or damaging your gear. The YCC RC zippers are one of the best mechanisms to ensure that your gear stays safe and easily accessible.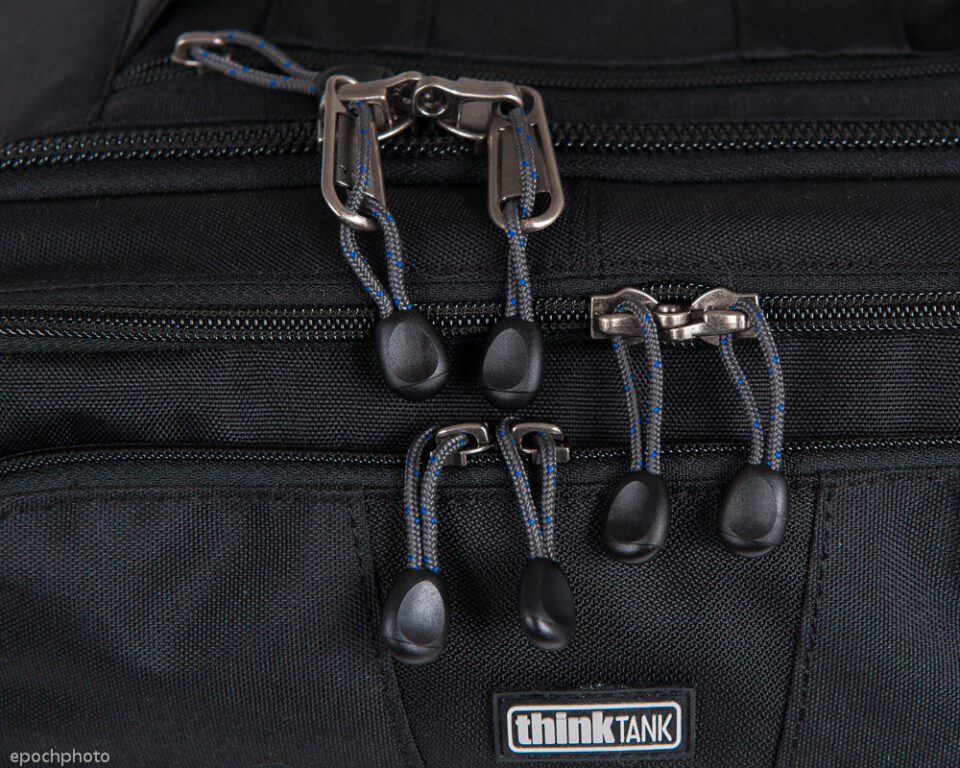 7) Compartments
On The Outside
The Airport Accelerator has 2 outside pockets. The first enables you to store some common items you might want to reach quickly, such as airline tickets, pens, a small flashlight, memory cards, etc. The second pocket enables you to store a laptop (up to 17 inches) or an iPad. While there is a layer of padding in this compartment, I would recommend putting your computer in a neoprene-padded sleeve for extra protection.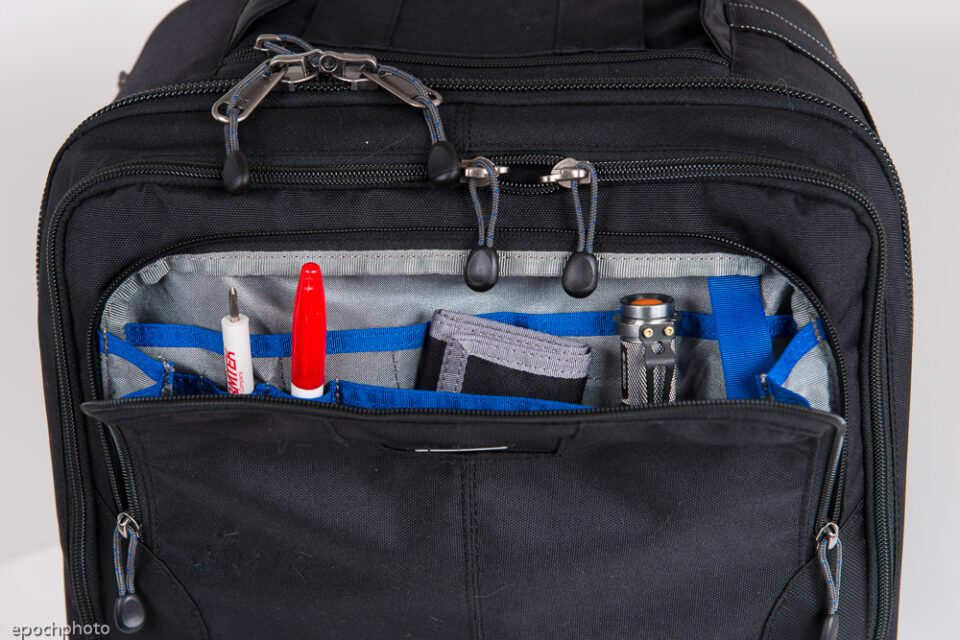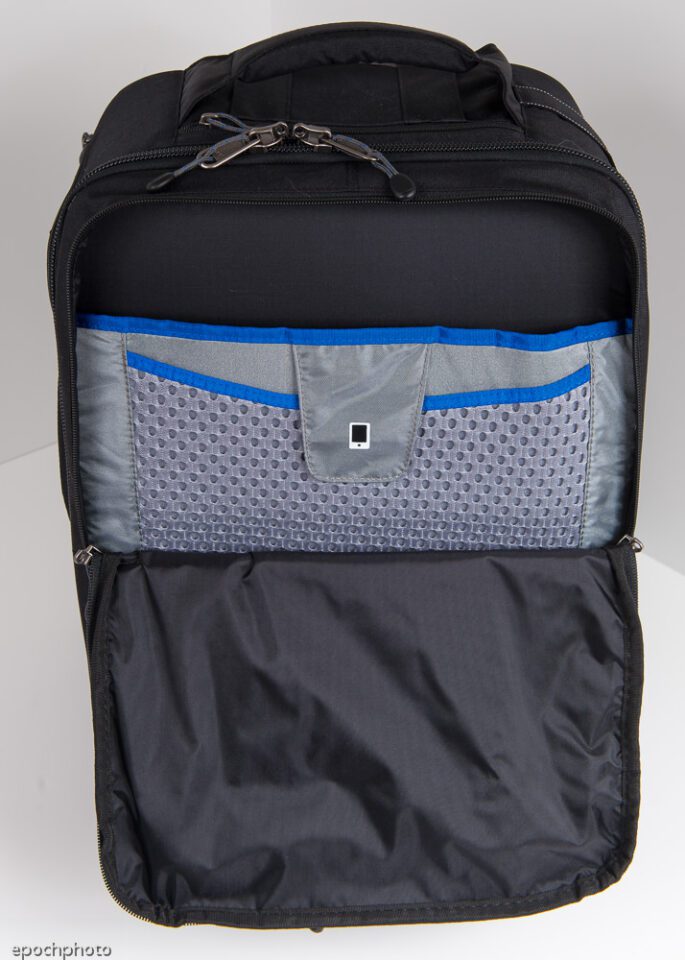 The Airport Accelerator provides a place to store a business card on the top of the bag. Think Tank also has aside pocket that stores a lock that can be used to secure the zippers associated with the main storage compartment (lenses and cameras) or secure the bag to a pole or other stationary object. Although I consider it a nice touch, I don't imagine that I would ever use it. First, the bag would rarely, if ever, be out of my sight. Secondly, if the bag were not in my possession, the lock likely isn't going to stop a thief from getting inside or walking off with it.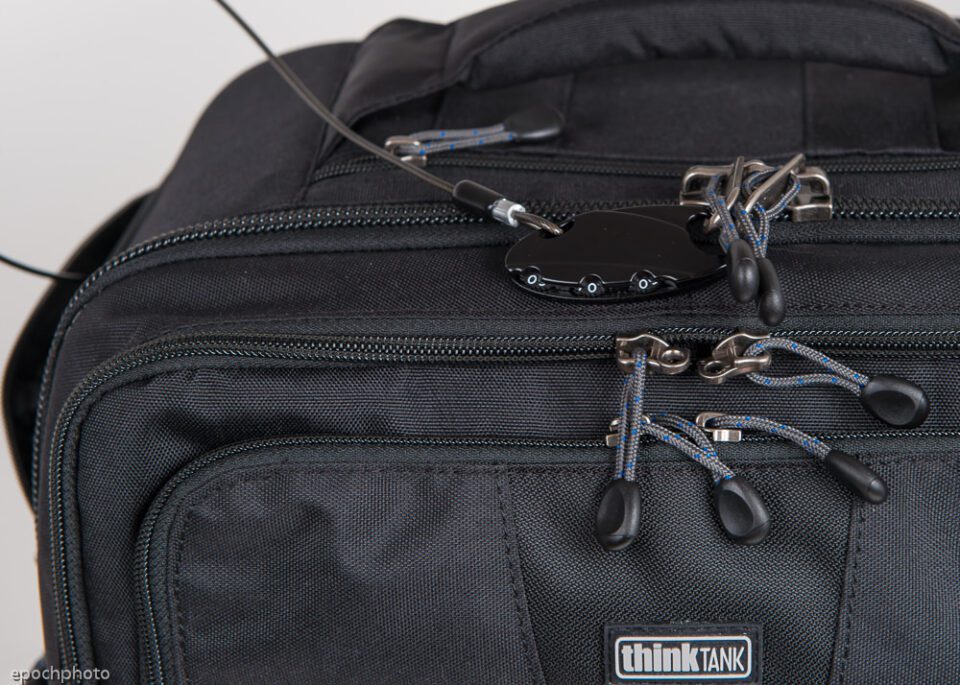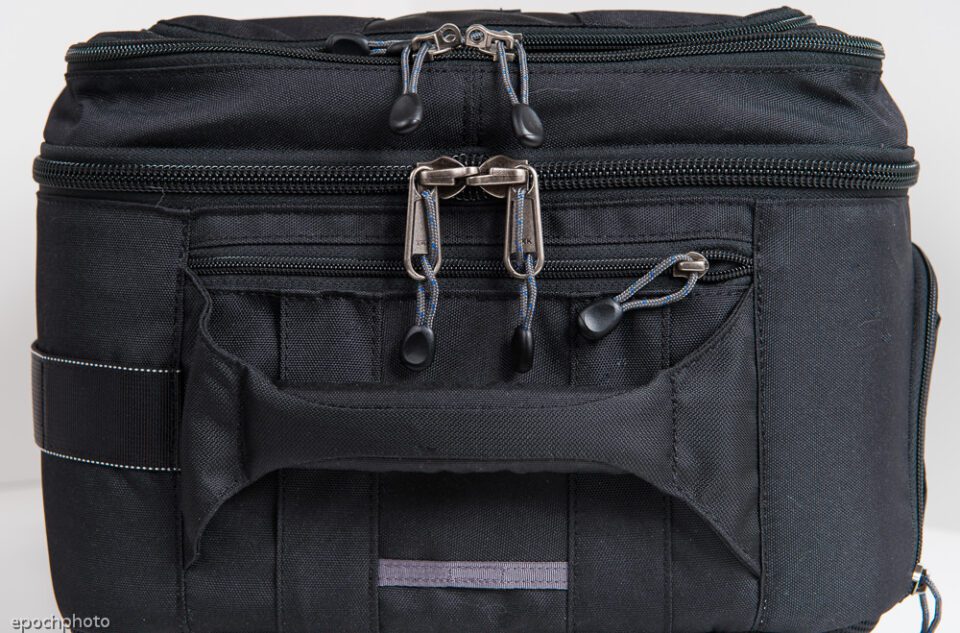 The Airport Accelerator has side pouch that enables you to slide the legs of a tripod in it. The provided straps can then be attached to the nylon loop system to secure the tripod. When you are not carrying a tripod, the pouch can also be used to carry a water bottle. After loading my Benro C-228 carbon fiber legs and KJ-1 ball head on the side of the Airport Accelerator, I have to admit that I would not recommend putting a tripod of this size on the bag. This combination was a bit much for the bag and it threw it off balance a bit. I would recommend strapping a more moderately-sized tripod or as I show below, one of the more popular travel-sized combinations such as the Benro Travel Angel.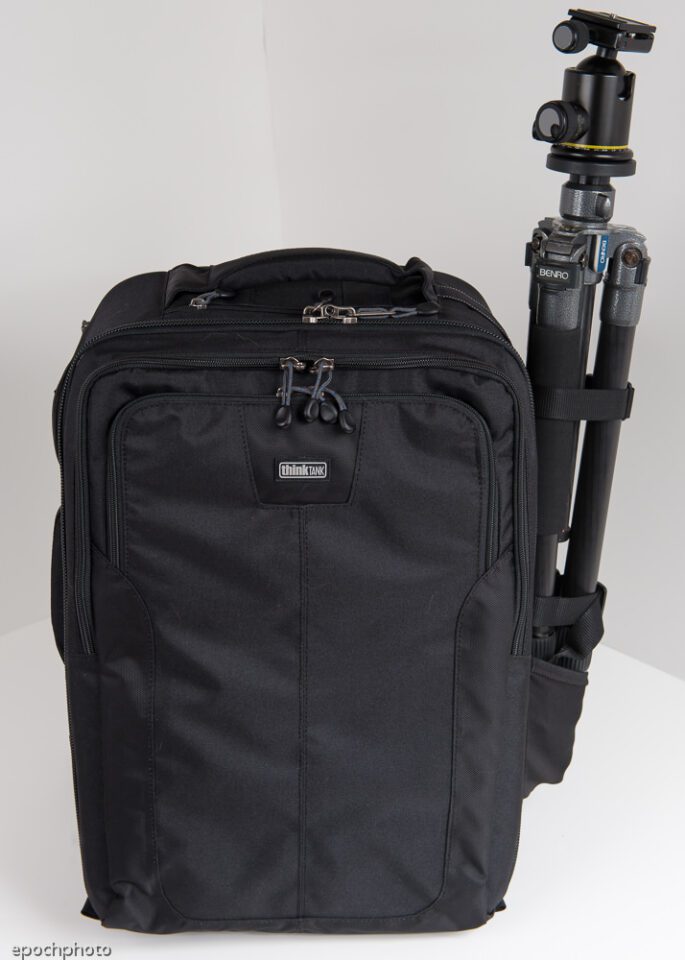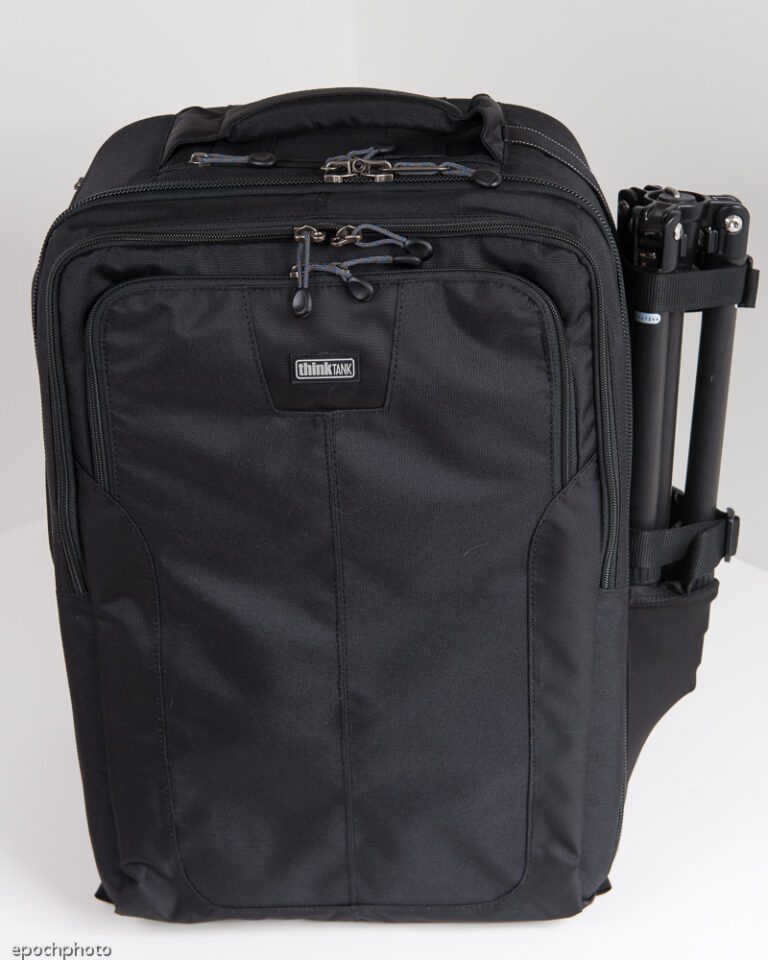 And as with other Think Tank bags, the Airport Accelerator Backpack has a variety of metal rings and nylon loops to attach other Think Tank accessories, although it is hard to imagine the practicality of having other storage containers hanging off the outside of this bag.
On The Inside
The top flap or cover of the Airport Accelerator has 3 zippered compartments for spare batteries, power cords, white balance cards, etc. The main camera/lens compartment features the standard Think Tank series of well-padded gray nylon dividers which can be customized to fit your particular DSLR, lenses, and other items.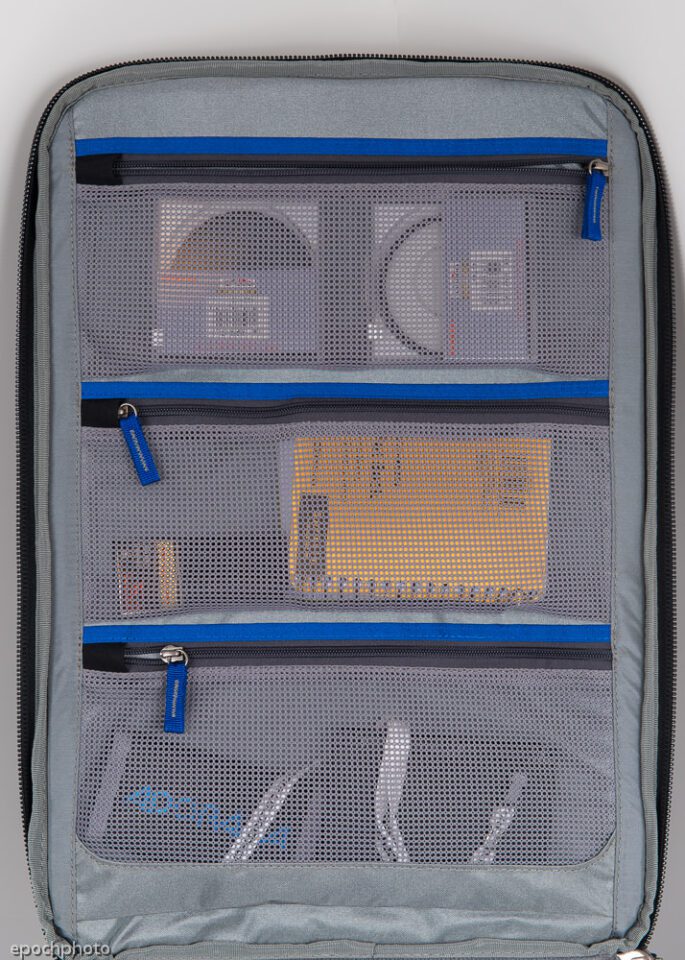 8) Rain Protection
Think Tank provides a well-made nylon rain cover that can keep your gear dry in the event of a sudden downpour.
9) Balance And Comfort
Despite weighing approximately 35lbs when loaded up with my gear, the Airport Accelerator felt comfortable on my back. The shoulder straps were well-padded and the waist strap helped balance the load. It is well-suited for walking 15-30 minutes on level ground, such as through an airport, a short jaunt to a car or a facility, or walking along some wooded or urban terrain. It is not designed for those who often engage in serious hiking expeditions.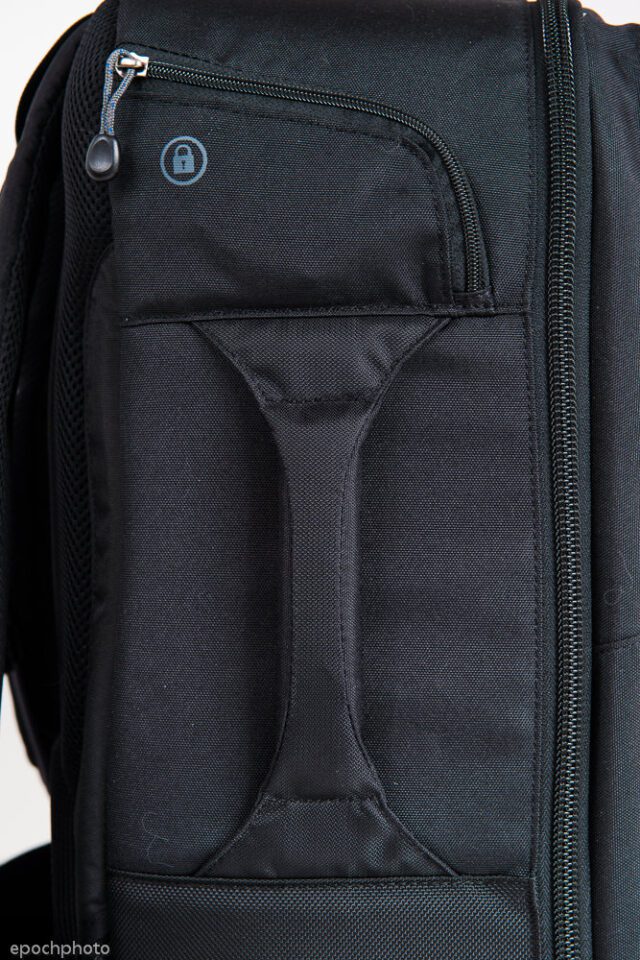 10) What Is In The Bag?
As usual – too much! But I loaded it up more to demonstrate what the bag is capable of storing. One of the great features about this bag is its depth. It can handle a Nikon 16-35mm VR or 24-70mm 2.8 lens standing on its end. This is a great space saver when compared to different bags that often require you to lie pro FX zoom lenses on their side, thus wasting valuable space.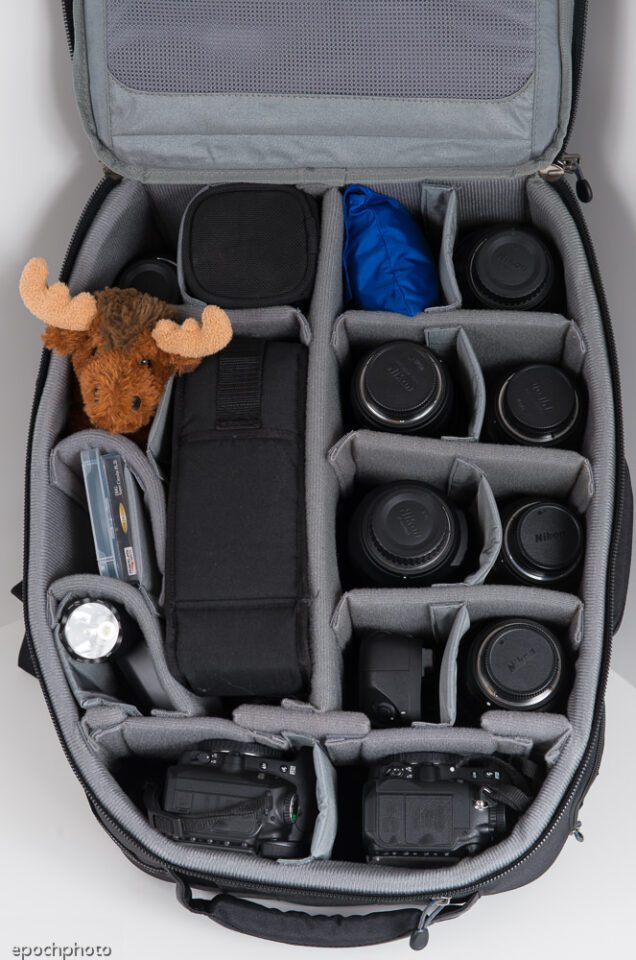 Cameras
Nikon D7000
Nikon D7000 Battery Grip
Nikon D90
Lenses
Nikon 24-85mm f/2.8
Nikon 16-35mm f/4″ target="_blank">Nikon 16-35mm f/4
Nikon 70-200mm f/2.8 VR II
Nikon 16-85mm
Nikon 50mm f/1.4 G
Nikon 28-300mm VR
Nikon SB-900 Flash
Nikon 105mm VR Macro
Nikon 28mm 1.8G
Sigma 15mm Fisheye and case
Other
2 – Nikon EN-EL 15 Batteries
2 – Polarizing Filters
1 – Flashlight
8 – CF Cards
6 – SD Cards
1 – Notepad
1 – White Balance Card
1 – X-Rite Color Checker Passport
1 – Nikon SB-900 Flash
1 – Moose Mascot
Tripod
Benro C228 Legs
Benro KJ-1 Ball Head
Benro Travel Angel:
B00 Ballhead
C-0691 Legs
Computer
Apple New iPad with ZAGG Case/Keyboard
11) Airline Considerations
This bag's purpose, as indicated by its name, is to provide a solution for those needing to transport their gear through the airports and not have to worry about violating the size requirements of both domestic and international carriers. Travelers must still be mindful of the weight restrictions of each airline, however, since simply meeting the size restrictions alone may not be enough to keep a flight attendant from making you check-in your bag if he/she decides it is too heavy to be brought onboard.
12) Quality
Like all Think Tank bags, the Airport Accelerator features solid design, premium materials, and manufacturing excellence. As long as you don't abuse the bag, give it a cleaning with mild soap and water on occasion, and don't put any unreasonable strain on the zippers, it will be with you through a few generations of DSLRs.
13) Value
At $279.75, the Airport Accelerator provides quite a bit of bang for the buck. It is $70-$95 less than Think Tank's rolling models, and for some of us, the backpack design is more important than having wheels on our bags.
14) Suggested Improvements
Better Defined Pockets
Think Tank might want to explore increasing the number of interior pockets of the main compartment cover. The 3 large plastic pockets provide quite a bit of room, but this also means that you will be jumbling a variety of items together. 2-3 smaller pockets in place of one of the large pockets might provide a bit more separation for smaller items.
Tripod Leg Rest
I couldn't help but think that the stretchy material that forms the pocket to insert your tripod legs into might suffer from wear. Think Tank could improve this feature by adding a removal pocket made of stronger nylon material.
15) Conclusion
If you are looking for a high quality, backpack-style bag to hold some heavy gear on trips, or find yourself navigating territory unfriendly to roller-style bags, the Airport Accelerator represents a solid investment and will serve you well.
16) Compared To
Lowepro Nature Trekker AW II Camera Backpack
The Airport Accelerator Backback has a just enough depth that makes it possible to stand lenses such as the Nikon 24-70mm 2.8 and Nikon 16-35mm f/4 upright. Bags with shallower depths almost always require you to lay these lenses lengthwise, thus reducing the available space. This feature alone enables you to pack quite a bit more gear in the Airport Accelerator than in the Nature Trekker, including a laptop. The Nature Trekker's smaller size, however, enables you to put it under an airline seat, making it a bit friendlier for airline travel because it does not require an open space in the overhead luggage compartment. It is also a better choice when you don't need the space or bulk that the Airport Accelerator Backpack offers.
Lowepro Pro Trekker AW 400
These two bags are very similar in specifications although designed for slightly different purposes. The Airport Accelerator Backpack is designed for transporting your gear smoothly and easily through airports, and for shorter jaunts while working weddings, and landscapes and outdoor portrait photography. And although well-padded, it would not be the first bag you would consider if you were into hiking long distances up steep hillsides with a full load of gear. The Lowepro Pro Trekker AW 400 has quite a bit more shoulder and waist strap padding that makes it much better suited for such purposes.
Think Tank Airport Roller Style Bags
The main issues are the consideration of how much you value wheels vs. a backpack style and how practical each is for your needs. All 3 larger Think Tank roller style bags are similar in dimension to one another and the Airport Accelerator Backpack. Wheels add a bit of weight and cost – as much as 10lbs and $95. I tend to favor backpack models, but understand that not everyone can or wishes to carry 25-45 lbs of camera gear on their back and would rather shift the burden to a set of wheels! But there are situations when it is simply not practical to use a roller model. One of our local parks in Pittsburgh is a very popular location for wedding, nature, and portrait photographers. A roller-style bag simply wouldn't be very practical to use in many areas, particularly after a good rain.
17) Where To Buy
You can find the Airport Accelerator Backpack at B&H Photo or directly from Think Tank.
Think Tank Airport Accelerator
Features

Build Quality

Handling

Value

Size and Weight

Packaging and Manual
Photography Life Overall Rating