This is a review of the Think Tank Airport 4-Sight rolling camera bag. My previous camera bag was the Think Tank StreetWalker HardDrive Backpack and I absolutely loved it. Think Tank has an almost legendary reputation among photographers, but the backpack was the only Think Tank product I had ever used. When it was time for a new bag, I had no doubt in my mind that it would be a Think Tank bag as well. The Airport 4-Sight just recently came out and caught my eye. It looked like it would be easy to travel with and hold all of my gear without being too cumbersome. Did it live up to my hopes and expectations? Read on to find out.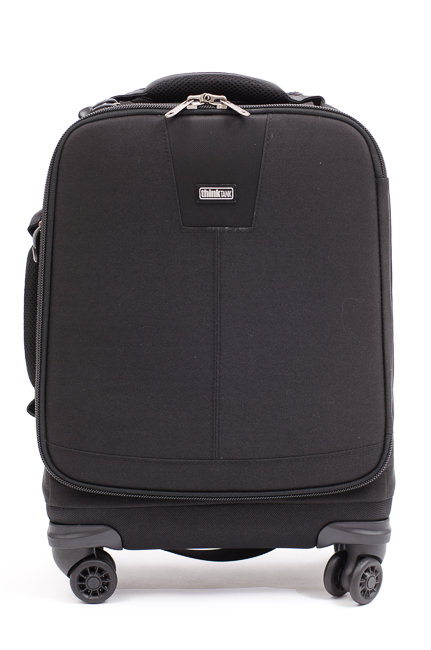 1) Product Specifications
1.1) Features
Holds 2 Standard DSLRs, 3-5 Basic Zooms
Holds 2 Pro DSLR with Smaller Lenses
Holds a 300mm f/2.8 with Body Attached
Rolls on Four Wheels or Two on Carpeting
User Replaceable Handle / Wheels
Zippered Top Pocket for ID, Passport
Two Position Locking Handle
Three Carry Handles/Lockable YKK Zippers
Cable Management Organizer
Rain Cover
1.2) Dimensions
Exterior Dimensions 14.0 x 8.0 x 21.0″ (35.6 x 20.3 x 53.4)
Interior Dimensions 12.3 x 5.0-6.7 x 16.0″ (31.2 x 12.7-17.0 x 40.6)
Weight 8.9 lb (4.0 kg)
2) Overview
2.1) Initial Impressions
The first time I actually saw the bag, I was a little worried that I wouldn't be able to fit all of the gear that I was used to carrying with me. I had my StreetWalker HardDrive backpack pretty well dialed in and had everything I'd need for a shoot with me all the time. Also, I was pretty used to the larger Think Tank Airport bags that a few of my studio mates use. Would this bag be big enough? Had I miscalculated?
The exterior of the bag seemed to be a little lacking in storage options as well. I was used to having quite a few exterior pockets on my backpack, but there are only two small exterior pockets on the bag. Where would all of my stuff go in this bag? There wasn't even anyplace to stick a magazine, book or water bottle. This seems a little limiting for a bag that's meant to be traveled with.
Although I was a little worried about the perceived lack of storage space, the bag is definitely attractive. It's very streamlined and sleek. The lack of pockets and zippers definitely helps it look more elegant.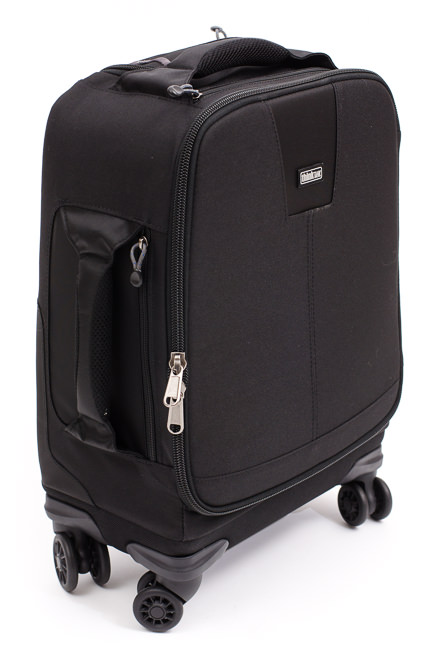 The telescoping handle is neatly tucked inside of a zippered compartment on the top of the bag. When it's not in use, it's completely hidden. When it's time to use it, just unzip the zipper for quick access. The handle easily and smoothly extends to two different heights. If you've used a suitcase with an extending handle, you pretty much know what to expect.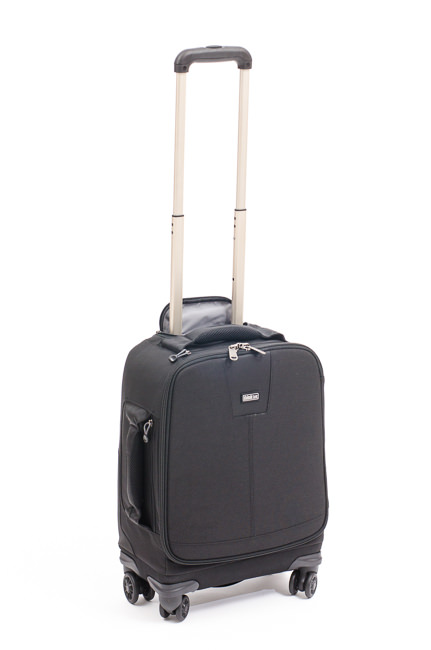 The wheels are one of the main features that sets this bag apart from other rolling camera bags on the market. Most camera bags like the Airport Security v.2.0 and Airport International v2.0 only have two fixed wheels on the rear of the case. The Airport 4-Sight has four wheels that rotate (similar to luggage with spinner wheels), allowing the bag to be rolled forward or sideways on all four wheels. This makes navigating crowded spaces and narrow airplane aisles much easier.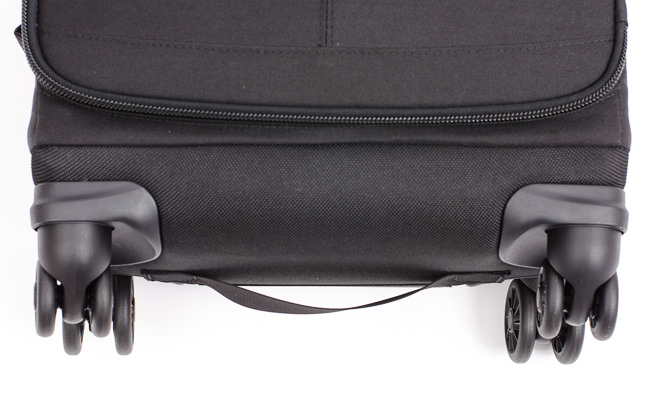 2.2) What's In The Bag?
The Airport 4-Sight comes with a small mesh bag and ties that can be used for storing and organizing cables. This is a nice addition to a camera bag, as cables can be one of the most unruly and hardest to manage accessories that a photographer has to deal with. It also comes with a rain cover that's made specifically for this bag. Unfortunately, it does not come with a luggage lock similar to some of the other bags in the Airport series.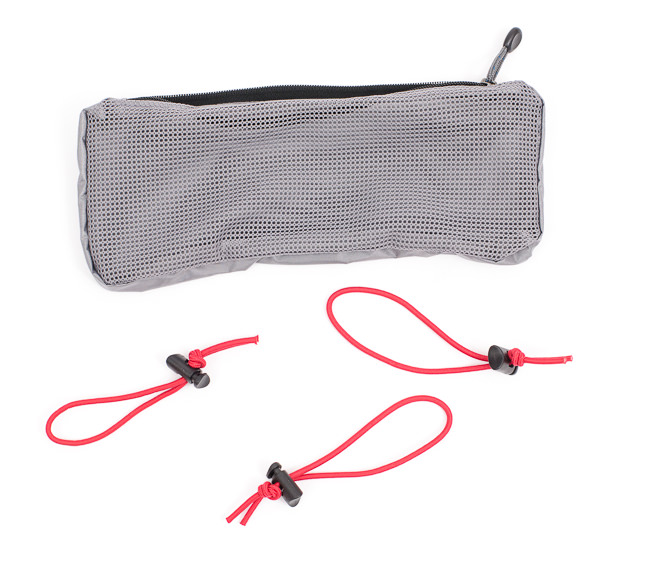 The real question I was curious to answer was whether or not all of my gear was going to fit in this bag. The dividers in the bag are made to be adjusted to accommodate different lens and camera configurations. After trying to work with the stock divider configuration, I tore out all of the dividers and customized it for my needs. Here's what it looked like when I started and what I ended up with: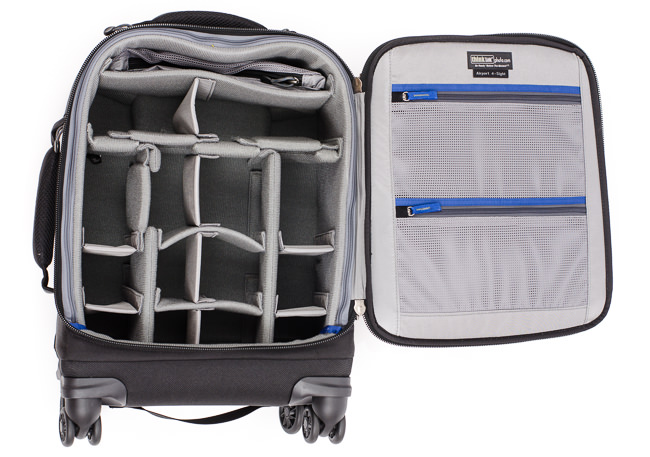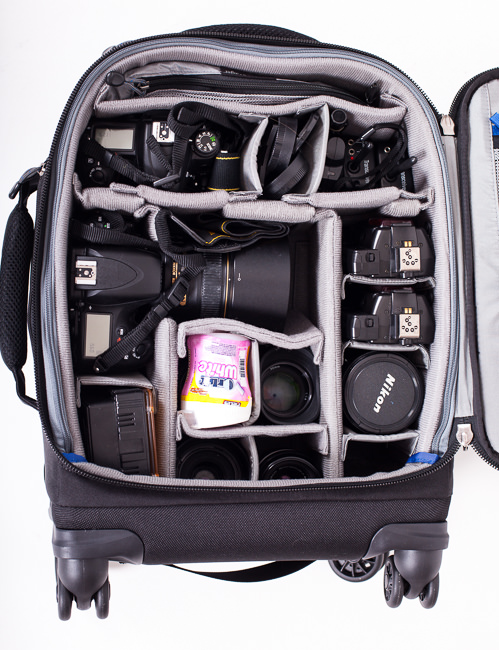 Just for reference, here's how my previous bag was configured.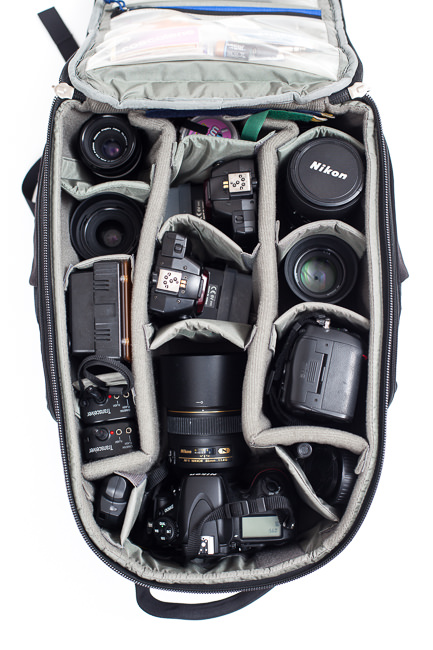 So what did I end up with in the bag and what did I have to get rid of? Here's what I keep in the bag and take with me to every shoot:
– Nikon D800
– Nikon D7000
– Nikon 85mm f/1.4 AF-S (attached to the D800)
– Nikon 135mm f/2 AF-DC
– Nikon 50mm f/1.4 D
– Nikon 20mm f/2.8 D
– Nikon 35mm f/1.8 AF-S
– Nikon 55mm f/3.5 macro lens with M2 tube
– Nikon SB-800 x 2
– Pocket Wizard Plus 2 x 2
– Pocket Wizard Plus 3
– CN-160 LED Video Light
– Lens Pen
– Gum
– Spare AA batteries x 12
– Spare Nikon EN-EL15 batteries x 2
– Spare CF and SD memory cards
In the exterior compartments I have my business cards, energy snacks, backup cash and an emergency beauty kit with some hair ties, bobby pins and safety pins.
Believe it or not, I had all of this in my old bag as well. The only things that didn't make the transfer from my old bag to my new bag were a few pens, a disposable rain sleeve and the flash diffusers for the SB-800s. Everything else fit!
2.3) Build Quality
As with all Think Tank products, build quality is superb. The material that the bag is made out of looks great and resists wear very well. The zippers are heavy-duty YKK zippers and are smooth and sturdy. The handles are well padded and feel great. The wheels roll smoothly over smooth surfaces as well as uneven surfaces like carpet or parking lots. I expect this bag to last for many years.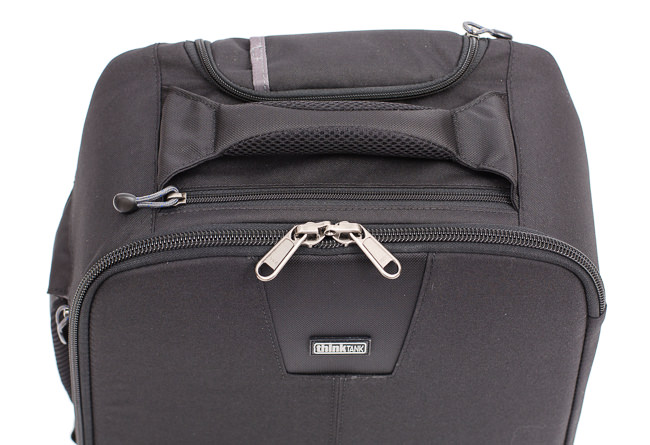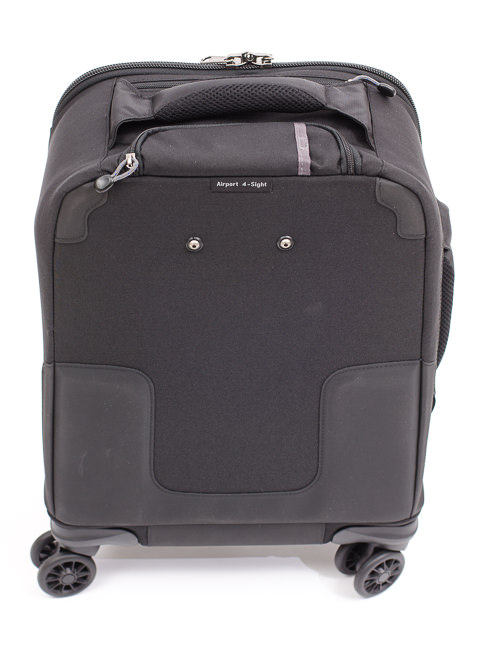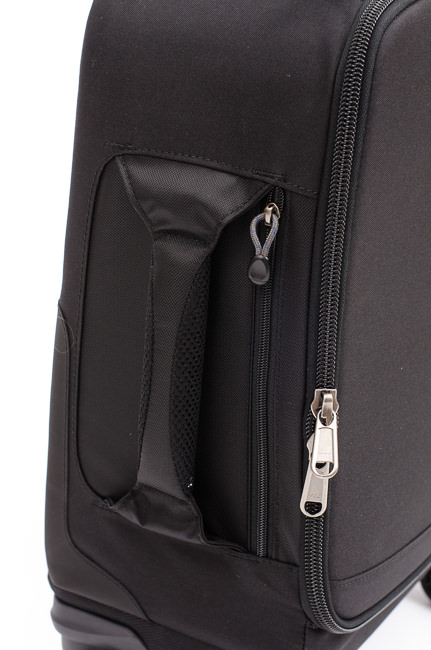 3) Field Use
I have to admit, I was pretty excited about getting out and using this bag. I had grown very fond of my old bag but felt like this would be a pretty easy transition to make. I wasn't wrong. Using the Airport 4-Sight feels just like using any other Think Tank bag. Since I have it packed so that every spare inch of space is used, I did find that I wasn't able to just toss my gear back into it when I was done. I have to follow some specific rules for putting everything away. Because of the contours of the bag, certain lenses can only go into certain locations. When I put my camera bodies away, I need to tuck the straps underneath them so that they don't get in the way of my other gear.
Another thing that I found was that because of the telescoping handle, the bottom of the bag is not perfectly flat. This means that some things fit in the bag facing one way but not another. For example, I have Pocket Wizard Plus 2s and a Plus 3. Their locations in the bag can't be switched because of the height of the antennas on the Plus 2 and how the bottom of the Pocket Wizards fit just perfectly with the contour of the bag.
I have yet to do any air travel with the bag, but I'm sure the wheels will make it easy to navigate an airport and airplane. The wheels aren't the only travel-friendly feature of this bag. The are three handles on the bag. The top and side both have full-size padded handles, but the bottom also has a handle sewn into it. This ensures that no matter which direction your bag is facing in an overhead compartment it will be easy to pull out.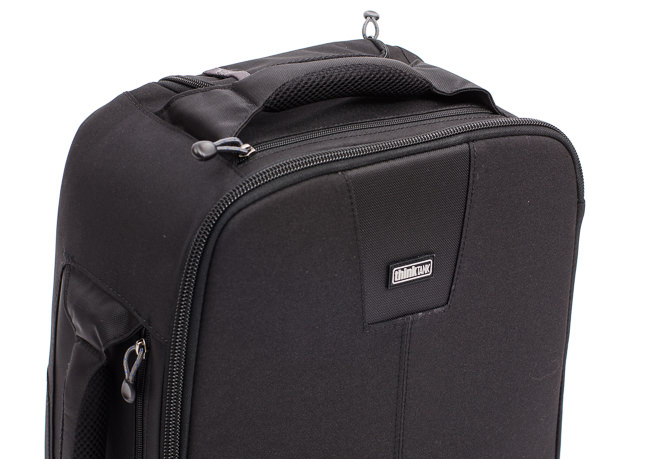 One big disappointment I do have with the bag is the zippered pockets on the inside of the cover. The size and construction of the pockets is fine. It's the orientation that bothers me. On my old bag (and most other Think Tank bags I've seen), the pockets and zippers run parallel to the hinge. This means that if you were to open the bag and lean the cover against a wall, the contents of your pockets would be sitting in the bottom of the pockets. On the 4-Sight, the contents all shift to one side of the pocket, effectively turning it into one long skinny pocket instead of a wide pocket. This wouldn't be so bad if the zippers operated from the "top" of the pocket to the "bottom", but instead they open from the side where all of your gear is sitting, making it almost impossible to quickly grab something without having half of your items spill out. If you open your bag completely so that the cover is sitting on the floor, the problem is somewhat solved, but many times we're working in cramped conditions where we just don't have enough room to fully open a bag.
4) Summary
Despite my initial worries about this bag's size, I found that I could fit all of my gear in it without having to leave anything essential behind. The bag has a nice, sleek look to it. It's size and weight make it easy to maneuver, especially since it can roll on four wheels instead of just two. It is well made and feels like it will last for years. I am disappointed in the cover pocket configuration, but will be trying to figure out a workaround during this upcoming wedding season.
5) Pricing and Where to Buy
The Think Tank Airport 4-Sight is regularly priced at $299.75 and is available at Think Tank Photo.
Think Tank Airport 4-Sight
Features

Build Quality

Handling

Value

Size and Weight

Packaging and Manual
Photography Life Overall Rating