While testing some of the top SD memory cards on the market, I discovered that TEAMGROUP, the company that is well-known for its PC components, also apparently produces storage hardware for photographers. In fact, I was not aware that the company makes a number of different SD cards that range from consumer-grade SD cards to high-performance models for photography and videography needs. In this review, we will take a closer look at TEAMGROUP's "XTREEM" SDXC UHS-II memory card which is designed with professionals in mind.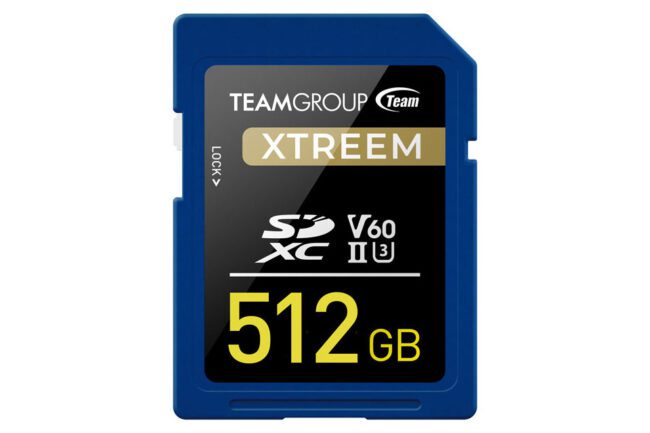 Overview and Build Quality
Similar to other higher-end storage products on the market, the TEAMGROUP XTREEM memory cards are certainly made to last. Although most SD cards are made with similar plastic shells and connectors, they certainly do tend to differ when it comes to continuous use and exposure to the elements – some are protected better than others. I have seen SD memory cards fail due to storage failures and basic construction issues (such as plastic tabs breaking off in older Lexar SD cards), and I have seen my share of SD cards surviving extreme conditions, such as after being washed in hot water in a washing machine.
The XTREEM SD memory cards seem to be made very well. The plastic shell is hard and not easily bendable, and it is weather-sealed to the highest standards. TEAMGROUP claims the XTREEM SD card series to be waterproof, shockproof, X-ray proof, anti-static, and extreme temperature resistant, so it is guaranteed to last.
It is also guaranteed to perform. Rated at Video Speed Class V60, this card should be able to record 4K and 8K UHD video recording continuously with a guaranteed rate of 60 MB/sec, bursting up to 120 MB/sec. Its read speed is also rated fairly highly at 250 MB/sec.
TEAMGROUP XTREEM SDXC UHS-II Memory Card Specifications
Below are the full memory card specifications of the XTREEM memory card:
Product Type: SDXC
Capacity: 64, 128, 256 and 512 GB
Voltage: 2.7~3.6V
Interface: UHS-II
Standard: SD 4.0
Speed Class: Class 10, V60
Read Performance: up to 250MB/s
Write Performance: up to 120MB/s
Storage Temperature: -40°C to 85°C
Operating Temperature: 0 ̊C to 70 ̊C°C
Weather-Proofing: Yes
Weight: 2g
Dimensions (WxHxD): 32 x 24 x 2.1mm
Warranty: Lifetime Warranty
Although these specifications look great, there are certainly other higher-end memory cards on the market that have superior performance characteristics. For example, the Acer SC900 is rated at V90 and can push 300 MB/sec read speed and a whopping 260 MB/sec write speed – almost double the performance of this card. However, that's only when you compare specifications on paper. As I have found out when testing these memory cards, the actual speed can be significantly slower depending on the type of workload and other factors. For the most part, I always take these claims with a huge grain of salt.
There are a couple of distinct advantages of the TEAMGROUP XTREEM series memory cards when compared to Acer. First of all, Acer does not produce memory card capacities over 256 GB, which makes them a rather poor choice for high-bitrate UHD video applications. Second, the Acer memory cards have a 5-year warranty, while TEAMGROUP provides a lifetime warranty on all XTREEM series cards. Lastly, at the time of writing this review, the XTREEM cards were priced significantly cheaper when compared to those from Acer ($53 vs $126 for a 256 GB card).
For more information about this card, see TEAMGROUP's product page.
Compatibility
By now, you are probably already aware of the fact that UHS-II memory cards require specific hardware in order to take advantage of the advertised speeds. Unlike UHS-I memory cards that work on any camera, UHS-II cards will only properly work on cameras and computers that can support the newer standard. In fact, even though UHS-II memory cards are supposed to be backward-compatible with UHS-I card readers, I've had some issues with data corruption and slow performance when using UHS-II cards on UHS-I readers. It is worth noting that every device that reads and writes to these cards should be fully UHS-II compatible, or you will encounter issues. Even a basic cable that interconnects your memory card or your camera to your computer might be too slow, so keep that in mind.
Performance
Most memory card specifications you see (including the ones above) are based on hypothetical performance using ideal conditions. They are also based on sequential read/write operations, which are only useful for testing video read and write performance. For photography needs, these numbers are not particularly useful. Still, it is good to see what the potential performance of the card is in everyday conditions, and how close the actual numbers can get to the specifications on paper. Let's take a look at how "XTREEM" the card really is in terms of read and write performance when using the AJA System Test (4 GB size chunks):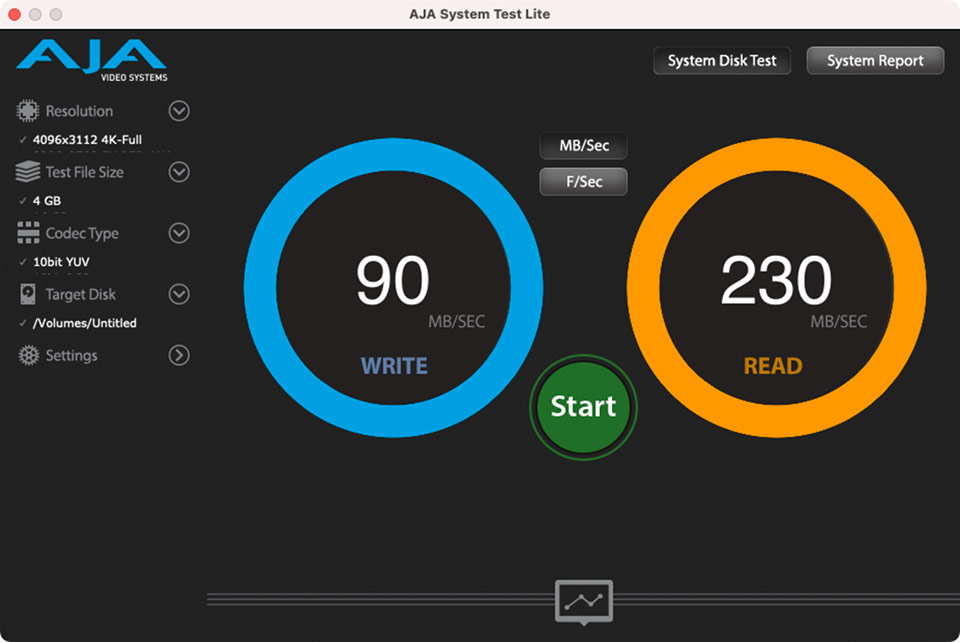 As you can see from the image above, card specs versus actual performance benchmarks can vary drastically, with the latter often showing inferior results. The good news is, the write performance on the benchmark showed fairly consistent results at around 85 to 90 MB/sec, while the read performance varied from 190 to 230 MB/sec. I did not see sudden spikes or drops in performance, even when I bumped the test file size to 16 GB – that's certainly a good sign.
Here is how the card performed when using Blackmagic Disk Speed Test: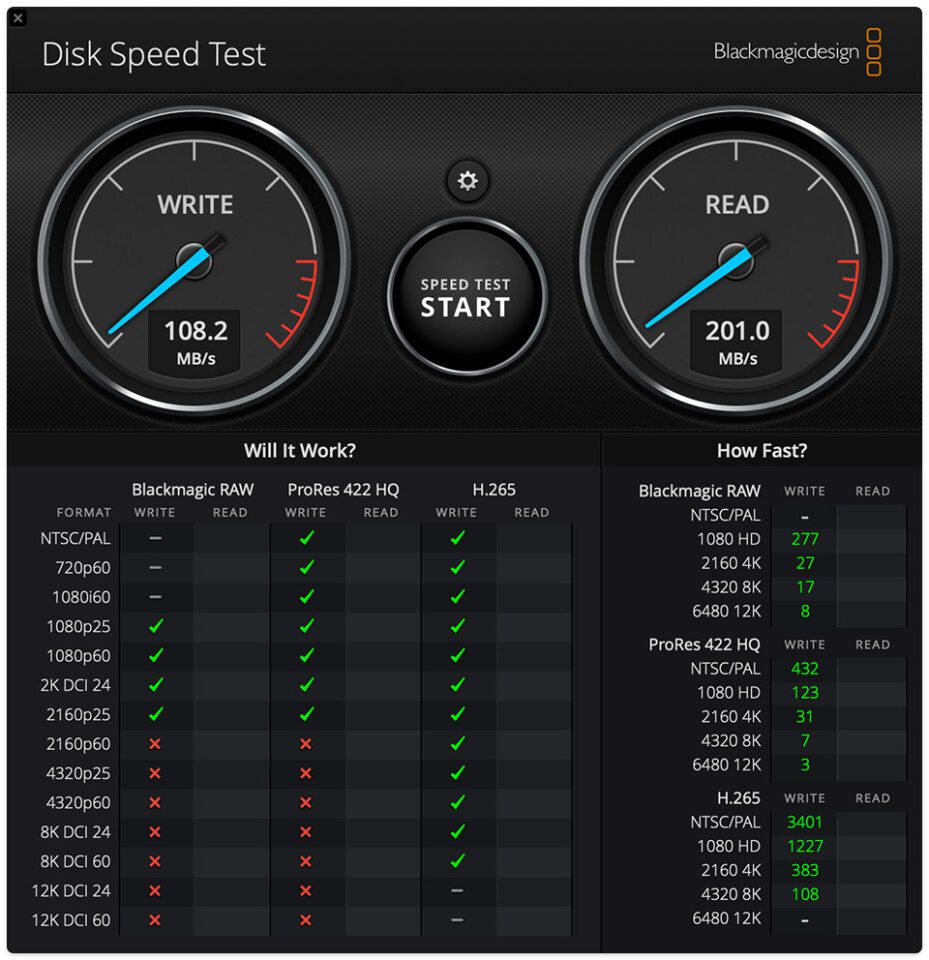 This particular benchmark showed better write performance compared to AJA, but the read performance stayed below 200 MB/sec for the most part. In both benchmarks, the card performed pretty consistently, so it should be a great choice for videography needs.
Obviously, if we compare this card to something like the Acer SC900, we can see performance differences pretty clearly. However, considering that the Acer SC900 is rated at higher speeds and costs significantly more, one needs to pick between such cards based on their needs. Videographers who need to push higher bitrate 4K and 8K content will be better off with a high-performance V90 card, whereas those who need a card that can be used for both videos and stills will see more value in the XTREEM card instead.
Summary
The TEAMGROUP XTREEM SDXC UHS-II delivers solid results at a great value. Thanks to its excellent build quality and design, it can withstand quite a bit of abuse. It has very good performance characteristics, and my testing revealed that it is able to maintain consistent speeds that exceed its V60 rating. Although it might not be the fastest UHS-II card on the market, keep in mind that it is also priced accordingly. High-end UHS-II cards are quite costly: 256 GB cards often sell for over $170 USD, while you can get the XTREEM 256 GB card for just $53 on Amazon…
Where to Buy
The TEAMGROUP XTREEM SDXC UHS-II cards can be purchased through Amazon. Currently, the 128 GB version of the card is on sale for $26.99, while the 256 GB version is $52.99.
TEAMGROUP XTREEM SDXC UHS-II Memory Card
Build Quality

Performance

Weather Proofing

Value
Photography Life Overall Rating