Lens Sharpness and Contrast
The Tamron SP 90mm f/2.8 Macro has a nice surprise – it is quite sharp at both macro and normal shooting distances, and it has a high level of contrast. While most macro lenses do well at close distances, their sharpness degrades towards infinity, sometimes very quickly. This lens does not have such a problem – it is almost as sharp at normal range as it is close-up. Take a look at the below chart, as measured by Imatest: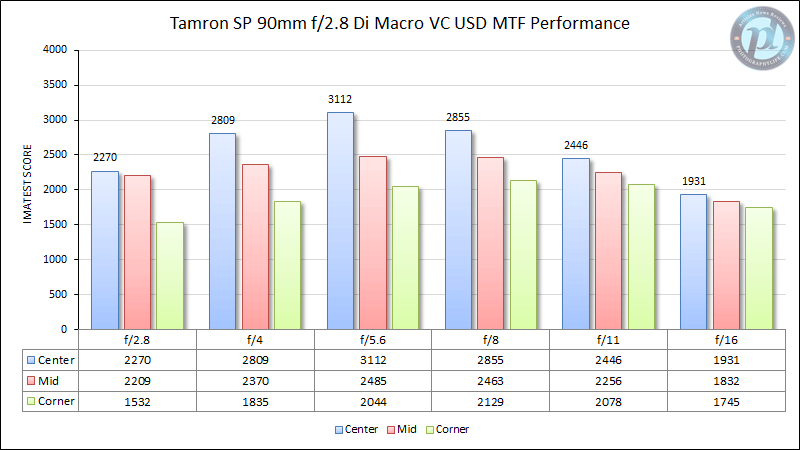 As you can see, the lens starts out fairly well at f/2.8 (it is actually around f/3 at normal distances) and gets much better as you stop down. It reaches peak performance at f/5.6, where it does reasonably well across the whole frame.
When I measured the lens at very close distances, it performed similarly in terms of sharpness. The only major difference was much higher levels of chromatic aberration, which is expected when shooting at macro distances. What does this mean? It means that the Tamron SP 90mm f/2.8 Macro is a good candidate for macro, as well as portraiture work.
Unfortunately, you will need to be careful when stopping the lens down – it suffers from a moderate amount of focus shift from f/2.8 to f/5.6.
Bokeh
The Tamron SP 90mm f/2.8 Macro yields smooth, natural-looking backgrounds in images, as can be seen from the image sample below: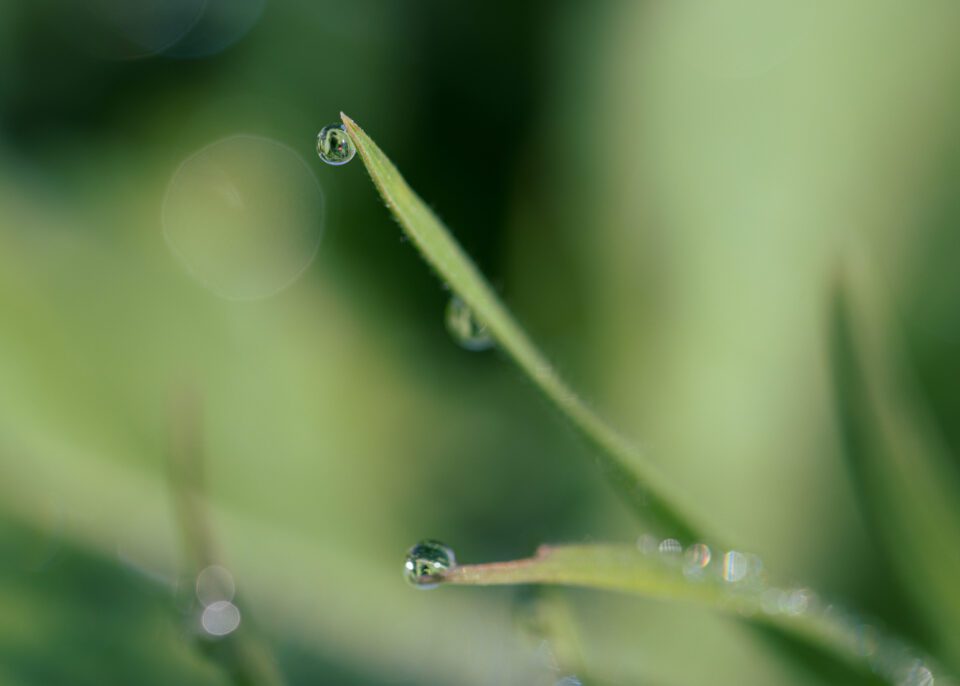 Thanks to its rounded 9-blade diaphragm, out-of-focus highlights look quite circular, even when stopped down quite a bit. However, bokeh shapes show a visible outline at the edges, making it look a bit distracting. It is not bad at large apertures, but as you stop down (which you have to at macro distances), they seem to get worse.
Vignetting
As you can see from the below chart, Tamron did a great job with controlling vignetting on this lens: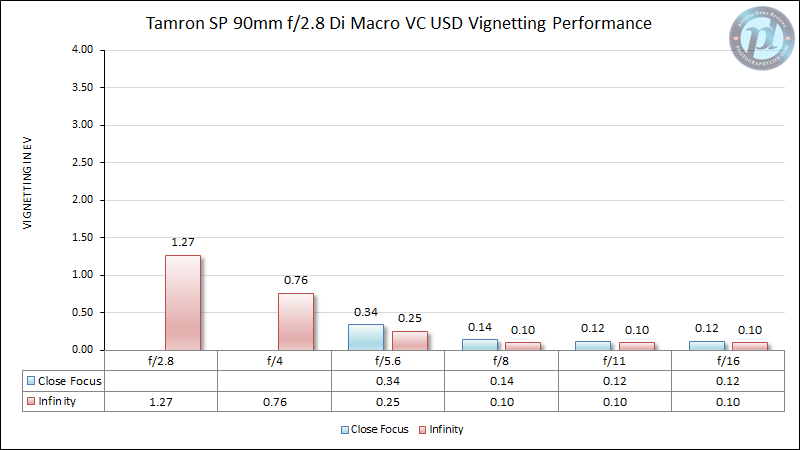 When focused toward infinity, it shows a little over a stop of darkening at the edges. At 0.3 meters (minimum focus distance), the maximum aperture of the lens is limited to f/5.6 and it shows practically no vignetting at both close and infinity focus.
Ghosting and Flare
Any lens in the telephoto range isn't going to do well when shooting against bright sources of light, and that includes the Tamron SP 90mm f/2.8 Macro. Although the lens is coated with both eBAND and BBAR coating technologies, depending on the brightness of the light source, its size, and its angle, you might see some ghosting and flare in your images. In addition, you might see some drop in contrast, which is quite normal.
If your light source is directly aiming at the lens and it is fairly dim or blocked by an object, you can expect the Tamron SP 90mm f/2.8 Macro to perform admirably, as shown in the below image: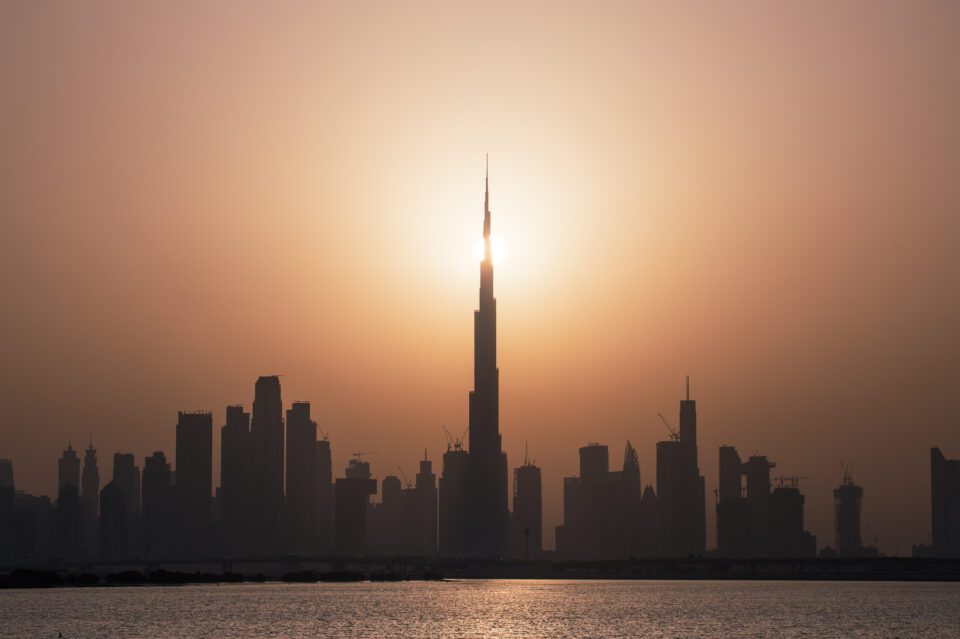 Keep in mind that there is a good reason why Tamron included a long hood with this lens. I would recommend leaving it mounted at all times if you do not want to deal with ghosting, flare, and reduced contrast issues.
Distortion
Most telephoto lenses do not suffer from heavy distortion, and the Tamron SP 90mm f/2.8 Macro is not an exception. Imatest measured -0.04% distortion, which is non-existent, and basically within a margin of error.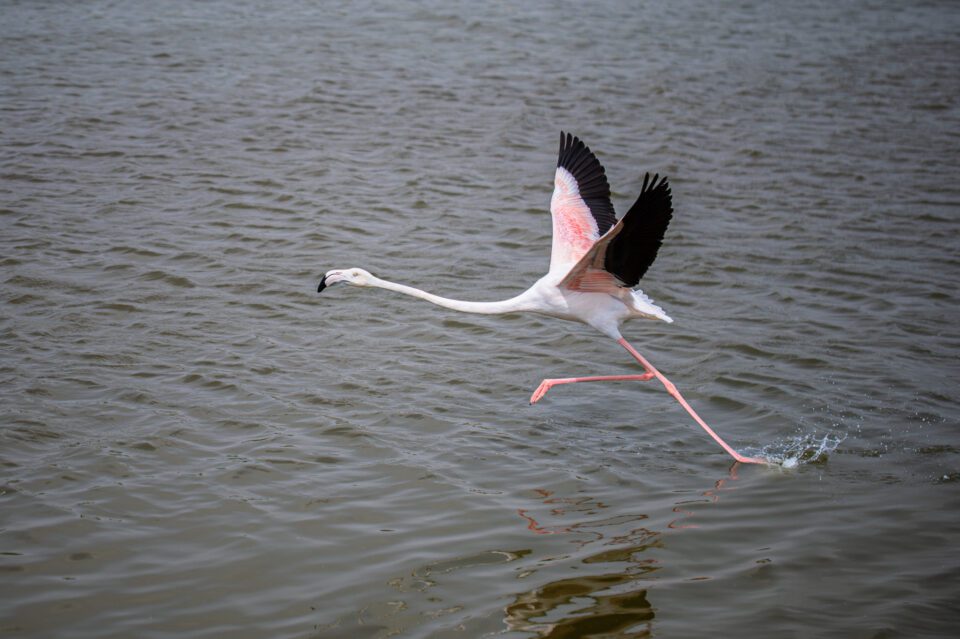 Chromatic Aberrations
Lateral chromatic aberration on the Tamron SP 90mm f/2.8 Macro is quite good – Imatest measured around one pixel of it at all apertures: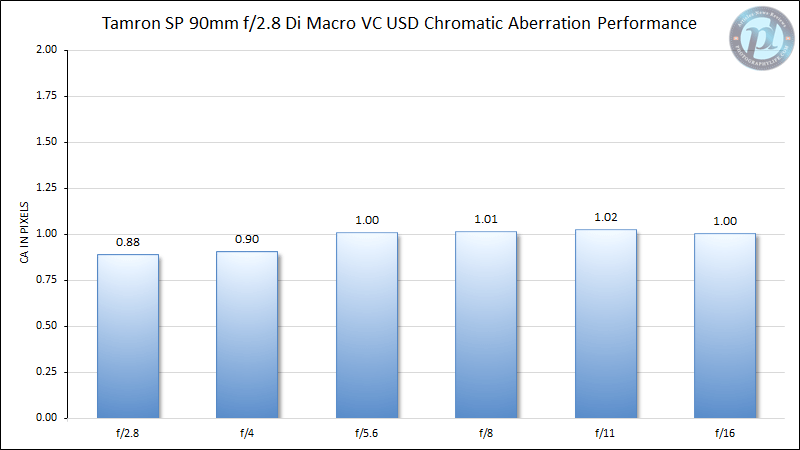 As I have mentioned earlier, lateral chromatic aberration is a bit more noticeable at macro distances. If that bothers you, you should be able to deal with it with ease in most post-processing software.
Thankfully, unlike the Tamron SP 45mm f/1.8 Di VC USD that has a heavy amount of longitudinal chromatic aberration, the Tamron SP 90mm f/2.8 Macro does not have the same problem: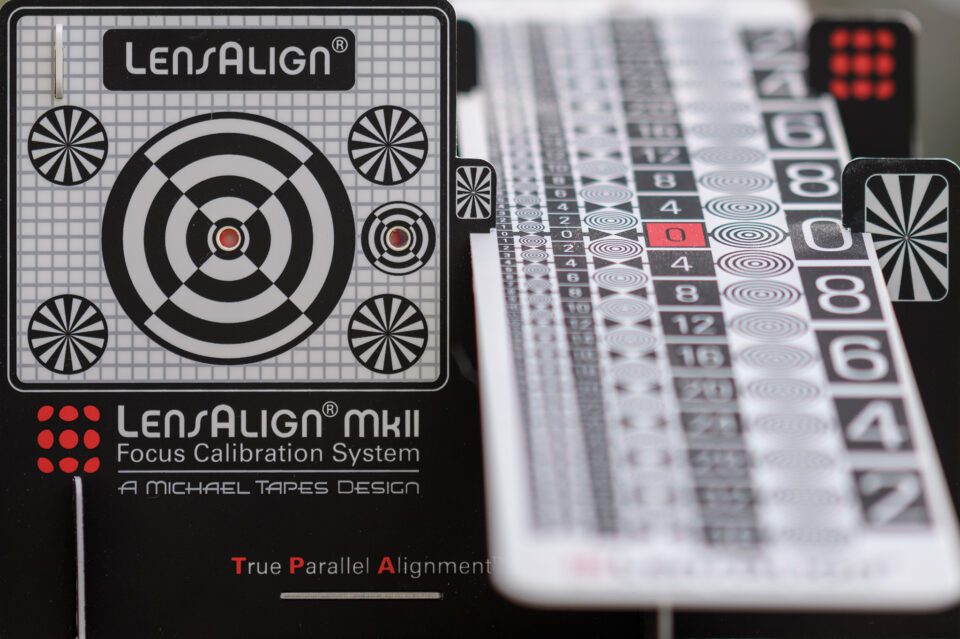 There is a little bit of green fringing in the background and some purple fringing in the foreground, but it is not very obvious in images.
Tamron SP 90mm f/2.8 Macro vs Nikon F and Canon EF Lenses
Interestingly, there are no direct competitors to the Tamron SP 90mm f/2.8 Macro from Nikon or Canon (in terms of focal length). Nikon's closest competitor would be the Nikon 105mm f/2.8 VR Macro, which is 15mm longer in comparison. Other than that, you would need to look at the Nikon 85mm f/2.8 PC-E lens, which obviously comes with tilt/shift capabilities.
When looking at Canon lenses, there is the EF 100mm f/2.8L Macro IS USM, but once again, it is 10mm longer. Similar to Nikon, Canon has the TS-E 90mm f/2.8L Macro tilt-shift, but it cannot be directly compared either, especially in terms of its price.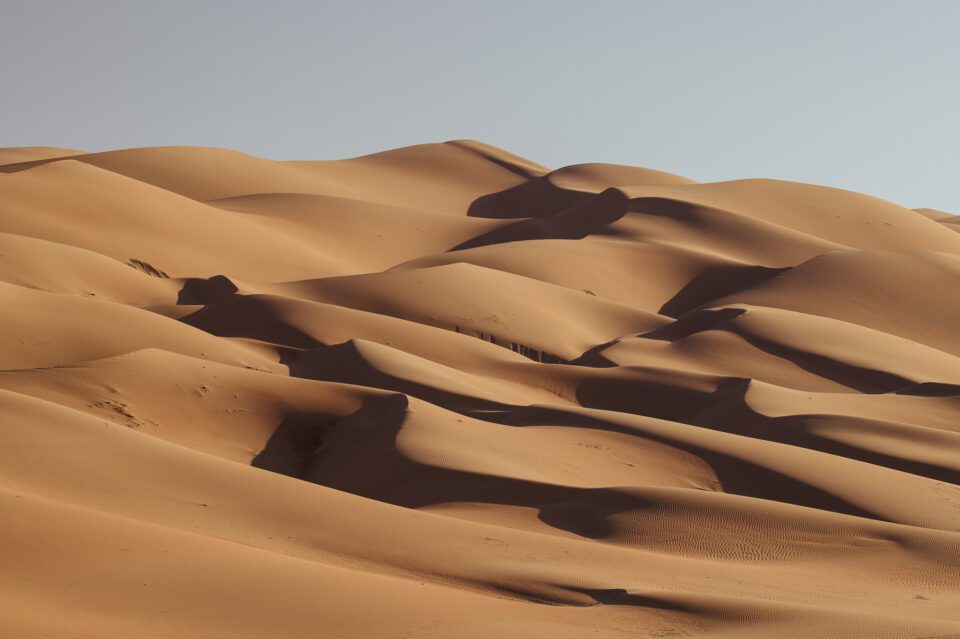 Tamron SP 90mm f/2.8 Macro vs Third Party Lenses
If you look at third-party options, then the list expands quite a bit. There is Zeiss Milvus 100mm f/2M ZF.2 Macro, Tokina ATX-I 100mm f/2.8 Macro, Sigma 105mm f/2.8 EX DG OS HSM, Venus Optics Laowa 100mm f/2.8 2X Ultra Macro APO, Samyang 100mm f/2.8 ED UMC Macro, and many more. However, similar to the branded macro lenses, they all cover focal lengths shorter or longer than the Tamron SP 90mm f/2.8 Macro.