This is an in-depth review of the Tamron SP 24-70mm f/2.8 DI VC USD – world's first image-stabilized standard zoom lens for 35mm sensor cameras that was released in April of 2012. I have been shooting with the Nikon 24-70mm f/2.8G for a while and although I love it for its super fast and accurate autofocus and durability, it has its share of problems. It is huge and heavy, has rather poor corner performance at fast apertures and suffers from field curvature issues (where sharpness is not uniform across the frame). In addition, it lacks image stabilization, which I am a huge fan of. So when I found out that Tamron released a professional 24-70mm f/2.8 lens with image stabilization, I knew I wanted to test it out and compare it head to head to the Nikon 24-70mm f/2.8G.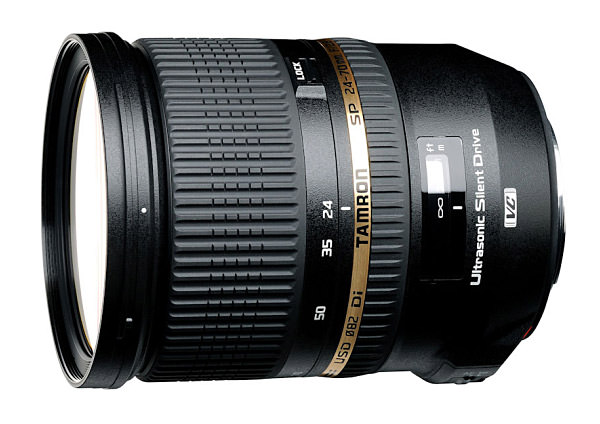 In this review, I will talk about my month-long experience with the Tamron SP 24-70mm f/2.8 DI VC USD lens, provide detailed information on its characteristics along with image samples, as well as some optical measurements and comparisons to the Nikon 24-70mm f/2.8G lens.
Tamron SP 24-70mm f/2.8 VC Overview
The Tamron 24-70mm f/2.8 is a versatile professional lens designed for many different kinds of photography needs – from wide-angle landscapes and panoramas, to portraits and events. Built with low-light photography in mind, the lens features a constant aperture of f/2.8, fast autofocus and built-in image stabilization (which Tamron markets as "VC" or "Vibration Compensation"). The latter is what no other manufacturers today, including Nikon and Canon, can pride themselves with – the Tamron 24-70mm is world's first and currently only "standard zoom" lens with image stabilization (as of August 2012). Featuring 17 lens elements in 12 groups, 3 of which are aspherical and 3 with low-dispersion qualities, the Tamron 24-70mm f/2.8 has a more complex design than the Nikon 24-70mm f/2.8G, which has 15 lens elements in 11 groups. With a barrel diameter of 3.5 inches and weighing a total of 825 grams, it is by no means a small or lightweight lens. It incorporates Tamron's Ultrasonic Silent Drive (USD) motor, which provides both fast and ultra-quiet autofocus.
With a focal length of 24-70mm (which is not its actual focal length, as pointed out in the "Lens Handling" section below), which is equivalent to roughly 36-105mm, it is designed to be used more on full-frame (FX) than cropped-sensor (DX) cameras. 36mm just might feel a little "too long" on the wide end on cropped-sensor cameras for general photography needs. Unlike most professional lenses that can take 77mm filters, the Tamron 24-70mm f/2.8 has a larger 82mm filter diameter, which means that it would require purchasing additional larger filters if you are planning to use filters on it. Due to the massive size of the front element, it would be impossible to use a 77mm filter with adapter rings.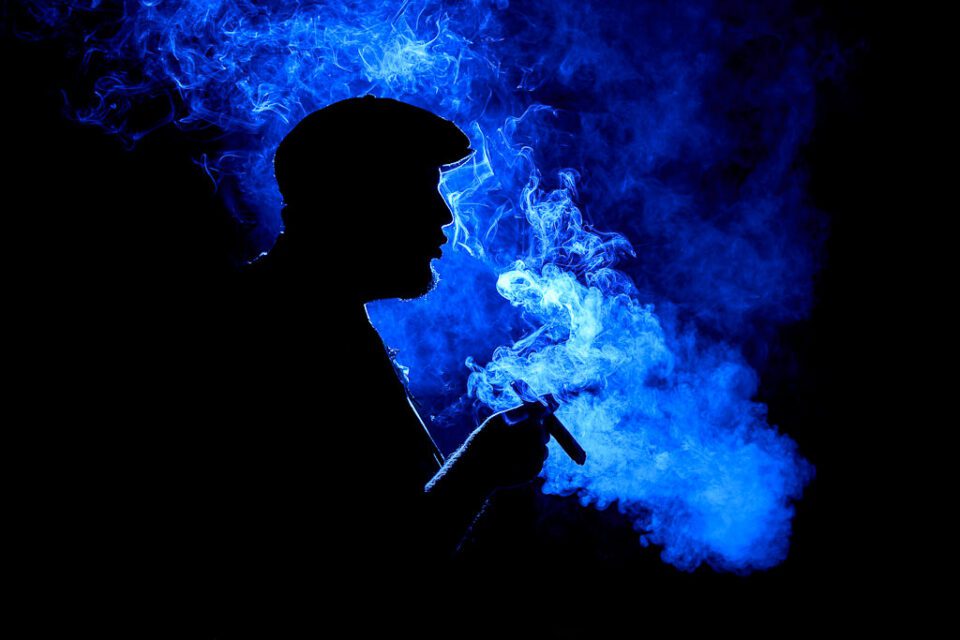 In terms of optical performance, as you will see in the sharpness section of this review, the Tamron 24-70mm f/2.8 delivers very good results. It starts out strong wide open at 24mm and weakens towards 70mm. On the flip side, the lens suffers from pronounced vignetting, has an onion-shaped bokeh and has field curvature issues at longer focal lengths.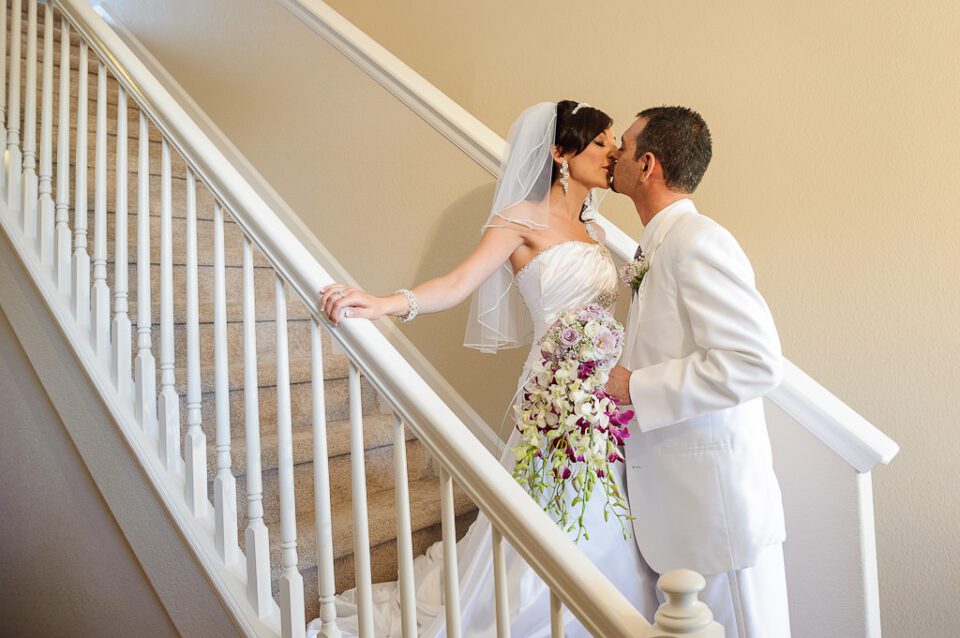 Tamron SP 24-70mm f/2.8 VC Specifications
Mount Type: Nikon F-Bayonet (also available for Canon and Sony mounts)
Focal Length Range: 24-70mm
Maximum Aperture: 2.8
Minimum Aperture: 22
Angle of View (DX-format): 60°20' -22°33'
Angle of View (FX-format): 84°04' -34°21'
Lens (Elements): 17
Lens (Groups): 12
Compatible Format(s): FX, DX
Diaphragm Blades: 9
Distance Information: Yes
LD Glass Elements: 3
Aspherical Elements: 3
Hybrid Aspherical Elements: 1
Autofocus: Yes
USD (Ultrasonic Silent Drive): Yes
Minimum Focus Distance: 0.38m
Focus Mode: AF/MF
Filter Size: 82mm
Accepts Filter Type: Screw-on
Length: 108.5mm (4.3 in)
Full Length: 116.9mm (4.6 in)
Diameter: 88.2mm (3.5 in)
Weight (Approx.): 29.1 oz. (825g)
Lens Hood: Flower-shaped HA007 lens hood
Detailed specifications for the lens, along with MTF charts and other useful data can be found in our lens database.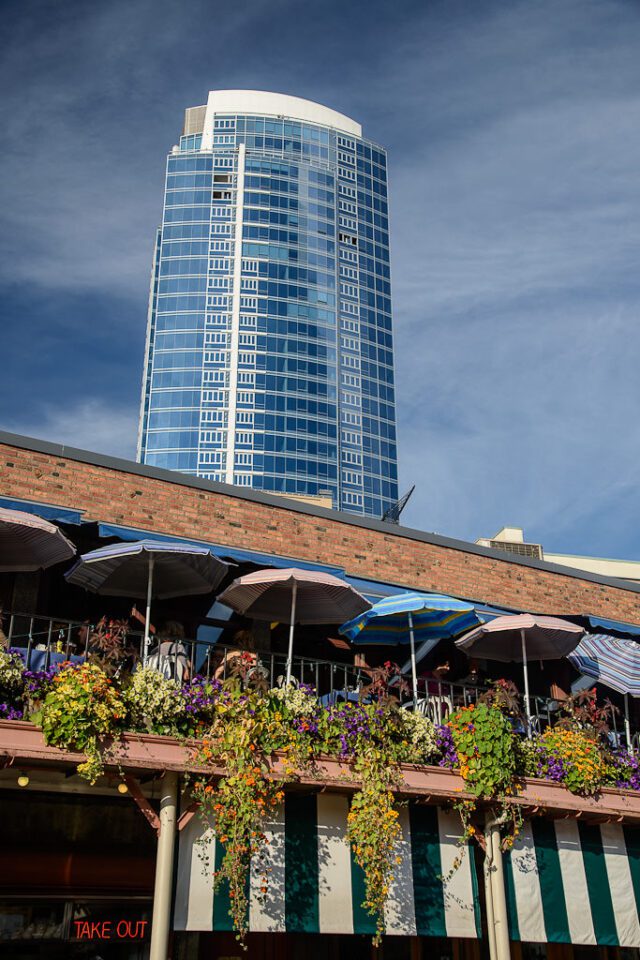 Lens Handling
Just like the Nikon 24-70mm f/2.8G, the Tamron 24-70mm f/2.8 feels very solid in hands. Although its barrel is made of plastic (versus the all-metal construction of the Nikon 24-70mm) it does not have a cheap or "plasticky" feel to it at all. Keep in mind that plastic does not expand and contract like metal does when temperatures change quickly, which can actually prolong the life and performance of a lens. All new Nikon AF-S primes, even the most expensive ones like the Nikon 24mm f/1.4G have plastic barrels and they handle exceptionally well. On top of that, plastic means lighter and as I have already pointed out earlier, the Tamron 24-70mm is lighter than the Nikon 24-70mm, despite the fact that it has a bigger barrel and a more complex optical design.
Similar to other 24-70mm lenses, the length of the lens extends when the focal length is changed. At the wide end @ 24mm, the lens is at its shortest length. As you zoom in, the length of the lens increases, reaching its longest length at 70mm. The Nikon 24-70mm behaves completely differently – its shortest length is at 50mm, while zooming out to 24mm extends the lens quite a bit. Take a look at both lenses at 70mm: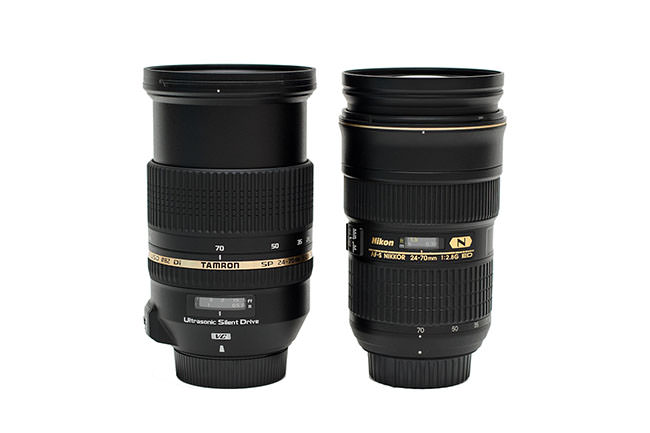 And here, you can see the Tamron 24-70mm at 70mm, while the Nikon 24-70mm is at 24mm – both lenses fully extended: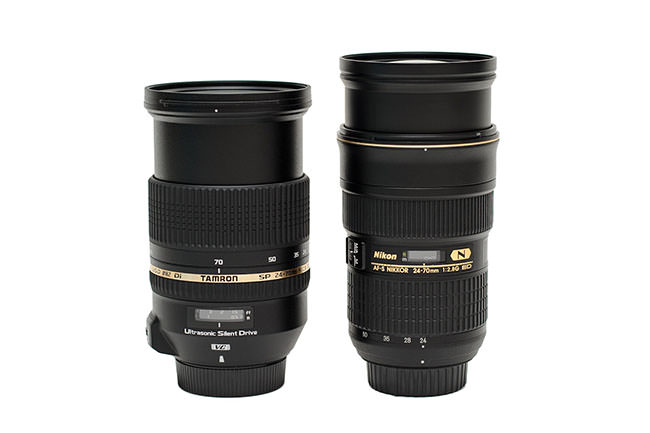 And lastly, here are both lenses at their shortest length, with Tamron 24-70mm at 24mm and Nikon 24-70mm at 50mm: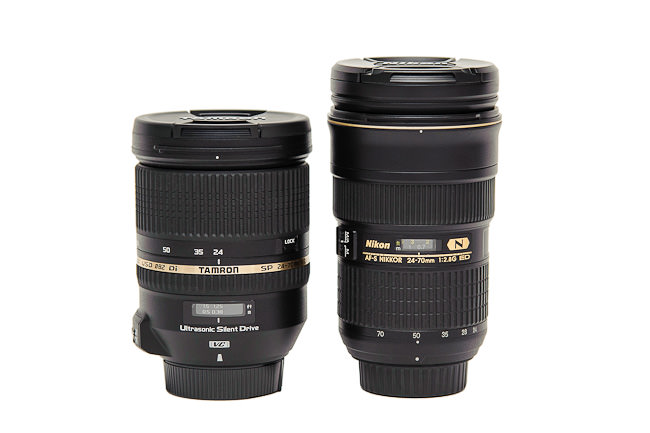 The zoom ring is pretty smooth out of the box with some resistance. Overtime, this resistance might weaken a bit, but I have not had the lens long enough to tell for sure. My Nikon 24-70mm was fairly good in the beginning and now the zoom ring is too smooth and somewhat loose – a result of heavy field use and abuse (I will be sending it to Nikon for tuning soon). The zoom and focus rings are reversed like on some Nikon lenses like Nikkor 24-120mm f/4 VR and the zoom ring is not as wide, which I am fine with.
While inspecting the lens, I found out that zooming in to 70mm causes the rear element to go deep inside the lens. While some movement of the rear element is quite normal on zoom and prime lenses, I found this one to be a little extreme. At 70mm, a lot of the lens guts are exposed, as seen in the below image: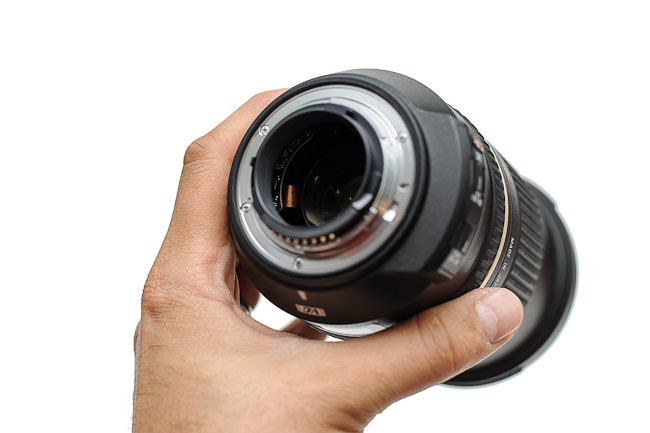 There is nothing that protects the rear. In comparison, the Nikon 24-70mm f/2.8G has a single non-moving rear element that protects the lens. Keep this in mind when changing lenses, especially in dusty and windy environments. If you do decide to change lenses, make sure to zoom out to 24mm before you dismount it. On the positive side, similar to all recently-announced Nikon AF-S lenses, the Tamron 24-70mm f/2.8 also features a rubber gasket on the lens mount that minimizes the amount of dust that could potentially end up inside the lens or the camera.
Another interesting observation, was the focal length of the lens – the Tamron 24-70mm is not a true 24-70mm lens. When compared to the Nikon 24-70mm, it was a little wider throughout the zoom range. It was hard to quantify this difference, but I would say it was more like a 22-60mm lens instead (depending on focus distance). Personally, I would consider this as an advantage, because sometimes I wish the 24-70mm was a little wider. But I guess it all depends on what focal lengths you use the most. For landscape photography, I tend to stay between 24mm and 50mm for most of my landscape shots, so cutting it a little short on the long end does not bother me.
The Vibration Compensation (VC) switch, along with the AF/MF switch are both located on the side of the lens, similar to Nikkor lenses (the lens comes with VC turned off). There is another switch on the lens for locking the zoom at 24mm, probably used for transportation purposes and to prevent the lens from creeping in the future. All switches are easy to move and use. Tamron uses lens caps similar to the ones that Nikon uses, which is good news. I personally dislike Canon's lens caps, because they are impossible to remove with a lens hood on.
The large barrel size and a massive front element result in an over-sized, non-standard (for pros) filter size of 82mm. I personally consider this as a cost disadvantage to the Tamron 24-70mm f/2.8, because standard 77mm filters cannot be used with step ring adapters. So when deciding whether to purchase this lens, add the cost of circular filters that you might need to purchase as well. If you use a filter holder system, make sure that your filter holder can accommodate the lens, perhaps with other adapters. I use Hi-Tech and Lee Filter Holder systems and both have 82mm adapters, so it is just a matter of purchasing the right adapter. Thanks to the rear focus design, the front element of the lens does not extend or rotate during focusing, so you don't have to worry about constantly readjusting filters like on some older lenses.
Although the lens is heavy, it balances quite well on heavier pro bodies like Nikon D800/D4. The same is not true on entry-level cameras like Nikon D3200 – it certainly feels off-balance towards the front of the lens and awkward, due to its size and weight. While it works great on any DX camera, I would not recommend to use it on one, unless you like working in the 36-105mm range. Cheaper and lighter alternatives like Nikon 16-85mm or Nikon 16-35mm VR would be more useful in terms of focal length and size.
The HA007 bayonet lens hood is wider, but much shorter than the HB-40 that goes on the Nikon 24-70mm, as seen in the below picture: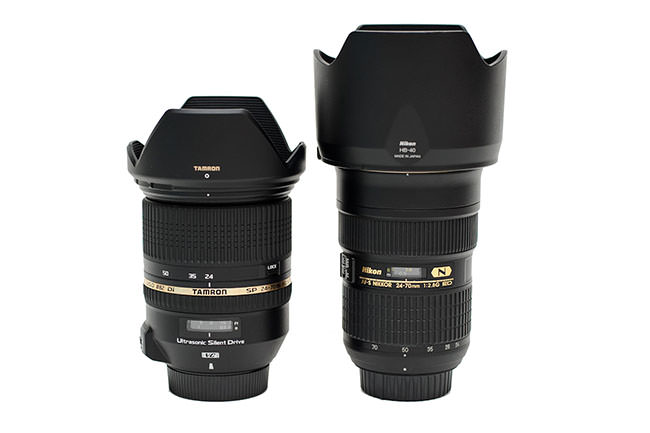 It snaps on nicely, stays in place and does not wobble. I highly recommend to keep it on the lens at all times, because it does help in dealing with lens flare and it can come in handy for protecting the front element. While storing or transporting the lens, you can conveniently reverse the hood and it won't take up any additional space.
Focus Speed and Accuracy
The Tamron 24-70mm f/2.8 features the Ultrasonic Silent Drive (USD) autofocus motor that is used in high-end Tamron lenses. It is very fast, accurate and produces very low noise during AF operation. In comparison, the Nikon 24-70mm f/2.8G is both faster and quieter, but not by a big margin. In fact, to date I have not seen any lens for the Nikon mount that focuses faster than the Nikon "trinity" (14-24mm, 24-70mm, 70-200mm). But this speed advantage is not that big of a deal, since the speed of the Tamron 24-70mm is more than adequate for any kind of photography. The key in autofocus performance is precision and low-light performance and the Tamron 24-70mm surely does not disappoint in both. Lola and I shot a few weddings with this lens and it performed quite well even in very dim environments.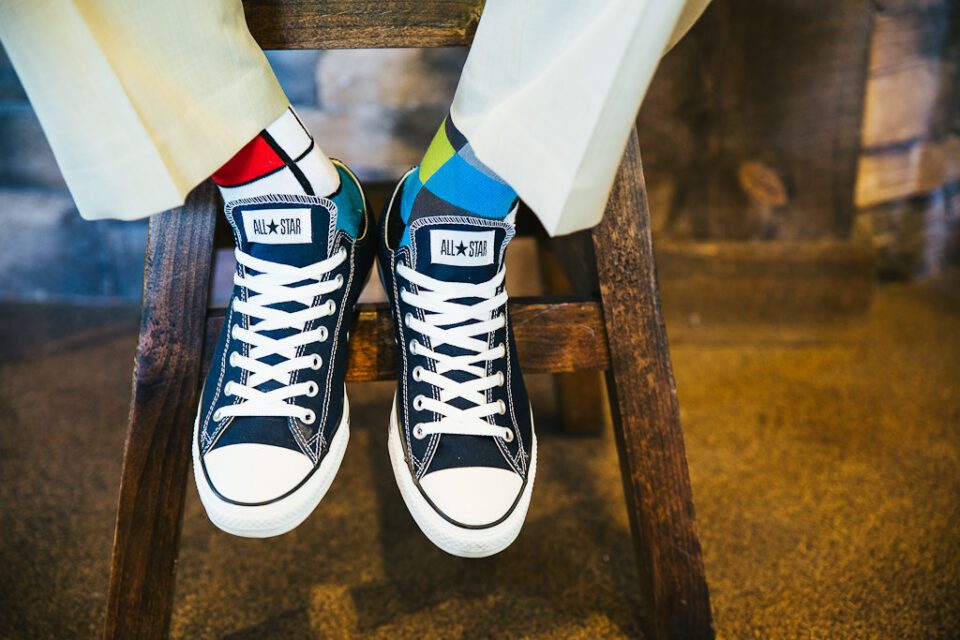 Vibration Compensation / Image Stabilization
The key advantage of the Tamron 24-70mm f/2.8 over all other 24-70mm lenses on the market today is its image stabilization feature, which Tamron calls "Vibration Compensation". Tamron claims that the VC technology provides up to 4 stops of stabilization, similar to Nikon's claim on its VR II technology. I personally found the 4 stop claim to be an overstatement for both VC and VR II, especially on high resolution cameras like Nikon D800 and D7000. Realistically, I would say that both VC and VR II provide up to about 2.5-3 stops of advantage, with the latter being a little more consistent.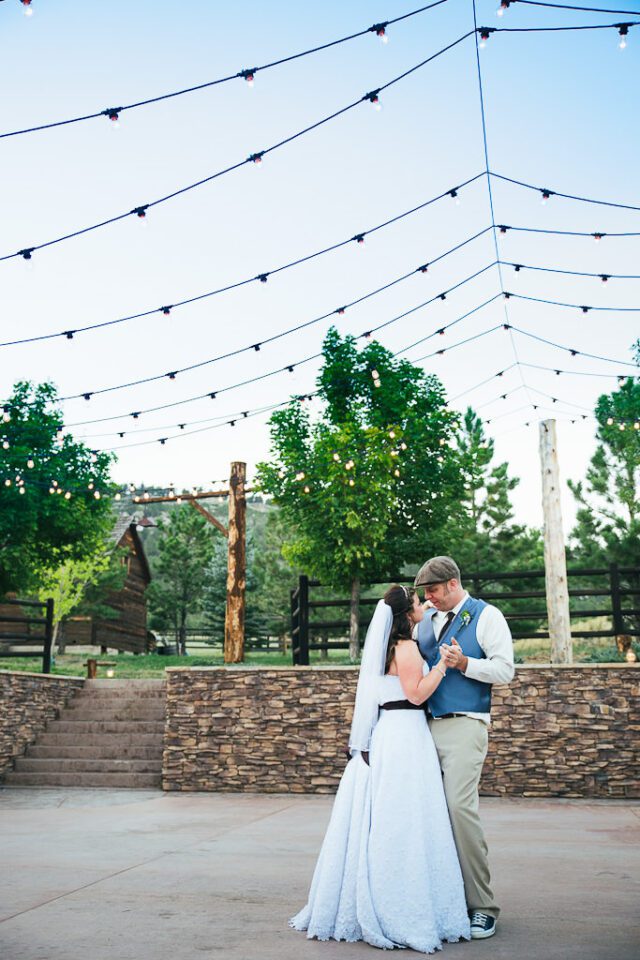 Overall though, image stabilization on a 24-70mm zoom range is a huge bonus. Many photographers blindly think that they do not need stabilization on short focal length zoom lenses. First of all, this is a "standard" zoom lens and second, image stabilization is extremely useful even on super wide-angle lenses. Try the Nikon 16-35mm VR or any of the new Canon wide-angle primes with IS and you will see what you have been missing all along…