Focus Performance and Accuracy
As a professional wildlife photographer, autofocus is one of the most important things that I look for in a lens/camera combination. These days, even the most basic lenses are capable of solid focusing performance, primarily when used in good light. Where the top-of-the-line lenses come into their own (along with the better camera bodies) is in being able to focus accurately under challenging conditions. Conditions such as low light, fast-moving subjects, and complex backgrounds require lenses that make the most of the cameras tracking capabilities, and I am rarely satisfied with the performance of prosumer telephoto lenses in this regard.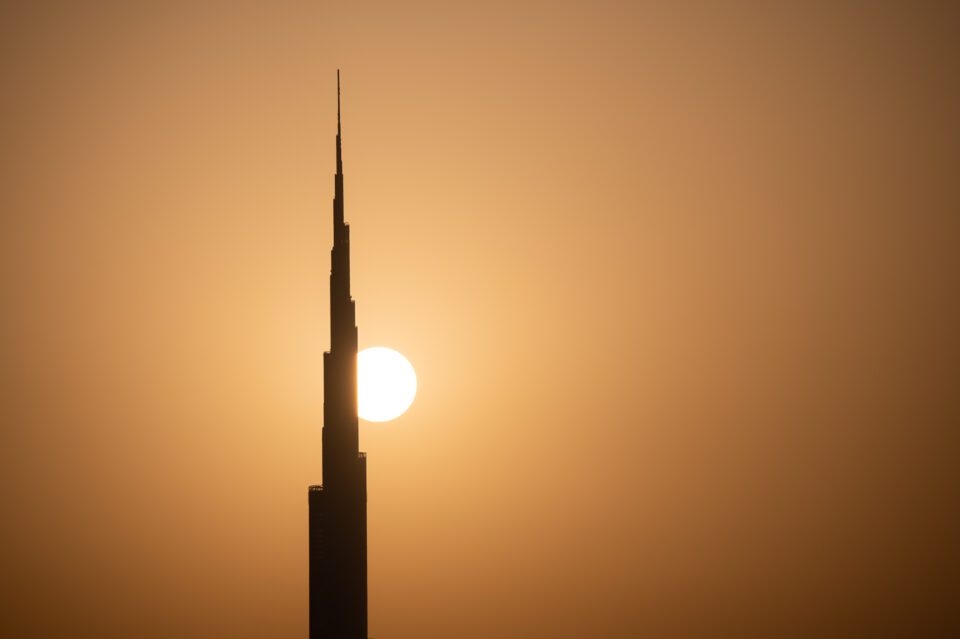 Coming into this review, I was interested to find out how well the Tamron 100-400mm f/4.5-6.3 Di VC USD can keep up in demanding autofocus situations. Third-party lenses are not often able to keep up with the focus tracking performance of first-party lenses, and the Tamron also has a somewhat dim max aperture of f/6.3 at the telephoto end working against it. I have had good experiences with Tamron's Ultrasonic Silent Drive (USD) autofocus motor in recent years, and after getting the chance to test the Tamron 100-400mm f/4.5-6.3 Di VC USD in the field, I can report that the overall performance is pretty good and a solid percentage of my shots were in good focus.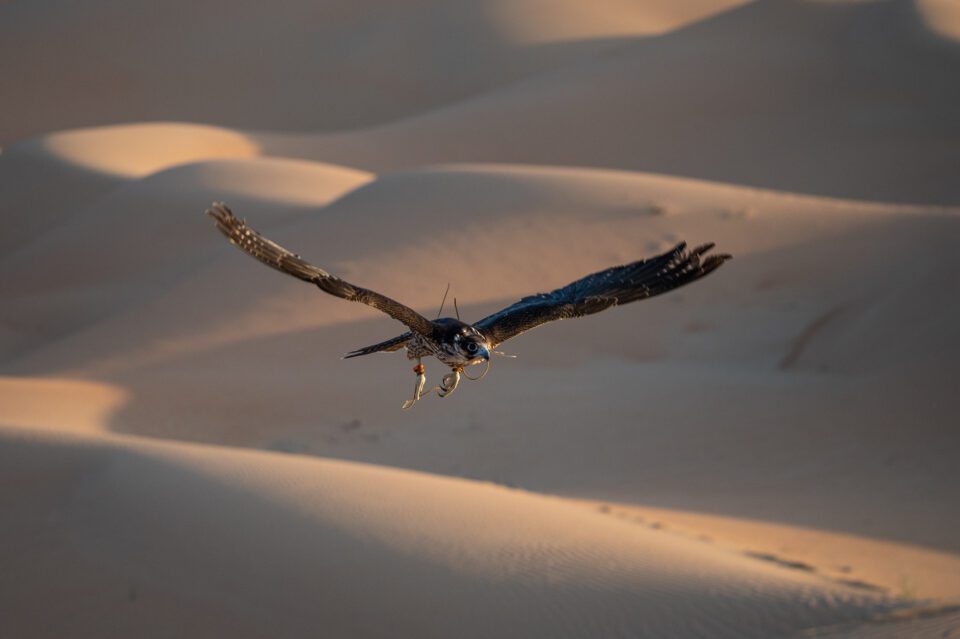 When shooting in One-Shot AF (AF-S), the lens focuses quickly in all but low light shooting situations and with good accuracy. However, things change when the light gets dim, and in such situations, the focus behavior is somewhat sluggish and you can expect quite a bit of hunting. This behavior is not unexpected for a slow telephoto zoom lens.
When shooting in AI-Servo (AF-C continuous) focus, the lens turns in a pleasing performance with fast focus acquisition speeds and pretty good focus accuracy. It has no problems keeping up with many subjects, and in most cases, I got a good percentage of my shots in relatively sharp focus. The performance isn't quite on the same level as Canon's 100-400mm f/4.5-5.6L USM IS II, which is especially noticeable when the light gets dim, but Tamron lens is more consistent than the rival Sigma 100-400mm C lens in AF-C mode.
The below sequence highlights how well the Tamron lens deals with a typical bird-in-flight scenario.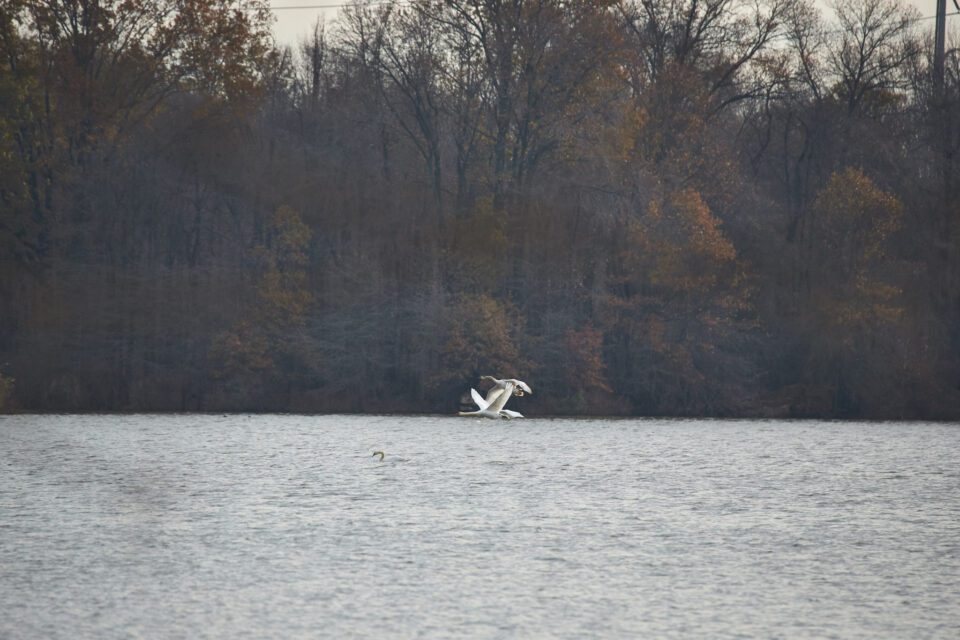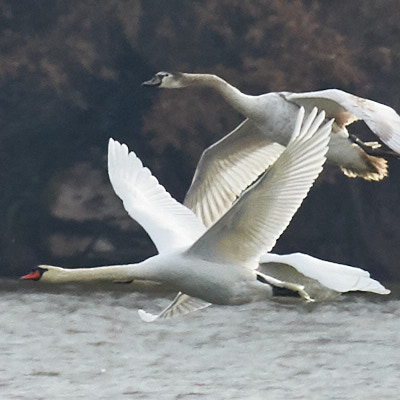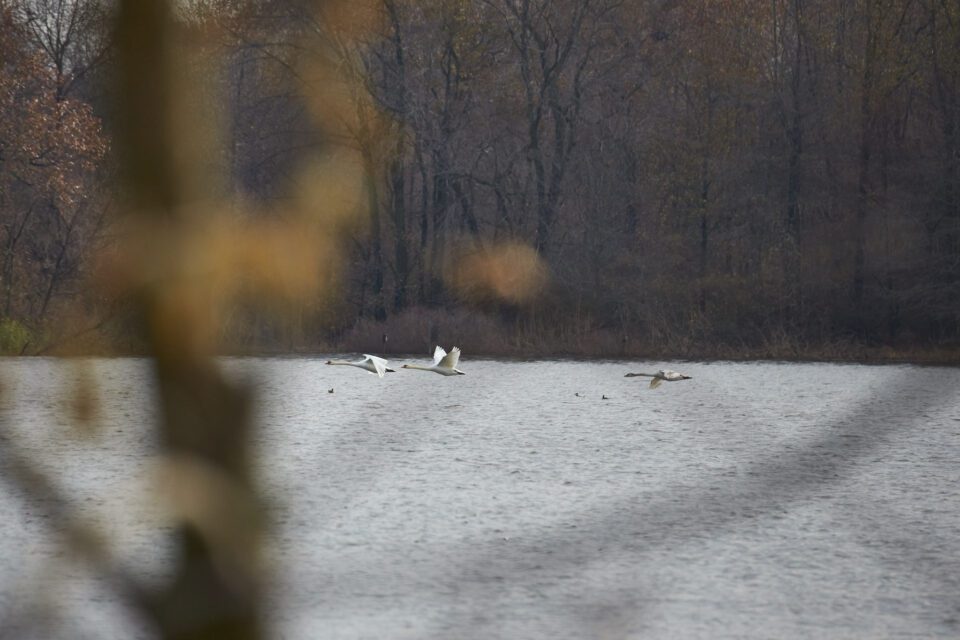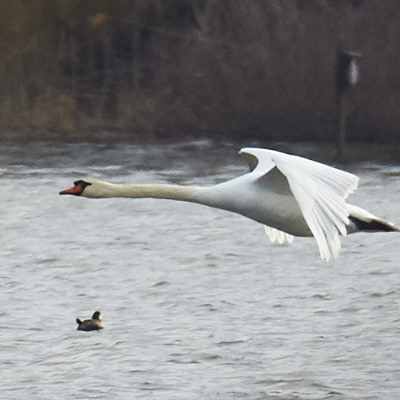 Image Quality
The versatility of the 100-400mm focal length makes it highly adaptable for a range of photographic applications, but designing a lens with high image quality throughout the focal length range is a genuine challenge. Based on its highly attractive price and the success of the Sigma 100-400mm C lens before it, I was keen to find out just how well the Tamron 100-400mm f/4.5-6.3 Di VC USD performed when it came to its sharpness characteristics. I was especially intrigued to see how well it would hold up at the all-important 400mm focal length. In short, the Tamron lens is a very good performer in the center of the frame, while coming up short in the corners.
Let's take a look at the lens at different focal lengths.
100mm
At 100mm, sharpness centrally is excellent from f/4.5 to f/8, with a noticeable decline due to diffraction starting to show at f/11. The story is different in the periphery of the frame, where the lens is noticeably softer. The corners of the frame only gain a very small amount of extra sharpness when stopping down.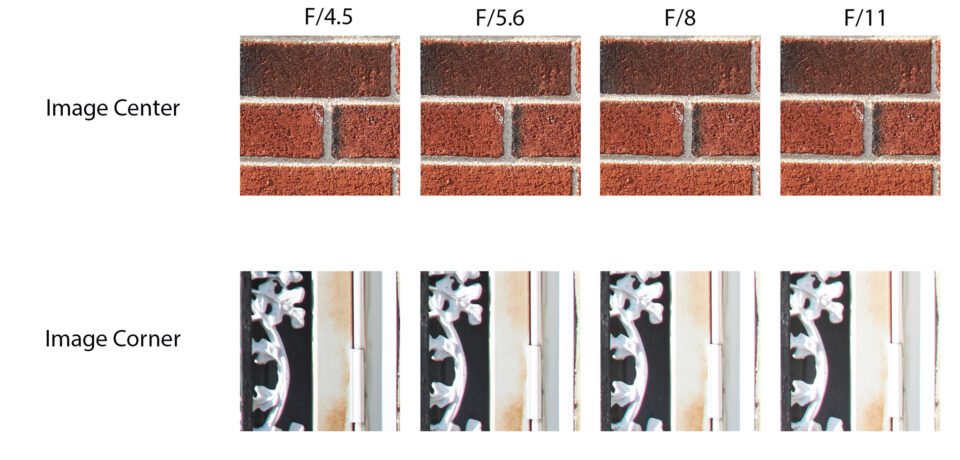 Imatest MTF chart at 100mm: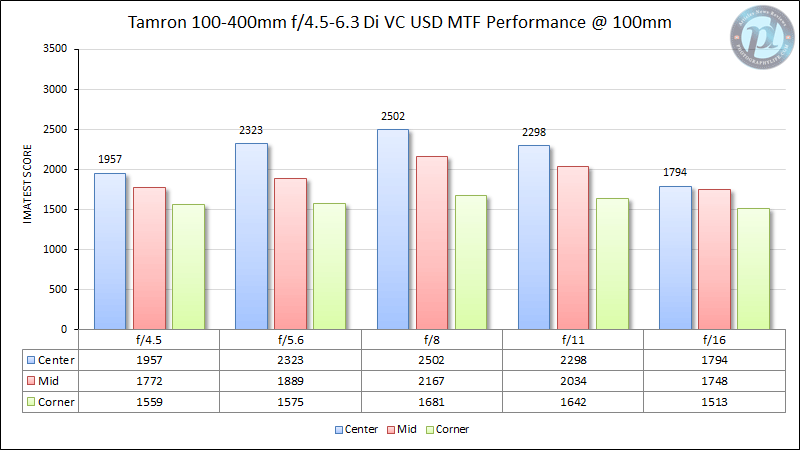 200mm
When zoomed in to 200mm, sharpness remains solid in the center of the frame. The corners aren't great wide open, but get slightly better when stopped down to f/8 and smaller.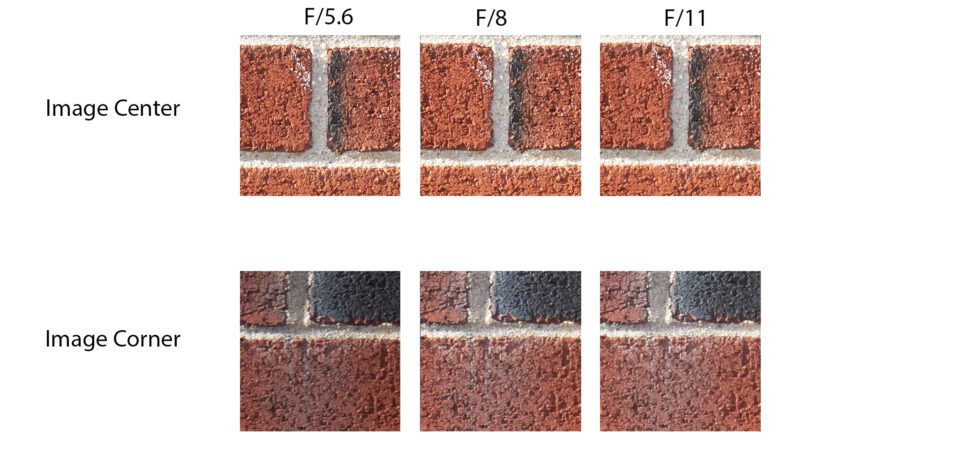 Imatest MTF chart at 200mm: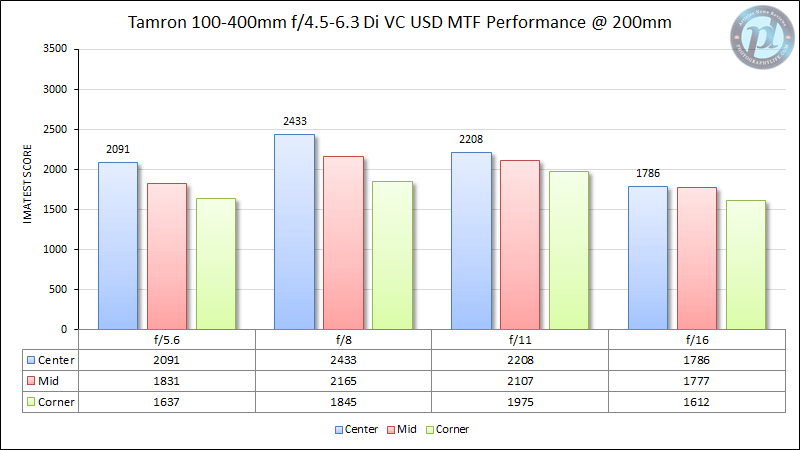 300mm
At 300mm, the lens continues to perform reasonably well in the center of the frame with a decent level of sharpness. However, we can already start seeing a noticeable drop in sharpness, especially wide open. Stopping down to f/8 yields slightly better results, but certainly not up to the same level as shorter focal lengths. The corners also get visibly worse at 300mm, which is unfortunate.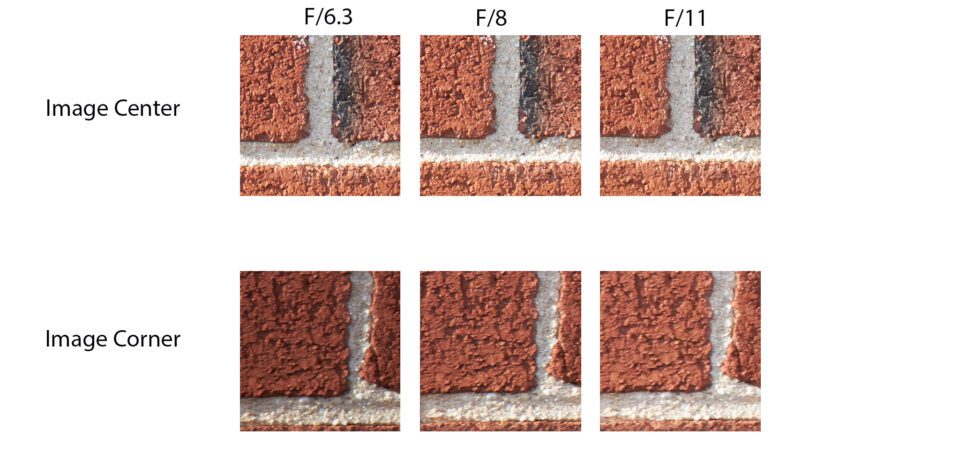 Imatest MTF chart at 300mm: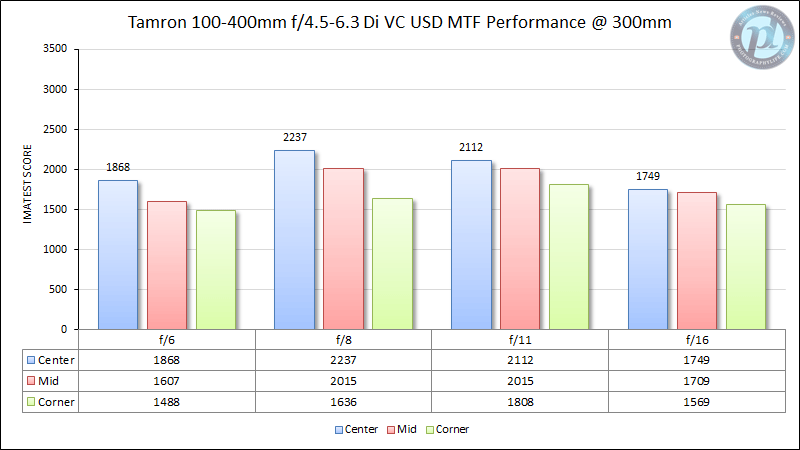 400mm
Where many 100-400mm lenses falter is at the 400mm focal length, and the Tamron 100-400mm is not an exception. As you can see below, the lens starts out slightly weaker wide open, and stopping down to f/8 only improves sharpness by a small amount. At f/11 and smaller, the lens gets quite a bit of penalty from diffraction, so your best bet is to stay between f/6.3 and f/8.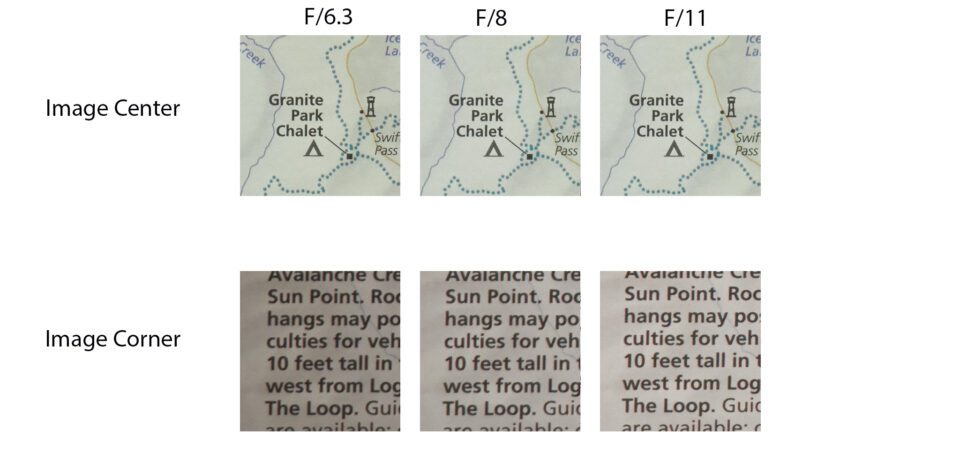 Imatest MTF chart at 400mm: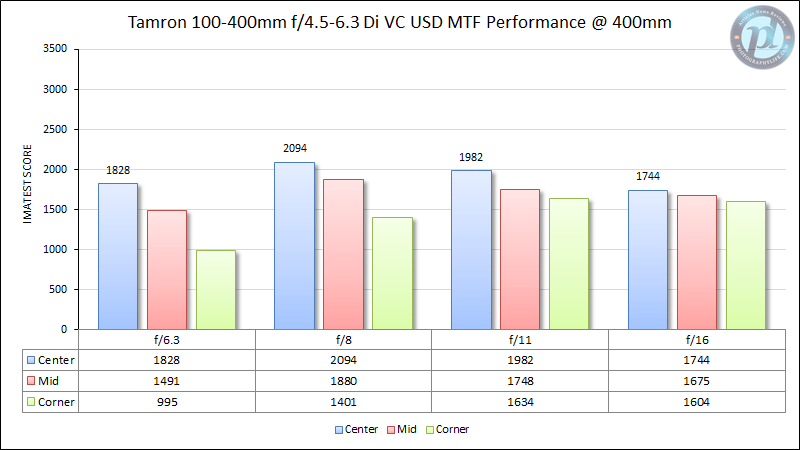 Sharpness Summary
Sharpness wise, the Tamron 100-400mm f/4.5-6.3 Di VC USD shows solid performance in the center of the frame while coming up short in the image corners. The high degree of sharpness at the center of the frame at the 100-200mm zoom levels is certainly impressive, but like most other super-telephoto zoom lenses, it certainly shows its weaknesses in the long ranges. The corners get especially soft in the 300-400mm range, which is a bit disappointing. If this were a more expensive optic, I would place greater emphasis on this shortcoming, but given Tamron's bargain pricing, I feel that emphasizing sharpness in the center of the frame over that of the periphery makes more sense.
The below unedited images show an example of the sort of sharpness that you can expect at the 400mm focal length.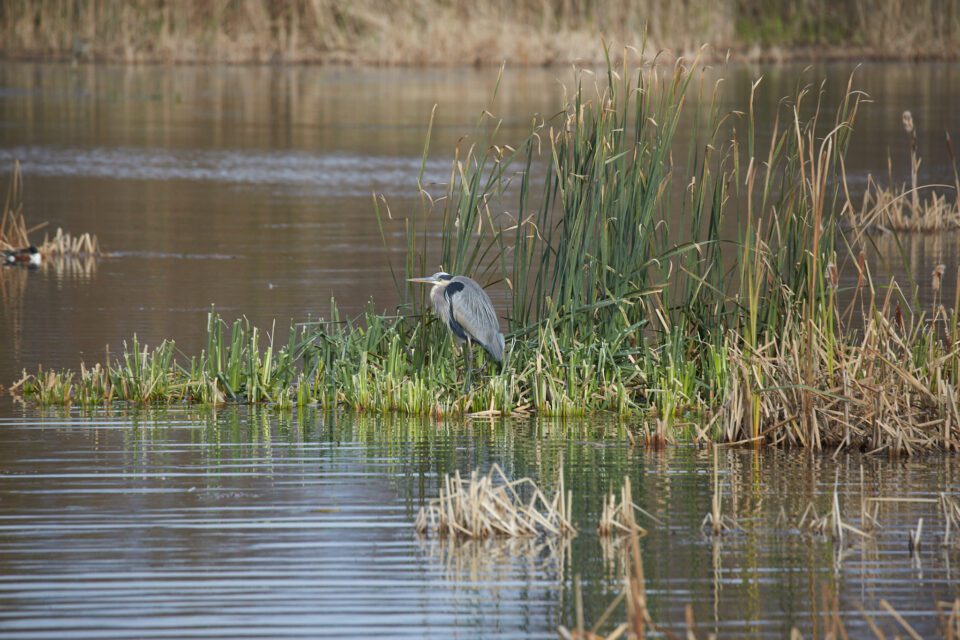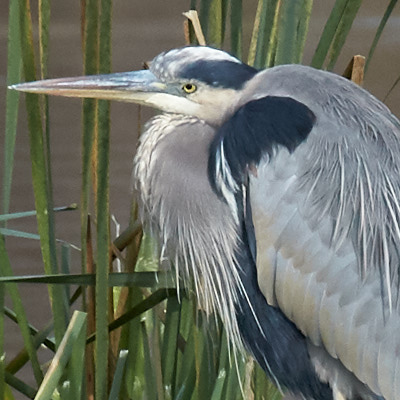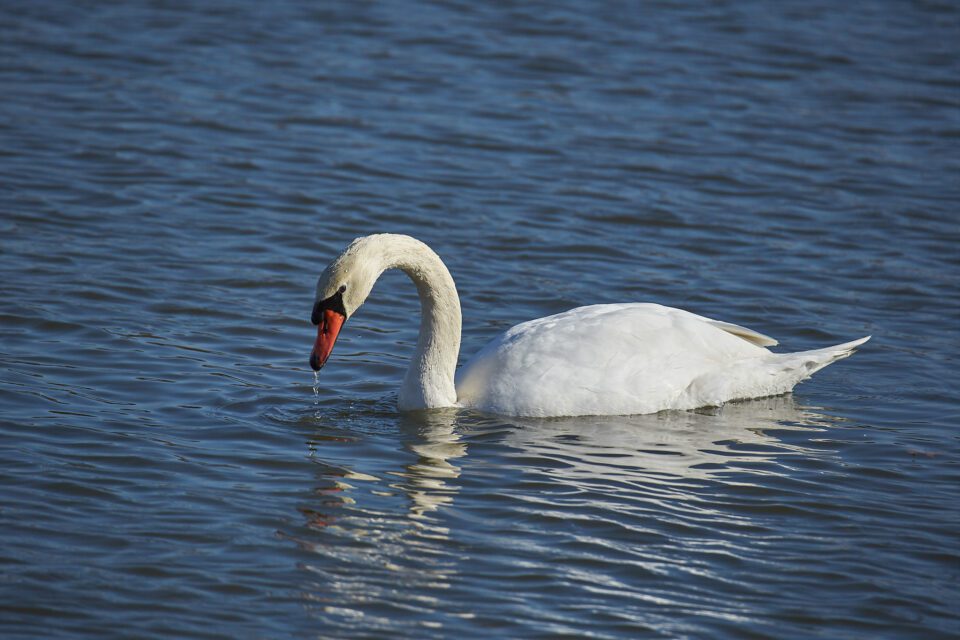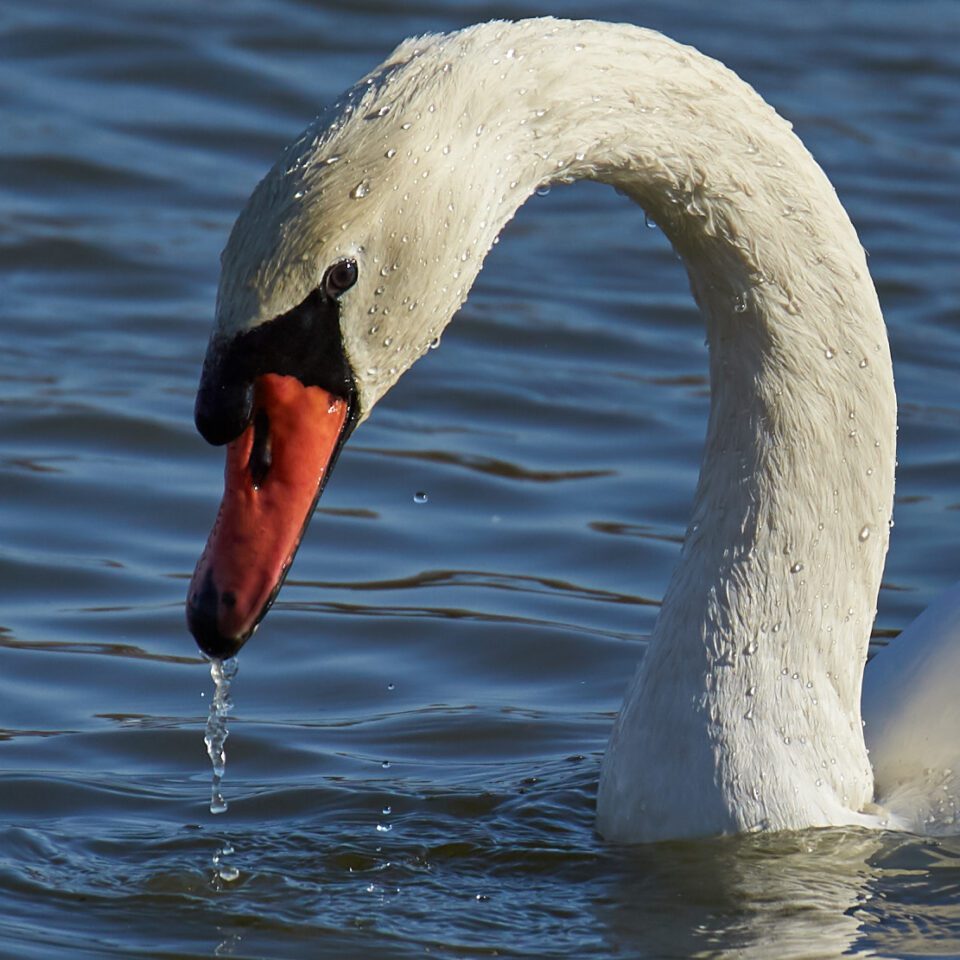 Vibration Reduction
The Tamron 100-400mm f/4.5-6.3 Di VC USD comes with Tamron's VC (Vibration Compensation) system. Tamron states that the VC system used on this lens gives about 4 stops worth of compensation. Shooting at 100mm, I was able to get a decent keeper rate at around 1/10 of a second. At 400mm, I made it to around 1/50 second. This performance seems to indicate around 3.5-4 stops of image stabilization, which while not class-leading, is quite good. There are two stabilization mode settings to be found on the lens, accessed via the VC switch. Mode 1 is your default stabilization while Mode 2 is for panning.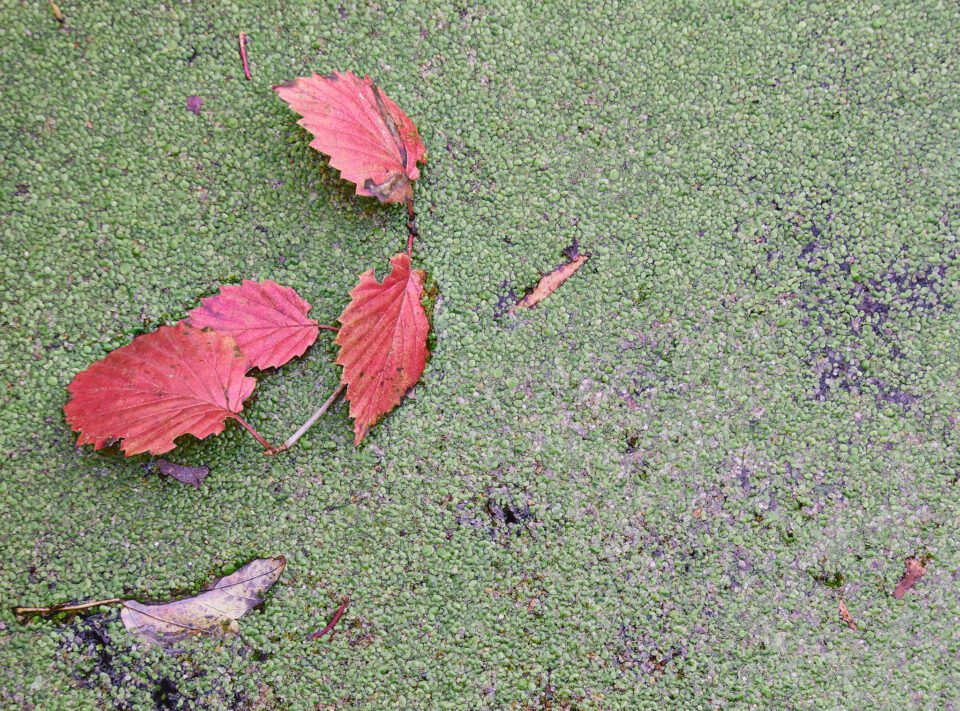 Bokeh
Zoom lenses of this type are not usually known for the quality of their bokeh, and the Tamron 100-400mm f/4.5-6.3 Di VC USD is no different. Variable aperture telephoto-zoom lenses tend to suffer from busy highlight discs with a pronounced "onion ring" effect, and the Tamron shows quite strong concentric rings in foreground specular highlights, with the effect less pronounced in the background. When it comes to the smoothness of the blur in areas of focus transition, the lens does a nice enough job of delivering a relatively smooth effect – though it can get quite nervous in certain high-contrast situations.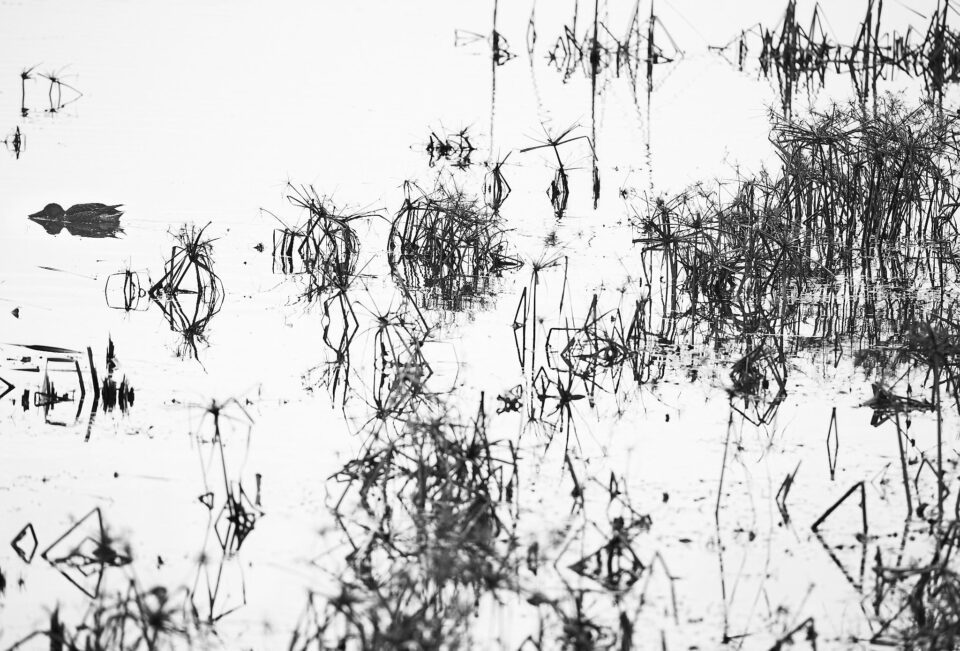 Vignetting
The lens exhibits a little bit of vignetting of around 1 to 1.2 stops at the extreme ends of the range at maximum aperture and infinity focus. Stopping the lens to f/8 resolves most of the corner darkening, and by f/11 it is negligible, as shown below: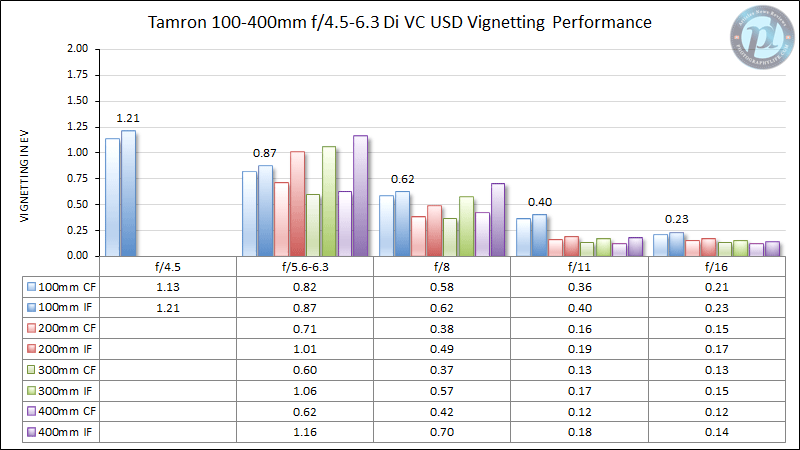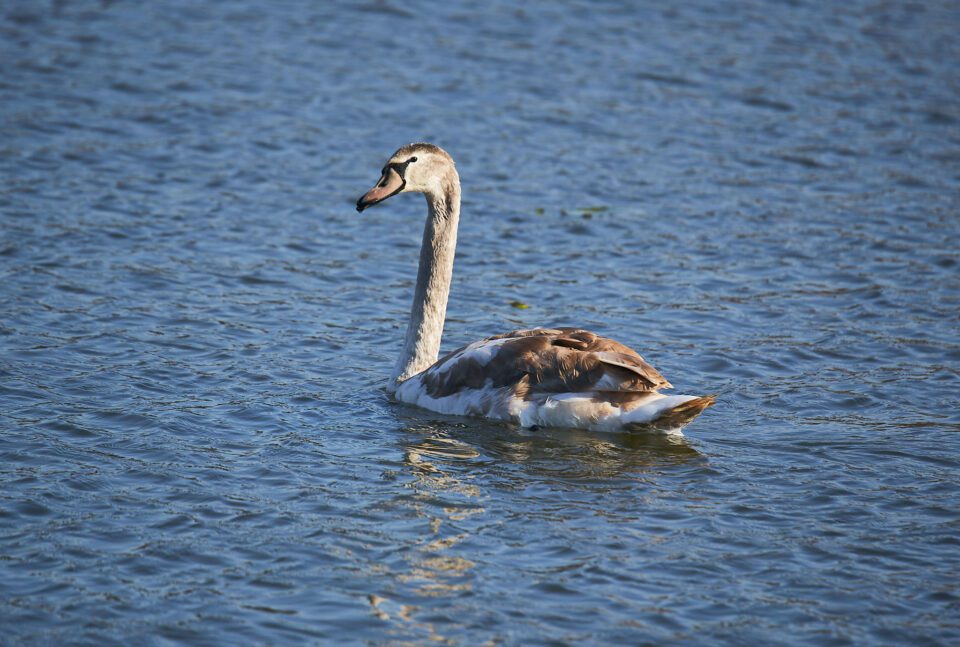 Flaring
Due to its complex optical design, the Tamron 100-400mm f/4.5-6.3 Di VC USD struggles a tad when it comes to its handling of lens flare, which is quite normal for a lens of this type. Tamron emphasizes their eBAND (Extended Bandwidth & Angular-Dependency) and BBAR (Broad-Band Anti-Reflection) technologies, which are said to improve handling of flare and ghosting. However, I noticed a very typical-for-telephoto-zoom performance against intense lights, with the usual flaring artifacts. On the bright side, contrast levels remained quite high.
Below is a crop from the center of the frame: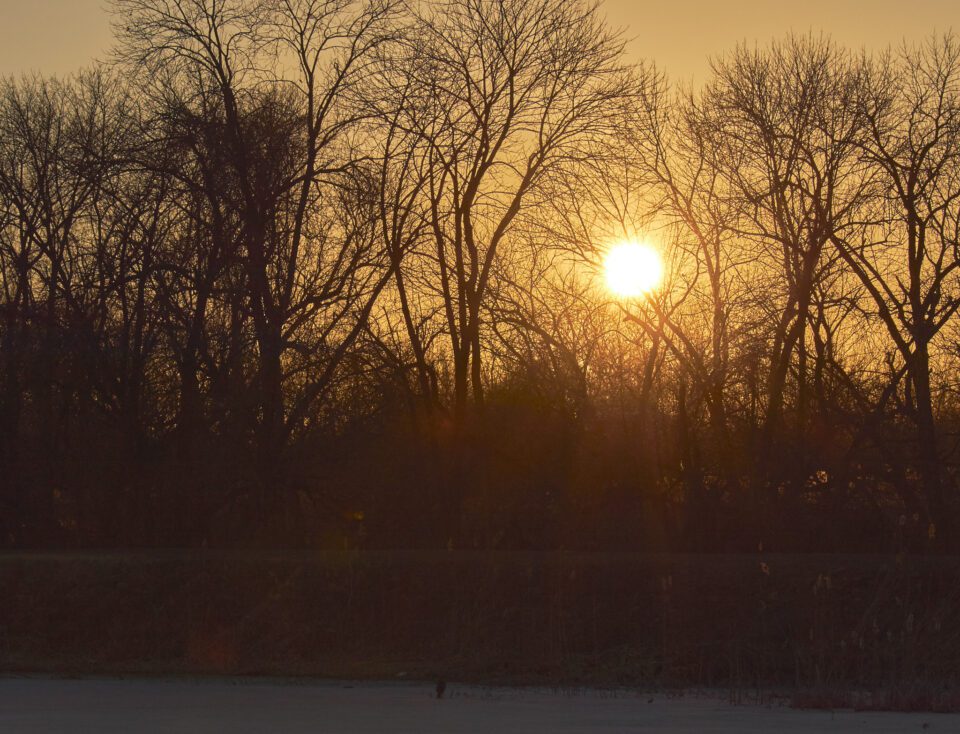 Chromatic Aberration
Modern lenses have become increasingly good at mitigating chromatic aberration, and the Tamron lens turns in a reasonable performance in this regard. Lateral chromatic aberration is well-controlled in the center of the frame, as shown below. The corners of the frame show a higher degree of chromatic aberration (with moderate amounts popping up at 100mm and 400mm), but even at its worst, the performance is quite reasonable and easily corrected in post-processing software.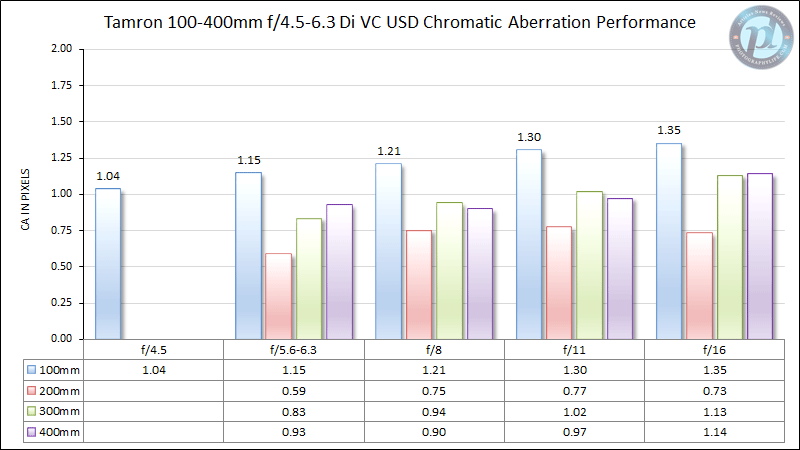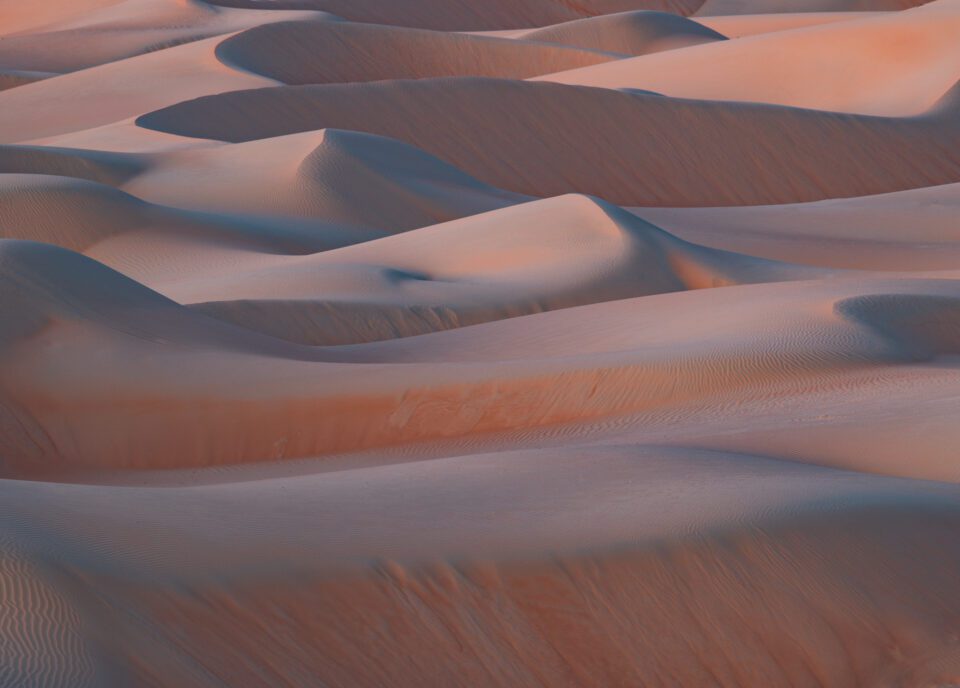 Distortion
There is a very slight amount of barrel distortion at all focal lengths, with the least amount present at 100mm, as shown below: