One of the worst feelings as a photographer is to realize that you have accidentally deleted one of your photos, and you have no way to recover it. Most photographers have horror stories about such situations — I once nearly lost all my photos from a trip to San Francisco — but it is often possible to recover deleted photos using special software. One such software is Stellar Phoenix Photo Recovery, which claims to be able to recover images from memory cards or hard drives, even after reformatting the drive or deleting an image.
1) Interface
Stellar Phoenix Photo Recovery is definitely a utility-oriented program. I wouldn't describe its layout as elegant, but it is easy to navigate. I see the simplicity as a positive — it doesn't require much effort from the user. Software is not my strong point, so I like to see that a useful program like this is also easy to understand.
To recover deleted files from a drive (including the computer's internal drive or any external storage devices), click the big blue button that says "Recover Photo, Audio, and Video." Click on the drive that you want to recover, then wait. After Stellar Phoenix Photo Recovery has scanned the drive, it will list every image that it has recovered, sorted by file type.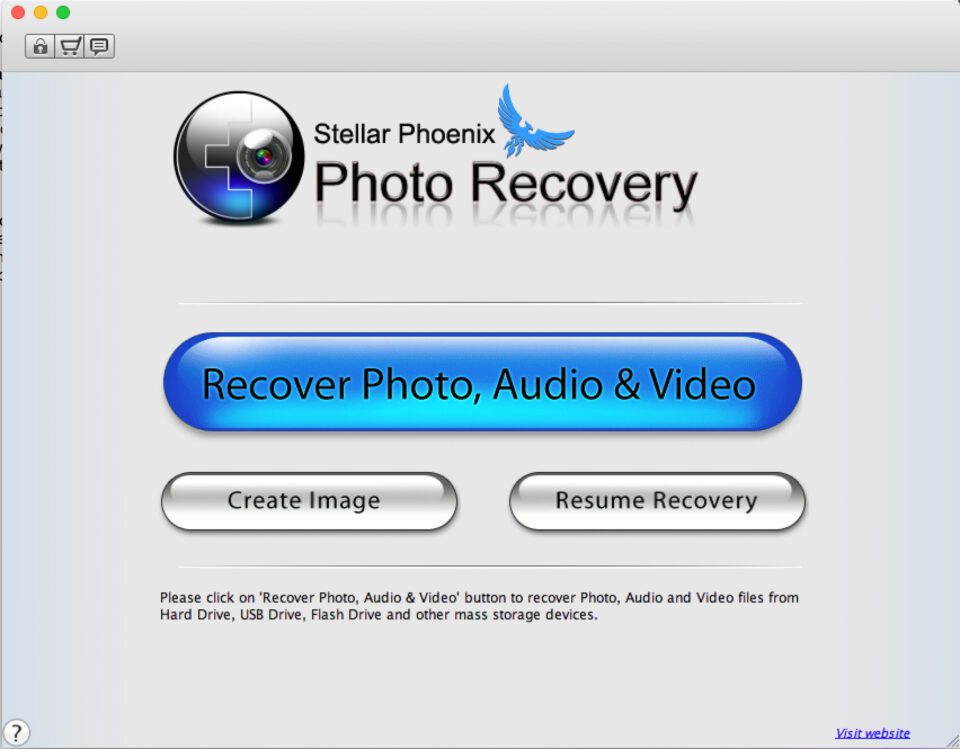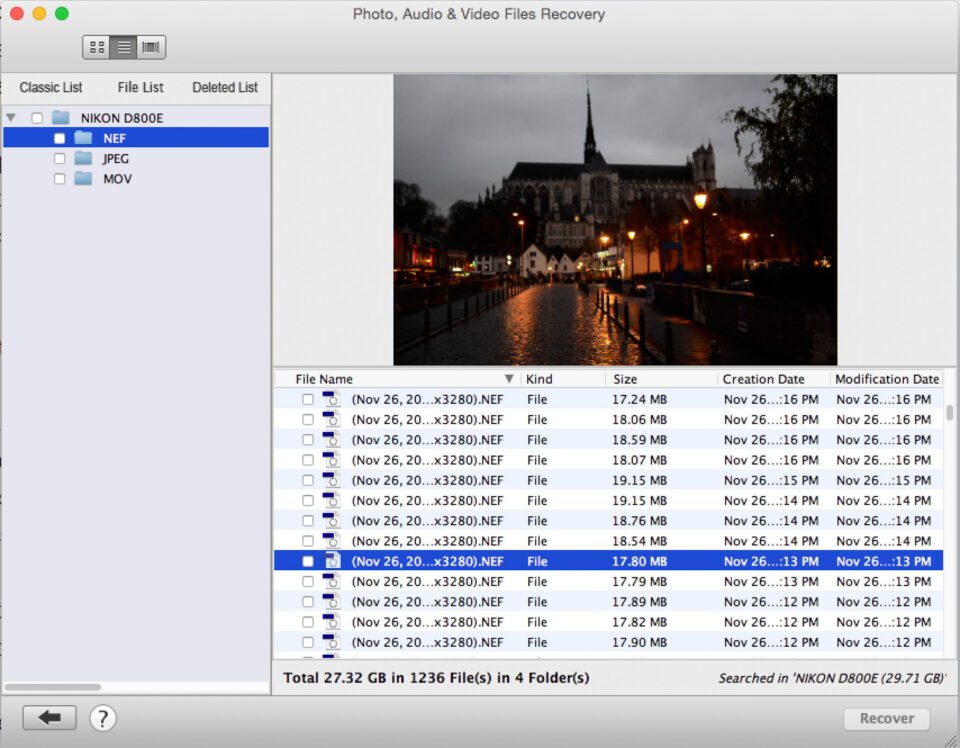 2) Speed
Stellar Phoenix takes some time to work through a drive, but this is a non-issue because the program can run in the background without a problem. Depending upon the size of the drive, Stellar Phoenix may take an hour or two to sort through the deleted files. I usually work on my photos in Lightroom while the program runs.
You can also make the software run faster by telling it the type of file that you are trying to recover. By clicking "Advanced Scan," the software takes you to a list of possible file types. This list includes RAW formats from most manufacturers, as well as TIFFs and JPEGs.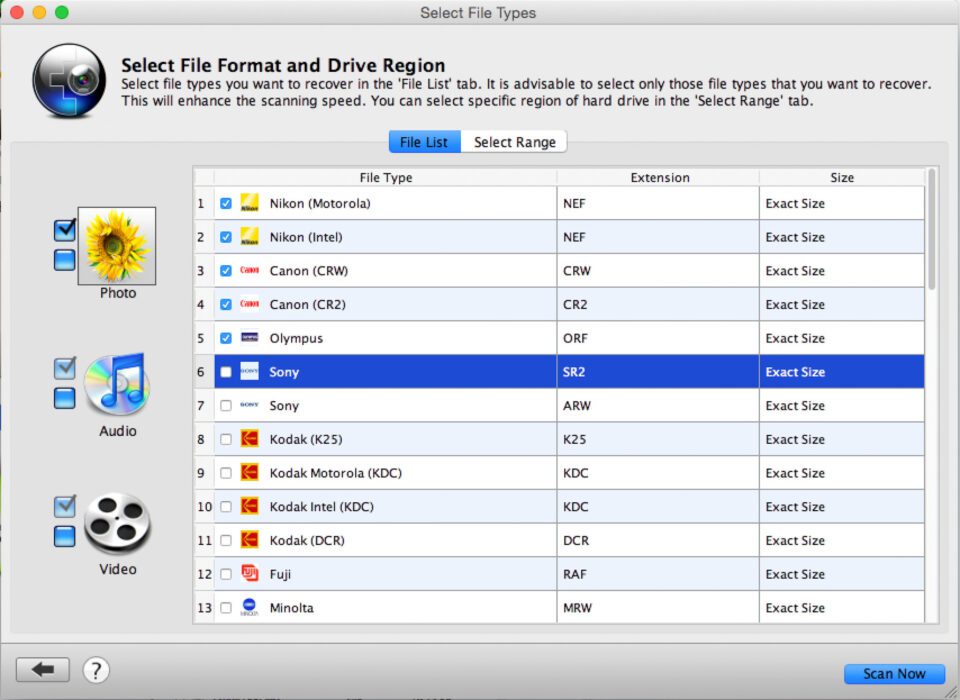 3) Performance
Note: This section was written before the newest version of Stellar Phoenix, Version 7.0. Luckily, the issue with the D800e files has been resolved. As far as I can tell, this software now works well for anyone who needs to recover their files, although I still recommend downloading and testing the free trial before committing to the paid version. The old review is still below, but I have updated the final rating of the product to represent the new version.
This is where Stellar Phoenix suffers. On one hand, recovering images from my D7000, the program was wonderful. It recovered nearly thirty gigabytes of deleted images from a 32GB memory card that I had formatted dozens of times. Actually, I think that nearly every photo I had taken with that card was recovered by Stellar Phoenix — the full resolution RAW files with complete metadata, no less. I am very impressed by how well it worked.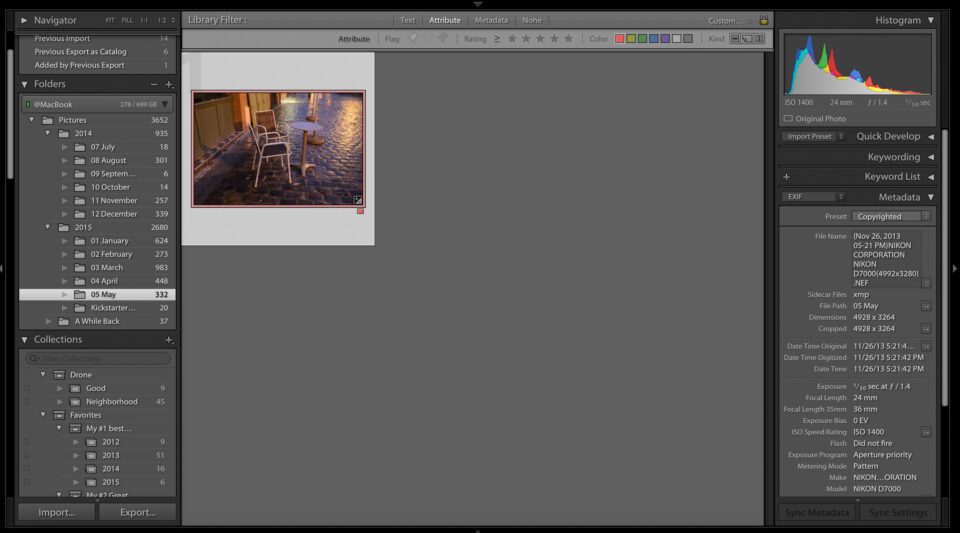 Then, with my D800e, the software flops (Again, this is not true now that there is a 7.0 update). Every deleted image from my D800e, whether the file had been deleted or formatted, showed up as zero kilobytes. Although I was able to recover a thumbnail preview from each of these deleted images (a feature offered only in the Platinum version of the software), the images were only 375×570 pixels large — useless for almost all purposes.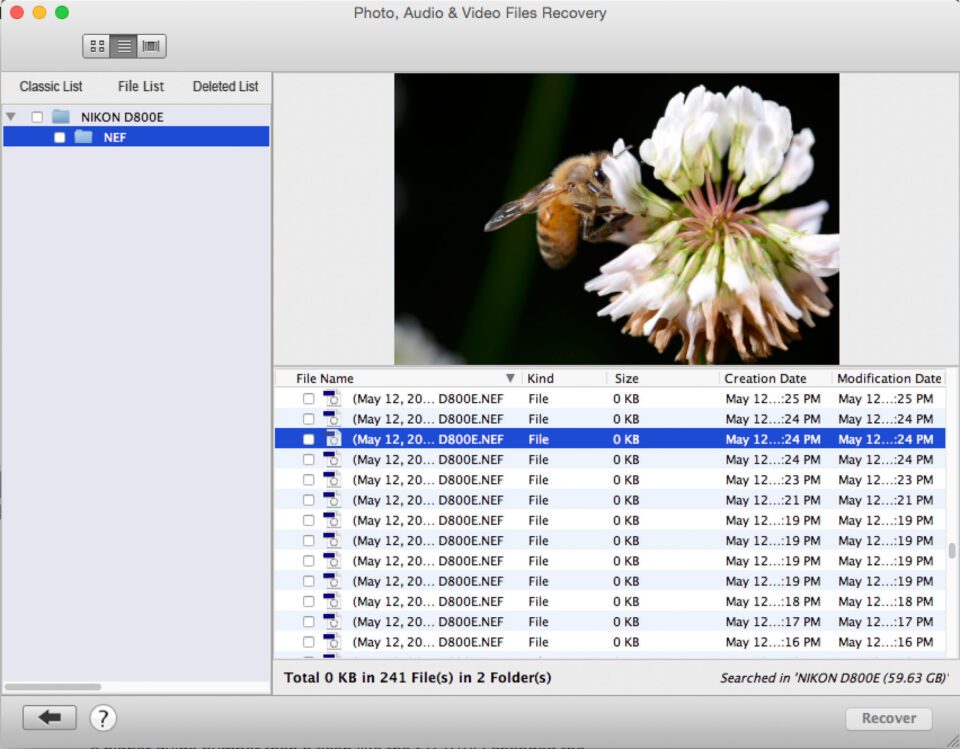 4) Recommendations
Luckily, Stellar Phoenix Photo Recovery allows you to try the software for free before you purchase it. In this free trial, you can see which images have been found for recovery. Assuming that the recovered photos have an actual file size (as opposed to the zero kilobytes of my D800e photos), I can recommend Stellar Phoenix without any hesitation.
However, you absolutely need to try it before you commit to the full purchase price. As well as Stellar Phoenix works with my D7000, it is all but useless with my primary camera, the D800e. Perhaps there will be an update to the software that fixes this problem (which there was), but until then I cannot recommend the software to everyone.
Update: Now that the new version has been released, I absolutely can recommend Stellar Phoenix. Still, just in case, I recommend getting the trial version of the software before purchasing it — I can't test every camera available, but it works with all the ones I own.
5) Purchase
Stellar Phoenix comes in three versions: Standard, Platinum, and Titanium. The main difference is that the Platinum software (which I reviewed here) will allow you to preview the images and extract thumbnails before you recover them. The Platinum version also helps repair corrupted images, but only JPEGs. Titanium is the only one that can repair corrupt video files. The Standard price is $50, although Stellar Phoenix says that it is on sale from its normal price of $80. The Platinum and Titanium versions are $60 and $100 respectively.
To purchase Stellar Phoenix Photo Recovery (or to try the trial version), use the links below:
Stellar Phoenix Photo Recovery
Features

Value

Ease of Use

Speed

Performance
Photography Life Overall Rating